Last Updated on March 27, 2023
Key Takeaways
A personal item is a small bag that is sized to be stowed under the seat in front of you whereas carry-on luggage is usually stowed in the overhead bin
Low cost airlines only allow a personal item size bag for free and charge for carry-on luggage
There are no standardized rules about size and weight limits for hand luggage. Each airline sets its own rules.
Low-cost economy airlines tend to be more strict about hand luggage. They want to profit from luggage if they can. So they will have enforced limits and annoying penalties.
Full-service airlines charge higher ticket prices and include generous luggage allowances. They are not usually as strict since they make their profit from the price of the ticket.
With so many different rules sometimes it's not clear what the difference is between a carry on vs personal item.
Historically most airlines allowed you to take two bags as hand luggage, a carry on and a personal item.
Now some airlines don't allow a carry on bag for free and only allow a personal item size bag with their cheapest ticket.
We made this chart to summarize the main differences:
Personal Item vs Carry On Differences Chart
| Personal Item | Carry On |
| --- | --- |
| Examples: Laptop bag, purse, small backpack, diaper bag, weekender bag, pilots flight bag, small underseater rolling suitcase | Examples: Rolling Cabin Luggage, Travel Backpack, Hiking Backpack, Large Duffel Bag |
| Fits under the seat in front | Fits in the overhead bin |
| Usually around 18x14x8 inches (Check your airline here) | Usually around 22x14x9 inches (Check your airline here) |
| Usually around 33 liters maximum capacity | Usually around 45 liters maximum capacity |
| All airlines allow a personal item of some sort | Low-cost airlines don't always include a carry-on in their basic ticket price |
| Low risk of forced gate checking | Higher risk of forced gate checking |
Carry On vs Personal Item Size Difference
Just to be clear what we size o talking about check this scale drawn illustration of a carry on bag vs personal item.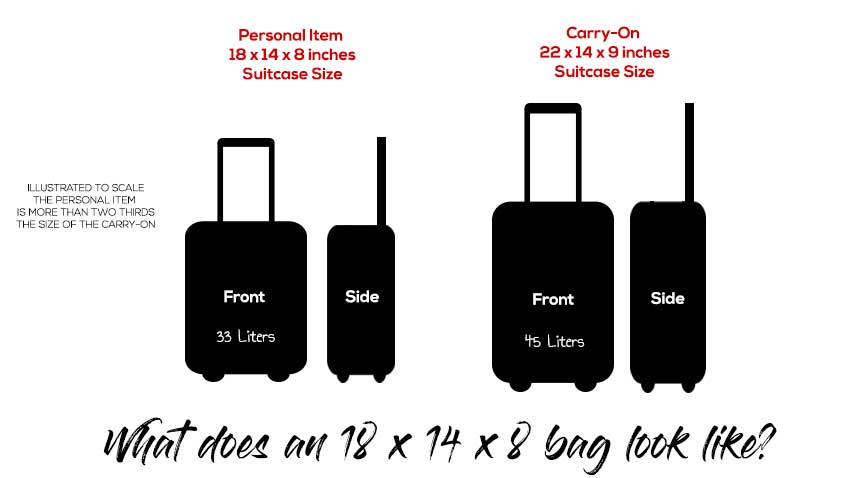 The size difference is not as large as you might think…
An 18 x 14 x 8 bag has a capacity of 33 liters. We talk about choosing an 18 x 14 x 8 bag here.
In comparison, carry on luggage of 22 x 14 x 9 inches has 45 liters. You can find your perfect carry on size luggage on this post.
What Is A Personal Item?
A personal item is a type of hand luggage. It's an item that you'll carry on to the plane with you. It must fit under the seat in front of you.
A personal item is smaller than a carry-on. Usually in the airport, you will see people that strap their personal item on to their carry on like this: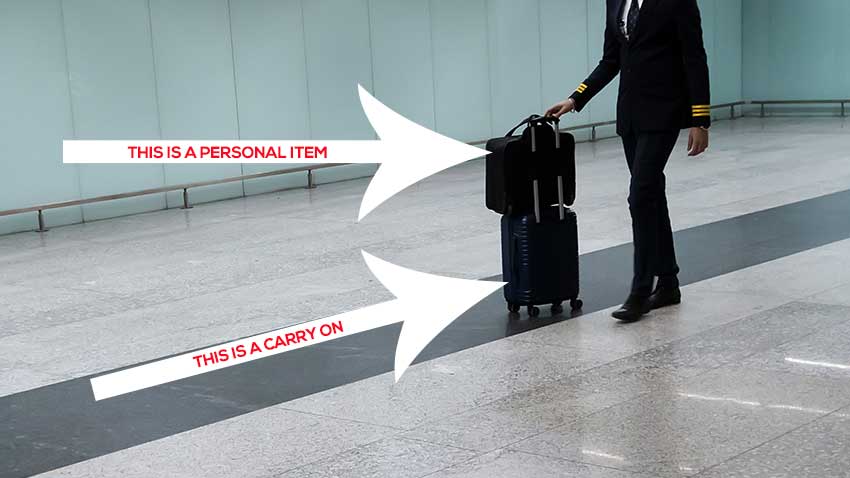 What counts as a personal item on a plane depends on the airline you are flying with. We cover the main airlines in the united states like American Airlines, Delta, Southwest, United, Alaska, JetBlue, Spirit, Frontier, and Allegient in this post about personal item size limits.
A small purse is always considered a personal item. A briefcase or a laptop bag will be considered a personal item too.
A backpack is a personal item in most cases so long as it is a small backpack, a large hiking travel backpack won't be considered a personal item. Since backpacks come in all shapes and sizes you really need to check the measurements.
It's actually surprising how large personal items can be on many airlines.
Many airlines are now using 18x14x8 inches or similar as their personal item size limit. United is the glaring exception who has an unusually restrictive personal item size limit.
Crucially, some low-cost airlines like Spirit ONLY allow you one personal item and you need to pay extra if you want to take a carry on too.
What Is A Carry On Size Bag?
A carry on is a type of hand luggage that you bring into the plane cabin with you. It must either fit under the seat in front of you or on the overhead bin.
A carry on is larger than a personal item. Sizes are different for different airlines but in the united states there is something of a consensus of around 22 x 14 x 9 inches.
Most people taking a carry-on choose rectangular rolling luggage but it's also possible to use a carry on size backpack or a carry on size duffel bag.
Should I Pack A Personal Item Or A Carry On?
It really depends on how much stuff you want to bring with you. A smaller personal item will be easier to move around with.
Some passengers fly with only a personal item.
Some passengers fly with a carry on and a purse and don't fully utilize their personal item allowance.
Some passengers bring a full size carry on and a full-size personal item like a flight bag. This is a popular move with pilots and air stewards who have figured out the best way to make the most of their luggage allowance. Keep in mind if you do this you'll need to pack any purse inside your flight bag. You can't have 3 bags.
Some passengers bring checked luggage and a personal item such as a purse.
There are some items that you are allowed in hand luggage but not allowed in checked luggage such as power packs for recharging your phone. And it's always best to keep valuable items close to you so don't put valuables in checked luggage you might never see them again.
Remember You Might Be Forced To Check Your Carry On
It's important to realize that often carry-on luggage is force-checked at the boarding gate if the overhead bins are filling up too quickly.
Boarding agents will simply select some people and demand that their carry on be stored in the luggage hold instead of the cabin.
If your laptop or any other valuable item is in your carry on bag and not a smaller personal item bag you might need to hand your carry-on over to be checked.
Checked luggage can sometimes go missing or get thrown around by baggage handlers. For this reason, it's always a good idea to pack valuables in your personal item bag rather than your carry on bag.
In cases where you are permitted to bring a carry on and a personal item each the combined capacity of the two bags could be as high as 78 liters. That's not so far away from the size of a 62 linear inch checked suitcase which will hold around 115 liters.
If you are someone who struggles to pack everything you want to take in a carry on bag then perhaps making full use of your personal item allowance too might let you fly with hand luggage only and avoid those checked luggage fees.
The confusion about what is a carry-on and what is a personal item can sometimes lead to angry passengers like Saam: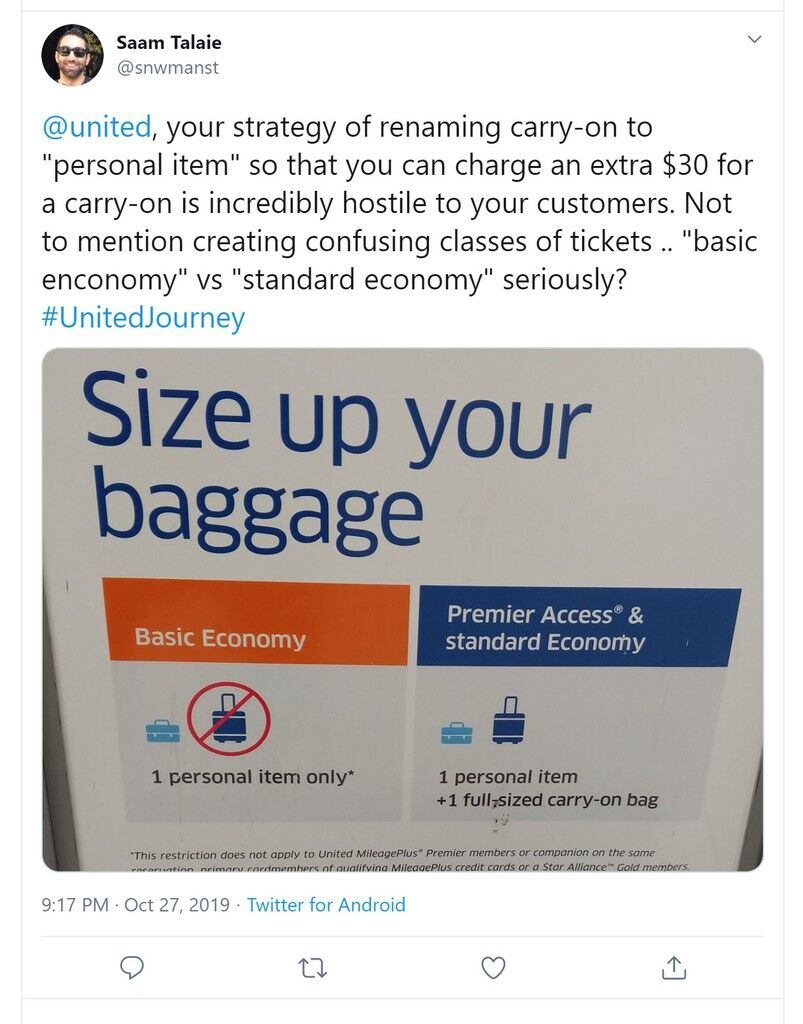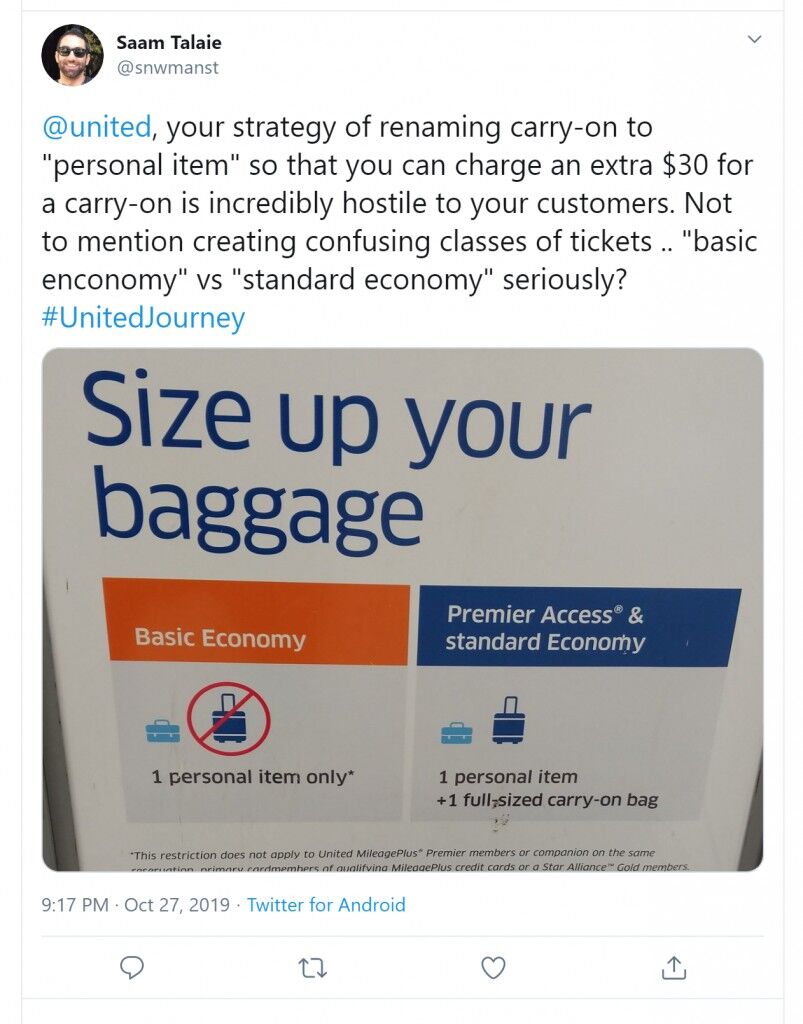 It's not surprising Saam was angry. United have a very small size limit for their free personal item.
In effect they United advertise the flight ticket for one price and then sneakily charge you extra for luggage later. It would be like a restaurant telling you the price of a meal and forgetting to let you know they charge extra to use their knives and forks and only telling you when the plate arrives at your table!
The Verdict
This post can only speak in general terms about personal items vs carry-ons. You need to check your airline so you understand what sizes they consider these bags to be.
In our opinion, it's always a good idea to take a good-sized personal item to keep your valuables in and anything you want to have handy during the flight.
Often people pack a full-size carry on when they might have been able to make do with a smaller personal item like a flight bag or a weekender bag. This is especially true for short trips of 1 or 2 days.
Because personal items are smaller they are much easier to travel with. A bag that fits under the seat in front will save you from getting involved with the fight for overhead bin spaces.
When your flight boarding is announced you won't need to rush to the gate and stand in a long line to try to get on the plane first, because you'll have a place to put your luggage under the seat in front.
On the other hand, a carry on is larger and this means you can take more things. If you need the extra capacity then you'll need a carry on. If you need further capacity you can take a carry on and a flight bag too like most pilots do.
You Might Also Like