Last Updated on May 24, 2020
TLDR: Sometimes travelers want to pack a towel but they don't have a lot of free space in their bag. They also need something that is going to dry fast, stay fresh and not get funky too quickly.
Most travel bloggers recommend microfibre but I buck the trend. I recommend the LinenMe Provence or any other high-quality linen towel as my top suggestion for a great travel towel.
The Reasons Were:
It's naturally odor-resistant 100% linen
It's quick-drying
It's lightweight
It's absorbent
It's environmentally friendly
I attack microfiber towels and argue the case for linen. Don't believe the hype! If you're going to pack a travel towel, pack a towel that earns its place in your luggage.
What Makes A Good Travel Towel?
That really depends on where in the world you are going, how you are getting there, and what type of towel experience you are looking for.
If you're going on 1 week a package vacation to a large resort you might not need a towel at all. The hotel will probably have them.
For RV travel or road trips if you have space in the trunk you can pack any towel you like.
On the other hand, if you are a digital nomad or backpacking around the world on a gap year you'll probably want a packable towel.
And you're into budget travel you don't want to be spending money buying towels at your destination.
So what size will your luggage be? This is especially important with air travel.
Most people are aware that carry on luggage needs to be under certain size dimensions. But not everyone realizes that airlines sometimes impose weight limits too.
For example, it is common for airlines in Asia to have a carry-on weight limit of 15 lbs.
A big ol' fluffy cotton bath towel can weigh 2 lbs.
Oops… That's 13% of your weight allowance gone already.
Even if your airline has generous a weight limit you will enjoy the freedom of traveling with a lighter bag.
And besides weight, regular fluffy towels take up a lot of space in your luggage or backpack too. If you are going on a family vacation you might be able to fit in separate individual travel towels for all the family in the place of 1 big fluffy towel.
What I'm trying to say is that if you are flying carry-on only packing a huge big towel is a dumb idea.
And if you actually use that big fluffy towel it will take forever to dry and you might end up packing it damp. Hello stinky clothes!
There are smarter alternatives to include on your packing list and good travel towel should be both compact and quick drying.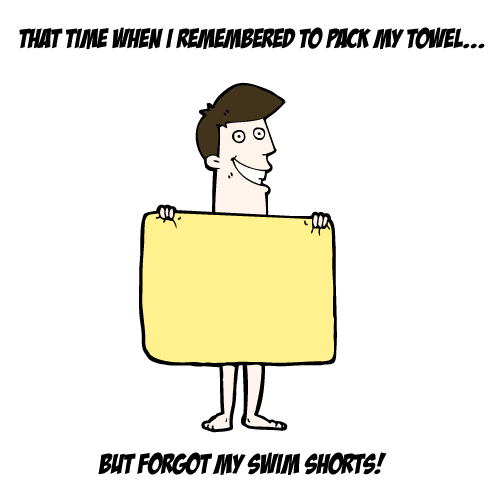 ​Did You Know? When archaeologists discover ancient human remains they often find 2 possessions: A knife… And a towel! That's how important towels are. If you're flying carry-on you'll need to leave your knife at home but make sure you pack a towel!
Our Travel Towel Reviews At A Glance:
What's The Best Size Of Travel Towel To Pack?
Okay, let's talk you through your towel options and packing tips.
Small Travel Towels
Are very light
Don't take up much space
You can pop them in your handbag or day pack
You can still dry your entire body with a tiny towel
They're easy to handwash
Linen or microfiber options
But…
Small towels don't keep you warm
They don't cover your modesty
They're little use at the beach or the pool
Large Travel Towels
Are much more versatile
There are linen, microfibre or Turkish cotton options
But…
They take up more space in your luggage
They increase the weight of your luggage
Bear in mind that a travel towel is also a great towel to stuff in your gym bag or sports bag. They are great if you are going camping, hiking or backpacking too. So the investment might not just be for travel. Think about all the times and places you will use it.
The microfibre hand towels pack down very compact. They are handy to keep in your handbag or daypack in case you get caught in the rain or are sweating buckets on a hot day.
I recommend packing a small travel towel even if you will be staying in hotels that provide towels. Especially if you are traveling with anyone clumsy that spills things. Considering their minimal packing size they are handy to have around for emergencies.
However, if you are going to the beach, hanging out at the pool, going for picnics… well, you'll want a beach towel then won't you!
In this scenario, you will want a travel towel that is larger and more versatile. But it's still a good idea to get something lighter than the chunky terry-weave style cotton towel you have at home.
The best beach travel towel is undoubtedly a Turkish style peshtemal but let's talk about the best travel towel materials.
The Best Travel Towel Materials
The sad truth about microfiber…
Rumor has it that the Japanese first developed microfiber in the 1970's. They were hoping to make a body-hugging swimsuit.
The new material was body-hugging, but it was a terrible swimsuit because it absorbed too much water!
Microfiber is a synthetic cloth made with very thin thread. It's usually polyester mixed with a little polyamide (nylon).
In layman's terms… it's plastic.
These synthetic threads can be 100 times finer than human hair.
The end result is that microfiber cloth is both highly absorbent and quick drying. So far so good.
Because the fibers are so small microfiber cloth turned out to be great for cleaning.
But your towels main job is not for cleaning. The best travel towels wick the droplets of water off your skin and to stay fresh so they can be used more than once.
Scientists quickly came up against their next problem.
Untreated microfiber is a stink magnet!
As well as picking up dirt and dust particles this new fabric was a breeding ground for bacteria. This caused it to start to smell funky very quickly.
Microfiber towels are the worst possible starting material for a travel towel.
But here's the rub…
If you can take a cheap material and somehow make it work the profit margins are enormous.
To stop microfiber towels from stinking manufactures treat them with silver nanoparticles. When wet the silver releases ions and the ions kill the bacteria and stop the bad smells.
Yes. Those much-vaunted antibacterial properties of the silver nanoparticles are mostly marketing bluff and bluster to hide the fact that they choose a cheap and nasty material to make the towel from in the first place.
Microfiber travel towels do still start to stink after a while, it seems the silver nanotechnology has its limits.
And there's more…
We don't know what effects silver nanoparticles have on our health and the environment.
Also, microfiber towels shed plastic threads every time you wash them and who knows where those micro-plastic threads end up.
So if "better safe than sorry" is your motto and you are concerned about environmental issues you might want to avoid these types of fabrics.
Instead, I recommend choosing a towel that is naturally odor-resistant like linen. Which is what every travel towel manufacturer would do if they were not primarily motivated by profit.
The end result is a cheap towel with dubious origins and unknown potential consequences for your health and the environment. Microfiber is not the best travel towel choice for sustainable travel and there are much better travel towel materials.
For that reason, I'm only going to highlight 1 microfiber travel towel for you to consider. To be honest… they are all much the same anyway.
End of rant 🙂 This was the best microfiber travel towel that I came across.
RainLeaf Travel Towel Review
The Rainleaf is a very popular travel towel that comes in 7 different colors and 6 different sizes. So you will be able to choose a size to suit your needs. It's very typical of this style of travel towel.
Things That I Liked:
The 30×60 inch X-Large towel weighs 0.61 lbs and rolls up to be only 9.65 x 4.65 x 3 inches.
So it's a relatively large towel, is quick-dry, and packs light and compact.
The RainLeaf towels are treated with silver nanotechnology to help prevent bacterial smells. Don't expect too much here. The best way to stop the towel from developing odors is to hang it up to dry. If you pack it wet it will still start to smell bad despite the manufacturer's claims.
The xx-large version also features a zip pocket in the corner to put your cellphone or keys. This makes it a good beach towel.
Things I Didn't Like:
They are 85% polyester and 15% polyamide. Microfiber is not a natural textile it's synthetic and it actually melts at high temperatures. Some people complain of a chemical smell with the towel is new but this fades after a few machine washes and it's recommended to wash the towel before your first use it.
Linen Travel Towels To The Rescue
Is it possible that despite all the tech and marketing claims microfiber towels are not the best?
You bet your soggy ass it is!
In 1922 they discovered the burial place of the Egyptian pharaoh Tutankhamun. When they opened up his long-abandoned tomb they found his linen curtains were still intact. More than 3000 years later!
Linen towels are a great natural alternative to synthetic microfiber towels.
Linen is a very strong material and even stronger when wet.
They are naturally antibacterial and odor resistant.
Linen isn't fluffy but it is moderately absorbent and dries quickly. Because linen cloth is thin it folds down into something reasonably compact. They are lighter and smaller than your usual cotton towels.
On the downside, they can be a bit scratchy especially when new. They are also expensive but you pay for quality.
For a towel that won't stink up easily that you can use multiple times I always recommend linen.
They are not as easy find. Always look for 100% linen. Here are 2 good options to consider for linen travel towels:
Sofia's 100% Pure Flax Linen Towel
The Sofia's Linen comes in 2 sizes. The smaller one (25×52 inches) is great for light packing it's a stretch of the imagination to call this a bath towel but it's a good travel size if you are keeping it light.
The main complaints about the Sofia Linen towel are related to the size. If you have the space in your suitcase the larger one (40×65 inches) would make a great beach or pool towel.
Things That I Liked
Unlike a cotton towel this linen towel won't start to stink up so fast. This means you have more chance to actually have a usable towel for the duration of your trip. And because it's quick drying you could even wash it in the hotel room sink if you needed to.
Things I Didn't Like
You need to be aware that a linen towel is not soft and fluffy like a terry-weave. Some people say the linen towel is good for exfoliating. That gives you an idea of the feel of the towel. But remember for a travel towel we are seeking something that is not voluminous and fluffy. We need something that packs small.
LinenMe Provence Towel Review
LinenMe have quite a few different styles of linen towels. They also make all sorts of linen products like bed sheets, throws and table cloths.
Things That I Liked
This particular towel comes in two sizes. 26 x 51 inches and 39 x 57 inches. The main selling point is the odor-resistant qualities of linen. You can use a towel like this all week and it's not going to stink.
The small packing size is great too meaning it doesn't take up too much space in my carry on.
Things I Didn't Like
You need to be careful about how you wash linen because it can shrink. It's advised not to tumble dry them, but actually, why do we want to tumble dry something if you can hang it up and it will be fully dry in the morning.
These towels are not the cheapest option, but if you want the best travel towel then you need to be considering linen.
Cacala Pestemal Turkish Towels
The Turkish Peshtemal is the swiss army knife of towels. From bathroom to beach they have many uses.
A peshtemal can be used as a scarf, a summer throw, a picnic blanket, a gym towel, or a yoga mat cover. Also, extra-large Pestemals make great travel beach towels.
​They are typically made from cotton and they are longer than a typical bath towel.
Cotton, in terms of odor -resistance is not the top choice, but they are very versatile and a cotton peshtemal may earn its place in your luggage because of this.

Cotton peshtamals weigh around a third of a standard bathroom towel of the same size while still being absorbent enough for drying off with.

They come in lots of beautiful designs and typically have tassels at the end.

Let's face it. Even if your hotel provides towels are they the type of towel you want to take with you to the poolside? Probably not.
What's more, if you look carefully you can source large 100% linen peshtemals. They outperform cotton in odor resistance but are more expensive.
If versatility is your priority then consider the Cacala Peshtamal.
Things That I Liked
It's cotton so it's not as good at resisting odors as linen. However it's still a lightweight towel compared to terry-weave bath towels. The fact that it's light means it's easier to pack and it dries quicker.
Just drying quicker means it will be more odor resistant than a standard fluffy bath towel.
It's great that there are so many different styles to choose from and the price is cheaper than linen.
Things I Didn't Like
These are not the most ultra-absorbent option or comfortable option. Despite being cotton, it's not the terry-weave bath towel experience.
You can also get Turkish Peshtemal's that are made from bamboo which is a great sustainable material.
The Ultralight Travelers Sponge Hack
This may be controversial… but I think I've saved the best for last.
I propose a new paradigm in post-shower drying off techniques. Remember, you heard it first here on TravelingLight.com

If your hair is short enough, the best travel towel for ultralight travelers is not actually a towel…

It's a sponge.
Now now… suspend your disbelief for a moment and I'll explain.
You can use any sponge but something soft and absorbent works better. I like a regular cellulose sponge, the type that is hard when dry and soft when wet.
You can scrub your skin in the shower which is always nice and then simply turn the faucet off.
Before you step out the shower work your way from the head down to your toes soaking up all the water droplets off your skin. Squeeze out the sponge as you go to improve absorbency. It takes less than 2 minutes.
If you soak up all the droplets the remaining moisture on your skin will simply evaporate very quickly. And a towel doesn't get you 100% dry anyway.
In fact, if you wear breathable fabrics like merino wool you can dress immediately.
Voila! No need to even take a towel with you anymore!
I like these sponges that have a little rope so you can hang it outside your suitcase.
The sponge is undoubtedly the lightest thing you can pack to dry yourself off quickly after a shower. It's a great thing to pack if you are traveling light or going on a camping trip. You can give yourself a full wash and dry yourself off with just a sink and a sponge.
I will concede it's a terrible beach towel though and probably better suited to solo travelers!
Conclusion
As with most travel gear, it's impossible to recommend a single best travel towel. I'm not convinced that microfiber towels are great for sustainable travel but then the damage caused by flying is probably much greater than the towel you are carrying.
I'm a digital nomad, travel guide and full-time ultra-lightweight traveler and I can actually get by with a sponge! But then I'm not a big fan of the beach so I don't need to carry a beach towel. Everyone is different.
Hopefully, this article has given you some ideas to think about and travel towel options and helped you on the road to find the perfect travel towel to add to your packing list!