Last Updated on January 16, 2021
In A Nutshell: These 10 deceptively-simple backpacks are great for traveling light.
A true minimalist doesn't need the best minimalist backpack, so if you are holding onto that idea you can let it go. You just need something that's not going to fall apart. These are only bags, they are not going to change your life.
But if you really want to fall in love with a new backpack and you like to travel light my list is a good place to start.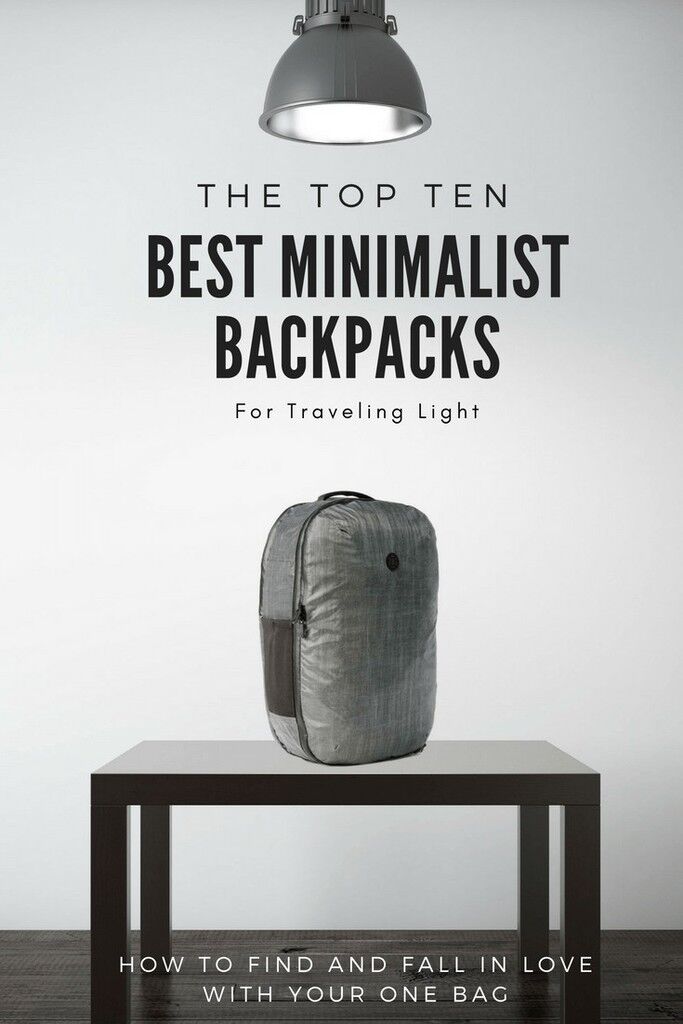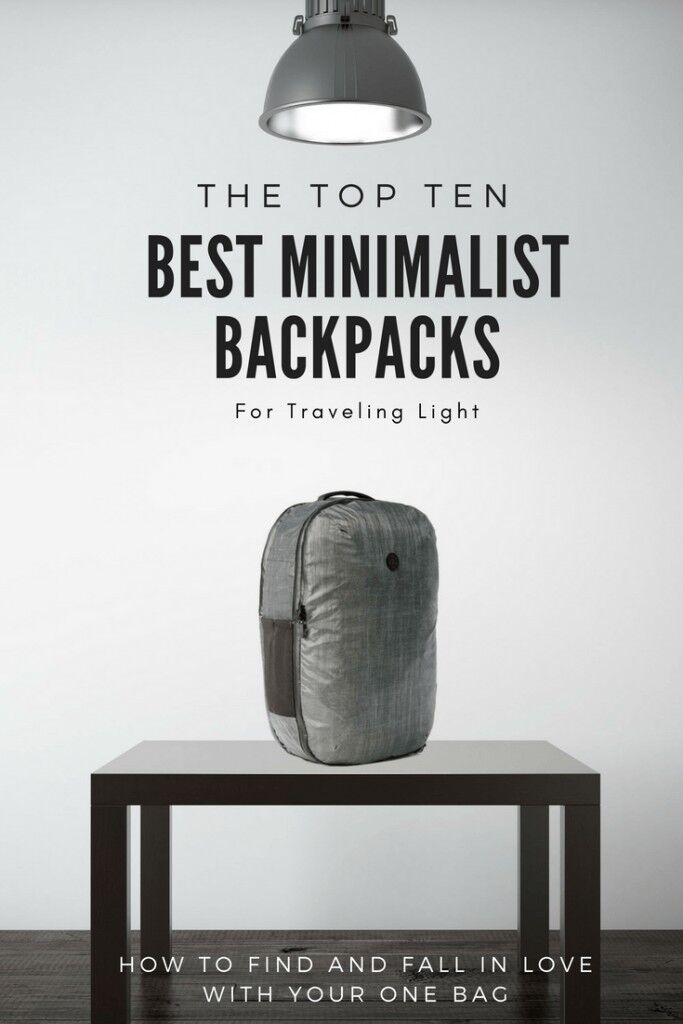 What Is A Minimalist Travel Backpack?
A minimalist travel backpack is a bag with a visually-clean look for people who travel light.
The bag echoes the minimalist philosophy of its owner. It may eschew fancy features in favor of solid fundamentals.
It must serve its core purpose well. It should be strong, lightweight, durable and be great for carrying your stuff in.
Its job is to make your life easier.
Designers should conceal functional complexity behind a simplistic first impression.
It's generally smaller and it replaces your daily backpack and your suitcase.
If it could speak to you… it wouldn't speak it would sing… with all the passion of a young Chesney Hawkes in 1991…
The best minimalist backpack is your one bag — your one and only — your best buddy on the road.
This post is going to help you find it.
Essential
Strength
Durability
Dependability
Comfort
Simple design
Leave It Behind
Excessive ornate styling and branding
Excess material weight
A billion internal compartments
Crazy amounts of padding and features
Features for the sake of having features
Parts that can break easily
Gimmicks
Where Did I Draw The Line?
I was shooting for backpacks somewhere between 20-liters and 35-liters.
I wouldn't call a 45-liter backpack the best minimalist backpack… it's simply too large.
Don't get me wrong. You can still be a minimalist with a large backpack if everything you carry has earned its place.
But most light travelers don't need 45 liters. Simple.
These backpacks were all easily carry on size. All features should have a solid purpose. No gimmicks. No fluff. And they should all fit a small lightweight laptop.
Why Choose A Minimalist Backpack?
Like nature abhors a vacuum, a backpack likes to be full. If you buy a large backpack you risk filling it with clutter and things that you don't need to carry. This leads to an unnecessary burden and grumpy travels.
If you choose a smaller minimalist backpack you will place limitations upon yourself. If there is no space in your backpack you simply can't take any more. Overpacking problem solved.
I have found that when traveling light with a small backpack my journeys have always been more fun. If you travel light and don't pack a lot of things your bag doesn't need so many comfort features.
Most heavily-featured bags try to fix problems that vanish if you pack light in the first place. Makes sense right?
Check out this wonderful video of Megan who started packing light and found it led to big changes in her life.
How Do You Fit Everything You Need In A Small Backpack?
You learn to travel light and how to pack minimally.
Clothes usually take up the most space in a travel backpack. So you make do with fewer clothes.
Doing laundry while traveling helps a lot. Also buying odor-resistant clothes made from fabrics like merino wool or linen helps too.
You also leave behind ideas about what you need and social conventions. You don't need a new outfit every day, that's "just for nice". You also don't need to travel light, that's "just for nice" too.
Whatever floats your boat!
Short Thoughts On Each Product
The Bag You Already Own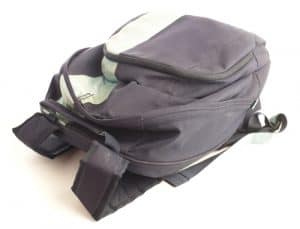 If you already have a backpack do you need a new one?
There is a fair chance you only want a new backpack and don't need it.
Minimalism is about removing excess. So if you have an old backpack, couldn't that fill the role?
Listen up kids…
As I grow older and wiser I find that I have buyers remorse about almost everything I buy.
Like seriously… excluding food, 90% of what I buy leads to regret in the end.
I'm still as big a fool as the next guy though… it's so simple to convince yourself that you need something new.
When we look at the feature list of a backpack or any product we always have a blind spot. We see the positives but can be blind to the negatives.
Let's take the Minaal Daily for example. It retails at $249 and has this features list.
Weight: 2.16lbs
LxWxH: 16.9 x 12.6 x 6.3in
Zipped pocket
Top middle pocket
Bottom middle pocket
Right side pocket
Daily rain cover
Requires you to spend 30 hours of your life working to get your hands on it (at minimum wage)
Did you spot that last one? It's what I call the "forgotten feature". Feel free to adjust the formula for your own rate of income, but you get the idea.
The "forgotten feature" is the reason the backpack you already have is often the best one for you.
In an ideal world, every product would not have a price tag in dollars or euros. The price tag would magically tell us the amount of time we need to spend working to acquire it. That's its true cost. Wouldn't that be wonderful!
Also, isn't it strange that high prices seem to automatically make something more desirable? We don't really know how to figure out what is good quality or not so we use the price tag as rule of thumb.
$499 backpack??? Dude! It must be awesome!! It must be… Mustn't it???
Well maybe not. So keep that in mind when you are shopping. Like my mama told me… money doesn't grow on trees!
And anyway… are you really shopping for a backpack or are you shopping for an identity? Just a thought…
So… do not covet thy neighbors backpack. The backpack you already own is the true minimalist choice and always the best minimalist backpack.
Tortuga Homebase 32L Backpack
Not buying my bullshit? Okay here is my 2nd choice. The best minimalist backpack that you don't really need…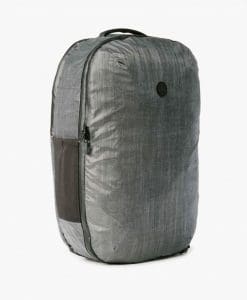 Tortuga makes the Homebase using an unusual, very thin, and very light material. It's a simple sailcloth fabric called Liteskin combined with a layer of nylon.
Despite being so thin the material is very durable. The build quality on this thing is awesome.
The material and the YKK zippers are water-resistant. So it will be great for rainy climates.
It has very comfortable straps and padding for your back.
There is plenty of organization in the outside pockets. In contrast, the main storage area is one large compartment.
I really like the way this bag looks. It has minimal branding, it's not covered in zips everywhere.
It fits a 15-inch laptop no problem. The laptop sits against your back.
My only issue with this bag is that it's just a bit too large for daily use. It works for daily use but style-wise it's a tad big and when it's not fully packed it can be a bit floppy.
It comes with a large packing cube that looks like a backpack without any straps. It's a pity they didn't put some backpack straps on that because it would be a perfect daily carry bag.
The Minaal Daily (Approx. 21 liters)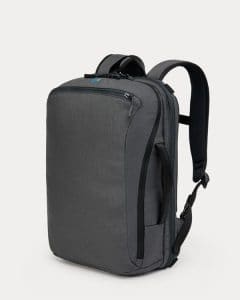 Minaal designed their Daily backpack to be your go-to bag for everyday use. But it is great for ultralight longer-term travel too.
It has about 21 liters capacity, that's just under half a full-sized carry-on. I won't lie to you It will take sacrifices but with proper planning, you can travel full time with a 21-liter backpack.
It has plain styling apart from a blue logo on the top and on the strap. It comes in light or very dark grey options. I'd prefer it if that logo wasn't there at all but you can't have everything. The logo on the strap bugs me a lot because I don't really want any brand logo 6 inches away from my face.
There is a small easy access pocket on the top for those little things. That's a large main compartment for all your clothes and everything. And close to your back there's an awesome laptop compartment.
Inside the main compartment, there are slim pockets that are good for documents. The Minaal comes with a simple rain cover that completely covers the bag to protect your stuff from the rain. It packs away nicely in a pocket at the bottom of the bag.
The laptop compartment provides good protection and takes a 15 inch MacBook. Once it's loaded up your laptop is suspended so that it doesn't touch the edges of the bag. It's a unique feature and a great way to provide impact protection.
For a daily carry it's got lots of space, for long-term travel it will be tight but it's totally doable. Minaal bags are really popular and for good reason. They are extremely well-made and should last a long time.
If you want to take more stuff then Minaal have a popular larger version that's 35 liters. But remember, a large bag like that won't be so great to use as a daily carry once you reach your destination.
Timbuk2 Uptown Travel-Friendly Backpack
This little puppy's going jump up and lick those TSA agents in the face. It's just so travel-friendly.
The laptop compartment is next to your spine. This section flips open fully so you can demonstrate your laptop and tablet to the TSA without fully opening up your backpack.
The Uptown has a small pocket on the front and also a thin pocket with lots of organization pockets.
Behind that there is another larger pocket with even more organization options.
It's great to be able to put all your nick-nacks somewhere you can reach them without going into the main compartment.
There is a fleece-lined pocket on the top for your glasses or your phone.
The back is padded and has adjustable straps complete with a bottle opener.
There is a briefcase handle but it's not too comfortable.
It's comfortable on the back.
It's well made and durable.
It's not the most expensive but is superbly designed and well made. It's the best minimalist backpack for getting through airport security.
Tom Bihn Synapse 19L or 25L
The Synapses come in black, blue, red or grey and have ripstop nylon or ballistic nylon options.
There are a lot of large pockets on this thing and this results in a lot of visible zips.
You can choose different colored interior linings to further personalize your Synapse.
There's that Tom Bihn badge on the front of the backpack that just screams adventure. Some people say this brand is like a dad-bag… I disagree.
The Tom Bihn Synapse backpacks are great for people that like to compartmentalize. If you have a lot of small things that need organizing then you might like the Synapse for that reason.
And that's just the options for the basic model. Tom Bihn sells a wide range of accessories that you can hook inside the pockets. So if removable pockets to put in your pockets is your thing you are in luck!
I just stick fiddly items in simple see-through freezer bags and chuck them in with everything else.
The bag is water-resistant, don't go scuba diving with it but your belongings will be protected in a rain shower.
The big downside for the basic model of this bag is the lack of protection for your laptop. There is an internal pocket, but the laptop isn't protected. So if you dropped the bag or slammed it down it could be risky.
But then again… when was the last time you slammed your backpack into the ground?
Some, anger management issues there buddy???
Since you'll always be the one carrying your backpack you could just be careful 🙂
And if you want you can buy the extra accessory. They call it a cache. It's a large pocket to put inside the pocket that's inside the bag. This way your laptop won't hit the ground should you have a tantrum and start throwing your backpack about.
For weight distribution, it's usually best to put a heavy item like a laptop close to your back.
But for comfort, it's better to have something soft against your back like clothes.
Since you are a light traveler and not a laden pack horse, you don't give a crap about weight distribution.
You will enjoy not having a hard laptop against your back with the Tom Bihn Synapse. The laptop sits closer to the center of the bag.
The 25-liter version is their best minimalist backpack and great for light travel. It's roughly 55% of maximum carry on size.
The main reason this bag ranks so highly is the build quality. It's made in the USA and built to last.
The essential features of a minimalist travel backpack are strength, durability, and dependability. The Tom Bihn Synapse ticks all the boxes and is a bag that's not going to let you down.
You just need to decide if it's your style or not.
OnePlus 20L Travel Backpack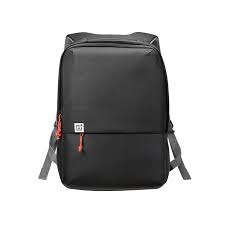 OnePlus make smartphones. And they specialize in making phones with high specifications but low prices.
But now they've started making a backpack too, and it has a quite minimalist style.
For most regular people this isn't a travel backpack, it's a daily carry bag.
But for ultralight travelers, 20 liters is a do-able size.
20 liters is about 44% of maximum carry on size. You're going to need to trim that packing list!
It comes in 2 different styles, a black version and a grey/blue/red version.
If you are looking for a clean looking style and a price that won't break the bank then OnePlus might do the trick for you. That's why I included it on this list.
Maybe the OnePlus is the best minimalist backpack for people who have a OnePlus phone and love the brand.
But build quality is questionable. Because what do OnePlus know about making dependable backpacks?
In my view, it's best to buy your phone from a phone maker and your backpack from a backpack maker.
That way you'll have more confidence that you are getting something that's going to be robust.
Saddleback Squared Leather Backpack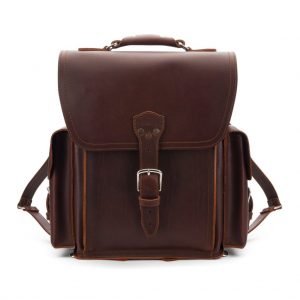 It's made with heavy leather adding unnecessary weight.
It opens and loads from the top so it's awkward to get things in and out.
It's not the most comfortable.
It doesn't have great organization features.
There's no special padded place for a laptop.
This all sounds pretty bad right?
Yeah… but this backpack will last for a lifetime and longer.
For 3 out of 4 of my essential features, this backpack kicks ass!
There's nothing to break.
No zip, just buckles.
It's all designed with durability in mind. The quality is unreal.
Capacity wise you've got around 35% of maximum carry on size. You'll need to travel light so the weight of the leather won't matter so much.
It's the best minimalist backpack for people that don't like shopping. Buy this once and never shop for another backpack all your life!
There is nothing else on this list that comes close in terms of strength and durability.
But it's going to cost you. How many hours of your life would you need to exchange to get your hands on a bag like this?
If that's number is too high for you look elsewhere.
If you can afford it without too much pain in the wallet, and you can travel light, and if you like the style, then the Saddleback might be your one and only.
Incase EO
The Incase is a plain-looking black bag, but there's more there than first meets the eye.
On the outside, this is a plain black bag for carrying your laptop.
But it's expandable.
This means that it's a great lightweight travel backpack when expanded. But when you are hopping on planes between destinations it can grow in size to take your clothes.
Arrive at your destination, pop your clothes in a drawer, and zip it back up and it makes a great sized daily carry bag.
People that don't travel light might see this as a good feature for going away for an overnight.
Ultralight travelers will see potential in this bag as their main bag for daily use and travel. If they can travel very light.
Incase claim it can take 2 days clothes. For light travelers, this means 2 spare days + the set that you are wearing. A sink and a universal sink plug and long-term travel is totally doable.
Pricewise it's in the middle range. It's not top end like some of these boutique backpack makers. Its also not got the kudos of a brand like Minaal or Tortuga.
As for durability, this isn't going to last forever but it might be the best minimalist backpack at this price point.
GoRuck GR1 21L or 26L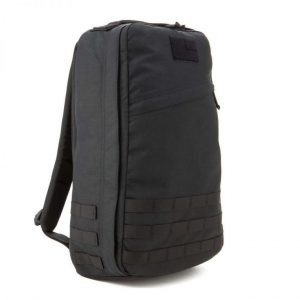 The GoRuck comes with a lifetime guarantee. Don't you just love companies that stand behind their products?
They can afford to do that because it's very well made with high-quality materials.
It's designed to take heavy loads and to take them comfortably.
If you are using this bag for travel you are certainly not carrying a huge volume of stuff. The GR1 is available in 21-liter or 26-liter versions.
But you might still have a heavy pack if, for example, you need to take a 17-inch performance laptop for work. Or if a gaming laptop is important to you.
So if you have a load that's small in volume but still heavy something like the GoRuck GR1 is well worth looking at.
If you are buying this for taking on planes don't get the camouflage version. You'll just attract unwanted attention.
The plain black version is very minimalist. The build is strong, durable and dependable. It's the best minimalist backpack for carrying heavy loads.
If you can afford it, it's a strong contender.
Lifeasy Travel Laptop Backpack 20-35L
Finally, I wanted to include a cheaper option to help find the best minimalist backpack for lower budgets.
The Lifeeasy has a minimalist design that's similar to the Incase.
It's expandable from 20L to 35L.
Its made with lower quality materials and a lower build quality.
Manufacturing might be a bit hit and miss so I'd test your bag extensively before taking it on a long trip.
It expands a little too much for my liking. Because 9.5 inches is greater than most carry on size limits. But that would only be a problem if you packed so much in it couldn't be squeezed smaller.
It would be nice to be able to hide the backpack straps away because then it would look like a cool minimal fabric briefcase.
While it might be okay for short trips to and from a home base. I wouldn't trust this bag for extended travel.
Summing Up
Most companies are targeting different segments. They want us to have 2 bags, one for travel and one for daily use.
So many of these choices involve a compromise. We end up with a bag that's not quite right for travel or not quite right for daily use.
I'd love to see some expandable designs made to higher specifications. I don't think the best minimalist backpack has been created yet. In my mind, expandable packs are the way to make a one-bag that's great for both travel and daily use.
What do you think? What is the best minimalist backpack that you have come across? Did you find your onebag yet? Let us know in the comments.