Last Updated on April 15, 2020
5 Travel Duffels That Are Great For Air Travel
In summary: I took a look at duffel bags suitable for carry-on luggage and concluded that the Timbuk2 Wingman Travel Duffel was the best carry-on duffel bag.
It was the top choice because:
It's the ideal size for a carry on
It's got a padded section for a tablet or laptop
It's lightweight at only 3.4 lbs
It has fold away backpack straps
Comes in five great designs
At A Glance: Our Best Carry On Duffel Bag Picks
Are Duffel Bags The Best Multi-functional Carry On?
We humans seem to have a natural want to complicate things which really should be simple.
Some carry on bags look like they were designed by Nasa!
Manufacturers are under constant pressure to innovate and come up with the next feature that allows them to charge more and/or st​and out from the opposition.
And so begins the march towards over engineered solutions for simple problems.​
Tell me? Would you take your rolling hardside 4 wheeled spinner to the gym or to the beach?​
The versatility of the​ humble duffel bag could be it's most endearing quality.
With some airlines enforcing weight limits of 11 lbs does your 8 lb titanium carry on really make much sense? You couldn't even take a bag of sugar with you without going over the limit!
Yes there is a lot to be said for that neglected gym bag. Learn how to pack light and you will be able to travel free and unrestricted​.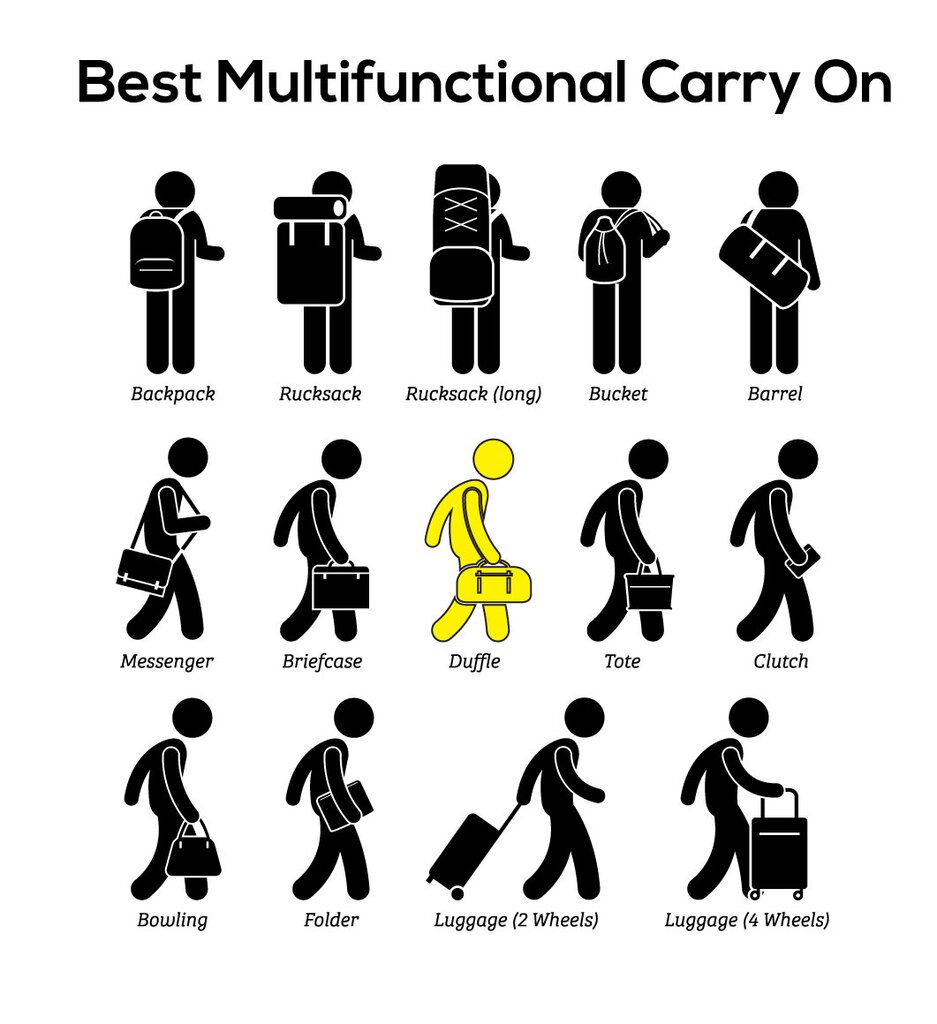 Conclusion
Not everyone wants to look like a business man with the standard issue black rolling suitcase and not everyone needs a dedicated bag only for air travel.
If you don't travel often the right duffle bag will sort you out for the occasional flight but you'll have a bag that you can use for other purposes too.
And if you landed on this page because you need a new duffle bag for camping or sports activities I bet you never even thought that it might come in handy for your next flight!
These are only a small selection of the many types of duffle bag that you can find. As you can see there are benefits to be had with a duffle bag over a wheeled suitcase particularly if you don't mind carrying your bag. For a start they are much more stylish you will be able to use them at other times in your life and not only when you are on flights.
Not only that because they don't have a rigid size you can simply put less in them and squeeze them down to meet the requirements of budget airlines that only allow smaller bags.
If that's not enough for you duffle bags can often fit underneath the seat in the plane which means you don't need to fight with all the other passengers for that space in the overhead locker and this can take a little stress out of your journey and that's no small thing.