Last Updated on September 15, 2023
Key Takeaways
According to the TSA, you can bring a hair dryer on a plane in carry-on luggage or checked luggage
Valuable hair dryers should always be packed in hand luggage
A travel hair dryer will be lighter and take up less space in your suitcase
If traveling internationally check that your hair dryer has the right voltage to work at your destination
What Are The TSA Hair Dryer Rules?
Yes! You can bring a regular hairdryer on a plane. That's the simple answer. You can pack it inside your checked baggage or inside your carry on bag as hand luggage.
Here are the helpful folks at both Delta and the TSA confirming it on Twitter.
You can also check the relevant section of the TSA website here.
As always, the final decision about your hand luggage always lies with the TSA security officer at airport security.
You do not need to take your hair dryer out at security. Hair dryers can remain inside your carry-on bag during x-ray screening: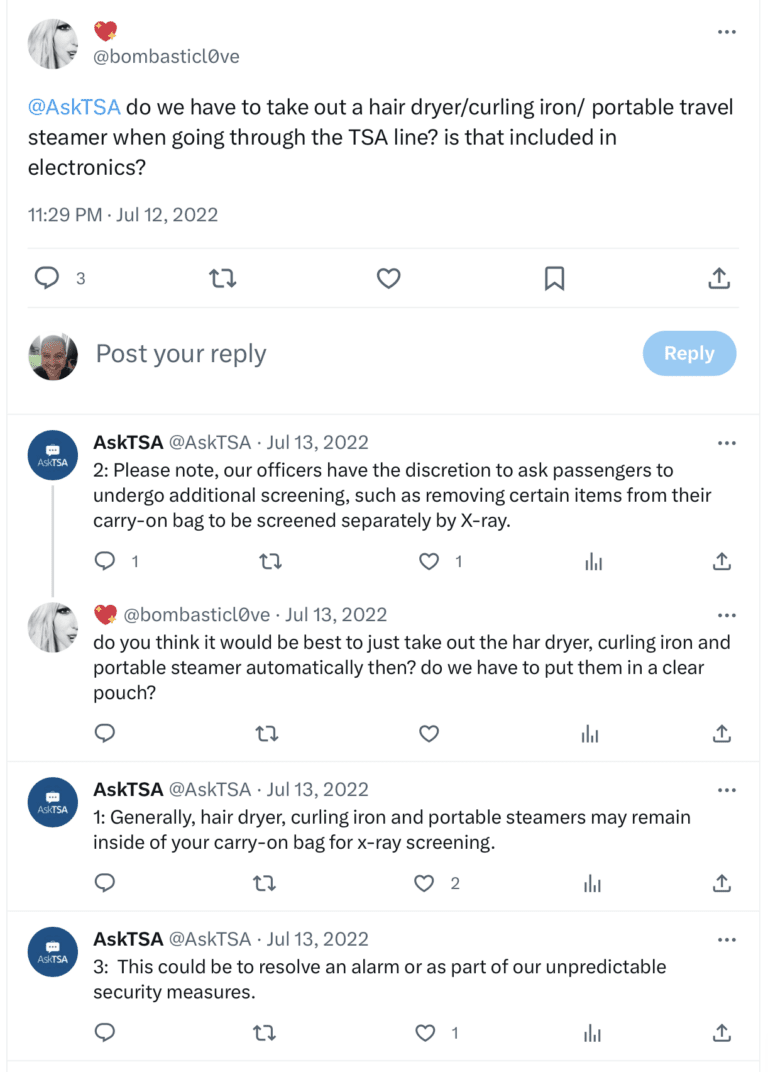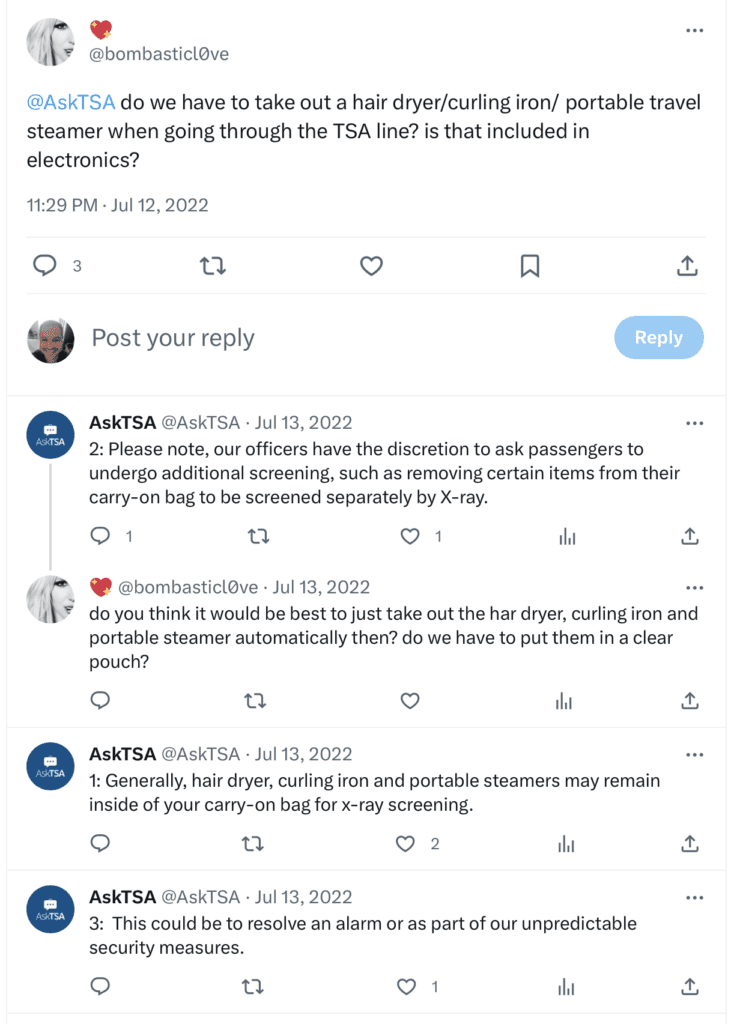 Should You Pack A Hair Dryer For A Flight?
It's worth considering if you really need to pack a hairdryer. In some cases hotel rooms allow you to borrow one from the reception.
Often a simple phone call to your hotel or wherever you are staying could allay your fears and lighten your load.
Another option might be to ship it. You could pack up a box with all your hair styling equipment, shampoos, and styling products and ship it to your hotel room. It would be waiting for your when you arrive.
You'd need to ship it back home when too so it would cost a little but it would lighten your hand luggage and save you from paying for checked luggage.
Not convinced… okay let's see where to pack it.
Where & How Should I Pack My Hairdryer For A Flight?
Packing A Hair Dryer In Checked Luggage
Because checked bags have large size and weight limits it's easy to fit your hairdryer inside. You will have no problems with security allowing a hairdryer in checked luggage. Make sure you pack it well and surround it with some padding to protect it.
It's worth mentioning that you can't take any butane gas powered curling irons, flat irons, or hair straighteners in checked bags.
The downsides are checking luggage sometimes costs extra. It can cost more than the price buying a cheap hair dryer at your destination.
I usually recommend flying carry on only for convenience and saving money. But if you someone with a lot of heavy hair styling gear then you might just need to check a bag.
Packing A Hair Dryer Inside A Carry On
Hairdryers are not small and they typically weigh around 2 lbs. However, they do fit inside a cabin bag with good planning. There are no rules against packing one in your hand luggage, they are not prohibited.
Airlines in the US usually have generous weight allowances. If you are flying internationally this might not be the case. Some international airlines only allow 10 lbs maximum for your carry on. And limits of around 20 lbs are common internationally.
Your wheeled cabin suitcase might be 4 lbs and your hairdryer might be around 2 lbs. That's 6 lbs of your allowance gone already. It would actually be taking up a significant part of your weight allowance if your airline has restrictions in place.
What then if you add in hair straighteners, curling irons, or flat irons…
The combined heft of all your hair styling gear is going to shoot up and you might not have space left for your clothes!
Even if your airline doesn't put a weight limit on your carry on you need to remember that you need to be able to lift your carry-on into the overhead lockers. You also might need to carry it up the plane steps.
So if you are packing a hairdryer in a carry on then pay special attention to the weight allowance of your airline.
And there is another wrinkle to watch out for…
You Might be Forced to Check Your Carry On Baggage at the Gate.
You've got your hairdryer in your cabin bag, you squeezed it in and since you are fit and healthy you can comfortably lift your bag.
Then you get to the boarding gate and your carry on bag is suddenly changed to being a checked-at-the-gate bag because they don't have space for it in the cabin.
This means the safety of your luggage is outwith your control. Your beloved tool could be damaged as happened to this lady flying with American Airlines. When your hairdryer is in checked luggage baggage handlers could be throwing your bag around carelessly.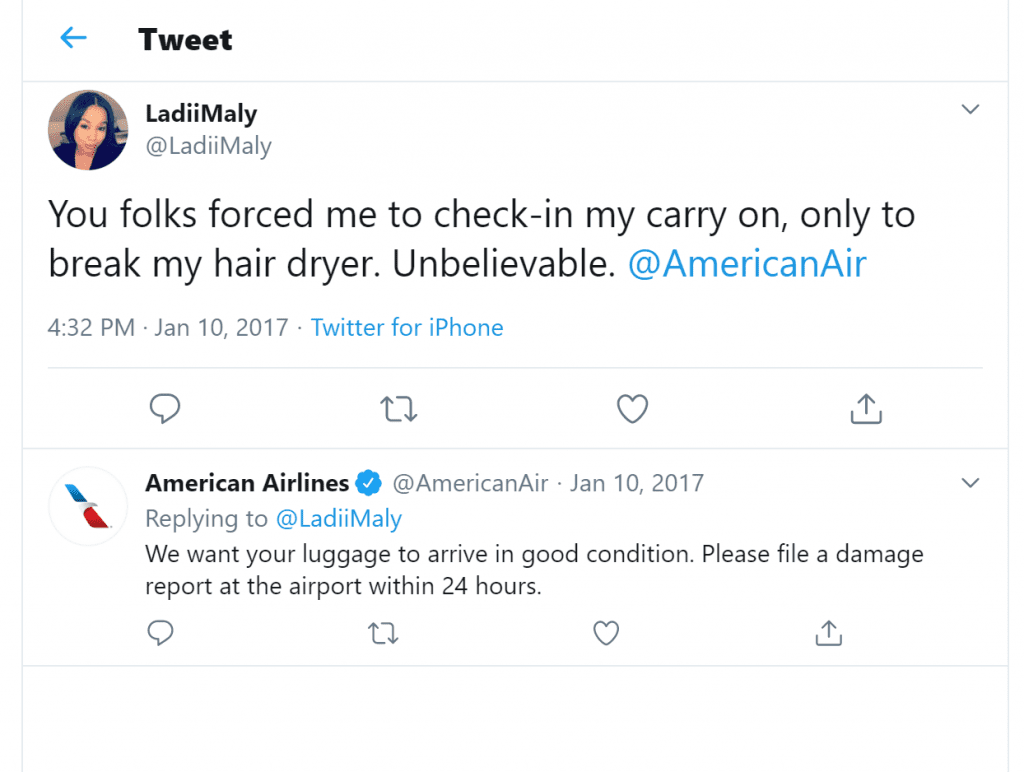 We feel your pain LadiiMaly!
So we advise leaving your 400 bucks Dyson Airwrap at home when you are flying for safety because any carry-on bags can become checked bags.
Also checked bags can sometimes go on walkabout and not arrive at the same destination as you. Your Revlon might become your RevGONE…. Your BabylissPro might take a detour to the Bermuda Triangle. You get the idea.
If you are taking your hairdryer as hand luggage then check the size limits of your airline. Beware budget airlines that are only allowing very small under-seat bags in the cabin for free.
Are Travel Hair Dryers A Good Option?
A mini travel hair dryer does save on space and weight.
There are lots of different types that can be helpful for some travelers.
Some are full size but have folding handles to make them easier to fit into small spaces.
Others are smaller, lighter and less effective hair dryers. They might still be better than the hotel hairdryer.
This Revlon travel hair dryer is compact, has a foldable handle, is well-regarded, and affordable:
Will Your Hairdryer Work Where You Are Going?
Electrical appliances in the US use 110 volts.
Travel socket adapters overcome the problem of different plug sockets around the world but they don't fix the voltage problem. They are fine for battery chargers like phone chargers and laptop chargers because those little black cubes can accept between 110 volts and 240 volts.
But it's a different story for your hair dryer.
If you take a device that is designed to work at 110 – 127 volts on the US system and plug it into a 220 – 240 volt system in Europe then it's going to destroy your hairdryer and it could even be dangerous.
To fix the voltage problem you need a voltage converter.
Travel hair dryers sometimes have "universal voltage" this means that you can use them in countries with different voltage standards. It's something to consider if you are in the market for a portable blower.
If you are traveling internationally you might be best to just leave your US hair dryer at home and look for alternative solutions at your destination.
The TSA Rules For Other Hair Products
The TSA is mainly concerned about liquids and weapons.
Here are links to our other articles about traveling with hair products and tools.
As you can see most hair styling equipment is fine, just don't pack expensive hairdryers in checked luggage, and in general a smaller, cheaper, travel-size hair dryer is a good idea.
You Might Also Like