Last Updated on April 30, 2020
In recent history, most airlines permitted passengers to take 1 carry on suitcase and also 1 personal item as hand luggage.
But some airlines have started to charge extra bag fees to take a carry-on bag, meaning only the under-seat personal item remains included in the basic bare fare. This leaves passengers trying to find suitable a 18x14x8 inches bag to avoid paying the extra charges.
This post looks at 18 x 14 x 8 bags that will be suitable for using as Frontier or Spirit airlines baggage. If you fly regularly with budget airlines these bags will save you money in the long run. You can simply put your bag under your seat and avoid the fees and waiting for luggage at the baggage claim.
Finding a good bag this size is a bit of a minefield because luggage brands lie about bag sizes and conveniently forget about things like wheels and handles.
Since budget airlines are desperately trying to catch passengers out to generate extra revenue you really need to be careful that the listed sizes are the real sizes. Don't worry we've got you covered with our selections.
Let's dive right in.
18 x 14 x 8 Luggage With Wheels
An under-seat suitcase isn't actually as small as you might think (see the graphic below). With some careful planning, you can take all the things you need for a short trip.
These first products are smaller size rolling suitcases, they have wheels and a telescopic handle just like regular carry-on luggage.
Wheels count when measuring luggage. The Spirit airlines have a slot in their sizer that means the handle doesn't count but the wheels do.
Kenneth Cole Reaction 16 Inch
The 16-inch Reaction is a 4 wheeled spinner personal item sized bag that is designed to fit under the seats of airplanes.
Its exterior dimensions are 17.75 x 13.25 x 8 so it just fits under the 18x14x8 limit.
It weighs 5.95 lbs.
Spinner luggage is very maneuverable since the wheels can roll in all directions. They are great bags for wheeling while in an upright position, this is handy if you are moving forward slowly in a line.
The spinner design is also useful when you are moving through crowded areas since you can move with the bag upright close to your body rather than dragging it behind you.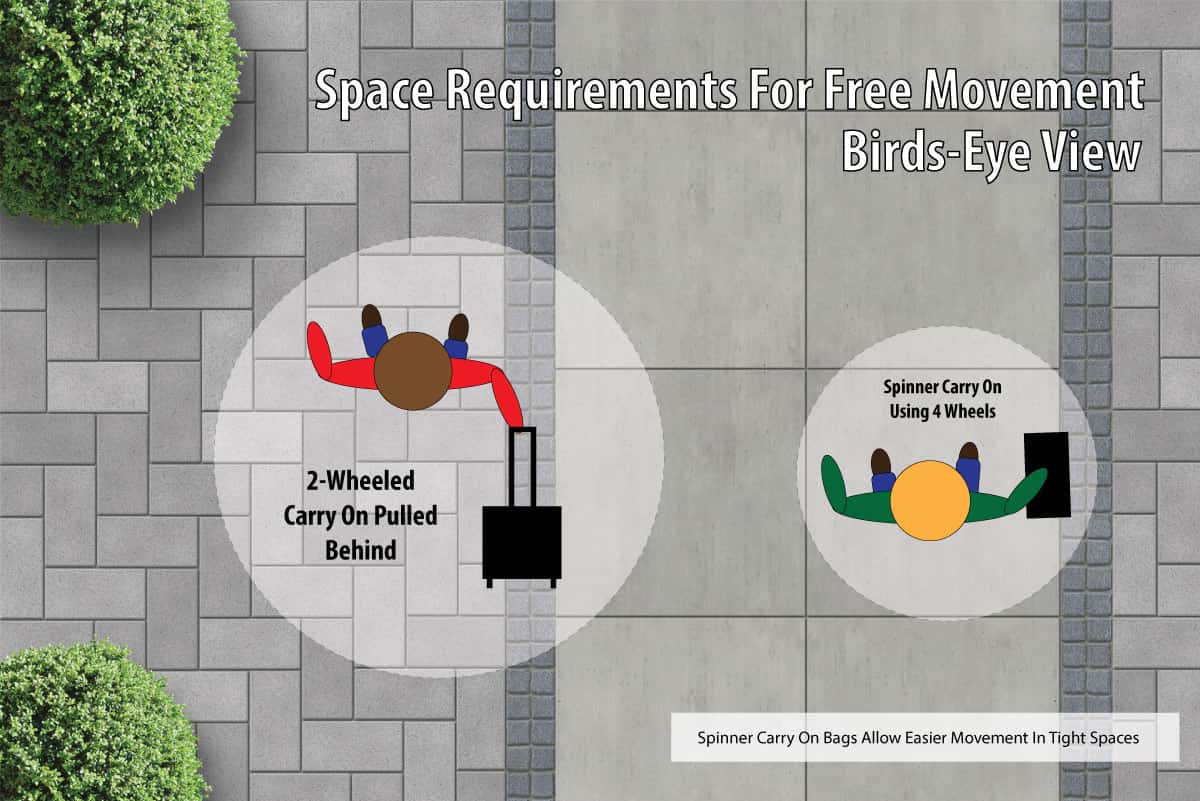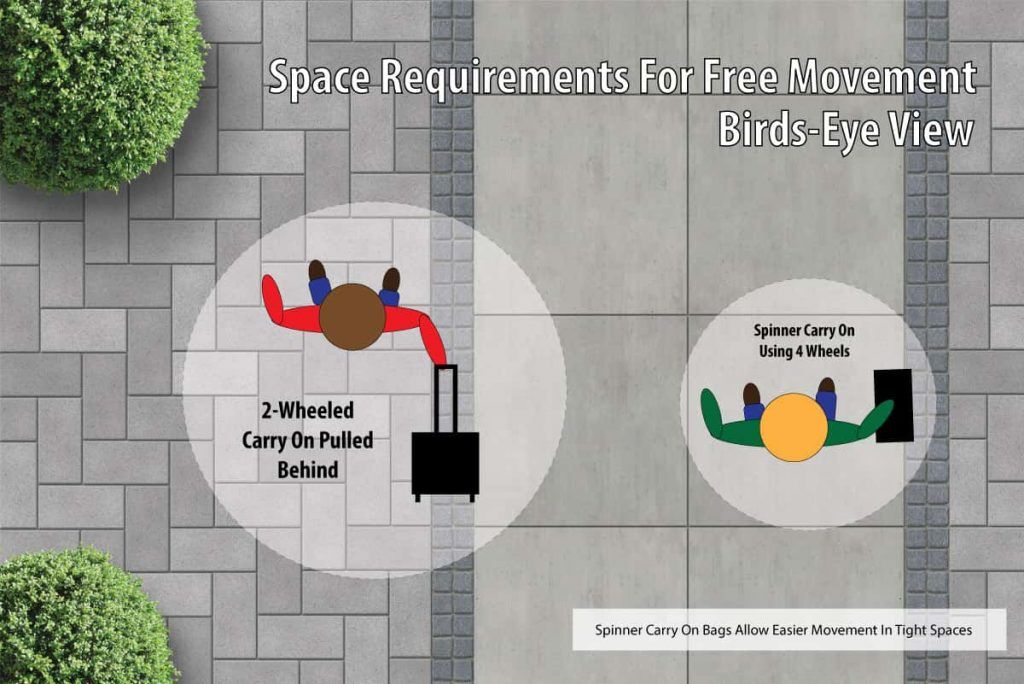 So far so good…
But the spinner wheels come at a cost since airlines count wheels as part of your size allowance. You can see that there is a large gap under the wheels of the Kenneth Cole. Since a personal item is already smaller than a carry-on we don't want to waste any of our permitted space.
A perfect 18 x 14 x 8 inches rectangle will have a volume capacity of around 33 liters. But by opting for a spinner design this Kenneth Cole bag 'wastes' 4 inches.
The main compartment interior dimensions are only 14.0 x 11.5 L x 7.3 which is only 19 liters, that's far short of the 33 liters that you could theoretically make use of.
Spirit Airlines and Frontier are already squeezing your allowance. You need to decide for yourself if you want to sacrifice some of your already limited space for the sake of spinner wheels.
If you must have spinner wheels the Kenneth Cole is a fine choice. Otherwise, you will get more space by choosing an 18x14x8 bag with a different design.
American Tourister Under Seat
You can see immediately just by looking at the photos that this American Tourister doesn't waste space underneath.
This bag fits the Spirit sizer perfectly and doesn't have protruding wheels.
Of course, it's a 2-wheels design meaning that you'll need to pull it behind you. And you won't be able to wheel this bag in an upright position.
But if you are traveling with only a personal item and want to make full use of an 18x14x8 inches allocation then this bag will do the job perfectly.
The savings that you'll make by avoiding baggage fees will pay for this bag after just 2 or 3 flights and it's well made so it should last for a long time.
Using a rolling suitcase like this doesn't feel much different than using a regular-sized carry-on. Yes, it's a little smaller but you can still pack clothes for 5 – 7 days especially if you use compression packing cubes to pack your clothes smaller and other techniques for traveling light.
If your regular carry-on is a spinner type with protruding wheels the capacity of this American Tourister bag vs a spinner carry-on won't be all that different.
And yes I do understand that spinner wheels are nice to have. But are they nice enough that you want to pay Spirit Airlines baggage fees to get them?
No thanks! I'll just drag my bag behind me and save the cash!
Boarding Blue
The BoardingBlue is another 2-wheeled option. It is 16.5 x 13.5 x 7.5 inches so it fits under the Spirit Airlines limit.
By opting to make the bag a little smaller BoardingBlue has made a bag that not only works with Spirit and Frontier but also Southwest and JetBlue. These airlines have slightly smaller personal item size limits but at the time of writing, they don't charge for carry-on size bags so maximizing the use of the personal item allowance is not as much of a concern.
The only major airline where the BoardingBlue doesn't work well with is United. The united personal item size is much more restrictive.
So if you want an under-seat bag that you can use with most airlines in the united states then this boarding blue might be a good option for you.
It weights 4.35 pounds and has 2 nice front pockets for keeping travel documents.
While the BoardingBlue is affordable it's a less well-known brand and the build quality and consistency is questionable.
18 x 14 x 8 Backpacks
A backpack can be a good personal item for restrictive spirit airline baggage. The Spirit personal item size is quite generous so most backpacks are suitable.
It's much easier to squash a backpack to make it fit than squashing a suitcase. If you need your backpack to be a little smaller to fit JetBlue or Southwest just don't pack it full.
All soft bags work better with airport sizers, that's something to keep in mind if you are a fan of hard shell luggage. Having soft-sided luggage helps a little but they still have rigid structures, backpacks and soft duffel bags eat airline sizers for breakfast.
The downside of a backpack compared to rolling luggage is that you need to carry it. If you are thinking of going down the backpack route make sure that you are physically fit enough to carry your load.
We searched and found these 18 x 14 x 8 backpacks that were closest to the size limits to maximise space.
AmazonBasics Weekender Backpack
The Weekender is 18 x 12.5 x 7.8 inches so it's a handy size of backpack for Spirit Airlines or Frontier Airlines.
In fact, since you can squash a backpack this will be great to use as an under seater for most airlines.
So the size isn't far off if you are searching for an 18 x14 x8 backpack. As it only weighs 3.7 lbs it's not adding unnecessary weight to your back.
The name Weekender is a bit misleading in my opinion. It would be better called a Long Weekender. You can easily fit 5 days worth of clothes in here and maybe even 7 days if you travel light.
Of course, since the weight is on your back you maybe feel that 2 or 3 days worth of clothes in enough weight for you. All will depend on how far you intend to walk and your levels of physical fitness.
Hanke 18-inch Backpack
The Hanke is 18.4 x 12.2 x 7.8 inches.
Don't worry about that 0.4 inches is too large. You'll easily squash this bag to fit if it's not packed to be bursting at the zips.
Backpacks this size are good if you are going for a short trip for one main reason.
You can pack them full of enough clothes for a small vacation. If you need to you can do a little laundry in the hotel room sink to keep you going a few days more.
But once you are at your destination and want to go sightseeing or for a day hike this size of bag is not too large to use as a day pack.
Your 18x14x8 rolling suitcase will only be useful getting from home to the hotel, but a backpack like this will be useful every day of the trip!
The Hanke also has anti-theft features which can give you extra peace of mind either at the airport or around the city.
Odyseaco Montera Vintage Canvas Backpack
Another large backpack that works well as a Spirit personal item is the Odyseaco.
This backpack is sized perfectly at 18 x 14 x 8 inches.
The bag has a rugged vintage look and is well made from sturdy canvas.
When it comes to backpacks any backpack that is under the size limits will work.
Because a backpack is something that you will wear around town personal style is very much more important than luggage.
So if you feel the backpack route is going to work for you then just browse around checking all the backpack sizes until you find one that looks the part for you and fits your personality.
18 x 14 x 8 Duffel Bags
A backpack is great because it frees up your arms, but don't rule out a duffel bag as a good personal item.
They are often more rectangular and make good use of the maximum dimensions.
Also if they are too large you can make them smaller by simply not overpacking and then squeezing them down to fit. They are not as rigid in design like rolling luggage.
If you are flying for business travel duffel bags can look better when paired with a suit. There is something about a suited businessman and a backpack that just looks wrong.
A duffel bag is a good option to consider in this scenario.
The TravelPro Maxlite 5 Duffel
The Maxlite 5 Duffel is a good option for more professional-looking luggage.
It's sized 18 x 11 x 8 inches so it will fit under the seat for Spirit or Frontier.
TravelPro claim a 28 liter capacity so it's not far away from the 33 liter theoretical maximum.
It's water-resistant and has a luggage strap to attach it to a larger suitcase.
It comes in a range of colors so you should be able to find on that fits with your taste.
Personal Item Bags Duffel
This colorful duffel bag is almost rectangular so it makes good use of the under-seat space allocated.
It's 17 x 13 x 7 inches so it fits Spirit, Frontier, American, Delta & JetBlue but it will be too large for United.
There is no padding so you'd need a laptop sleeve if you wanted to protect your computer.
There are many duffel bags that fit under the airplane seats, and like backpacks your duffel bag choice will mainly come down to personal style perferences.
Rather than try to convince you that one duffel bag is the best bag for spirt airlines I would just recommend you browse duffel bags checking sizes until you find one you think looks cool.
Narway Foldable Travel Duffel
The Narway is a lightweight folding design. Often bags like this work best when combined with a carry-on.
If you usually take a full size carry on but are flying with Spirit or Frontier on a rare occasion something like this would be useful when you go back to flying with full-service carriers like American Airlines or United Airlines.
You can use keep this in folded in your carry on to use as emergency extra luggage. The luggage strap allows you to attach this bag to a rolling suitcase.
If you fly regularly with Spirit or Frontier you'd be better looking at a more durable bag. But if you only see yourself making very few flights with Spirit then this folding travel duffel might be a good option to consider.
There is no padding for a laptop though so if that is important you'd need to pack your laptop in a padded laptop sleeve for protection.
The Narway is affordable and might come in handy further down the road.
FAQ's
How big is an 18 x 14 x 8 bag?
The regular carry on dimensions are 22 x 14 x 9 inches or 2772 cubic inches or45 liters. This is true for many airlines in the united states.
The size limits for personal items vary from airline to airline. United is particularly strict but most other airlines consider a personal item to be 18 x 14 x 8 or not far away.
Importantly the Spirit personal item size is 18 x 14 x 8 and so is the Frontier personal item size. And these are the two airlines that don't include carry-on luggage in their basic ticket price.
An 18 x 14 x 8 bag is 2016 cubic inches or 33 liters.
Roughly speaking you can say that an 18 x 14 x 8 bag is one third smaller than a regular carry-on suitcase.
With smart packing and learning how to travel light, you can still fly using only an 18 x 14 x 8 bag without paying extra for a larger carry-on or checked luggage. This is true especially if you are going for a shorter trip like a weekend away.
Check this graphic which is drawn to scale: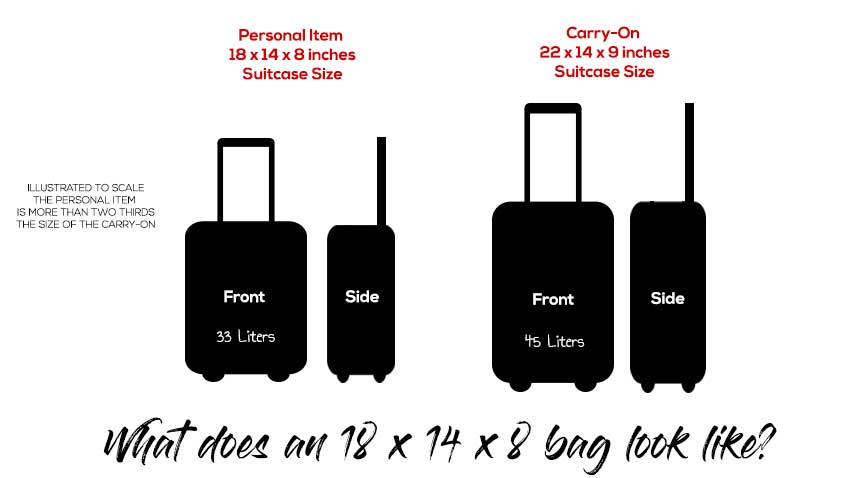 Is a backpack free on spirit?
Your backpack will be free so long as it is under 18 x 14 x 8 inches. Most regular school or sports backpacks are but some large travel backpacks will be larger than this.
There is no substitute for measuring your backpack to see if it fits.
How strict is spirit airlines on personal item size?
Spirit Airlines are very strict about the size of your personal item, this is their business model.
Your personal item bag must fit in the sizer or you will be charged extra. If this happens at the airport you might find their prices quite shocking, hopefully your blood pressure is under control!
The Verdict
A good 18 x14 x8 spirit bag will save you $26 – $55 per trip by helping you to avoid paying for a carry-on size bag or a checked bag.
They are also great bags to have for almost all other airlines with the exception of United.
Hopefully, the content of this post will give you some food for thought on your search to find a good 18x 14x 8 travel bag.
People Also Ask