Last Updated on September 11, 2023
In Summary: I looked at 14 different brands and choose these Gonex cubes as my pick for the top compression packing cube set.
They were my favorite because:
The lightweight material doesn't add unnecessary weight
The high-quality zips and seams should prevent ripping and zip snagging
They squashed my clothes down a reasonable amount
The large overall volume capacity of the set
The sizes of the cubes in the set were just right in that Goldilocks zone
They were the best value for money at the time of review
I also liked the LeanTravel cubes and if I only traveled with rolling luggage and never carried my luggage I would choose their set. Visually they looked really professional but since my packing cubes are hidden from view style was not as important to me.
For a more colorful design I'd suggest version 2.0 of the Well Traveled cubes.
Many of the compression bags were of a similar design. There were 2 broad categories: lightweight designs that suit hikers and backpackers, and large capacity sets that work better for business travelers or anyone traveling with rolling luggage.
While glancing at the photos might not reveal much calculating the overall volume capacity gave a better way to figure out how much compression packing cube you were getting for your buck.
So I have included the volume capacity in liters for each of the sets under consideration.
At A Glance: Our Picks For The Best Compression Packing Cubes
Eagle Creek Pack-it Specter Compression Cube Set
The Eagle Creek Specter Pack-it Cubes are ultra-lightweight compression packing cubes that are well-liked despite their luxury price point.
I suppose you can technically call 2 a set but it is stretching it a bit. Especially when other manufacturers are providing sets of 5 and a laundry bag for around the same price point.
The goal of the Specter cubes was to make them as lightweight as possible. For that reason there are little weigh-saving 'features' like where top zip (the one you open to pack the cube) only opens half the way around. This does reduce the weight but unless you are a serious hiker worried about the tiniest fractions of ounces then it's actually a pain that the bags can't open all the way around.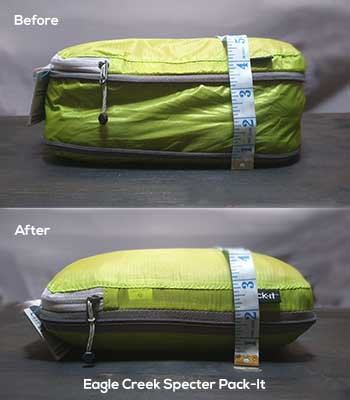 Weight:
These were the lightest compression packing cubes I came across. But only by a small margin. There are many cubes that are almost as light.
Zippers:
The cube had Eagle Creek branded zippers with zip pull strings. The compression zip snagged on the material regularly but after time I got the hang of using it without snagging.
Material and Build:
The Eagle Creek Pack-it cubes are made using ultra lightweight silnylon material. Silnylon (silicon impregnated nylon) is a fabric that is mostly used to make something waterproof.
Weight:
These were lightest cubes I tested. But only marginally.
The 14 x 10 cube is 2 oz.
The smaller 10 x 7 cube is 1.5 oz.
Size:
The set included a 14x10x4 cube and a 10x7x4 cube.
Altogether the uncompressed volume was just under 14 liters.
That means the 2 cubes would take up 31% of a large carry on suitcase.
If you squash them down they might take up around 9 liters. That would be 20% of a carry-on.
If you wanted to squash a carry-on full of clothes you'll need to buy 5 sets. Better make an appointment with your bank manager!
Warranty:
Eagle Creek offer a warranty but require you to ship the defective item to them for repair or replacement. The process has been reported to be lengthy and you need to pay the return shipping yourself.
Gonex Compression Packing Cubes
These popular Gonex cubes come in a wide range of colors. I tested the 6 piece set that includes 5 cubes and a laundry bag.
The laundry bag actually turned out to be very useful. It was great to put my dirty washing in.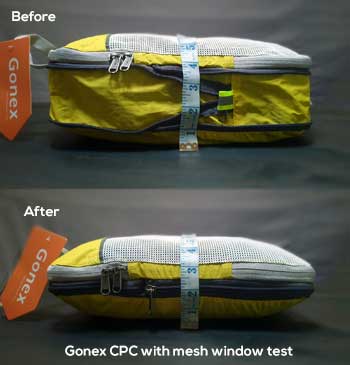 Zippers:
They have Gonex branded zippers that work well. Snagging while opening and closing the compression zipper is probably going to happen. And you'll need to learn how to deal with it and stop it happening. It can take some time to master it but once you get the hang of it you can use the compression zipper with no problems.
Material and Build:
The Gonex cubes are made with a honeycomb Rip Stop nylon. I think nylon is a stronger fabric to use for the lightweight cubes. It can take the pressure you'll put on it from stuffing the cube full.
Weight:
These cubes are very lightweight. They are a good option for backpackers or anyone carrying their luggage.
Size:
There are 5 cubes in this set as well as a laundry/shoe bag:
Large – 15.4 x 15 x 3.54 inches
Medium – 11.8 x9.1 x 3.54 inches
Small – 9.8 x 7.5 x 3.54 inches
Even Smaller – 7.9 x 5.9 x 3.54 inches
Slim – 13 x 3.9 x 3.54 inches
Altogether that adds up to around 30 liters of packing cube space when uncompressed. That would fill 66% of a large carry on suitcase.
You can probably squash that down to around 22 liters. So once compressed this set will take up about half of a carry-on.
Warranty:
Gonex offer a 1 year warranty.
Gonex Travel Organizers
These Gonex travel organizers are virtually the same as the previous set except they don't have the mesh window. Don't be fooled by the product renders which look very different to the real product. Your choice is window or no window, other than that they are the same.
Zippers:
These also had Gonex branded zippers that worked well and were not cheap. It was possible to avoid snagging by putting my finger between the zip and the fabric while zipping. You can also use something like a teaspoon to do this if you have one handy.
Material and Build:
These are made of nylon. It's water resistant which is great if you are using the cubes with a backpack and your luggage might get wet. The fact there is no window means you need to remember what is in each cube but they are more water-resistant to keep your clothes dry.
They are well made and you can really stuff a lot of things into these. However, the more you stuff inside the harder it is to close the compression zip. I find that a moderately stuffed cube works better for my blood pressure and keeps coins out of the swear jar.
Weight:
The Gonex cubes are very light. Almost as light as the Eagle Creek cubes, and even lighter on your pockets too!
Size:
This set includes 4 cubes:
17.3 x 13 x 3.54 inches
14.5 x 10.6 x 3.54 inches
11.8 x 8.9 x 3.54 inches
9.8 x 7.5 x 3.54 inches
Altogether that's 1972 cubic inches or 32 liters of packing cube.
So uncompressed they'd take up 71% of a full-sized carry-on.
You might be able to squash them down so they only take up half your carry on once they are compressed.
Warranty:
1-year warranty and lifetime customer service.
LeanTravel Compression Packing Cubes
The LeanTravel 6 Piece is a large set. So large that you might not even fit them all in a carry-on before they are compressed.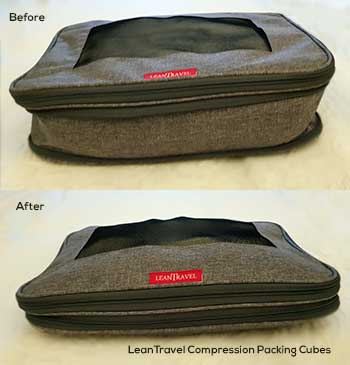 If you're looking to take packing cubes to the max or for a set to use with checked luggage then these might be your solution.
Zippers:
The LeanTravel cubes are made using SBS zippers. These Chinese zips are not top of the class like Japanese YKK zippers but they are good quality.
Material and Build:
These are made with polyester with a mesh window so you can peek inside to remember what you packed.
Weight:
The large cube weighs 0.4 lbs. The medium cube is 0.3 lbs and the small cube is 0.2 lbs.
Because it's such a large set the overall combined weight of the cubes is 1.8 lbs. If you were carrying your luggage I'd say this is an unacceptable weight addition just for the sake of organisation. For rolling luggage you will probably not notice the difference, apart from when you need to lift your case into the overhead locker.
Size:
There are 6 cubes in the set. 2 large, 2 medium, and 2 small:
Large – 15.5 x 11.5 x 4 inches
Medium – 11 x 11 x 4 inches
Small – 11 x 7.5 x 4 inches
I love that this set is so large but I wish they would tweak the sizes a little. I can't put the 15.5 inch cube sideways in my carry on (14 width). This means I need to put it longways and then have a 2.5 inch gap at the side. The jigsaw doesn't quite fit neatly together.
Uncompressed this set is 50 liters in total. A maximum sized carry on at 22x14x9 inches is 45 liters. And many rollaboards are a bit less that the maximum. You won't be able to fit this entire set in your carry-on before you compress them.
You should be able to compress these cubes down to about 37 liters. So long as you have a larger carry on close to the max you can use them all. If you want to fill your suitcase with cubes then this is a good option.
Of course you don't need to use all the cubes every time and maybe you have someone you can share them with!
Warranty:
There is no mention of a warranty beyond the standard Amazon 30 day warranty.
Hynes Eagle Travel Compression Packing Cubes
Hynes Eagle make great backpacks so I was excited to review their compression packing cubes.
Zippers:
These use a Hynes Eagle custom molded zip. The compression zipper snagged on the material a few times during testing but not fatally.
Material and Build:
They opted for the mesh window approach. This lets your clothes breath and also lets you see what's inside the bag. The window is great for seeing inside the cube but it also lets in dust and water. It's a trade off and you need to decide if windows are important enough to you to lose out on the extra protection.
The large bag really doesn't compress much at all in the middle.
Weight:
These bags are lightweight. Not as light as eagle creek specter but I wouldn't describe them as heavy.
Size:
This is a set of 3 cubes in different sizes. The large is 18 x 13 x 3.9 inches. So it's really designed to occupy almost 1 full layer of a rolling suitcase.
The medium case is 14.2 x 10.2 x 3.3 inches. This means that their medium cube is somewhat shallower than many of the other brands who prefer a depth of 4 inches.
The small case is 11.4 x 7.1 x 3.3 inches. Again this is smaller in depth that most other brands.
All together the space in the uncompressed packs would be 27 liters. That's 60% of a 45 liter maximum sized rollaboard.
Squashed down you're probably looking at 20 liters volume. That means tons of extra space if you a have a full sized carry on backpack or trolley suitcase.
Warranty:
There is no mention of a warranty.
Semary 3 Set Organizing Cubes
The Semary Organizing Cubes come in a 3 pack with 1 large and 2 small cubes.
Zippers:
The zips of these are just regular zips. Be careful with the compression zips especially if the cube is tightly packed.
Material and Build:
These are made with ripstop nylon. In theory any small holes shouldn't spread.
Weight:
These are made with a lightweight fabric. The large cube will bulge in the middle more because the distance is greater from the zips.
Size:
Be careful with this one. At the time of writing this post, they have the wrong size on their Amazon listing. They are advertising very large sizes in the text description but in the photos they write the real sizes. There is a big difference. In one place they write the sizes as 17.5 x 12.75 inches for the large and 13.75×12.75 inches for the medium.
In the photos and in real life the sizes are 14 x 10 x 4 for the large and 10 x 7 x 4 for the 2 small cases.
This is why the reviewers are saying these are smaller than expected!
This means that the 3 cubes combined are 18 liters uncompressed. That's 40% of a maximum carry-on.
They do compress down though and I'd guess they will take up around 13 liters once the compression zips are used.
The seller is saying they compression up to 60%. I think this is misleading. Maybe you can compress a fluffy jacket 60% but most clothes won't compress anywhere near this much.
Beware the marketing hype.
Warranty:
Semary offers a lifetime warranty with immediate refunds or replacements.
Due to the discrepancies in the size description and the hyped marketing I wouldn't recommend buying these cubes.
Tripped Travel Organizers
The Tripped Travel Organizers (Tim & Fin) are a small company that got into manufacturing their own packing cubes after seeing how expensive the big brands were.

Zippers:
There are a few reports of snagging with the compression zipper. As always zip slowly and with caution.
Material and Build:
Made with lightweight water resistant ripstop polyurethane. These cubes are another design that doesn't open all the way on 3 sides. You should probably roll your clothes when using these.
Weight:
The Tripped cubes are lightweight and would suit backpackers or anyone that carries their bag.
Size:
The set I looked at comes with 2 small and 2 large cubes. The large cubes are 14×10 inches and the small cubes are 10 x 7 inches.
That mean you have 27 liters of uncompressed packing cube space. The 4 cubes uncompressed would take up about 60% of a maximum legal carryon.
How much you can squeeze them down depends on what's in them. But you'll probably get them down to about 20 liters in total. Or less than half a carry on. Given the long list of clothes that you can squeeze into these things maybe you'll be able to swap out your bag for something smaller.
The set also comes with a slim tube that is great for cables, adapters and other random items. And there is laundry bag that you could also use to stop dirty shoes from messing up the inside of your bag.
Warranty:
Tripped Travel Gear are a small business that cares a lot about how customers perceive their service and their products. If you are not happy in any way they will replace or refund you.
SuitedNomad Compression Packing Cubes Set
This set of SuitedNomad CPC's come with a luggage tag and transparent TSA friendly toiletries bag.
Zippers:
While not YKK the zippers are of a good quality. You will need to be careful when compressing that the material does not snag, but that's very common with CPCs.
Materials and Build:
Made with strengthened ripstop nylon. They are made with reinforced seams which is important because of the pressure they will be put under from the compression. Overall it's a well made compression cube. But I would love to see a version that opens fully on 2 sides. The current design only opens on 2 sides meaning it can be hard to get things in and out without emptying the whole cube.
Weight:
The weight of the total set is 1.19 lbs. But that includes the luggage tag, the laundry bag, and the TSA friendly toiletry bag. If you consider just the bags alone they are very light and only very slightly heavier than the Eagle Creek Specter bags. The difference would be too small to notice.
Overall these compression bags are lightweight and that makes them a great option for hikers, backpackers or anyone else that will be carrying their luggage.
Size:
There are 3 cubes each a different size. The extra-large is 16x12x4 inches. The large is 14x10x4 inches. The medium is 10x7x4 inches.
Altogether you are getting 26 liters of packing cube space. That's 57% of a standard 45 liter carry on.
But that's before you compress the bags! You can probably squash your clothes down to about 18 liters using these bags. That would mean the 3 CPCs uses only 40% of a standard 45 liter carry on limit. You will have plenty space for a laptop, shoes, the toiletry bag.
Alternatively they might help you to downsize your bag for an underseater or a even a personal item sized bag.
The set also includes a laundry bag and a handy toiletry bag that were not used in these calculation.
Warranty:
SuitedNomad have identified and fixed many of the common problems that other CPCs suffer from. You'll be hard pressed to find a better lightweight compression packing cube.
Coltant 5 Set Compression Packing Cubes
The Coltant CPC's is a set of 4 compression cubes as well as another non-compressible bag for shoes or toiletries.
This is a large set for people who want to have a carry-on pretty much full of cubes. It comes in 4 different color options all are soft muted hues. Black, grey, heather blue and heather red.
Zippers: Got to love those YKK zippers. Zippers are often the weak point on CPCs. Not so with the Coltant.
Materials and Build: They open on 2 sides and that can make it a little harder to pack the cubes. With cubes that don't open fully I recommend rolling clothes rather than folding. It's hard to fold clothes and slide them inside with only 2 side of the cube open up.
The fabric is an Oxford polyester. It's not ripstop like some other CPCs are. So don't go packing tweasers or any sharp item that might puncture a hole in the fabric.
They also have a mesh window so you can identify the bag by viewing the contents inside. It means the cubes are not waterproof but since these are best suited to trolly-luggage your case should be watertight.
Weight:
The complete set weighs 1.65 lbs. These work best for users of rolling luggage. As nice as it is to organize clothes I wouldn't add 1.65 lbs to a backpack. Of course you don't need to use the full set every time. The wide variety of sizes gives you plenty packing options.
Size:
4 compression packing cubes and 1 shoe bag or toiletry bag.
The 4 bags all have different sizes. 17.5×12.75 , 13.75×12.8 , 13.75×9.75 , and 11×6.75 inches. They are all 4 inches uncompressed.
This means that uncompressed the set is a whopping 39 liters of packing cube space. It will take 86% of a carry on when uncompressed.
Of course you can squash these down so they take up perhaps 30 liters. That will leave you 15 liters of space in a 45 liter carry on for that shoe bag, your laptop, your toiletries bag or anything else you want to put in there.
Warranty:
They offer a full refund for any reason.
It's hard to believe Coltant can offer as much value for money as they do. This is a massive set of compression packing cubes that work really well.
Nomadz Travel Luggage-Organizer Set
This Nomadz Set come in a set of 3 with an additional shoe bag that does not compress.
The shoe bag is a really great way to stop dirty shoes making a mess. Flip-flops can be washed before you pack them, but if you travel with more than 1 pair of street shoes then a shoe bag is a good idea.
Zippers:
Claim premium zippers and anti-snag system.
Materials and Build:
Nomadz went for 300D snowflake polyester as well as mesh windows so you can see inside.
A more dense material helps to increase compression and reduce bulging. The result is a more rectangular, less curved compressed cube.
There is also another benefit to using a more heavy-weight material. The fabric uses to extend the size of the bag is less likely to snag on the compression zips. It is still possible to get the zip caught but if you are careful you will be able to avoid this.
Weight:
At 1.52 lbs for the set Nomadz cubes are not the lightest. For that reason, they perhaps are better suited to people that roll their luggage rather than carry their bag.
Size:
There are 3 sizes of cubes. The large is 17×13.4 inches. The medium is 14×10 inches And the small cube is 11×8.5 inches.
All cubes are 4 inches uncompressed.
There is also a 17×5 shoe bag that completes the set. The shoe bag does not compress.
The 3 cubes provide 30 liters of packing space uncompressed. That's 66% of a full-sized carry on.
How small these will squash down depends what you put in them. But you can probably expect to squash that 30 liters down to maybe 22 liters. This means that compressed the cubes will take up 50% of a 45 liter carry on.
That leaves plenty of room for the shoe bag and whatever else you want to take with you.
Warranty:
Nomadz mention the Amazon 30 day warranty but also say that they've got you covered for life and when it comes to any defects contact them and they will make it right.
Alameda Travel Compression Bags
These Alameda cubes come in a set of 1 large and 2 medium cubes.
Zippers:
Careless zipping might cause problems. Alameda even warn to press the extension fabric down with your finger while zipping to avoid snagging.
Materials and Build:
The cubes don't have mesh window. But the white cubes at least are translucent so you can see what you put inside.
The fact that they don't have a mesh window means that the cubes are water and dust resistant. So if you have a leaky backpack you'll know your clothes have that little bit extra protection to stay dry.
Weight:
Together the 3 cubes weigh only around 7 ounces. That's about the weight of a cell phone.
Size:
The 1 large cube is 14×10 inches. It will fit nicely sideways in a 14 inch carry on.
The 2 medium cubes are 10×7 inches.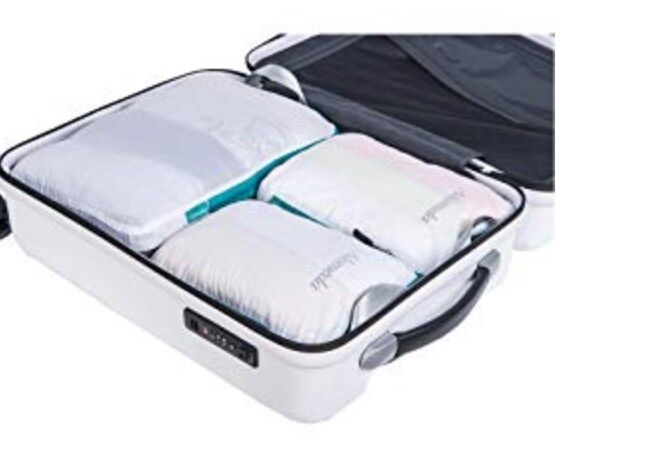 Be aware that the suitcase in that photo is a clam shell design. You could actually for 2 sets of Alameda cubes in a standard carry on uncompressed.
If you compress them you could potentially even fit 3 sets of Alameda cubes inside a 45 liter maximum carry on.
All 3 cubes together have a volume of around 18 liters uncompressed. That would be 40% of a maxium legal carry on.
Squashed down they will take up less room than that. I expect you can squash the entire set down to take up around 13 or 14 liters. This will leave you lots of room in a carry on for shoes, laptops or other items that don't compress.
Warranty:
Alameda come with a lifetime warranty.
Taskin Duplex Clean & Dirty Cubes
The Taskin Duplex have a feature that I've not seen on any other CPCs.
Their idea to keep your clean clothes and your dirty clothes separate is an appealing one. But perhaps for most people it won't be a deal breaker.
I could see the feature could appeal to people who travel and get their clothes really dirty. Perhaps from adventures sports or something similar, especially because the dirty clothes section of the cube is waterproof.
Zippers:
Hurrah! A compression packing cube with my favorite YKK zippers.
Even though YKK zippers are the best you can still snag them on the extension material. The best remedy for this is to zip slowly and carefully.
Materials:
650D honeycomb ripstop ballistic nylon. These are solid. No complaints about seams bursting.
Weight:
The large case weighs 219 grams and the small one is 148 grams. In total the set weighs 805 grams or 28 oz.
Size:
The 3 large cubes are 14.25 x 10.1 inches. That means that it's a snug fit to put it sideways into a 14 inch wide carryon. I would have preferred it if they were half an inch smaller in that dimension but it's no big deal.
Uncompressed the entire set is around 33 liters. So that would take up 73% of a full sized carry on.
Taskin don't tell you what size they are compressed because it depends what you put in them. But they do claim you can take 40% more stuff. 40% more would mean they are compressed down from 4 inches to 2.85 inches.
Squashed down to 2.85 inches the set would be about 24 liters and take up 53% of a full-sized carry on.
Warranty:
There is a limited lifetime warranty against materials and workmanship defects. I can't find examples of the warranty being honored because I can't really find anyone complaining about defects.
Overall these are really well-made compression packing cubes. That is reflected in the price point but they have extra features and a solid reputation that may justify spending that little bit extra for something that is going to last. They are solid but they are a bit heavier than other options.
Well Traveled Compression Packing Cubes
These colorful cubes are the only cubes I came across that featured artistic designs.
The colorful designs means that they all look different and you won't get confused which one is which. However, in this set they have 3 different sizes so you would be able to tell just from the size of the cube alone.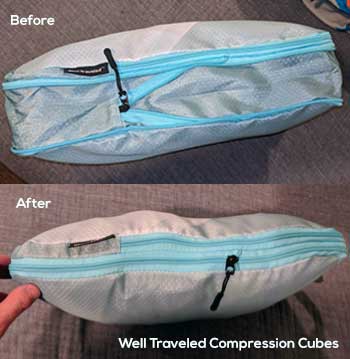 Zippers:
The zippers themselves seem to be sturdy and high quality. It's the seams at the zippers that have been suspect in the past.
The latest versions of this product open on all three side allowing you to pack your clothes in easily.
Materials & Workmanship:
They are made with 420d ripstop polyester that will strengthen the fabric and small holes or punctures shouldn't spread.
To save you time reading them all, any negative reviews are because of instances where the seams burst.
Even some of the positive reviews were initially negative reviews about seams that they turned around with replacements and good customer service.
I should point out. Most people who used these cubes didn't have any problems.
Striving For Perfection
I reached out to Well Traveled for comment about the seams ripping.
Scott Bright the owner of Well Traveled let me know that after a lot of testing they had identified the problem as inferior fabric and switched to a new manufacturer.
He has dumped all the old stock and replaced it with the new improved design from the new manufacturing company.
Scott also traveled to the factory in China to test the packing cubes himself and ensure better quality control.
If you like the designs of the Well Traveled cubes but were put off by the reports of seams breaking I wouldn't worry too much about it.
Having spoken to Well Traveled I am sure they have improved their product and these historical negative reports no longer apply to the product that is currently for sale.
How To Choose Good Compression Packing Cubes
While you might think that CPCs are all the same as each other there are some big differences between the cube sets.
Here are the things to consider then choosing a CPC set.
Check Those Zippers
Zipper failure is the biggest reason for angry customers. CPCs have that fabric to extend or compress the cube, and it can often snag. Are you a patient, careful zip user? You might need to be. Especially with the lightweight nylon varieties. Pay careful attention to the zippers on any CPC you are thinking of buying.
Top Tip: With any compression packing cube don't over-pack it and make sure you zip the compression zipper slowly. Put your finger between the zip and the extension material to stop snagging as you close the zip.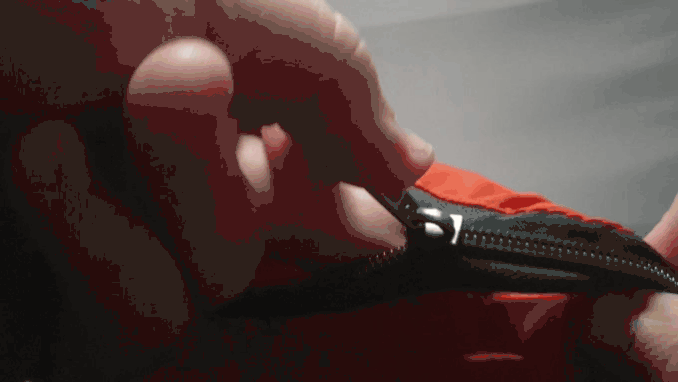 Weight:
10 oz for the set of 3
Size:
Large: 15.7 x 11.2 inches, Medium: 13.8 x 9.8 inches, Small: 11.8 x 8.5 inches. 3.75 inches deep uncompressed down to 1.8 inches compressed.
Uncompressed these 3 cubes are together around 25 liters in volume. Theoretically they can compress that 25 liters down to 12 liters, but you can't squash the unsquashable it does depend what you put inside them.
For comparison a full-sized rolling carry on has a volume of 2772 cubic inches or around 45 liters.
So uncompressed this set takes up about half a maximum sized carry on and compressed perhaps a third of a regular carryon.
Warranty:
In addition to Amazon's standard 30 days after delivery warranty Well Traveled offer a 6 month warranty on any manufacturing issues.
Customer service is pretty good and you will get a replacement if there are any problems within this time period.
Materials & Workmanship Matter
Another problem that is occasionally reported with some compression packing cubes is the seams tearing. Because you will be compressing and putting force on those seams the quality of the stitching is really important.
It would be a major pain in the ass for a compression cube to break mid-journey. You might not be able to fit everything in your case without a functioning cube.
So I advise you to pay extra attention to build quality to avoid this happening.
We're going to look at 14 cubes. I'll do my best to give you the lowdown on the build quality of each product in the individual reviews.
Keep An Eye On Unpacked Cube Weight
If you are a hiker or backpacker you might want to try to get lightweight cubes. There is no sense in adding extra weight to your back.
That said, even regular packing cubes usually don't weigh a lot. It's the clothes that you put in the cubes that accounts for most of the weight of your luggage.
Size Them Up
It's not helpful if your packing cubes are not shaped to fit inside your bag.
For example, carry on luggage is often 22x14x9 inches. So cubes that are longer than 14 inches can't be packed sideways. An ideal cube size to put into a carry on sideways would be 13.75 inches.
CPCs are also often sold as sets and the size and number of cubes in the set varies. The number of cubes you'll need depends on how long your trips are and what you pack.
When you are choosing a compression packing cube it's really time for a bit of mental Tetris. Think about the size of the bag you will be using and how you will arrange the cubes in your bag!
That's why I calculated the total size in liters for each compression packing cube set.
Warranties
For some people, a good warranty is highly valued. It shows that a manufacturer had confidence in its product. However, products with excellent warranties can cost more. In a way you are paying for the failure of the product in advance. If a product cube has a good reputation and solid reviews I don't always think a long warranty is essential. Especially for a lower priced product like a compression packing cube.
If you buy from Amazon you have a lot of leverage because Amazon sellers hate to receive negative reviews. Especially small companies work hard to avoid this because a single bad review can be so damaging to the little guys.
FAQ's
Do You Really Need Compression Packing Cubes?
CPC's have 2 main features.
They help you organize your things
They help you squash down your things so they take up less space
No, they are not essential, they are just nice to have for some people. I might seem obvious to say but you don't need to compress the cubes. If you use them uncompressed they just help you to segregate and organize your things like regular packing cubes.
They especially help if you are trying to fit many things into a small case. But if you never come close to your case being full you won't benefit from compressing your clothes.
Also, if you are happy to have your socks mixed in with your underpants then the organization features won't help you much either.
I think how much you like packing cubes goes right to the core of an individual's personality. Some people just love being very organized, where others are more comfortable and perhaps even thrive on mess.
You know best what type of person you are!
How much do compression packing cubes weigh?
Even a large compression cube only weights around 2 – 4 oz. So if you had a carry on full of compression cubes they won't seriously contribute to the overall weight of your bag.
For most travelers the weight of the cubes themselves won't be an issue but ultralight hikers or anyone carrying their bag for long periods might have different requirements.
What can be a problem for your average Joe is that by compressing all your clothes you end up packing too many clothes!
Some people end up with a suitcase over 50 lbs because they are using packing cubes to squash down so much stuff! This can lead to extra charges for overweight luggage.
Compression packing cubes are a useful tool but if you are an over-packer then be careful how you use them.
Are packing cubes good for backpacking?
There are a few things to consider when backpacking.
Is your backpack rectangular? Or more curved? – The cubed shape of regular packing cubes mean they they stack nicely together in a regular suitcase. A backpack with a curved interior can actually work well with compressed cubes because well… they are no longer strictly speaking cube shaped after pulling that zip shut.
Do you change hotels or hostels every few days? – Compression packing cubes are great to squeeze things down and get everything into a bag under the limit. But it could see it being annoying to decompress a bag every day, remove socks, and then recompress. If you are in and out of your stuff frequently you might be better rethinking your packing strategy.
Do you fly on budget flights often? – Compression packing cubes can help you fit almost 50% more stuff in the same space. This can mean the difference between taking a carry on backpack vs a checking a bag. Or you might be able to downsize your carryon. It can even mean the difference between carrying only a personal item vs a carry-on. And that could be important in the future because some airlines have even started charging extra fees for regular carry-ons.