Last Updated on January 17, 2021
The United Basic Economy carry-on luggage allowance is not very generous, and United Airlines are pretty strict at enforcing their rules.
You are not permitted to bring a carry on size bag with a basic economy fare.
Instead, this budget ticket only permits you to bring one personal item that must fit under the seat.
How strict is United on personal item size?
United's personal items are smaller than most other carrier's personal items.
The maximum dimensions of a United Basic Economy personal item are 17 x 10 x 9 inches.
You can see from the video that United personal items must fit in the sizer and that United staff can be strict about enforcing their rules.
One thing to note is that you can't check-in online with a basic economy ticket.
United force you to get in line for the check-in desk. At this point, they will quiz you about your personal item bag, and if it doesn't fit in the sizer they'll ask you to pay to check it.
This can be awkward since you're only bringing one bag and it may have valuables in it that you don't want to check. It's always good to travel with a pocket-sized packable day pack for scenarios like this.
The True Size of the United Sizer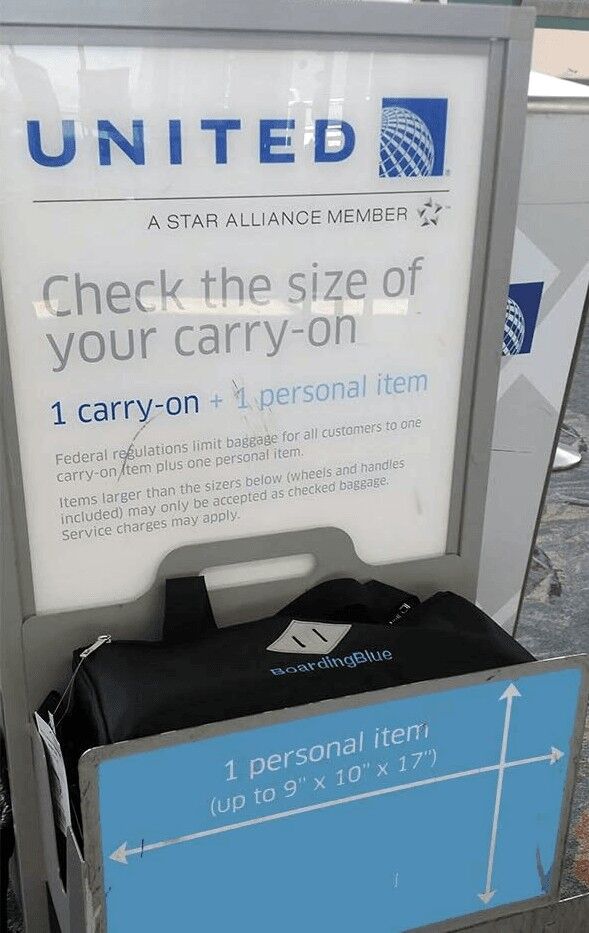 While I can't say with 100% certainty, since I've not personally measured it, the actual size of the United size is rumored to be 18 x 11 x 9 inches.
If you've somehow got past the check-in desk with an oversize bag and approach the gate with large rolling luggage you'll attract attention at the boarding gate.
All basic economy passengers board in the last group so it's easy to police this section more rigorously.
If your personal item is only slightly too large and you are carrying it you'll probably slip past unnoticed. But if you have a rolling suitcase at this point then you'll need to pay to check it and pay a $25 fee for checking it at the gate rather than the counter.
The United Airlines Basic Economy personal item size works out to be 1530 cubic inches or 25 liters volume. This is smaller than other airlines' personal item size.
| United Basic Economy Personal Item | Most Other Airlines Personal Item | Common Carry On Size |
| --- | --- | --- |
| 17 x 10 x 9 | 18 x 14 x 8 | 22 x 14 x 9 |
| 25 liters | 33 liters | 45 liters |
A normal carry on suitcase holds 45 liters, the United Basic Economy Personal Item is only 25 liters.
If you are going to fly with only this small bag you'll need to learn how to pack light, and find a bag that makes the most of the permitted dimensions.
Because United's idea of a personal item is smaller than all other airlines and this makes it difficult to find a suitable bag.
Mission Impossible – Finding Personal Item Bags For United Flights
Sometimes I wonder…
Was United just trolling travelers when they came up with the basic economy ticket?
They allow you to take one bag that is 17 x 10 x 9 and when you try to find a suitable bag you find that they don't really exist.
Underseater Bags
Small rolling luggage bags are often used as personal items and placed under the seat.
They are a great under seat option for most US airlines. But they are all larger than United's personal item dimensions.
The available under-seater bags that I checked didn't fit within the United Airlines personal item rules.
Backpacks
United give an example of a backpack on their site that could be used as a personal item: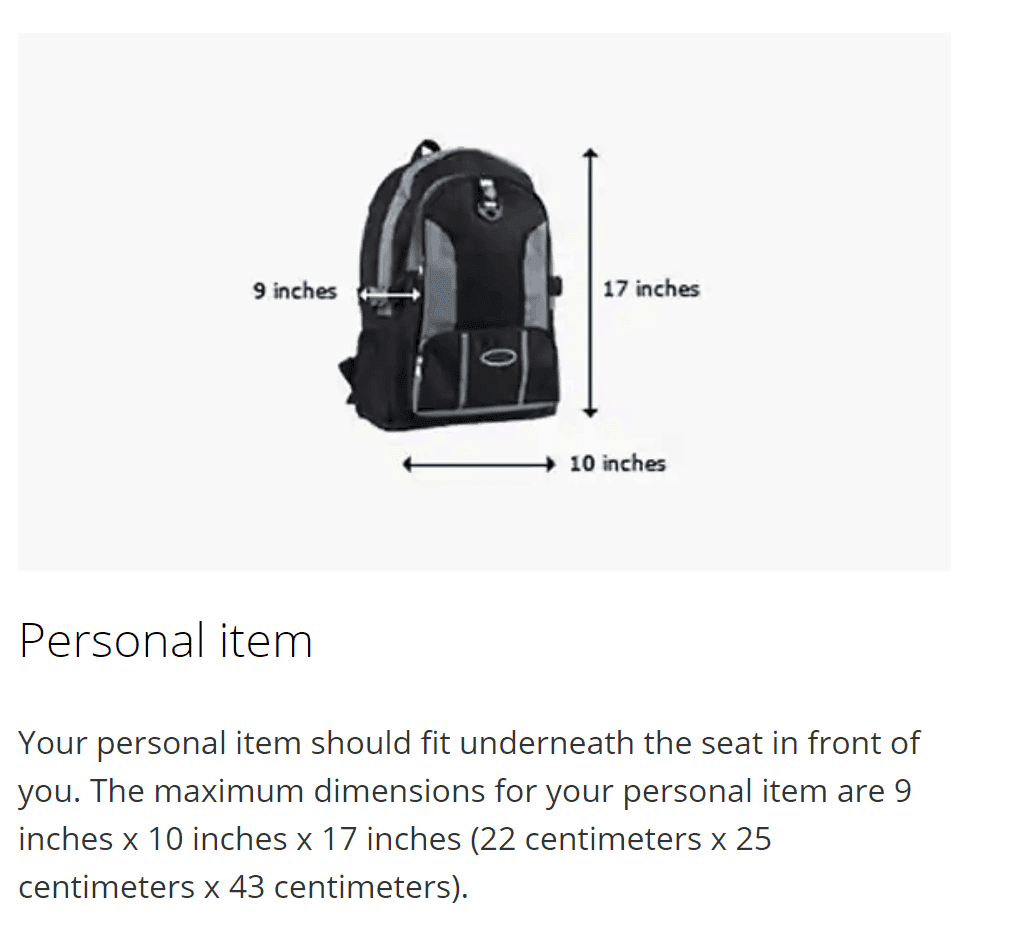 But if you go looking for a backpack that size you'll find that these are the measurements for a child's backpack.
Most backpacks are wider than 10 inches.
While it's slightly too large at 11.4 inches wide the Tom Bihn Synapse 19 will be a great backpack to own if you regularly fly on a United Airlines basic economy fares. Just don't pack it too tightly and it will fit in the sizer.
If you are thinking of taking a backpack with you for your basic economy flight then measure the width very carefully.
Duffel Bag
So United boxy dimensions and tight-ass volume mean that you'll end up looking at duffel bags if you want to maximize your allowance.
Here are two duffel bags that fit the United personal item limits:
The Verdict
You can't bring a carry on bag and you can't upgrade your ticket to allow a carry-on.
So unless you want to bring a checked bag then make sure you source a personal item that fits within United's ridiculous size restrictions.
United are being sneaky. Their basic economy fare is designed to help them win the cheapest flight in the flight comparison search tools. Due to the lack of bags that fit their boxy dimensions, it's not a useful ticket to buy.
In practice, if you want to bring carry-on luggage, it makes more sense to buy the more expensive Economy ticket that lets you actually bring some damn luggage with you!
Unfortunately, not everyone realizes the luggage allowances are so restrictive when they book their ticket.
So you'd think you can pay extra to bring a carry-on or upgrade from basic economy to economy… nope, you can't. That would be far too sensible.
Of course, if you travel light you can fit all your belongings in a personal item. I just wish United would allow you a bag larger than a child's backpack or a purse.
So if you are reading this United please bring your personal item sizing into line with the industry and change it to 18 x 14 x 8.
People Also Ask