Last Updated on January 17, 2021
Imagine you visit a restaurant. The place looks inviting and there is a nice ambiance. You go in, choose something from the menu which all looks reasonably priced. You order something and sit back in anticipation.
When your food arrives the waiter informs you that the silverware wasn't included in the price of your meal and it will cost you an extra $5 if you want a knife and fork and another $5 table-side processing fee for ordering your knife and fork at the last minute. To top it off you and your family won't be sitting at the same table. They want extra money for that too!
You'd probably be pretty enraged if this happened to you and no restaurant would be so dumb to offer such abysmal service.
Yet this isn't far away from how some customers flying United feel when they choose basic economy but haven't realized the difference between a basic economy ticket and an economy ticket.
United Airlines offer two suspiciously similarly-named tickets, "basic economy" and "economy". You'd be forgiven for not realizing there was anything between the two but there are some quite significant differences that you need to be aware of before you book to fly with United.
The Difference Between 2 United Fare Classes: Basic Economy vs Standard Economy
| Basic Economy Fare | Economy Fare |
| --- | --- |
| Cheaper by $20 – $30 each way | More expensive |
| Only a personal item allowed 17 x 10 x 9 " | Personal Item that must fit under the seat and… |
| About 25 liters maximum hand luggage (1 bag) | About 70 liters maximum hand luggage (2 bags) |
| No Carry On permitted | Includes a Carry On 22 x 14 x 9 " |
| Last boarding group | Boarding group 3-5 |
| Choose your preferred seating costs extra | Choose your preferred seat is included |
| No refunds or flight changes | Refund available on qualifying tickets |
| No Economy Plus Available | Ability to upgrade to Economy Plus seats with extra legroom |
| Unable to check in online or via the app unless you pay to bring a checked bag | Able to check in online or via the app |
The main difference is a basic economy ticket has a smaller United Airlines baggage allowance. You won't be able to put a larger carry on in the overhead bin and will be limited to a small personal item.
This can be incredibly frustrating for passengers like Michelle that don't realize it at the time of making their reservation: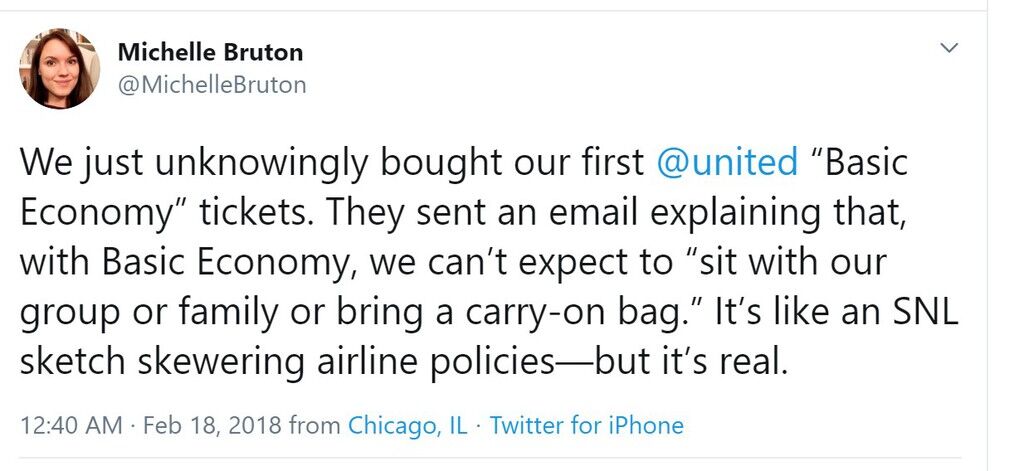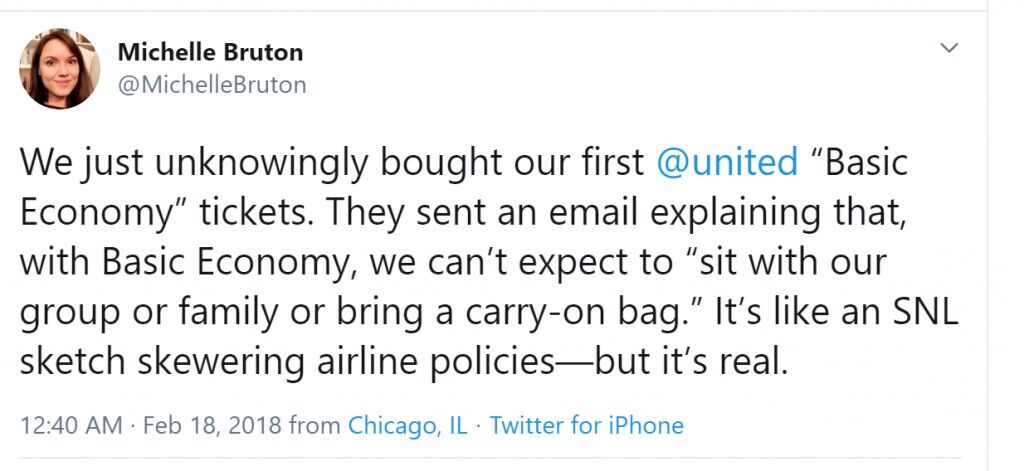 Miranda's sons hadn't realized they couldn't take carry on luggage and it hit them in the pocket: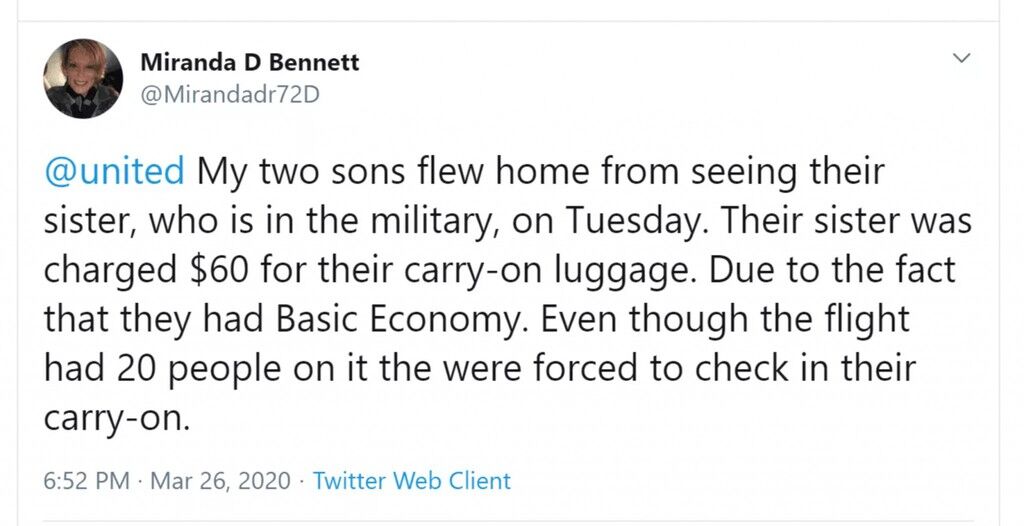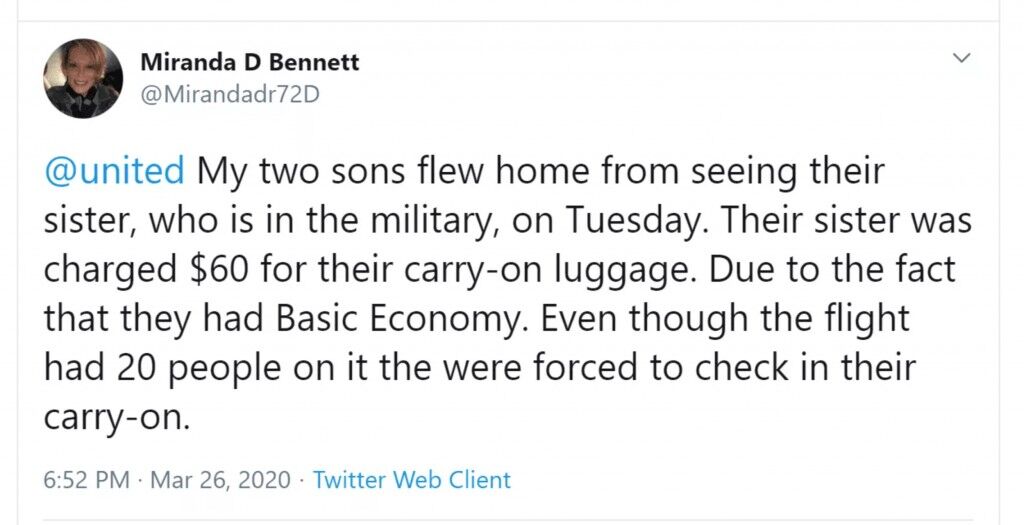 And Brady tried to add on carry on luggage after he booked his flight but was shocked how much United wanted: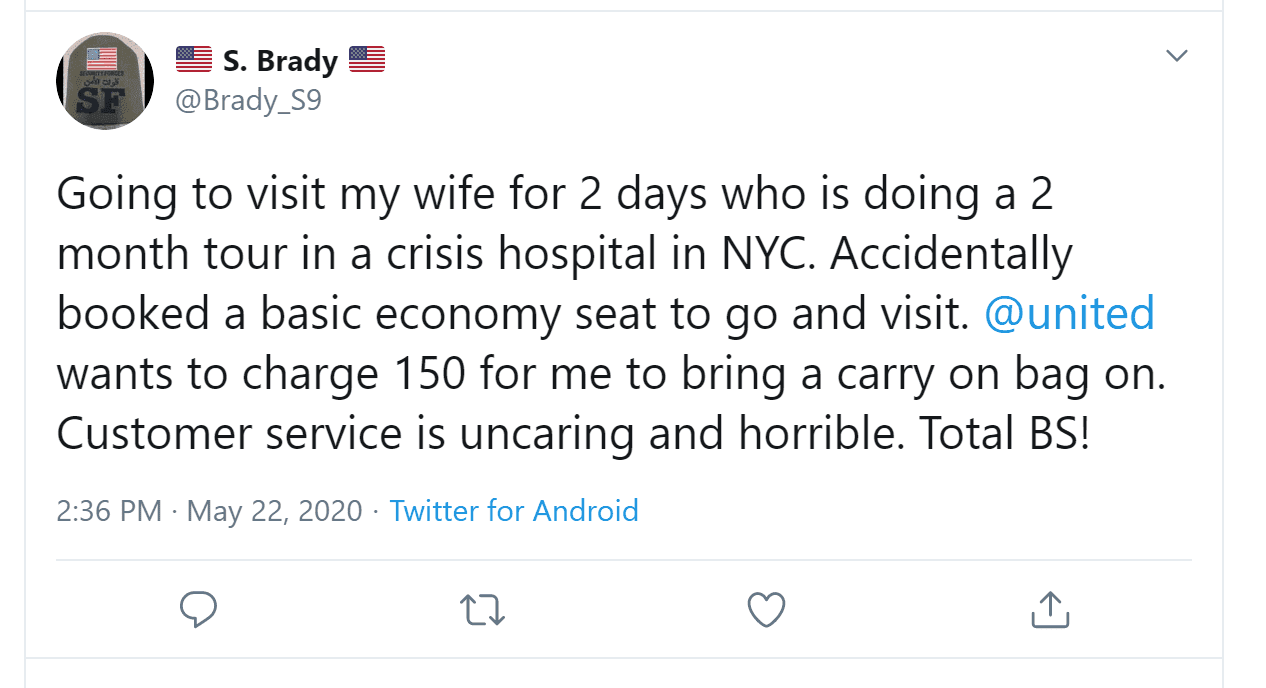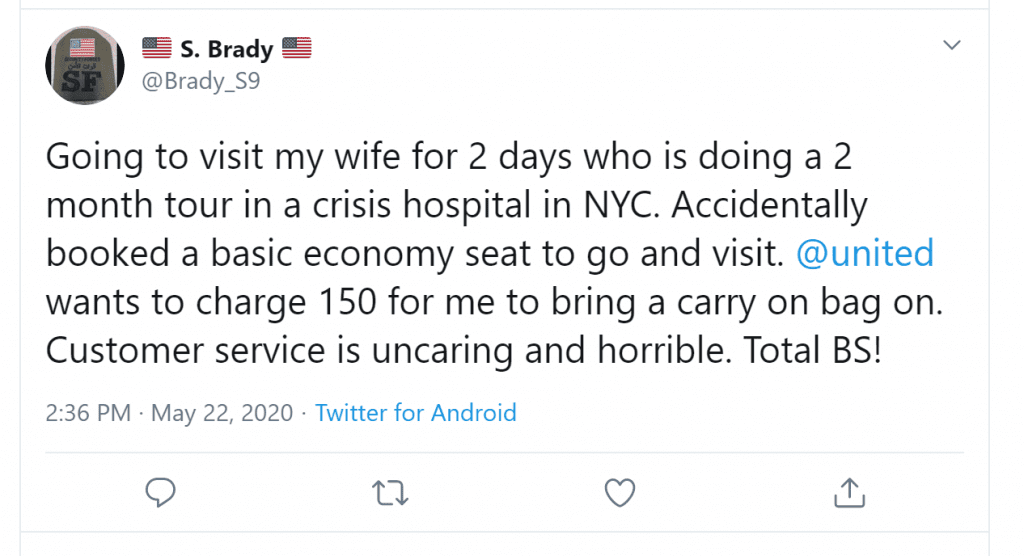 And if you change your mind and decide to fly with someone else they are keeping your money: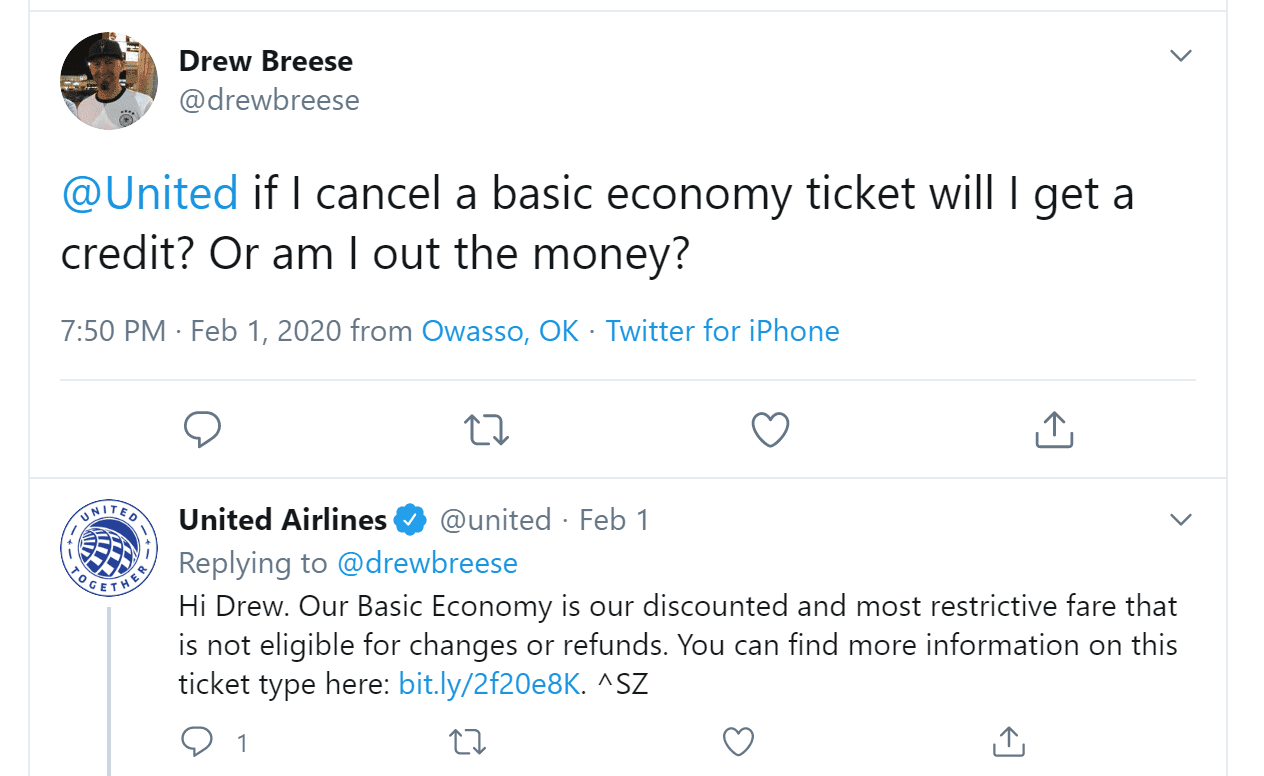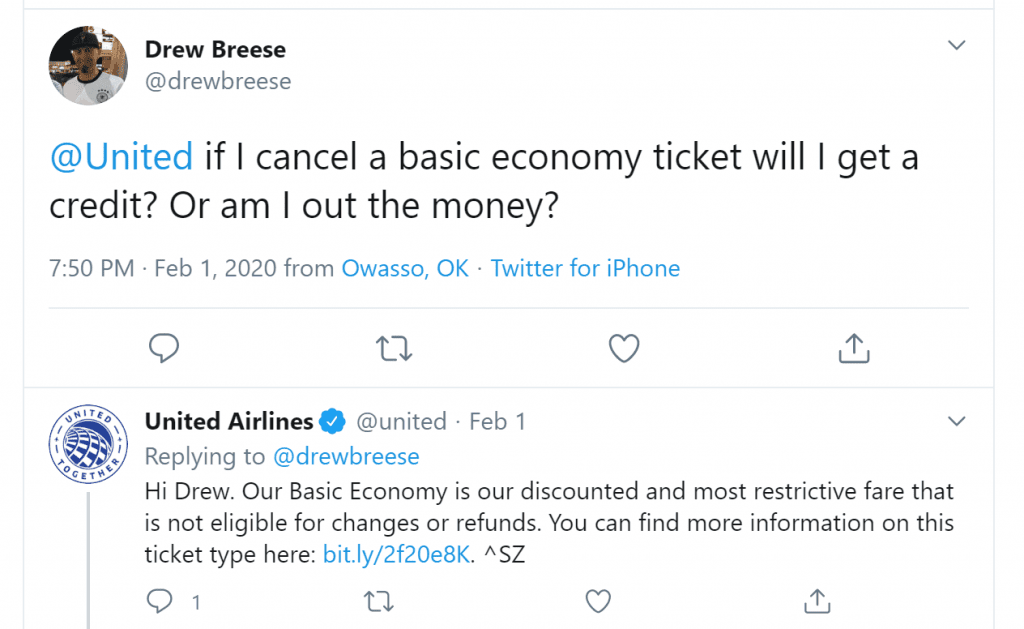 You'll also only be able to check-in at the check-in counter. You can't check-in using the United App or website unless you have paid extra to bring a checked bag. This confused Ryan E. a lot: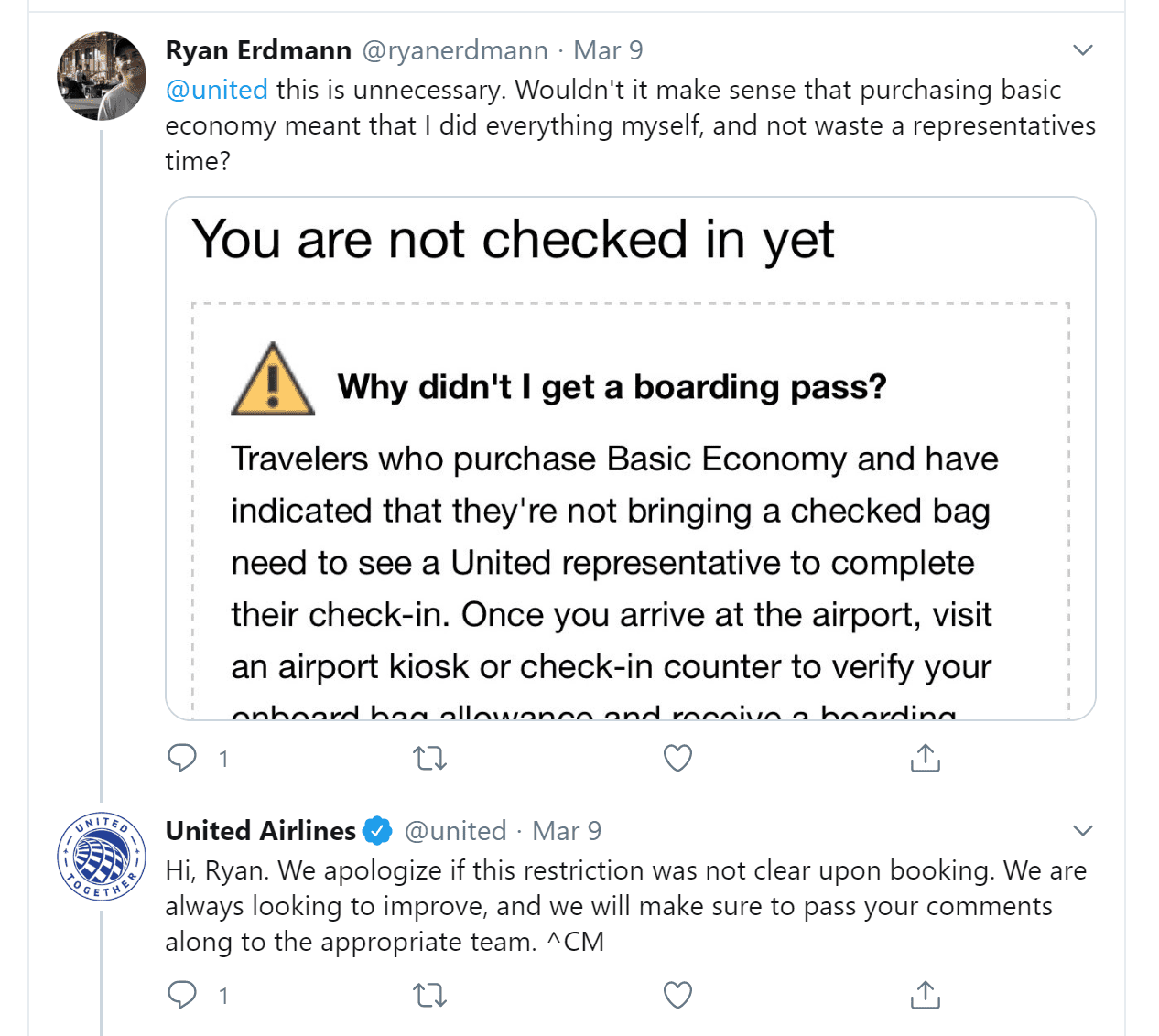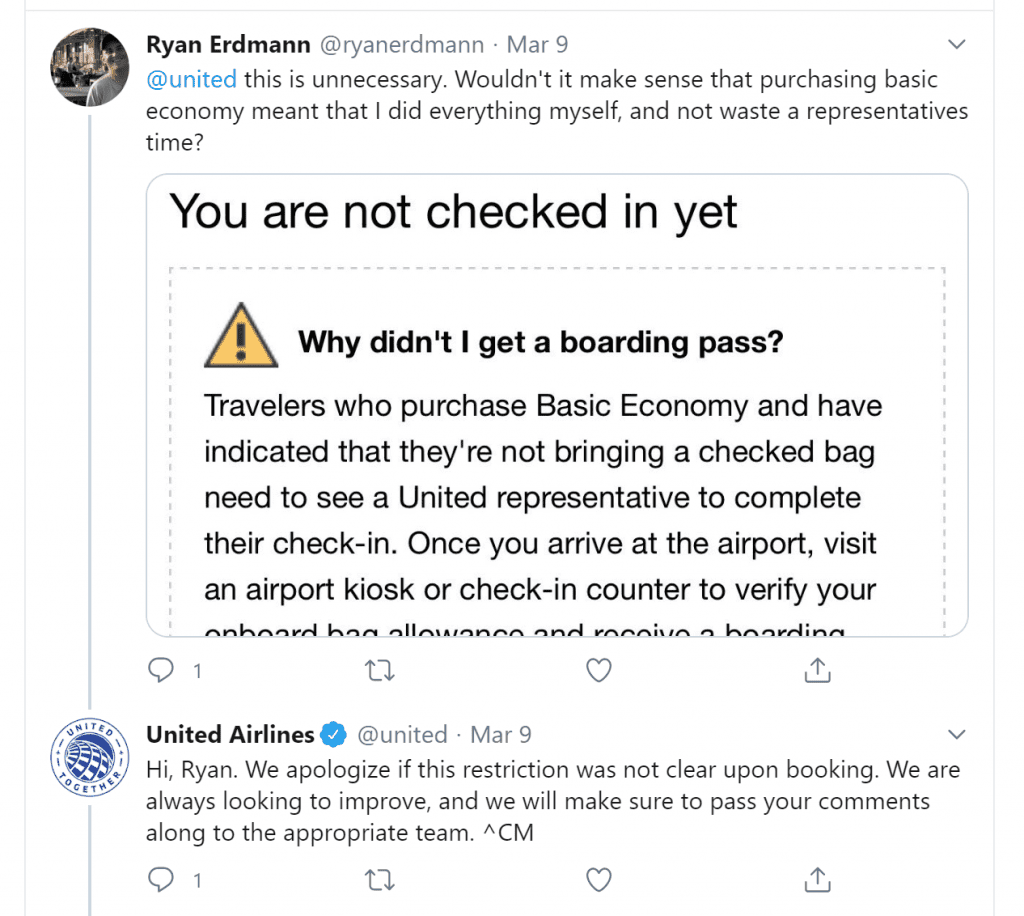 And he wasn't happy with the response from United:


You can't choose your preferred seat with a basic economy ticket unless you pay extra. Your seat will be allocated at the check-in counter. United do claim that they won't separate parties deliberately and if they can keep your party together they will, but you might end up sitting alone in a middle seat.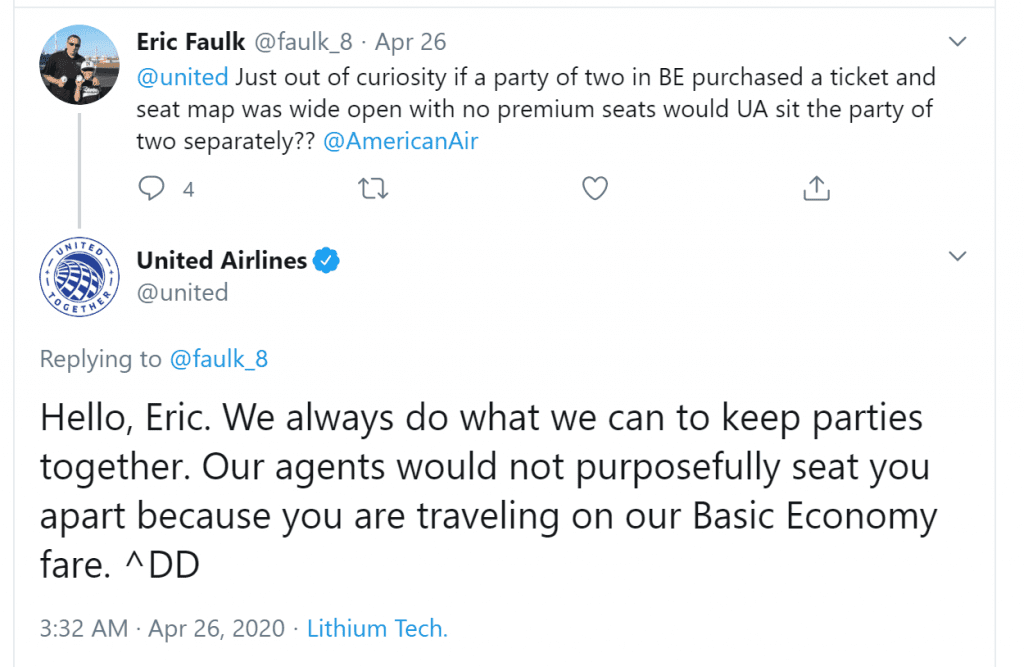 United are strict about your personal item size when you have bought a basic economy ticket. Kimberly couldn't carry on a travel pillow along with her personal item.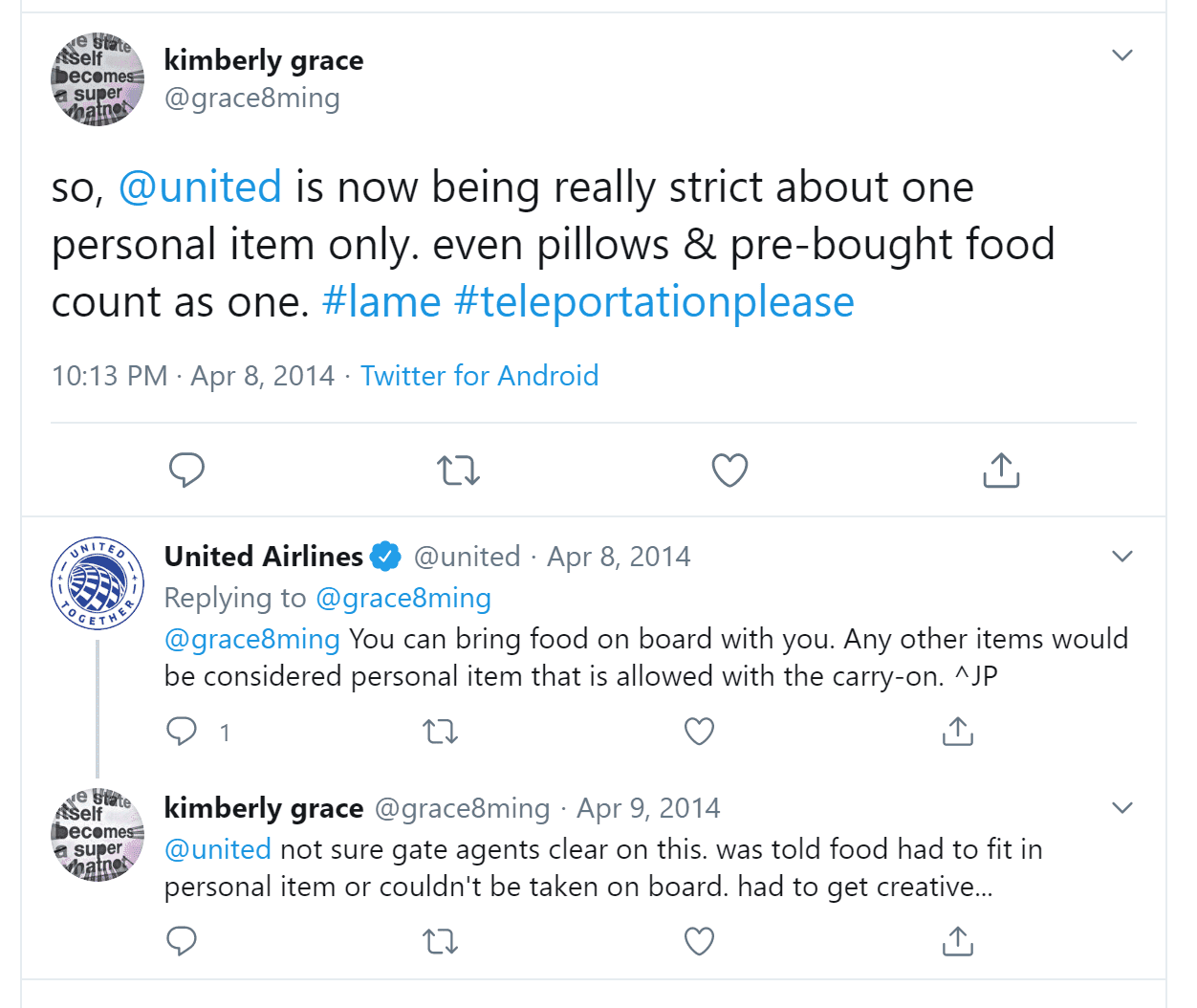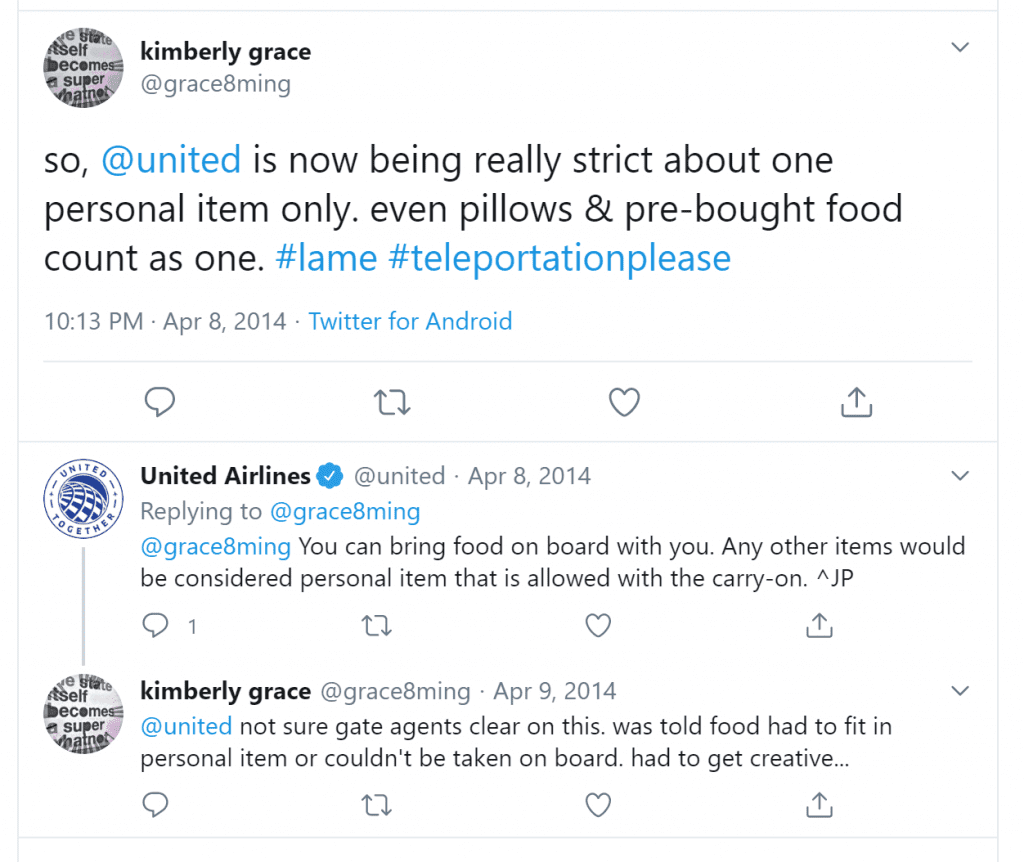 Having A United Branded Credit Card Can Help
If you have a united credit card such as a United Explorer card you can bring a carry-on with United Airlines basic economy fare. You'll also get priority boarding so you'll be able to find a space for your carry-on in the overhead bins.
Your seat will still be assigned to you at the United Airlines check-in desk. Seat selection is not a perk for credit cardholders but you can pay extra for seat selection when you make your reservation.
But as Ryan B. discovered even with a United Explorer card you still won't be able to check-in online or using the app unless you pay for checked luggage: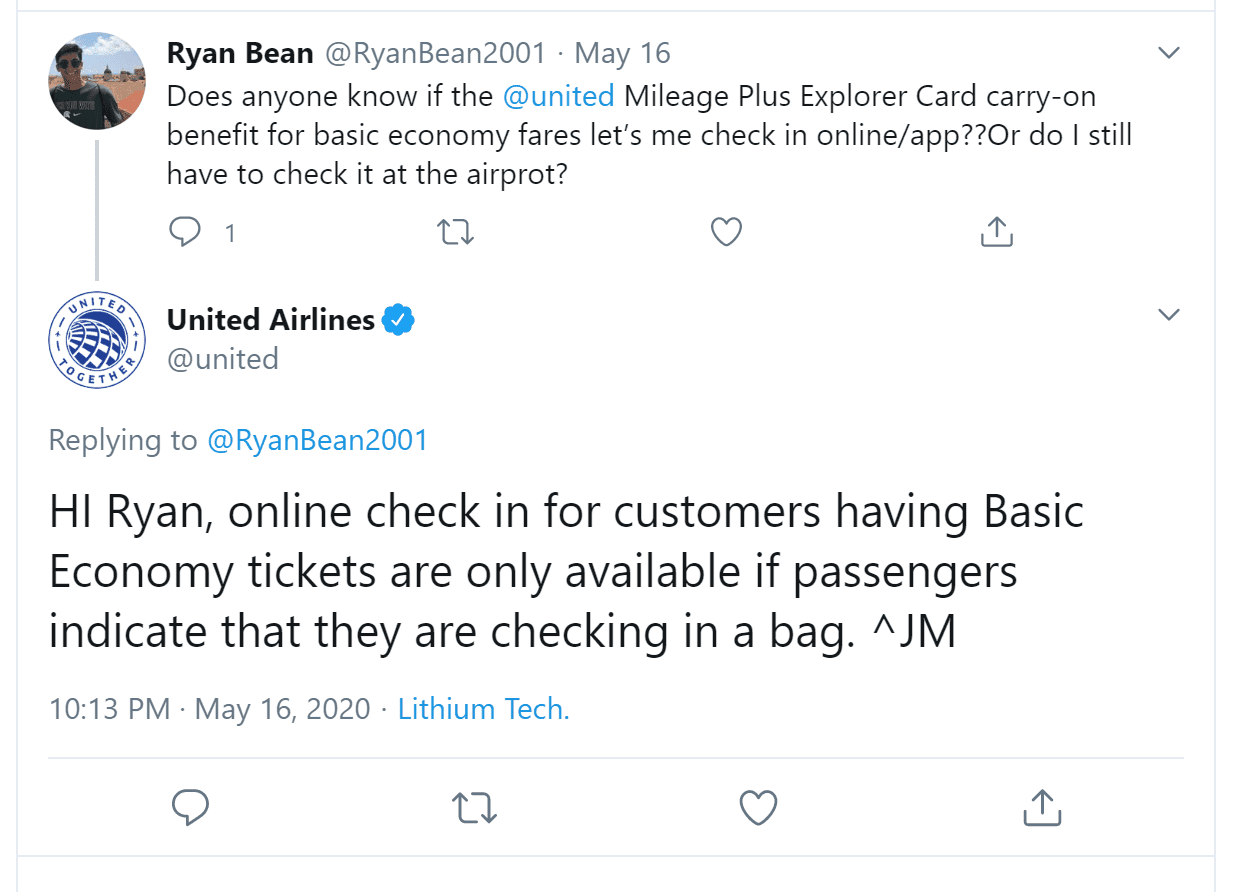 Basic economy tickets can lead to a lot of passenger rage. United seem to think it's the customers fault when they haven't understood the difference between their two similarly named tickets.
I'm just a mere blogger but wouldn't it be simpler to call the basic ticket something entirely different to avoid confusion? Might I suggest "Ultra Low Cost", that way passengers would know they need to check what perks have been removed to keep the price down?
Everland was triggered enough to go full CAPS LOCK: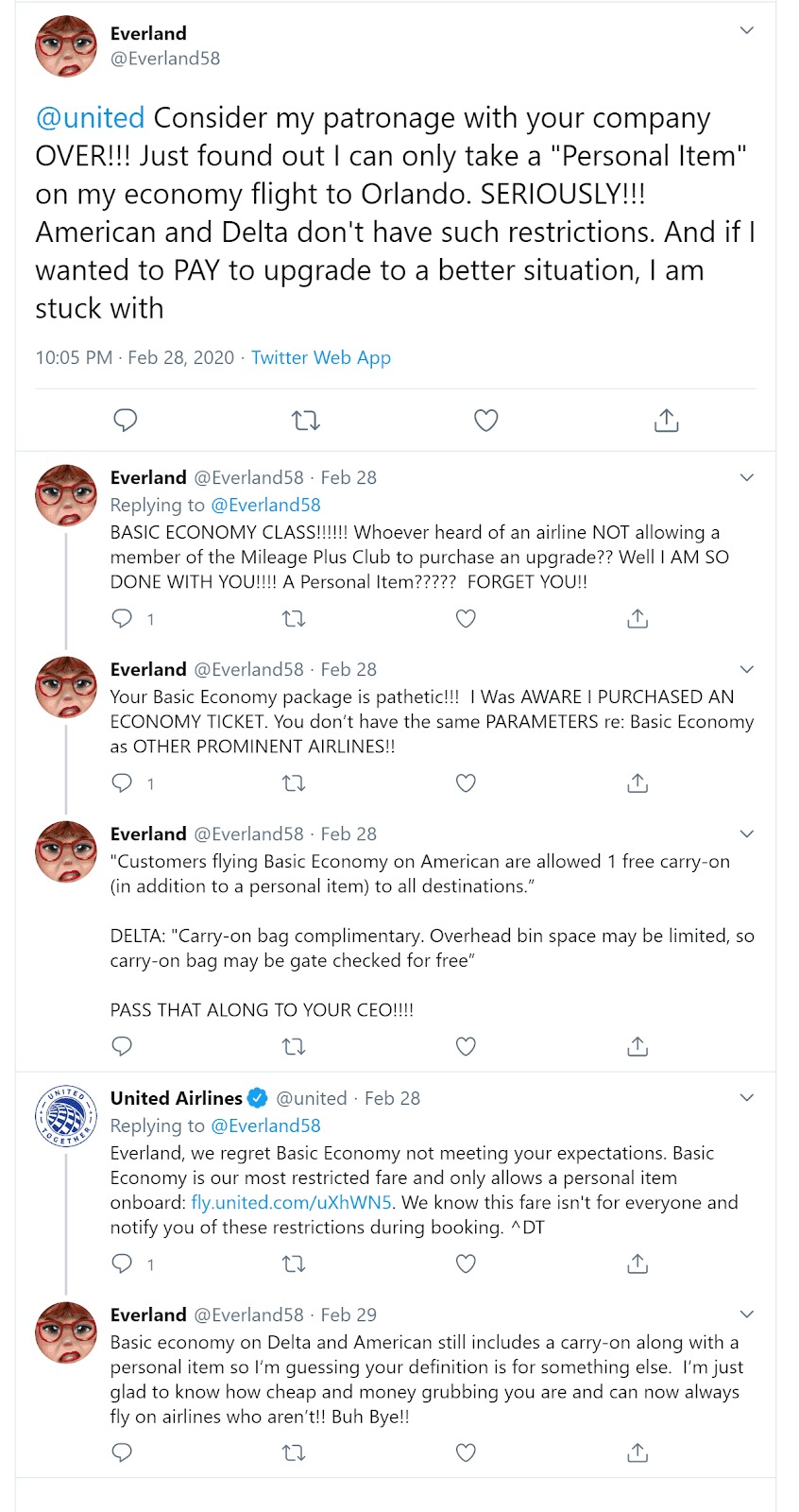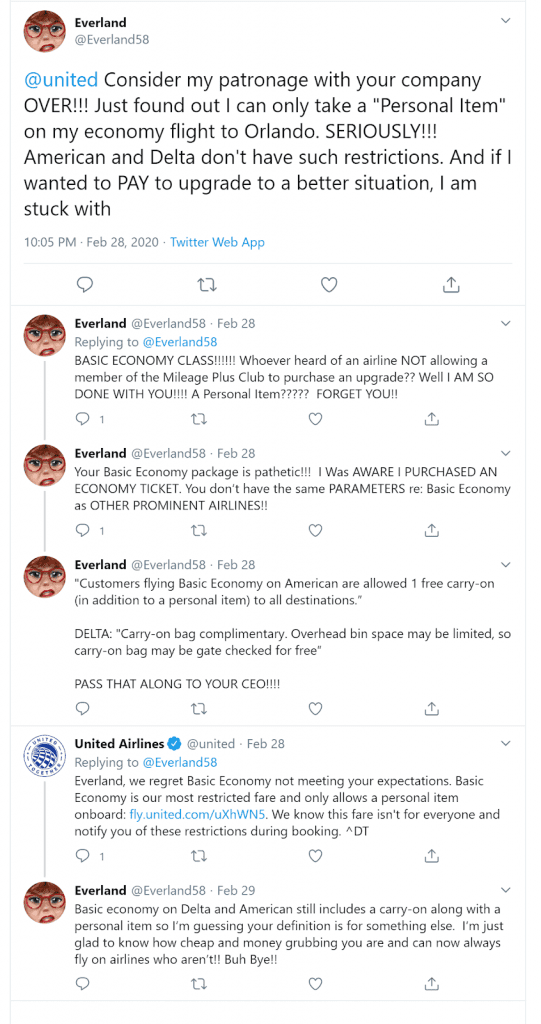 Barbara has figured out United's game. Their basic economy ticket is priced so they show up as cheapest on flight comparison sites.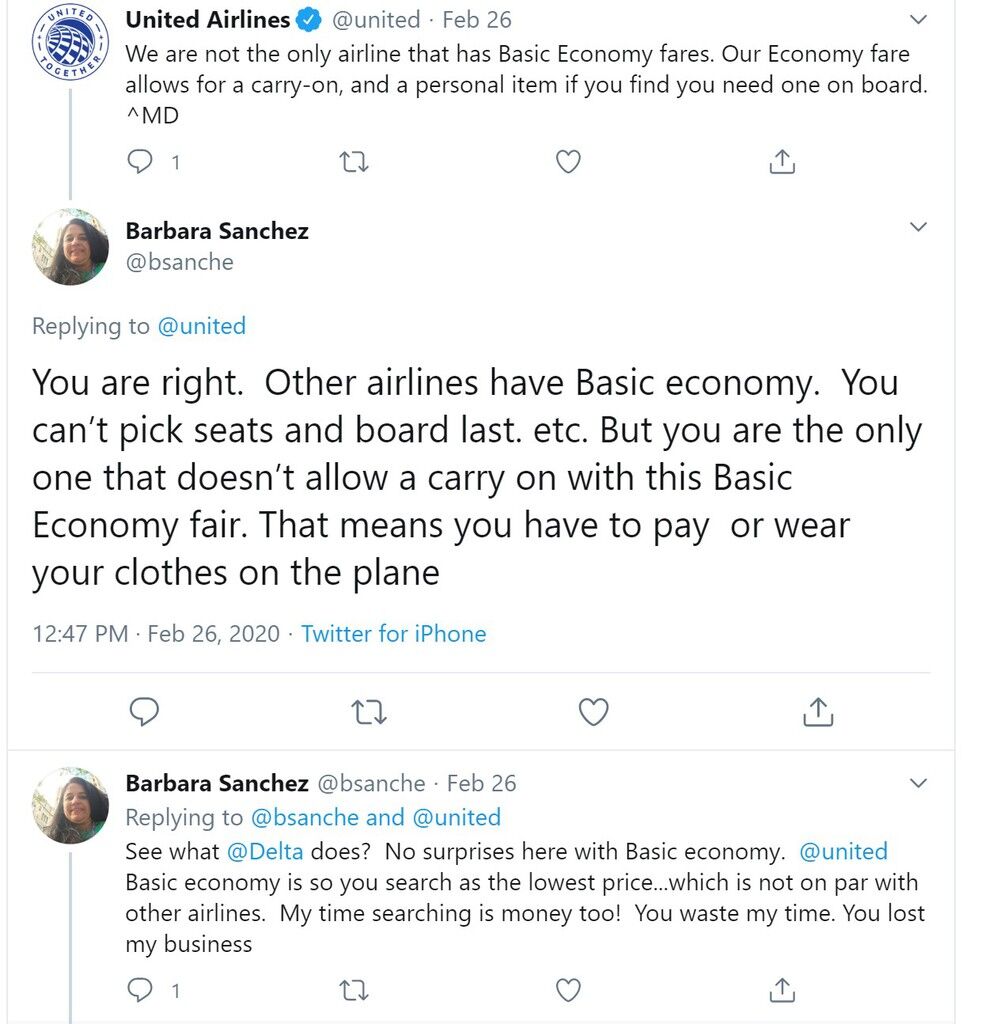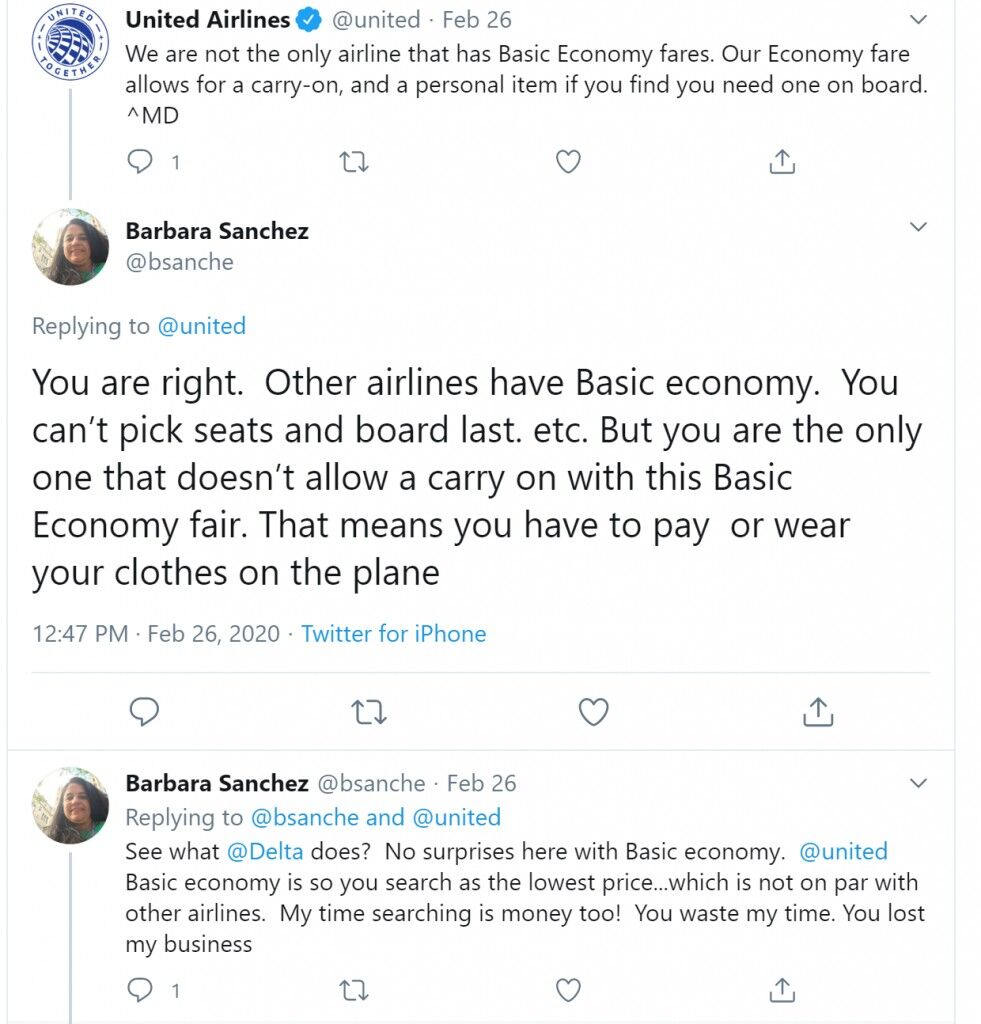 When customers don't realize their mistake United will recoup the money by reselling flights they passengers can't cancel and sticking people with ridiculous fees like a $25 gate handling fee right before a flight is about to depart when passengers have no choice but to accept it.
And when customers become enraged they'll just gaslight them and suggest that they made it clear all along.
But United? If your policies were clear these mixups wouldn't happen at all!
Warren didn't realize his error because according to United there was "some confusion":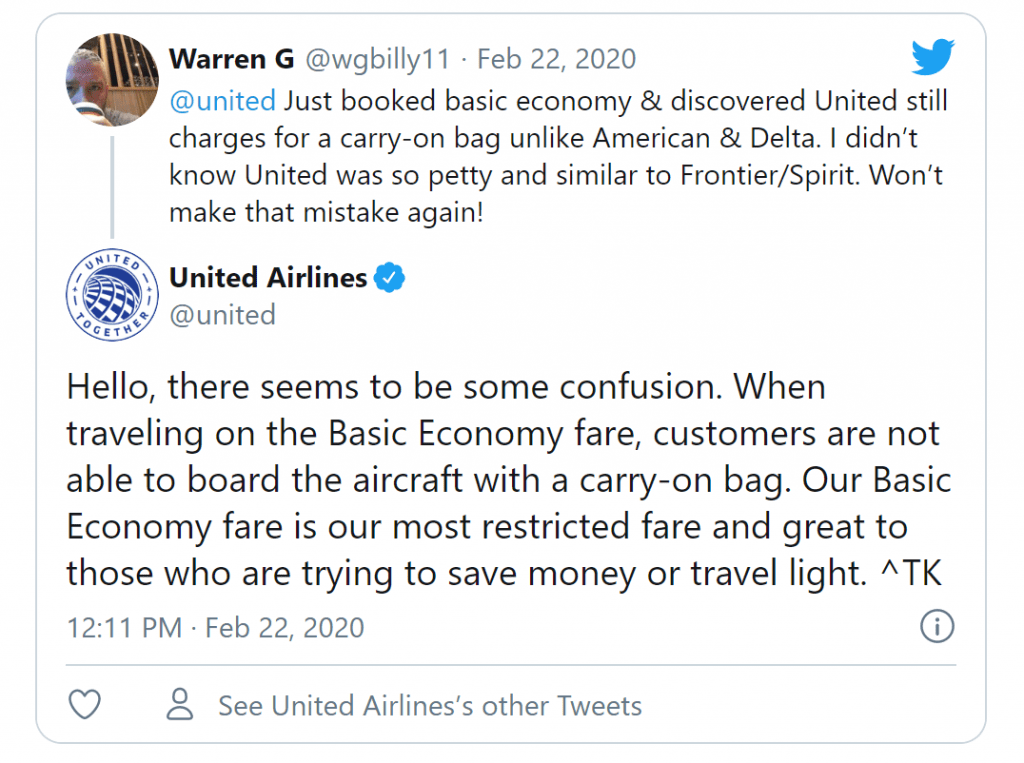 When Ron helpfully suggested that United should be more clear: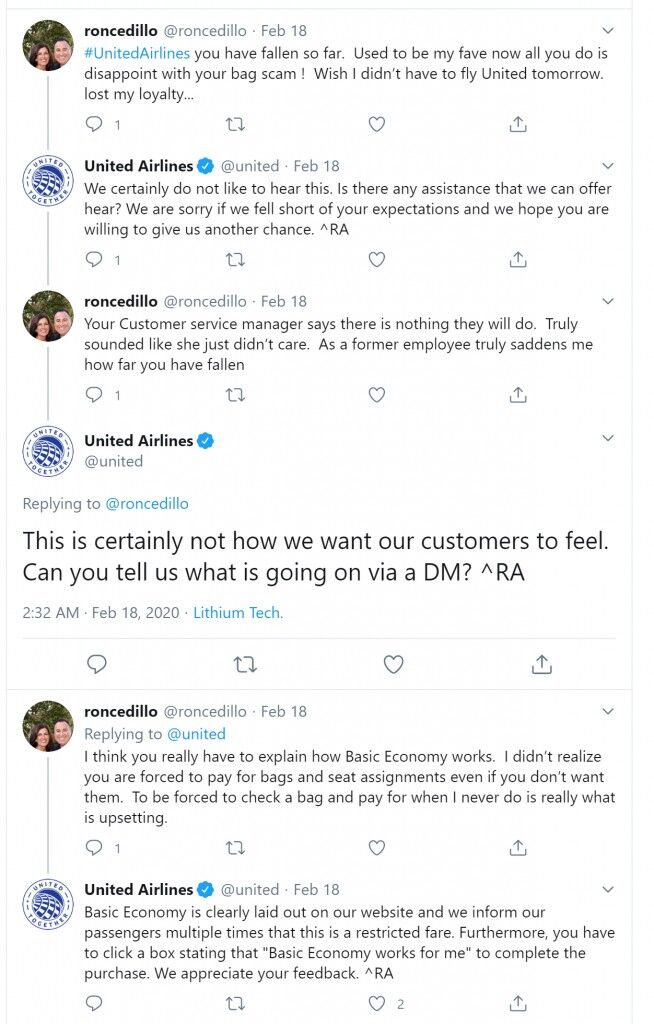 United responded by saying it's "clearly laid out on our website".
Instead of accepting responsibility for not getting the message through to Ron they blame him for not understanding or paying enough attention.
This video clearly demonstrates just how strict United can be about personal item size. Even when the lady's personal item fits in the sizer a United employee removes the bag and tries to claim it doesn't fit. Are these gate agents on commission or something?
FAQ's
Is United Economy the same as Basic Economy?
No. They are different fare classes from United Airlines. United's basic economy ticket has fewer perks compared to the standard economy fare.
Can I bring a carry on with United Basic Economy?
No, you cannot bring a carry on on the plane with United Basic Economy, this is one of the main differences between Basic Economy versus standard Economy. If you want to take a bag larger than a personal item you must check it. The exceptions are if it's an international trans-Atlantic flight or if you are a MileagePlus Premier member, you have a MileagePlus credit card or are a Star Alliance™ Gold member.
Can I pay for a carry on with United Basic Economy?
No, you can't upgrade your basic economy tickets to include carry-on luggage. If you wish to take a larger bag you will need to check it. It is advisable to pay for your checked luggage either before your flight or at the check-in desk. If you mistakenly arrive at the boarding gate with an oversized carry-on suitcase it will be costly to check your bag at that point.
How strict is United Basic Economy?
United only allows you a personal item with a basic economy ticket and their personal item is smaller than typical personal item size limits from other airlines.

The size limit a United personal item is 17 x 10 x 9 inches.

That's 1530 cubic inches or around 25 liters assuming you can find a rectangular personal item bag that has those exact dimensions.

Other airlines usually have a larger idea of what a personal item is. For example, a Spirit personal item is 18 x 14 x 8 inches or 33 liters.

The narrow width of United's personal item limits (the 10 inch part) means that many regular sized backpacks don't qualify as United personal items.
What Is Economy Plus?
Economy Plus seats are seats near the front of the cabin that have 6 inches extra leg room. The Economy Plus option is not available to passengers who purchase basic economy tickets.
What is the fare code for basic economy on United?
A basic economy class ticket has is a fare code N.
What points do you receive with basic economy flights?
Premier qualifying miles (PQM) for basic economy are 50% and Premier qualifying segments (PQS) are 0.5. In comparison, PQM for united airlines economy tickets is 100% and the PQS is 1. So you do get points with basic economy flights but half what you would versus standard economy.
The Bottom Line
No matter what airline you are traveling with always pay attention to the conditions of your ticket class.
This is especially important with economy fares, don't assume anything is included.
Charging separately for items and services is a trend that will likely continue in the airline industry. Basic economy fares are just one example of this unbundling in action.
It allows airlines to advertise cheap fares and then increase profits by upselling once they have you hooked on the line.
There is nothing wrong with unbundling services but what is wrong is designing systems to penalize passengers that make mistakes.
The basic economy fare seems to have been designed to do exactly that and once you have fallen into the trap you can't change anything even if you realize before your flight.
If people choose the wrong ticket United ought to just let them upgrade for the price difference. Or would honest business practices hurt the profits too much?
Hopefully, now that you've read this article you'll be wise to the traps United have laid for you.
People Also Ask