Last Updated on May 1, 2020
You are packing for a trip and realize that you want to bring your hair clippers with you.
Flying with hair clippers is quite a common thing, but can you bring hair clippers on a plane in your carry on or do they need to go in checked baggage?
Let's have a look we want you looking smart when you travel!
TSA Hair Clippers Rules
The transportation security administration is tasked with keeping passengers safe when they fly.
Their main job is to keep weapons and flammables out of planes. That's why heavy items that could be used as a bludgeon or liquids that might be flammable are controlled.
This screengrab about hair clippers is from the TSA website:


While hair clippers have blades the TSA don't consider these to be a threat.
The worst thing a potential hijacker could do with hair clippers is give you a bad haircut!
So, you can bring hair clippers on a plane in your carry on luggage, but keep in mind that the TSA officer always takes the final decision at the security checkpoint.
You can also pack hair clippers in your checked luggage if you want. Even if your hair clippers are cordless and have a lithium-ion battery, they are permitted in your checked bag.
I have cut my own hair with a Wahl hair clipper kit in many a hotel bathroom. I find it's much easier to cut my own hair in a foreign country that trying to converse with a local barber.
Here is the type of hair clipperss that I fly with: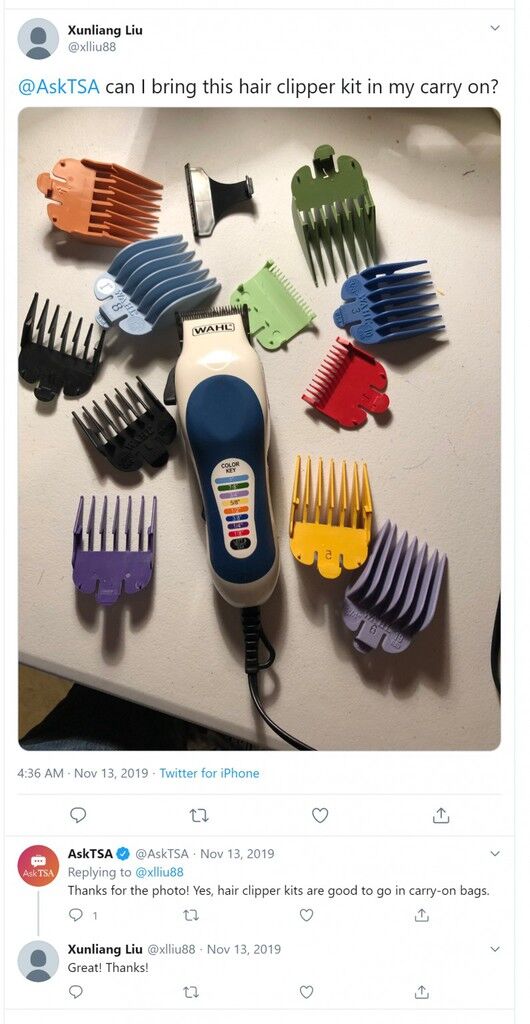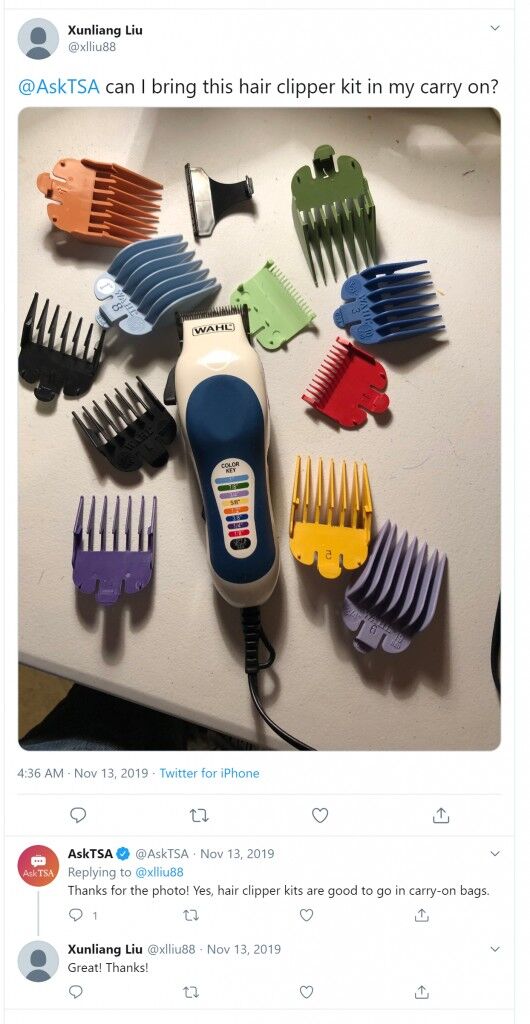 And you can see the TSA responds on Twitter that they are fine to take on an airplane.
Just be careful if you are packing a hair clipper kit that the included scissors are not too long the blades should be less than 4 inches.
Also, the little container of oil that you use to lubricate the hair clipper blades should be packed in your quart-size toiletries bag since it's a liquid.
Final Thoughts
Yes, you can take your hair clippers on a plane. The security officer might want to inspect them but the blades for most regular clippers are too small to be dangerous.
If you are packing a kit watch out for the scissors and the oil.
People Also Ask