Last Updated on May 8, 2021
Flying with a guitar was supposed to be a legal right.
Yet a clause in the law means that airlines can refuse to take your guitar as carry-on luggage even seconds before you take your seat on the plane.
So, can you take a guitar on a plane? It's complicated.
TSA Guitar Rules
As far as the Transportation Security Administration is concerned the answer is "yes" you can take a guitar on a plane in carry-on bags or checked bags.
Guitars must undergo screening and may require a physical inspection at the security checkpoint.


However, the TSA also advises that you should check with your airline for their policy on flying with a guitar. If you are not careful the airline might refuse to accept your guitar right at the last minute. More on that later.
If you are bringing a guitar as carry-on luggage then a padded gig bag might be most suitable. Remember that if permitted the guitar counts as your carry-on allowance. So you can't also bring a carry-on suitcase.
You should check the personal item size limits for the airline you are flying with. You might be able to pack your clothes in an under-seat duffel bag.
If you are bringing a guitar as checked luggage then a hard case will probably be better than a soft case.
Keep in mind that if you pack a guitar in checked luggage there is a risk or loss, delay, theft, or damage.
For that reason, I wouldn't advise checking any guitar that has sentimental value or a high dollar value.
49 U.S. Code § 41724.Musical instruments Loophole
Guitarists have a legal right to travel with their instrument on a plane IF there is space available either under the seat or in the overhead bin at the time of boarding.


The air carrier has the duty to allow you to bring your guitar on the plane and they can't charge you an extra fee for it. But, they only need to accept the guitar if there is space to stow it either in the overhead bin or under the seat at the time you board the aircraft.
This means bringing a guitar on a plane as hand luggage is always a bit of a gamble.
You should try to be boarding the plane as soon as possible to get access to the baggage space before it fills up.
If you have an option to upgrade to priority boarding that might be a good idea. The sooner you board the plane the more chance there will still be space for your guitar.
Airlines That Allow Guitars In Carry-On Baggage
I took a look at the guitar policies of the main airlines in the United States.
Alaska Airlines
Small musical instruments may count as your one carry-on bag and may exceed the Standard carry-on dimensions, as long as they can be safely accommodated in a proper stowage compartment in the cabin of the aircraft

Alaska
Alaska say that a guitar can exceed the normal carry-on dimensions. They will let it on the plane if they have baggage space when you board.
Allegiant Airlines
I couldn't find a specific guitar policy for Allegiant. I did find this on Twitter.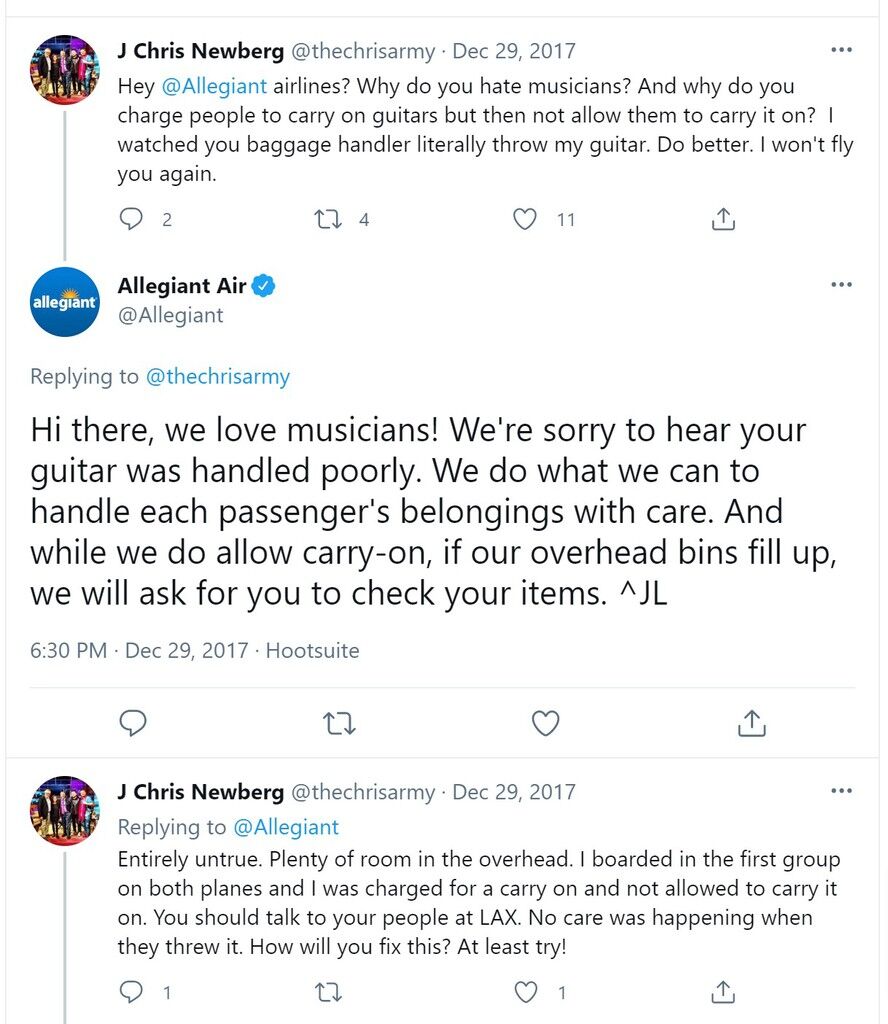 So it seems it's Allegiant policy to accept guitars if they fit in the overhead bins.
American Airlines
American Airlines say that "you can travel with small musical instruments as your carry-on on a first come, first serve basis".

Delta Air Lines
Delta also accept guitars but only if there is space in the overhead bin. If there is no space you will need to check your guitar at the gate.
Guitars and smaller musical instruments like violins or flutes will be accepted as your free carry-on bag item on Delta and Delta Connection flights1, Go to footer note. Your carry-on must easily fit in the overhead bin or other approved storage locations, in the cabin, based on available space at the time of boarding. Please note, if overhead bin space is limited or if you prefer, you may check your instrument at the gate.

Delta
Frontier Airlines
Frontier don't allow you to bring a carry-on with their cheapest fares. You should pay to get a carry-on allowance and you should then be able to bring your guitar using that allowance.
Regarding bringing guitars on to their planes Frontier said "A musical item may exceed the carry-on baggage dimensions as long as it fits into the overhead bin".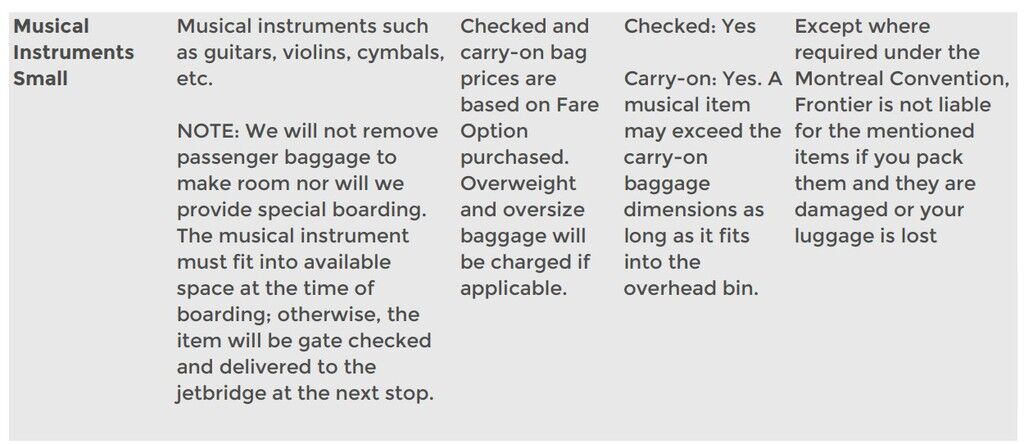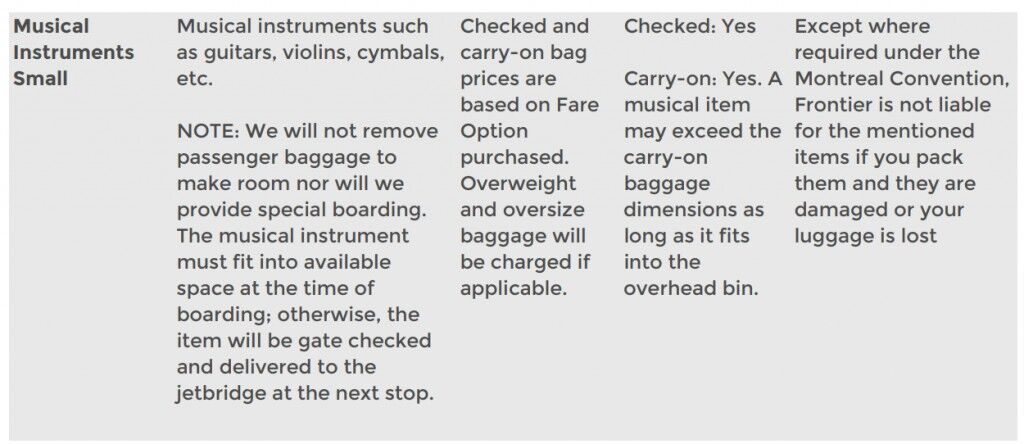 The language used is quite strong. Frontier "will not remove passenger baggage to make room nor will we provide special boarding. The musical instrument must fit into the available space at the time of boarding: otherwise, the item will be gate checked".
Hawaiian Airlines
Hawaiian emphasize the part of the law that says if there is no baggage space you'll be forced to check your guitar.
If the bag does not fit in the overhead bin or under the seat in front, you may be required to check it in. You may also purchase a second seat for their fragile and/or bulky items, ex. guitars, cellos, at the current available fare.

Hawaiian
JetBlue Airways
The standard carry-on bag size limitations do not apply to musical instruments. However, if the musical instrument cannot be stored on board due to space constraints, we will help you gate check it. Such items will be delivered to the gate upon arrival.

JetBlue
Southwest Airlines
If your musical instrument (including case or covering) exceeds the sizing requirements for carryon items (10″x16″x24″), it can be carried onboard if it will fit in an overhead bin or under a seat onboard the aircraft and there is space available when you board the aircraft for the instrument.

Southwest
Spirit Airlines
Spirit don't allow you to bring a carry-on on their basic fare. If you want to be able to bring a guitar you must buy a carry-on allowance and priority boarding.
By getting on the plane early you
United Airlines
United Basic Economy fares don't let you bring carry-on luggage so you won't be able to bring a guitar.
If you purchase an Economy fare you should be able to bring a guitar on your United flight.
The same tactics apply. Try to board as early as possible or you could be forced to gate check your guitar.
Bringing Guitar Accessories On The Plane
Jenn asked the TSA if she could bring her guitar pedal on the plane.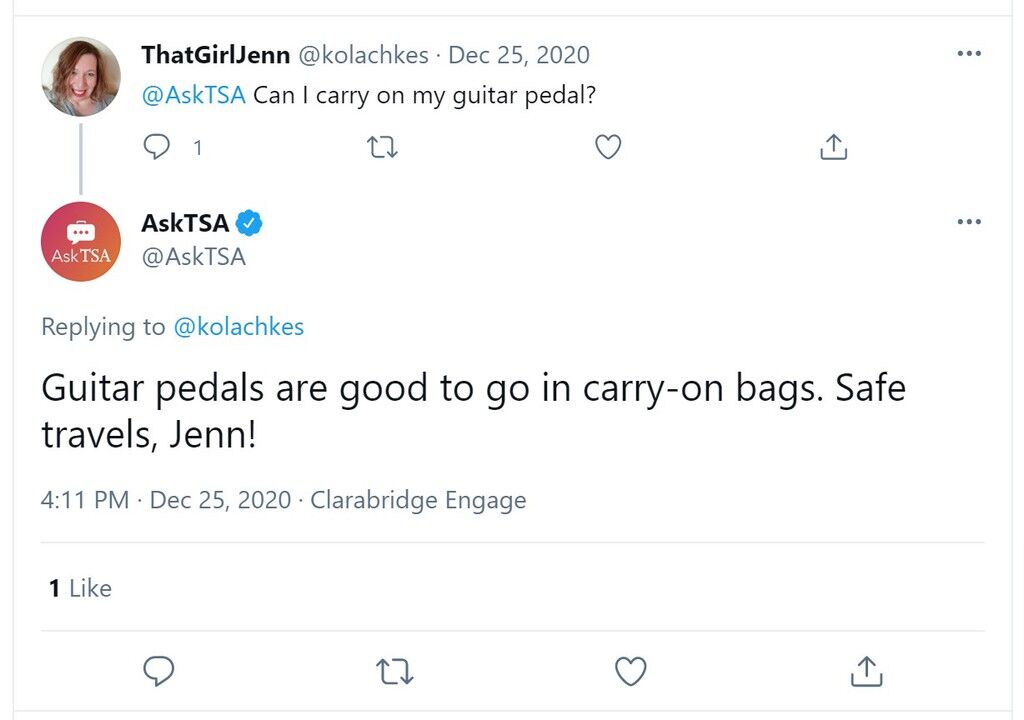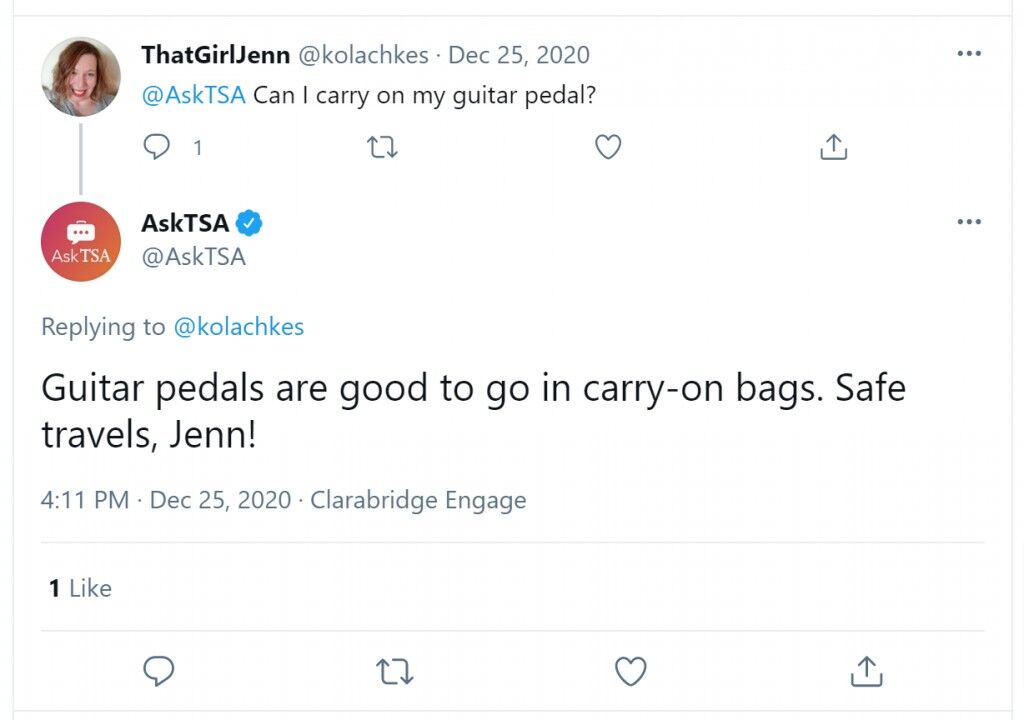 You can bring guitar pedals in carry-on bags.
And you can bring guitar string cutters in carry-on luggage if they are less than 7 inches long.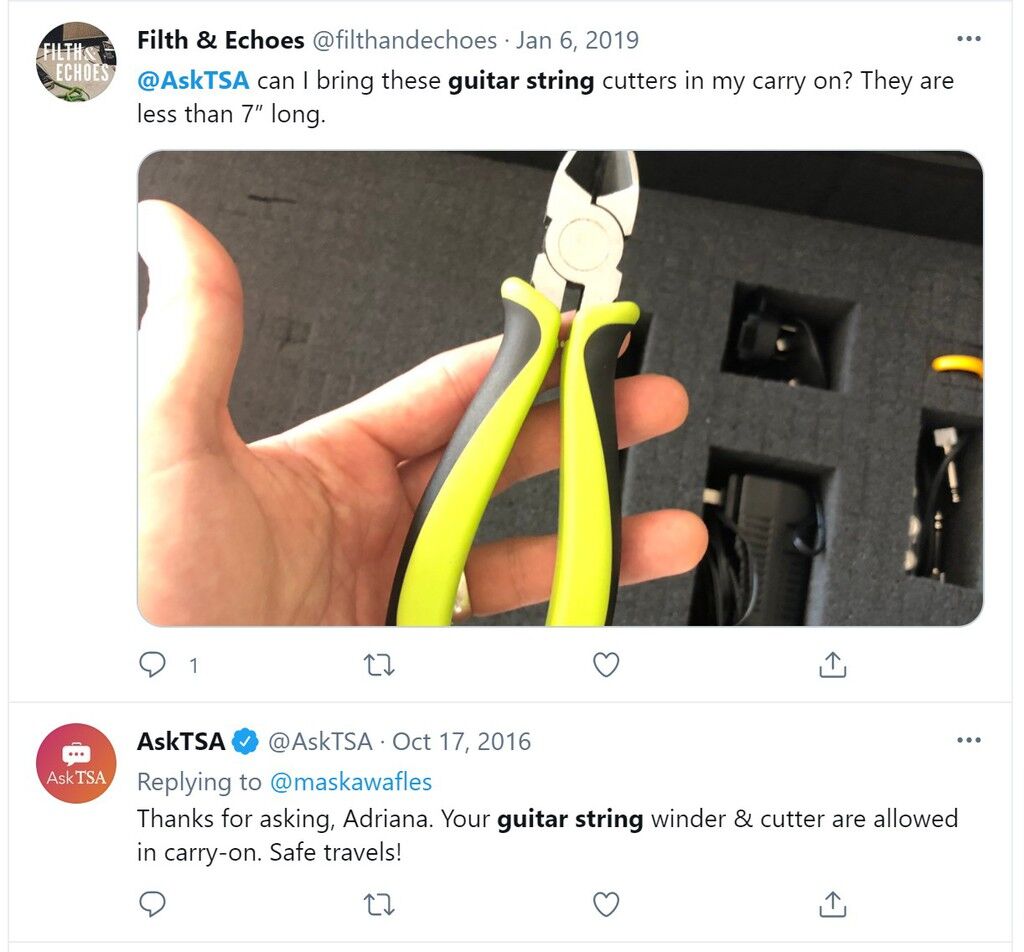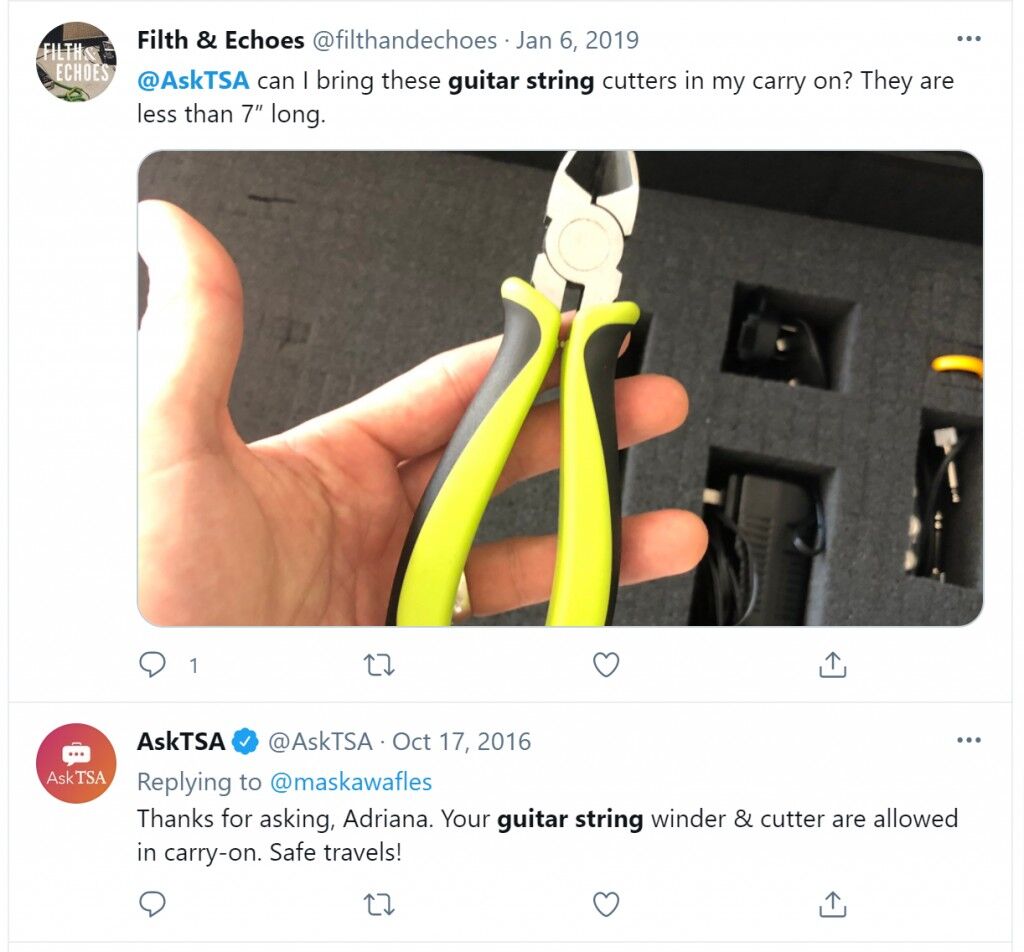 A guitar amplifier is allowed in hand luggage if it is under the airline size limits.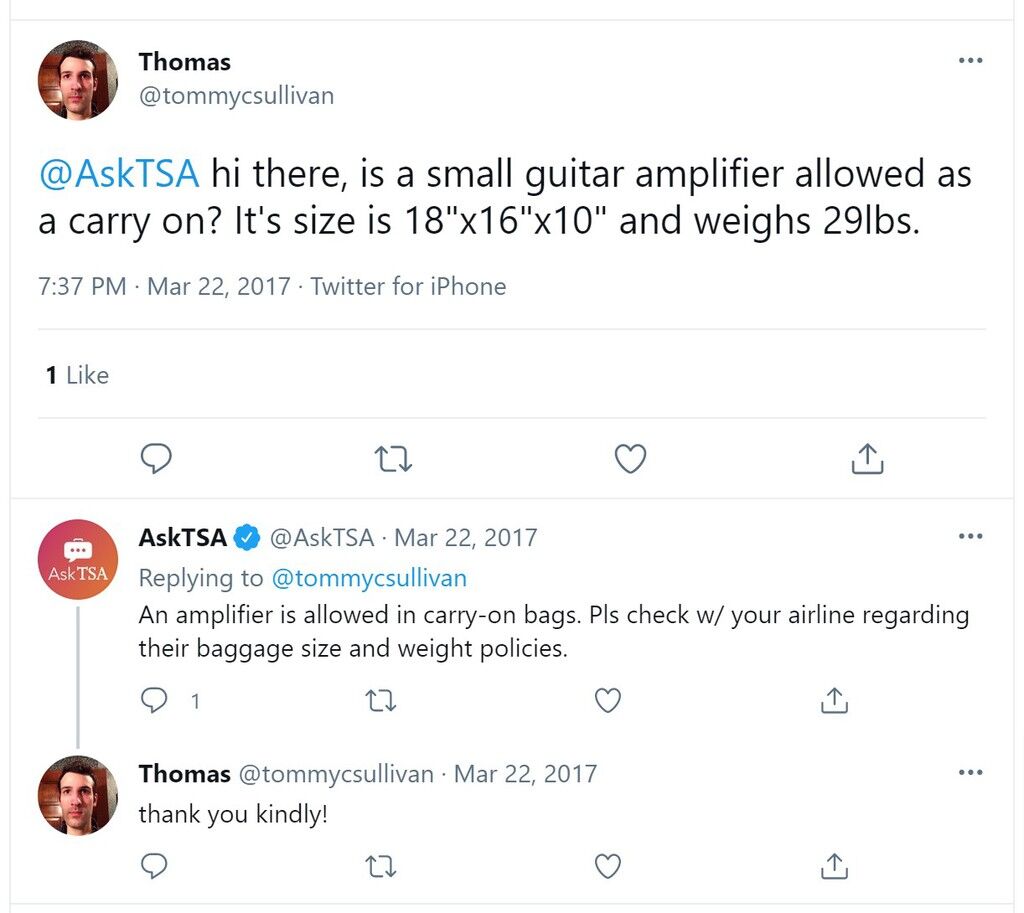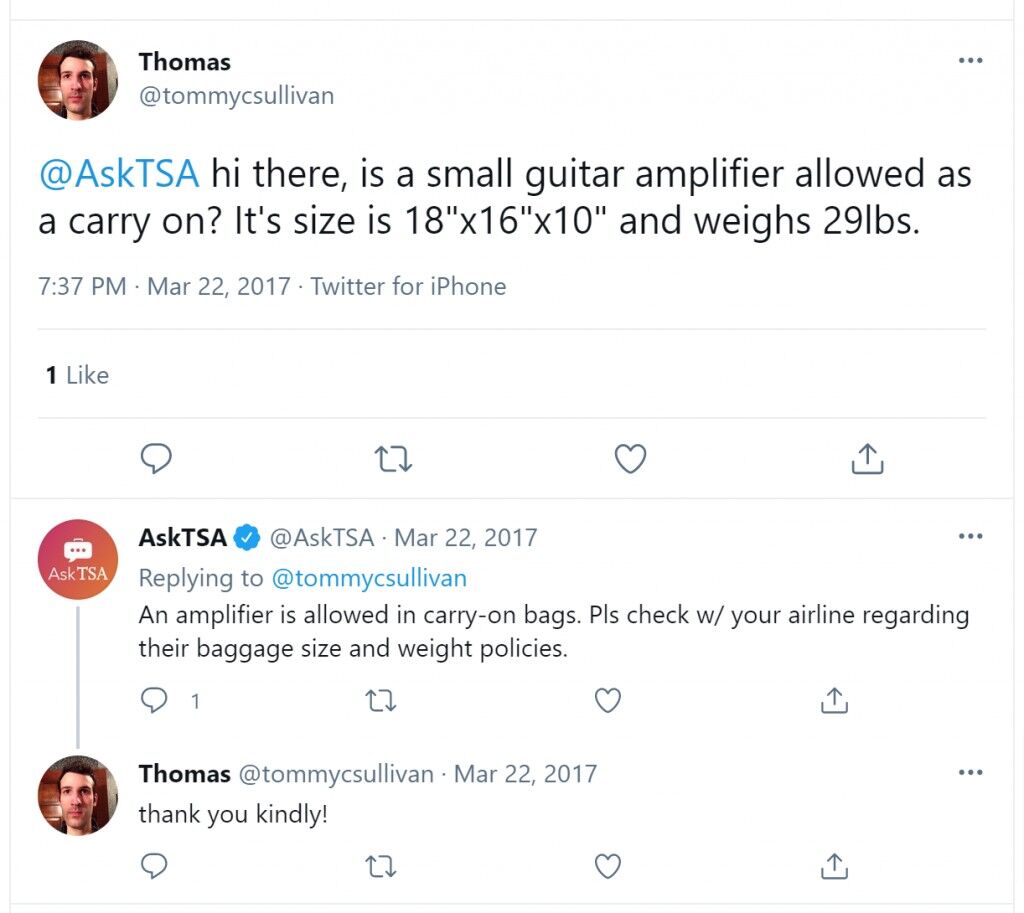 Guitar strings are also permitted in hand luggage.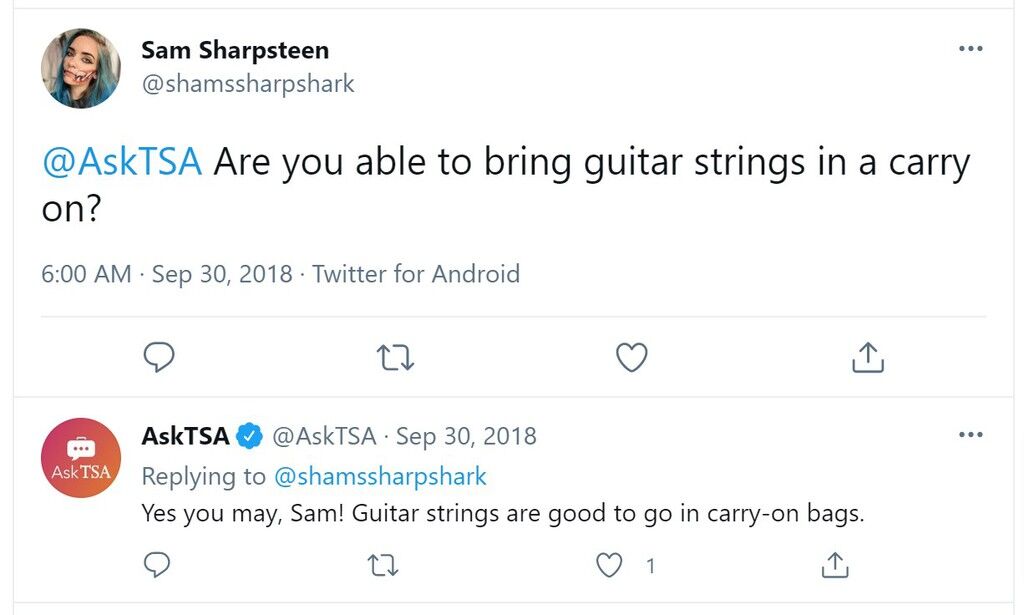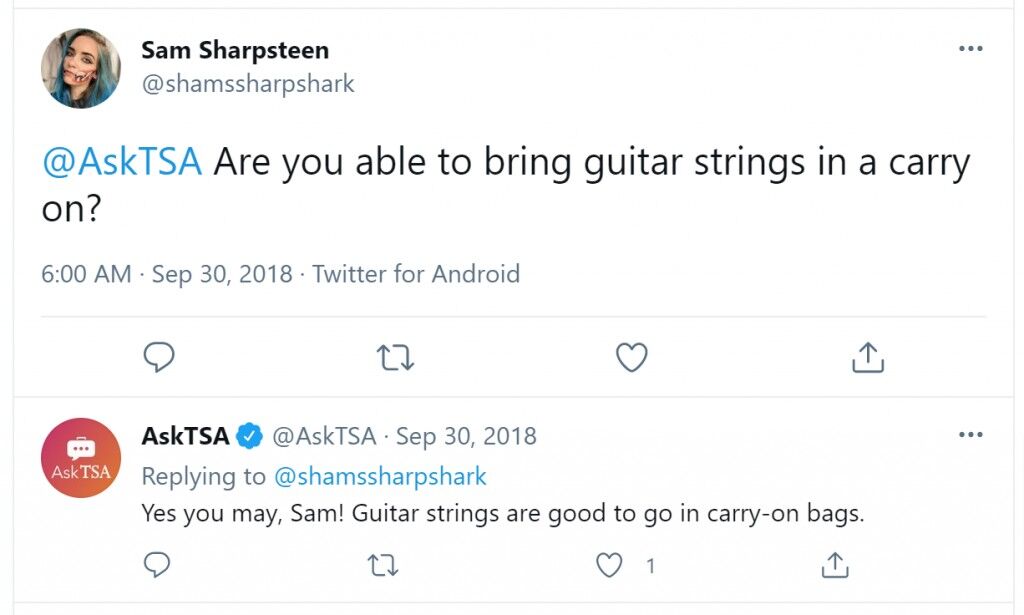 The Bottom Line
You can bring a guitar on the plane if there is storage space at your time of boarding.
To optimize your chances of their being storage space you should try to board as early as you can.
If there is an option to purchase priority boarding you should consider it.
The only way to guarantee that you can take your guitar on a plane is to purchase a seat for it.
If your guitar is especially valuable or important to you then buying another ticket for it might be the best way to avoid risk.
You always take your chances when trying to fly with a guitar as carry-on luggage. There remains a possibility that it will end up in the hold or you'll end up abandoning your flight.