Last Updated on February 26, 2021
Allegiant doesn't allow you to bring a carry-on size bag for free. Instead, they only let passengers bring a personal item. Regular size carry-on bags cost more.
But is the Allegiant personal item going to be large enough for your trip? Maybe it can be if you can find a bag with the correct shape!
So we've searched the net attempting to find the best Allegiant under-seat bags close to the permitted dimensions.
At the end of the post, you'll find our Amazing Bagometer that estimates how many days worth of clothes you can expect to fit into the free Allegiant bag. So you can use that info to decide if you need to purchase the full-size carry-on allowance or not.
Allegiant's Personal Item Size
To remind you, here's a screenshot from the Allegiant website:


Every passenger can bring One Free Personal Item. Your Personal Item (like a purse, briefcase, or a small backpack) must be stored completely underneath the seat in front of you. Maximum dimensions are 7 x 15 x 16 inches (17.8 x 38.1 x 40.6 centimeters)

Allegiant Airlines
How Much Can You Fit In An Allegiant Personal Item?
The theoretical maximum capacity of a 16 x 15 x 7 inch bag is 1680 cubic inches or 27.5 liters. That's pretty decent because a full-size carry-on bag usually only holds about 40 liters.
But you'll only get 27.5 liters capacity if you can find a bag that is a perfect rectangle with those measurements.
Don't get too excited… Take a look at the rectangle shape: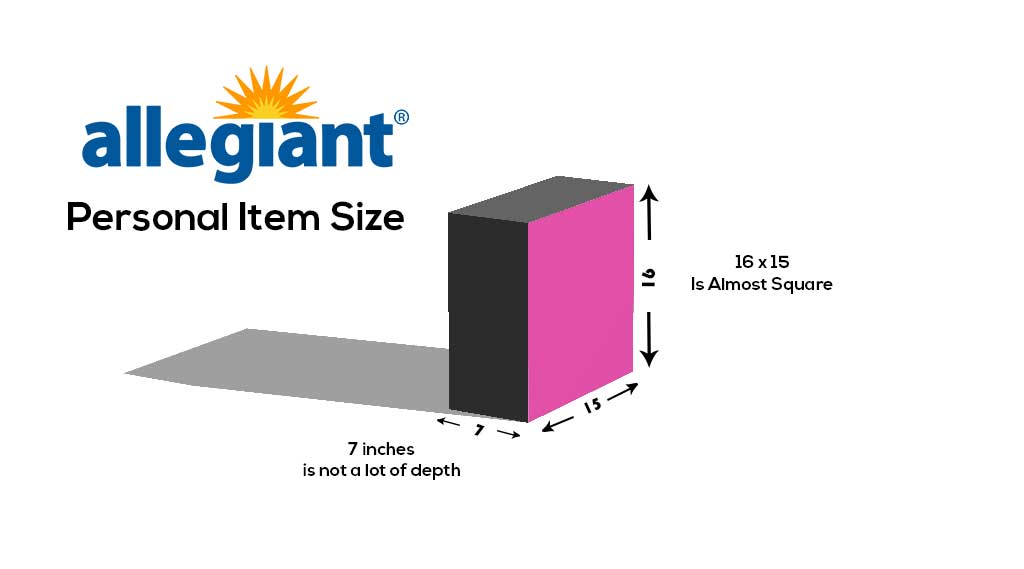 16 x 15 inches is almost a square and 7 inches is not a lot of depth.
Suitcases, duffel bags, and backpacks don't usually come in this sort of flat square shape. So it makes it hard to find any bags that fully utilize the full Allegiant personal item allowance.
All the bags we found were a compromise. We did our best to find high-capacity bags but it wasn't easy.
For each bag on this page, we'll give you the size measurements and the capacity in liters.
Hopefully, you'll find the right bag for you, if you can pack light you might be able to avoid paying for carry-on or checked luggage on your next Allegiant flight!
7 x 15 x 16 Inch Under Seater Luggage
I first searched under seat luggage to try to find if any rolling suitcases fit the limitations.
Because of the 7 inch limit, most of the rolling under-seat bags are over-sized for Allegiant. These types of bags usually have 8 or 9 inches in depth. They are rigid and can't be squeezed to fit the sizer.
The space under the seat can be 10 inches but Allegiant only permits 7 inches.
This Olympia was the closest I could find. It's 16 x 15 x 7.75 inches so it's 0.75 of an inch too big.
I know some passengers have used it with Allegiant and got away with it. So… are you feeling lucky? 🙂
Generally, rolling suitcases are not a good fit to use as a free Allegiant bag. Rolling luggage will attract attention because they are usually too big.
If you are going to attempt to take a rolling suitcase that is slightly too big I suggest picking it up by the handles when you are going past Allegiant gate agents. It will look smaller!
Be ready for a $50 fine if you get caught and don't come crying to me 🙂
The Squeezability Factor
I don't think it's an accident that most of the rolling under-seat bags don't fit the Allegiant restrictions. Allegiant has rigged the rules of the game. They are strict about personal item size because this is how they make their profits.
The big problem with these semi-rigid suitcases is that they can't be squashed to fit.
If the available bags on the market don't fit then more passengers will end up paying the $15 – $30 fee to bring a carry-on. When paid for both legs of the trip this can add a lot to the cost of your flight. A carry-on is cheaper if you pay for it in advance, if you are caught at the airport it can be $50.
But do you really need wheels with a bag this size? Couldn't you just carry it?
A soft, squashable bag makes a better choice when flying Allegiant with only a personal item.
But if you pack it too tightly it won't be squeezable. Don't worry, I have a cunning plan.
Your Secret Weapon
When we want to take a lot of clothes but only have a small bag most people get around this by stuffing clothes in tightly.
The problem with this is it can mean your bag is bulging, and bulging bags can have problems at the sizer.
If your chosen bag is half an inch too big you won't be able to squeeze it to make it fit.
Compression packing cubes are your secret weapon when flying with a restrictive limit like Allegiant's.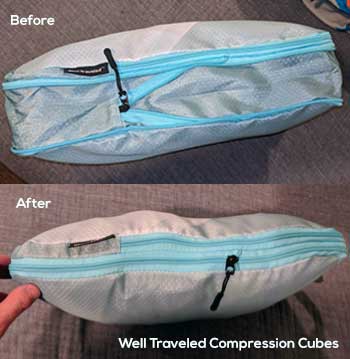 This is kinda hard to explain with words…
Do your stuffing with the packing cubes, not your personal item bag.
This way the packing cubes are taking the strain allowing you to squeeze more clothes in but your personal item bag is not. So when you reach the Allegiant sizer if you need to squeeze your personal item bag to make it fit you will be able to do so.
Just make sure you don't pack in too many compression packing cubes!
7 x 15 x 16 Inch Messenger Bags
When I think of bags that are almost square on one side I imagine some messenger bags. So that was the next type of bag that I checked.
Timbuk2 Classic Large
The large version of the Timbuk2 classic measures 15 x 13.8 x 7.87 inches. Don't pack it too tightly and it should be able to be squeezed into the Allegiant sizer.
I think over-the-shoulder messenger bags that look around the right size won't be challenged too often. And it will fit under your seat fine.
Timbuk2 claim their classic large can hold 28 liters. While it's 15 inches wide at the bottom its nearer 20 inches wide at the top. You'll need to be able to squeeze it to make it fit in the sizer.
Newhey Large Leather Satchel
The large satchel is 15.1 x 12.2 x 4.3 inches and can hold 10 liters. It might suit for a couple of nights away but it's not going to hold a lot for longer trips.
Timbuk2 Commute 2.0 Messenger Bag
This messenger bag comes in 3 different sizes. The large version is 15.9 x 14.2 x 4.72 inches and can hold 23 liters.
Check this video from Steve to get an idea of the difference between the medium and the large versions.
Timbuk2 Travel Tote
The Timbuk2 Travel Tote caught my eye because of the almost square facing. Unfortunately it's slightly too large at 17.7 x 16.1 x 4.3 inches.
I think if you first stuff your clothes into compression packing cubes and then loosely pack the cubes into the tote it will squeeze down to be under the limit.
7 x 15 x 16 Inch Backpacks
You'll find that most backpacks with a height of 16 inches are kids school bags. They usually have a width of 11 inches to make the classic rectangular backpack footprint.
A backpack does count as a personal item on Allegiant as long as it's under the size limit.
Timbuk2 Scheme Convertible
The Scheme Convertible can be used either as a messenger bag or a backpack. It's 16.1 x 12.2 x 5.91 inches and has a capacity of 25 liters.
Tom Bihn Synapse 19
The Tom Bihn Synapse 19 measures 16 x 11.4 x 7.9 inches and has a capacity of 19 liters.
It's my go to backpack for under seat travel and if you don't pack it too tightly it will work for Allegiant.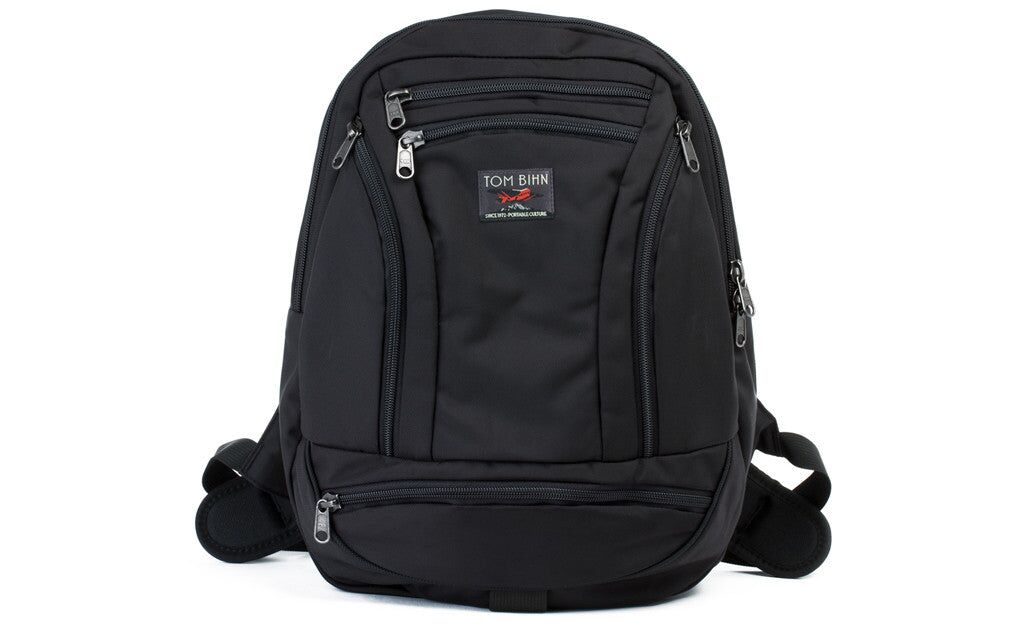 7 x 15 x 16 Inch Duffel Bags
Boarding Blue Under Seat Duffel Bag
Boarding Blue focus on making personal item bags to help travelers avoid carry-on bag fees.
This is the bag they make to use with Allegiant. It's 16 x 12 x 6 inches so it holds almost 19 liters. It's a pity that it's not just a little bit larger. An extra 3 inches in height and 1 inch in depth would give 8 more liters packing space.
Narwey Travel Duffel
The Narway is really designed for Spirit airlines. Its measurements are 17 x 14 x 7 inch so it's one inch too wide for Allegiant. Pack it right and it will hold 25 liters.
If you don't pack it too tightly you will be able to use it on your flight. It's a budget product so it won't last forever but if you want to save some money by avoiding carry-on fees or checked bag fees I think it will be allowed on Allegiant.
Packing Your Personal Item
As promised here is our Amazing Bagometer tool. Adjust the measurements to match the size of bag you are considering and it will tell you the capacity and how many days worth of clothes you should be able to fit.
The tool assumes you will take a laptop and shoes and allocates some space for that.
I will travel in:
My clothing size is:
40
Liters
15
Clothes Days
👖👕👗
45
Linear Inches
Okay To Check In!
My suitcase size is:
Height:
22
inches
Width:
14
inches
Depth:
9
inches
The Verdict
It really is a challenge to find a bag that neatly fits Allegiant's personal item size restrictions.
You need to decide if you will choose a bag that is safely under the limit but small or if you will choose a bag that might be a little over the limit but squashable.
Packing cubes will help with that because they'll be doing the squashing.
People Also Ask