Last Updated on February 26, 2021
Allegiant Air is a low-cost airline that doesn't only seek to generate profits from the flight ticket price.
In fact, it's their business model to keep airfares as low as possible and to then profit from add on services.
These extras might be seat selection, bringing a carry-on, bringing checked luggage, hotel rooms, or car rental.
For the passenger that means that only one smaller personal item may be brought free of charge.
Often it's hard to pack within these constraints so travelers wonder what will happen if their free personal item is just one inch too big. How strict are Allegiant about enforcing their personal item size limit?
And what will happen if you get caught over the limit? Let's take a look.
Allegiant Personal Item Size
The personal item size limit for Allegiant is 16 x 15 x 7 inches and this bag must be stowed under the seat in front. That's 40.6 x 38.1 x 17.8 in centimeters if you prefer metric measurements.
In paper that could be a 27.5 liter bag, and a regular carry-on is usually only about 40 liters.
But notice that 16 x 15 is almost a square. Most bags whether they are suitcases, duffel bags, or backpacks come in a more rectangular shape.
It can mean finding a bag to make the most of the Allegiant personal item allowance is quite a challenge. We attempted to find bags that meet the restrictions on this post.
You will probably end up using a bag more like 16 x 11 x 7. That only gives you 20 liters, which is half the size of a regular carry-on.
Many airlines allow under-seat bags that can be 18 x 14 x 8. The Allegiant limitations are smaller than the industry average. I don't believe that's an accident.
The second thing to note about the measurements is that 7 inch in depth really isn't all that much.
In most cases, there is far more space under the seat than the Allegiant measurements allow for. So in this sense, they are strict with the size restrictions they have chosen in the first place. Of course, this helps to persuade passengers to pay to bring a full-size carry-on and increases profits.
Jonathan wasn't shy in letting Allegiant know what he thought about this 7 inch limit.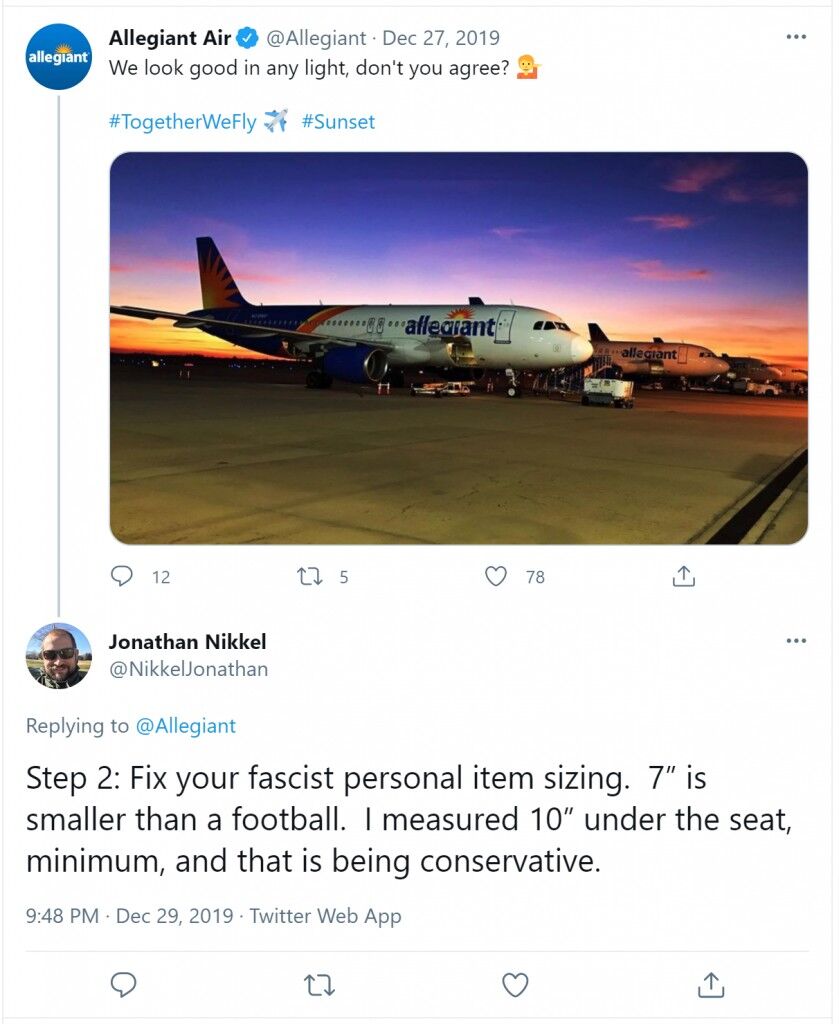 The very size limits that Allegiant use for their personal item imply that they are not going to be generous. They keep it tight for a reason. They want flying with a personal item to be just uncomfortable enough that a significant number of passengers pay for the carry-on.
One thing to note is that while you might get away with an oversized bag on one leg of your journey you might be caught out on the other leg.
Nathan was charged $50 on he return journey with the same bag.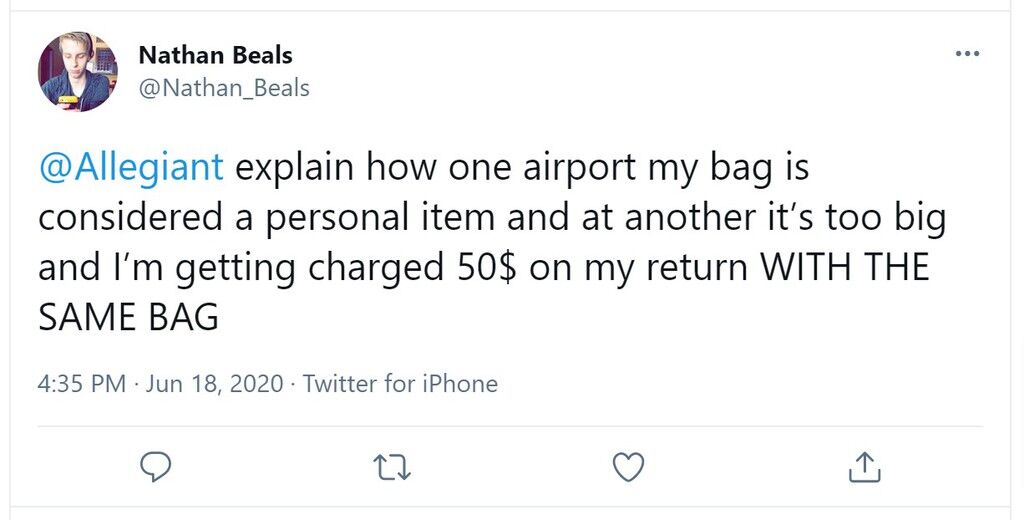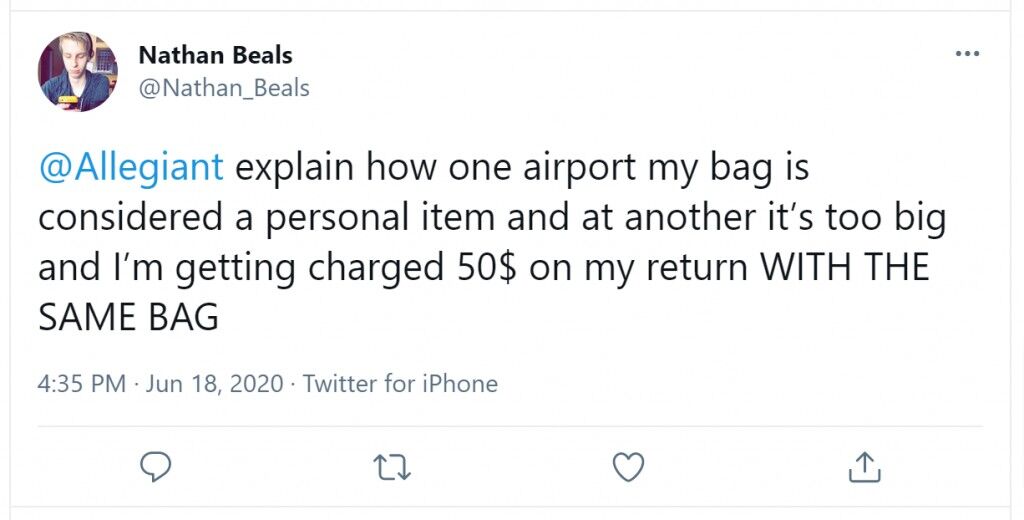 Like most airlines, Allegiant doesn't measure every bag. This means that sometimes passengers do get away with bags that are too large.
Allegiant are strict about enforcing their personal item size limit. Their business model depends on getting a significant number of passengers to pay for carry-on luggage or checked luggage. Enforcing the rules is crucial for this pricing strategy.
Shelby asked Allegiant if her bulging weekender bag would count as a personal item: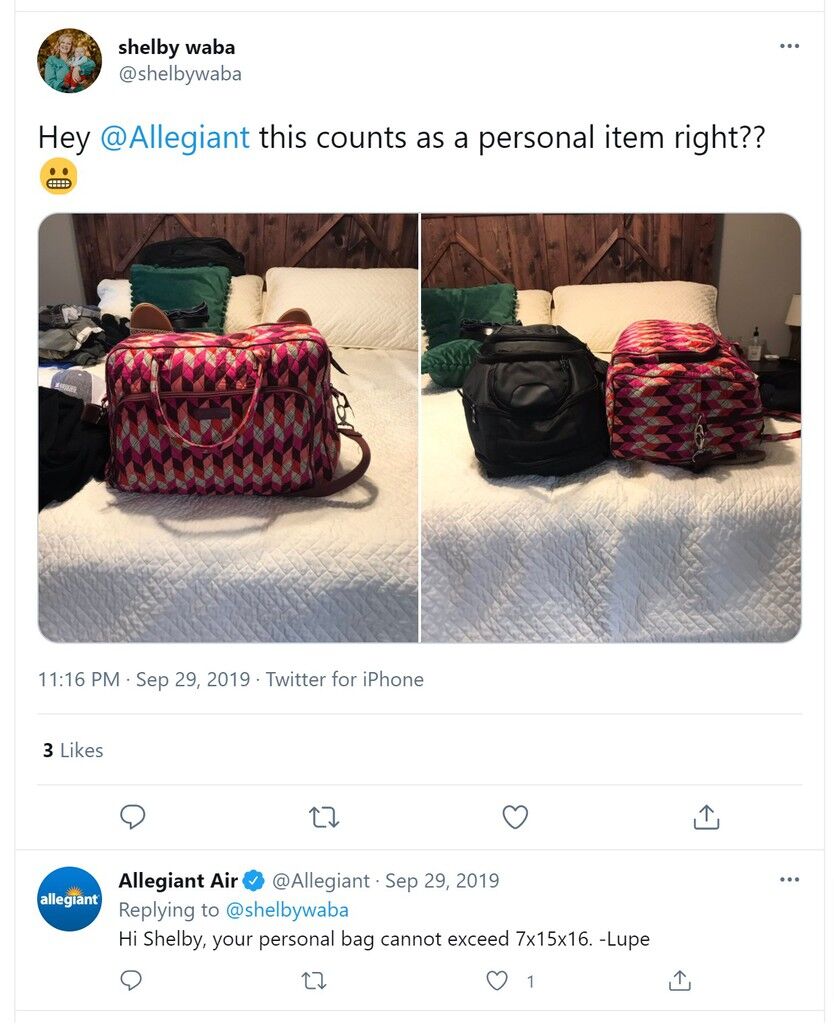 Whereas a full-service airline like Delta would say you'll be fine so long as it fits under the seat, for Allegiant it really is all about the size measurements.
And this is what happens when your Allegiant personal item is a little too big and you get caught.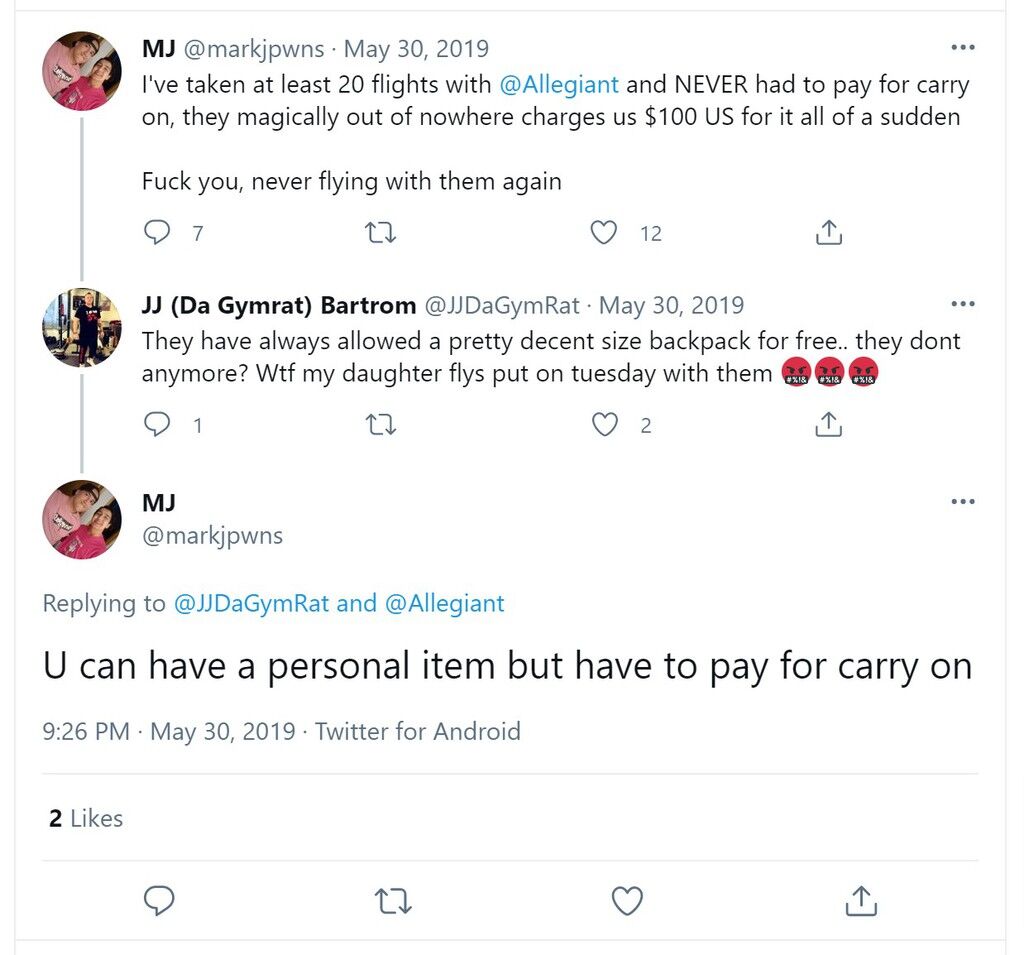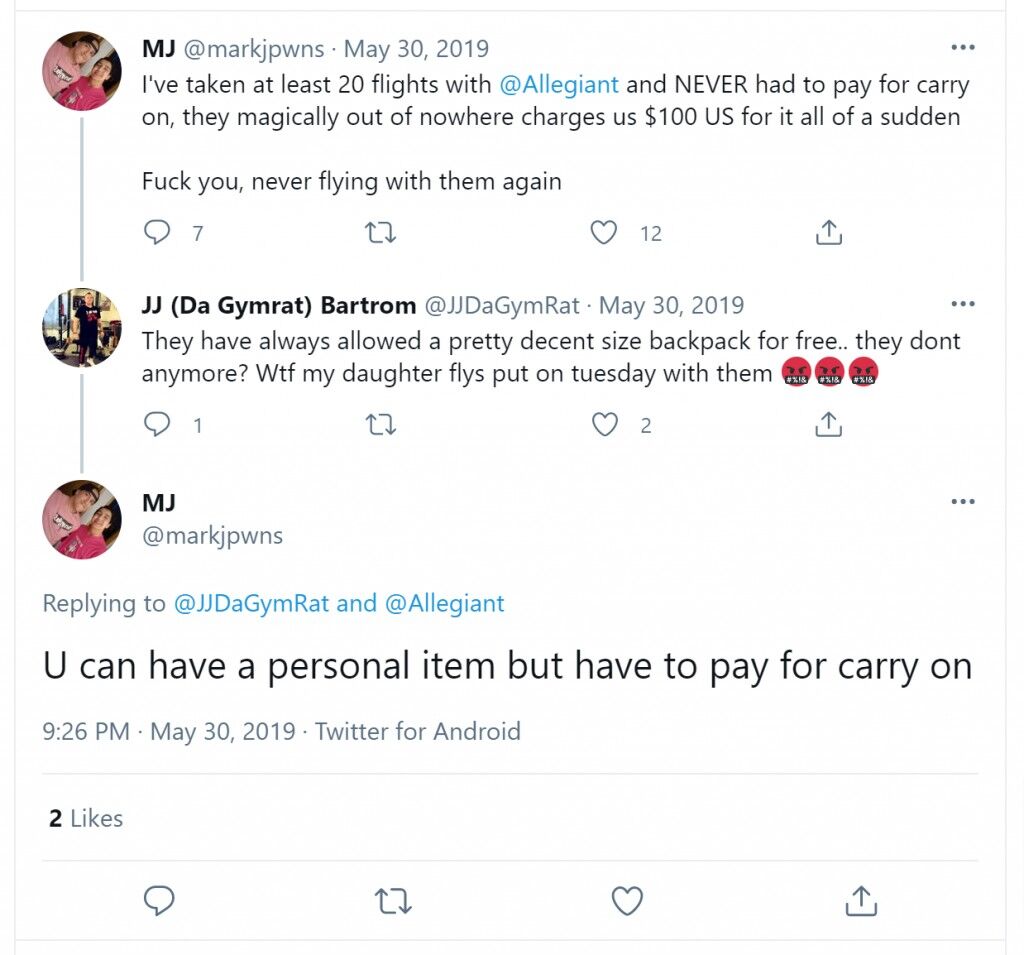 The Bottom Line
Allegiant are a low-cost airline. They keep their fare low and make up for that by charging for carry-on bags, checked bags, and anything else they consider to be an extra service.
This means that Allegiant is strict with their personal item size limit. They need to be!
They don't check every bag so there is a chance you might get away with it.
But when they catch you with an oversize bag it's expensive.
For that reason we recommend you make sure your Allegiant bag is under the size limitations. It's really not worth the hassle.
Find a bag suitable for using with Allegiant and if you can't pack everything you need in your bag then pay the extra charge for the carry-on. It will be cheaper if you do this ahead of your flight rather than getting caught at the gate trying to sneak a chunky bag on.
It's more relaxing to fly within the regulations and you don't need to suffer the embarrassment of getting caught trying to be a cheapskate!
People Also Ask