Last Updated on November 16, 2021
Packing a suitcase isn't easy, the airport security rules can make you want to tear your hair out!
Can you pack a comb in your carry-on baggage or does it need to be packed in checked luggage?
Let's straighten things out.
TSA Comb Rules
The Transportation Security Administration doesn't mention combs specifically on their website.
I checked on Twitter and found that the question had been asked before: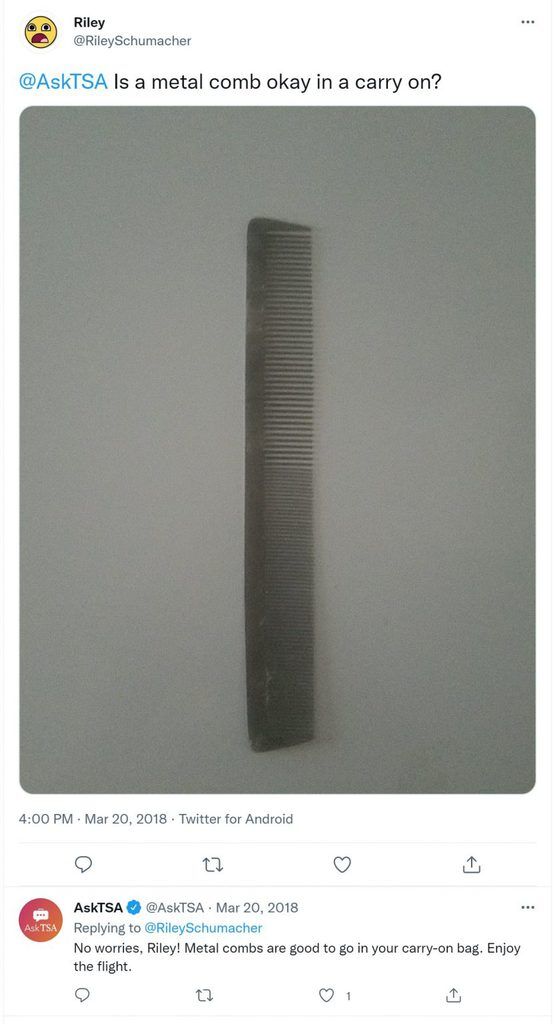 You can pack both plastic combs and metal combs in your carry-on bag.
You can also pack a comb in your checked bag too without restriction.
The TSA officer that inspects your luggage always has the final say about what is permitted through the security checkpoint.
In general, combs are permitted.
However, if you have a comb that is part of a replica weapon then it will not be allowed on the plane.
For example, a comb that looks like a switchblade knife will not be permitted through the checkpoint.
Still Unsure? Ask The TSA
You can reach out to the TSA on Twitter and they'll answer any questions you might have about flying with combs or anything else.
Kelley asked the TSA if she could pack a teasing comb in her carry-on: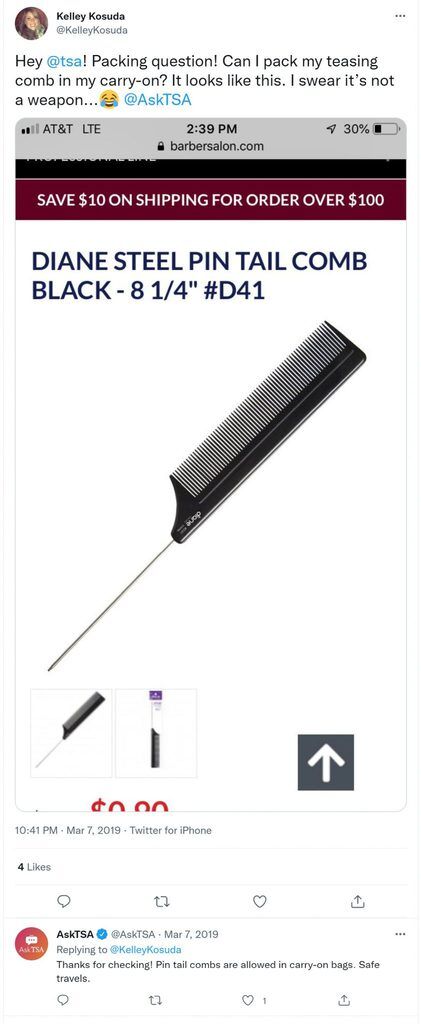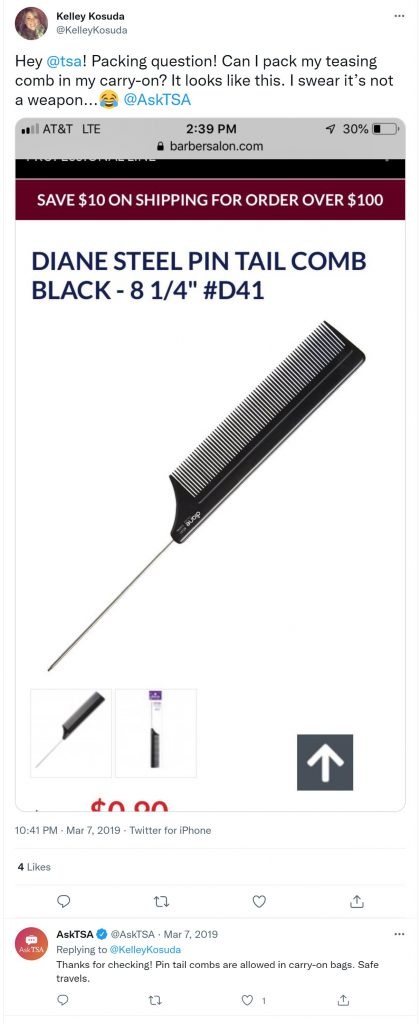 The TSA replied that "Pin tail combs are allowed in carry-on bags".
Skales checked about bringing a butterfly knife comb trainer on the plane: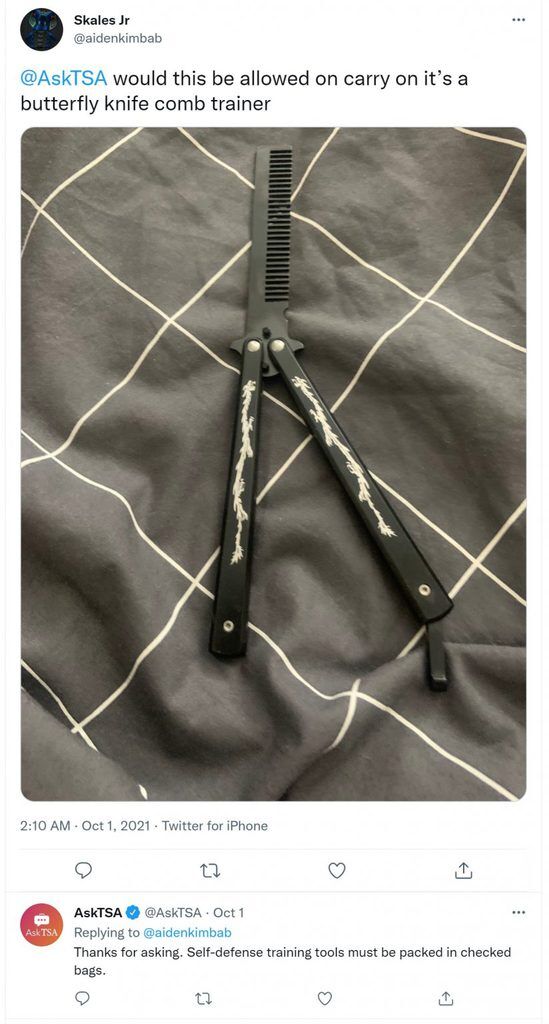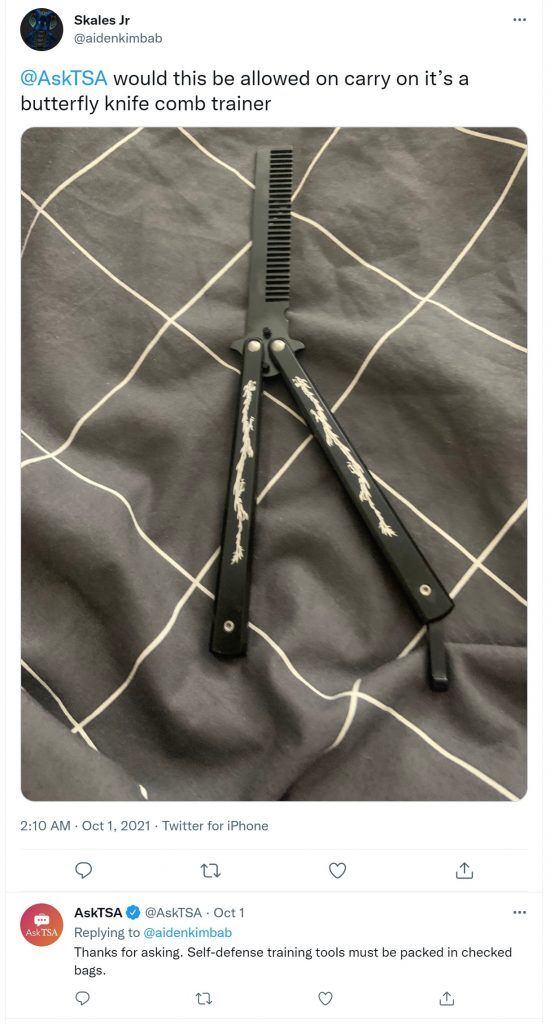 Even though combs are allowed into the cabin a comb trainer would not be permitted in hand luggage. That's because it's an imitation weapon. All weapons are prohibited from the cabin, even training weapons or replica weapons.
That's why you can't bring a comb switchblade in hand luggage.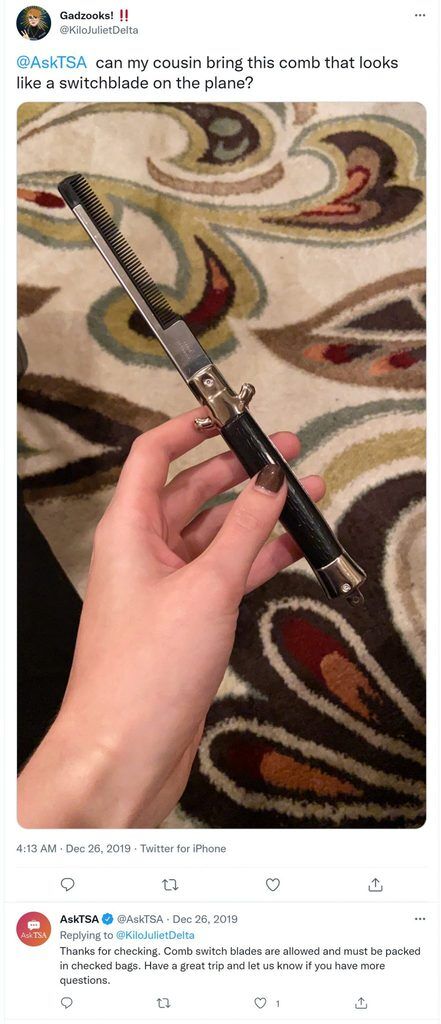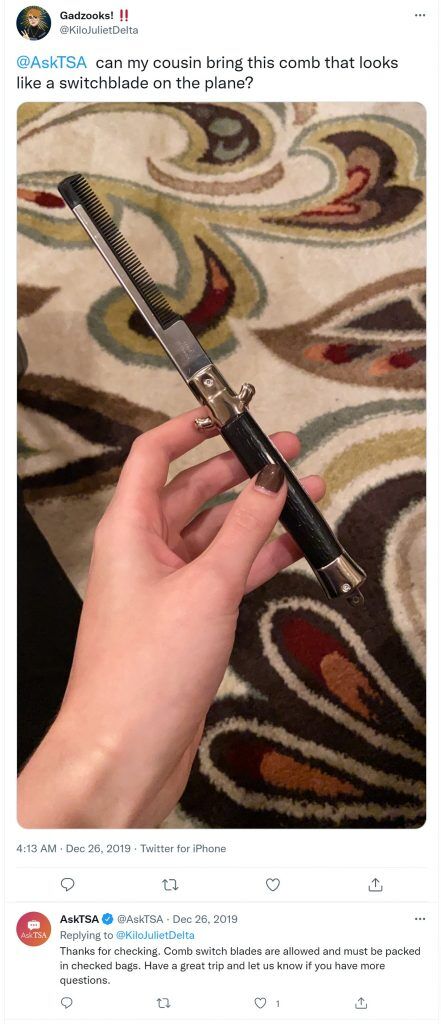 Even though it isn't really a weapon it looks like a weapon so it's not allowed on the plane.
Rudy got the green light to bring an afro comb in carry-on luggage: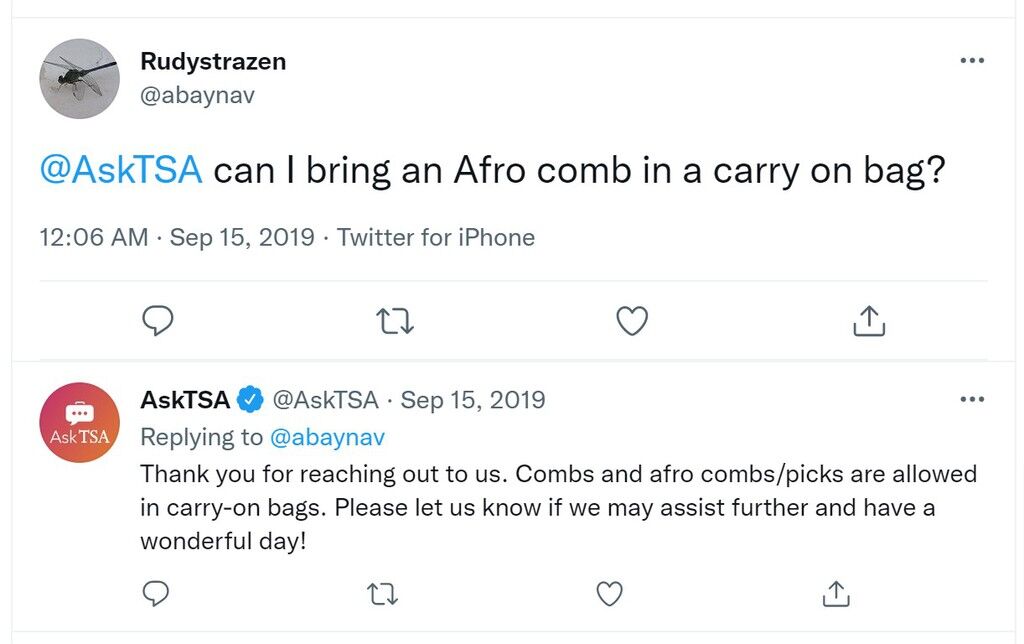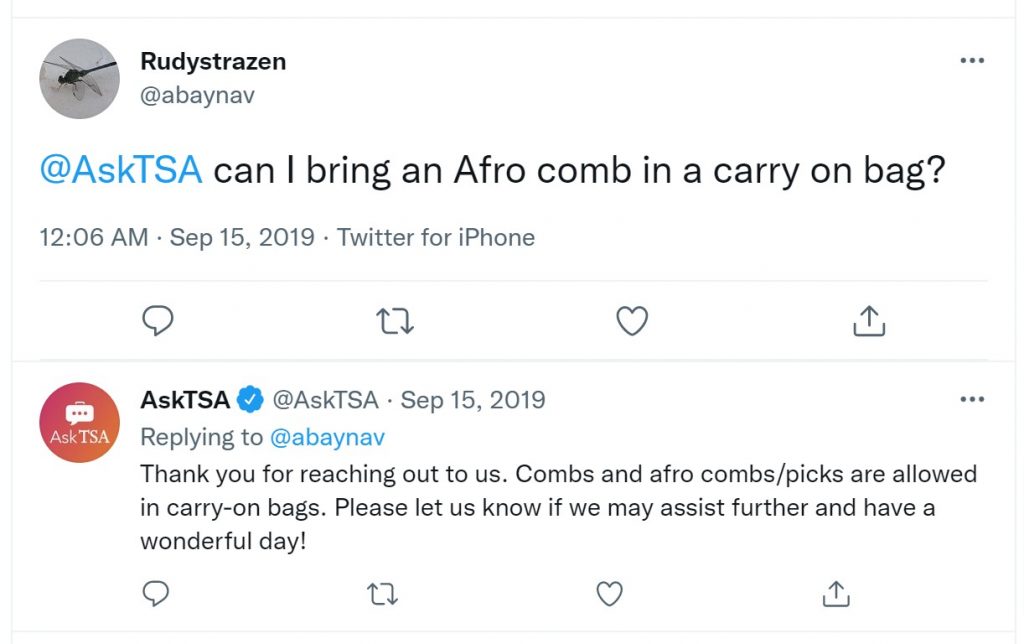 This passenger wanted to bring a stainless steel wallet comb: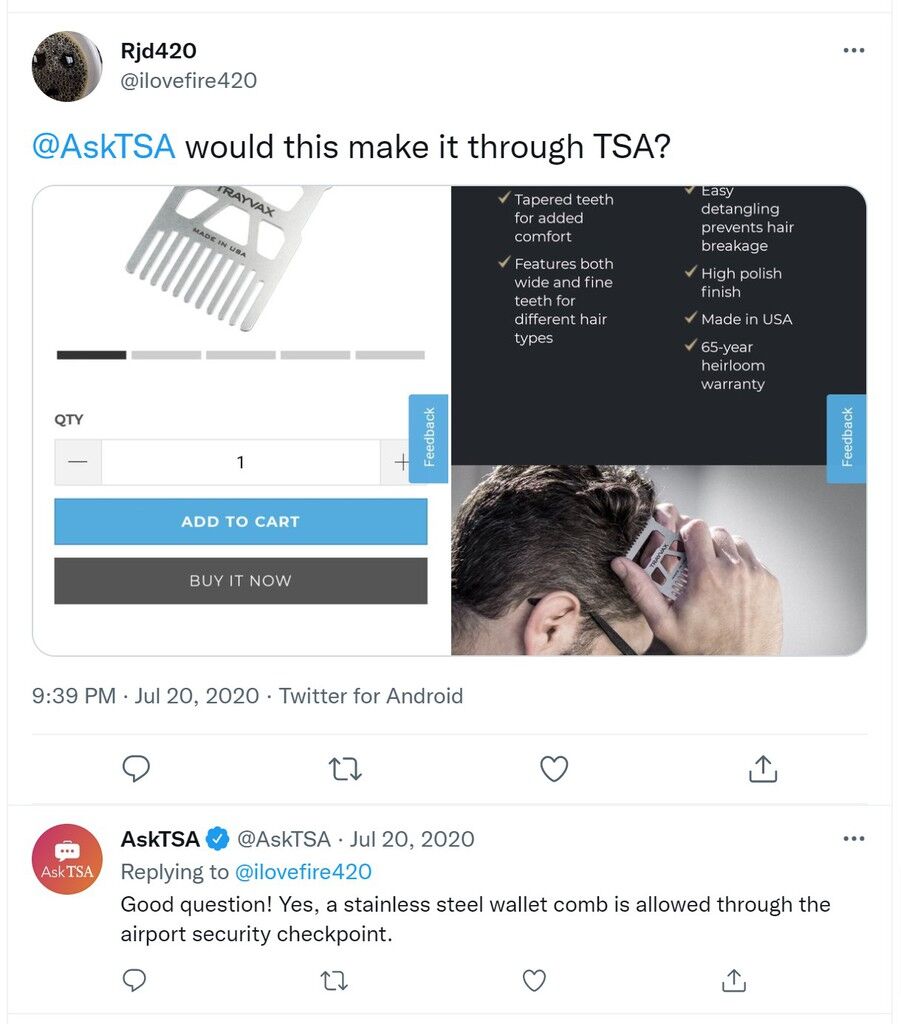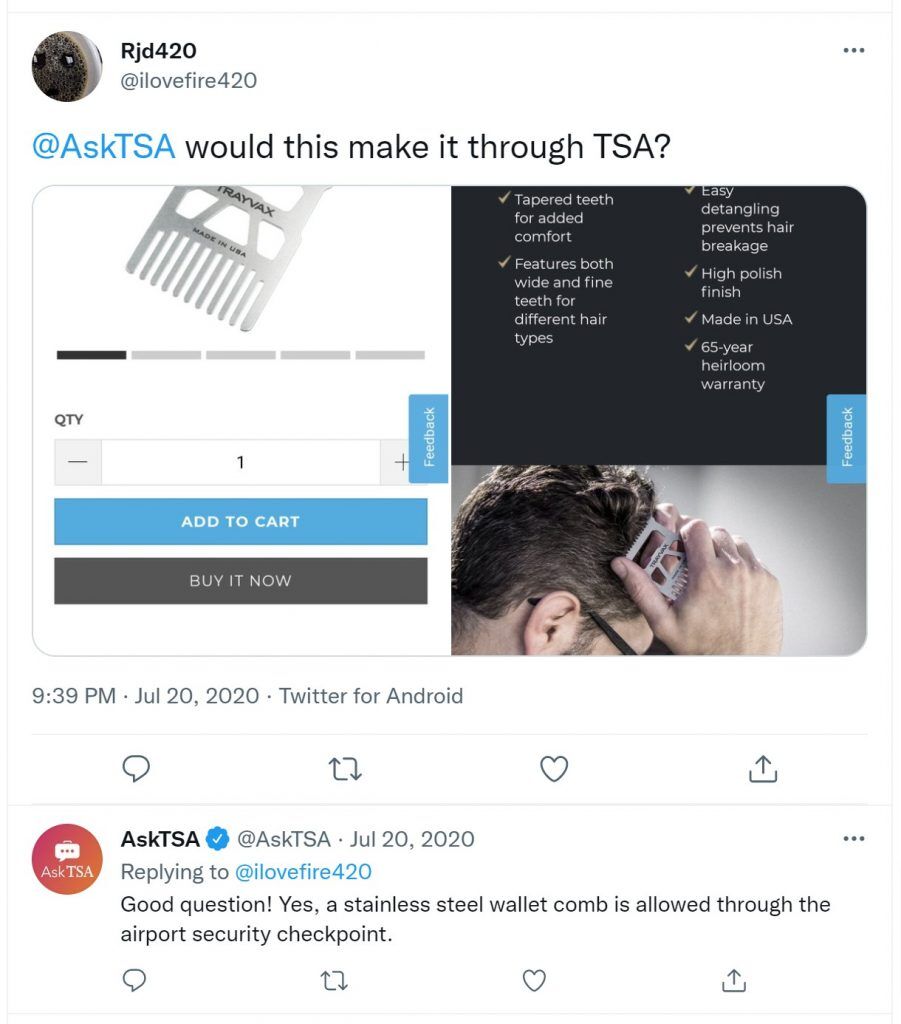 A wallet comb is allowed through the airport security checkpoint, even if it is made from stainless steel.
And this traveler was allowed to bring a knotty tamer on the plane: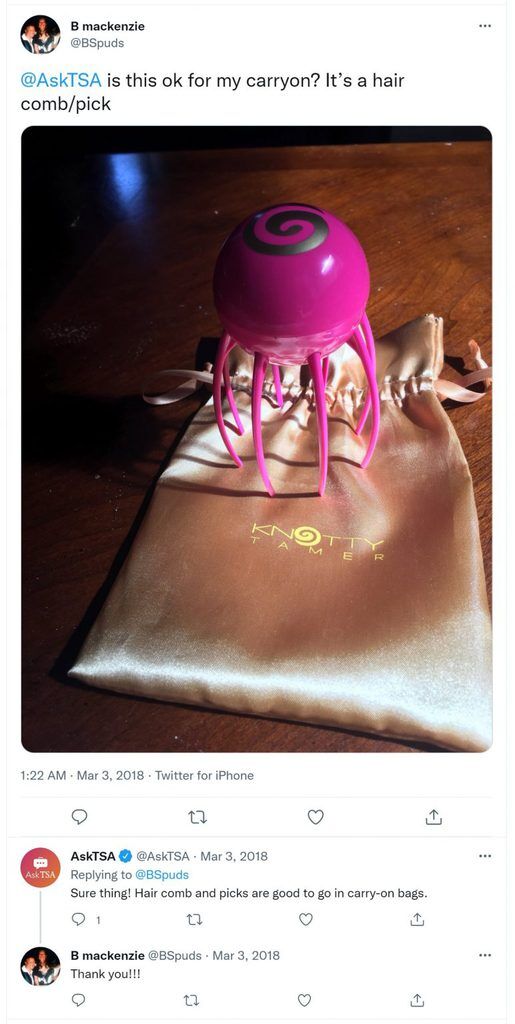 The Verdict
You can bring a comb on a plane so long as it doesn't look like a weapon.
Combs that mimick weapons where the comb replaces the blade are not permitted on planes.
Even combs that have pins are permitted. The main concern is that the comb must be designed primarily to be a comb and not an imitation weapon.
People Also Ask