Last Updated on October 17, 2021
Packing clothes in suitcases can lead to creases and wrinkles.
If it's important to you that your clothes are pressed then you might want to pack an iron in your suitcase when you fly.
But can you bring it through x-ray screening at airport security?
Let's find out.
TSA Clothes Iron Rules
The Transportation Security Administration doesn't have any specific information about traveling with a clothes iron on their website.
So I had to dig a little deeper to get you a good answer.
I found that Erin had asked the TSA on Twitter about bringing her clothing iron on the plane: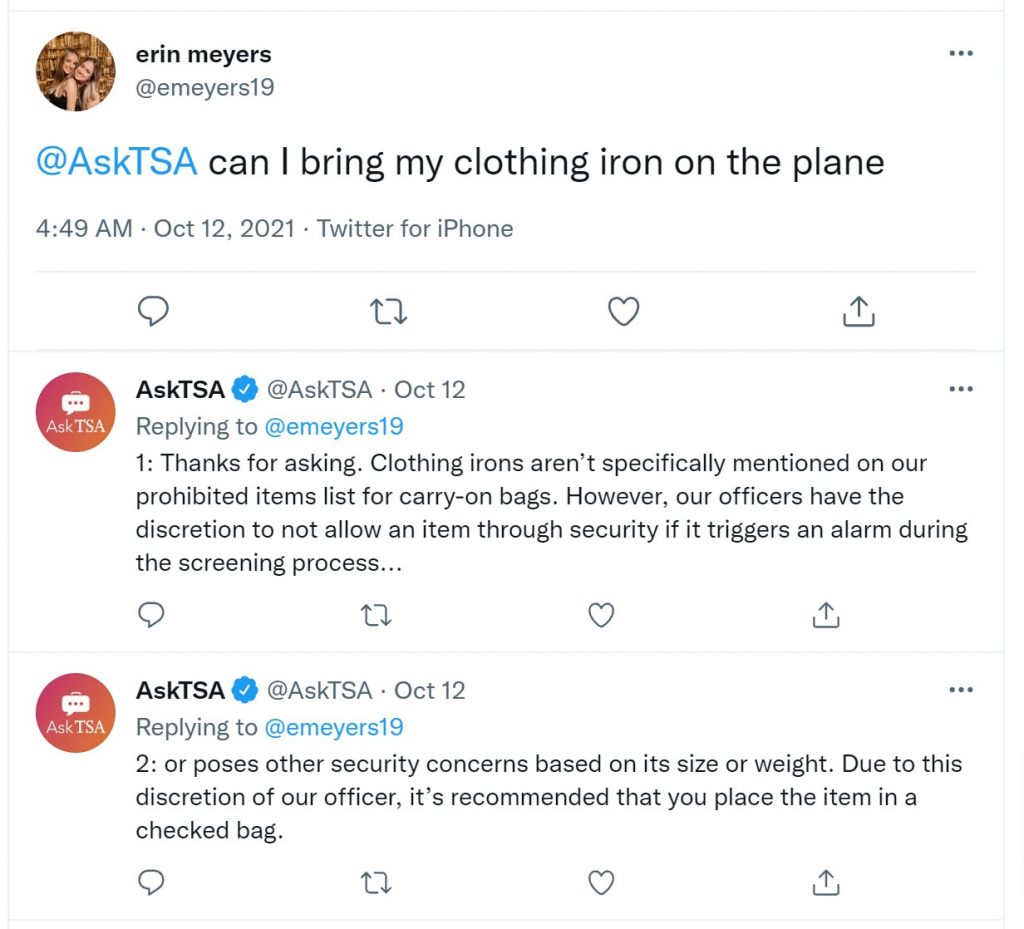 The TSA replied:
Clothing irons aren't specifically mentioned on our prohibited items list for carry-on bags. However our officers have the discretion to not allow an item through security if it triggers an alarm during the screening process or poses another security concerns based on its size or weight. Due to this discretion on our officer, it's recommended that you place the item in a checked bag.

TSA on Twitter
So what does that mean exactly?
Firstly, you can pack a clothes iron of any size or weight in checked luggage.
But for carry-on luggage, it might be better to pack a smaller travel clothes iron. If the TSA officer thinks a full-size clothes iron is heavy enough to be used as a weapon they may not allow it to be brought onto the plane.
Whichever iron you pack you should make sure that there are no liquids in the iron.
If you have an older cheaper iron you might decide to take the risk. Not all irons are confiscated.
I definitely wouldn't advise packing a new expensive clothes iron in hand luggage.
Morgan asked the TSA specifically about packing a small travel-sized electric clothes iron.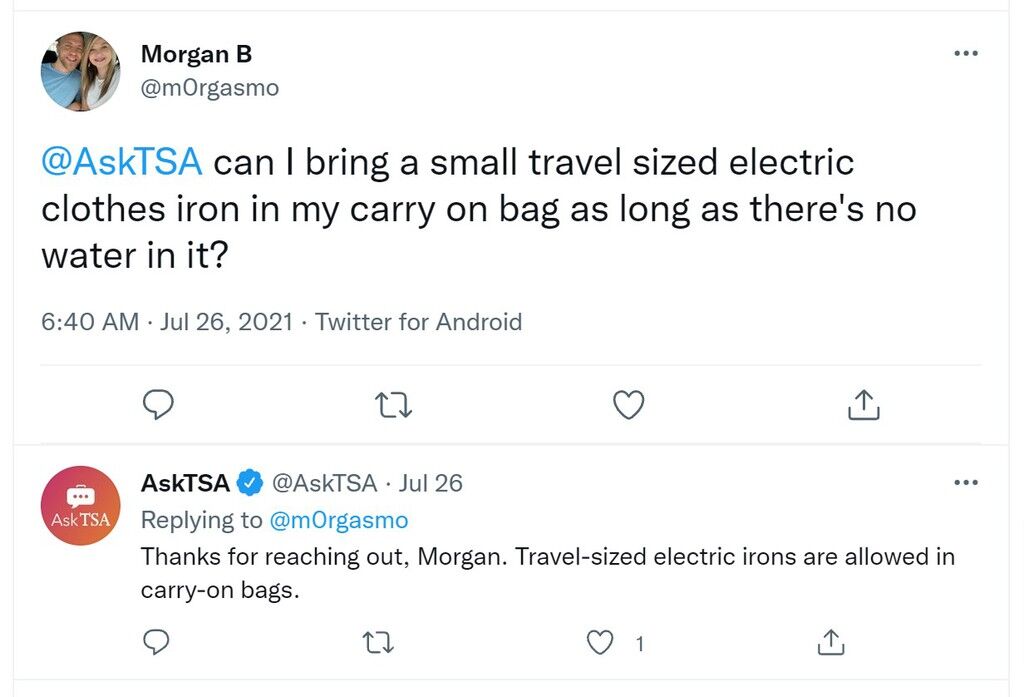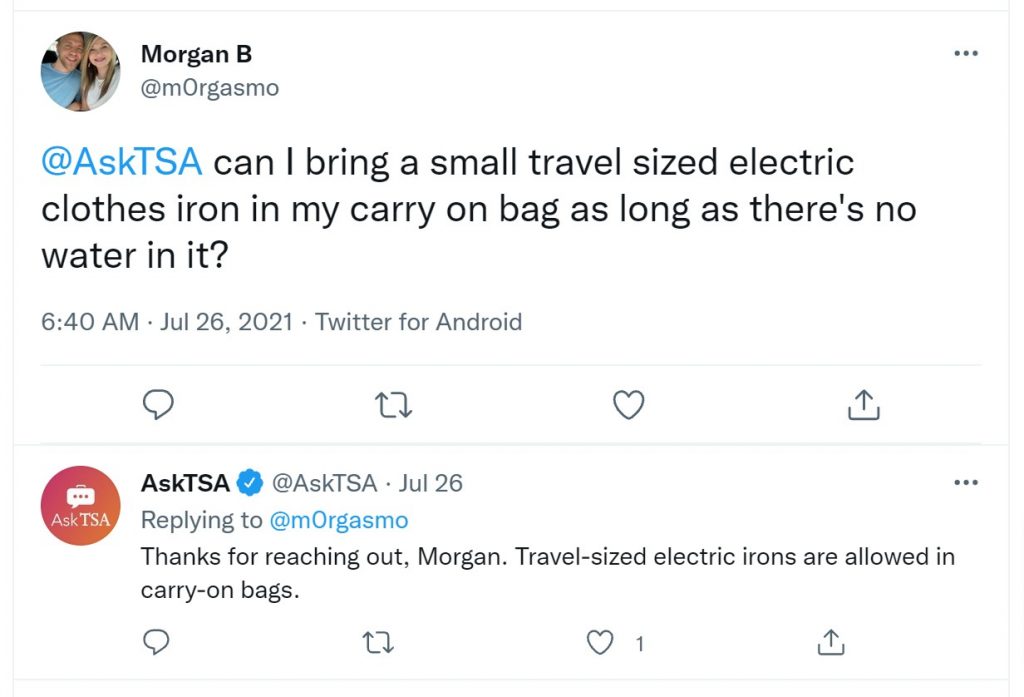 And she got a different answer from the TSA, "Travel-sized electric irons are allowed in carry-on bags".
So now we have a definitive answer. Mini travel irons like this one will be allowed in carry-on luggage:
And if you don't believe that a TSA officer could confiscate an iron check this tweet!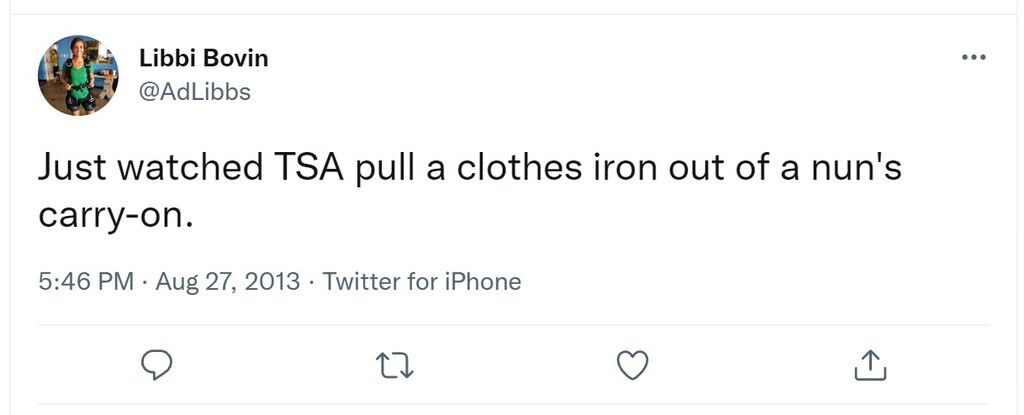 If a nun could have her clothes iron confiscated from her carry-on bag then you could too!
Keep in mind that if you are traveling internationally a regular iron might not work with the voltage of your destination country.
Travel irons are usually capable of switching modes to work around the world.
The Bottom Line
Clothing irons are fine in checked bags, but checked bags usually cost more money.
You can save money by traveling light with only carry-on bags, but then your full-size iron might not be allowed through airport security if the TSA officer thinks you could knock someone out with it.
The solution, for carry-on only travelers, is a smaller lightweight travel iron or perhaps a handheld clothes steamer.
People Also Ask