Last Updated on May 23, 2020
The worst thing about breaking a bottle of red wine inside your suitcase isn't that all your clothes become ruined with red stains.
It's that when you open your bag and realize that the unthinkable has happened you can't even pour yourself a glass of wine to drown your sorrows.
Thankfully, there are products out there that promise to help us avoid this pain.
This post takes a look at the best wine bottle protector sleeves that you can use to stop wine bottles breaking inside your suitcase.
The Best Traveling Wine Bags
Stntus Innovations Wine Bottle Protectors
These inflatable bottle bags store flat so they hardly take up any room in your suitcase when they are empty.
The downside is that you need to inflate them when you use them with the provided pump. It's a little inconvenient but the result is possibly the most air-cushioned wine bottle protector.
The bags don't seal so you are not protected against leaks if the bottle breaks. However, the method of inflating the bag with the creates such a well-padded bag that leaks are of little concern.
Pros
The air cushioning is superior to bubble wrap.
Cons
Not the most convenient option. It's annoying to need to pack the pump and it can take a minute to inflate the bag.
Overall this style of wine protector is the best. Take a look at what happened to Eric's checked luggage when he picked it up from the carousel.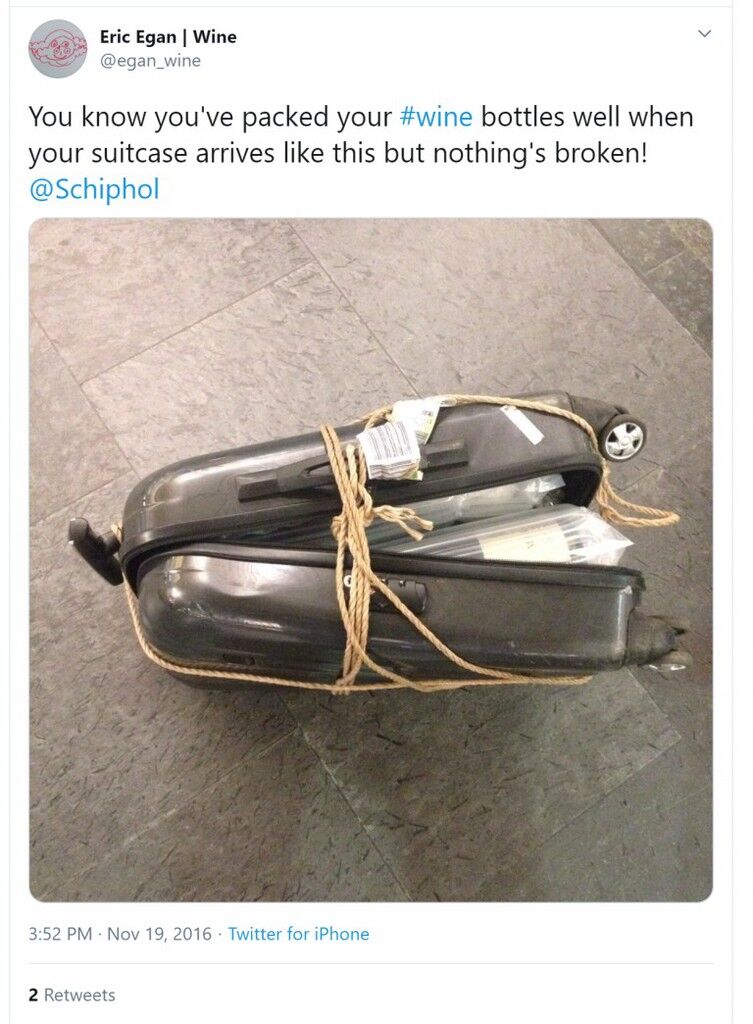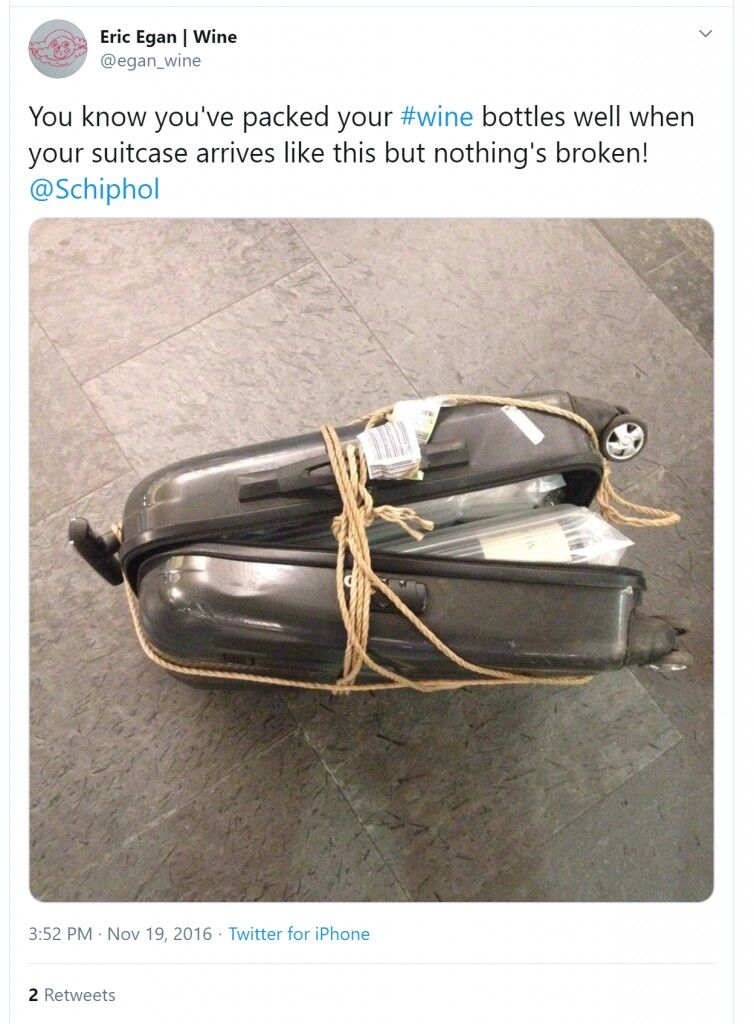 The suitcase was destroyed but if you look closely you can see that his wine bottle was still intact inside his inflatable wine sleeve. Just remember that when you are spending a minute to inflate your sleeve and it won't seem so annoying.
FlyingTrav Travel Wine Bags
The FlyingTrav is a different design of wine sleeve and offers an alternative to the pump style bags.
The inner bag is essentially a wine-bottle-shaped bag made of two layers of bubble wrap to cushion the bottle.
The outer bag functions to protect against spills if there is a bottle breakage. There is a double ziplock seal and a velcro flap to prevent liquids from leaking out if the bottle of wine is damaged during transport.
Since the cushioning is provided by bubble wrap there is no need to inflate these bags using a pump. That's one less thing to pack and it's convenient. However, the bubble wrap is a less effective cushion. It maybe be a good idea to use these wine sleeves but to also further cushion your wine bottles by wrapping the sleeves in your most chunky clothes.
Pros
Convenient and easy to use.
Cons
Protection against leaks if your bottle does break.
Jet Bag Protective Bottle Bags
The Jet Bag bottle bags are made in USA.
While they are billed as protective bags they don't actually offer much protection against breakages. The unique thing about these bags is the absorbent diaper material inside the bag.
If your wine bottle breaks then these bags should soak up the liquid and prevent your clothes from being soaked.
It's a pity that they don't have any cushioning to protect the bottles from breaking in the first place though.
Pros
Unique absorbant material
Cons
No air cushioning
The Verdict
If you know that you are likely to bring back wine from your next trip it's a great idea to plan ahead and get yourself some wine protector sleeves.
As you might have guessed we are a big fan of the inflatable variety.
They are a really cheap insurance policy against the damage that you might cause to clothes, shoes, and electronics in the event of a breakage.
People Also Ask