Last Updated on April 15, 2020
The price of alcohol on a plane is sky high… get it? ))
Yeah, my jokes are as bad as the liquor airline prices.
A miniature of vodka will currently cost you $9 on American Airlines.
In comparison, you can buy the same vodka in the store for something like $3.
There are a bunch of different names for these little bottles of liquor:
Miniature
Mini Bottles
Nips
Airplane Shooters
You can bring your own alcohol into a plane through airport security so long as you can fit it in your liquids bag and the bottle is under 3.4 oz or 100 ml.
So you can get these little miniatures through airport security no problem.
But can you drink your own alcohol on the plane?
I checked the FAA rules about it and then took to Twitter to see what the airlines had to say about it.
FAA Rules About Drinking Your Own Alcohol On A Plane
Here is the relevant FAA rule on the matter
§135.121 Alcoholic beverages.
(a) No person may drink any alcoholic beverage aboard an aircraft unless the certificate holder operating the aircraft has served that beverage.
The important word here is "served". The FAA does not require the alcohol to be purchased from the aircraft operator, they only require that the flight attendant serves the alcohol.
But how do the airlines interpret the rule? Let's see!
American Airlines
American Airlines were quite certain.
"Only alcohol provided by us can be consumed on board"

American Airlines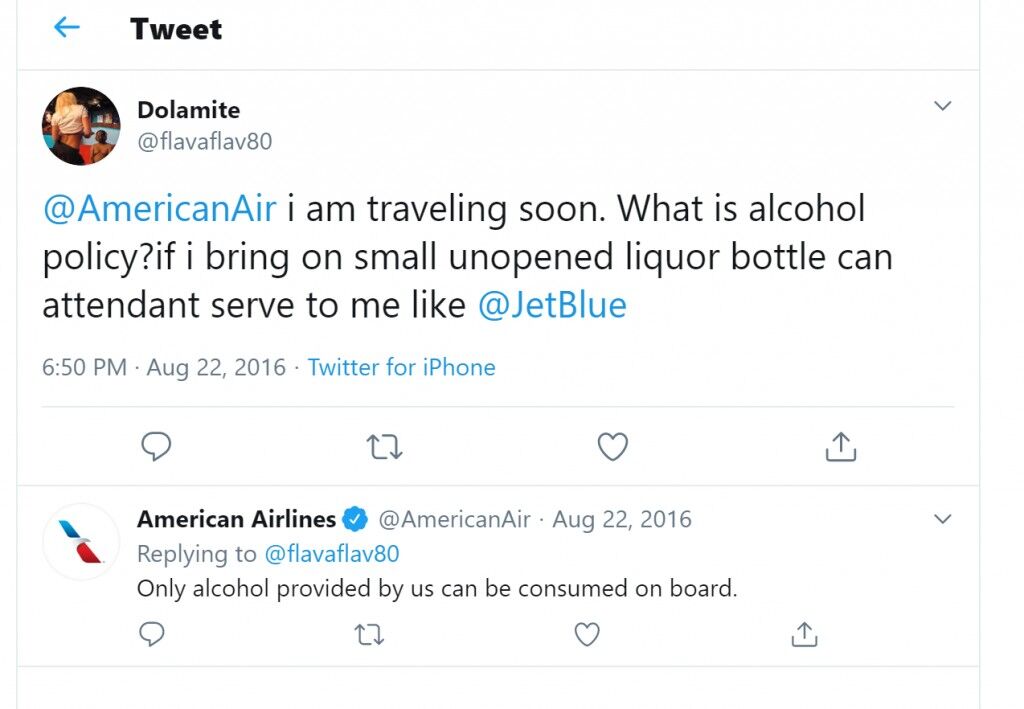 Delta Airlines Own Liquor Rules
Similarly with Delta. Aaron wanted to bring his own liquor and hoped the Delta staff would pour it for him. But they were having none of it!
"Unfortunately you are not able to bring your own alcohol to drink on board."

Delta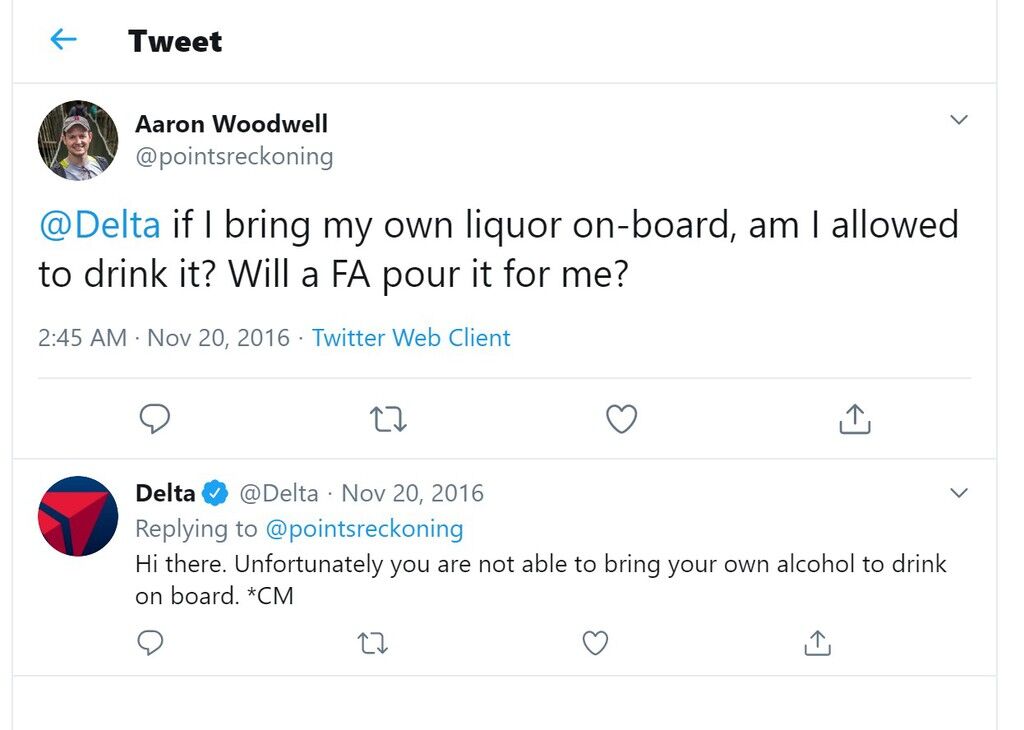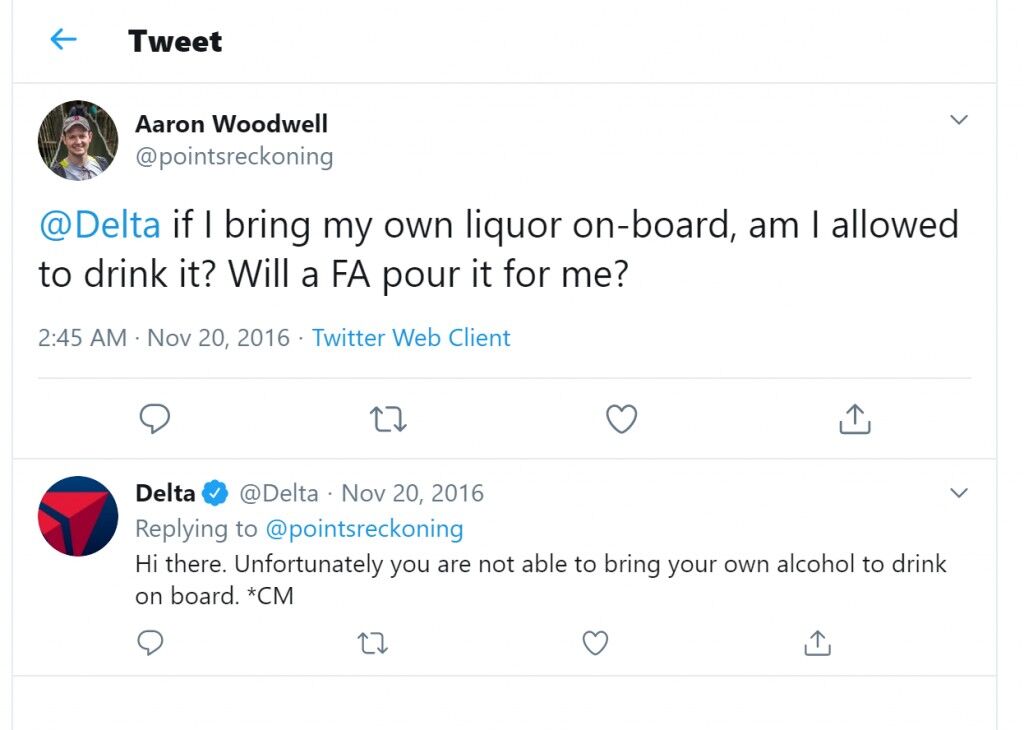 Southwest Airlines
A pattern was being to show when I checked what Southwest Airlines had to say…
"While mini liquor bottles are accepted in carryon baggage as long as they meet the liquids rule, they are not permitted to be consumed onboard"

Southwest Airlines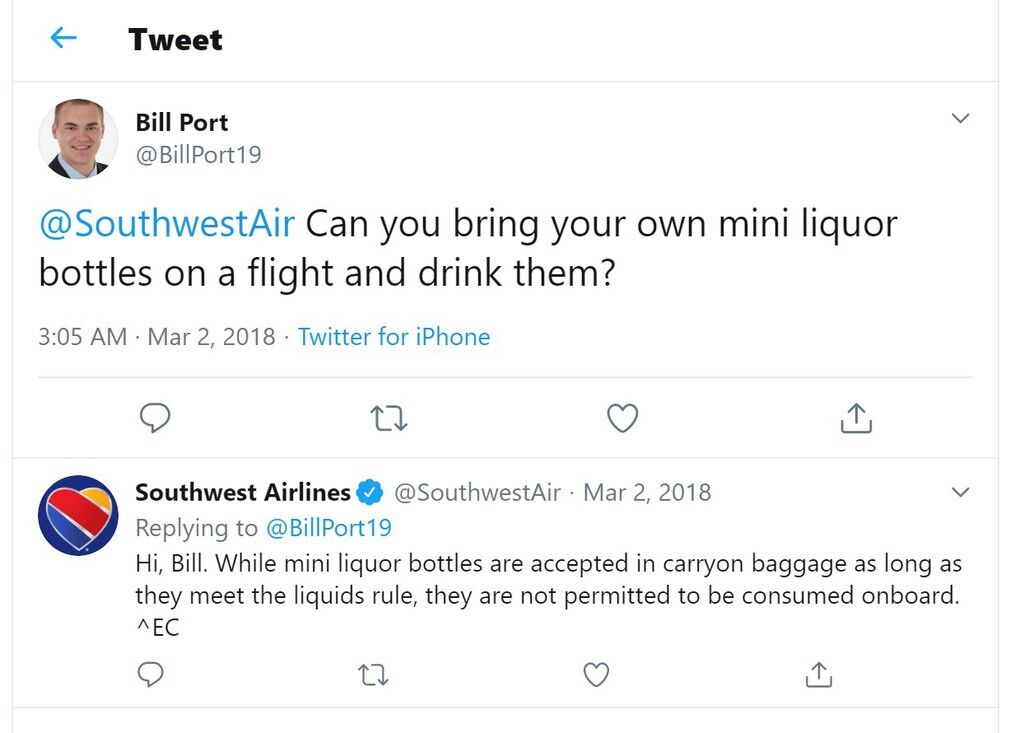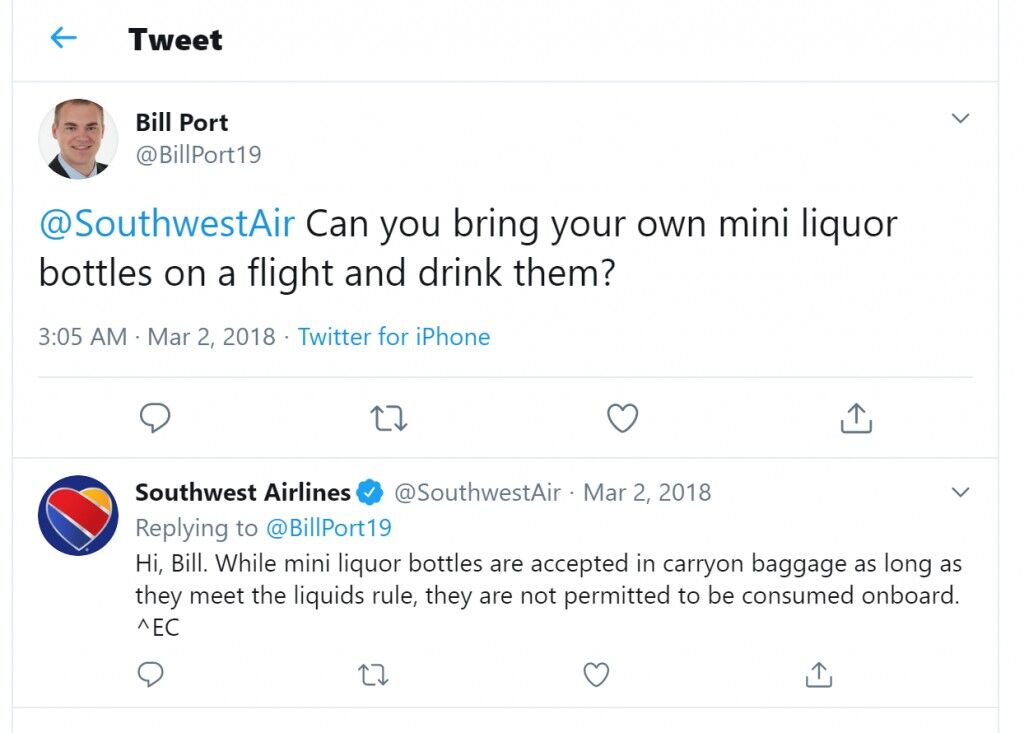 United Airlines
United Airlines was blunt and unapologetic.
"You are not allowed to drink outside liquor on board"

United Airlines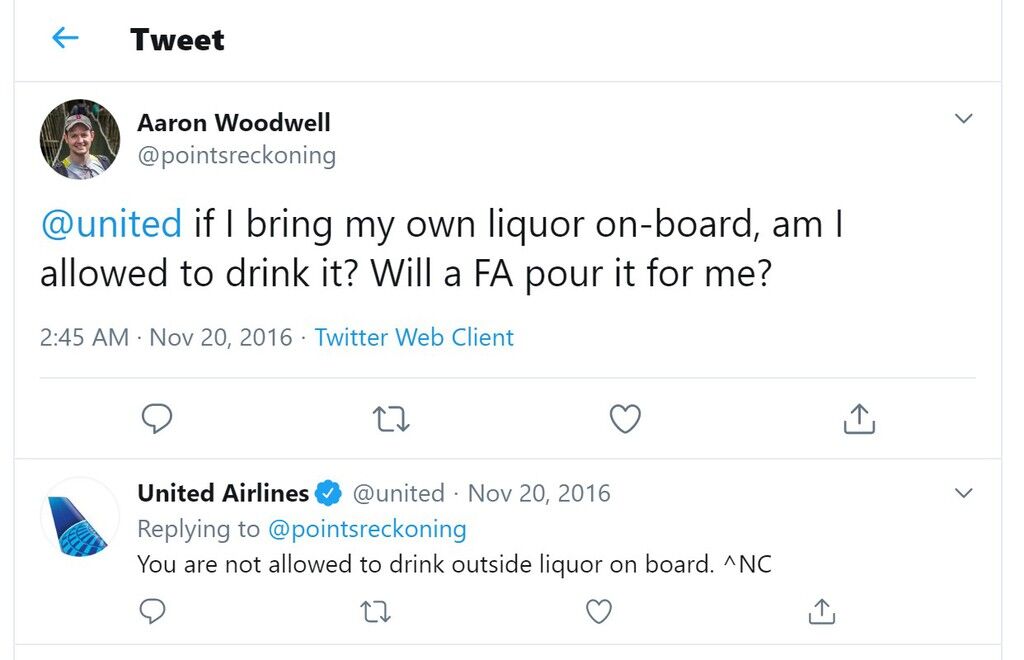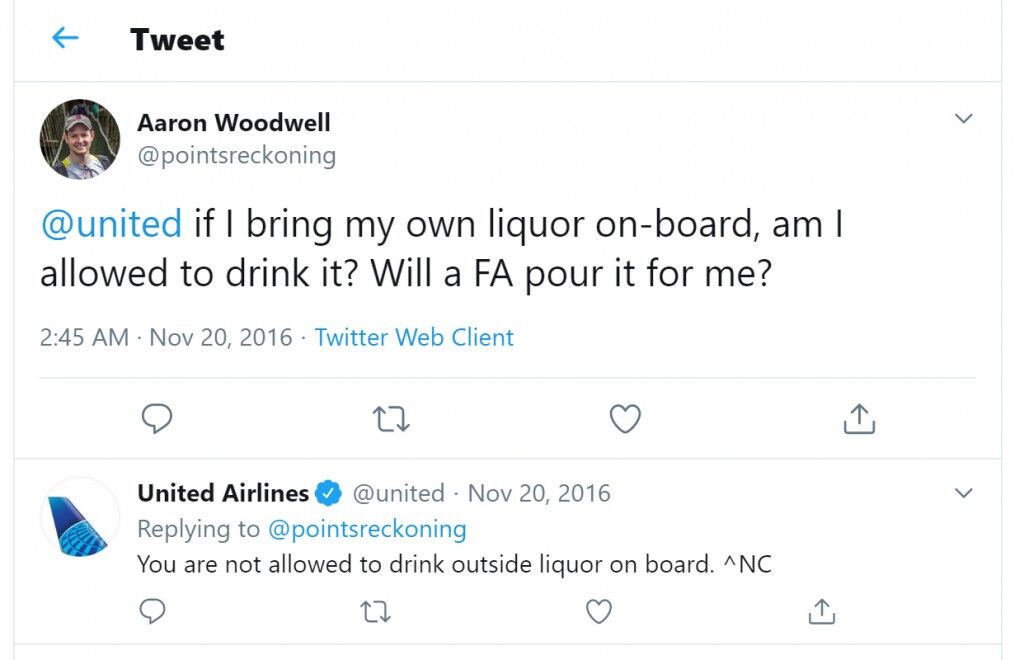 Alaska Airlines
Similar again from Alaska.
"You are not allowed to pour your own liquor inflight"

Alaska Airlines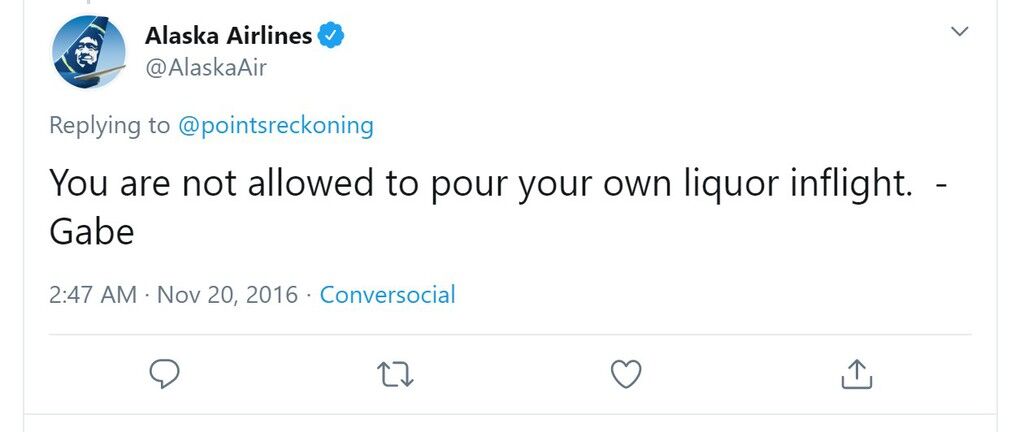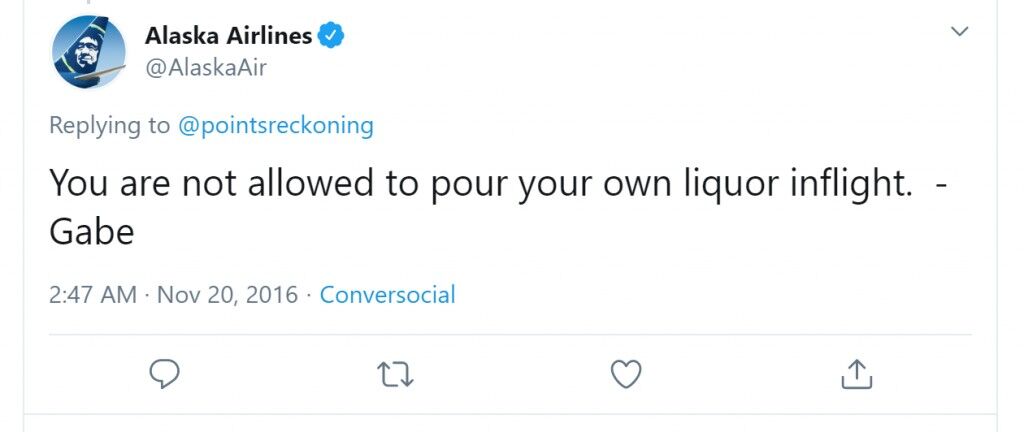 JetBlue
JetBlue are the only airline that are publicly saying they are happy to serve you your own alcohol on board. They'll refuse if you've had too much to drink of course, but isn't it nice that 1 airline has put customer service above profits.
"Yes! Someone will gladly pour that for you."

JetBlue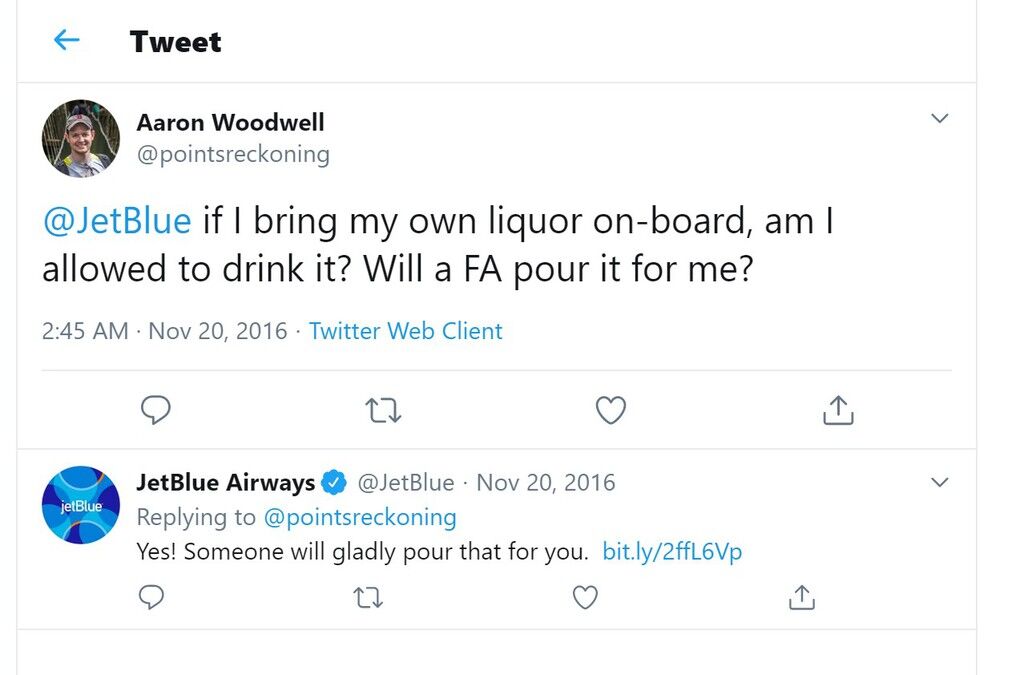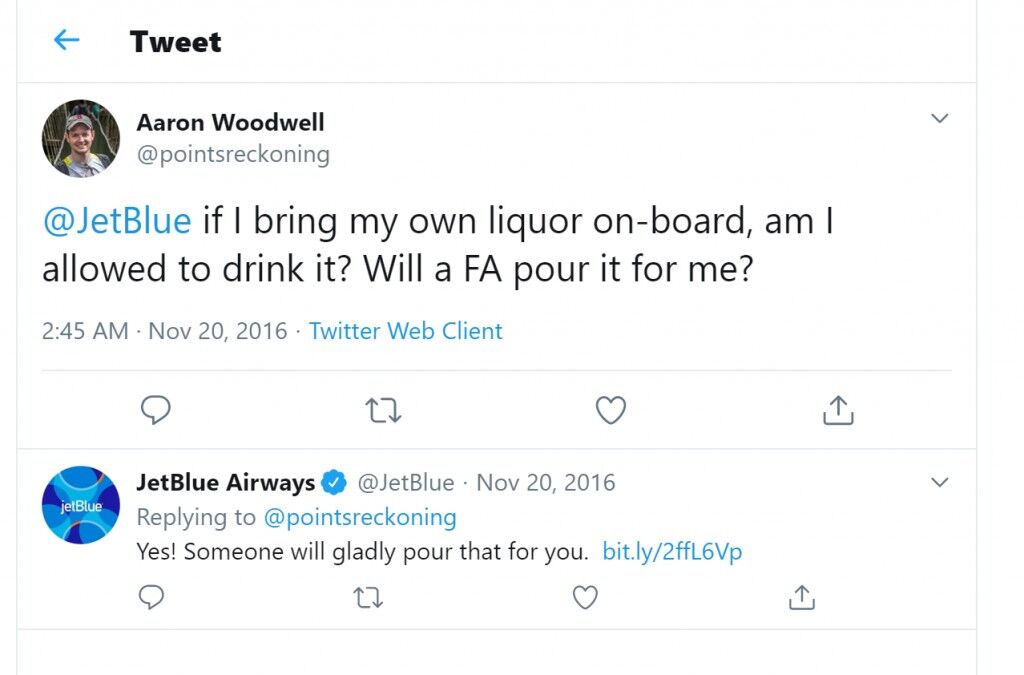 Spirit Airlines
It was back down to earth with Spirit Airlines. They even misquote the relevant regulations
"Per Federal Aviation Administration regulations, passengers are prohibited from consuming their own alcohol on board"

Spirit Airlines
The FAA regulations say that you are not allowed to serve yourself drinks on board. This is so that someone is keeping an eye on whether you have had too much to drink or not.
The airline can serve you your own alcohol if they want to as JetBlue have shown.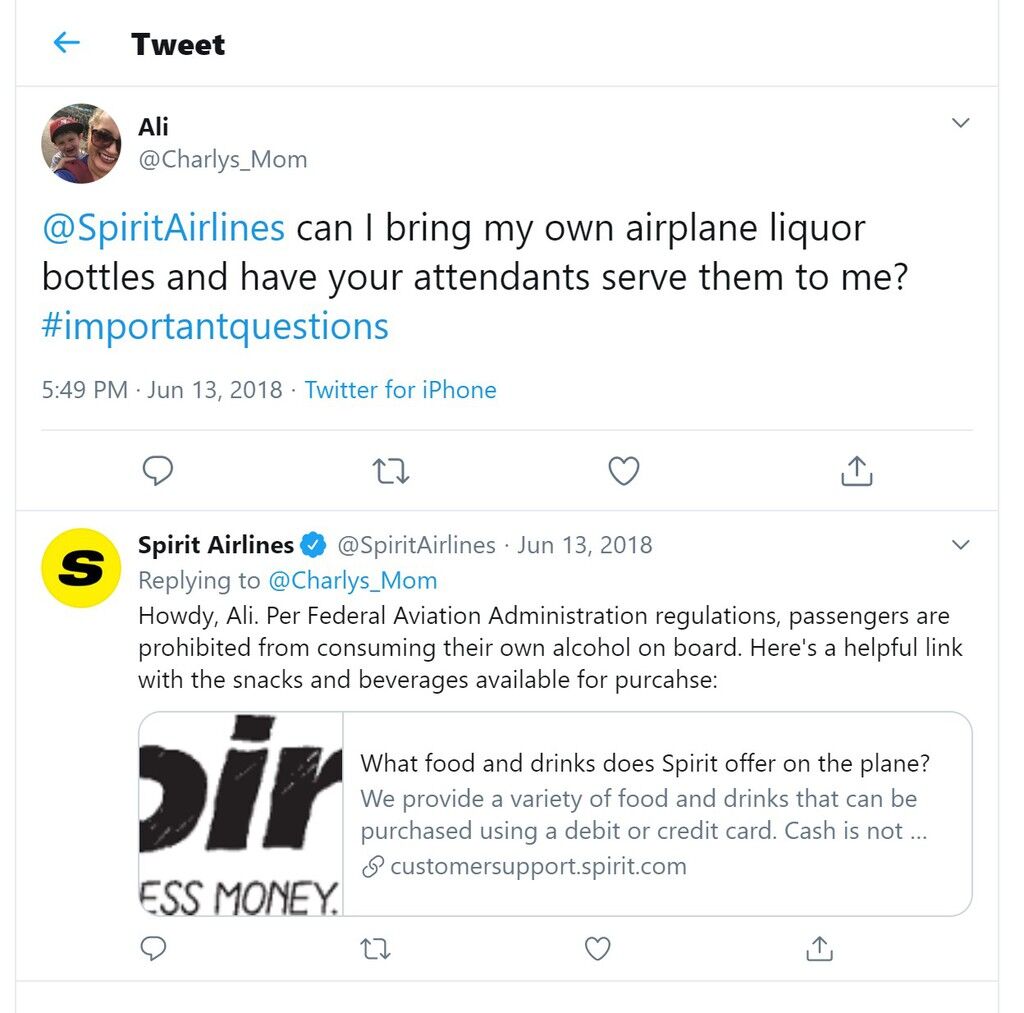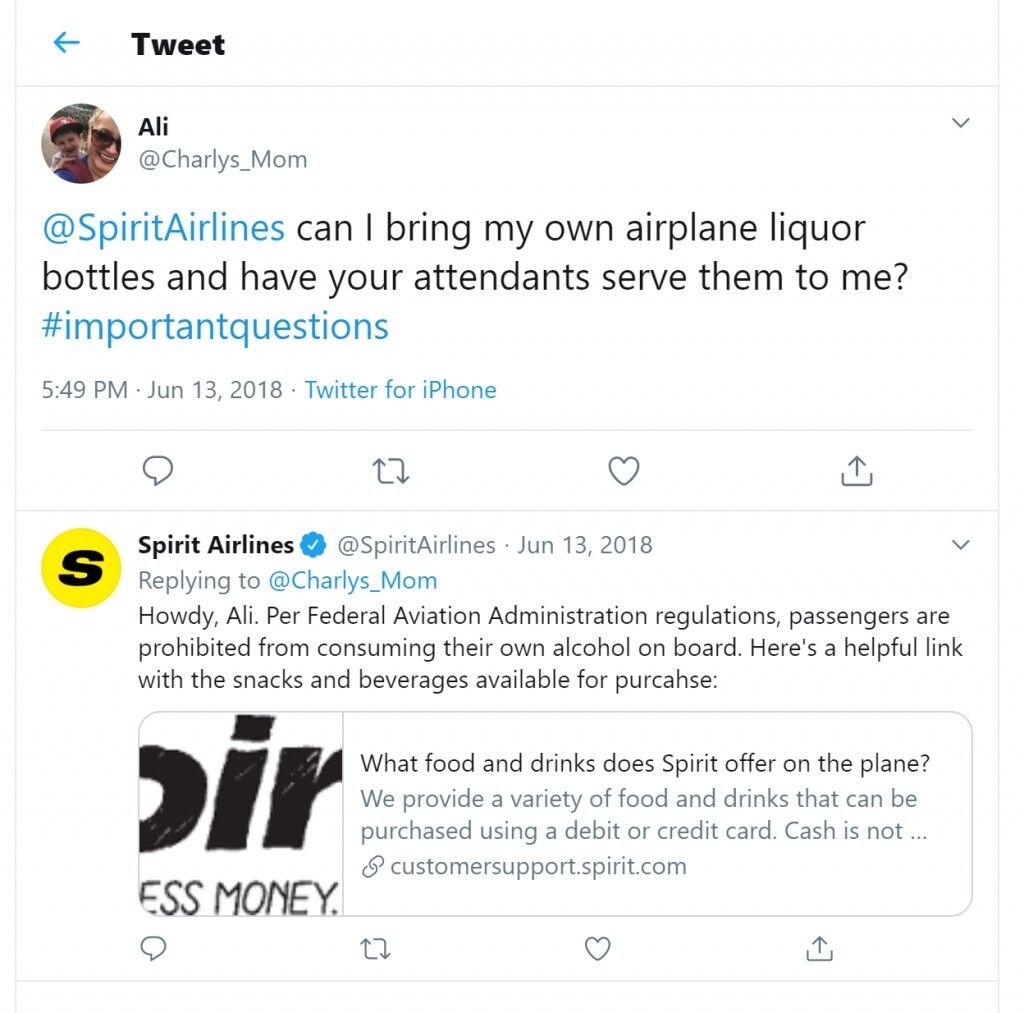 Frontier Airlines
Frontier are at it too!
"Federal regulations prohibit passengers from consuming their own alcohol on board"

Frontier Airlines
Erm… no they don't. FAA regulation prohibit you serving yourself. The air steward can legally pour you your own alcohol is it is the airline policy to allow them to so do.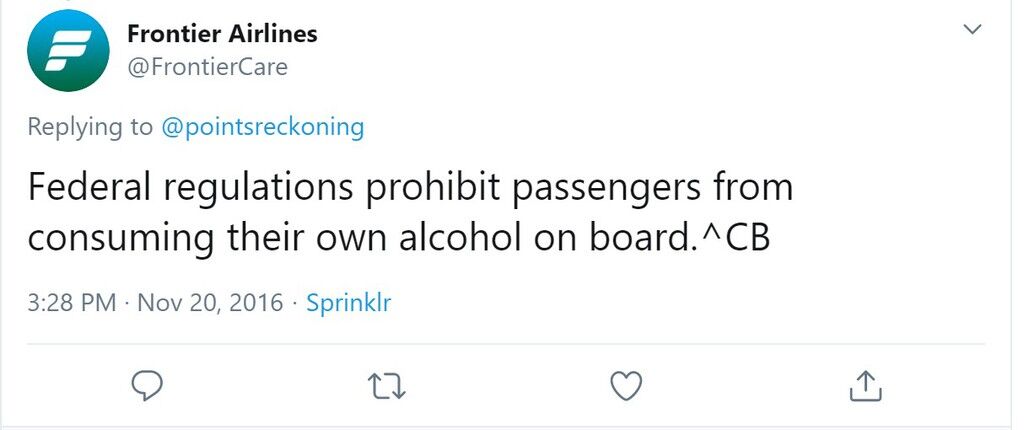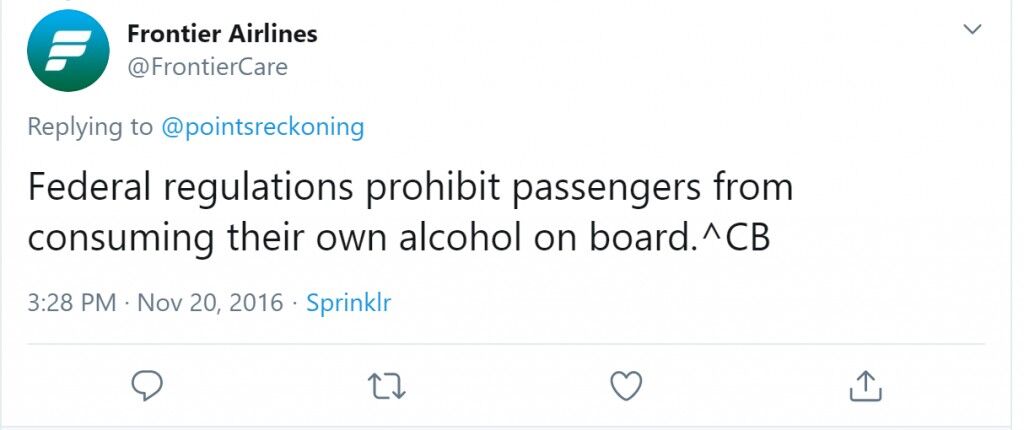 Allegiant Air
Allegiant at least say that it's "unfortunate".
"Unfortunately no, you can only drink liquor served by our FAs"

Allegiant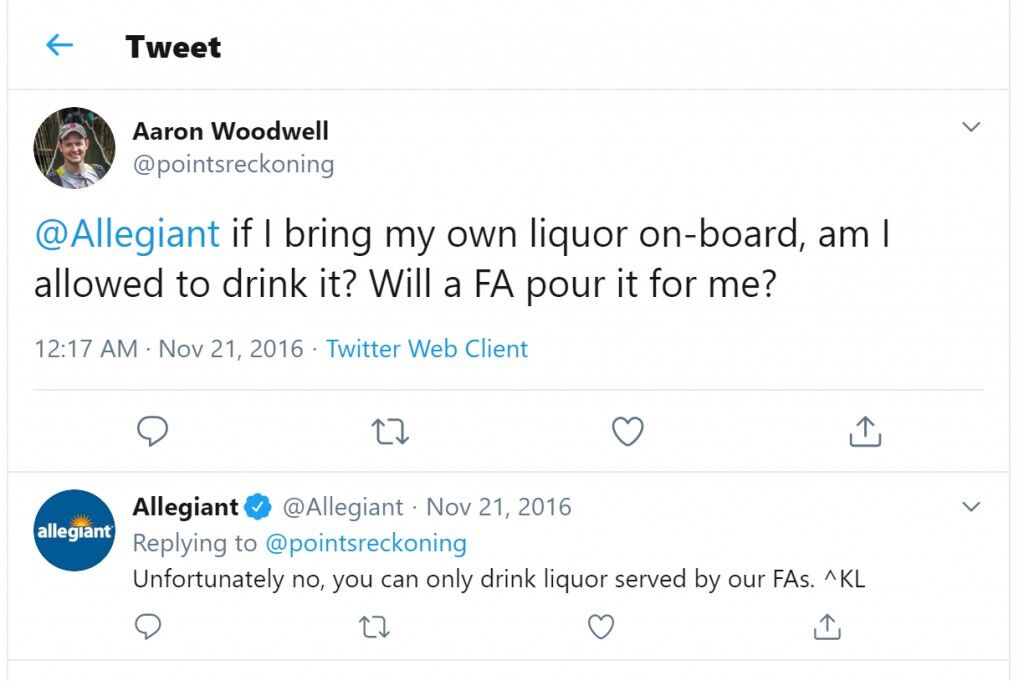 The Verdict
These airline alcohol policies are frustrating but not surprising.
Airlines are commercial businesses and out to make a profit.
One way to increase profits is to charge you ridiculous prices for alcohol.
And since you are literally strapped into your seat you have no choice to go elsewhere.
I know lots of people do take little mini bottles on to planes and try to pour a drink when nobody is looking. When the fines are so high I don't think this is a smart game to play.
The rules about being served by the flight attendant are there for a good reason. To stop drunk and unruly passengers from causing a scene and getting the flight diverted to the wrong airport.
JetBlue have pulled off a nice marketing move by allowing you to ask the attendant to pour you your own drink.
If you are not flying with JetBlue why not politely ask your attendant anyway?
They can only refuse. Just don't get upset about it and expect to be held to ransom with the airline prices.
If enough people are continually asking about pouring their own alcohol maybe some more airlines will eventually get the message and change their policies to allow FAs to pour customers their own booze.
What do you think? Do pour yourself a sneaky drink when you are flying? Are you worried about being caught? Do you think the airline policies are unreasonable? Let us know your thoughts in the comments!