Last Updated on April 13, 2021
Suitcase wheels can be a surprisingly polarizing subject.
There are those that swear by spinner wheels and can't understand why any traveler wouldn't want the freedom they bring.
And there are others that much prefer two good only fashioned inline skate wheels.
The best luggage wheels can be a matter of personal taste, but it also comes down to the type of traveling you do and the type of packer that you are.
Specifically, do you go straight from the airport to the hotel or do you drag your luggage around over rough terrain? And are you someone that travels light or someone that has to sit on the suitcase to get the zippers to close?
Let's look at the different types of luggage wheels and their pros and cons so you can discover the right type of wheels for you.
Spinner Luggage With Protruding Wheels
Spinner wheels allow easier movement in tight spaces, they've become the most popular type of luggage wheels in recent years.
Spinner wheels can rotate 360 degrees so you can move your suitcase in any direction. A spinner suitcase can also be wheeled when vertical so you can keep it close by your side when moving.
Here's a popular spinner carry-on that you can buy on Amazon.
Look at the gap under the wheels, and take note that when measuring luggage you include protruding wheels and handles.
So the wheels sticking out means there is less space available to pack your clothes.
Also, luggage with inline wheels must be pulled behind you. This means that you need more space around you. Spinner luggage can be better when you are in crowded spaces.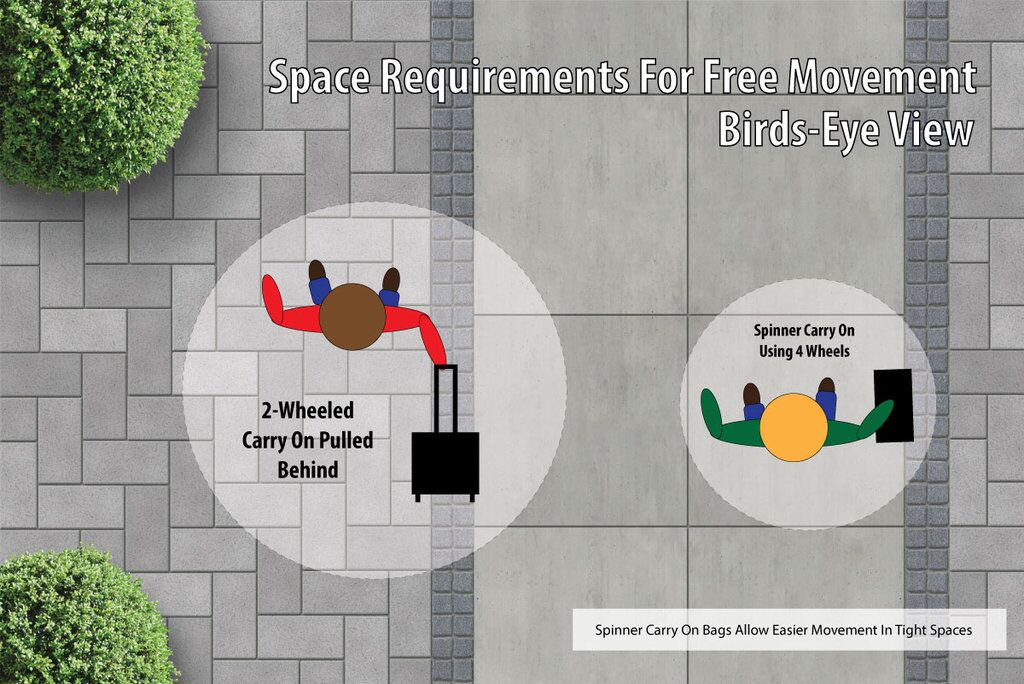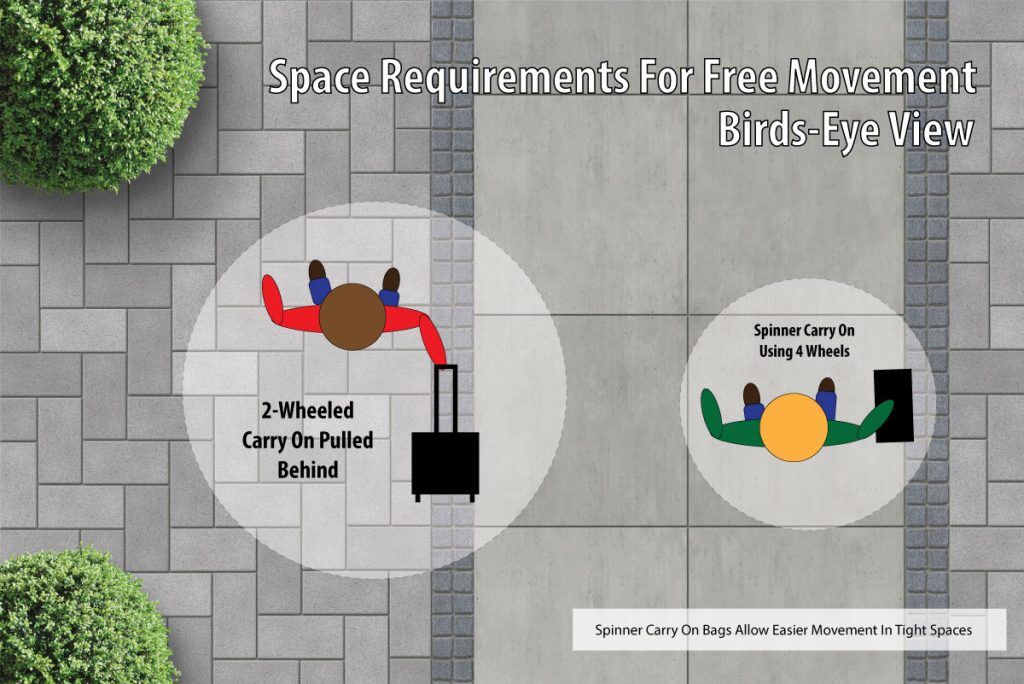 You can't roll inline wheeled luggage sideways. This can mean you can't roll a bag up the aisle of the plane because it's too wide.
So boarding the plane and navigating around crowded airports is easier with spinner luggage. If you are waiting in line you can move your suitcase with just a finger.
On the other hand if you are standing on a slope there is a chance your spinner luggage could roll away from you if you let it go.
When measuring luggage you must include any protruding wheels or handles. If you looking at spinner luggage compared to inline-wheeled luggage you'll often notice there is a big gap under the suitcase.
This is wasted packing space and means that the capacity of a spinner suitcase is less than the capacity of the equivalent 2-wheeled suitcase.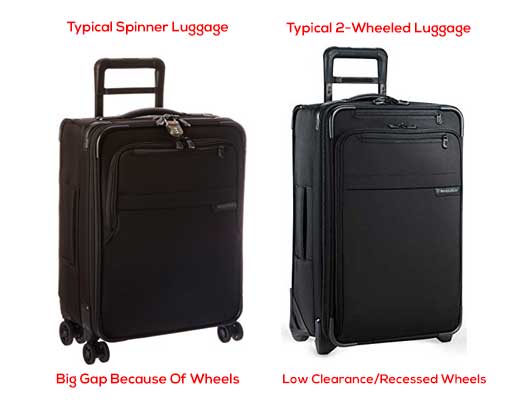 More wheels means less packing space, more to break, and increased weight.
Luggage With Inline Skate Wheels
Suitcases with inline wheels usually have more sturdy wheels.
Also there are less of them to break. A spinner case might have 8 wheels compared to 2 on an inline suitcase.
If you like to wheel your luggage around streets bashing it up kerbs and steps then you might prefer luggage with wheels that only roll one direction.
These bags have recessed wheels. Like this AmazonBasics bag.
Recessed wheels are much less like to be damaged. It also means that you have more space inside the bag allowing you to pack more things.
While a 2-wheeled bag might be harder to maneuver it's not that much harder and if your are fit and strong enough you can just carry it along the aisle of the plane.
These suitcases usually also have 2 stoppers that stop the bag from rolling when it is parked.
Wheels For Luggage Without Wheels
Perhaps it could be argued that the best luggage doesn't have wheels at all.
Many travelers prefer a backpack or a duffel bag.
But for the occasions where your bag is too heavy to carry you can use a folding luggage cart like this one.
That can make a lot of sense. The wheels on suitcases always give out one day. Inline wheels should last longer than spinner wheels but a backpack or duffel bag without wheels will rarely need repair.
Separating the wheels from the luggage means that when the wheels break you simply buy a new luggage cart and can keep using the same bag.
The Verdict
The best wheels on luggage will vary depending how you intend to travel.
There is no one best type of luggage wheels.
Spinner wheels are a pleasure to work with on smooth surfaces like airport lobbies, but they don't handle so well on rough terrain and may be more prone to damage.
Spinner wheels also use up packing space.
For an under-seat personal item bag this could be crucial. The space allocation if you are flying with only a personal item (like on Spirit Airlines) is so small that you might not want to waste any space on spinner wheels.
For a carry-on bag, it might depend on how long your trip is and what type of packer you are. If you find you struggle with overpacking then a two-wheeled bag will have slightly more packing space.
If you don't struggle with over-packing and are only going away for a few nights then you might want to use some of your space for the luxury of spinner wheels.
When it comes to checked luggage then spinner wheels are usually best. The fact that they take up a little packing space doesn't matter so much with a checked suitcase. You are also less likely to be dragging a full-size checked suitcase over cobbled streets.