Last Updated on March 23, 2023
Key Takeaways
You can bring perfume on a plane in carry-on luggage
The 3-1-1 rule applies and bottles or containers of perfume should be smaller than 3.4 oz or 100 ml
Perfume is usually sold in 50 ml or 100 ml bottles
Perfume needs to be in your quart-size bag as you pass through airport security but after that you can keep it in your purse if you want.
A perfume Atomizer is a convenient way to bring a small amount of perfume through airport security
Larger bottles of perfume can be packed in checked luggage
If you pack perfume in your checked bag make sure it is wrapped and protected against breaking
TSA Perfume Rules
The Transportation Security Administration is in control of what can be brought through airport security in the United States.
The TSA website specifically addresses perfume. Here is a screenshot:

The same rules apply for parfum, eau de parfum, eau de toilette, or any type of liquid scent or fragrance. For the purposes of this post, we'll just use the generic term perfume.
So the first thing to realize is that there are different rules for taking perfume in carry-on bags vs checked bags.
Is perfume allowed in carry-on luggage, hand luggage, or in your purse?
Yes, liquid perfume is allowed on a plane in carry-on bags but the TSA rules for liquids apply. You'll need to comply with these rules to get your perfume past the security checkpoint.
The 3-1-1 rule is as follows.
The perfume bottle must be smaller than 3.4 oz (or 100 ml)
All your perfume bottles must be stored in 1 quart-size toiletries bag along with your other liquid, gels, and creams.
You are only allowed 1 plastic bag per person.
This means that if you want to bring perfume in your hand luggage you'll need to check how many fl oz are in the bottle.
Most perfume is sold in bottles that are 50 ml or 100 ml. These bottles are under 3.4 oz and so can be brought on a plane in your toiletries bag.
But remember the space inside the quart bag is limited, you might only be able to fit 6 or 7 bottles in your toiletries bag.
You probably also need room for your shampoo, shower gel, toothpaste, mascara, and other liquid items.
You don't need 3.4 oz of perfume if you are only going on a short trip. So those little sample size perfumes can be great for traveling. If you come across any free sample bottles and like the scent then save them for your vacation.
Alternatively, you could decant some perfume from a larger bottle into perfume atomizer. These little bottles hold enough perfume for around 70 sprays making them ideal for a vacation.
It's also worth noting that these rules only apply to perfumes that you are attempting to take through security screening. If you buy the perfume in the store after you have passed the security checkpoint you can take it on the plane and pack it wherever you want.
Can you bring perfume on a plane in checked luggage?
If your perfume bottle is larger than 3.4 oz then you won't be able to take it in hand luggage.
But you can pack perfume in checked baggage.
Perfume is not considered an aerosol but it is flammable and is considered to be a hazardous material (hazmat) by the FAA.
Usually, flammable liquids are banned from checked luggage, but the FAA makes an exception for toiletries and perfume is classed as a toiletry.
This means that there is a maximum amount of perfume you can pack in a checked suitcase.
While the TSA website doesn't mention this they do refer to it on Twitter: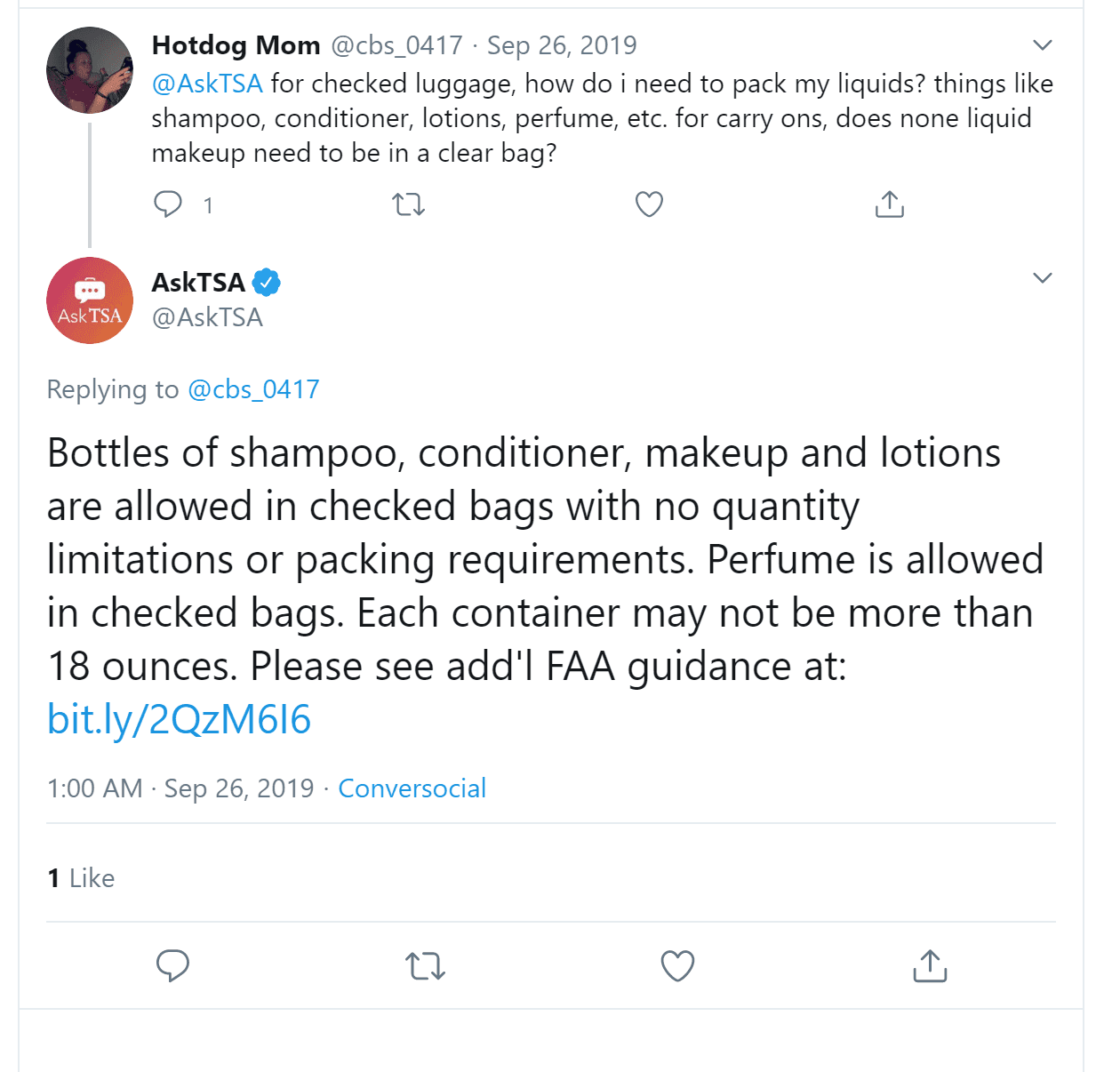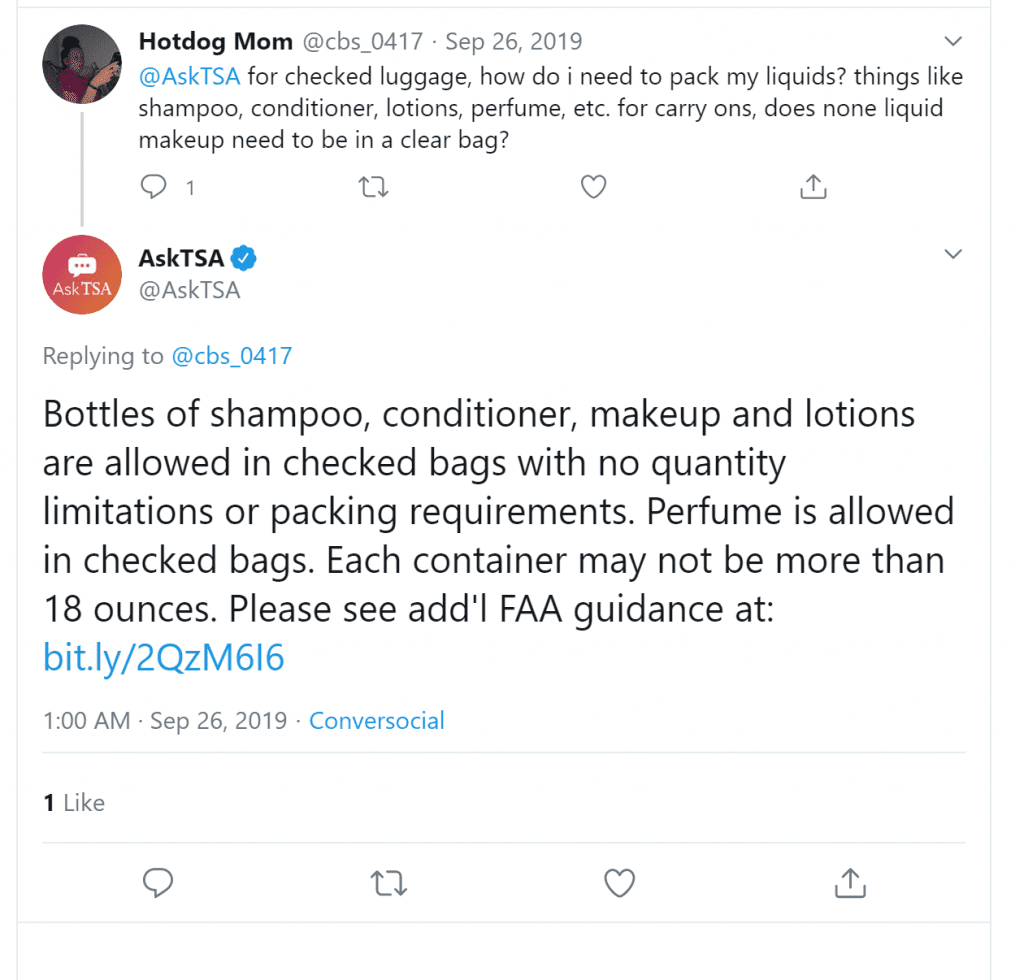 The hazmat toiletries allowance is 18 oz (500 ml) per bottle and 70 oz (2 liters) total per person.
Perfume bottles are small so they shouldn't come near this limit. But you can't pack more than 20 x 3.4 oz bottles of perfume in your checked luggage. Also remember if you are importing perfume in bulk then you need to declare this and pay any relevant tax.
Packing perfume in checked baggage does have some risks that you should be aware of:
A checked bottle of perfume could break and spill into your case
Your checked bottle of perfume could be stolen by rogue TSA screeners or baggage handlers
Your entire checked bag might get lost by the airline
For these reasons we always recommend packing your perfume in carry on luggage where possible. Perfume can be expensive and it's better to make sure it arrives safely by keeping an eye on it.
Flying With Perfume
Often when researching a post I find some useful information on twitter. I've included these stories here since they might be relevant.
Andrea was raging with American Airlines but it could have been anyone that stole her perfume.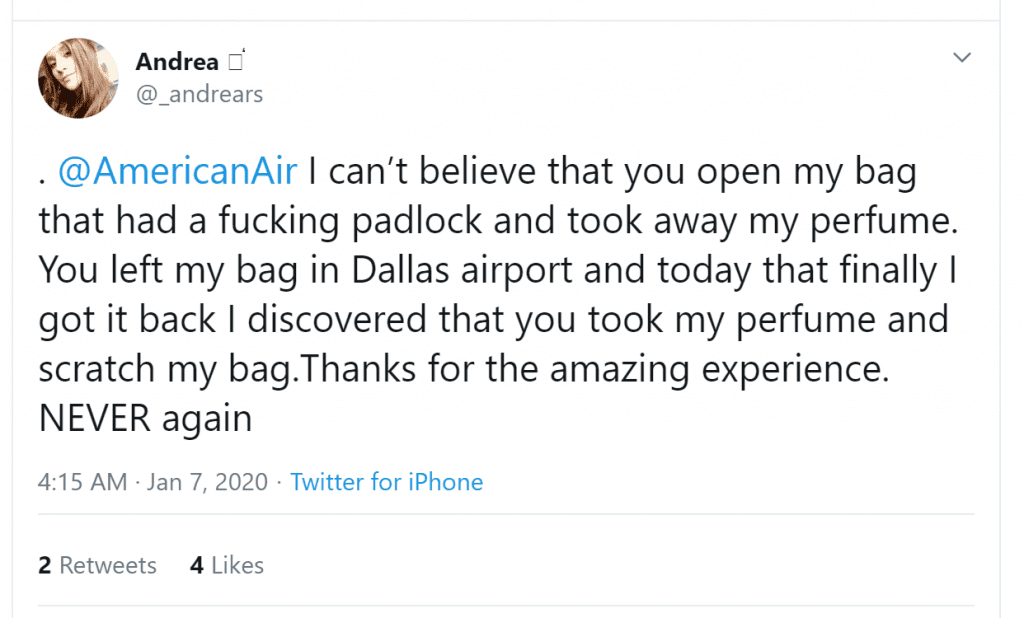 Ronald's parents had their sneakers and duty-free perfume stolen when flying with Delta. Even if you pack your perfume in a carry-on bag sometimes an airline will force you to check that bag at the boarding gate. If this happens to you it might be an idea to remove your perfume and keep it in your purse.
Ronnie wasn't happy about people spraying perfume on a flight with Frontier: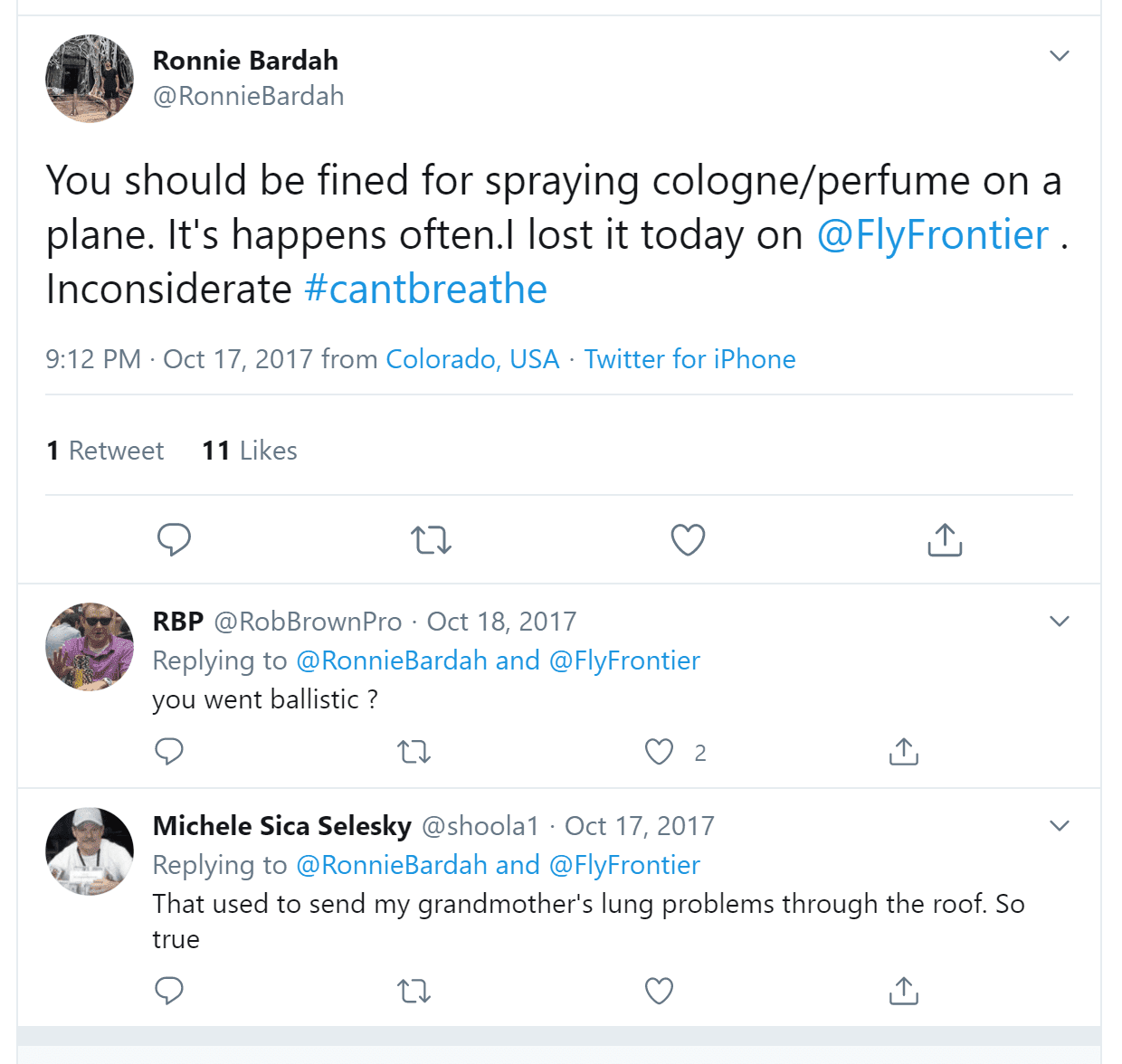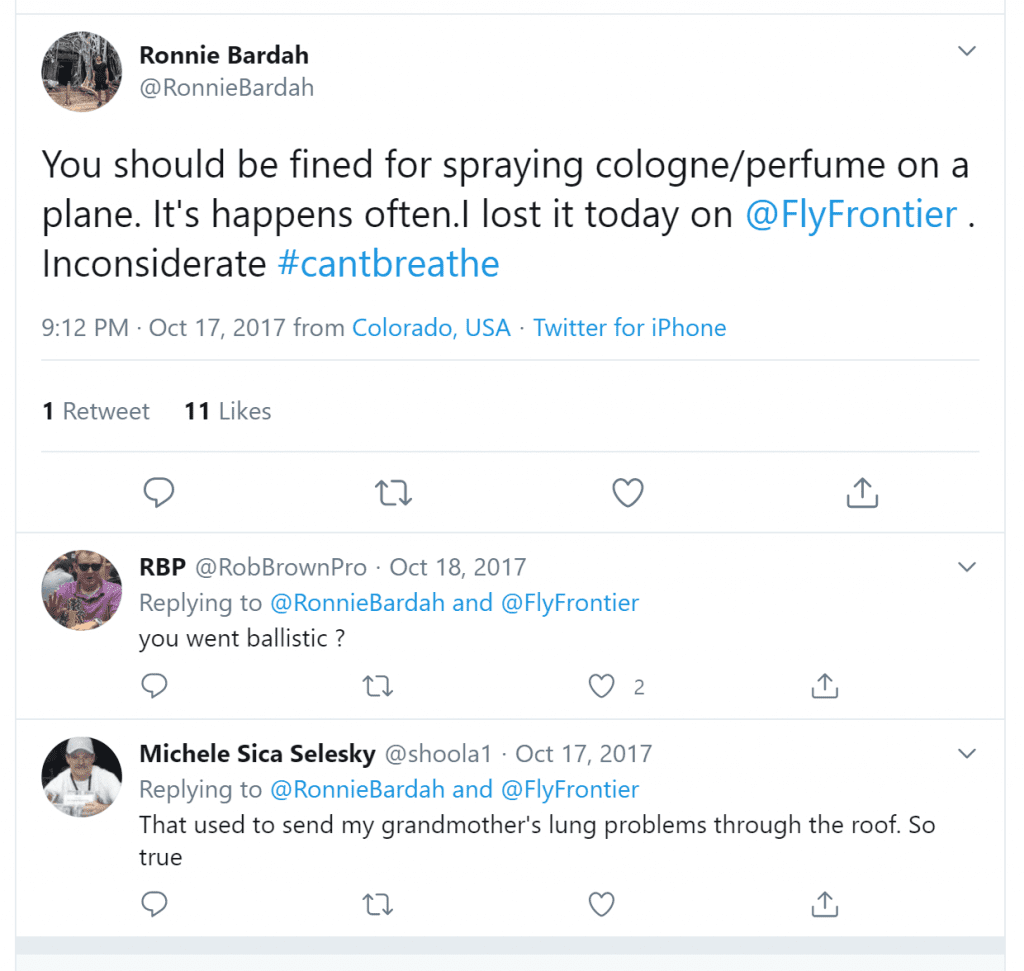 And this Cubs fan wasn't happy about the amount of horrible perfume the lady next to him was putting on during a Southwest flight.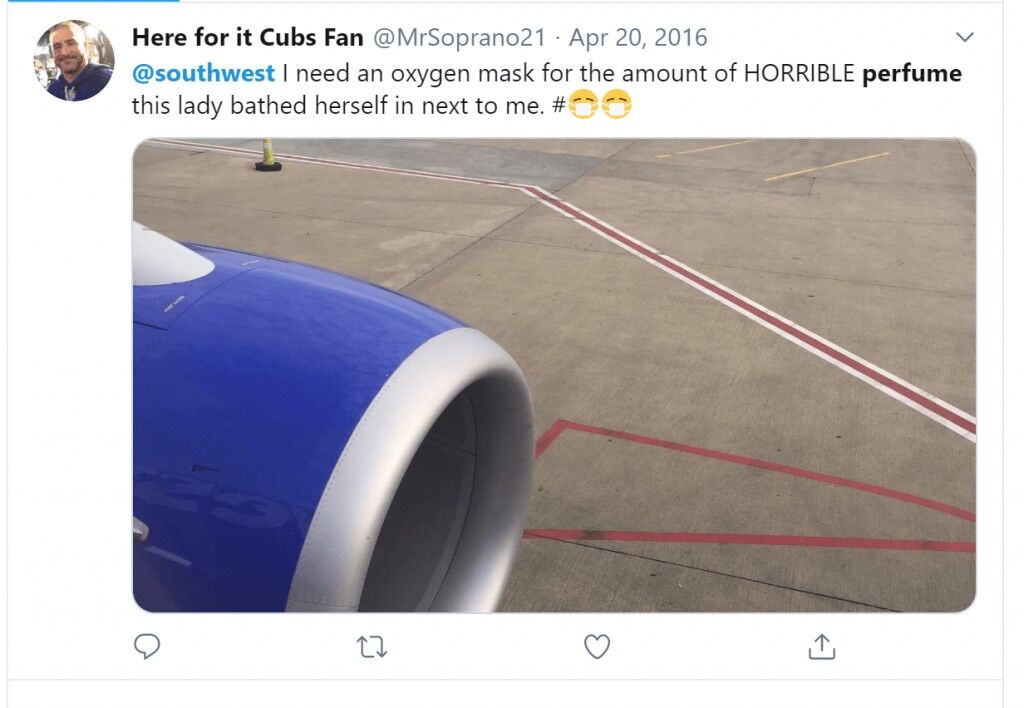 Charlotte pleased with United to ask passengers to not use so much perfume when flying:


Finally, I will share a trick that will allow you to take perfume on a plane without it being considered a liquid.
Take some unscented wet wipes and splash them with your favorite fragrance then reseal the pack.
Wet wipes are not treated as liquids so you can pack them anywhere you want. You can then apply the perfume by using the wet wipe.
This idea works but is perhaps a bit wasteful!
People Also Ask