Last Updated on February 12, 2021
So you are packing for a flight and wondering what to do with your bluetooth speaker, Amazon Echo Dot, Apple HomePod, or other portable speaker.
Yes, you can bring a bluetooth speaker on a plane. The question is where to pack it.
This post will talk you through both the TSA rules and practicalities of taking your beat box on your next flight.
TSA Bluetooth Speaker Rules
The Transportation Security Administration is the authority on what can and can't be brought on planes in the United States.
I first checked their website to see if they mention bluetooth speakers. Their "what can I bring" list doesn't mention bluetooth speakers explicitly but they have this entry on speakers:


So we know speakers are allowed in both carry on and checked luggage.
But here's the thing…
Bluetooth speakers often contain lithium-ion batteries, and there are safety rules about batteries on planes because of fire risk.
If your speaker doesn't use batteries you can stop reading now. They are fine to pack wherever you like.
Most portable bluetooth speakers have an inbuilt battery.
So I checked with @AskTSA Twitter to try to attain more clarity.
Let's first look at bringing a bluetooth speaker in your carry on bag.
Bringing A Bluetooth Speaker In Carry On Luggage
Weston asked the TSA if bluetooth speakers are allowed in carry-on baggage. The TSA replied that "wireless speakers are good to go in carry-on bags".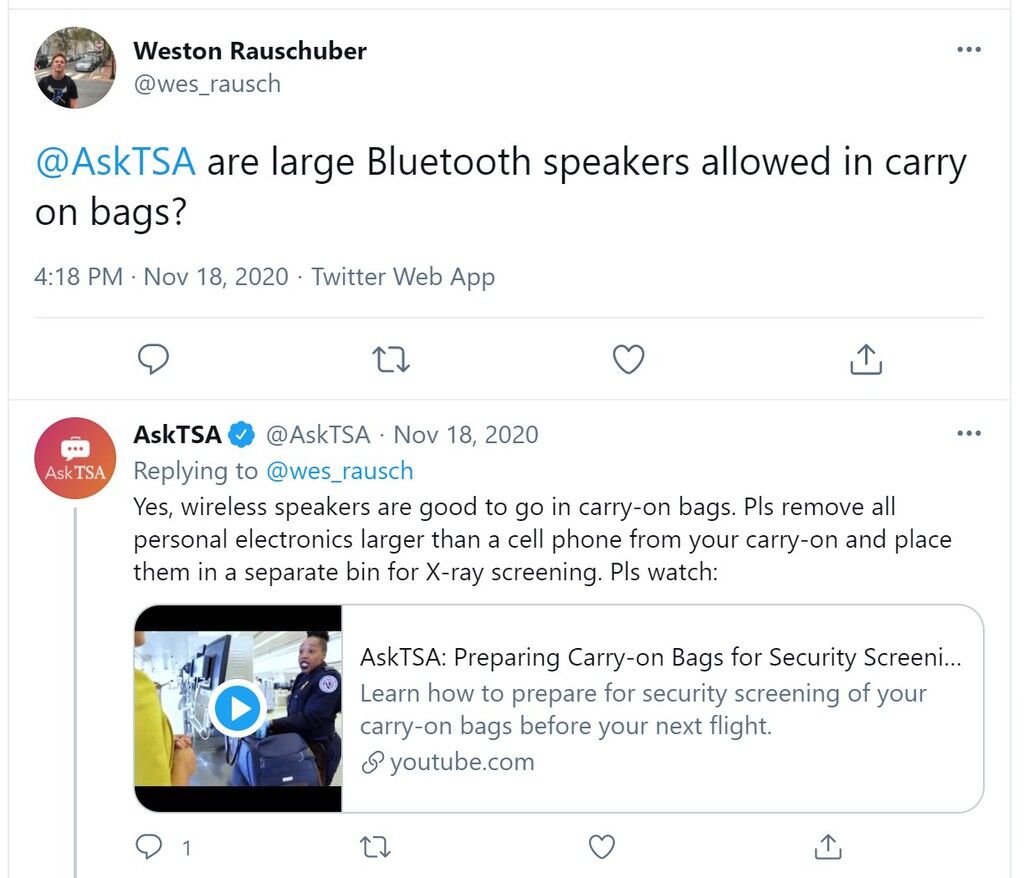 So you can pack your bluetooth speaker in your carry on luggage. When you get to airport security take it out your bag and place it in a separate bin to go through the x-ray machine. Just like you do for your laptop!
A while back the TSA told Gerald that "wireless speakers must be packed in carry-on bags".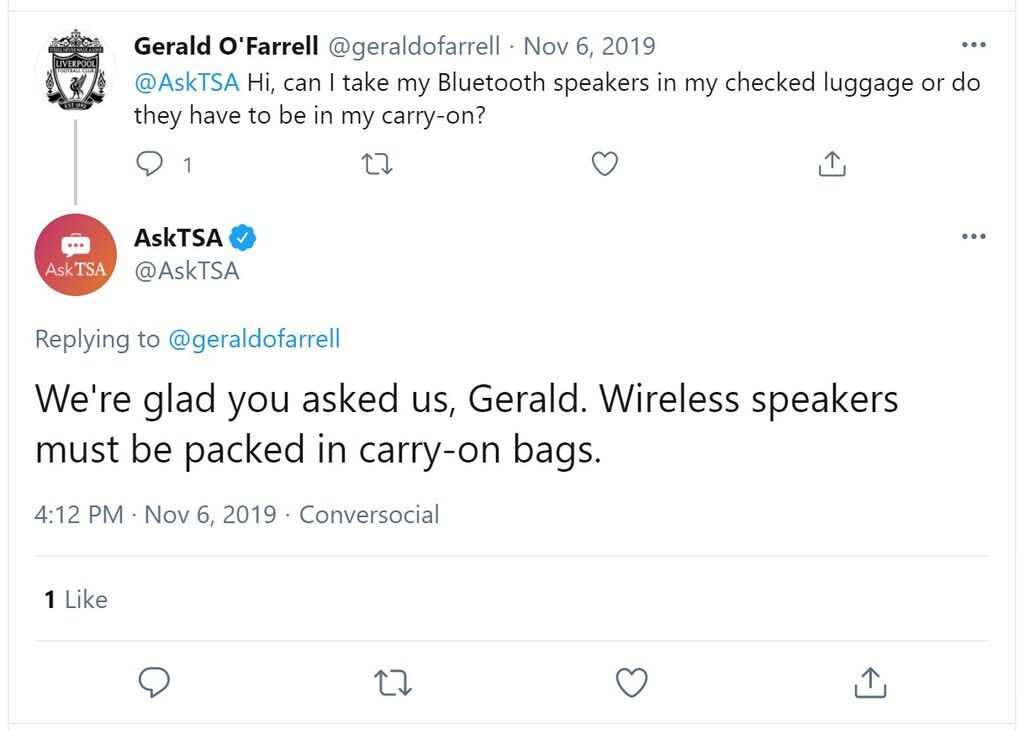 And they told Vivek the same thing: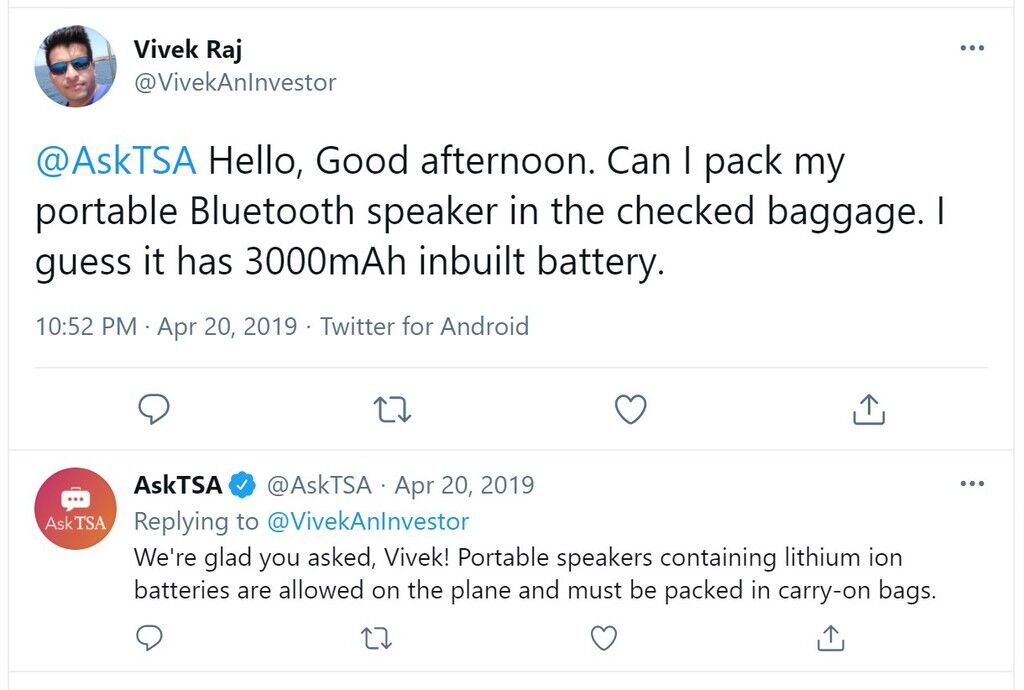 But this is actually not strictly true. At least not anymore.
Electronic devices with installed batteries can be packed in checked baggage.
Bringing A Bluetooth Speaker In Checked Luggage
April asked the TSA about flying with her Bose bluetooth speaker. She was rightly concerned about the lithium ion battery.
Check the 2nd part of the reply from the TSA: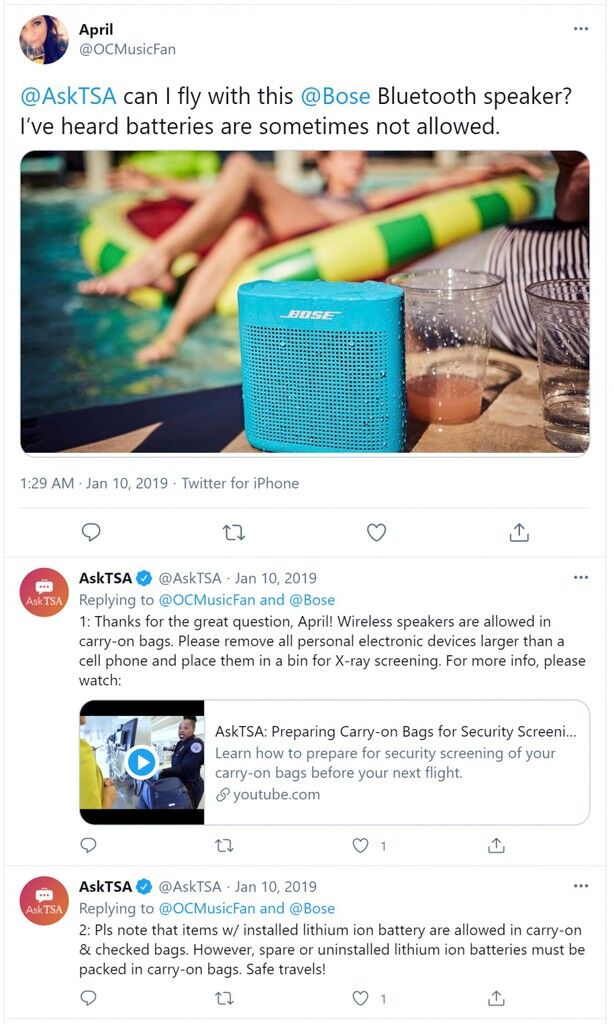 Here's the kicker.
Items with installed lithium-ion batteries are allowed in carry-on and checked bags. However, spare or uninstalled lithium-ion batteries must be packed in carry-on bags.
When a battery is installed it means that the positive and negative terminals of the battery are not exposed.
On an uninstalled battery the terminals might be exposed. All it would take is for another piece of metal to connect the two ends on the battery accidentally in your luggage and a fire could start. This is why uninstalled batteries must go in carry-on luggage.
Most portable bluetooth speakers have an installed battery. It's usually not even removable.
So as far as airport security is concerned you COULD pack your bluetooth speaker in your checked baggage…
If you're feeling lucky.
The Mystery Of The Disappearing Bluetooth Speakers
During my research on Twitter I noticed a troubling trend.
It seems that when flying on all the major airlines in the United States that bluetooth speakers regularly go missing from checked luggage.
These speakers can often be valuable and they are easy for dishonest baggage handlers to swipe from your luggage.
Check out these tweets.
Alaska Airlines
Someone stole Albert's bluetooth speaker and his watch from his checked baggage when he was flying with Alaska Airlines.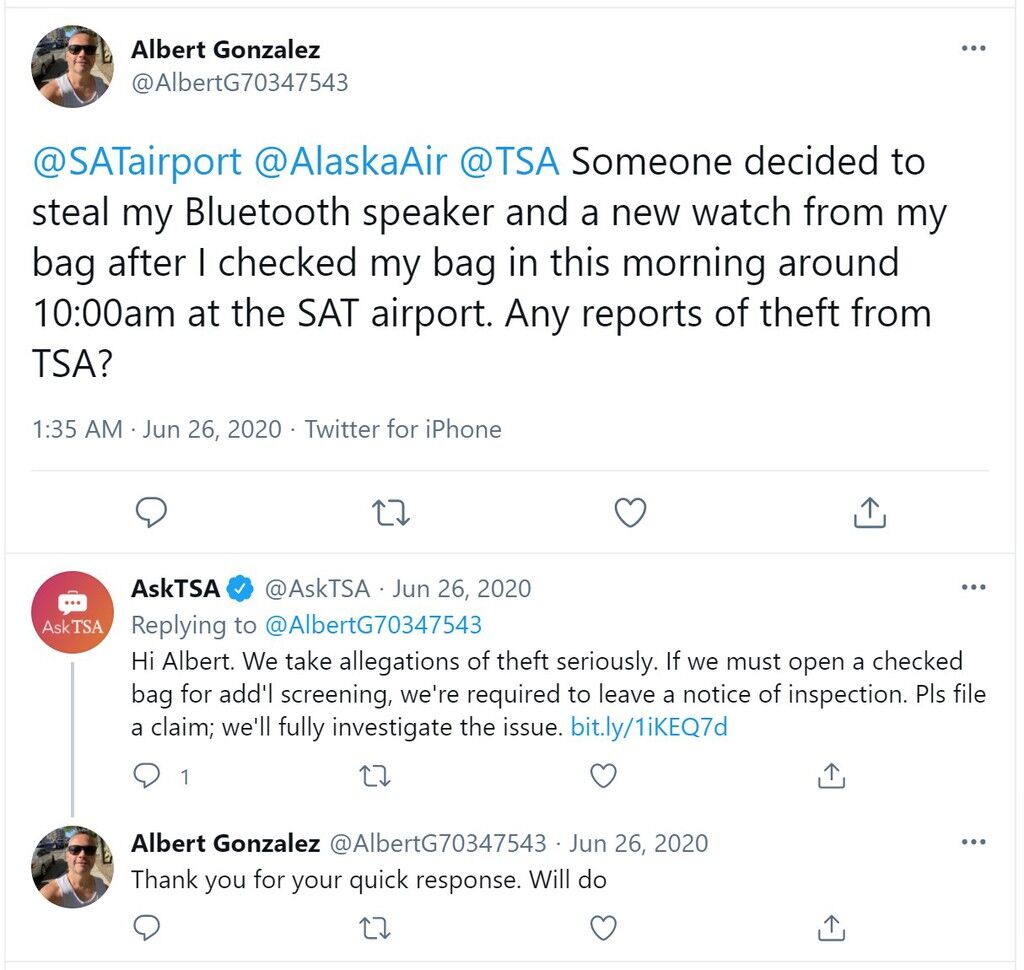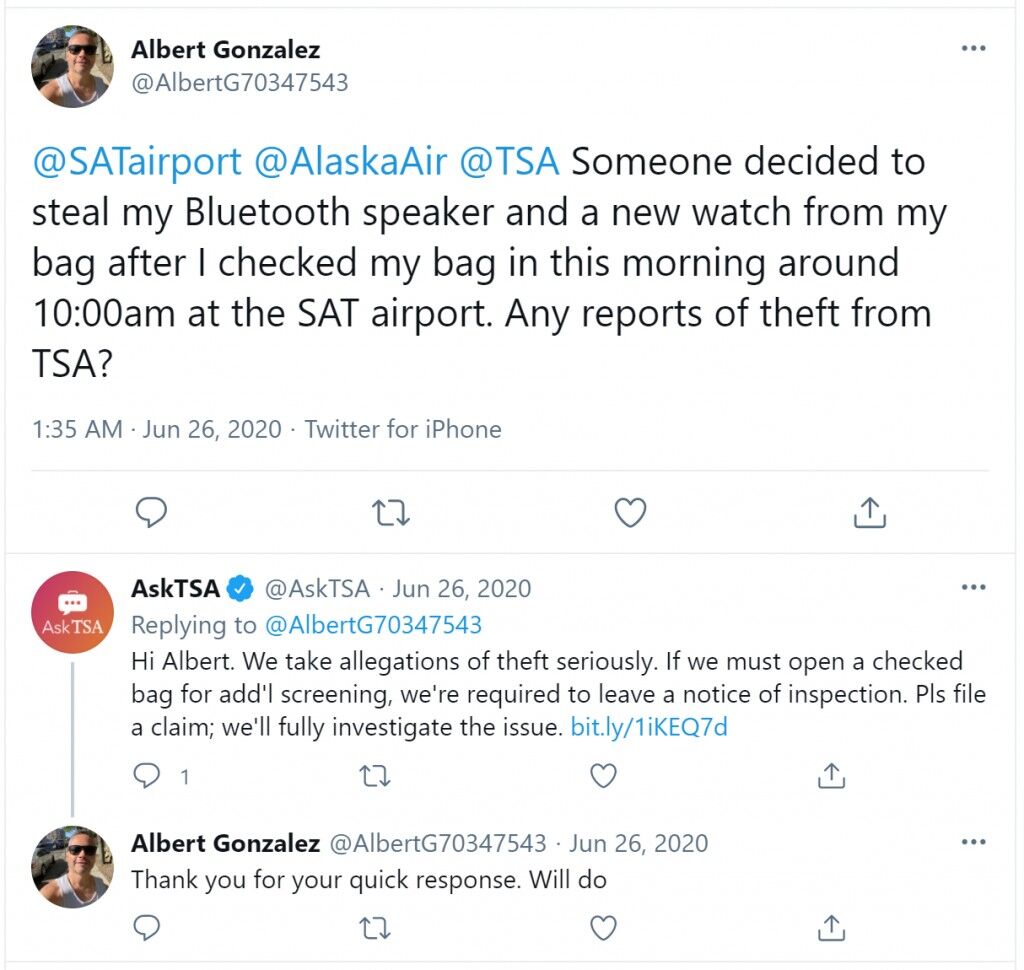 Allegiant Air
After Cornealous got home he found that his $300 bluetooth speaker was missing from his checked suitcase: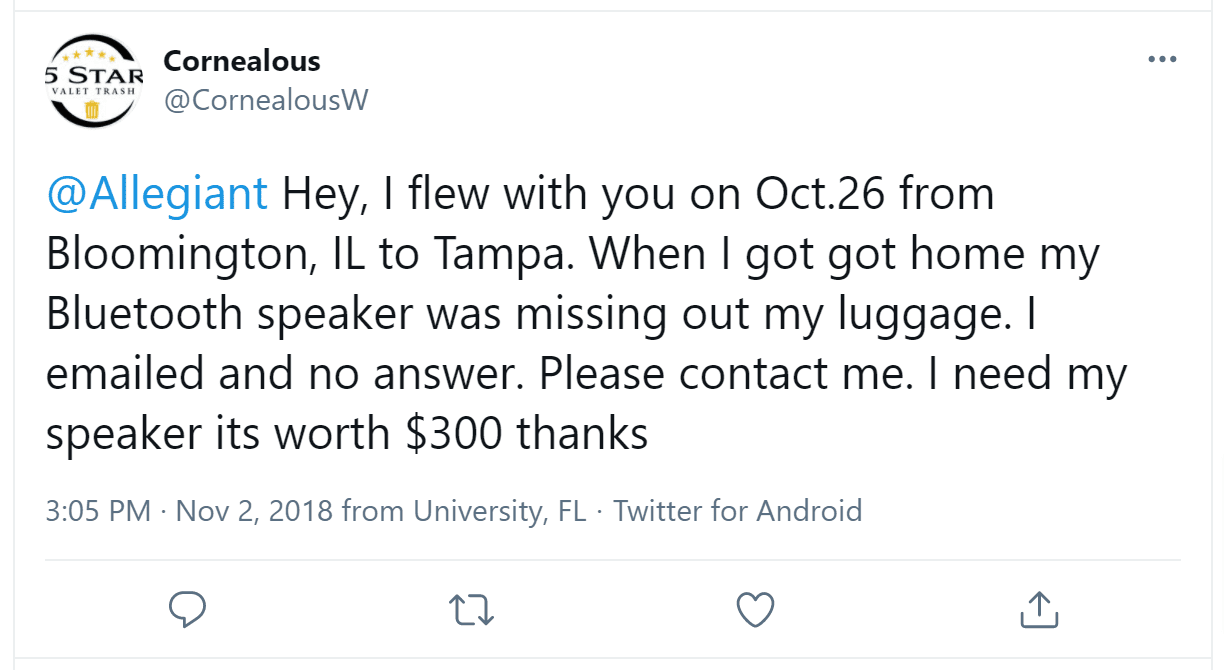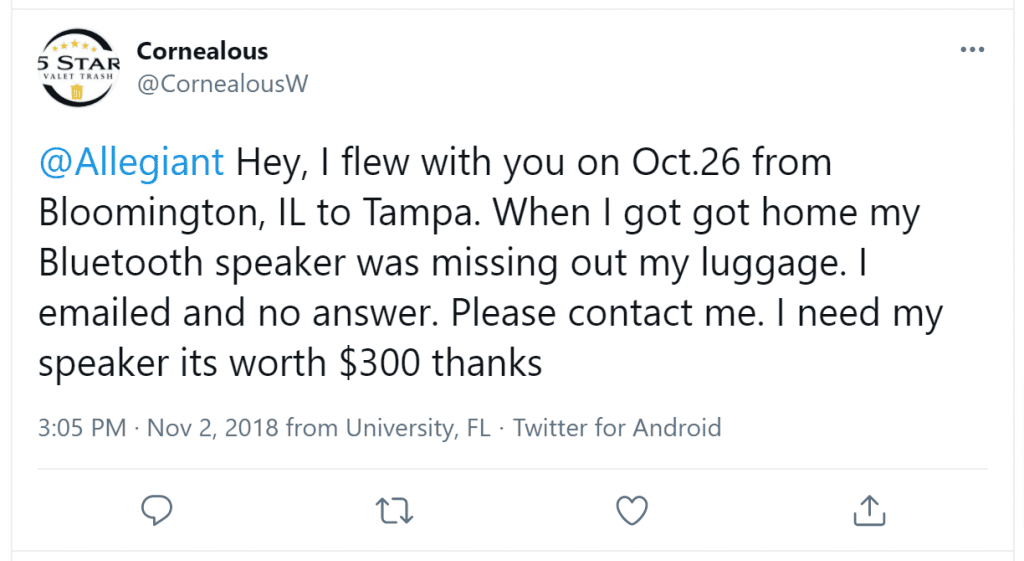 American Airlines
Qosmic recently had his JBL speaker stolen from his checked bag.
As far as American Airlines there was no coverage for loss. They can take what they like out of your checked bag and you won't be compensated.
Delta
Clare was misinformed by Delta. Bluetooth speakers with non-removable batteries are permitted in checked bags. It's just usually not a good idea to pack them there!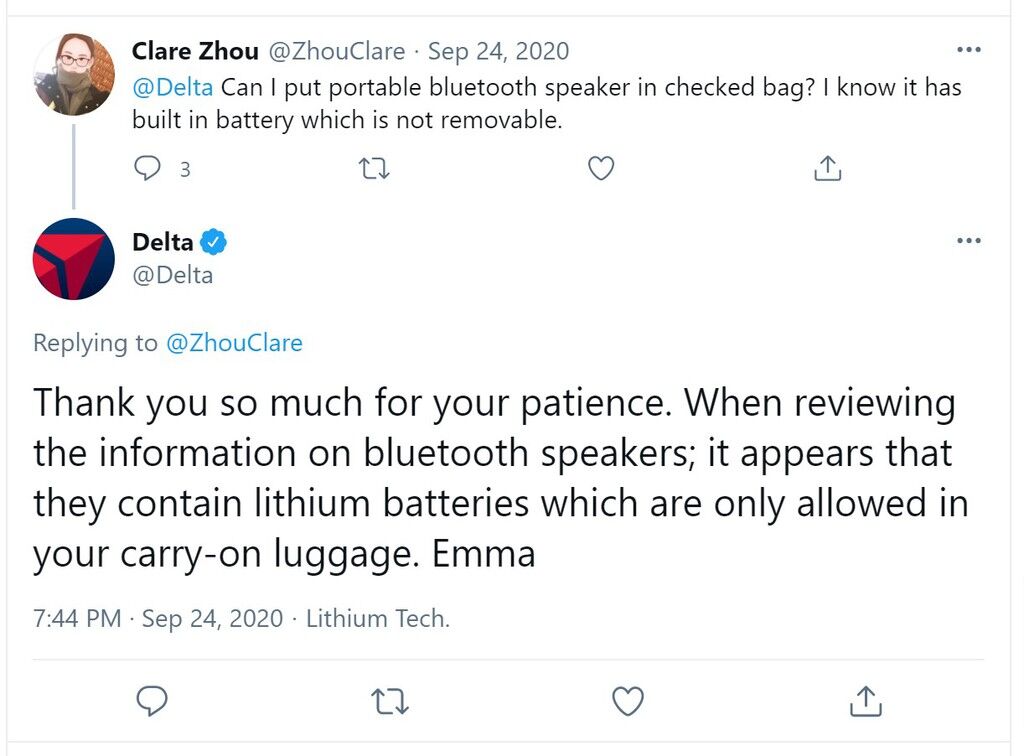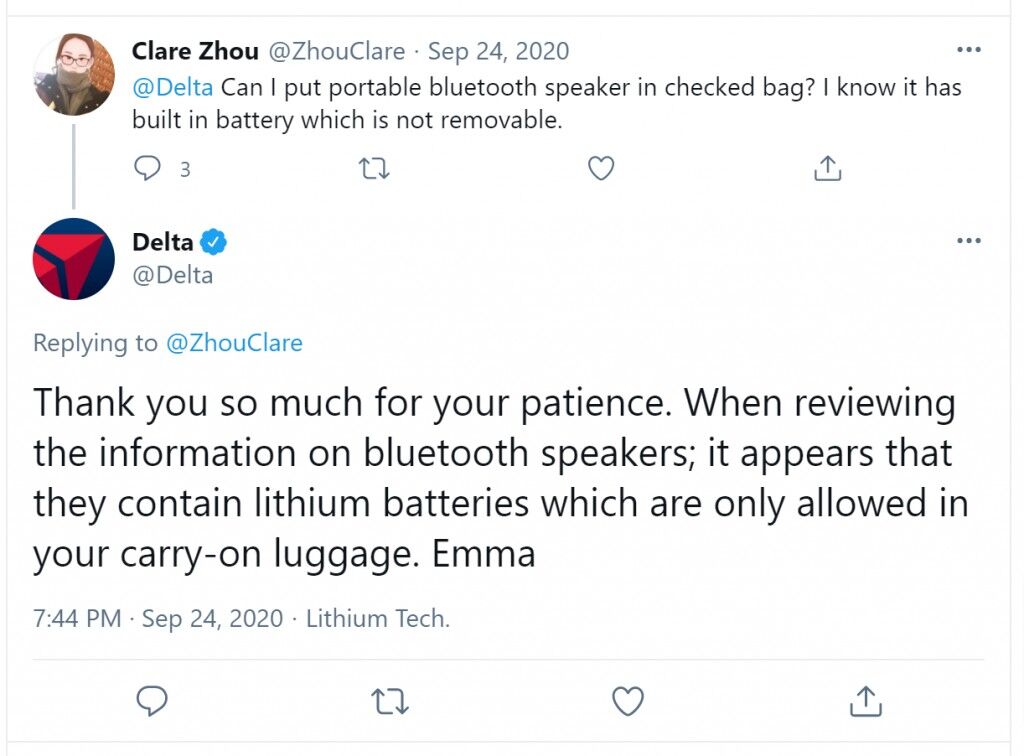 Alisa's son lost his $300 speaker on a Delta flight. The TSA left a note to say they had been in his bag as they always do when they inspect luggage. We'll never know who stole the speaker.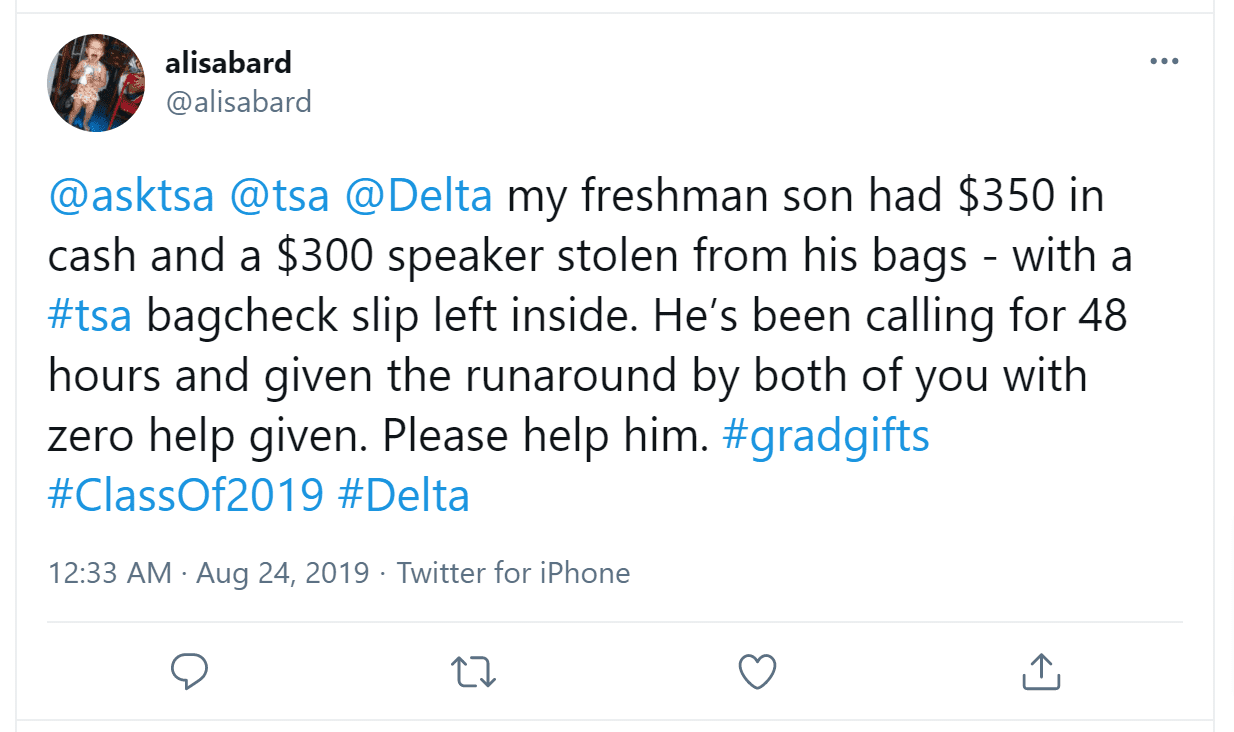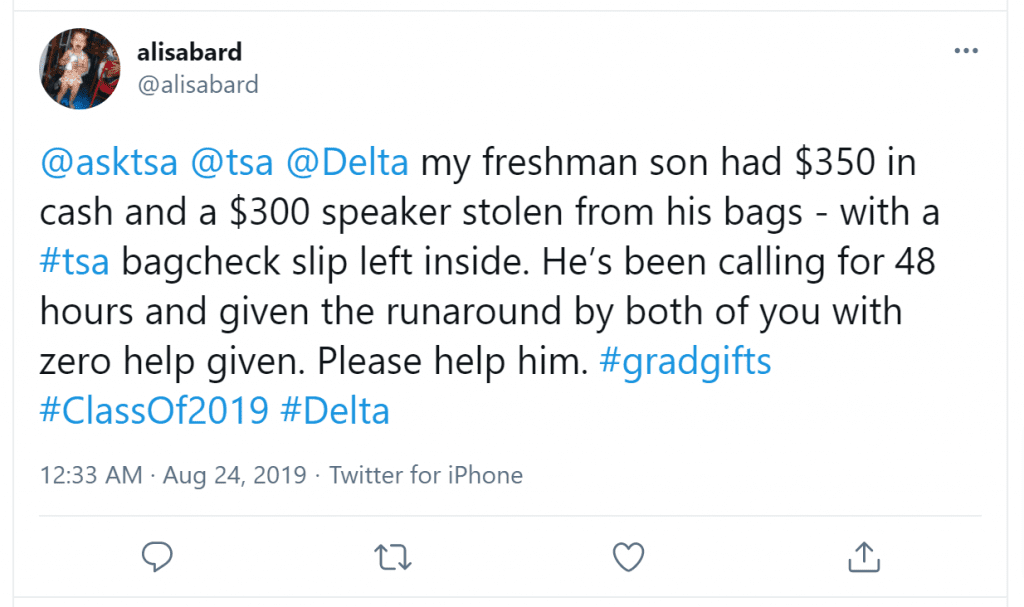 Frontier Airlines
Leroy "hooked up" Frontier with a speaker on his last Frontier flight.
Learn from his experience and make sure you pack your valuable in carry on only in the future!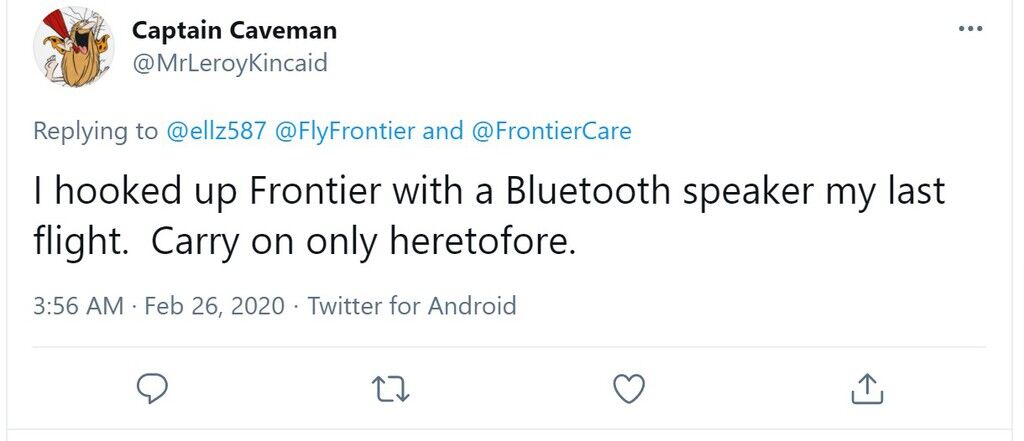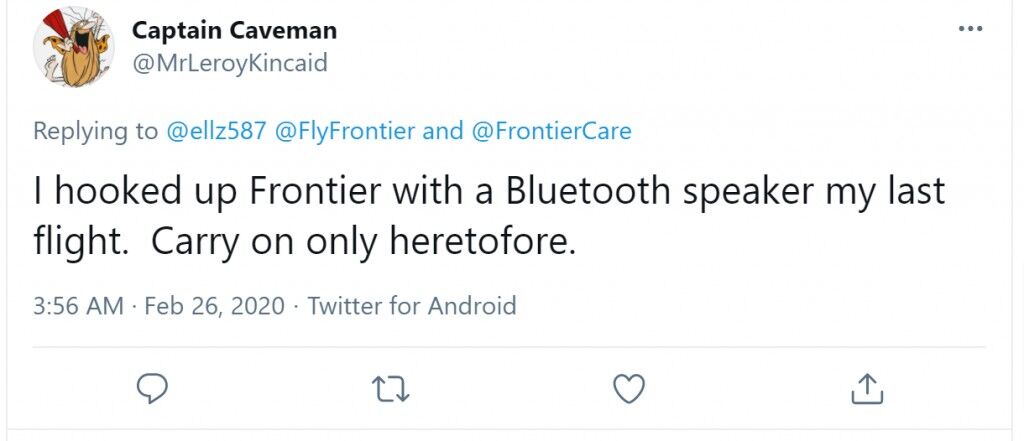 JetBlue
Another airline. Same old story.
Silvia traveled with a portable speaker on a JetBlue flight and it was stolen from her baggage.


Southwest
Another passenger lost one when traveling with Southwest.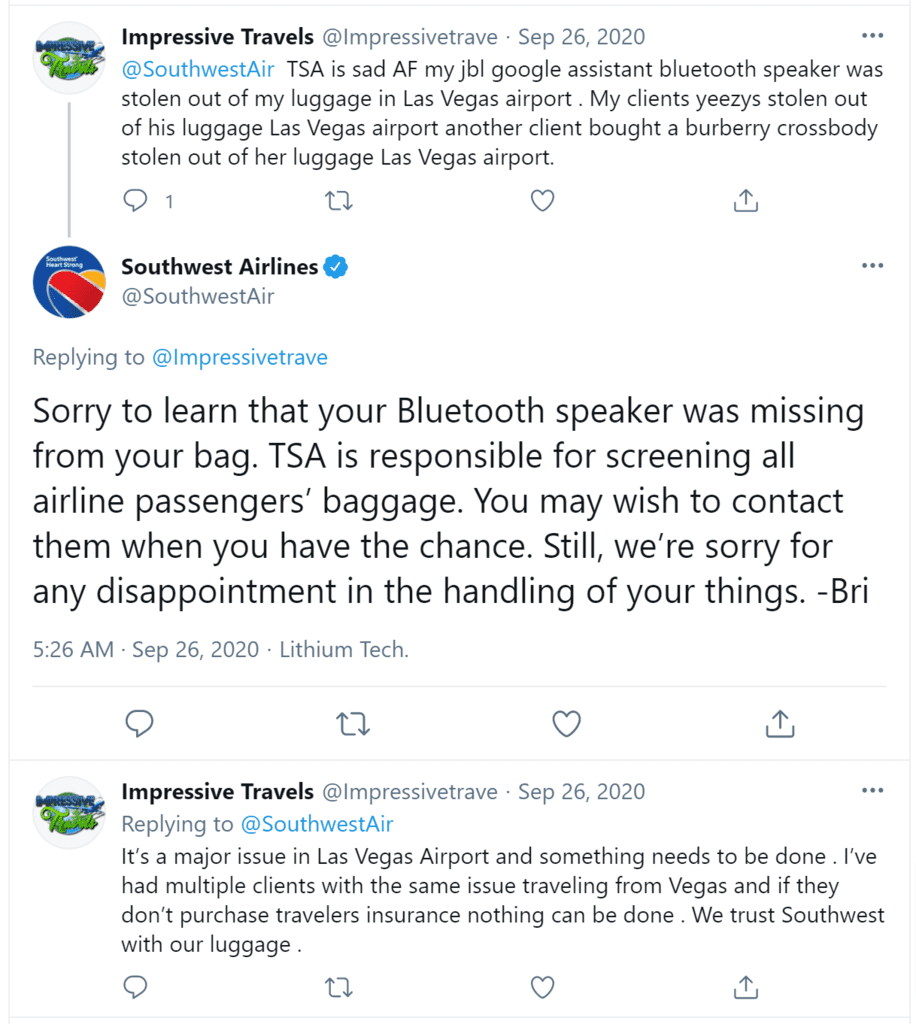 Spirit Airlines
The same thing happened on a Spirit flight: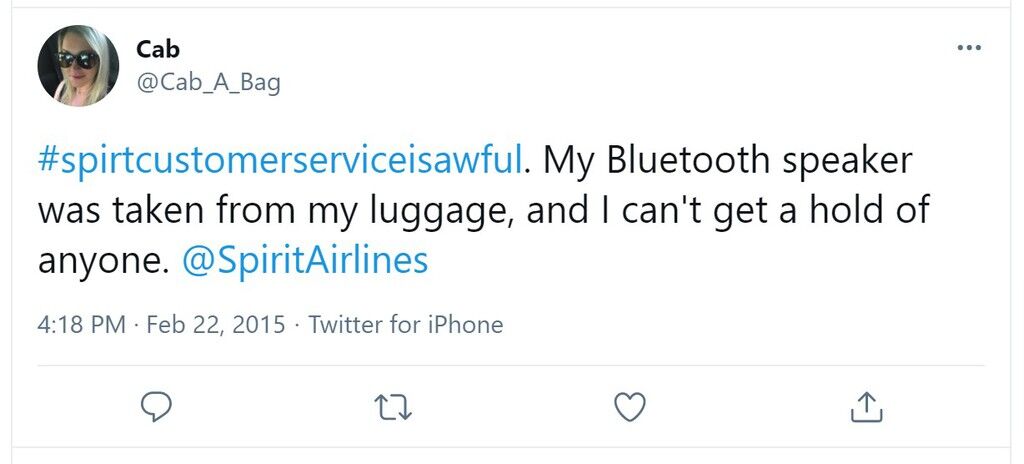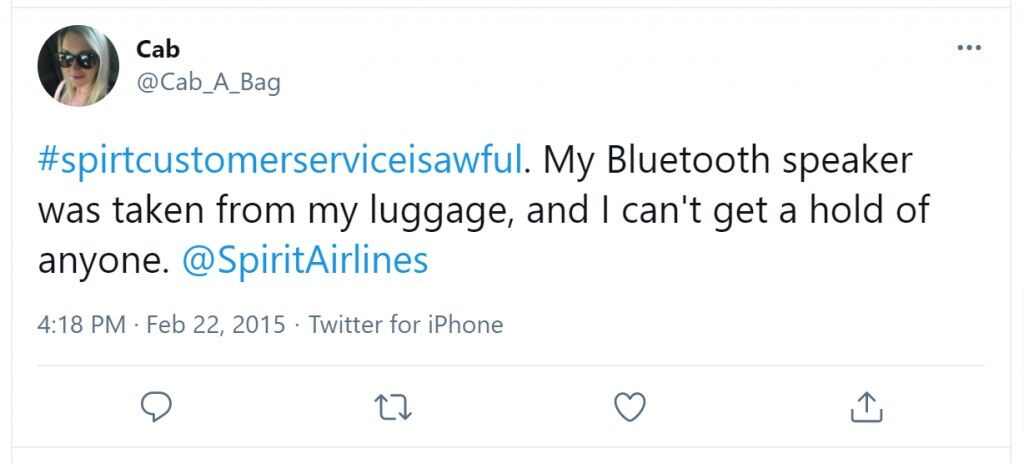 United Airlines
And Mark lost his bluetooth speaker on a United Airlines flight.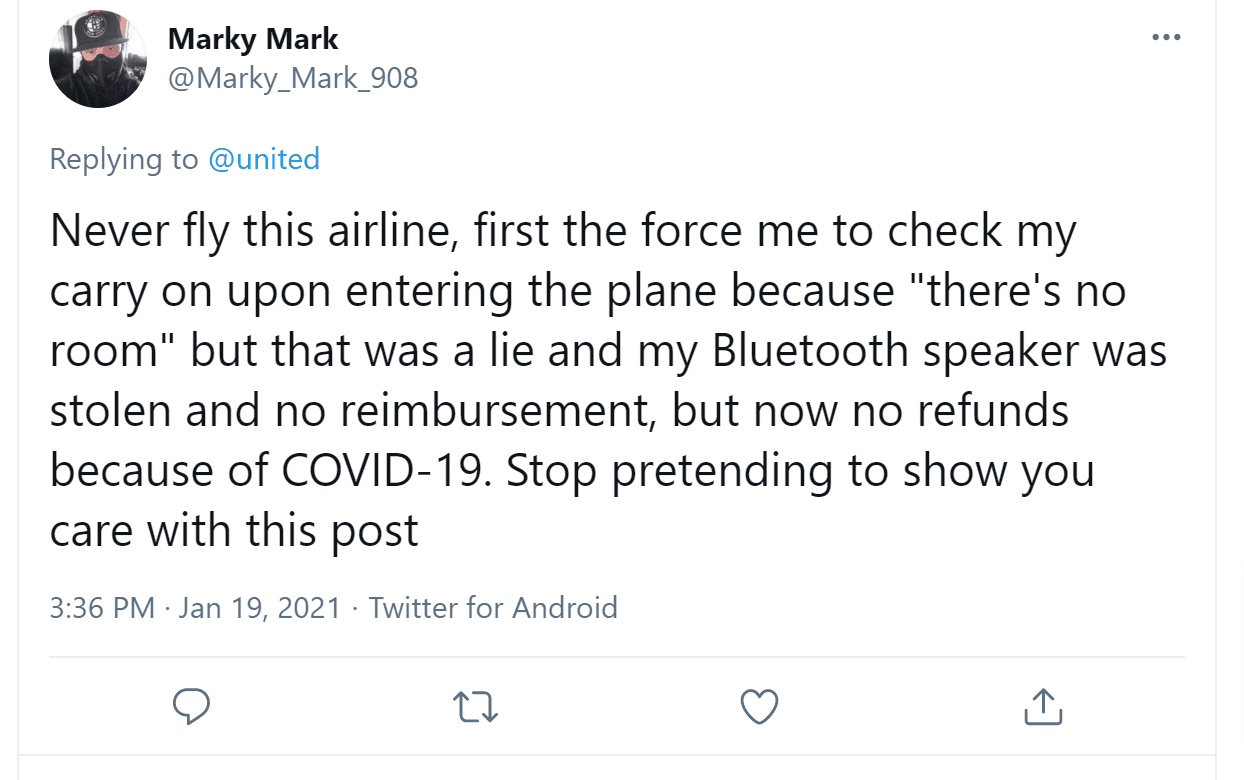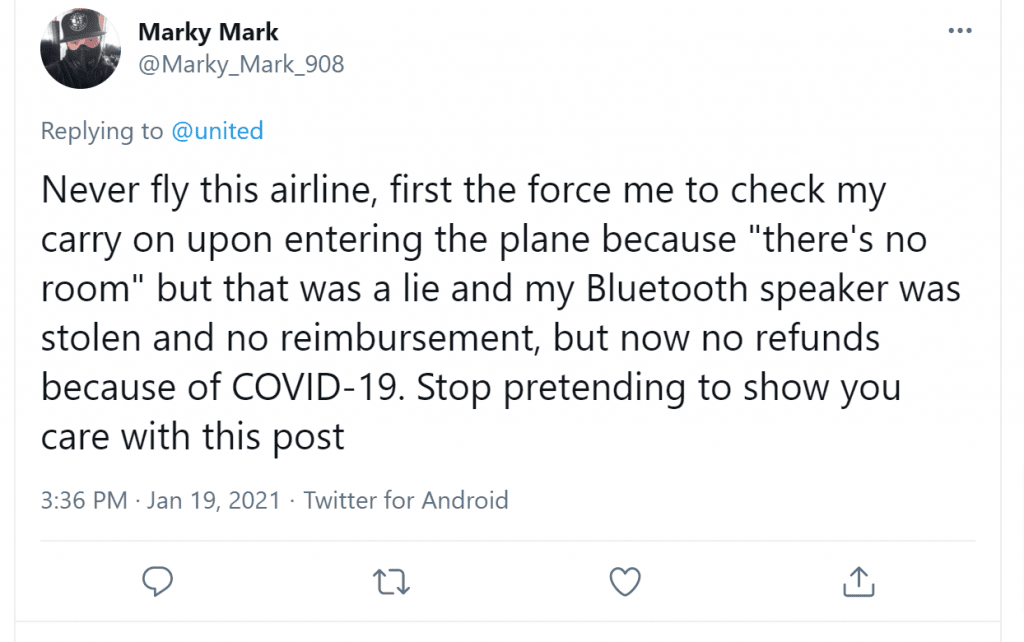 Note: Mark packed his bluetooth speaker in his carry on bag. But when he got to the boarding gate he was told there was no space in the overhead bin and forced to check his bag.
And while his bag was checked the speaker was stolen.
If you are ever forced to check your carry on then make sure you remove all valuables. It's a good idea to pack a small packable daypack when you travel. These little bags pack down to something you can hold in the palm of your hand. But if you need a bag to take your valuables into the cabin with you then you will have one.
The Bottom Line
Bluetooth speakers are allowed in both carry-on bags and checked bags, however I recommend to always pack your speaker in your carry on.
Anything that you pack in checked bags might not be there when you reach your destination.
I'd only ever pack a very cheap speaker in a checked bag that I wouldn't be too upset to lose.
People Also Ask