Last Updated on January 17, 2021
Route 66 was a designated US Highway from 1926 to 1985.
It's one of the most famous roads in the world and is nicknamed the mother road.
Many people still drive the historic route 66, or at least the remaining parts.
Although modern interstate highways have replaced Route 66, it's still one of the best cross country road trips you can take in the United States.
Route 66 Has Two Beginnings And Two Ends
It might not be obvious but Route 66 has two starting points and two ending points.
That's because, of course, you can travel the route in both directions and the start changes depending on which way you are traveling.
For the purposes of this post, I'm going to assume you'll motor west since that's the classic road trip route and how Nat King Cole got his kicks.
The Route 66 Starting Point
If you are traveling westwards route 66 starts in Chicago.
The official starting point has moved a few times.
The beginning of route 66 was originally on Jackson Boulevard at Michigan Ave.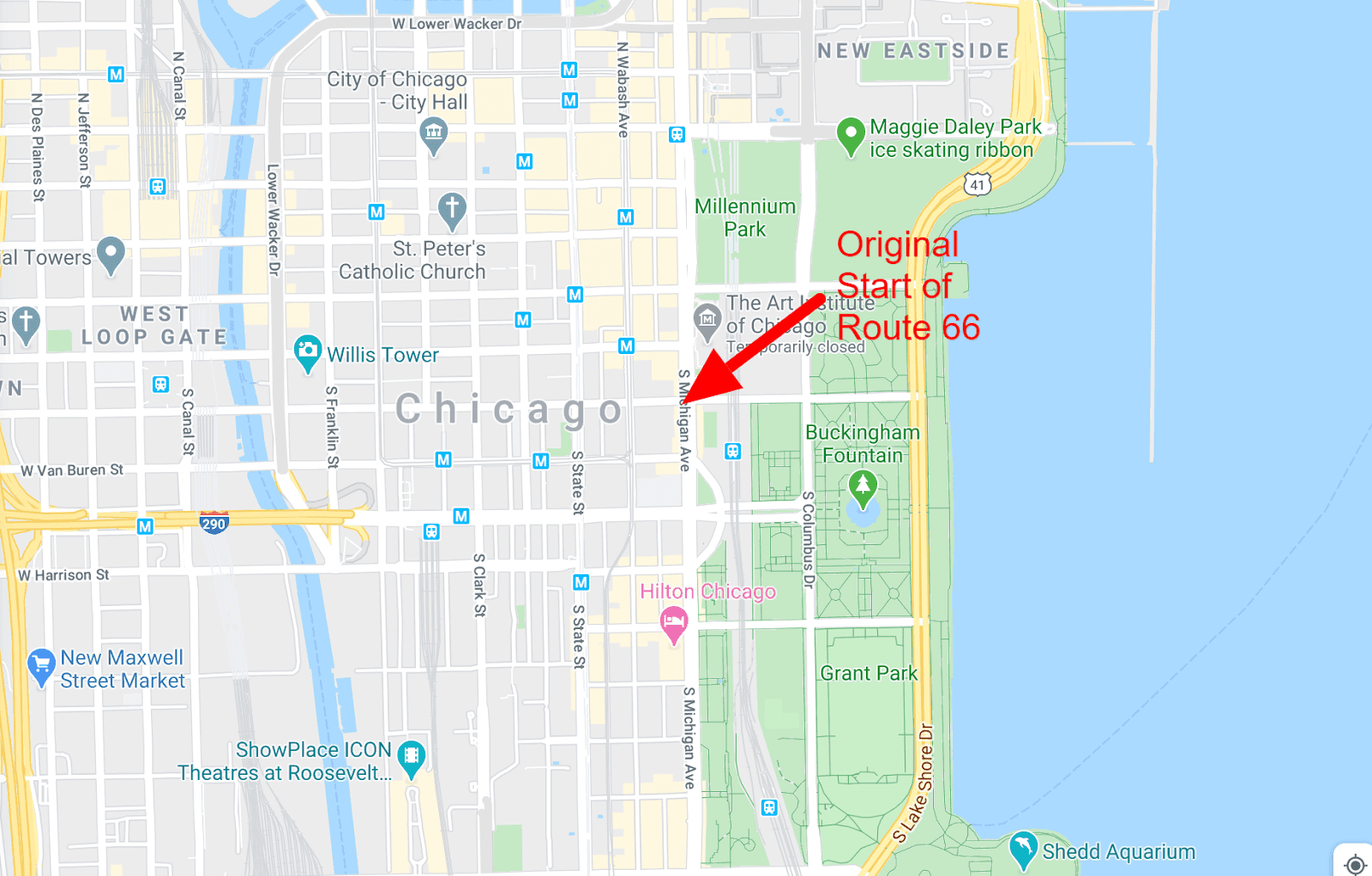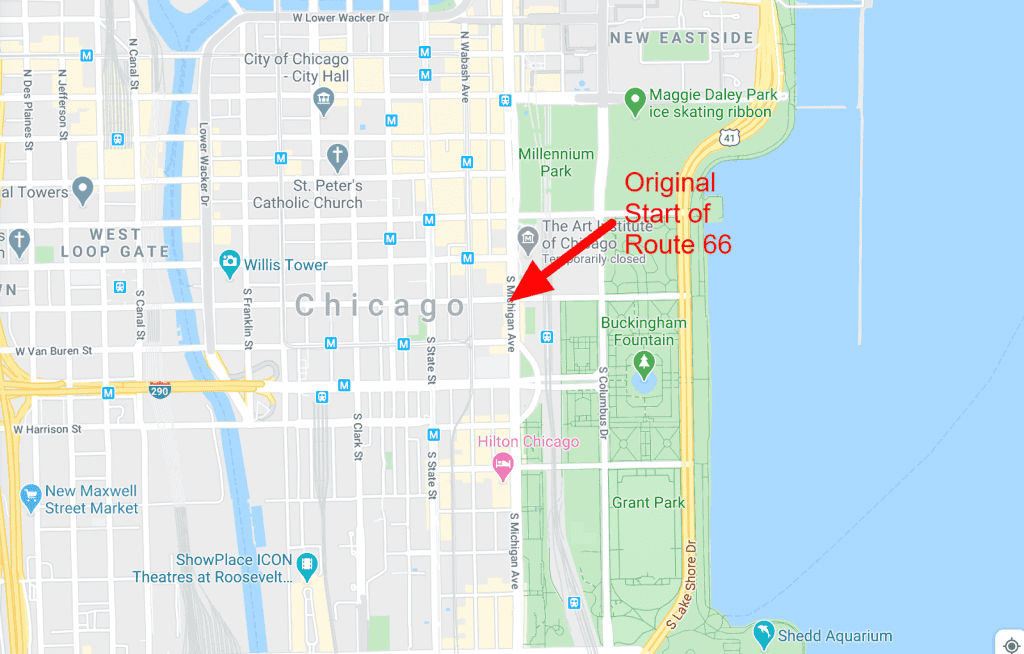 In 1937, the start was moved half a mile east because of the reclaimed land that is now Grant Park. So after 1937, the starting point of RT 66 was the intersection of Jackson and Lake Shore Drive.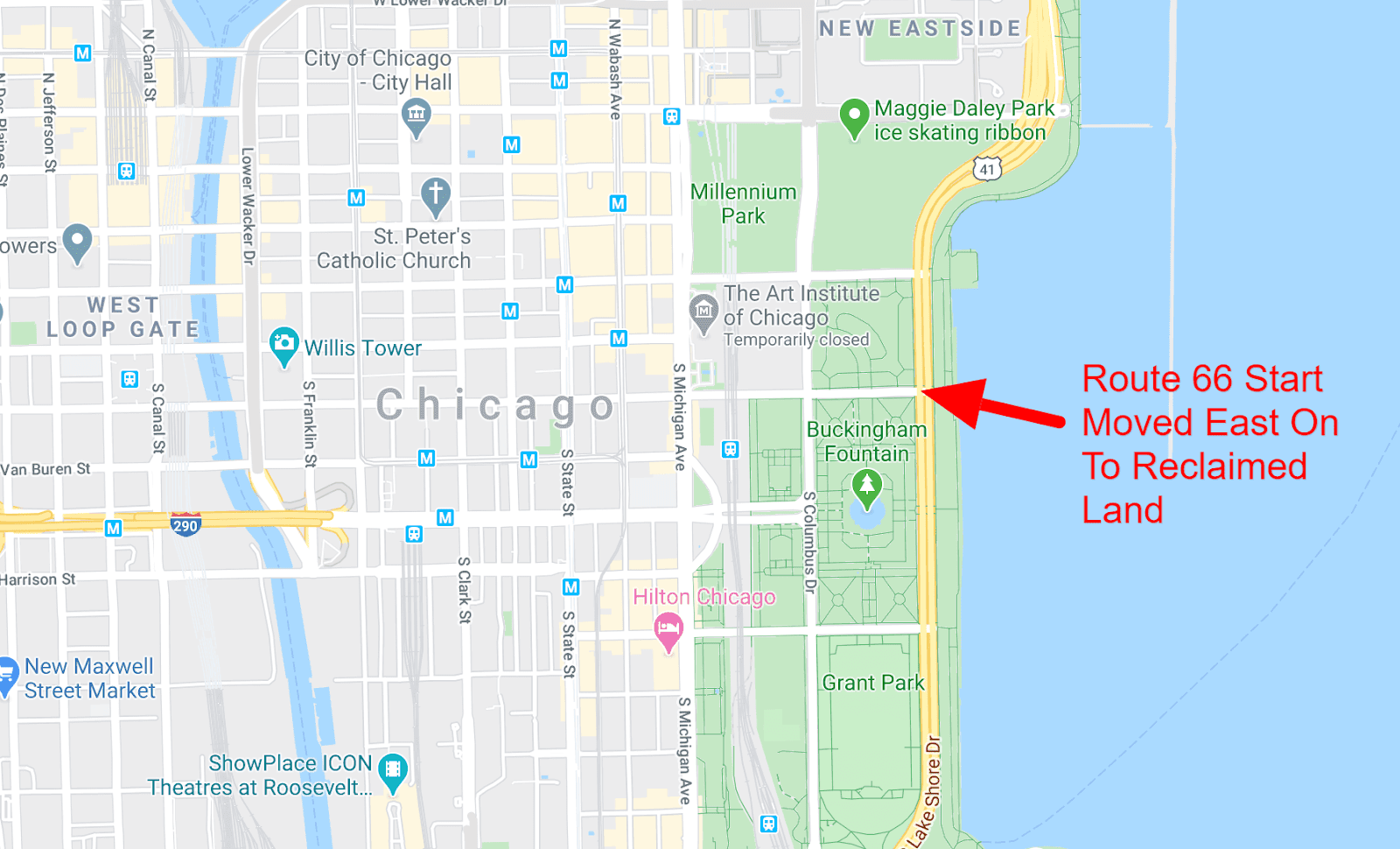 To confuse matters further, in 1955 Jackson became one way. So Adams Street, one block north, became the westbound route 66.
Nowadays you can see a sign marking the start point where Adams Street meets Michigan Ave. but this was never a designated start point.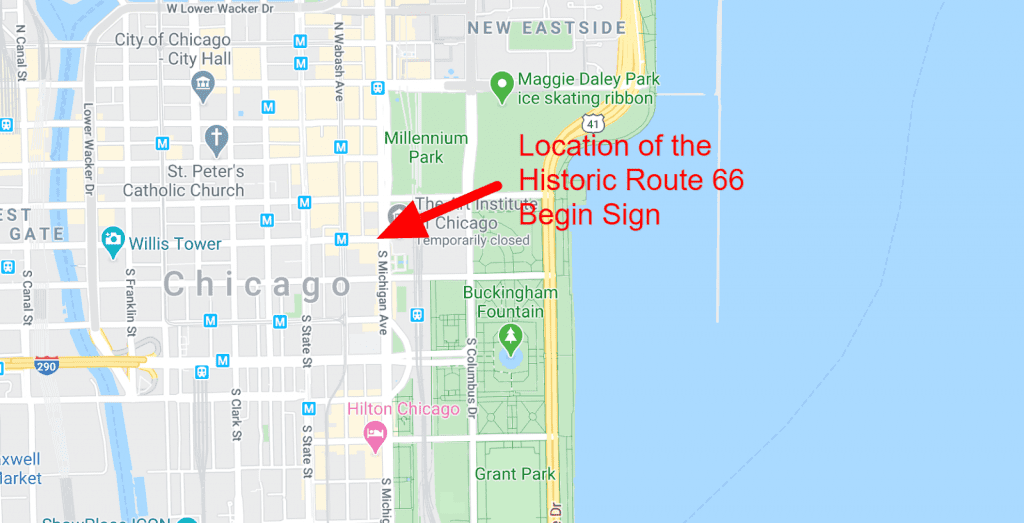 Perhaps all this is getting pedantic.
The beginning of route 66 is in downtown Chicago, Illinois on the southwestern shores of Lake Michigan.
This is where RT 66 starts, 2.5 miles east of the starting point the road joins Ogden Ave and later Joliet Road as it heads out of Chicago in a southwesterly direction, beginning it's a long journey from Illinois to California.
Route 66 Ending Point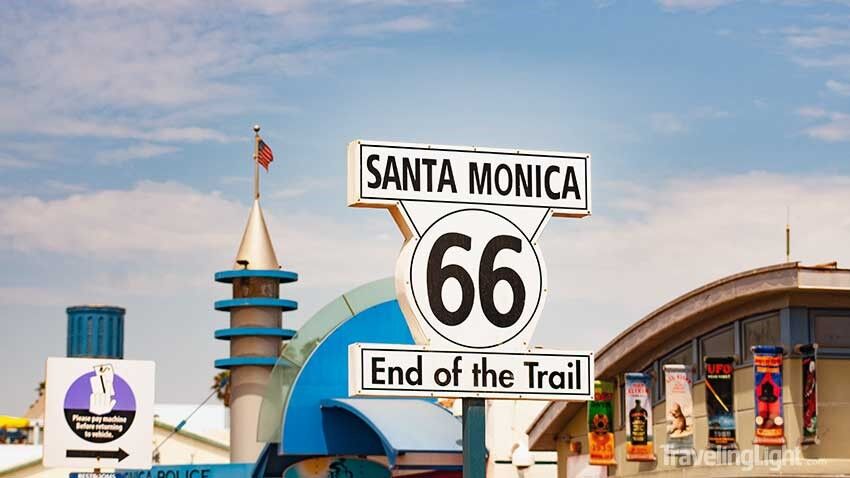 The end of route 66 is the intersection of Olympic and Lincoln boulevards, in Santa Monica, Los Angeles.
This is less than 1 mile away from the location of the sign at Santa Monica pier in the photo above. The correct end, the dull intersection, is very much anti-climactic and the Santa Monica Pier makes a much more fitting end point for a glorious road trip.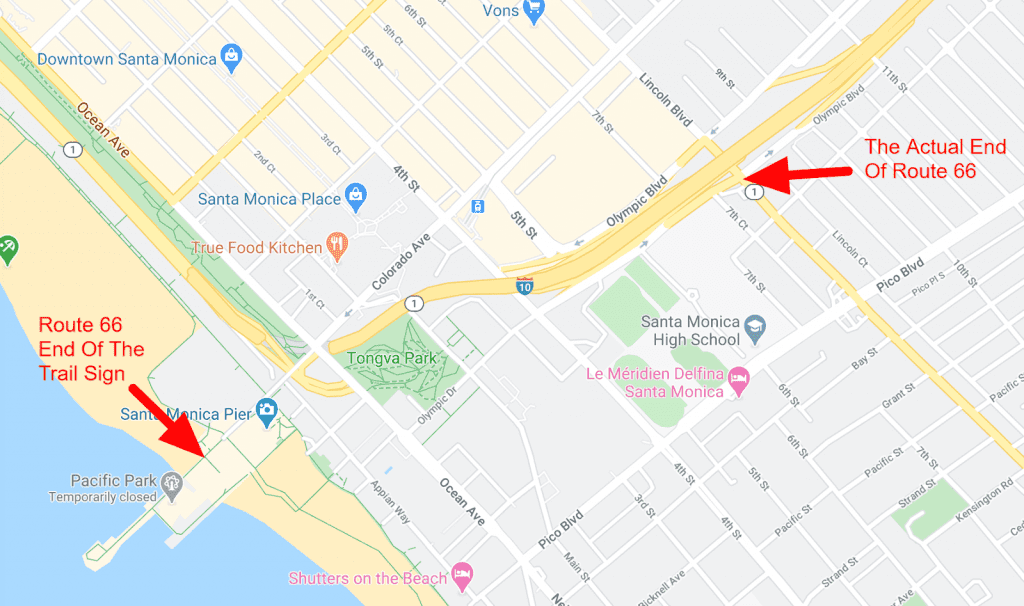 How long is route 66 from start to finish?
In 1926, Route 66 was 2,448 miles long start to finish. The route changed over the years and was down to 2238 miles by 1960.
The Bottom Line
RT 66 starts in Chicago and ends in Santa Monica, Los Angeles, California.
The historic route 66 association has placed an end sign on Santa Monica Pier since it's a more attractive destination for tourists than downtown Los Angeles.
Rather than picking out a street sign, I prefer to say that Route 66 runs from the shores of Lake Michigan, in Chicago, Illinois all the way to the Pacific Ocean at Santa Monica, California.
For such a grand road, it seems wrong to quibble over which exact curb you arrive at, but if that is how you get your kicks I hope I've been specific enough for you.
You Might Also Like