Last Updated on November 2, 2021
Most hotels assume guests need somewhere to sleep overnight so rooms are sold on a per night basis.
It works like this.
One guest leaves in the morning, housekeeping cleans the room, and then the next guest arrives in the afternoon.
Without knowing the specific hotel we can't say exactly what time hotel check-in time is other than that it will probably be sometime in the afternoon.
But we can tell you which check-in times are most common.
To find out what check-in time hotels typically choose I analyzed almost 200,000 hotels in the United States.
This post contains the results of the survey.
What Time Is Check In At Hotels Typically?
The check-in time survey included all the major hotel chains like Marriott, Holiday Inn, Hilton, Hyatt, Best Western, Comfort Inn, and Days Inn as well as all the smaller chains and independent hotels.
The most common hotel check-in time in the United States is 3 pm with 67% of hotels choosing that time. The next most common check-in time was 4 PM with 26 % of hotels.
Hotel Check-in Times Chart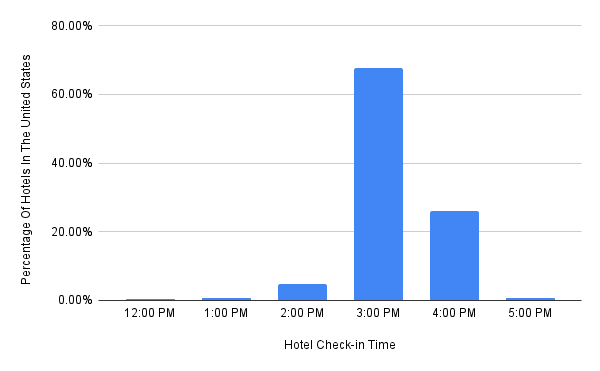 We can see that 93.4% of all hotels have a check-in time between 3 PM and 4 PM.
And 98% of hotels have a check-in time between 2 PM and 4 PM.
There are occasional outliers but we can safely say that the typical hotel check-in time is between 2 PM and 4 PM.
Here's the data.
| Check-In Time | Percentage Of Hotels |
| --- | --- |
| 11 AM | 0.01 % |
| 12 PM (Noon) | 0.44 % |
| 1 PM | 0.57 % |
| 2 PM | 4.72 % |
| 3 PM | 67.5 % |
| 4 PM | 25.9 % |
| 5 PM | 0.75 % |
| 6 PM | 0.01 % |
I should probably point out that you don't need to arrive exactly at check-in time. A 3 pm check-in time means that you can get into your hotel room from 3 pm onwards.
For most hotels you can arrive at the hotel any time after mid-afternoon to late evening. But if you will be arriving very late it's best to let the hotel know so they don't mark you as a no-show and resell your room.
But what if you have an early arrival…
You Can Make An Early Check-In Request
In the hotel industry the phrase "early check-in" usually means getting into your room a few hours before your standard check-in time.
If you arrive at the hotel a few hours before the advertised check-in time you can ask the front desk clerk if you can check in early. If your hotel room is ready then most hotels will do all they can to accommodate you.
Hotels generally don't guarantee early check-in in advance, but if they can manage it they will allow it.
Occasionaly some hotels will guarantee an earlier check-in time for a small fee, but we are still talking a few hours early.
What if you are arriving five, six, or seven hours before check-in time?
Think about it….
Hotels aim to sell out all their rooms. If they have promised you that you can check-in at 8 am they then can't sell that room to another guest for the previous night.
Would you like to be awoken and kicked out at 7 am because the next guest is arriving?
Hotels cannot allow you to check-in to a hotel room until the previous guest has checked out.
Checking out time is around 11 AM. The room then needs to be cleaned before you can be given access.
The window between 12 PM and 3 PM is where housekeeping are hard at work cleaning all the rooms.
If you pay a fee you might be able to make sure you get one if the first rooms cleaned and available. This could mean you might be able to check in around noon or 1 pm.
Extemely early check-ins, as in the wee small hours of the morning, are always treated as a late check-in for the previous day.
That means if you check into a hotel after midnight for a single night stay you will be checking out the same morning that you check in.
If you want to arrive at 5 am and be sure to have a room immediately available for you then you need to book a nights stay for the previous date.
You also need to let the hotel front desk know that you will be arriving late so the night porter can look out for you.
Luggage Storage
While you might not be able to get into your room early often hotels will allow you to use the hotel facilities while you are waiting for your room to be ready.
The hotel staff can often store your luggage for you allowing you to explore the neighborhood while your room is being prepared.
They might even let you use the hotel gym or swimming pool if they have one.
The hotel staff are often the best people to ask for ideas of things to do to pass a few hours.
Worst case, bring a good book and hang around in the hotel lobby.
One way to get into a hotel room early is to let the consierge know that you don't mind switching to a different type of room.
If for example you have booked a double room but would be happy to accept a twin room that might speed up your access.
Hotels With 24 Hour Check-In
While most hotels operate on the "per night" business model there are some hotels that allow 24-hour check-in.
You can even book some hotel rooms for a day stay.
This is not the standard model though. The standard business model for hotels is selling on a per night basis with check-in times of mid-afternoon.
The Takeaway
Although most hotels allow you to check-in from 3 PM onwards, a significant number of hotels have a check-in time of 4 PM.
There is no substitute for checking the policy of the hotel you are interested in. You can either call the hotel or check their website.
Generally, check-in time is mid-afternoon to allow housekeeping staff time to clean rooms after previous guests have checked out late morning.
Earlier check-in times can be arranged but are not standard. Most hotels will allow you to check into your room as soon as it has been cleaned and is available.
Promising you a very early check-in time would prevent the hotel from selling the room to another guest for the previous night.
You can always pay yourself to book the previous night and check in as early as you like!
You Might Also Like