Last Updated on August 16, 2022
As an ultra low cost carrier Spirit Airlines keeps it's ticket prices cheap by charging extra for bringing a standard sized carry-on bag.
You do get to bring a free bag when you fly Spirit Airlines, but only a smaller than normal bag is allowed to be carried on to the plane.
In this post we'll talk about the size restrictions for the free Spirit Airlines baggage and give you some examples of bags you can bring without paying any extra.
The Spirit Airlines Free Carry-On Bag Size Policy
The bag that you can carry-on Spirit Airlines for free can be a maximum of 18 x 14 x 8 inches. Spirit don't call it the "carry-on bag" the call it the "personal item".
The free personal item is not as small as you might think.
Check out this image, the bags are drawn to scale.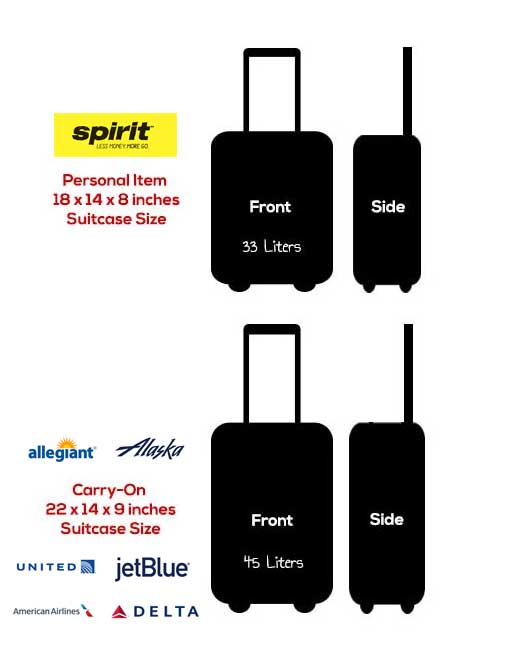 The free Spirit personal item can have a maximum capacity of 33 liters. That's more than two-thirds of the capacity of a regular carry-on which is 45 liters or maybe only 40 liters when the wheels and handles are taken into account.
Underseater luggage, small backpacks, or small duffel bags, are the right size of bag to be carried on to Spirit for free.
If you choose a bag that you carry rather than one with wheels you'll have more space inside to pack your things.
But with Spirit you can only bring one bag for free. Period. You can't take a handbag, purse, or briefcase in addition to the free 18 x 14 x 8 inches bag.
There is no weight limit to the Spirit Airlines free carry on bag.
Choosing An 18x14x8 Bag To Avoid Paying Luggage Fees
We've written a full guide on how to choose an 18 x 14 x 8 inches bag that's the perfect size for Spirit Airlines.
These were the bags that I found that fit within Spirit's size restrictions for a free bag:
To read my thoughts on these bags check out the full post.
Measuring Your Bag To See If It Fits Spirit's Size Limit
Suppose you want to measure a bag to see if it qualifies as a free Spirit carry on but you don't have a tape measure handy.
You don't want to reach the airport only to find out your bag doesn't fit in the carry-on sizer.
I created this graphic so you can easily check if your bag is the right size.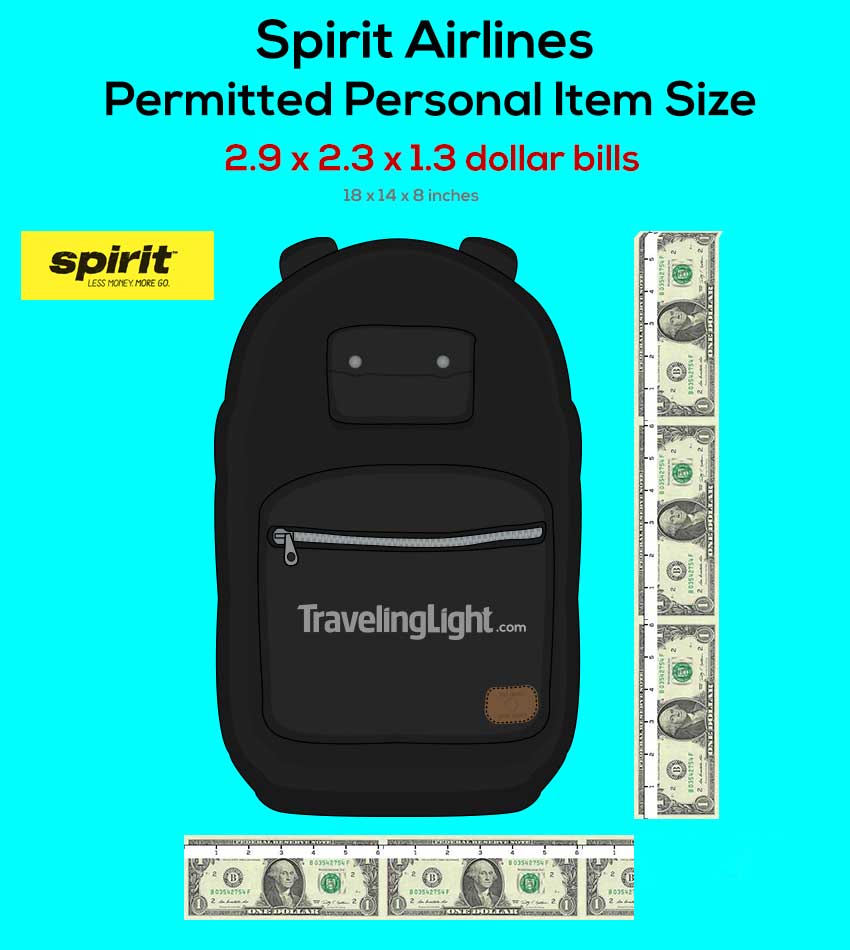 Standard Carry On Bags Cost Extra On Spirit
If you don't think you'll manage to pack everything you need into the free carry-on then you'll need to pay extra to bring a larger carry on suitcase.
The Spirit Airlines carry-on fee varies in price depending on where and when you pay for it, the route you are flying, and how far in advance you are booking.
It could cost anything between $35 and $65 to bring a larger carry-on on Spirit.
But if you learn to pack light and have the right size of bag you can avoid these charges.
The Verdict
Spirit keeps ticket prices low by making money charging bag fees on oversized luggage, overweight baggage, seat selection, checked bags, and anything else they can think of.
You'll need to be extra careful about the size of your carry-on if you want to bring it for free when flying Spirit.
Bags that are smaller than 18 x 14 x 8 inches fly for free on Spirit.
You Might Also Like