Last Updated on November 15, 2020
So you are wondering how much it will cost you to bring a carry on with you on a United flight.
That means you've probably booked a United Basic Economy class ticket.
This is United's "no carry-on" fare.
So what's the United carry-on bag fee to upgrade your experience?
Well… it's not that simple.
Let's dig a little deeper.
Does United charge for a carry-on?
Keep one thing in mind. A carry-on is a bag that you bring into the cabin. It's hand luggage or cabin luggage.
You may own a bag that is carry-on sized, but if you don't bring it onto the plane and put it in the overhead bin then it's no longer a carry-on. It's a small checked suitcase.
There is never a carry on price or fee with United because United never charges directly for a carry-on.
But indirectly (some would say sneakily) there is a price to pay to bring a carry-on on a United flight.
That price lies in the difference between a Basic Economy fare and a Standard Economy fare.
United are adamant that they don't charge for carry on bags but Kev thinks it's just marketing: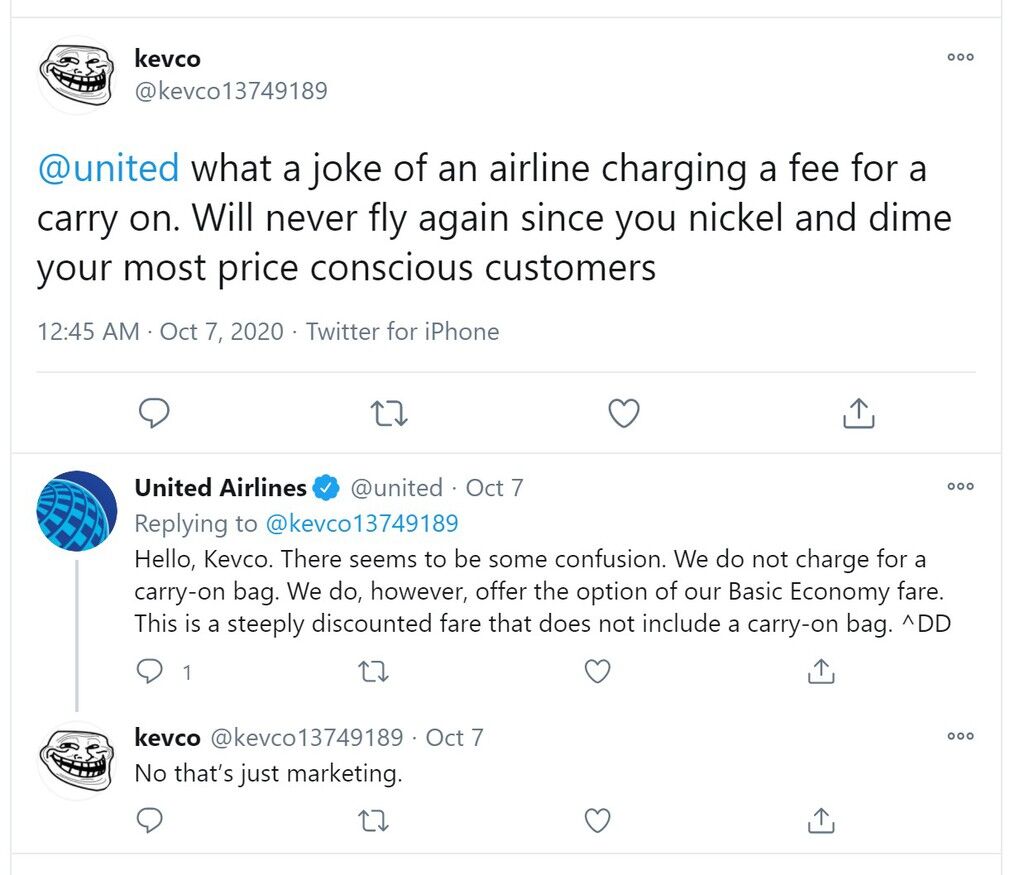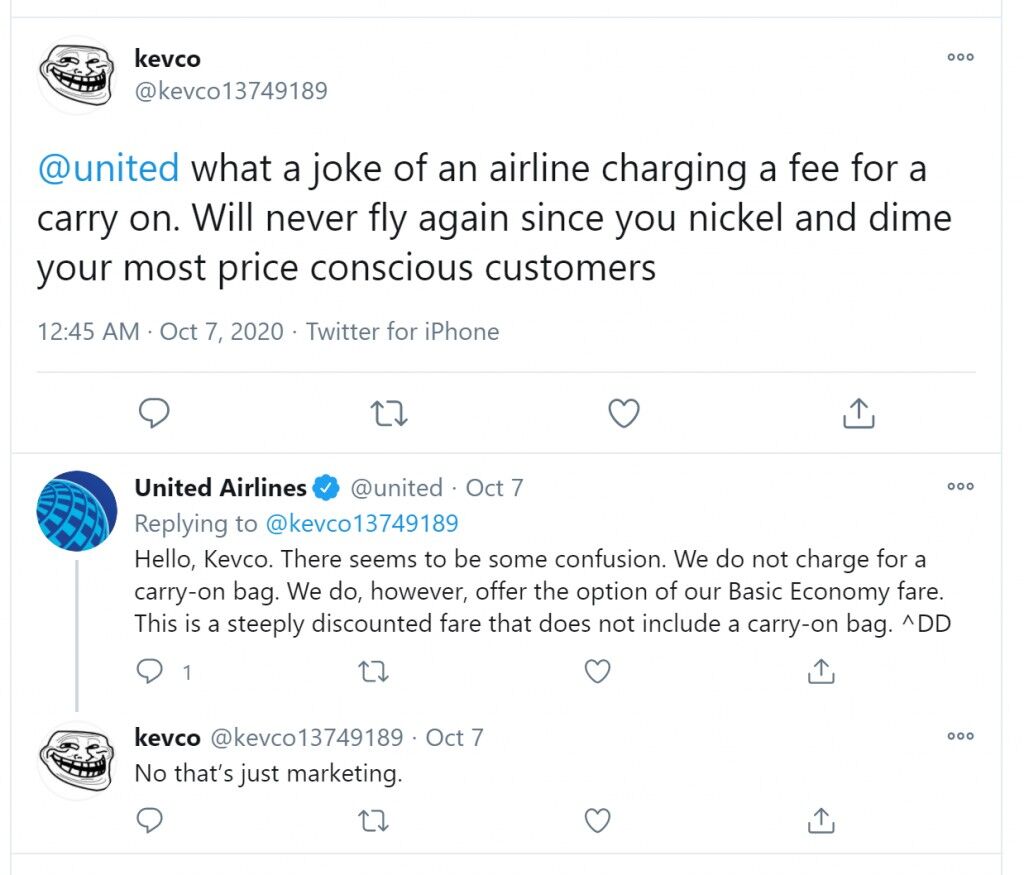 A Basic Economy ticket does not include a carry-on. And it's never possible to pay extra to add on a carry on to your ticket.
On Basic Economy, when it comes to cabin luggage, you are only allowed to bring one small (17 x 10 x 9 inches) personal item onto the plane. That personal item is the only luggage you'll ever be carrying on.
On the other hand, a standard Economy class ticket allows 2 cabin bags. You can bring a personal item and a full-sized carry-on bag for free.
So the cost to bring a carry-on on United is wrapped up in the price difference between Basic Economy and Economy.
The difference in price varies. Sometimes's it $30 or $40 and sometimes it's $300 or $400.
It's impossible to put an exact value on the baggage element because baggage isn't the only difference between the two fare classes.
When you have a basic economy ticket you also can't check-in online unless you have paid to bring a checked bag.
You can't upgrade to Economy Plus to get yourself extra legroom.
You might not be able to sit with your family.
And you also are in the last boarding group and you won't be able to choose your seat.
And you can't make changes to your flight or cancel your flight.
Check here for a full exploration of the differences between Economy and Basic.
Surely There Must Be A Price To Allow A Carry-On
No there isn't. It's non-negotiable.
And it's not possible to upgrade from a Basic Economy class fare to an Economy class fare. You can't call up United and pay an extra fee to get the benefits included with Standard Economy.
However, if you have booked in the last 24 hours and think you have made a mistake you can cancel your Basic Economy flight. You can then rebook Standard Economy separately.
That's the deal.
How To Bring A "Carry On" With United Basic Economy
The only way to bring a "carry-on" with Basic Economy is to pay extra for a checked bag.
But, of course, when you check a carry on, it goes in the hold. So it's no longer technically a carry on bag. It's a small checked bag.
Checked baggage fees vary but expect it to cost at least $30.
Whatever you do, don't turn up at the gate with an oversize bag. You'll still need to pay to check it and pay a $25 gate checking penalty.
Active U.S. military get checked bags for free.
Checked baggage can be 62 linear inches which is a lot larger than carry on size.
Or if you can manage to pack very light and fit all your clothes into your personal item (17 x 10 x 9) then I suppose you could say that the little personal item is your carry-on.
Boarding Blue makes a great little hobbit-sized carry-on that is perfect for United Basic Economy.
Also, if you have the right United credit card then you are considered one of the special people.
Principle card holders of United branded cards are permitted to bring a full-sized carry-on.
So if you fly with United Basic Economy a lot then it might be worth getting your hands on one of those.
Last but not least, if you are flying on a transatlantic flight your carry-on is included free even with Basic Economy.
The Verdict
United Airlines baggage rules are confusing. A lot of people think United charge a fee for a carry on but they don't.
It's worse than that.
If you are on a Basic Economy class ticket you can't even persuade United to let you bring a carry on by paying extra.
So Basic economy passengers need to pay attention to the restrictions on that fare class. Unless you can travel light you will end up paying for a checked bag.
And good luck that it arrives at your destination with you. One of the good things about carry-on luggage is that it always stays by your side.
Ultimately, a carry-on will cost you extra if you have a Basic Economy class ticket and will be free if you have a Standard Economy class ticket.
People Also Ask
Can I bring a carry on with united basic economy?
How large can a checked bag be?
How strict is United about carry on size?