Last Updated on April 4, 2021
If you go over size or weight limits for luggage it can end up being expensive.
So you are right to check the baggage weight limit for your international flight.
Let's see what the United policies are.
United Weight Limit For Checked Bags On International Flights
The weight limit for checked baggage on United international flights is the same allowance as for domestic flights.
That means your checked suitcase can weigh 50 lbs if you have a United Economy ticket for an international flight.
If you have United Business®, United First®, United Polaris® business class, or Premier MileagePlus status the weight limit is upgraded to 70 lbs per bag.
One major difference is that a domestic United Economy fare doesn't include a free checked suitcase. You need to pay a fee of $30 – $35 for your 1st bag when flying domestically.
However for United Economy international flights you are permitted to bring one 50 pounds checked suitcase free of charge.
The size limit for United checked bags is 62 linear inches. This means that when you sum the height, width, and depth it should be less than 62 including wheels and handles.
Basic Economy is different from Economy. If you fly on the cheapest Basic Economy international fare you don't get to bring carry-on luggage apart from one small personal item. If you want to bring checked baggage for an international flight and you have a basic economy ticket the fee will be $70.
If you have a connecting flight with the same airline often your baggage will be checked right through to your final destination.
If you have a connecting flight with a different airline you may need to collect your baggage and recheck it.
At this point you'll need to be aware of the size and weight limits for that airline and plan accordingly.
The United Weight Limits For Carry-on Bags On International Flights
United doesn't have any weight limit for carry-on baggage.
They only ask that you should be able to lift your own bag over your head so you can store it in the overhead bins.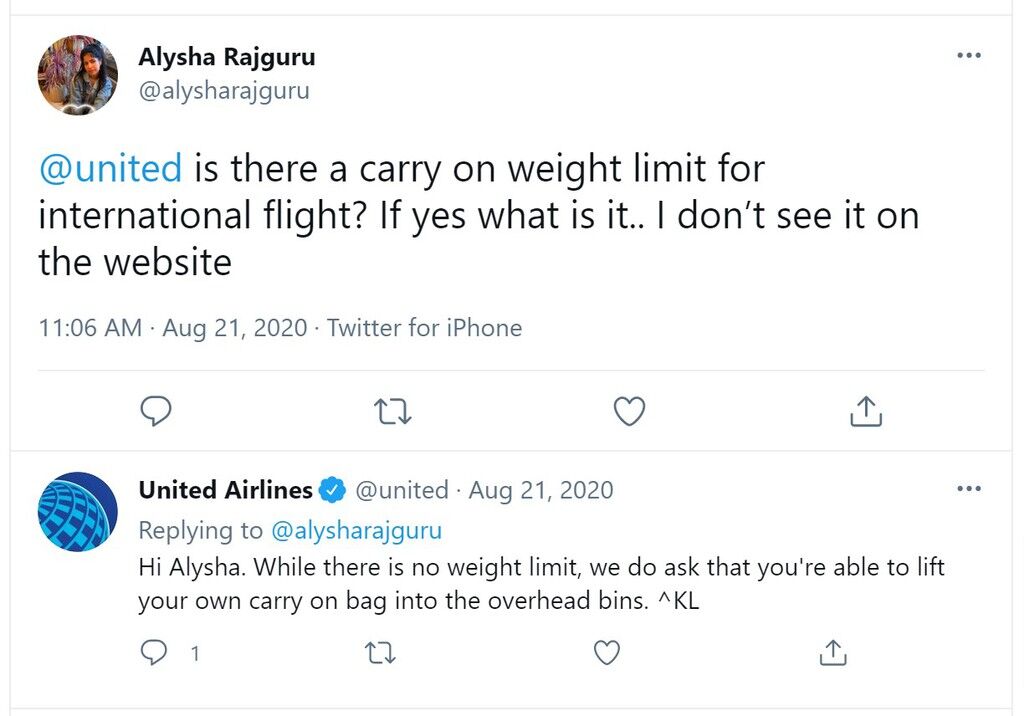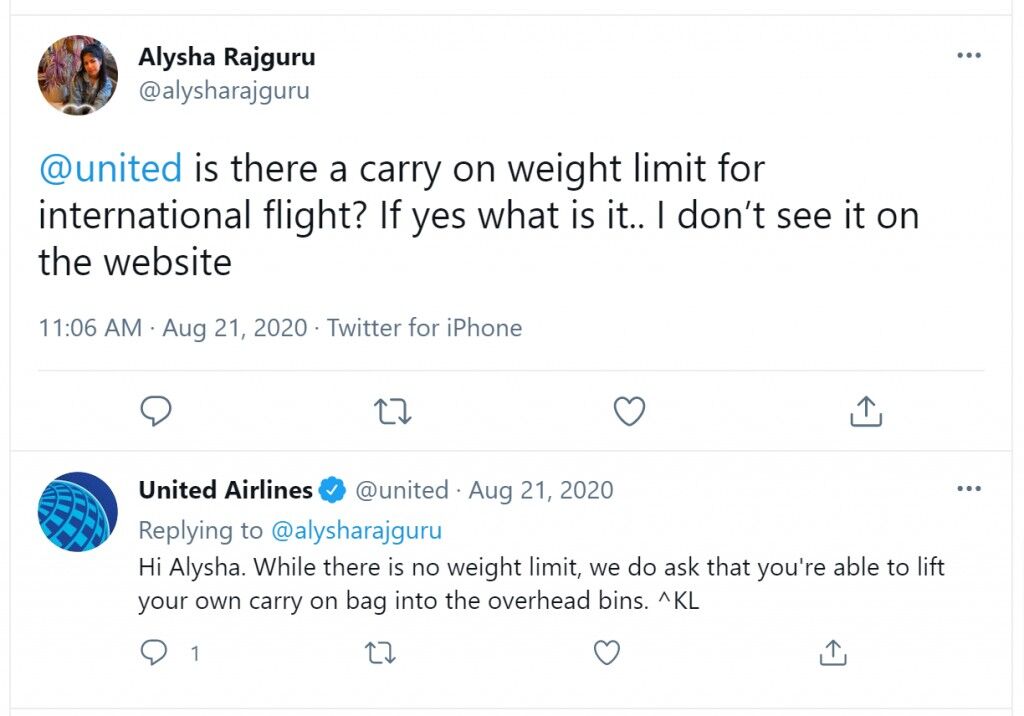 The maximum dimensions for United carry-on luggage is 22 x 14 x 9 inches.
Again. If you have a connecting flight on a different airline you need to check the carry-on size and weight limits. Check out this page about international carry-on luggage size limits.
While carry-on luggage weight limits are rare in the United States they are quite common around the rest of the world.
The Verdict
The checked baggage weight limit for United international flights is 50 lbs. This is the same limit as for domestic flights.
For carry-on baggage there is no weight limit, but be aware that if you have a connecting flight with a different airline then carry-on luggage weight limits are common outside of the United States.
People Also Ask