Last Updated on June 14, 2020
Even if you've known someone for years, you can see a different side of your buddy when you take a trip with them!
I've known relationships to be permanently damaged by holiday fights. Even close friends can get on your nerves if you are thrown into close quarters with no escape.
But more usually friends that travel together bond in a deeper way. That's true whether it's people you meet on the road or friends from back home that tag along on your journey.
When we are fortunate enough to go on an adventure together these are often the times where we form lasting memories. Trips with friends rank right up there among the special moments of life.
If you go on a journey with friends you'll form connections through shared experiences that can last a lifetime.
A travel friend is like a travel journal that talks back. Even after years have gone by you'll be able to say… "remember that time in…." and bring all the memories of your vacation flooding back.
So you get more value from vacations if you go with a friend or partner. Not only will you have more fun at the time, but you can relive the experiences, again and again, sipping wine and reminiscing.
Let's take a look at some of the most popular travel with friends quotes. A good quotation often says a lot with few words hopefully these examples will give you some quote inspiration for that Instagram post or card you are writing.
Inspirational Quotes About Traveling With Friends
These are my favorite quotes about adventurous journies with friends. These are great quotes to use to caption photos with friends to provide a meaningful message to commemorate a special moment.
"A journey is best measured in friends, rather than miles." — Tim Cahill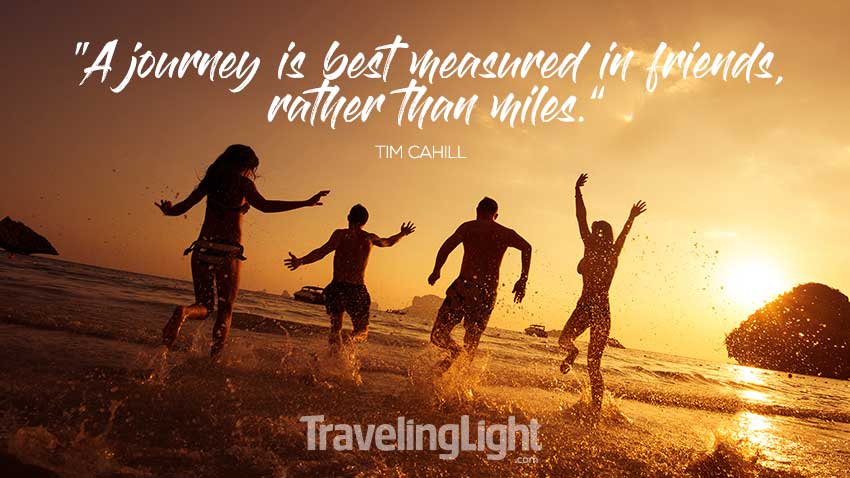 Tim Cahill is a travel writer. He's a founding editor of Outsize magazine and he coined one of the most popular quotes about traveling with friends.
Next time you remember a road trip or an adventure think about the number of friends you made rather than the distance you traveled.
Maybe it's not always practical but there is deep wisdom in this quote somewhere!
"A good friend listens to your adventures. A best friend makes them with you." — Unknown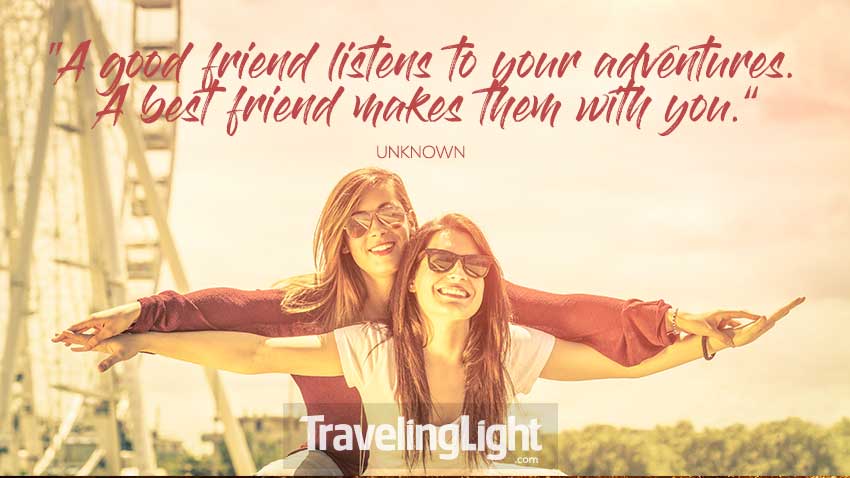 This is so true. Good friends aren't just people you tell your stories to, they live your life with you right by your side.
"I have found out that there ain't no surer way to find out whether you like people or hate them than to travel with them." –Mark Twain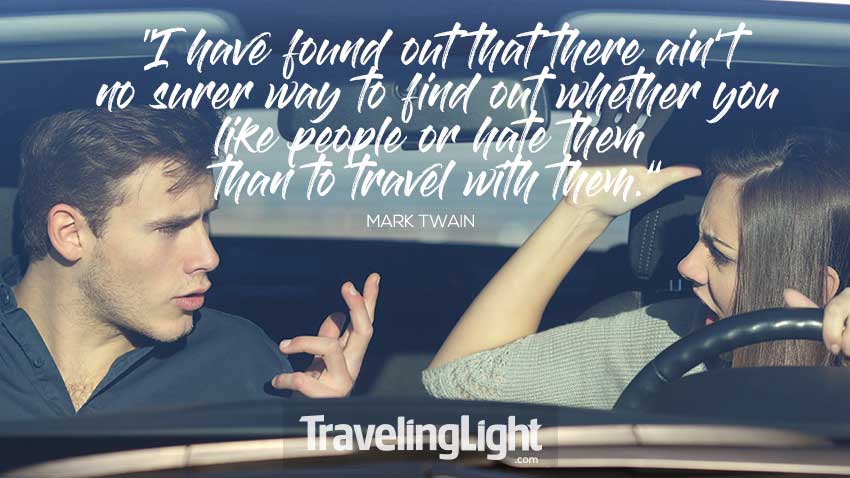 As usual, Mark Twain has it spot on. Travel is the acid test of friendships. If you are not sure where you stand with someone you'll know for sure after you've taken a vacation with them.
"Never go on trips with anyone you do not love." – Ernest Hemingway
Ernest Hemmingway thought you should always travel with someone you know you love.
Perhaps this is too negative. Love, whether platonic or romantic, can bloom when traveling through shared experiences and adventures.
"You can pack for every occasion, but a good friend will always be the best thing you could bring" — Unknown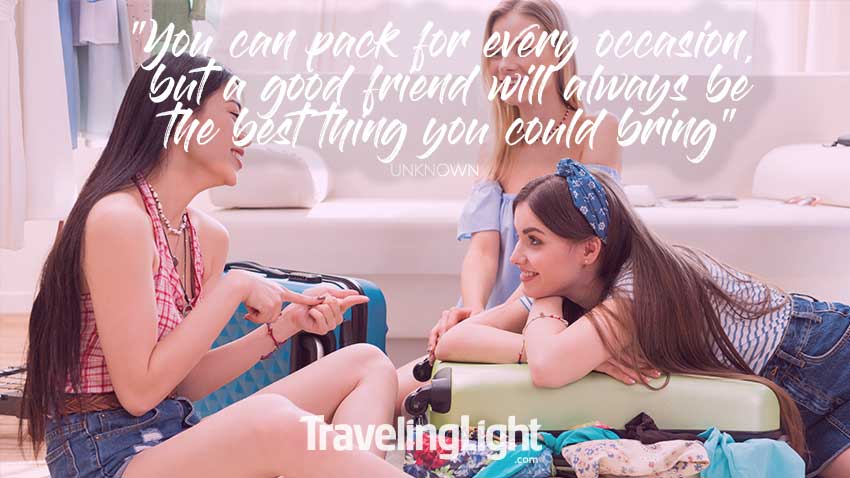 Solo travel is becoming more and more popular and rightly so. More and more people are drunk and intoxicated on the delights of exploring this wonderful planet.
But travel often comes with a cost, the hangover of loneliness, many travelers bury these feelings and plow on with more travel, more countries, more experiences, hair-of-the-dog style.
Friends that you meet on the road can be fun, but often the relationships formed are fleeting and once you realize this there can be a sense of emptiness even when not alone.
The antidote to all this misery is to make sure you travel with a really good friend. Someone whom you know you'll keep in touch with and be able to share stories with years down the line.
"We are all travellers in the wilderness of this world, and the best we can find in our travels is an honest friend." — Robert Louis Stevenson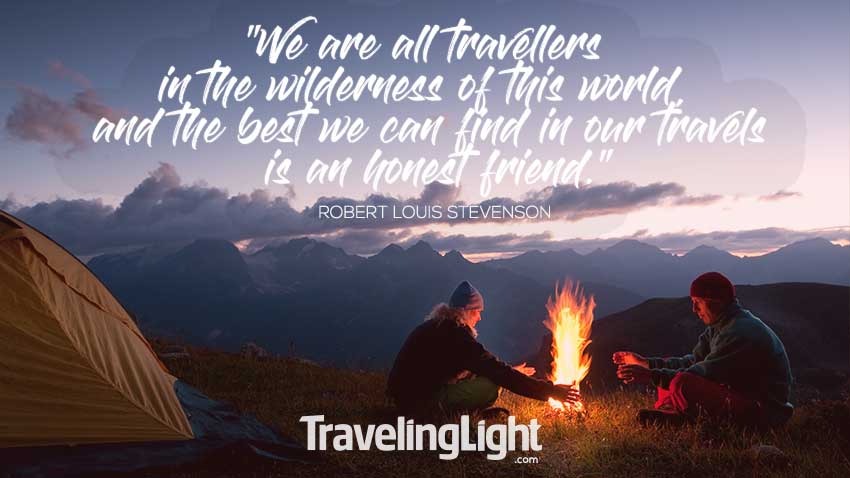 If you can't take a great friend traveling with you, the next best thing is to find a great friend somewhere out there on the road.
We often travel to see the sights, to observe the culture and to drink the local food and wine. In short, we travel for experiences. But perhaps the greatest experience you'll have on your travels is the formation of a new friendship!
"One of the great things about travel is that you find out how many good, kind people there are." — Edith Wharton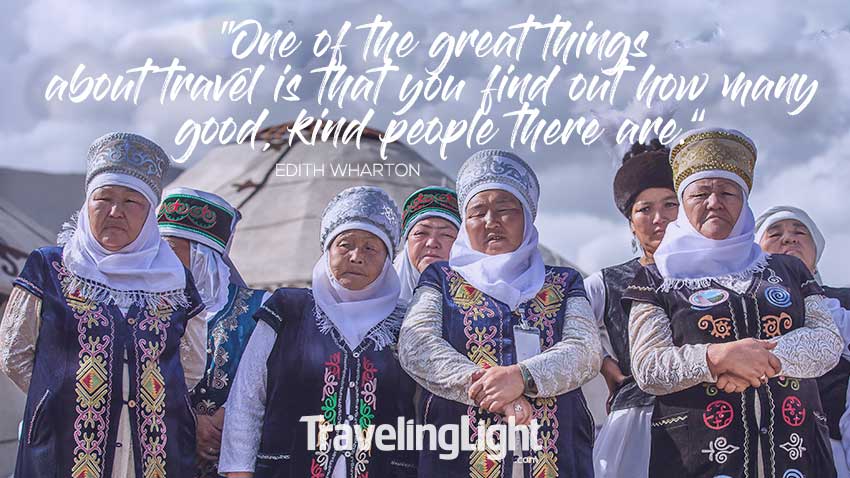 It's natural for us humans to be a little afraid of strangers, and the further away people are from us both in distance and culturally this fear can increase.
But once we get out there out of our comfort zone and travel among strangers we see that they are not really so different from us. And if we are lucky one of those strangers might become a real friend.
"The man who goes alone can start today, but he who travels with another must wait till that other is ready." — Henry David Thoreau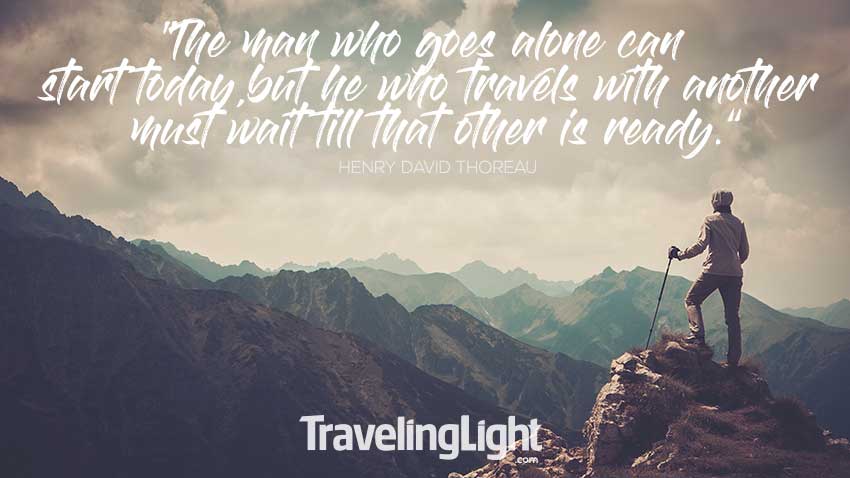 I suppose this is a valid downside of traveling with friends. You do lose the independence that you get from traveling alone.
But cmon, isn't it better to have someone with you to share the view at the top of the mountain?
"As with any journey, who you travel with can be more important than your destination" — Gossip Girl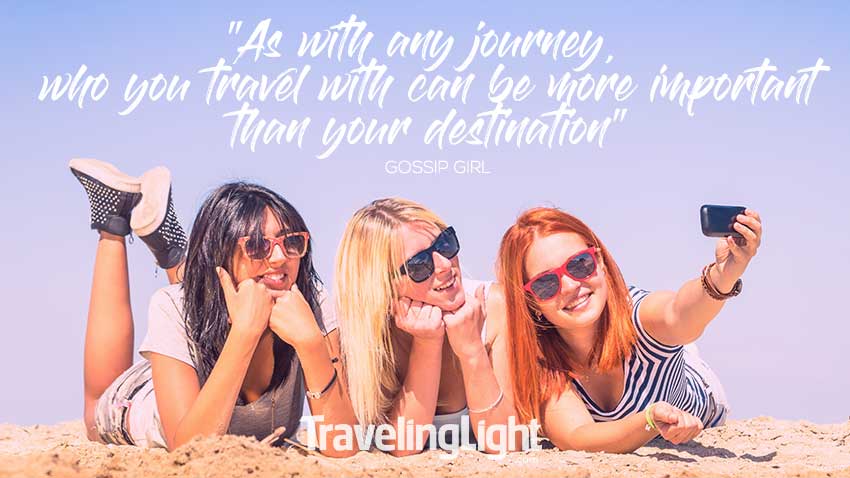 We are social animals, and travel itself isn't inherently very social. But if you combine travel with friendship then you have a great recipe for positive experiences that enrich our lives.
"Life was meant for good friends and great adventures" — Unknown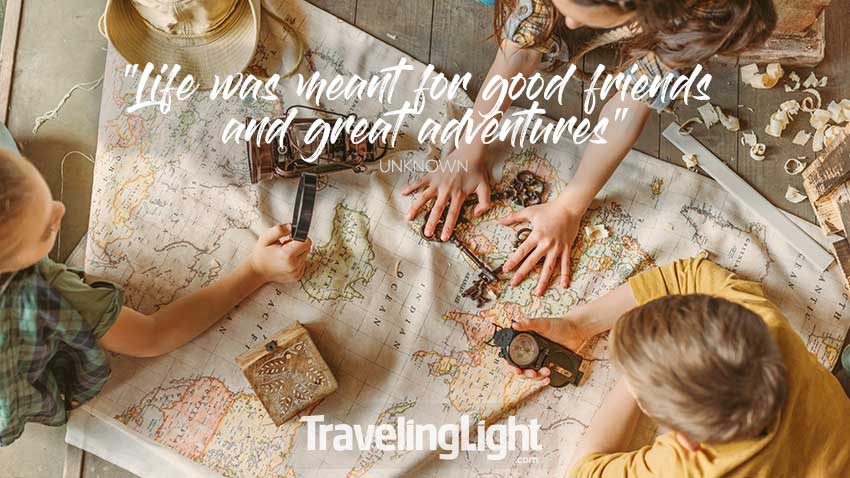 What is the meaning of life? What's it all about? It's a hard question but I'd think to go on adventures with friends is an essential part of any life well lived.
"Friends that travel together, stay together."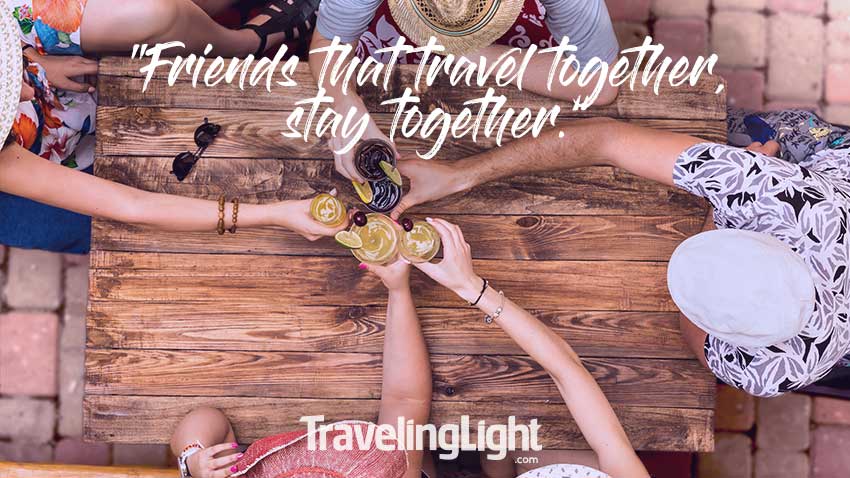 I'm not sure how true this quote is. I've seen people fall out of friends because of spending too much time together. Often on vacation expectations are high and arguments can start. But then maybe the friendships that don't survive a vacation were never true friendships in the first place.
"If you want to go fast go alone. If you want to go far go together." — African Proverb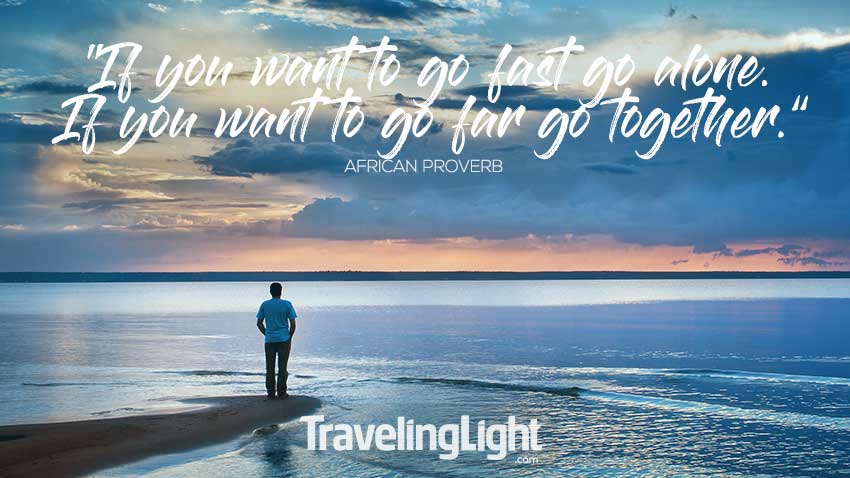 It's true, baggage slows you down and traveling companions are a form of baggage.
But while we strongly advocate traveling light we don't advise traveling with no baggage at all.
It's about figuring out what is valuable and what can be left behind without any serious consequences. Traveling without friends has significant consequences and in most cases, friends are worth packing for your trip! Figuratively!
"Good company in a journey makes the way seem shorter." — Izaak Walton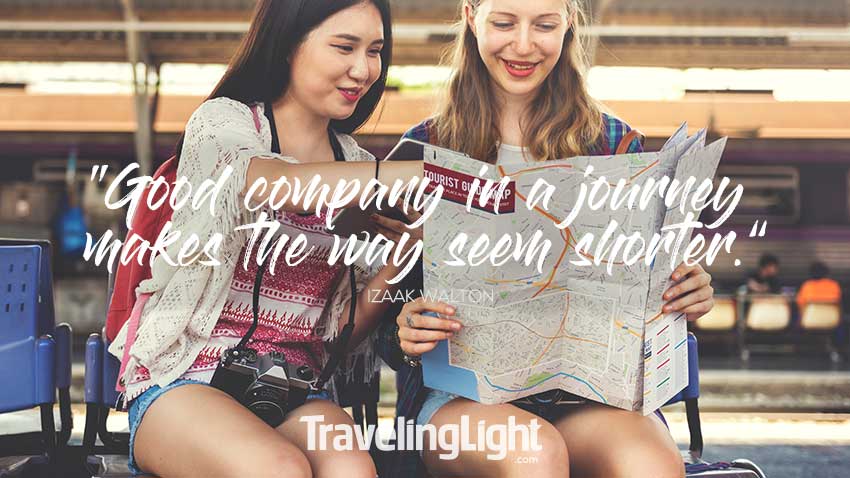 Good company improves everything.
Long boring journeys are shrunk if you traveling with a friend who you can talk with.
You board, the train or plane, start chatting and before you know it… you've arrived!
"Perhaps travel cannot prevent bigotry, but by demonstrating that all people cry, laugh, eat, worry, and die, it can introduce the idea that if we try and understand each other, we may even become friends." – Maya Angelou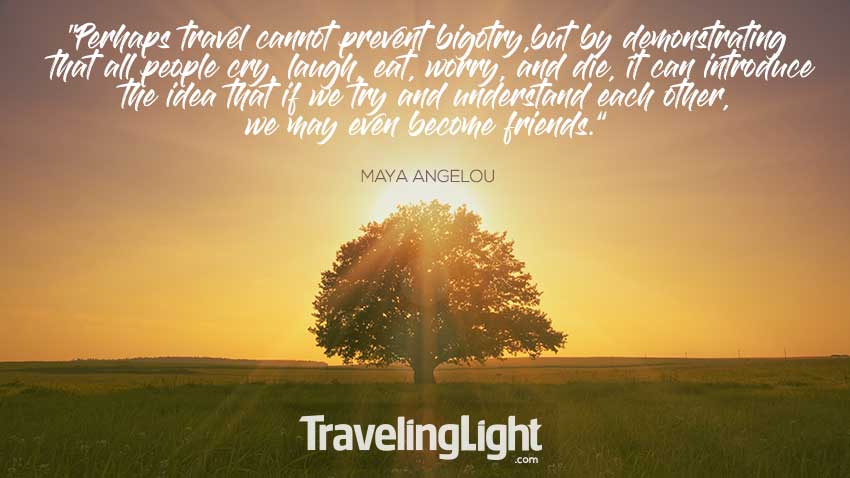 Compare this quote by Maya Angelou with the one by Edith Wharton. They have a similar sentiment. In simple language, traveling is a great way to make friends. By seeing directly how other people live we become less wary of them and feel more warmth towards them.
Sometimes all you need is a great friend and thirst for adventure."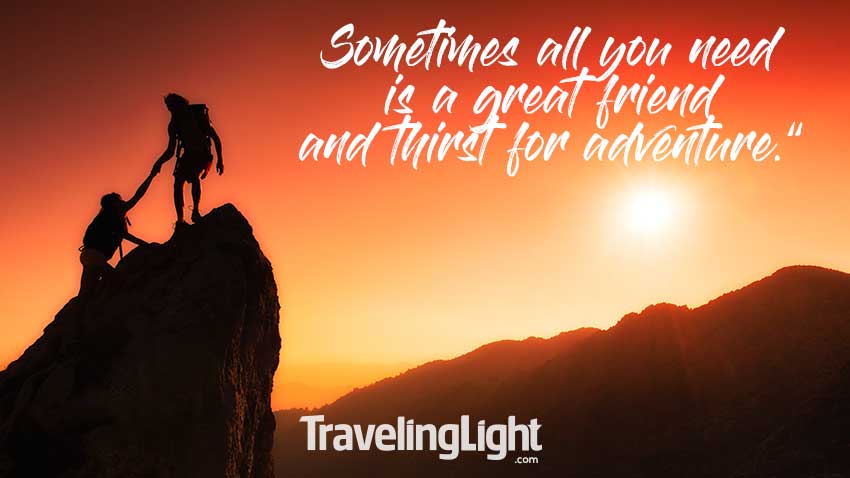 Yep, friends + adventure is a great recipe for a flourishing life.
"Everyone needs this friend that calls and says, "Get dressed, we're going on an adventure."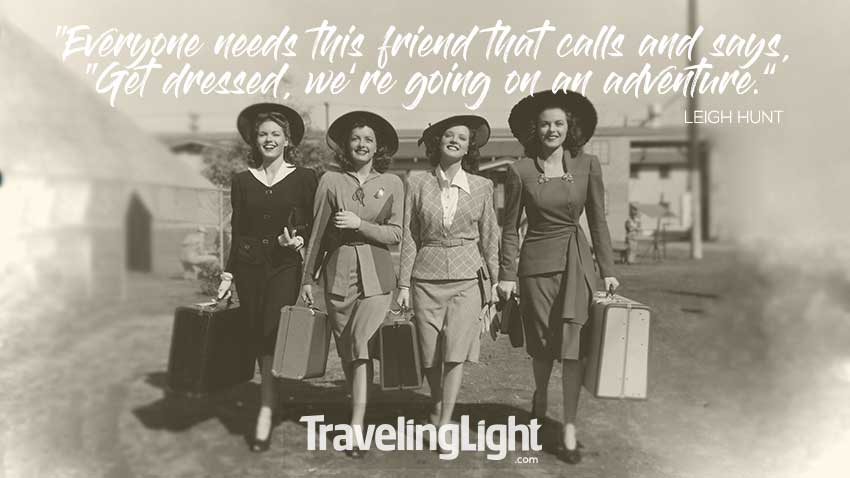 This quote conjures up images of a hastily organized road trip. You know… the best kind!
"The more I traveled, the more I realized fear makes strangers of people who should be friends." — Shirley MacLaine
Shirley MacLaine is singing from the same hymnsheet as Edith Wharton and Maya Angelou. Travel breaks down barriers between people.
"As soon as I saw you, I knew a grand adventure was about to happen." – Winnie The Pooh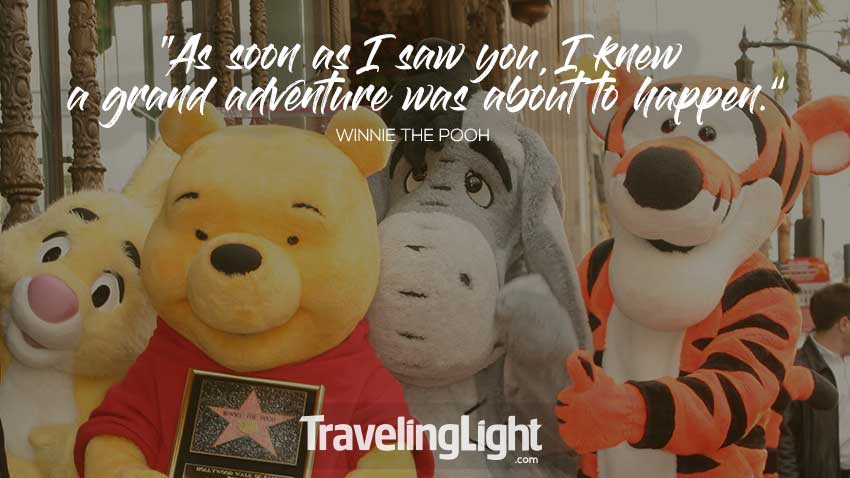 Winnie The Pooh was full of innocent wisdom. Don't wait for the vacation to begin before the adventure starts. Good friends have this attitude, we make our own adventure right, right now, as we travel through life together!
"Traveling in the company of those we love is home in motion." — Leigh Hunt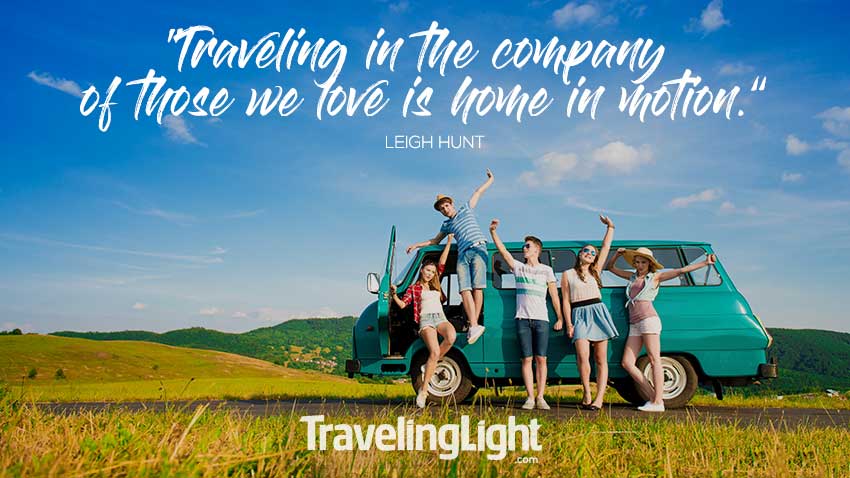 If you take a friend with you when you travel you take a piece of home with you. Like they say "home is where the heart is", so if you travel with a friend that you love you'll feel like you've got your home with you.
"Don't walk in front of me; I may not follow. Don't walk behind me; I may not lead. Just walk beside me and be my friend." – Albert Camus
True friendship is based on equality and mutual respect. When we travel with friends we must remember that nobody is the leader or the follower, we travel together side by side.
"It's a beautiful day in this neighborhood, A beautiful day for a neighbor, Would you be mine? Could you be mine?" — Fred Rogers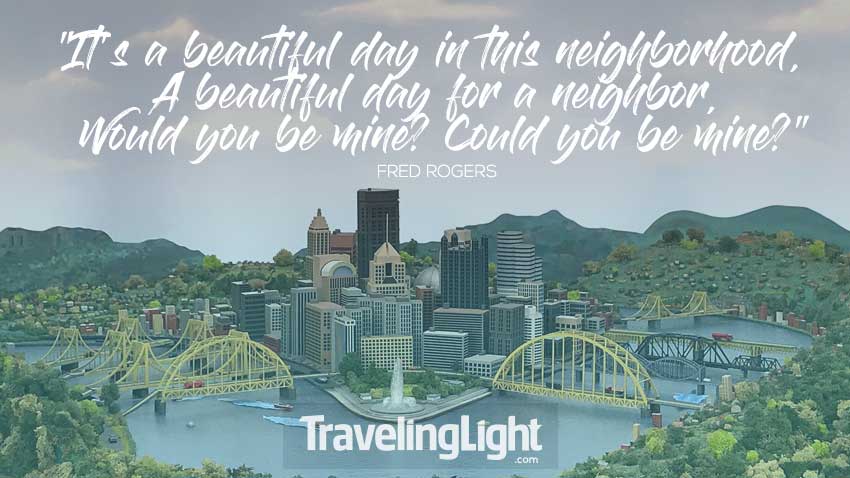 Aviation and affordable travel has shrunk the world.
If we are now living in a global village isn't everyone your neighbor?
Wherever you are traveling in the world try to see the people you meet as neighbors and potential friends. Your life will be richer for it!
The Verdict
I hope you'll agree these are some of the best travel quotes about friends. Share them with your travel buddies the next time you are persuading them to take a trip with you! They are also great for Instagram captions or other social media photos.
People say that travel makes you richer, but it's connections you make with other people in life that make you truly prosperous.
You can't beat a trip with friends to help your relationships grow and flourish.
If You Liked This