Last Updated on December 1, 2020
As you probably know, Spirit allow you to take a personal item sized bag for free.
I want to make sure you realize, the personal item bag is not as small as you think…
The following images compare a Spirit personal item and a regular carry on. They are drawn to scale: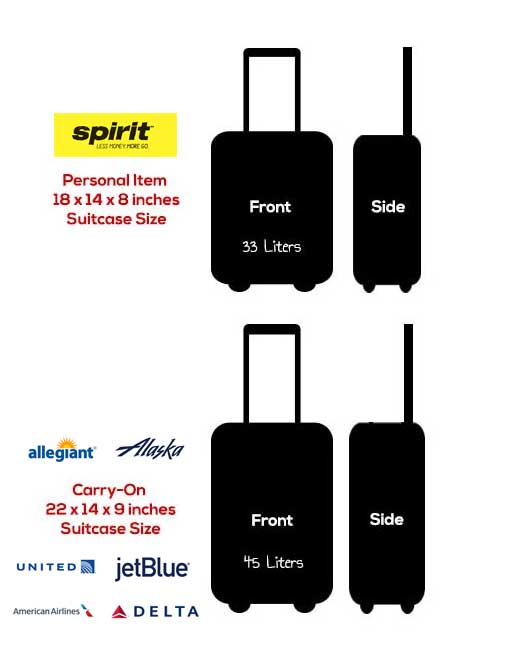 The free Spirit personal item is 33 liters. That's more than two-thirds of the capacity of a regular carry-on which is 45 liters.
So if you could cut your luggage down by a third you would be able to avoid the Spirit carry-on fee. It's worth thinking about.
And yes I know the Spirit carry-on size is 22 x 18 x 10 inches, but I'm comparing it to the regular bag that already own and use for other US airlines.
But for many people, the free Spirit Airlines baggage allowance is still too small. That extra third capacity is important to them.
The Spirit flight prices are great but how much does Spirit charge for a carry on bag?
Maybe the flight is still good value when you add on the carry on price…
Spirit's Carry On Price Explained
Well it's very difficult to say what the price of a Spirit carry-on is.
There is no single figure I can give you. There are different price categories for bringing a carry-on with Spirit depending on where and when you pay for it, the route you are flying, and how far in advance you are booking.
It's best to show the Spirit carry on charge on a chart:
| Time/Place Of Booking | Price |
| --- | --- |
| Bought During The Original Spirit.com Booking | $35 – $41 |
| Bought Before Or During Online Check-In | $45 – $51 |
| Bought At The Airport Check-In Desk | $52 – $70 |
| Bought At The Boarding Gate | $65 |
The price for a Spirit Airlines checked baggage is usually $4 – $5 cheaper than the carry-on price. Allison found it funny: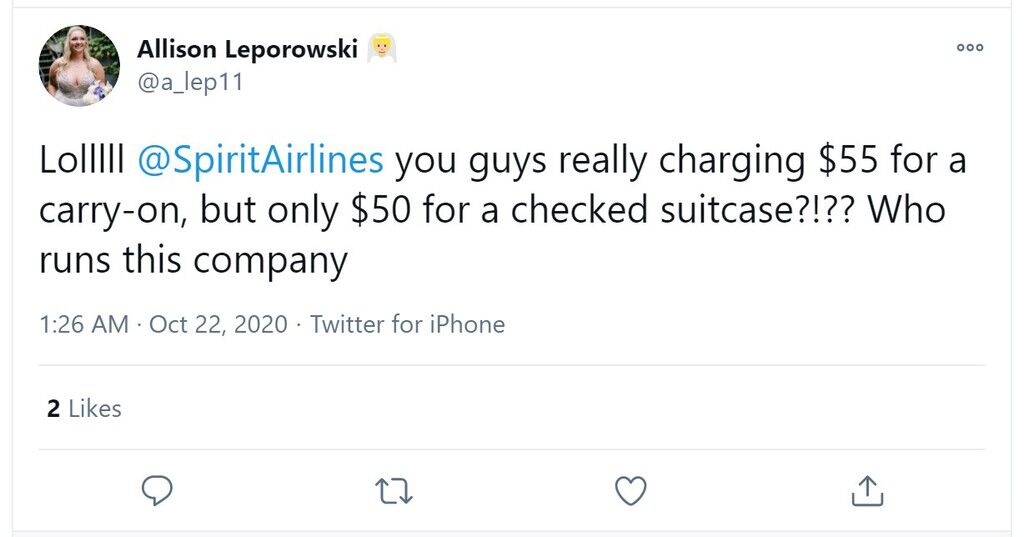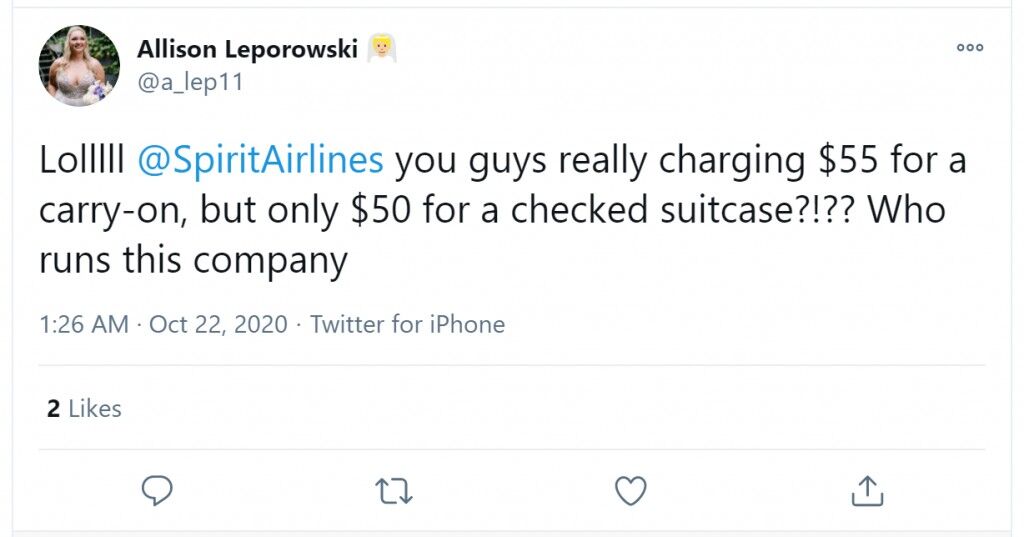 But with a checked bag you'd then need to hang around to collect at the baggage claim carousel and, of course, there is an increased risk of damage, theft, or loss of checked bags.
And by the way, remember these prices are one way!
So if you are planning a return journey then double the price!
If I was to try to simply if, I'd say that Spirit charges $70 to $100 to add a carry-on for a return flight.
But there is more…
Spirit $9 Fare Club Carry-on Discounts
Members of the $9 Fare Club can usually save $9 on the cost of a Spirit carry on, but membership of the club costs $60 per year.
Time/Place Of Booking
Price
During Spirit.com Original Booking
(Cost For $9 Fare Club Members)
$26 – $32
Before Or During Online Check-In
(Cost For $9 Fare Club Members)
$36 – $42
At The Airport Check-In Desk
(No discount for club members)
$52 – $70
At The Boarding Gate
(No discount for club members)
$65
So if you plan ahead, and are a member of the Spirit $9 Fare Club, adding a carry-on will cost about $50 per return journey.
Of course, becoming a member of the club is only worth it if you intend to fly with Spirit more than once.
What Do People Say About The Spirit Carry On Charge
Spirit carry-on prices are a bit of a joke online, and sometimes it goes beyond a joke.
Nick's friends wanted to start a GoFundMe to help him pay the Spirit carry-on charge!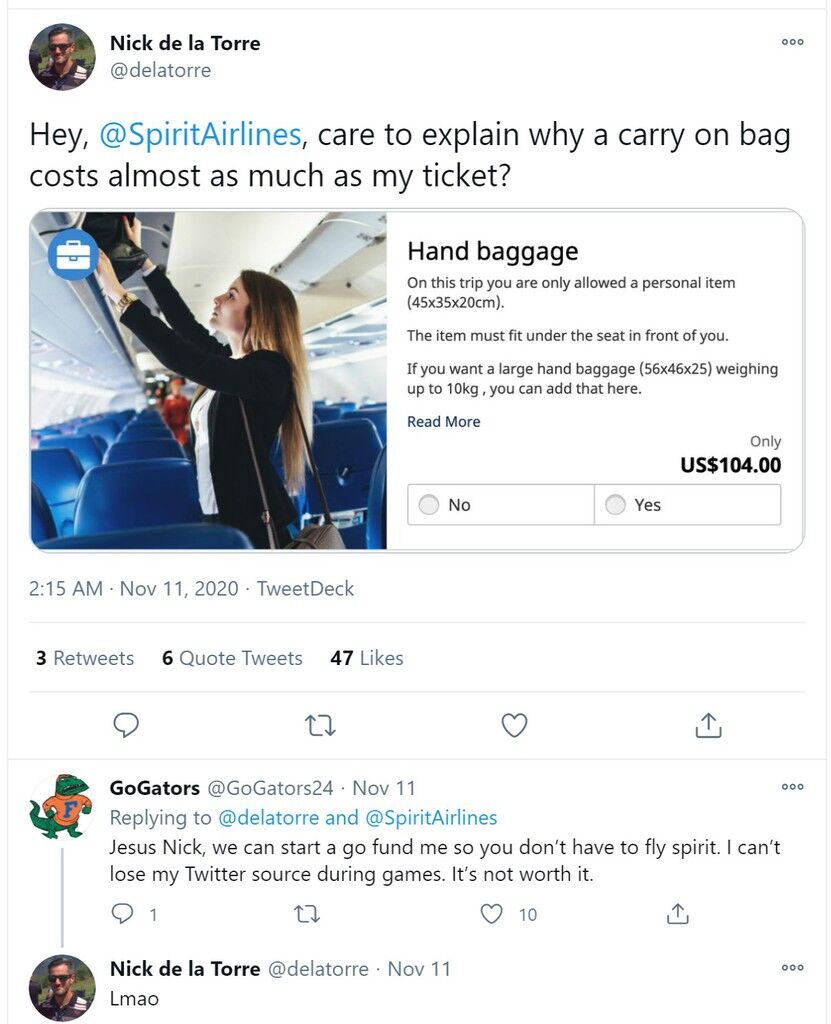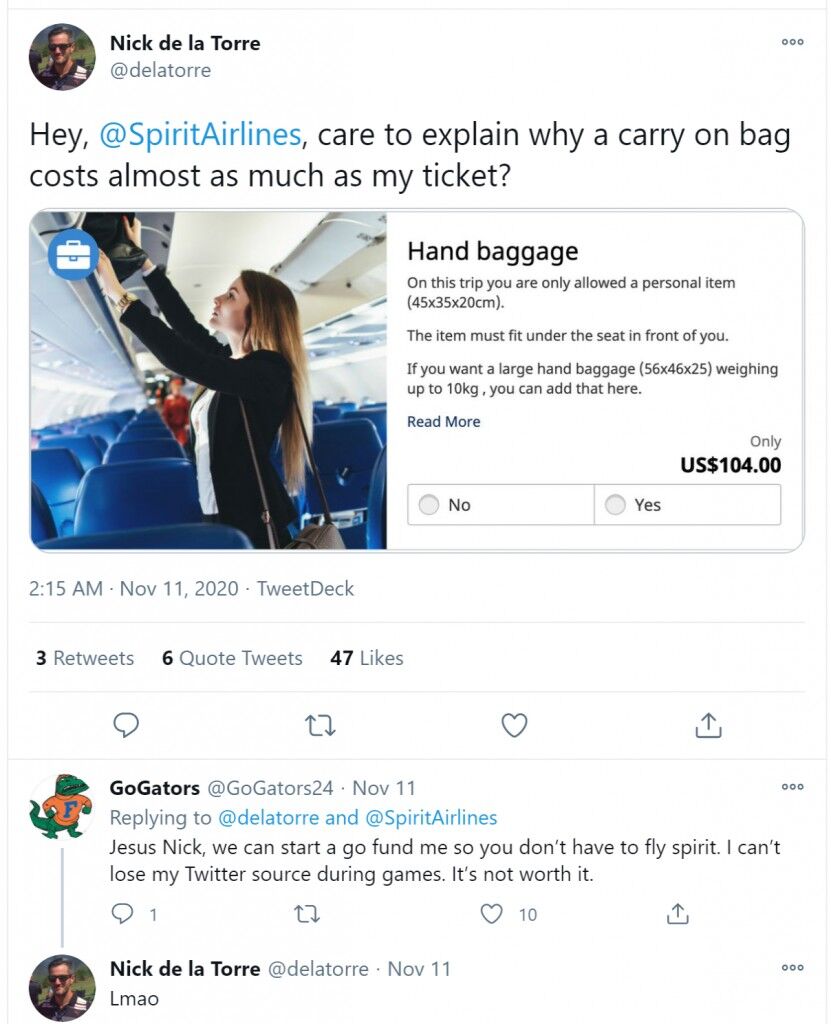 Another passenger was upset because he got hit at the boarding gate with a $65 fee for bringing a carry-on:
If you fly with Spirit make double sure your personal item is under 18 x 14 x 8 inches. If it's deemed to be over that limit the boarding gate price for a carry-on is not cheap.
Stanley also got stung with an unexpected expense for a carry-on:
Sometimes bringing a carry-on on Spirit costs more than the price of the flight: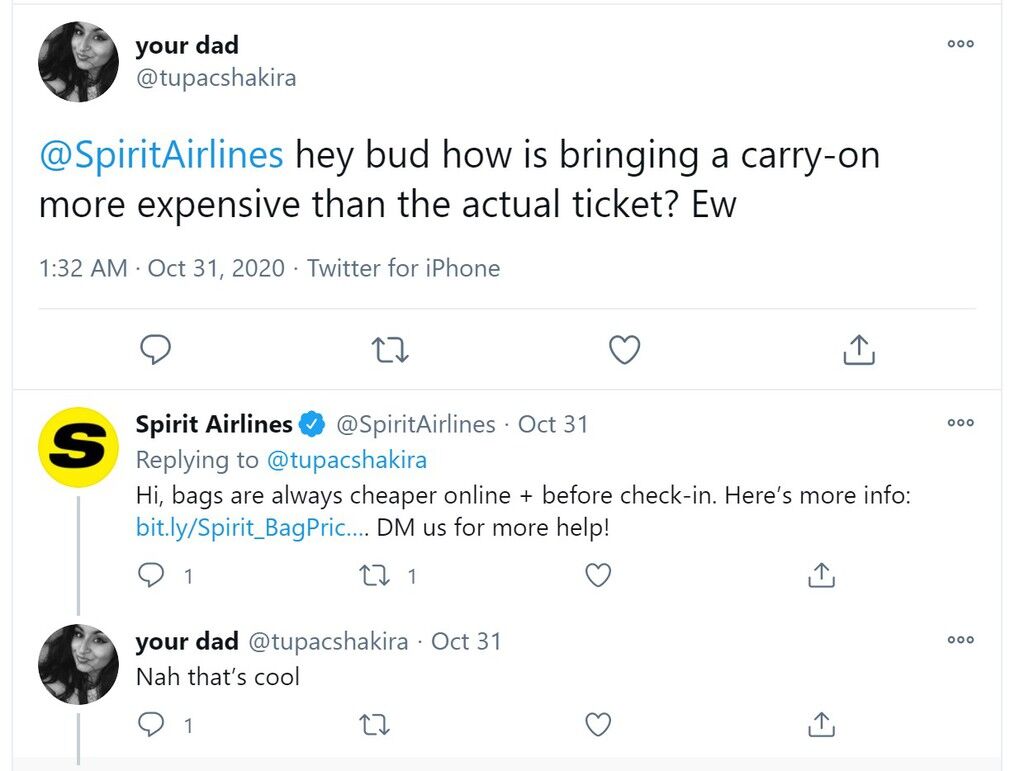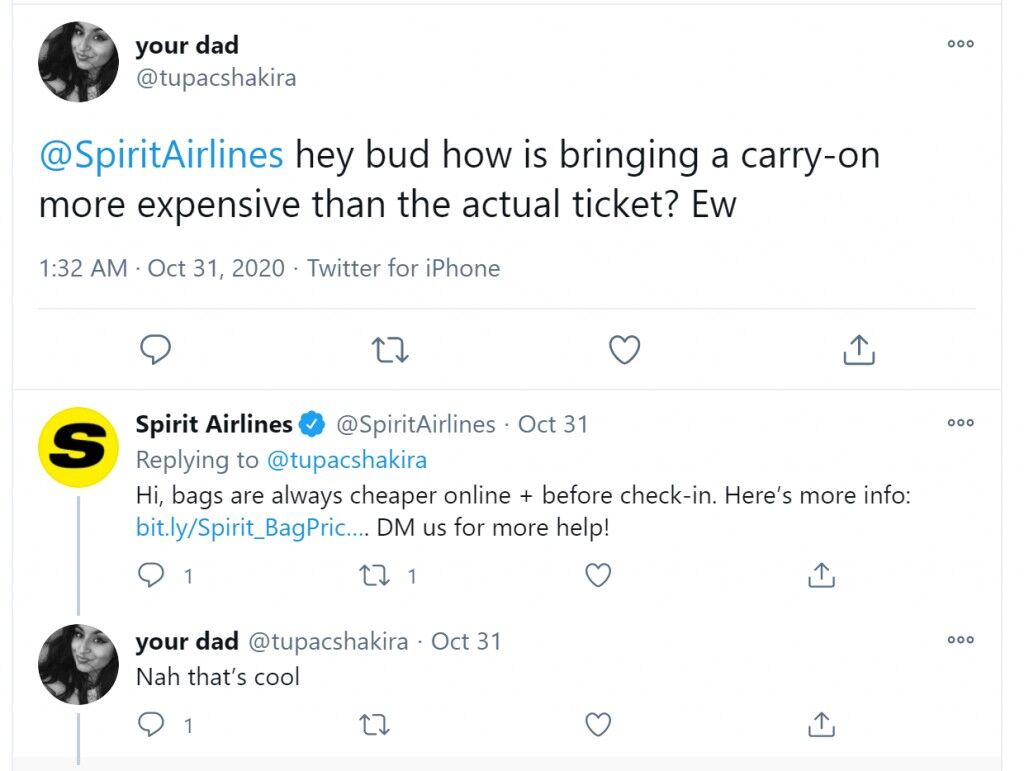 Often things get heated: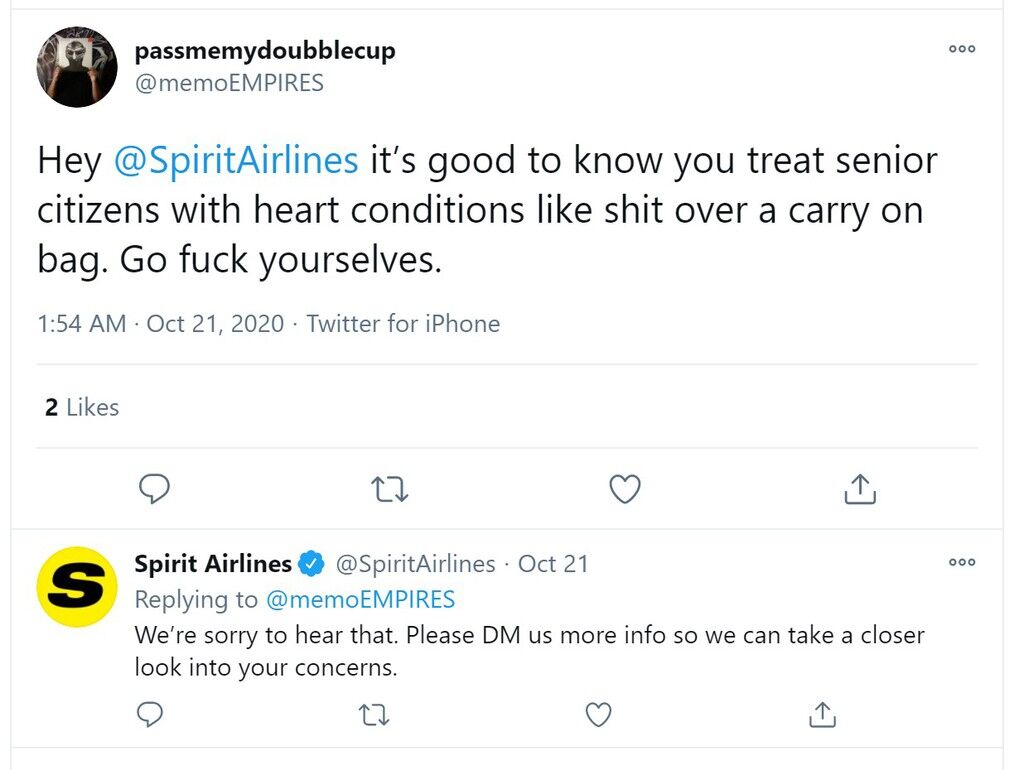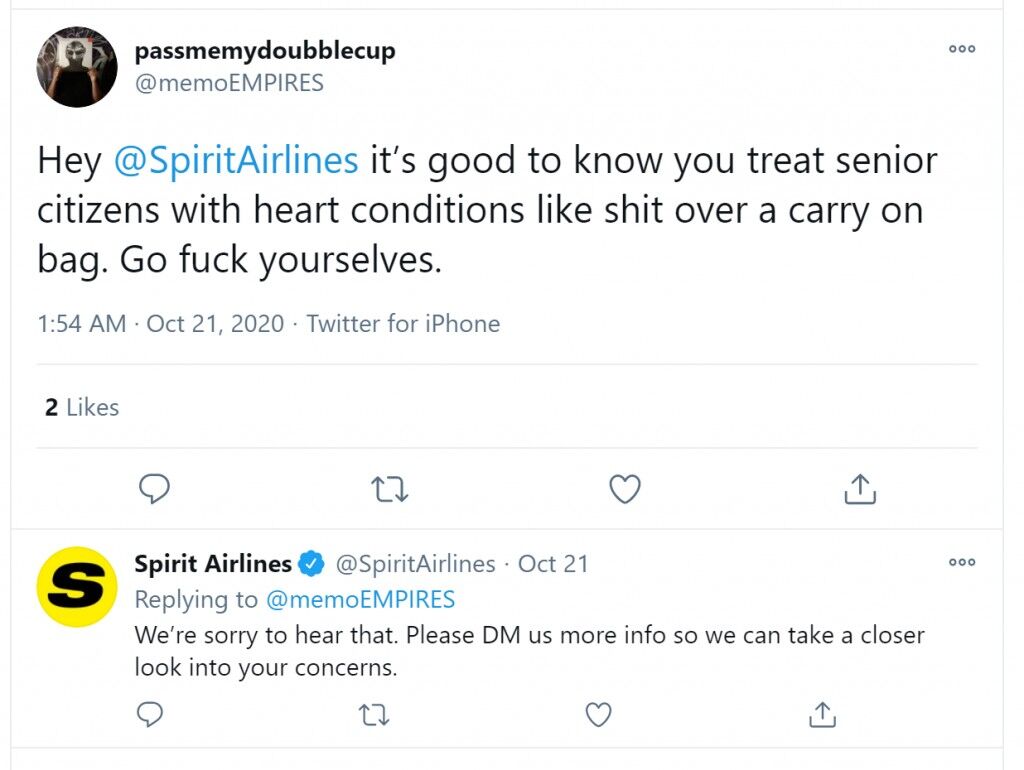 And Spirit customer service prefer to take these discussions to private. I wonder why…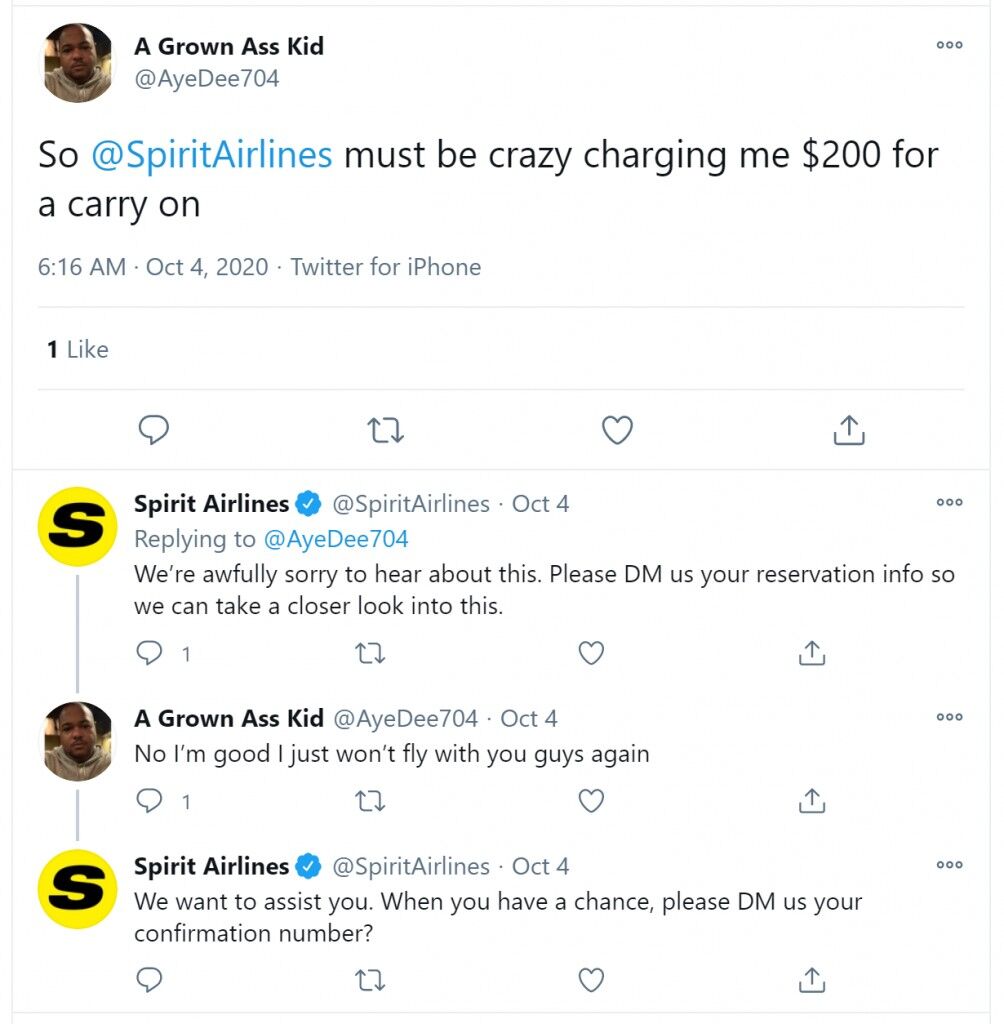 Mark didn't realize that he could use his personal item allowance. He paid for a carry-on that he didn't need because he was confused.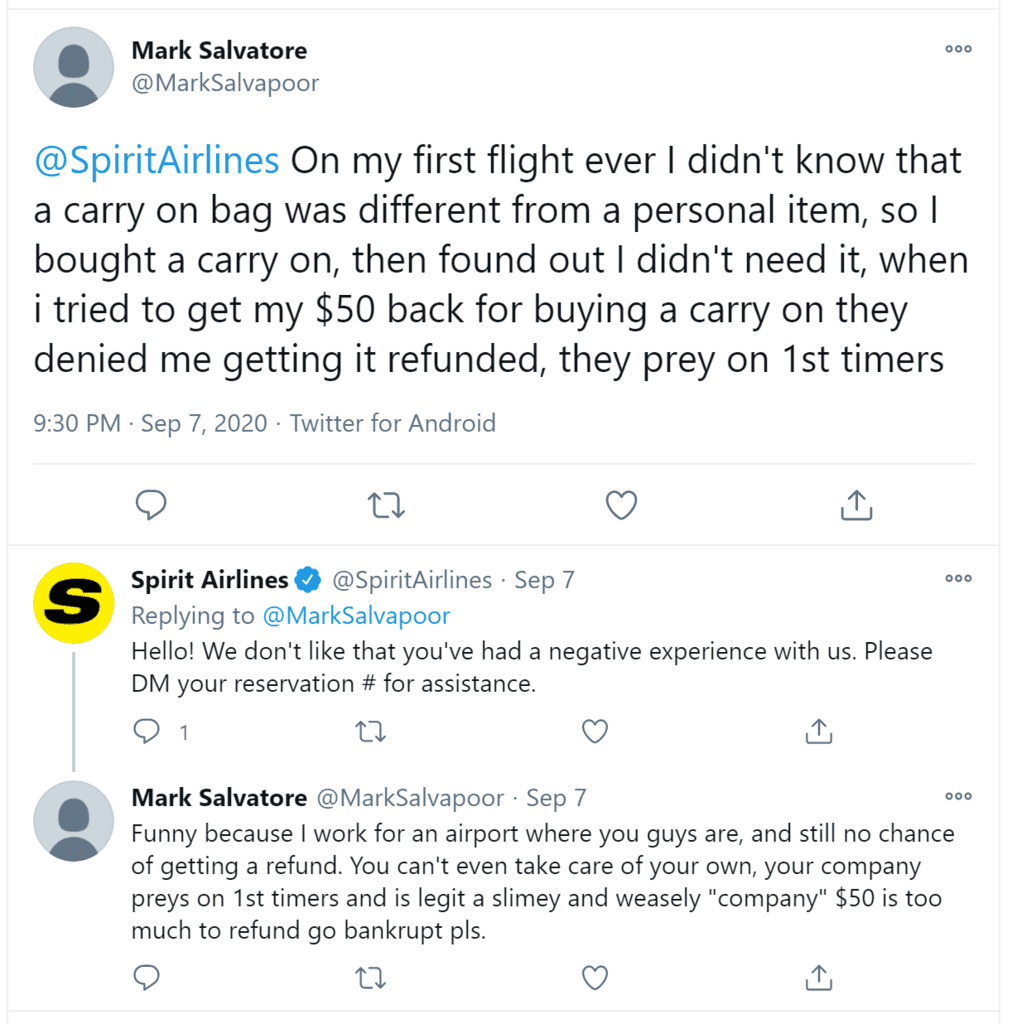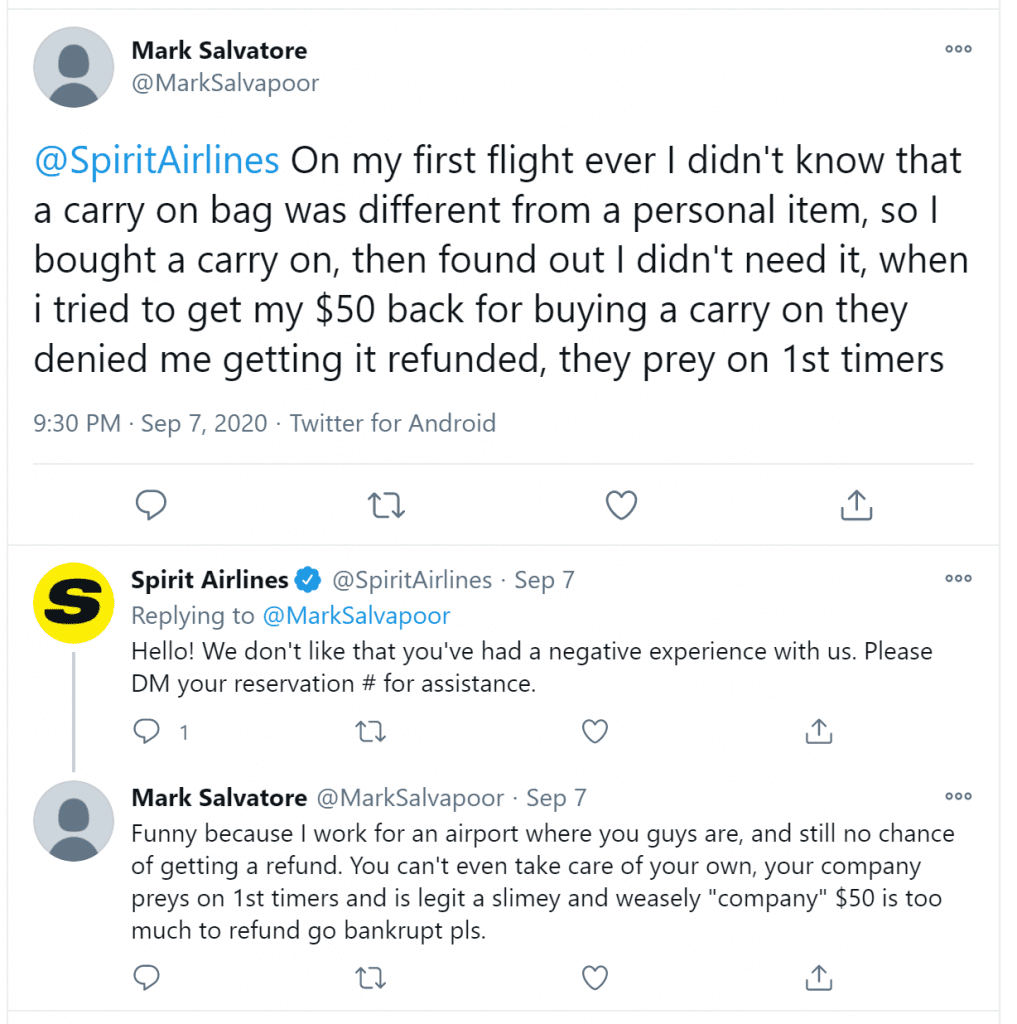 Spirit again don't like to discuss it publicly, you can bet your ass they told him in private they were keeping his money.
Nickel and diming customers always leads to tension.
Spirit's weird pricing strategy of cheap flight + ridiculous prices for everything else rarely goes down well with customers.
We might not be as smart as airline executives but we know when the carry-on price is more than the fare we're getting screwed.
The Bottom Line
How much Spirit charges for a carry on bag is a bit of an ever changing mystery.
They certainly like to keep passengers on their toes, and I don't mean because they charge for seats. Badum tish! (okay technically they charge for seat selection).
Spirit is a low cost no-frills airline. The only way to win with flying Spirit is to play their silly game.
So learn how to pack light and you'll be able to fit all your things in the small under-seat bag.
Bring your own snacks and drinks. Expect to sit next to a stranger in the middle seat, who knows you might make a new friend.
It's oddly satisfying not to fall into their traps!
You Might Also Like