Last Updated on September 12, 2023
Key Takeaways
Pilots and flight attendants often fly with 2 bags to take full advantage of carry-on size limits
Luggage Works, Strong Bags, Briggs & Riley, Travel Pro, Rimowa, Level8, and Zero Halliburton, are brands that are popular with pilots and cabin crew
Pilots and flight attendants fly more often than any other group of people.
Even frequent business fliers don't usually travel anywhere near as much as pilots do!
So it makes sense that if you want to know what the most durable luggage is…
Ask a flight attendant or a pilot!
We did exactly that and this post examines the responses so that more pax (that's what pilots call passengers) like you and me can figure out the most durable luggage.
Pilots and cabin crew often travel with a 2 bag setup:
The 1st bag will be a larger carry on bag sized to fit inside the overhead bins.
The 2nd bag will be a pilots flight bag designed to be taken inside the cockpit
Often the pilots flight bag will be seen strapped onto the carry on bag. Flight bags also often have wheels themselves and if the pilot or flight attendant has checked their luggage they can be seen rolling these smaller flight bags around the airport.
When it comes to pilots luggage there seems to be 2 main approaches.
Buy a case with a really good warranty so if it breaks it can be repaired
Buy a case that is "indestructible" because of a steel frame or aluminium hard shell
In view of that let's take a look at luggage brands that are popular with pilots and flight attendants.
Luggage Works
The Luggage Work Stealth Series of rolling bags are coveted by pilots who don't have one yet and treasured by the pilots that already picked one up.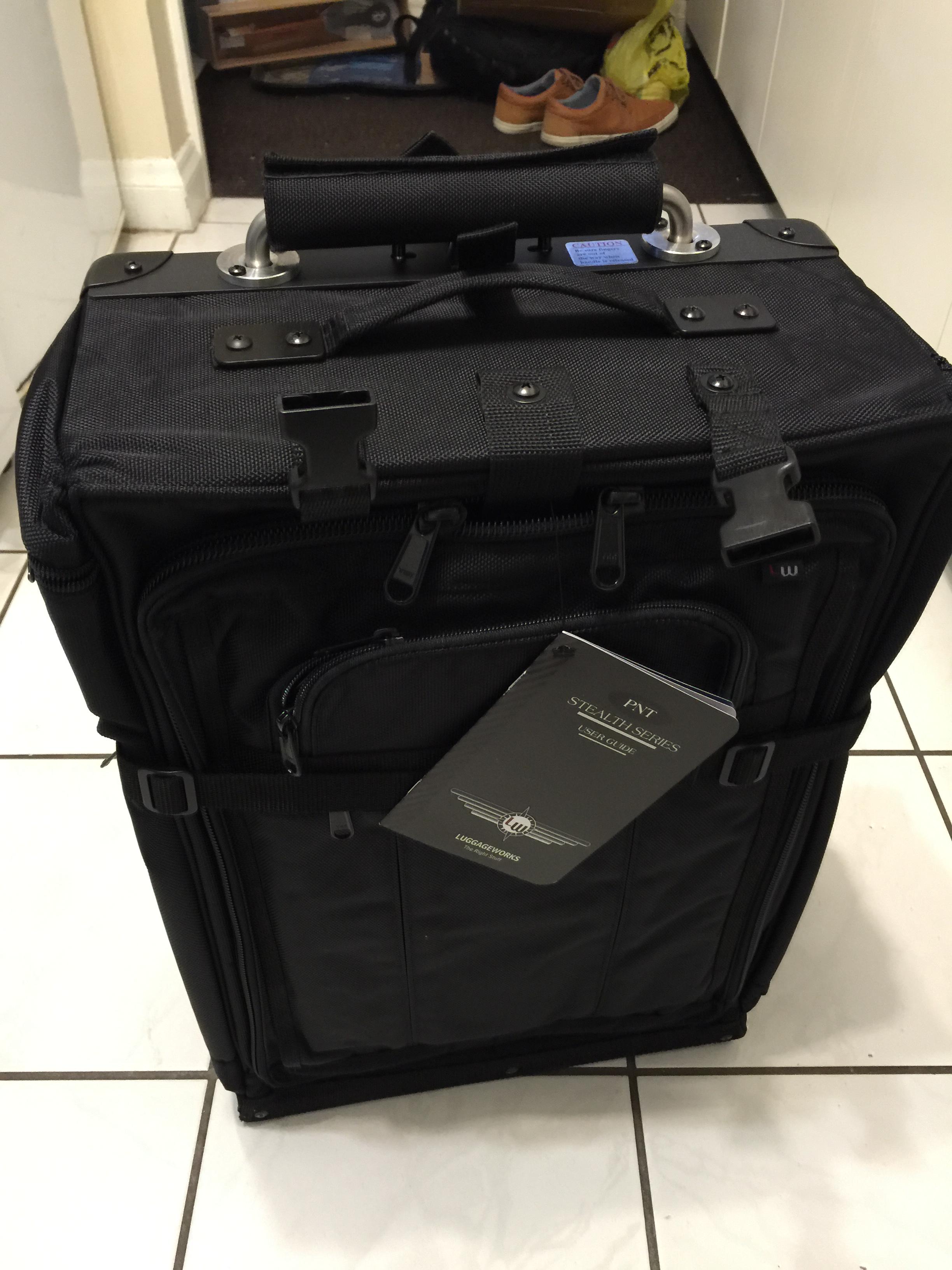 Some models have steel frames and are built to last!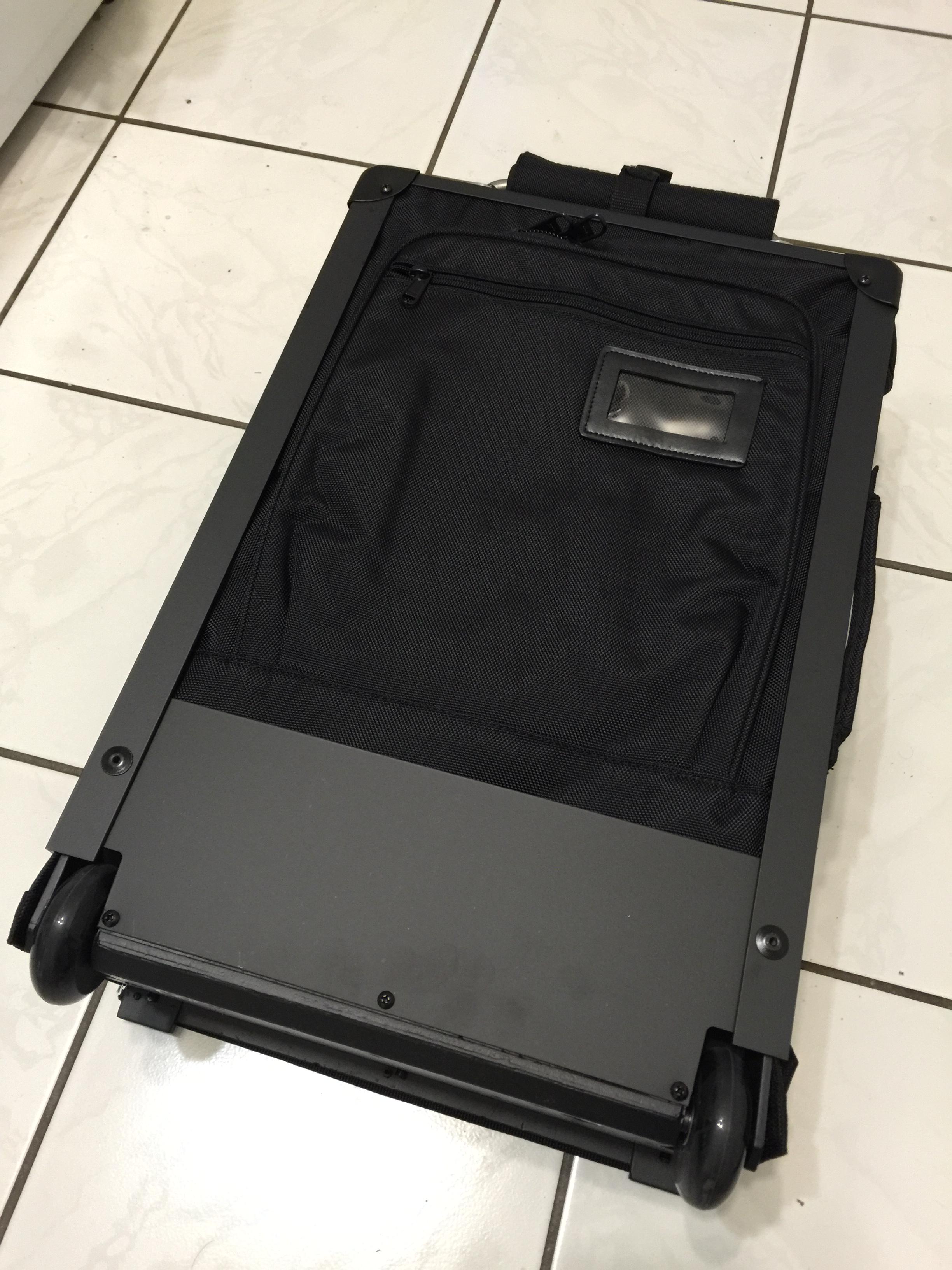 While I'm sure "indestructible" is an exaggeration they are built to withstand the rigors of daily use by professional fliers.
The warranty period is three years from the date of purchase. They are particularly loved because they are easy to repair.
The downside might be the added weight. It might be that while these bags are the best for working pilots they are not ideal for travelers.
Pilots are traveling for work and on domestic flights often end up back in their own bed at night. On layovers or turnaround flights their airline puts them up in a hotel near the airport.
This means the the life of a pilots carry on bag isn't the same as a tourists carry on bag. They are not dragging their carry around cobbled streets or taking it with them while sightseeing.
Pilots also sometimes choose a specific bag that suits the plane that they fly. For example, Luggage Works produce a bag that is specifically designed with no side pockets to fit in the pilots tight storage space on a Boeing 737.
Luggage Works are the only company that I know that have positioned themselves as "makers of suitcases for pilots and crew". It's all over their marketing and they will even customize your bag with the logo of the airline that you work for.
I bet you never knew it was so complicated!
Pro Tip – If you do check your bag Luggage Works bags are generally recognized by TSA staff as pilots luggage and are less likely to be selected for inspection.
Briggs & Riley
Briggs and Riley make fantastic high quality luggage and they are the only company that I know of that offer a lifetime guarantee.
This has led them to be very popular with pilots who gain comfort from knowing that if their carry on bag breaks Briggs & Riley will repair it.
A pilot or flight attendant really can use 1 carry on bag for their entire career.
At first glance it might seem like pilots are abusing the repair policy by using and abusing the suitcase day in day out and getting the suitcase repaired every few years.
I expect in reality Briggs & Riley will be delighted by the exposure and positive publicity they get by all those pilots using their luggage.
Even if selling a Briggs & Riley bag to a pilot is not economically sensible because of lifetime repair costs the endorsement by pilots is worth it.
The only downside for us regular Joes is that they are more expensive that other luggage brands. If flying is your career the price tag will be justified but for ordinary passengers it can be a little sore on the wallet.
Flight attendants aren't paid a fortune either and you might seem them using something like a TravelPro who also make great cases.
Strong Bags
Strongbags have emerged in recent years as the main competitor to Luggage Works in offering suitcases designed for the extra requirements of pilots, travel attendants and frequent fliers.
Some people don't like the fact that these bags are made in China.
As the name suggests these bags are made to be strong but from the reports we have heard they are not as durable as the Luggage Works bags.
Travelpro Crew
TravelPro are a great mid-range brand of luggage that make cases specially designed for flight crews.
They make the Crew range which is inspired by the bags that pilots and flight attendants use.
CostCo
Not every pilot travels with an expensive carry on.
There was a time when many pilots were using cheaper CostCo Kirkland Signature bags. You might be surprised at this but if the bag broke the pilots were simply returning the bag for a replacement.
The CostCo policy of replacing these bags without question had led to their popularity.
Unfortunately these Kirkland Signature bags are not longer available, but the take-away lesson is that even a cheaper bag can be good if the company is prepared to replace damaged bags.
Zero Halliburton
Zero Halliburton made the cases that were used to bring rocks back from the moon after the Apollo 11 landings.
Not a bad sales pitch!
These cases are made from premium aluminum that they claim is as strong as steel but without the weight.
I have seen a few pilots using these cases but they are not mainstream.
Rimowa Luggage For Pilots
Some pilots and cabin crew often go from suitcases by Rimowa.
Pilot Patrick swears by his Rimowa aluminium hard case.
Again it's another pilot going for a strong case with extra protection.
Conclusion
We can see that pilots and cabin crew tend to choose bags based on 2 criteria.
If this breaks can it get it repaired?
What can I do to stop my carry on from every breaking.
In a way that's just what regular folks like you and I do too. It's just that since they are professionals and fly so frequently it's worthwhile spending a little more.
If you fly a lot maybe you can learn from their approach but if you just take 1 or 2 trips per year any well made case from a trusted brand like Samsonite or TravelPro should last you a long time if you take care of it.