Last Updated on September 22, 2021
An essential part of any good road trip vacation is the road itself. As they say, the journey is the destination.
But by default, Google Maps tries to send you along the fastest route rather than the scenic route.
When you are on a road trip vacation speed isn't always the most important factor. There may be certain roads that you want to travel on, there are places you want to see. You might want to plan gas, food, and restroom stops. It's not always about getting to the final destination as quickly as possible.
So it usually makes sense to plan a road trip with waypoints and stops before you go.
Google provides two tools that can help with planning road trips, Google My Maps, and good old Google Maps.
I want to first give you an introduction to these 2 tools and their purpose and we will provide detailed "how-to" tutorial instructions later in this post.
Once you understand the differences you'll be able to choose the best tool to help you plan your road trip.
Creating and Saving Driving/Navigation Directions For Road Trips Using Google Maps
Google Maps is best for planning and receiving turn-by-turn navigation directions.
I'm sure by now you have used Google Maps to get directions from A to B like this: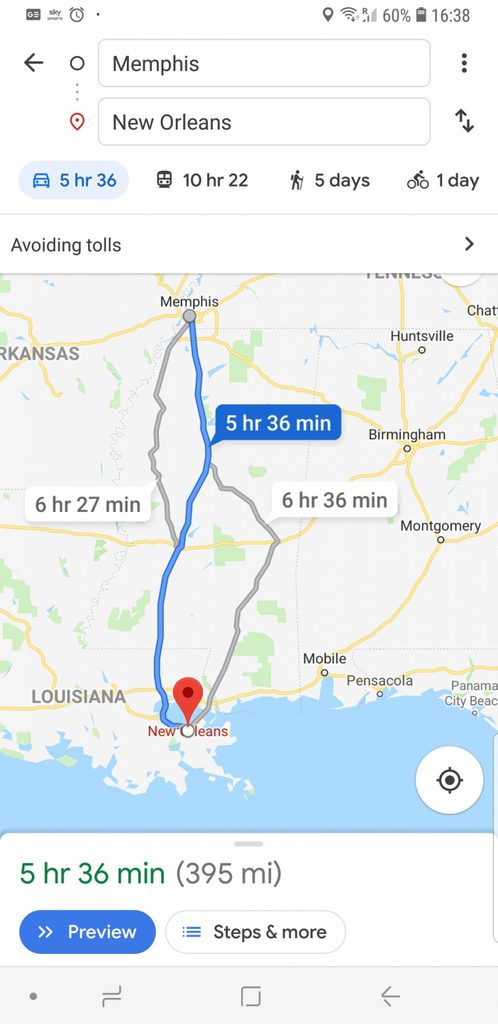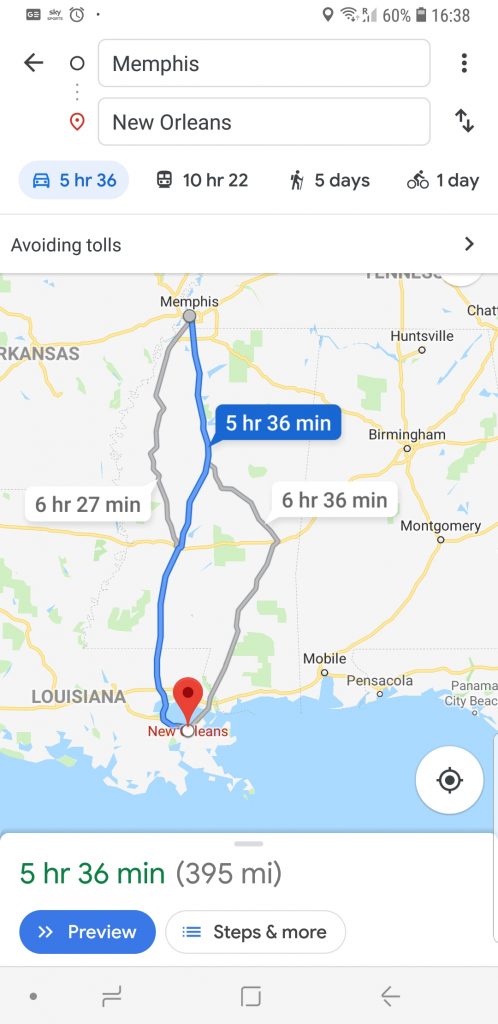 You can also create and save detailed direction instructions with up to 10 destinations.
So you can not only get directions from A to B but from A to J via 8 other stops along the road.
This can help you find the scenic route and program in additional destinations that you want to visit. You might want to plan fuel stops or food stops or even just a break to stretch your legs.
Here is how to do it:
How To Plan A Future Road Trip Route With Multiple Stops On Google Maps
Create regular A-B directions.
Then tap the Menu icon in the top-right and choose "Add Stop".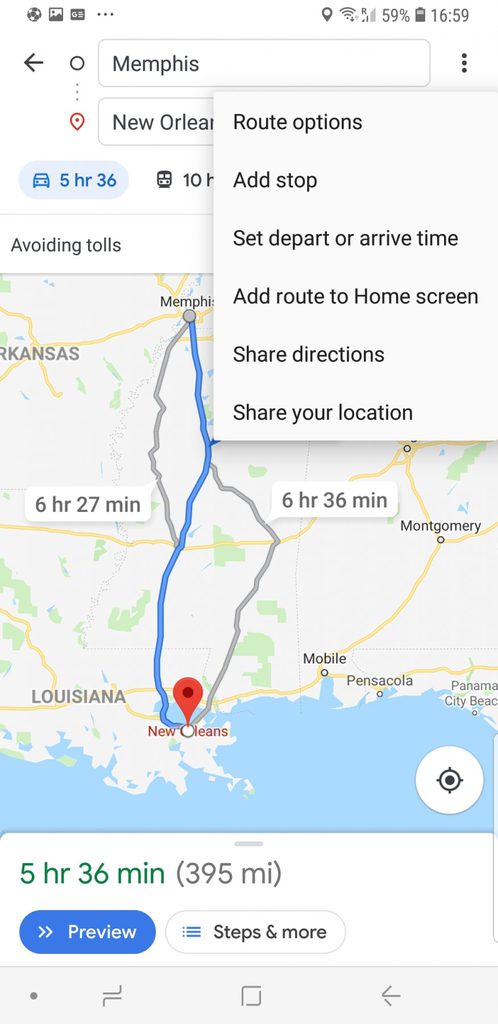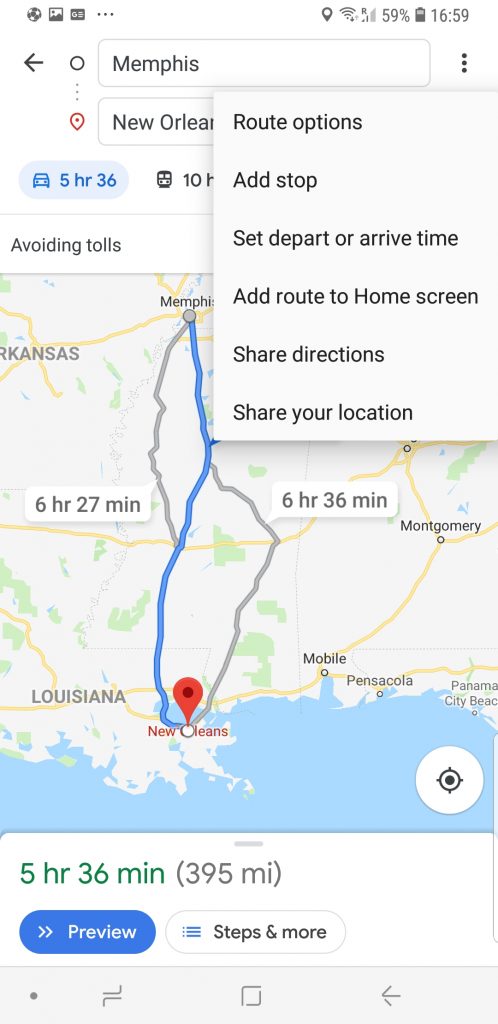 You can add up to 10 destinations that you want to stop at. You can change the order of the stops by tapping and dragging on the horizontal bars.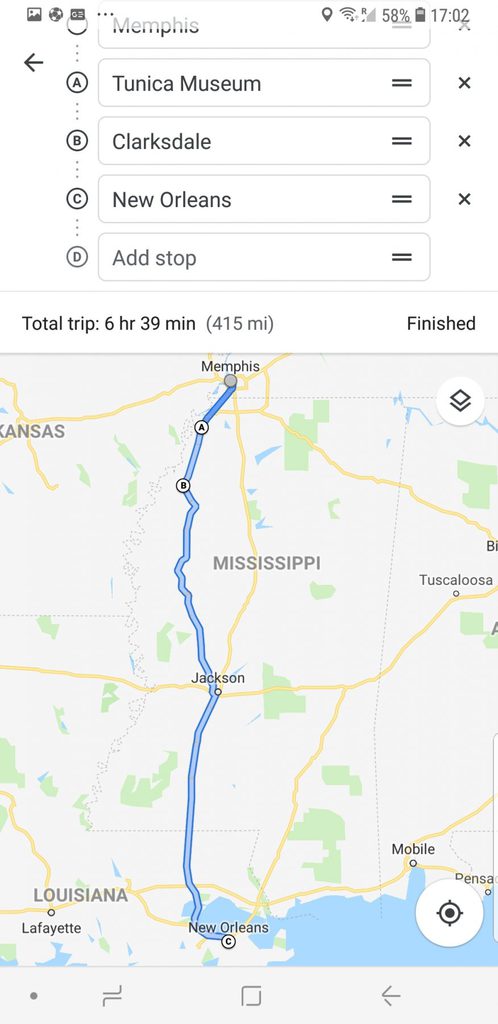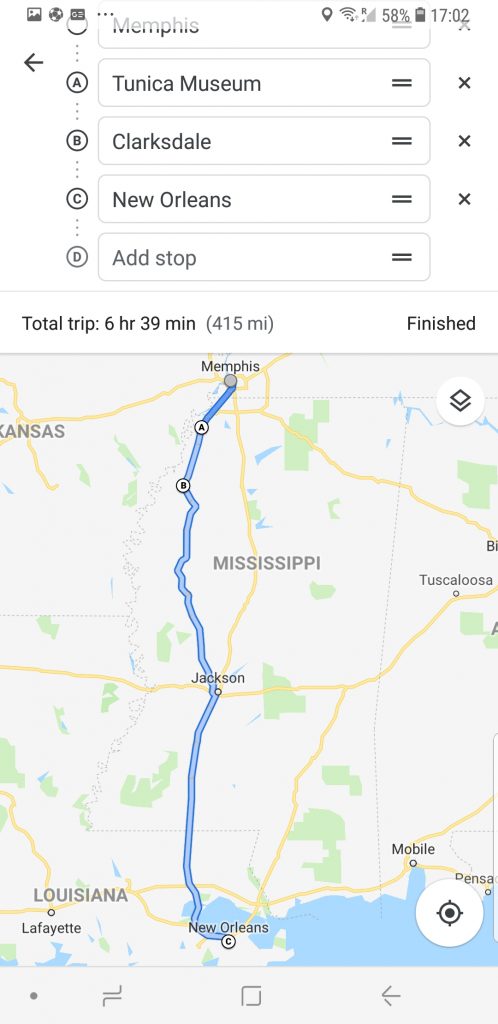 Once you've added your stops you can save these navigation instructions to use later.
Save a link to them on your phone home screen using the 'Add Route to Home Screen' option. This will create an icon on your phone that you press to open these directions up again at a later point in time.
Sending a Road Trip Plan With Google Maps
You can share the final directions using Whatsapp or Facebook to send a link to someone or you can even email them to yourself.
Simply tap the menu on the Google Maps App and then tap 'Share Directions'. You can then send the directions via email or all your favorite social media and messaging apps.
You can also create driving instructions using a desktop or laptop computer at https://www.google.com/maps/ and then send them to your phone.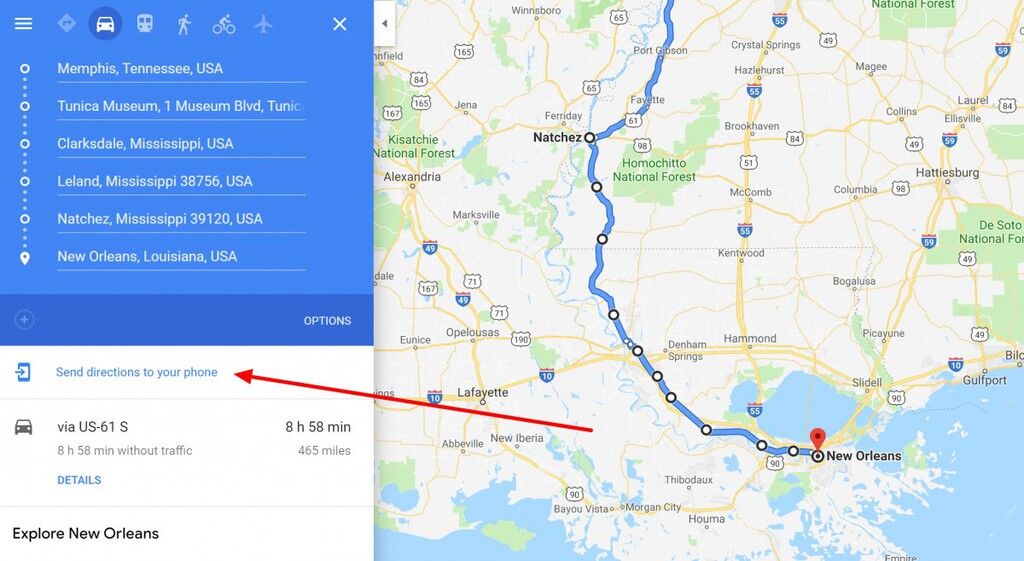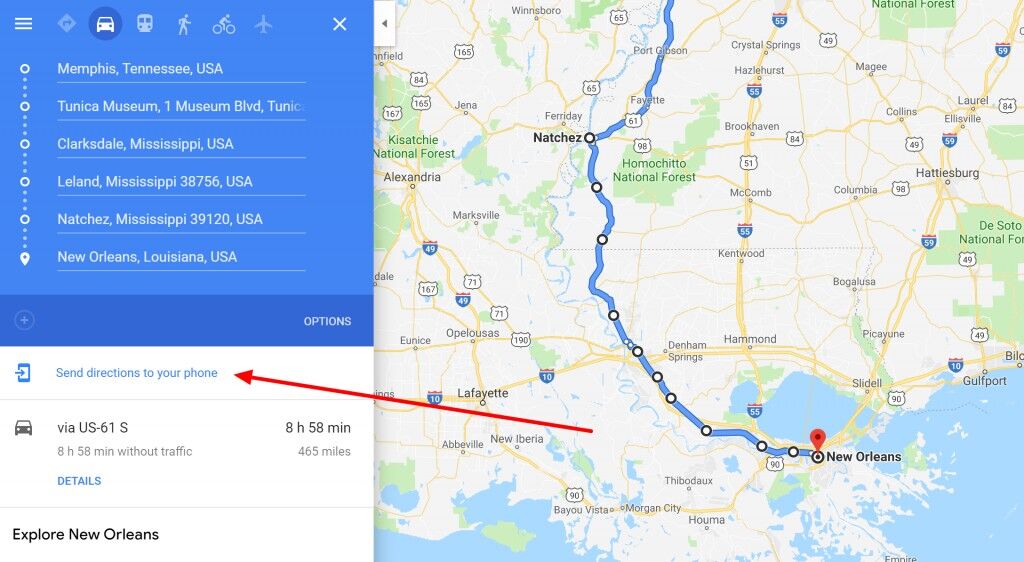 If you click 'Send directions to your phone' you can also email the directions to yourself and you could then go into your email account and forward that email to other people.
Google Maps is great for planning day trips and shorter trips. But some road trips have more than 10 destinations. On a multi-day road trip vacation you might plan 100's of stops. That's where Google My Maps comes in.
What Is Google My Maps For?
The main job of Google My Maps is to save a map with lots of pinned locations. It's not really a route planning tool although you can use it to plan routes. You can actually save something like 10,000 pins in 1 Google My Map. Here is an example of a Google My Map:
By using your own personalized Google My Maps you can get as detailed as you like.
You can create as many maps as you want. You can save the locations of hotels or campsites you plan on staying at. You can make a note of restaurants that look good, and the attractions you might visit.
You can also save a list of waypoints that you want to visit along a road you are going to drive. This can be useful if you want to plan a road trip with 12 locations or more.
You can create a layer with a route of step by directions on the map too. A directions layer has the same 10 destinations limitation that you see in Google Maps. This will draw a line on your map of the road you intend to travel. It's nice and pretty but unfortunately, these My Maps directions are not very useful once you are actually on the road.
They are handy when planning though because they help you estimate journey times. This will let you know where to plan to book hotels and what attractions you can visit each day of your road trip.
But remember. You can't open a set route of turn-by-turn directions that you created on My Maps in Google Maps. You can't press 1 button and load a 10 stop trip you planned in My Maps into Google Maps. Or a 100 stop trip for that matter either.
But all is not lost. There is some integration between Google My Maps and Google Maps and it's actually very handy and functional.
You can view your list of pinned My Map locations using the Google Maps app. You can click on 1 pinned location and choose to navigate there and the app will calculate the fastest route to that location.
It's best explained with an example so let's take a look:
After you have created a Google My Maps (we'll show you how soon) go to the Google Maps app menu and click on 'Your Places'.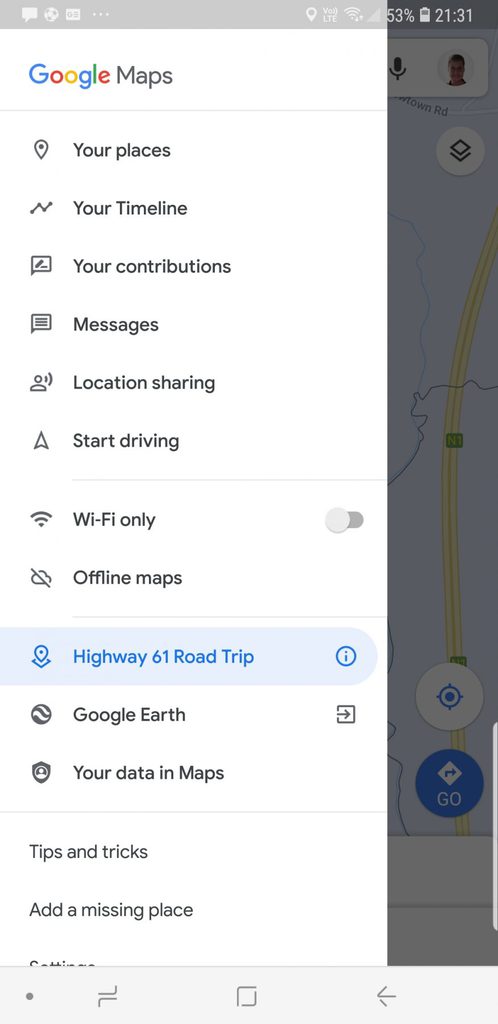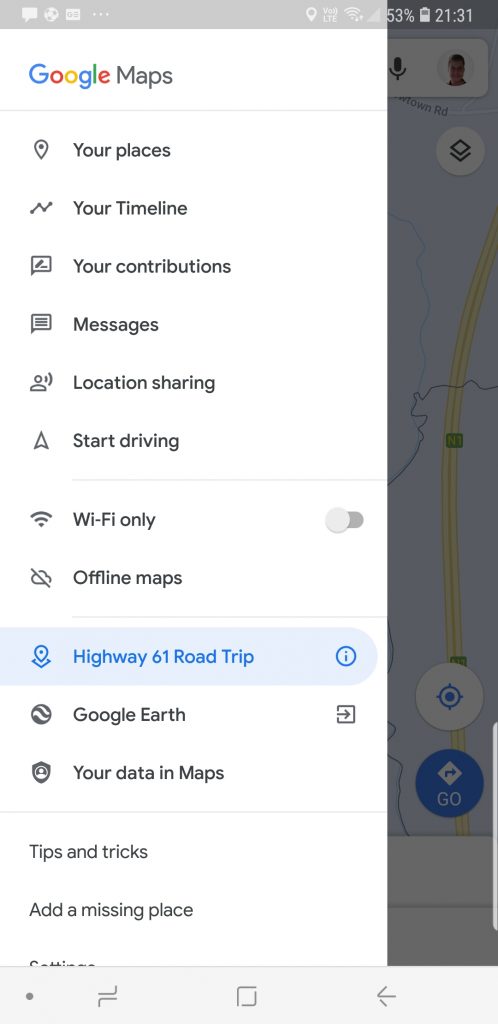 Click on the 'Maps' tab to see all your Google My Maps.
Choose the map that you want to use for navigation. In this case, it's the Highway 61 Road Trip map. Then tap on a pin and you'll see a blue directions button.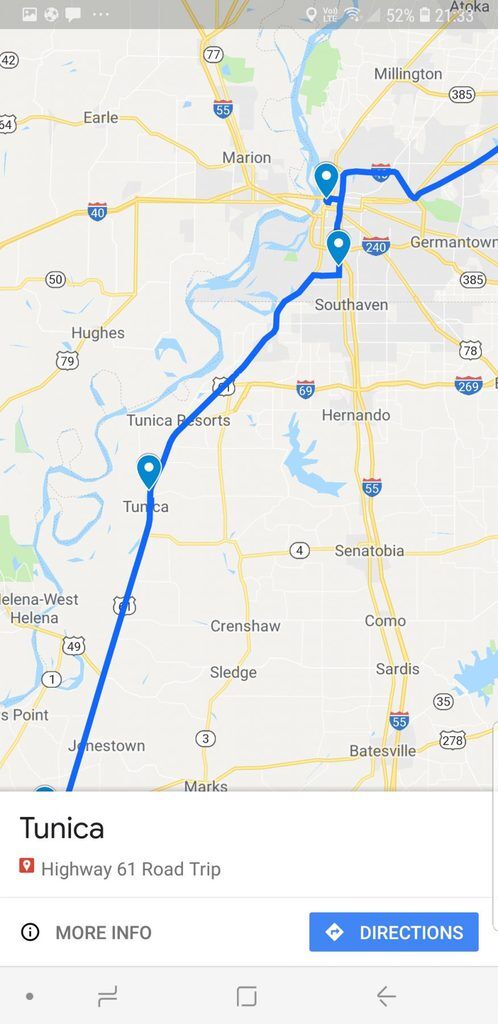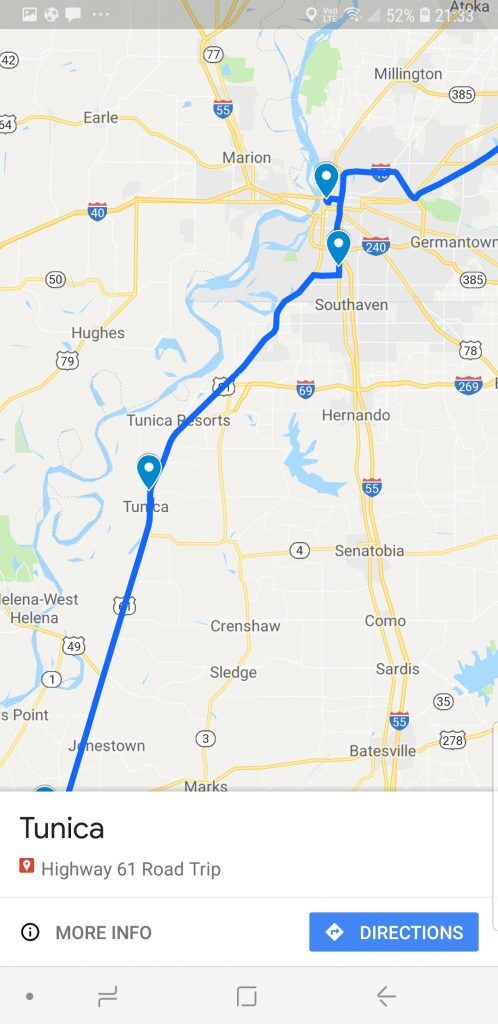 If you click that button you can start planning directions from your current location to there.
Suppose you wanted to make sure you stick to Route 61 and don't get redirected onto the freeway.
It's best to create a list of navigational waypoints using My Maps. For example, gas stations, roadside dinners, viewpoints etc. These are not necessarily destinations that you will stop for long at but they can be points that you navigate to and from to make sure you stay on the road that you want to.
You will essentially create new Google Maps driving instructions every time you move from one destination to the next. But it will be quick and easy to do so because you have saved all the pins previously.
If there is a scenic road that you want to drive down you need to create a pin somewhere on the scenic road and navigate to that pin.
But each time you get to a waypoint you'll call up the map, click on the next pin, and generate a new set of directions to that next pin.
This way you can actually have a map with 10,000 stops which is a bit more than the usual 10-stop limit! You'll just need to call up a new destination at every stop you reach.
If you don't want to do this and want to have preloaded 10 stop navigation instructions loaded into your Google Maps you'll need to create and save the driving instructions using Google Maps as detailed above.
You can, of course, break your journey into multiple 10-stop sets of instructions. There is even a hack to combine 2 sets of driving instructions into one 20-stop navigation but it's not very simple to do.
Most people that want to know how to plan a road trip on google maps with more than 10 stops should either break their trip into 10 stop sections or start using Google My Maps.
In summary, for a day trip with 10 or fewer stops you can just use Google Maps.
For road trips or vacations with more than 10 stops, it's best to use Google My Maps.
I hope that's cleared up when to use Google Maps and when to use Google My Maps.
Let's get started with our detailed tutorial on how to create your own Google My Maps.
Google My Maps Tutorial
Sign In To Google Drive or My Maps
Go to Google My Maps and log in using your Google account. Here you will see all the maps that you have created or have been shared with you.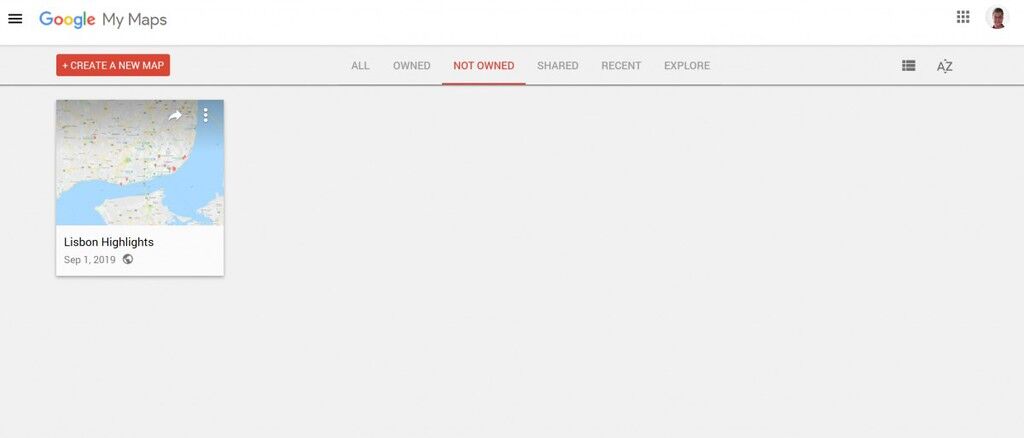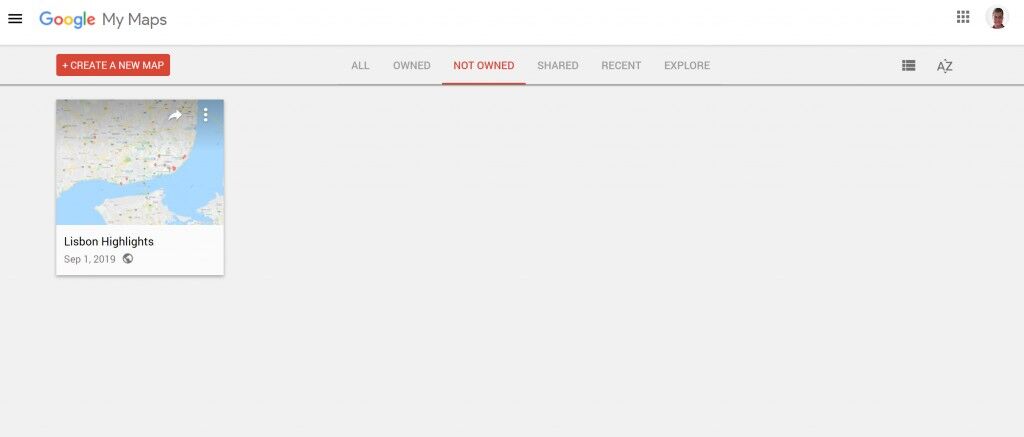 Google My Maps is part of the G Suite. This set of tools includes Google Docs, Sheets and Slides and any Maps that you create are stored on your Google Drive.
A Google My Map is a type of document just like a spreadsheet or a text document.
So you can see your Maps both in My Maps and Google Drive.
Create A New Map
Creating a new map is easy. You just click on the "Create A New Map" button.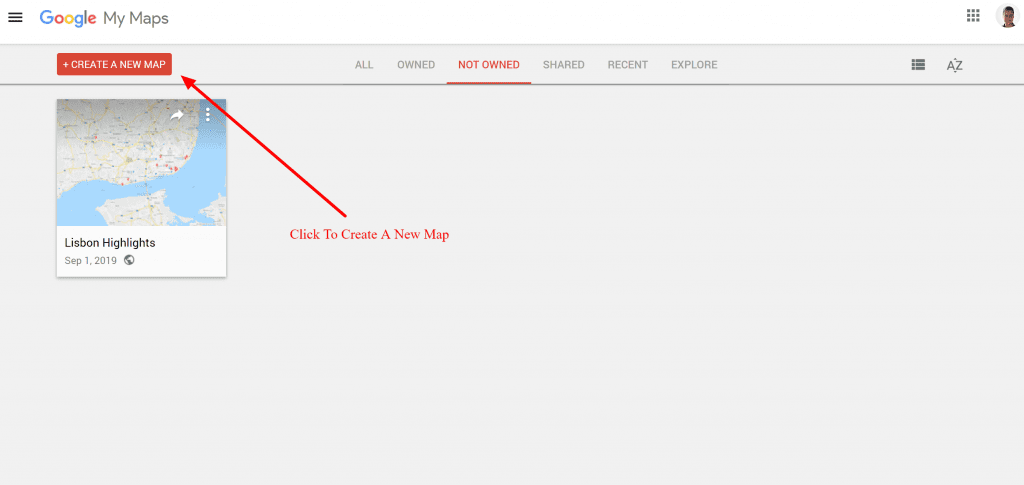 You can also create a map from within your Google Drive. Click the "New" button on the left and navigate the menu to Google My Maps.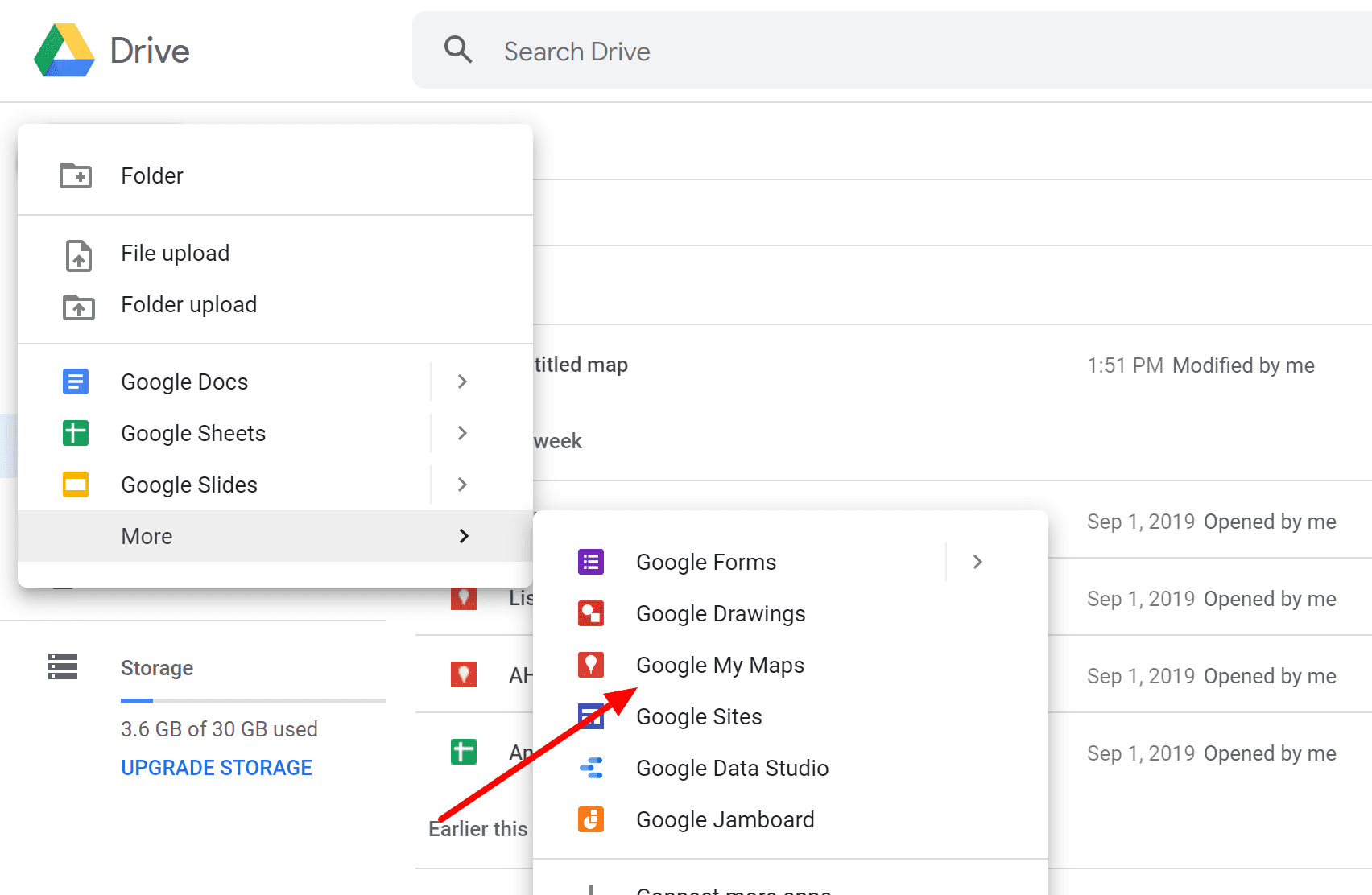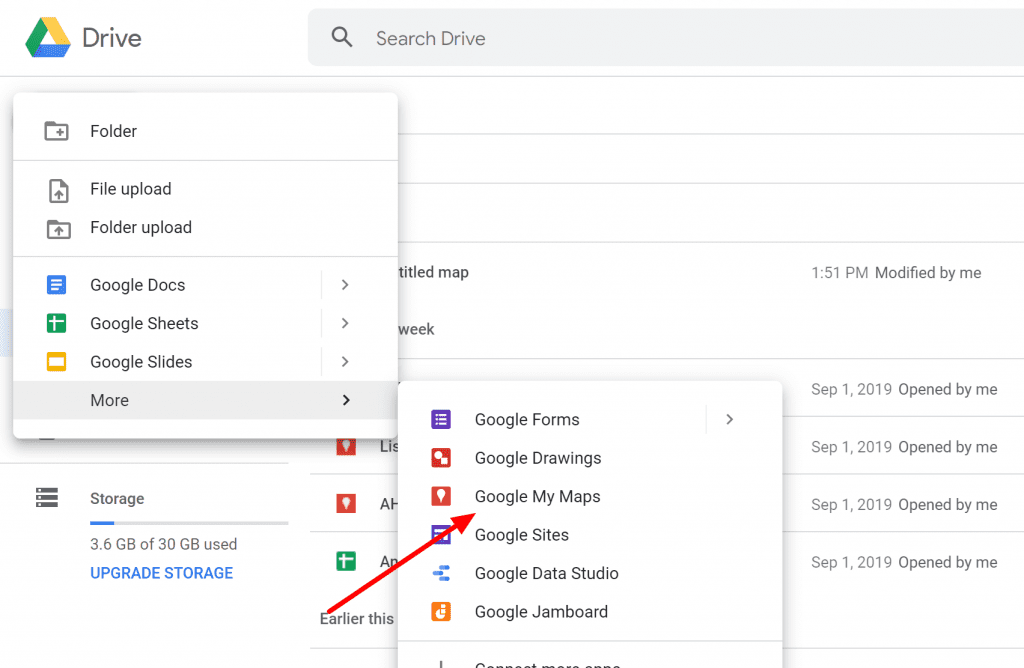 A blank untilted map will look something like this: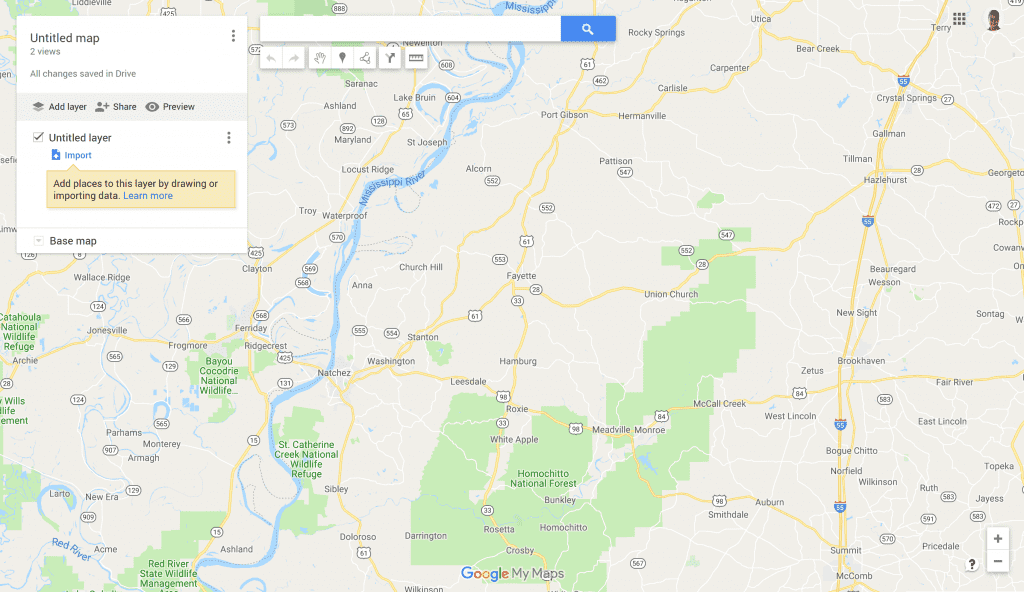 Click on where it says 'Untilted Map' to give it a name and description.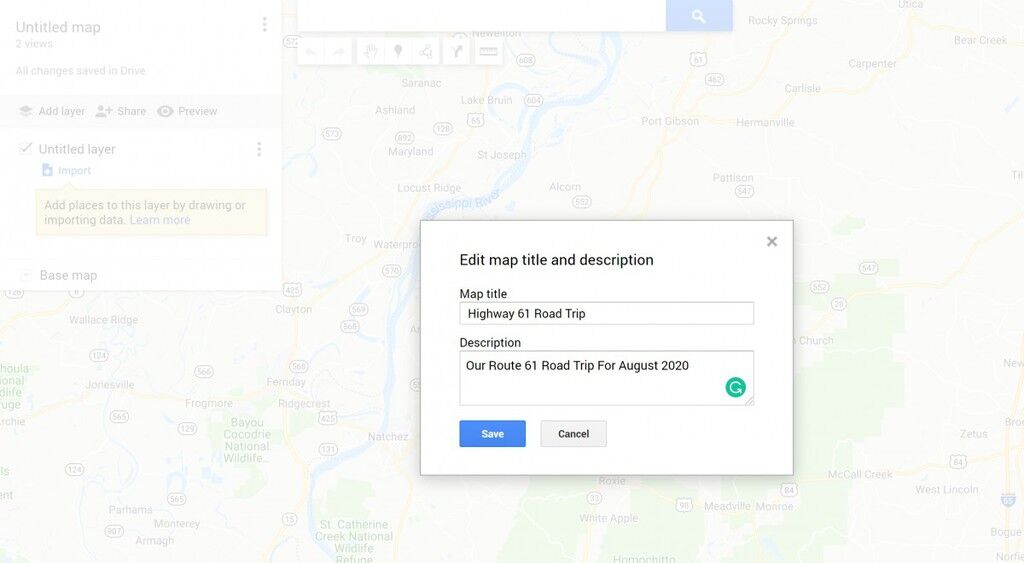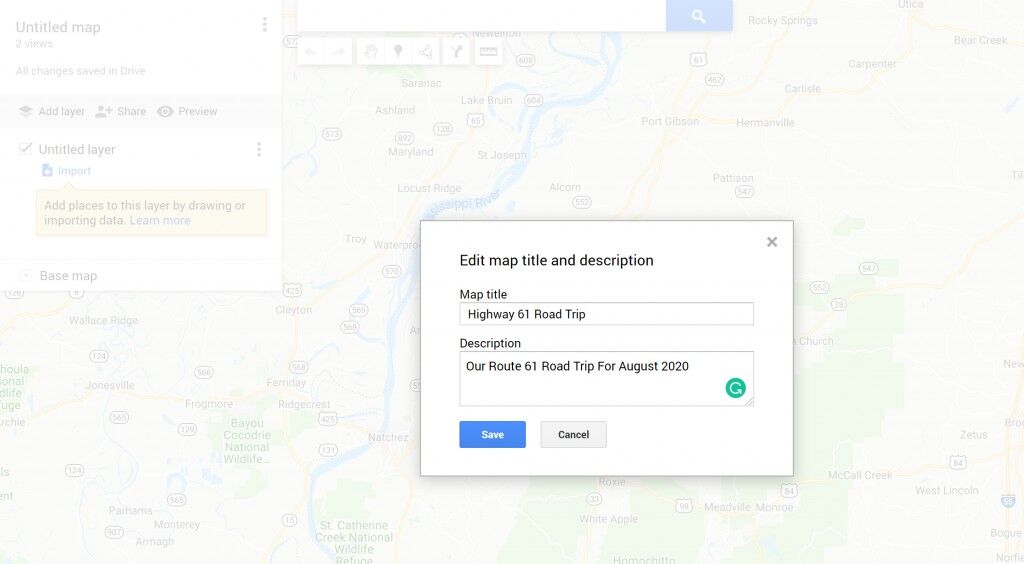 A layer is just a group of pins that you can switch on and off. Click on untitled layer and rename it to 'Key Stopping Points'.
You can then begin to find locations to pin by simply typing in the search box.
You need to click 'add to map' to add the pin to your 'Key Stopping Points' layer.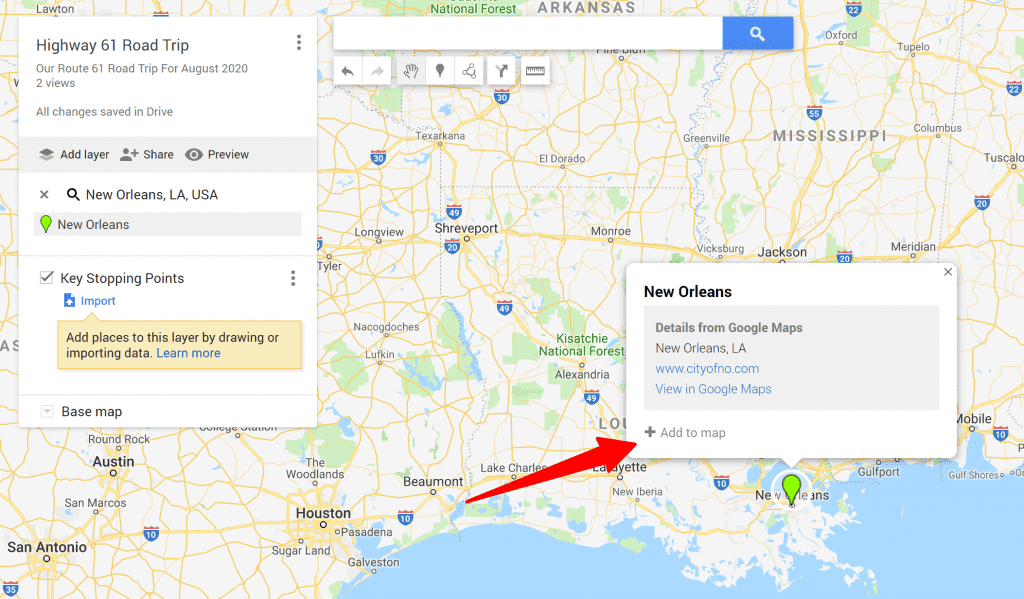 At this point, I will usually search for things to do in google using the normal methods. Using "things to do in" and "places to visit in" type searches.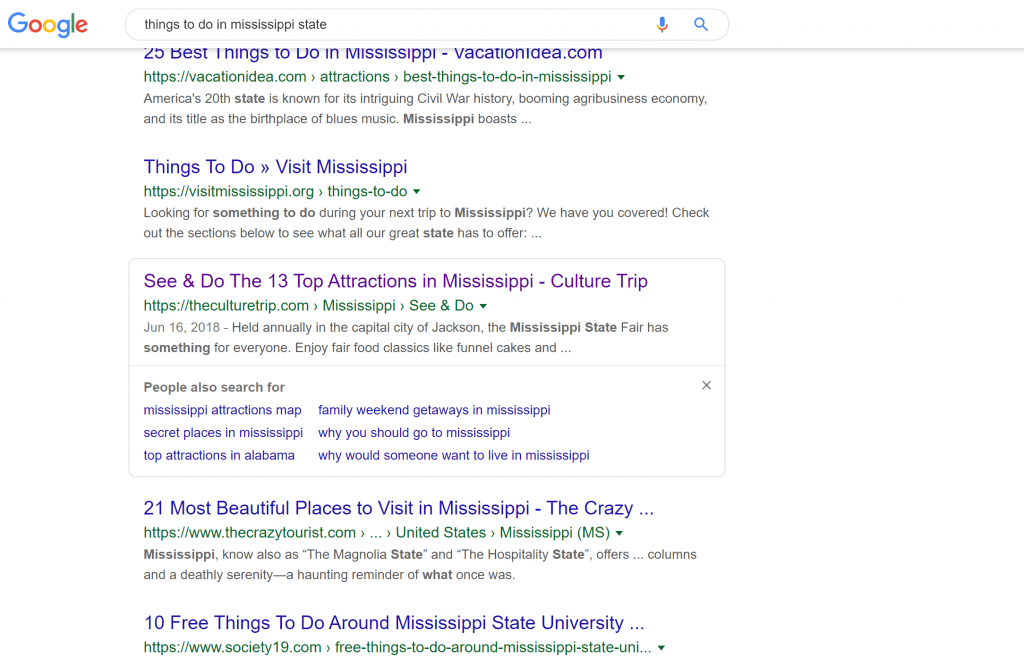 Don't forget to search for tips about your road trip is it's a popular route.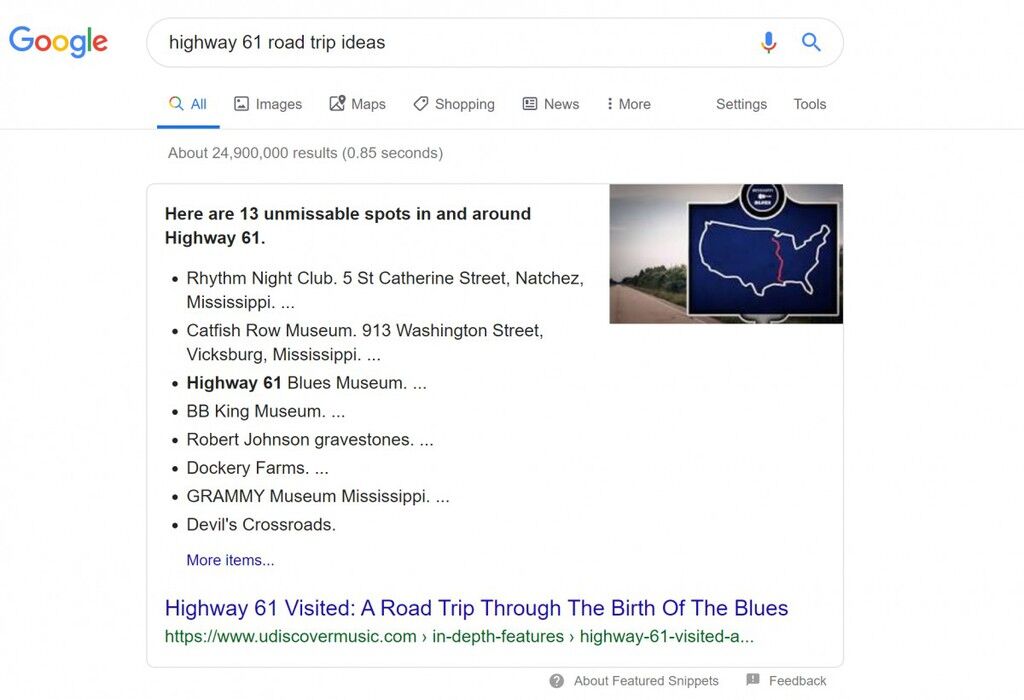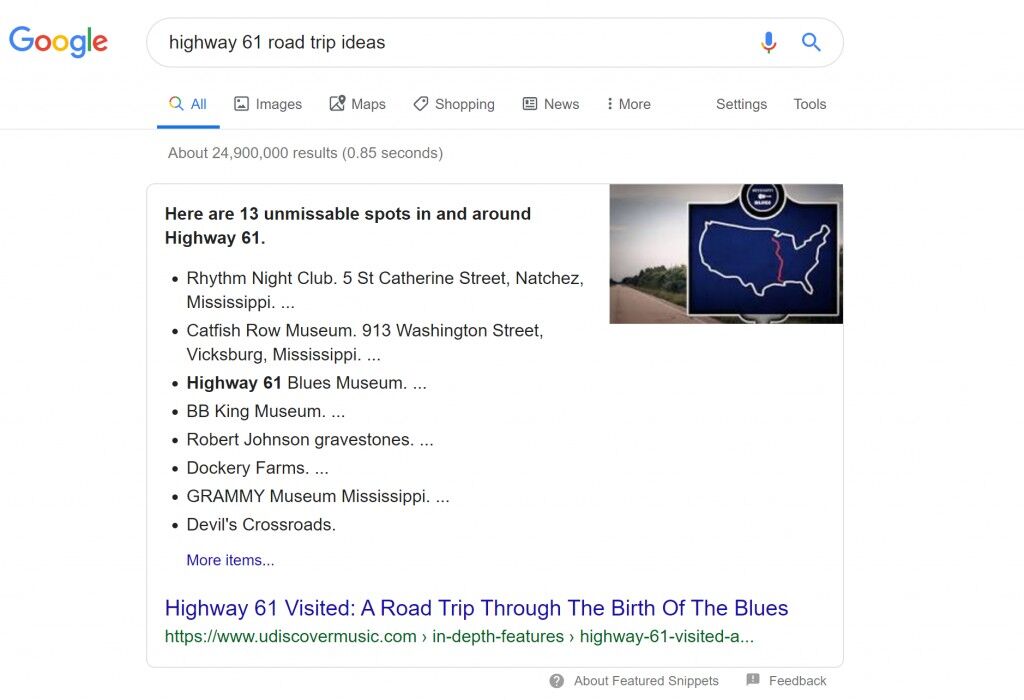 As you get ideas and discover places that you want to visit or might want to visit add the pins to your My Maps.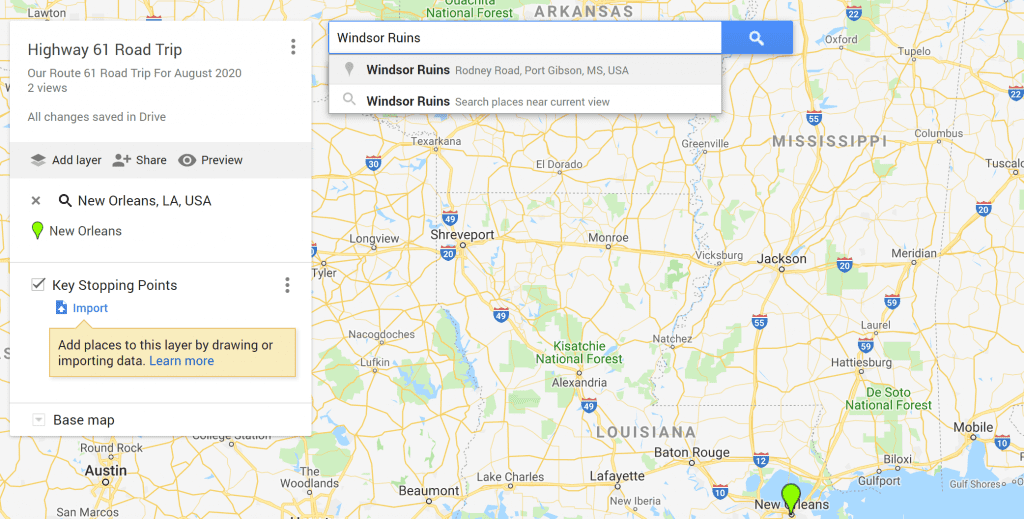 The Verdict
Google Maps is a great tool for simple road trips with fewer than 10 stops.
Google My Maps is a more complete vacation planner.
Hopefully the examples in this post will help you being planning your next road trip!
You Might Also Like