Last Updated on September 7, 2022
Key Takeaways
By TSA rules, you can pack shoes in carry-on luggage or checked luggage
Wear your heaviest shoes while traveling
Use shoe bags to keep your clothes clean
Pack heavy shoes at the bottom of your suitcase
If traveling with a backpack try to position your shoes in the center of the bag to better distribute the weight
Learn to travel light and pack less clothes to make space for packing shoes in hand luggage
Whether you are traveling for business or pleasure you'll probably find yourself needing to pack shoes.
If you're struggling to find space to pack shoes in a carry-on or wondering where best to pack heels in checked luggage, this blog post has got you covered.
The best way to pack shoes for travel depends to a great extent on what type of bag you travel with and what type of footwear you are trying to pack.
It's tricky sure, but don't worry… you've got this! We'll guide you through it!
What Suitcase Is Best For Shoes?
You could look to buy a dedicated suitcase for shoes, but these days most people like to travel with carry-on only luggage. Using a suitcase just for shoes will mean taking 2 bags and usually taking 2 bags means extra fees from the airlines.
In our opinion, most people don't need a dedicated travel shoe suitcase, it just complicates matters.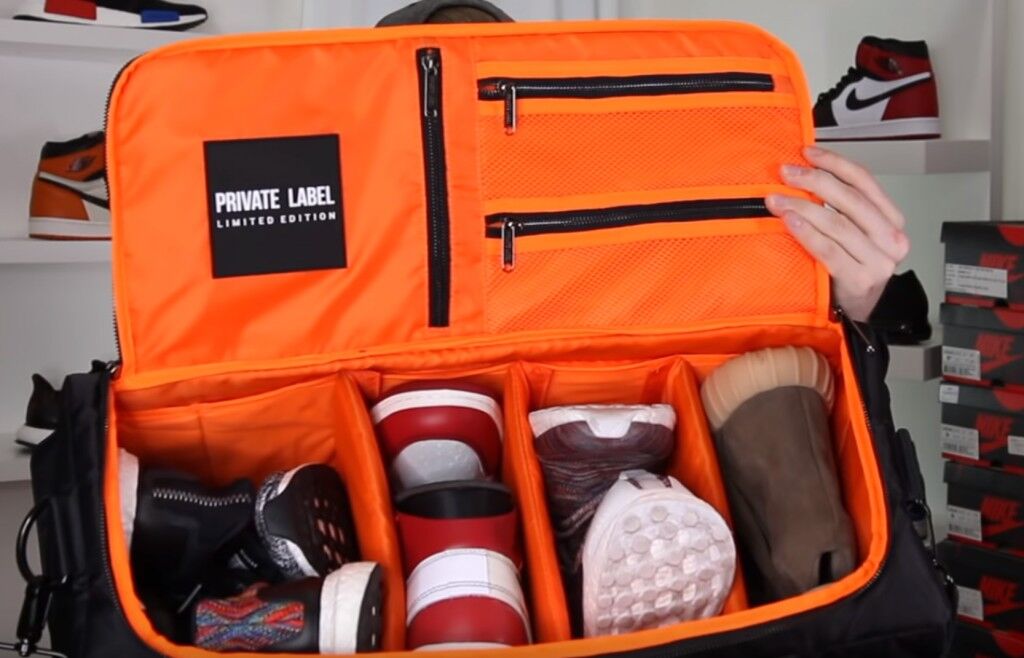 Another option would be to use a suitcase with a shoe compartment. Some suitcases have designs that have a special place to keep shoes. In most cases this is overkill. Adding a compartment just reduces the overall space available to you. It's much better to just find a way to pack your shoes inside your existing luggage or backpack.
The best suitcase for shoes is the one that you already own. There is no need to go out and buy a special case. With the tips that you'll find on this page, you'll see that footwear isn't really all that difficult to pack.
What Is The Best Way To Pack Shoes In A Rolling Suitcase?
Let's be clear about what we are dealing with here. There are four main issues with packing shoes:
Shoes are bulky and they take up a lot of space.
Shoes are heavy and they add a lot of weight.
Some shoes are delicate and we don't want to squash them because that will ruin their appearance.
Shoes can be dirty/smelly and we want to keep the soles away from our clean clothes.
The first 2 points are about how we fit shoes in when space is limited. So let's tackle them together:
How Do You Fit Shoes In A Suitcase?
Let's first deal with all you shoe addicts…
If you are set on taking loads of shoes on your trip and can't be reasoned with you should travel with checked luggage. Checked bags have huge size and weight limits and you shouldn't have any problems fitting shoes inside checked luggage.
For the rest of us, it's perfectly possible to travel with 3 or 4 pairs of shoes when flying with hand luggage only.
You can pack shoes in a carry-on bag or even in your personal item handbag if you can fit them. The only type of shoes that are prohibited from hand luggage are track shoes with metal spikes.
Packing shoes for travel in a carry-on can be a little tricky. But here is the thing to understand. Mastering packing shoes is not just a question of how you pack your shoes, it's about how you pack your entire bag. It's about your overall travel packing philosophy.
Once you know the best way to pack a suitcase your shoe problem will simply vanish!
Wow! That got a little "far out" sounding there!
To put it simply. You need to pack all your other belongings in such a way that leaves space to pack footwear easily.
This video by U-Pack is a great example of efficient packing.
Now for some of my own personal tips:
Wear any heavy shoes like boots on the plane. This saves space and weight from your carry on bag.
Fit shoes in your case by only taking the right shoes. Make wise choices for footwear for your trip.
Take fewer clothes by planning to do laundry during your trip. Wear your most bulky clothes during the flight.
Roll your clothes to make space in your bag and use compression packing cubes to squeeze your clothes.
You can check my full beginner's guide to traveling light over here.
What Type Of Shoes Should You Pack?
Before you even think about how to pack these shoes… are they the right shoes?
The more social occasions that a pair of shoes are suitable for, the more they earn their place in your luggage.
Versatile footwear is king when it comes to elegant, efficient packing. Versatile footwear means you need to pack fewer pairs of shoes.
My favorites to travel with are either desert boots or chukka boots. You will find you can wear boots like these in many situations and with many different outfits. They look great with jeans and look fairly dressy if you are going out to a restaurant.
Chukka boots even look not bad with shorts!
Because my chukka boots are so versatile and because I wear them on the plane I only pack only a pair of Xero sandals in my luggage and they are very lightweight.
Are Your Shoes Heavy?
The next thing to consider is the weight of your shoes.
These days most suitcases have wheels. In most cases, the best way to pack shoes in a suitcase is to put them at the bottom near the wheels. This method means that the weight of the suitcase is more balanced.
Packing Delicate Formal Dress Shoes Or Heels In Luggage
What type of shoes are you trying to pack? You need to consider whether you are worried about squashing the shoes or not?
With an old pair of sneakers or sandals, you might not be so concerned about squashing them, but with heels or formal dress shoes, you might want to keep their shape and protect them more.
Shoe trees can help to keep the shape of more delicate shoes.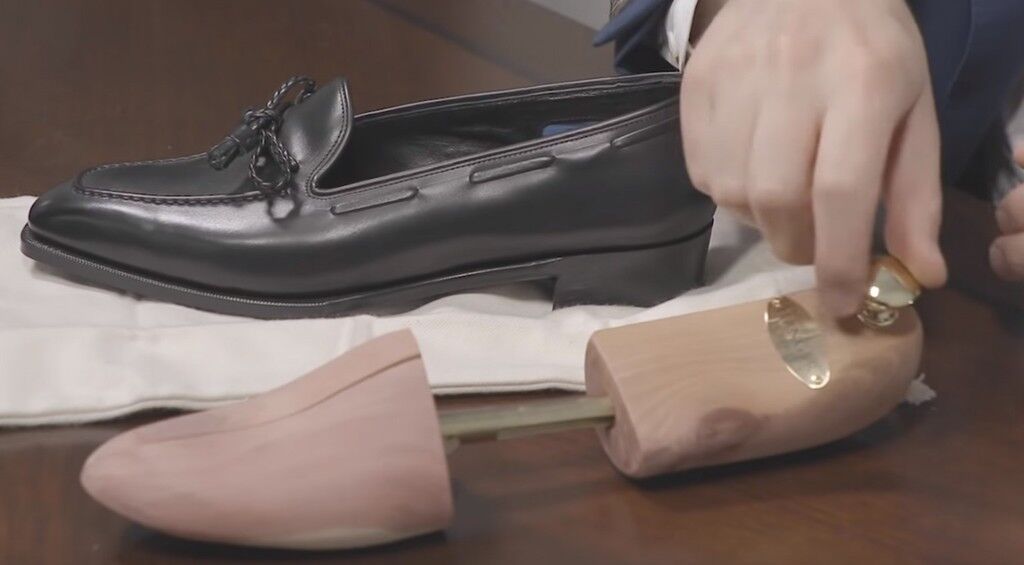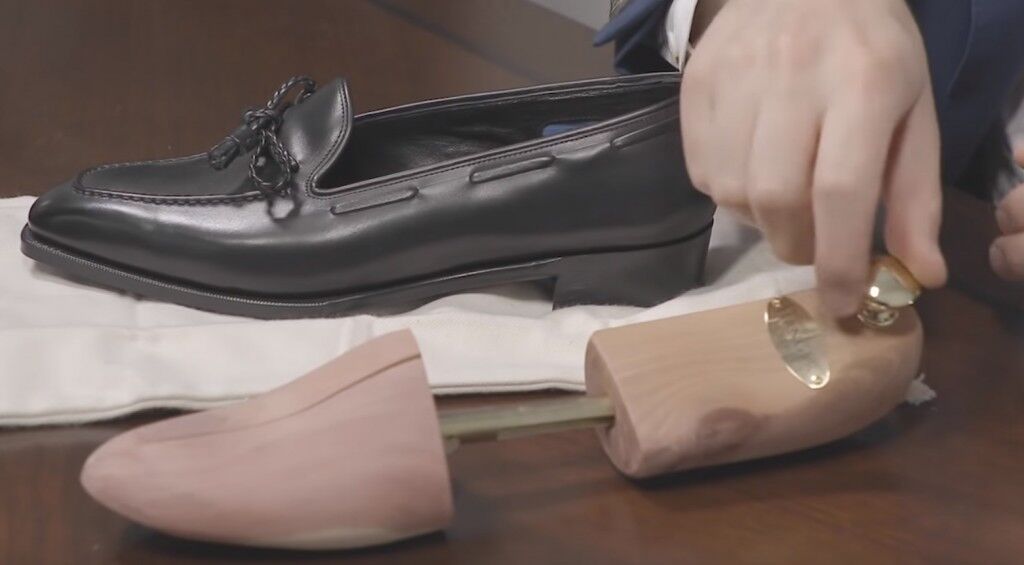 So if you are packing delicate shoes like dress shoes. It makes sense to pack them at the top end of the suitcase so they will sit near the handle. This way they will not be crushed and flattened by the weight of your clothes and the other items inside your luggage. Just make sure your case is tightly packed so they don't fall down when your case is upright causing creases to your clothes.
Hanger Project made a great video showing how to pack formal dress shoes.
Protecting Your Clothes From Dirt & Smells
The 3rd challenge with packing shoes was cleanliness. We want to stop dirty shoes from contaminating other clean items in our cases.
You can buy dedicated shoe bags easily from places like Amazon. Or you can use one of your packing cubes to put your shoes inside.
For me the most simple answer is to wrap shoes inside clear plastic bags. The type of affordable plastic bag that you might use for food storage is ideal for this.
This means that you will be able to easily see what shoe is inside the bag and it will stop any dirt from getting on your clothes or the lining of your suitcase.
Another option would be covering the soles of your shoes with a shower cap, it's not a trick that I've personally used before but many people swear by it.
You could also put them in vacuum bags but you won't see much gains from vacuum compressing shoes. But vacuum bags can help by compressing all your other clothes to make room for shoes.
Also if you find yourself in a situation where you don't have plastic bags to use you could even wrap your shoes in toilet paper to stop the soles from being in contact with clothes. This is only a good idea if they are dry otherwise the toilet paper would go soggy and make a mess.
There you have it. It's very easy to stop your shoes from getting your clothes or case dirty.
Let's now look at how to make the most efficient use of the space you have available. There are a few methods that can be useful:
Shoe Packing Methods
The Corner Method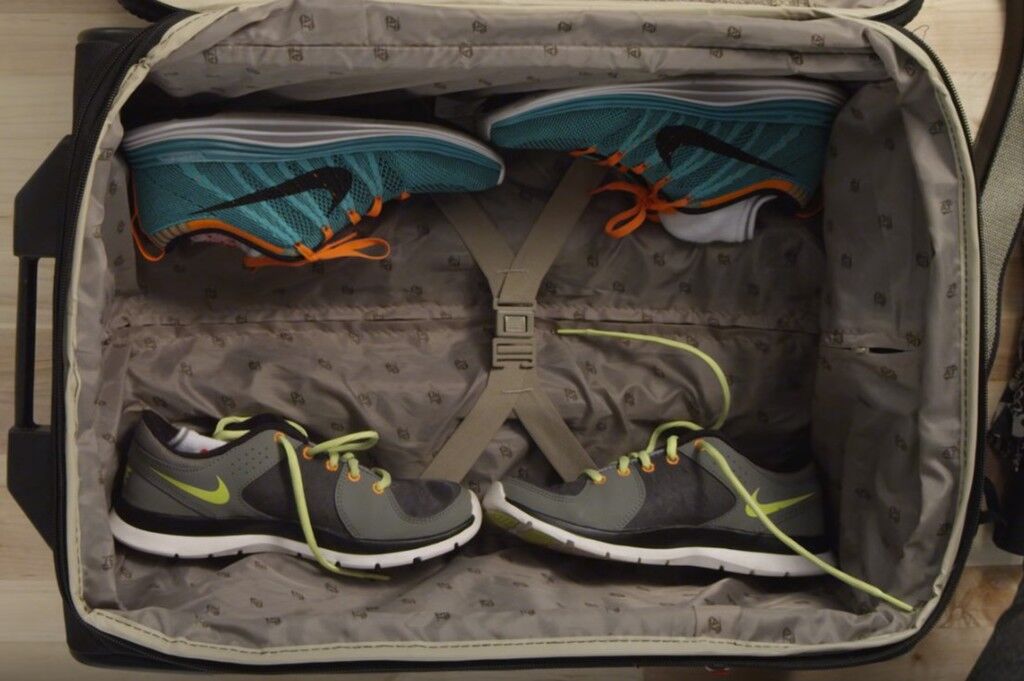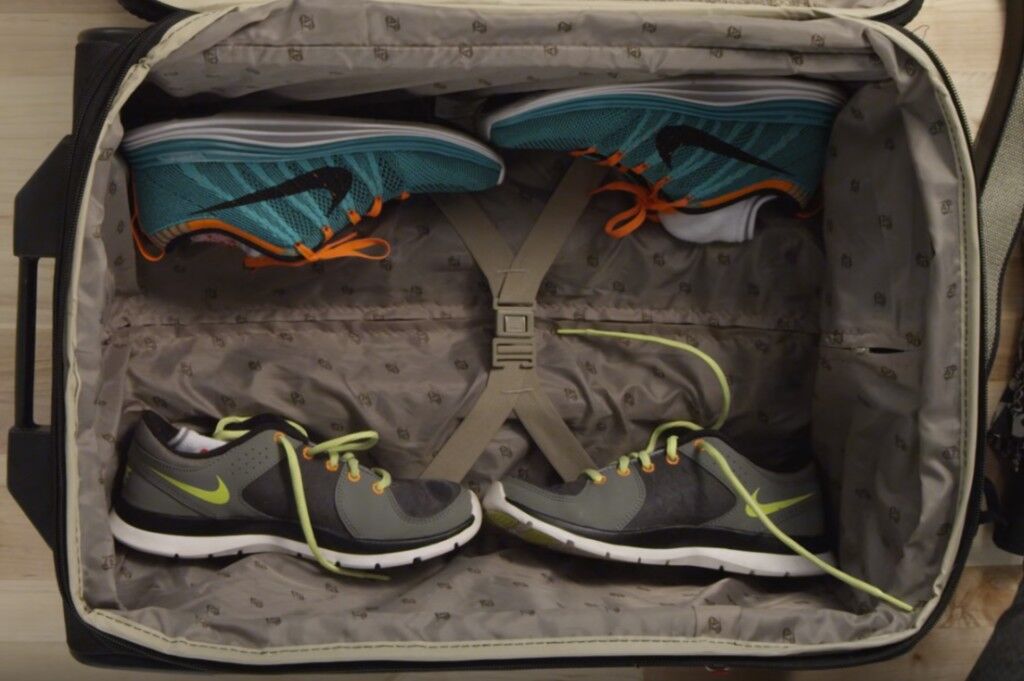 This technique works best with 2 pairs of shoes. Place a heel in each corner of your suitcase. You can reach your footwear easily and still have enough space for other things. The soles of the shoes should be against the walls of the suitcase.
Your suitcase should be packed full for this strategy so that your shoes will not move.
A rogue shoe on the move inside your case will crumple your clothes and get your socks all mixed up with your underpants…. oh the chaos!
Don't Fight Gravity
Your footwear will probably be among the heaviest items in your suitcase.
This is a useful strategy to pack multiple pairs of shoes. The approach is to pack your shoes at the bottom of your case with the soles facing away from your clothes.
Concentrating the weight at the bottom will give your suitcase better balance and stop it from falling over.
It also stops the shoes from being pulled down by gravity and crumpling your nicely ironed shirts.
Fill The Holes Inside Your Shoes
Another often mentioned tip is to roll up socks or underwear and stuff them inside your shoes.
This tip is a great way to make use of every space available to you. I wouldn't stuff clean socks into a smelly pair of sneakers.
What I might do is stuff socks or maybe even crunched up paper into dress shoes or heels so that they keep their shape. For example, a heavy laptop sitting on a dress shoe for a long period could crease the shoe and spoil the look.
The 69 Method
Arranging your shoes in a type of ying/yang formation is not a bad way to save space.
What Is The Best Way To Pack Shoes In A Backpack?
The most efficient way to pack shoes in a backpack is a bit different than in a suitcase.
This is because you are bearing the weight of the bag on your back.
Again it depends a little on the weight of the shoes that you are packing and how delicate they are.
You can throw in your flip-flops anywhere that you find a space.
But heavy shoes should be located in the center of the backpack closer to your back. This will change the center of gravity and make your heavy backpack easier to carry.
To be honest, if you are a backpack traveler you should be aiming to avoid having heavy shoes in your backpack in the first place.
If you are traveling with hiking boots, for example, wear them while you are on the plane!
The Verdict
Once you learn how to pack a suitcase efficiently you'll find that you have plenty of space for shoes.
You can't do much to make shoes lighter and you can't make them smaller (apart from choosing different shoes).
But you can compress the clothes to make room for shoes.
With sensible measures to roll, compress, and reduce clothes you will find that you can easily fit a pair of shoes in your carry-on.
Without much hardship, you'll fit 1 heavy pair of shoes and 1 light pair like flip flops or sandals.
All that's left to do is to wrap your shoes in clear plastic bags and make sure that they are placed in the bag appropriately depending on their weight or vulnerability in the case of fancy dress shoes.
You Might Also Like