Last Updated on April 15, 2020
Norwegian Air are becoming more strict about hand luggage sizing. In 2020 they changed their hand luggage policies.
Now their cheapest ticket does not include an overhead carry on bag. They only allow you to take 1 small personal item sized bag (38 x 30 x 20 cm)
If you want to take a larger bag you'll need to pay extra and upgrade to the LowFare+ ticket. This allows you to take the personal item bag and one overhead bag sized 55 x 40 x 23 cm (21.65 x 15.74 x 9.05 inches).
Nobody wants to buy new luggage because their bag is half an inch too tall.
So you find yourself wondering… "How strict is Norwegian Air With Carry On Size"?
Are they precise? Or forgiving? Let's take a look!
Slightly Oversize Carry On Luggage With Norwegian Air
Here is the Norwegian Air sizer.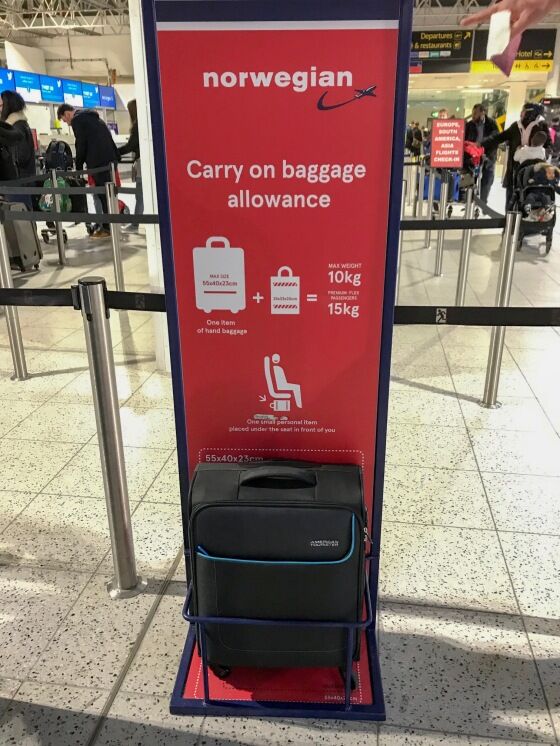 If you pay for the upgraded ticket the Norwegian carry on limit is generous on width. They are allowing 15.74 inches compared to the 14-inch limit that's common with US airlines.
The depth limit of 9 inches is the same as the most popular US airlines.
If you're from the US you are probably worrying about the height. 21.65 inches is slightly less than the 22 inches you might be used to.
But you can see from looking at the sizer that there is no physical barrier on the sizer for height.
This means that your bag should sit vertically in the Norweigian Air sizer no problem.
Unfortunately, that doesn't mean you are going to be okay…
Norwegian Air is a "low-cost airline". That means that their business model is to unbundle their services from a package and to charge individually for each service that you require.
In practice, this means the basic fare is as low as they can make it so to attract you in and then they try to up their profit margin by screwing you left, right and center.
The fact that they now don't include a carry on with their cheapest ticket is a sign they are becoming stricter.
In fact, Norwegian Air is very strict with their carry on size. They say so themselves: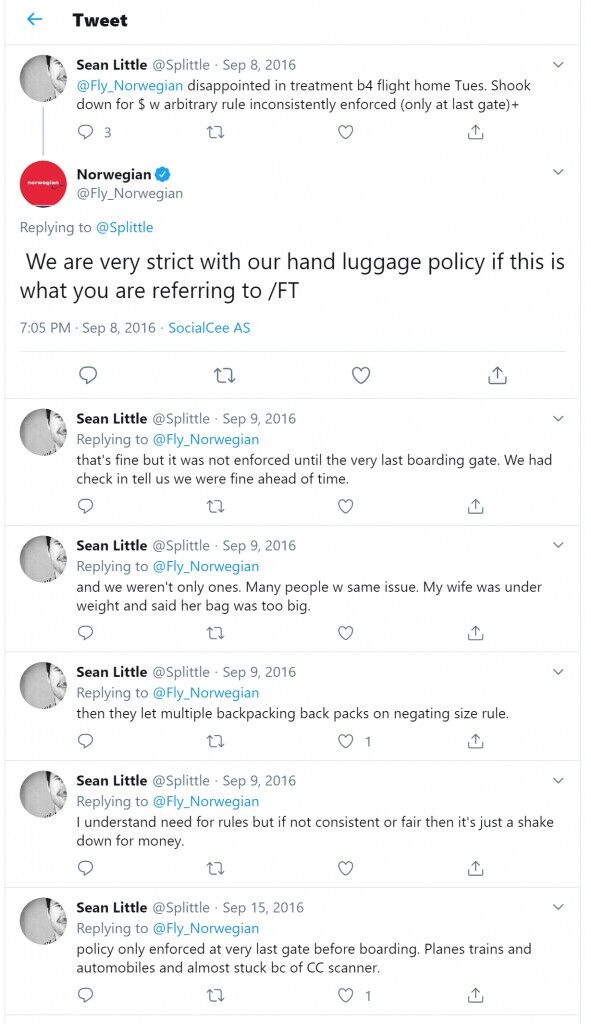 But it's actually not carry on size that should be your biggest concern.
Going Over The Norwegian 10 Kg Weight Limit
Woe betides you should you go over the Norwegian carry on weight limit!
Norwegian Air is very strict about their 10 kg (22 lbs) weight limit and it's a source of pain for many an unwary traveler.
Weight limits for carryon luggage are not as common in North America as they are in Europe and the rest of the world.
Norwegian don't check the weight of every carry on bag. But if they do randomly check the weight of your bag and if you are overweight they will charge you $100 to check the bag.
I say randomly but I don't really think it's random. If Norwegian are paying bonuses to gate agent staff for every overweight bag they catch then I wouldn't be surprised. Ryanair used to do this and they are another low-cost carrier. I am merely speculating but you could pay a $10 bonus to gate agents and still have $90 pure profit from the $100 gate-checking fee.
Not only that, but your 10 kg limit is for everything you are carrying on. So the weight of your personal item, purse, briefcase, or laptop bag uses up your 10 kg (22 lbs) allowance. An empty carry on suitcase can easily weigh 6-9 lbs. Are you starting to see the problem here?
Also, they'll do the same on the return journey and charge you $100 again.
Their basic fares don't include checked luggage but if you want to take checked luggage or think you might be forced to check you should arrange it before you turn up at the airport or this can happen: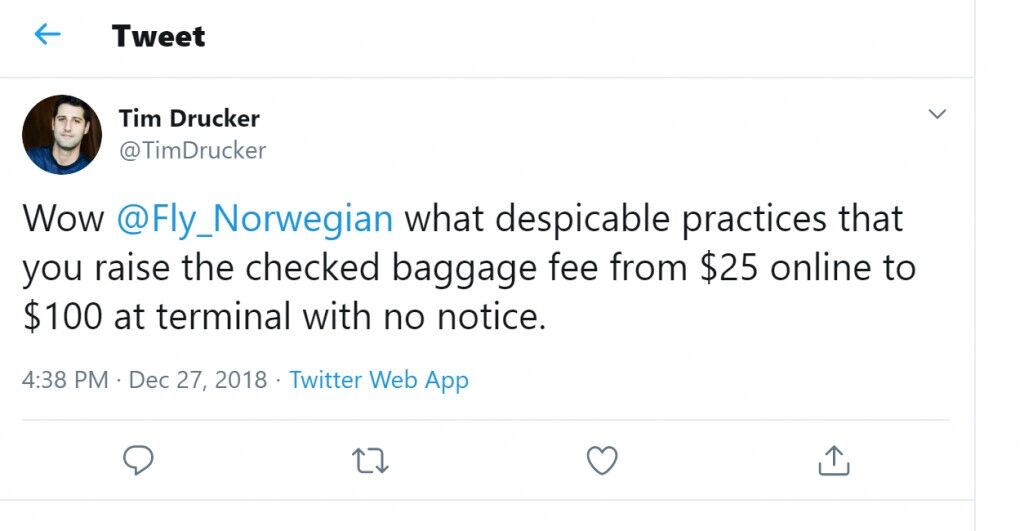 It doesn't make sense and it's not fair business practice. I think Zabriskie makes a good point. Norweigian say "you agreed to these rules" but they also change the agreement when it suits them.


The Verdict
Norwegian Air are very strict about their carry on size and weight policies. Their business model relies on low-cost fares and then making high profits on additional services like food, drinks, checked luggage, or price gouging customers minutes before boarding with extortionate forced bag checking fees.
Norwegian are not the only airline who engage in practices that leave a bad taste in the mouth.
I don't object to the weight limit or to the fee for forced checking. I object to how much the fee is! 25 bucks would be a fair and reasonable charge for such a scenario.
What do you think? Will you take your chances next time you fly with Norwegian? I wouldn't!
Their business model depends on catching people who go over the limit.
Don't let yourself be a victim.