Last Updated on April 29, 2021
So you are flying with Hawaiian Airlines and want to know what their hand luggage policies are and how strict they are at enforcing them.
Let's take a look!
The Hawaiian Airlines Carry On Size Allowance
Hawaiian Airlines allow you to measure your carry-on using two different methods.
Firstly you can check the three dimensions length, width, and height. Your carry-on should not be larger than 22 x 14 x 9 inches.
The second way Hawaiian allow you to measure your luggage is using the linear inches method.
With linear inches, the length of any one side doesn't matter. However, when you sum the three sides together it must be less than 45 linear inches. This means that you can steal an inch from one dimension and add it to another.
For example. 23 + 14 + 8 inches still adds up to 45. Or 22 + 15 + 8 would be allowed too.
This can add a little flexibility, however, your carry-on still needs to either fit under the seat in front or in the overhead bin.
And if your carry on bag won't fit then you'll be forced to check it.
One thing to take note of is that Hawaiian have a 25 lb weight limit for carry-on luggage. Carry-on baggage weight limits are common around the world but unusual for an airline based in the United States.
Time to get yourself a luggage scale if you don't have one already.
Hawaiian Airlines Personal Item Size
As well as a carry-on bag you are also permitted to bring a personal item on your flight with Hawaiian.
Unfortunately Hawaiian doesn't specify a size for this second bag. Instead, they prefer to say it must be small enough to fit under the seat in front of you.
The examples they give are a purse, briefcase, laptop, small backpack, or similar.
Obviously the space under the seat in front of you depends on what type of aircraft you are flying in and your particular seat. This is probably why Hawaiian are hesitant about giving personal item size dimensions.
However Hawaiian use the same Airbus and Boeing aircraft that other airlines use. United talk about 17 x 10 x 9 inches as underseat space. And American Airlines have 18 x 14 x 8 inches as their personal item size limit.
So while Hawaiian don't give specific personal item dimensions it's safe to say that bags in that ballpark will fit under the seat.
If you struggle to fit everything you want to bring in a carry-on sized suitcase then you might want to make the most of this personal item bag.
Check out this pilot who has a larger personal item strapped to his carry-on. You could try a similar method with your Hawaiian Airlines baggage.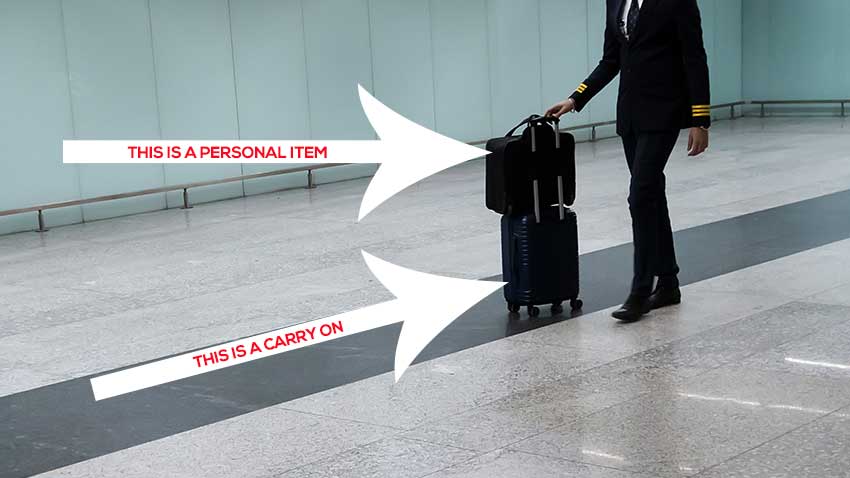 How Strict Are Hawaiian At Enforcing Their Baggage Policies
When an airline is very strict at enforcing their carry-on limits you usually find a lot of outraged passengers venting their anger on Twitter.
In the case of Hawaiian you actually see people complaining that they are not being strict enough.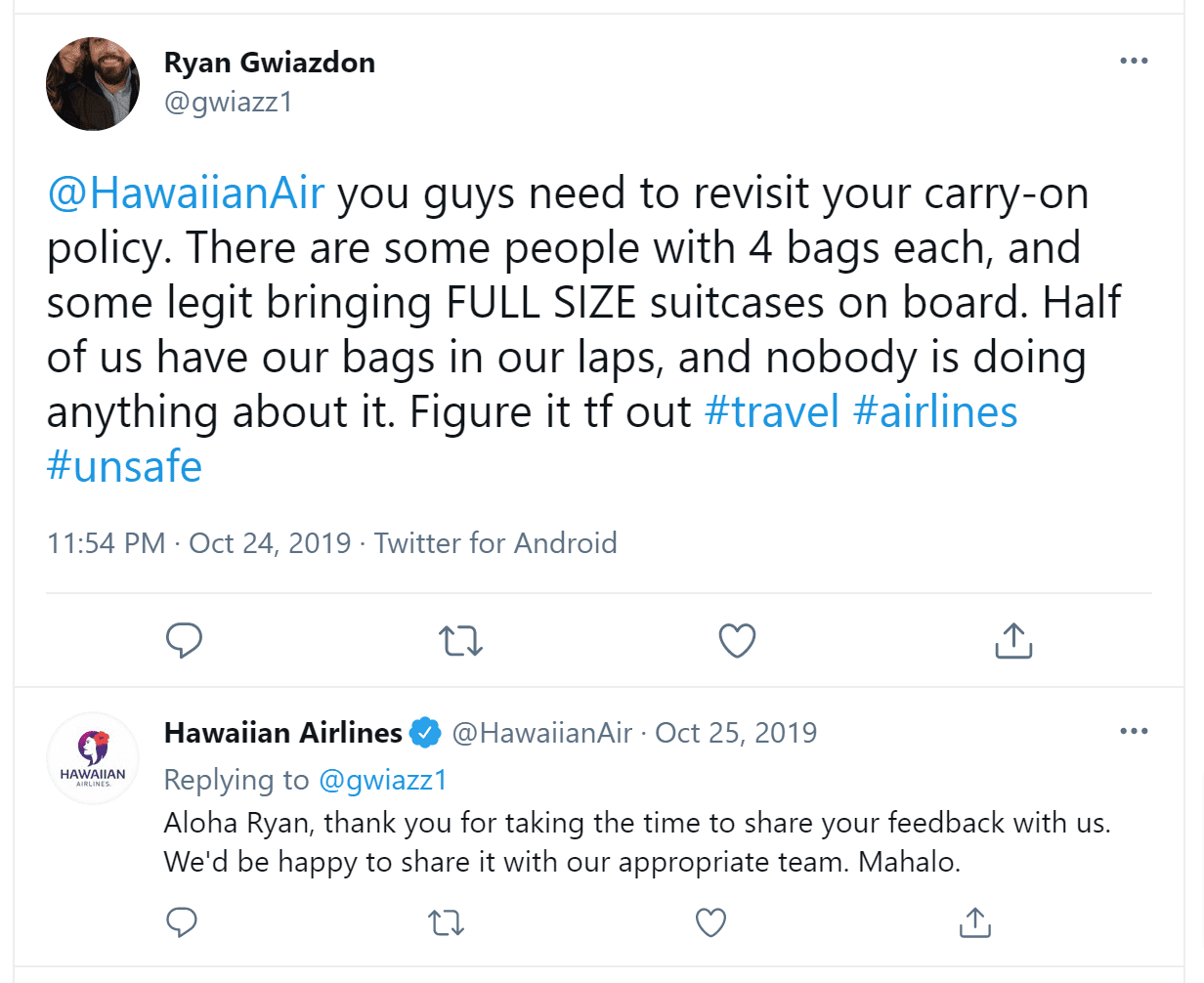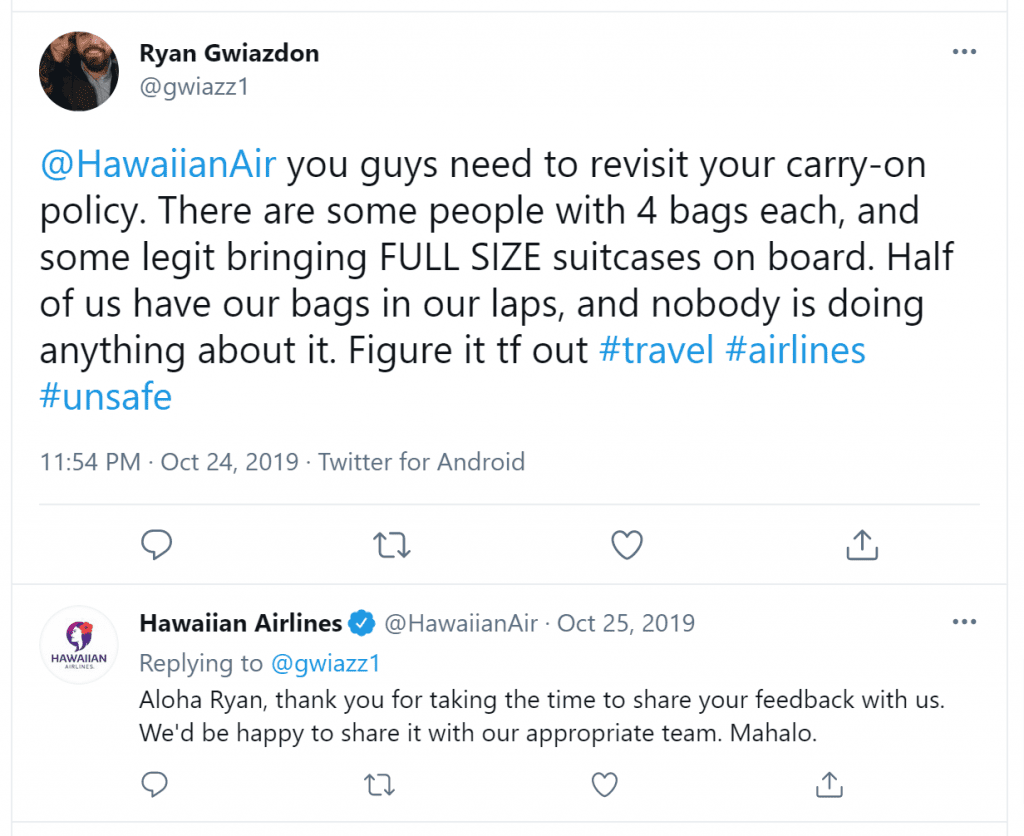 It's never a good idea to go to the airport with over-sized or over-weight luggage. However Hawaiian don't appear to be very strict about enforcing their carry-on baggage allowance polices.
That isn't to say it never happens, just that they are not as strict as some low-cost airlines who rely on carry-on bag fines to turn a profit.
When Jonathan flew with Hawaiian he didn't know about the carry on weight limit.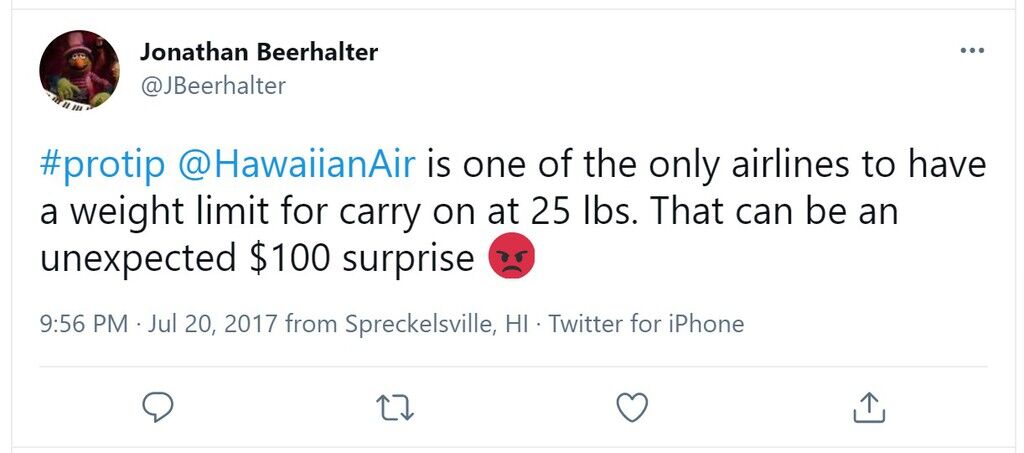 Hawaiian spotted that his bag was overweight and charged him $100.
The Bottom Line
Hawaiian are flexible with carry-on luggage size in that you can either be under 22 x 14 x 9 inches OR 45 linear inches in total.
So if your bag is bulging a little in 1 dimension you will be okay.
However Hawaiian has a carry-on weight limit which is unusual for an American airline and can catch some passengers by surprise.
If your baggage is pushing the size and weight limits too much then you'd be better off looking at checked baggage.
However, if your bag us half an inch too big on 1 dimension then I'd take the chance. Hawaiian are not relying on catching oversize bags to turn a profit.