Last Updated on February 22, 2021
So you're flying on a Delta flight soon and wondering if you can get away with that extra half inch?
This is the post for you. First, we'll confirm what the true Delta carry-on size limit is and then we'll assess your chances of getting away with your chubby suitcase.
And if you are struggling to fit all your clothes in your carry on we'll tell you how to almost double your hand luggage allowance while avoiding checked baggage fees and still traveling with only hand luggage.
Let's get started.
Delta Hand Luggage Dimensions
Delta allow passengers to bring 2 bags as hand luggage, one carry-on bag like a rollaboard suitcase and one personal item like a purse or briefcase.
For the carry-on bag there is a specific size limit but things get a little hazy when it comes to the size of the personal item.
Let's take a detailed look at both types of hand luggage.
Delta Carry-On Size Restrictions
The Delta carry-on luggage size limit is expressed in two ways and this can make it a little confusing.
On the one hand Delta say that their carry on size limit is 22 x 14 x 9 inches.
Individual length, width and height measurements may not exceed 22" x 14" x 9" (56 cm x 35 cm x 23 cm) respectively

Delta Airlines
But they also describe their maximum carry-on size as 45 linear inches:
Combined length + width + height of baggage must not exceed 45 linear inches (114 cm)

Delta Airlines
So when you check the three dimensions of your carry-on and sum them together they must be less than 45 inches.
And when measuring your bag you must include the handles and wheels.
Here's the thing. The 45 linear inch measurement is primary and this gives you a little bit of flexibility.
You could have a bag that is 24 x 13 x 8 and since the sum of those three numbers is 45 then you'd be able to bring that bag into the cabin.
Not all airlines allow you to take an inch from one dimension and use it against another dimension so in that sense Delta are not as strict as some others.
Also, the Delta sizer isn't 22 x 14 x 9 inches. In reality it's slightly larger than that and closer to 23 x 14 x 10 inches. So Delta are not too strict in that sense too!
To prove my point, Dashawn asked if he could bring a 24-inch carry on and Delta said it would be accepted so long as the three dimensions were under 45 linear inches.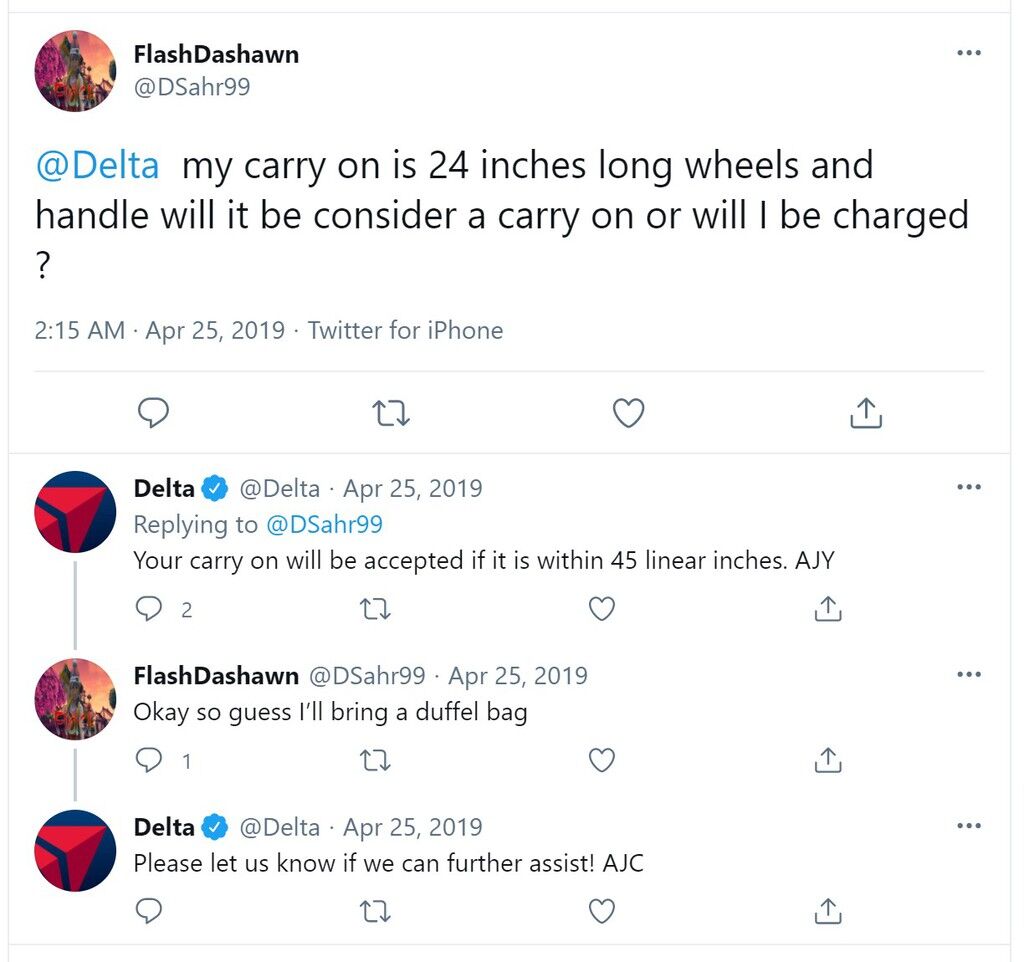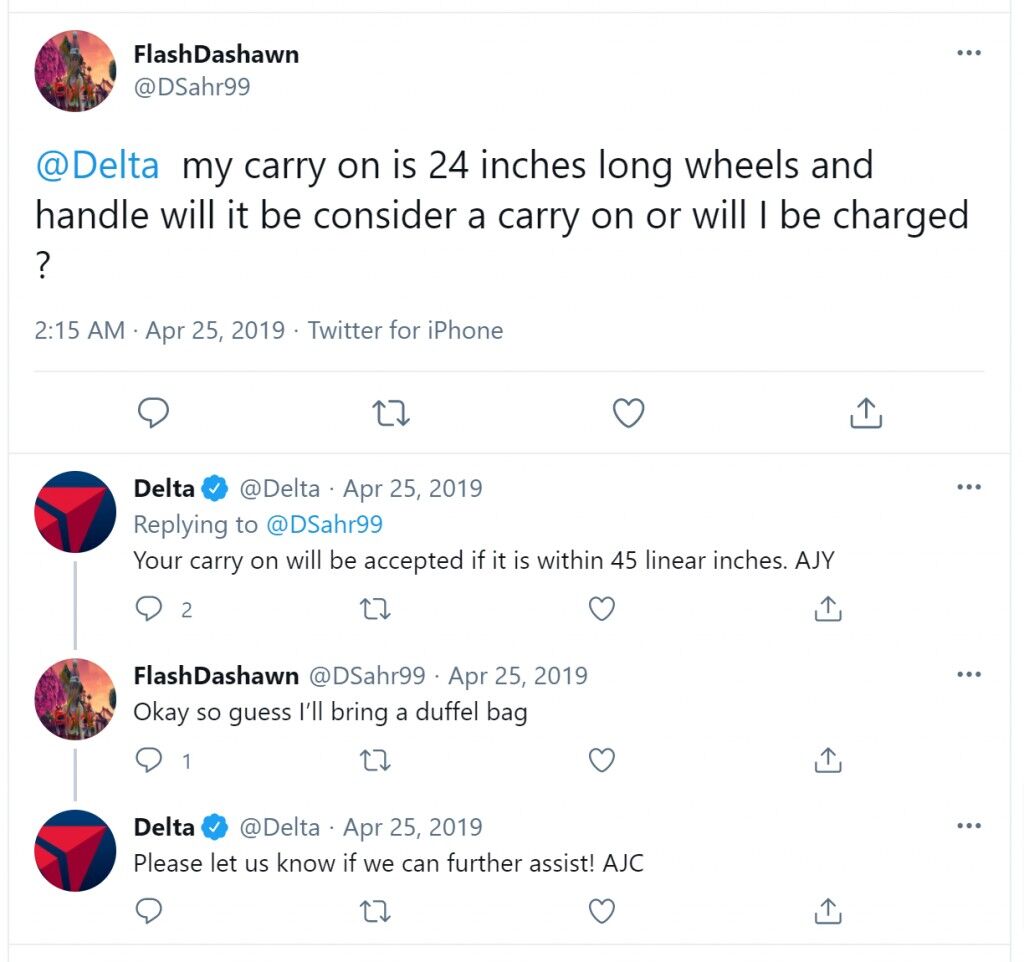 How Much Can You Bring In A Delta Carry On?
A 22 x 14 x 9 inch carry-on will typically hold around 40 liters. Travelers often ask "how many days clothes" that equates to but it depends on the climate and the size of your clothes. So we created a tool to estimate how many days clothes can fit in various sizes of luggage.
The good news is there is no weight limit for Delta carry-on luggage. So you can bring as much as you can manage to pack into the suitcase. Checkout compression packing cubes if you think you'll need to squeeze more in.
If you need to take more than a 45 linear inch suitcase can hold don't rush into paying for a checked bag.
Remember you can bring two bags into the cabin as hand luggage on a Delta flight!
Delta Personal Item Size Limits
If you want to take more stuff but still fly with only hand luggage the way to do it is you make full use of your personal item allowance.
I've written elsewhere about the mysterious size limit for a Delta personal item. Delta doesn't publish a size limit for the under-seat bag and prefers to use hazy language.
On the website they give you little to go on saying that you can bring something similar or smaller to the size of a purse, briefcase, laptop bag, small backpack, camera bag or diaper bag.
That's it… They don't give you the limits in inches instead preferring to leave you scratching your head.
However on Twitter it starts to get very interesting.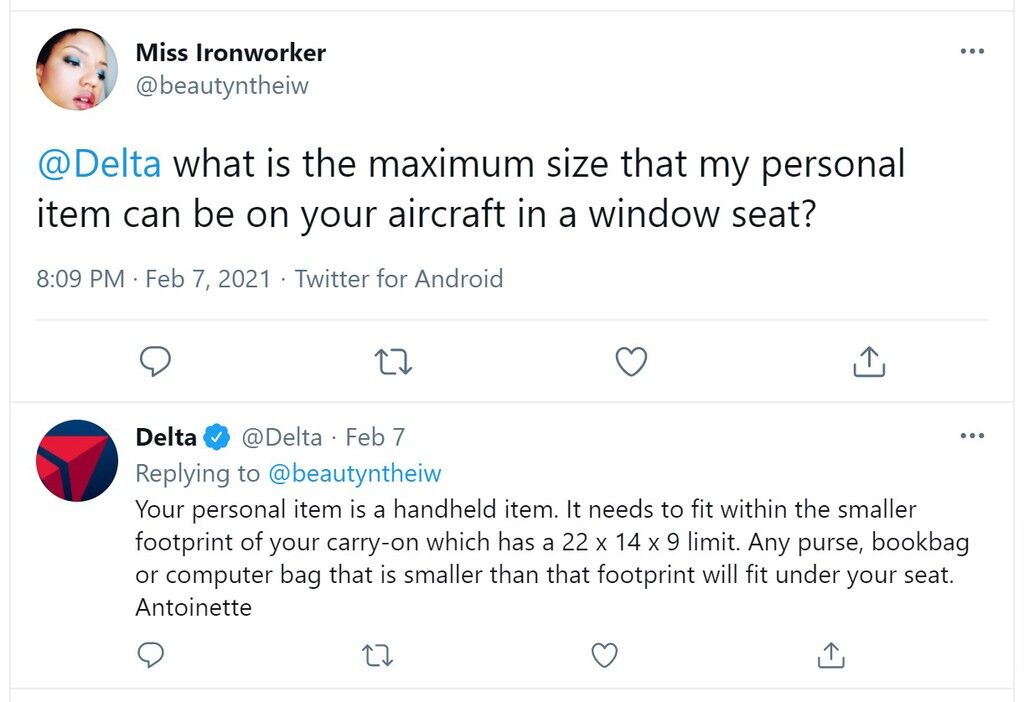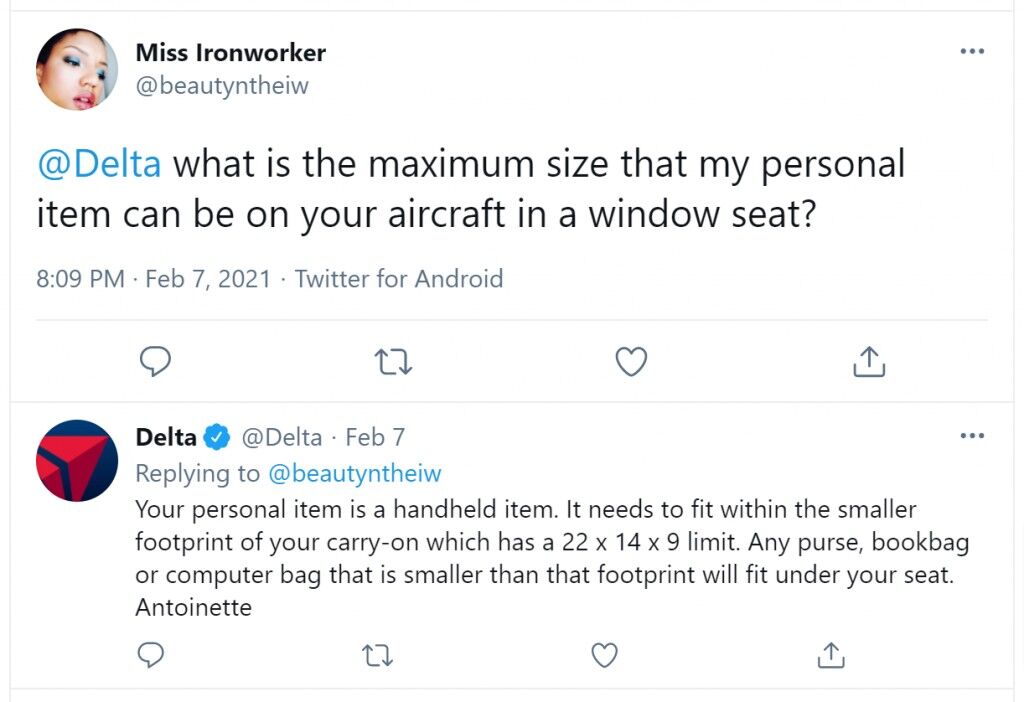 They told this passenger than your personal item just needs to be smaller than the footprint of your carry on.
This sounds promising but a footprint is two-dimensional and personal item bags are three-dimensional so Antoinette from Delta isn't making much sense.
They told Georgia that the personal item is expected to go under the seat in front and that the low average space size might be 12 x 12 x 7. A bag that size could give an extra 16 liters packing space.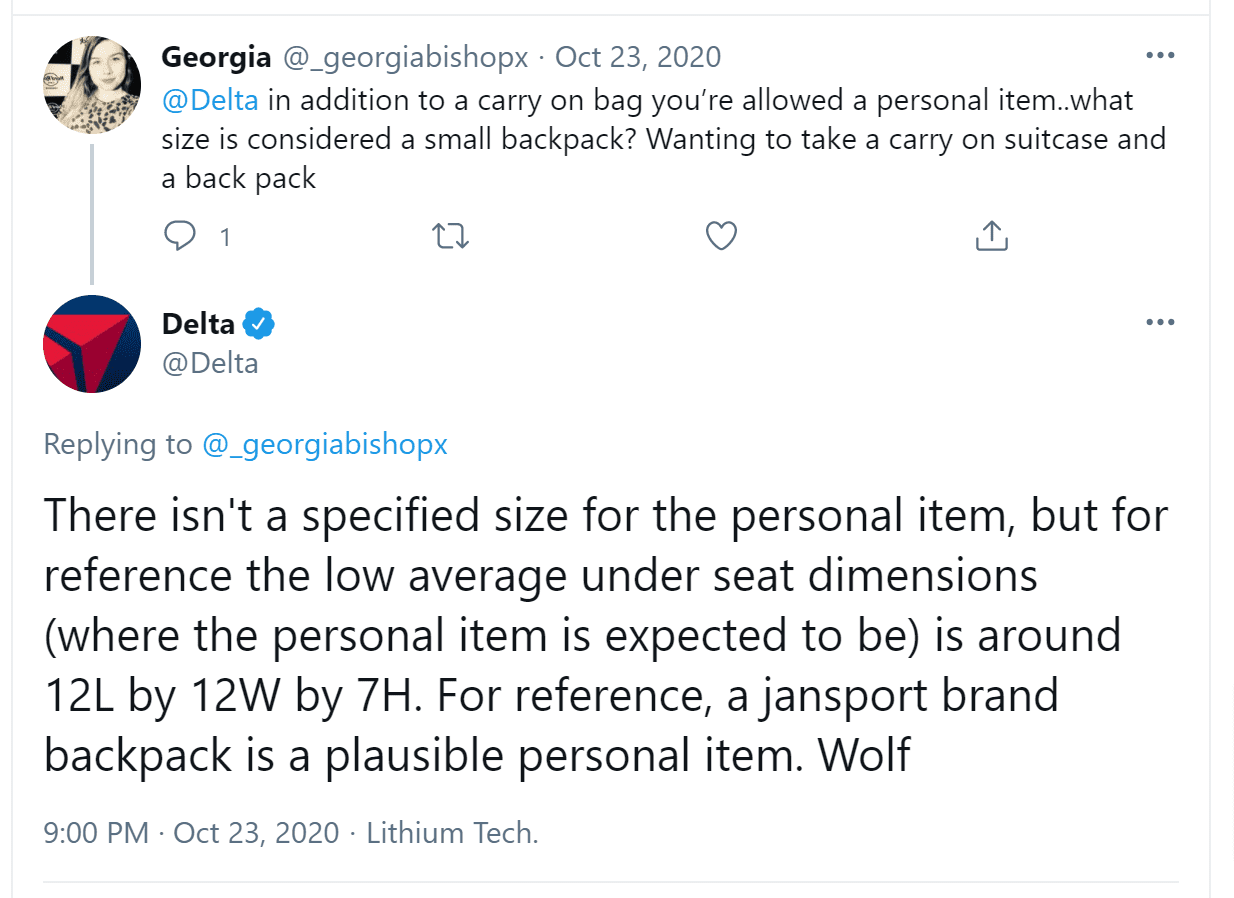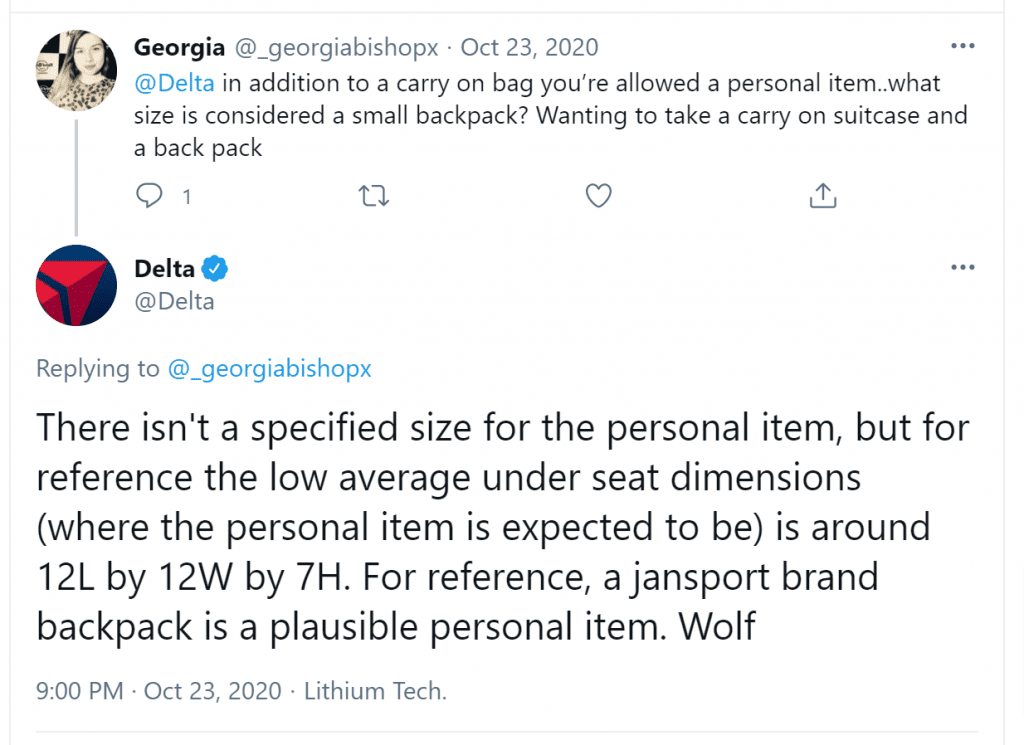 Delta explained the problem to Lucia:
The space under the seat depends on the type of aircraft you are flying on so they can't give you the size limit for personal items.
The most common under seat size limit used by other airlines (flying the same planes) is 18 x 14 x 8 inches.
There is a good chance that you could bring a bag that size when flying on a Delta flight.
This would give you an extra 33 liters packing space! That's not far away from being a second full-size carry on.
However, if you want to be extra sure that you'll be able to board with a large personal item I would advise two steps of action.
Call Delta to ask them specifically about the space available under the seat in front of you! They do have this information if you ask.
Get priority boarding so that you'll be getting on the plane before the overhead bin spaces fill up.
How Strictly Are Delta Size Limits Enforced?
Some airlines, like Spirit and Frontier, have a business model where if they don't catch oversize luggage they don't make profits.
Delta is a full-service airline, they make their profits from airfares. Delta doesn't have the same incentive to catch a carry-on that is one inch too big.
That doesn't mean that anything goes. The rules are the rules. If your bag looks to be on the large size the Delta agent may ask you to place the bag in the sizer.
As I already mentioned the sizer is slightly larger than the advertised limits.
The most common reason for carry on bags being denied boarding is because of a lack of size in the overhead bin.
As the bins start to fill up the gate agents will look closer at carry-on luggage size.
Passengers with large bags might be asked to check their carry-on. Even when your bag is under the size limits you might be forced to check it.
This can be confusing and stressful.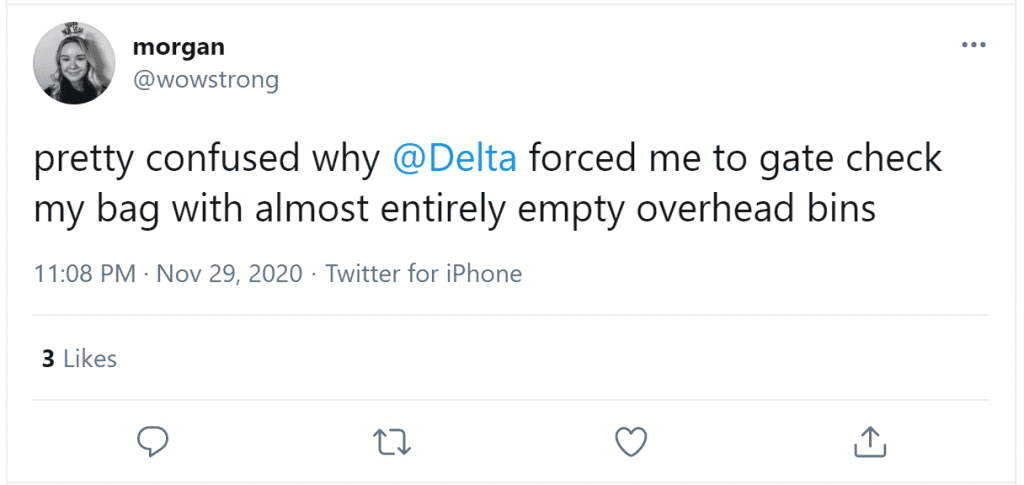 It's especially annoying when a carry-on bag is gate-checked and then damaged.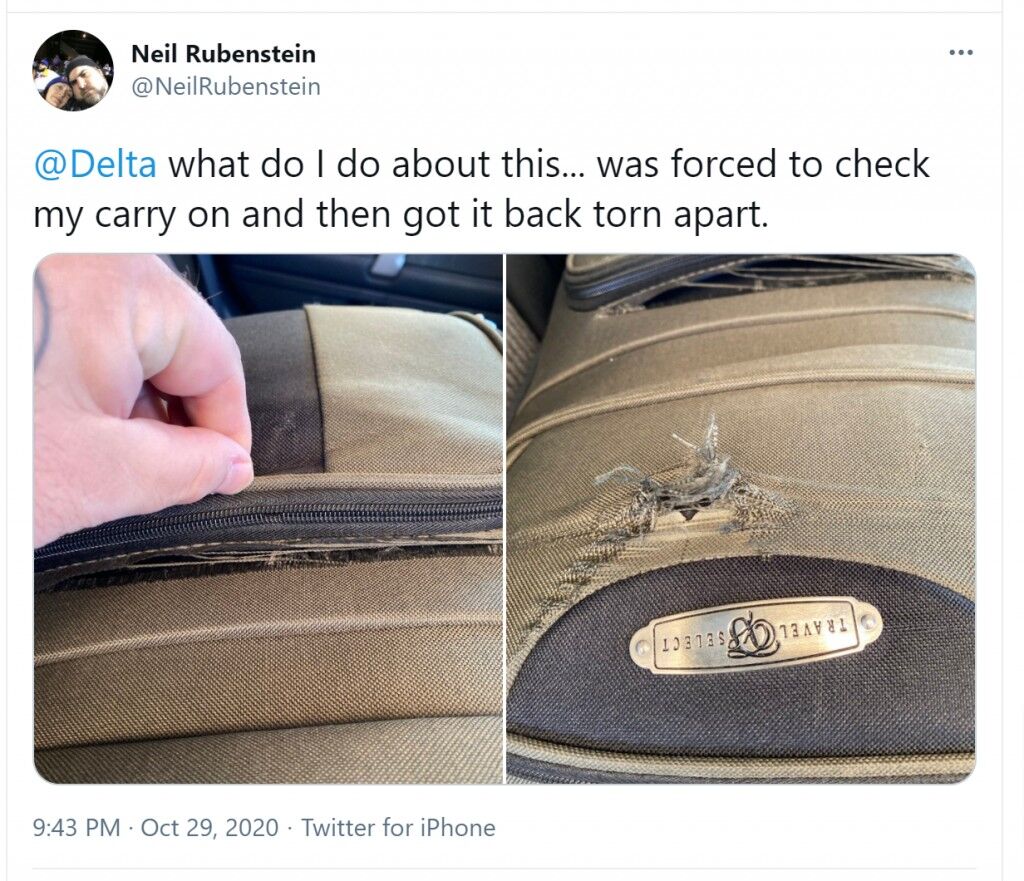 Or worse it is lost!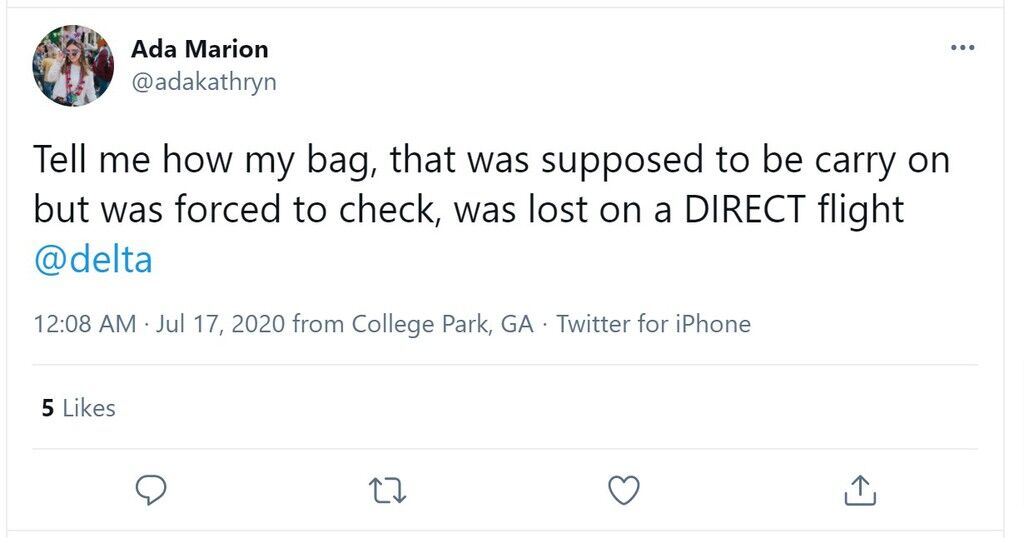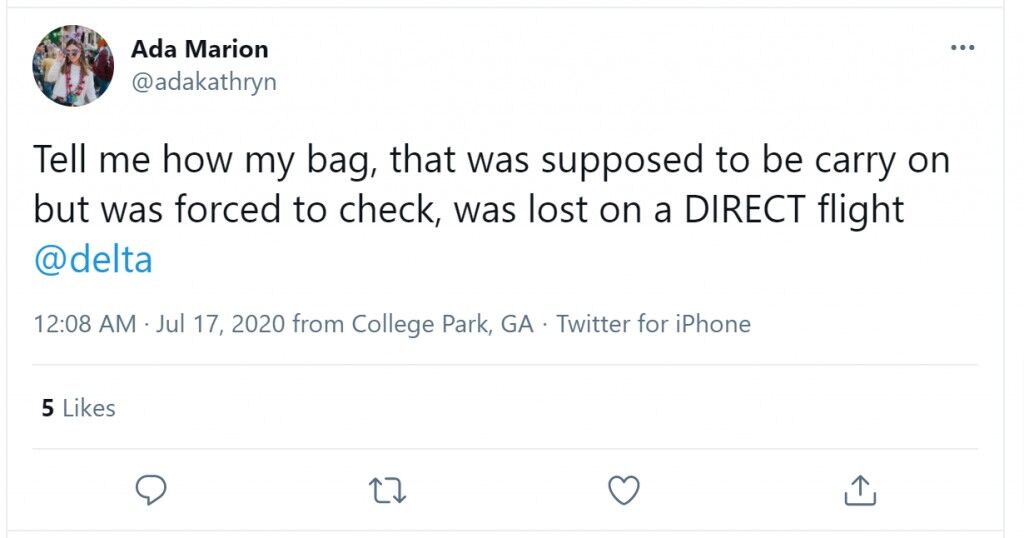 And it's infuriating when gate agents say there is no space, force you to check your carry-on, but there is space on the plane in the bins!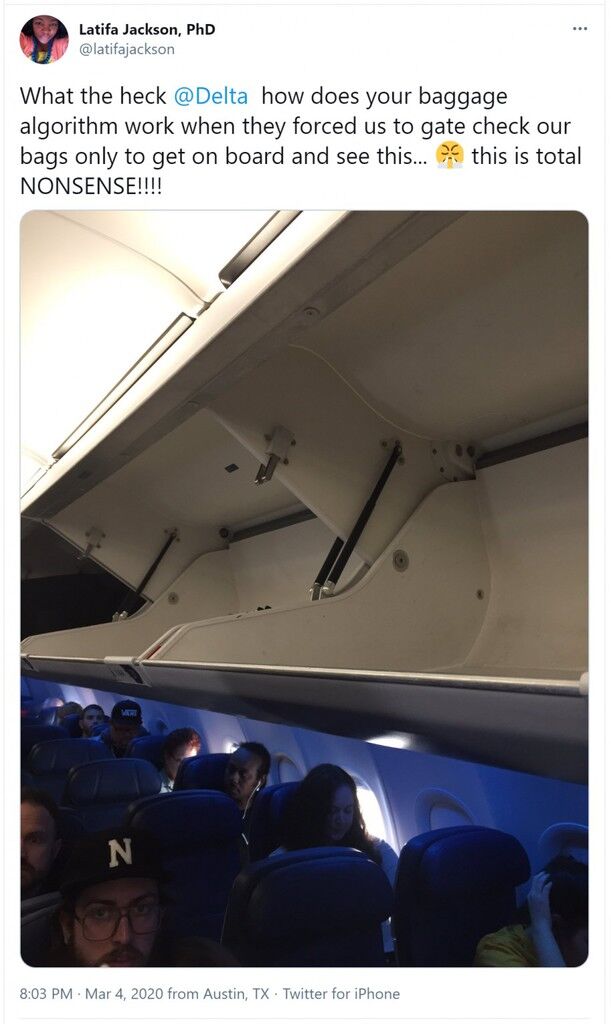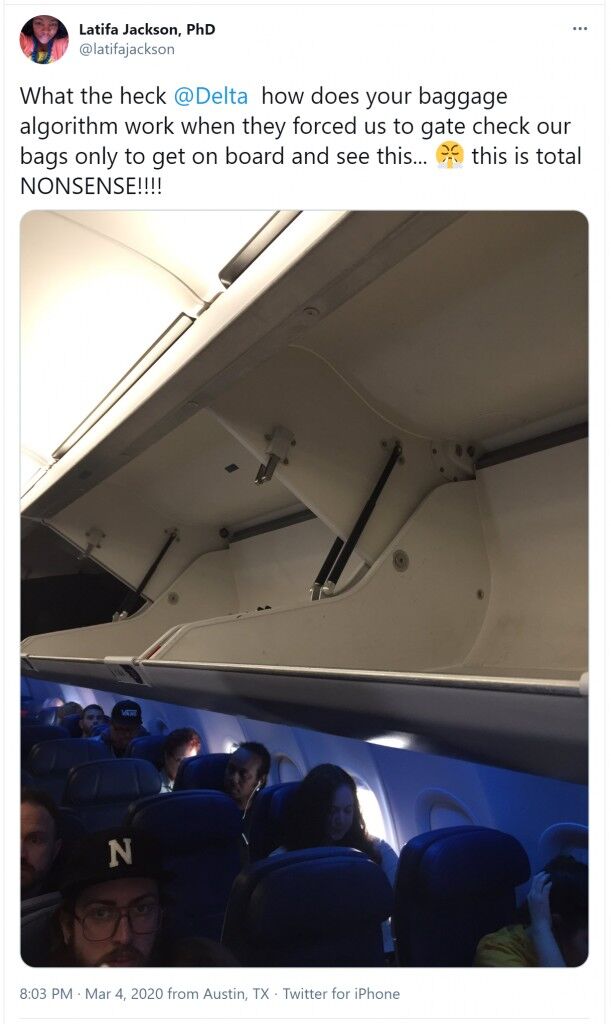 Compared with other airlines Delta is not very strict about carry-on luggage size. You probably can get away with a half inch too big. Maybe even an inch!
But make sure your bag fits in the sizer and purchase priority boarding if you want to avoid needing to check your bag.
In A Nutshell
The Delta carry on bag size is officially 22 x 14 x 9 inches.
But you can steal an inch or two from one dimension and add it to another just make sure the total inches are less than 45.
Because the sizer is a little larger than advertised you might be able to go up to 23 inches in length and 10 inches in depth.
Keep in mind that the larger your bag looks the more likely you will be forced to check your bag at the gate if the overhead bins are filling up.
If you want to bring extra belongings the best way isn't to try to sneak on an oversize carry-on suitcase.
The best way to bring extra belongings is to make better use of your personal item allowance.
Your carry-on is 40 liters, but your personal item could be a backpack or duffel bag snagging you an extra 30 liters. That's a lot more bonus room than an chunky carry on will get you.