Last Updated on January 16, 2021
When you are flying with an airline it's useful to know how seriously they take their hand luggage policies.
This helps you when you are buying new carry on luggage or deciding if you can use your old bag with an unfamiliar airline.
Alaska used to be very easy-going about carryon baggage. Up until June, 2018 they had one of the most generous carry on luggage policies allowing bags that were 24 x 17 x 10 inches.
This meant that a carry on that was okay with Alaska could be oversized for a connecting flight with another airline.
So Alaska decided to change their size limit to be more in line with other airlines.
Their new carry on size limit is 22 x 14 x 9 inches and you can take a personal item like a purse, briefcase or laptop bag.
This meant they shrunk the size of their permitted carry on bag by 32% so they have become a lot more strict about the size of the carry on you can use in their sizing policy.
But how strict are Alaska Airlines about enforcing this new policy?
Are they harsh or yielding? Read on to find out.
Flying With Oversized Hand Luggage On Alaska Airlines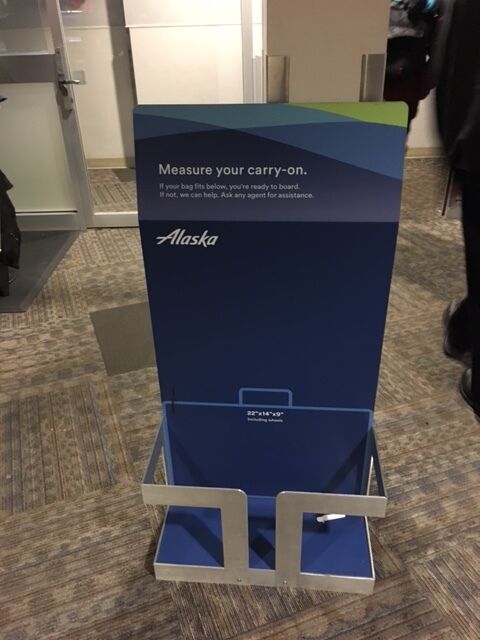 The actual size of the Alaska Airlines sizer is 22 x 14 x 9 inches. They haven't built in any buffer tolerances like some other airlines.
This means that their sizer is now very strict.
Reports are that the gate agents have been coming on strong and enforcing the new policy at the boarding gate.
However, if you are flying within the state of Alaska many fares include 1 free checked bag. So if you are on one of those flights you shouldn't get charged for being forced to gate-check your bag.
If you are flying out of state with Alaska and forced to check your bag you may be charged $30.
Isn't Gate-Checking Free On Alaska Airlines?
The official policy goes something like this:
Gate-checking is free when your bag is within the carry on limits and we ask for volunteers due to a lack of overhead bin space.
If you are asked to check your bag not because of lack of space in the bins but because it is blatantly and obviously larger than 22 x 14 x 9 then you may be charged a fee to check your bag.
The Verdict
Alaska Airlines are now strict about carryon luggage. They used to be one of the good guys, easy-going, with generous size limits.
In the old days, a standard carry on bag easily fit within Alaska limits so it was never an issue.
Now they've become more rigid and you need to be more careful about the size of the bag you are taking as your hand luggage.