Last Updated on November 26, 2021
Travel plans often go awry. Flights get diverted, trains break down, automobiles catch fire…
So it's not unusual for an exhausted traveler to arrive late at a hotel.
But what's the latest you can check into a hotel? Can you check into a hotel at any time? Can you check in late at night or after midnight?
This post is all about arriving at hotels late, and when exactly does "late one night" become "early the next day"?
Let's begin.
Hotel Check In Check Out Timing 101
Generally speaking, the standard check-in time is around 3 pm. Your hotel will let you know your check-in time on your reservation.
But the meaning of a 3 pm check-in time isn't that you must be there at exactly 3 pm. Or even in the vicinity of 3 pm.
You can check into most hotels long after the specified check in time.
This hotel employee finds it adorable when guests call to explain they will check in late when in her eyes it's not really a late check in situation.


A 3 pm check in time means that you will be able to check-in from 3 pm onwards.
Take note, that also implies that you won't be able to check-in before 3 pm, although often you will be able to do it if a room is available. They just don't promise it.
The standard check-out time is 11 am. These four hours between 11 am and 3 pm allow the hotel time to clean and prepare a room for the next guest.
What is considered late check in at a hotel?
Most hotels request that you notify them if you will be arriving to check in late. But when is "late"?
Unfortunately, there is no straight answer as to what constitutes a late check-in. It depends on the size of the hotel that you are staying in and their policies.
Late Arrival At Small Hotels
If you are staying at a small boutique hotel that only has a few rooms they might consider anything after 7 pm a late check-in.
When the hotel only has a few rooms someone needs to hang around to meet you when you arrive. It makes sense to communicate when you expect to get there.
A very small independently owned hotel might flat out refuse to get up in the middle of the night to check you in at 4 am.
Late Arrivals At Medium Sized Hotels
Medium-sized hotels usually have someone around that can check you in after midnight.
However, they might not be sitting at the front desk all night.
The night manager may have other jobs to do during the night shift.
Also, you may require a key to get past the hotel front door at night. Since you've not checked in yet you'll need to use an intercom system to alert someone that you have arrived.
All in all your best bet is to call and let someone know what time you will arrive.
They can make sure they are in earshot of the intercom when they are expecting you and still check you in even if you arrive very late after midnight.
I would notify a medium-sized hotel if I was arriving after 9 or 10 pm.
Large Hotel Chains
If you are staying at a large hotel chain they probably staff the reception desk 24 hours a day.
So in theory you'll be able to arrive any time you like even well after midnight hassle-free.
Your concern, in that case, isn't that there will be nobody around to speak to.
Instead, you should worry that they could sell your room to someone else if you don't communicate with them about your late arrival time.
This former hotel employee advised that rooms booked through 3rd party sites are much more likely to be canceled if you arrive late and don't tell the hotel what's happening.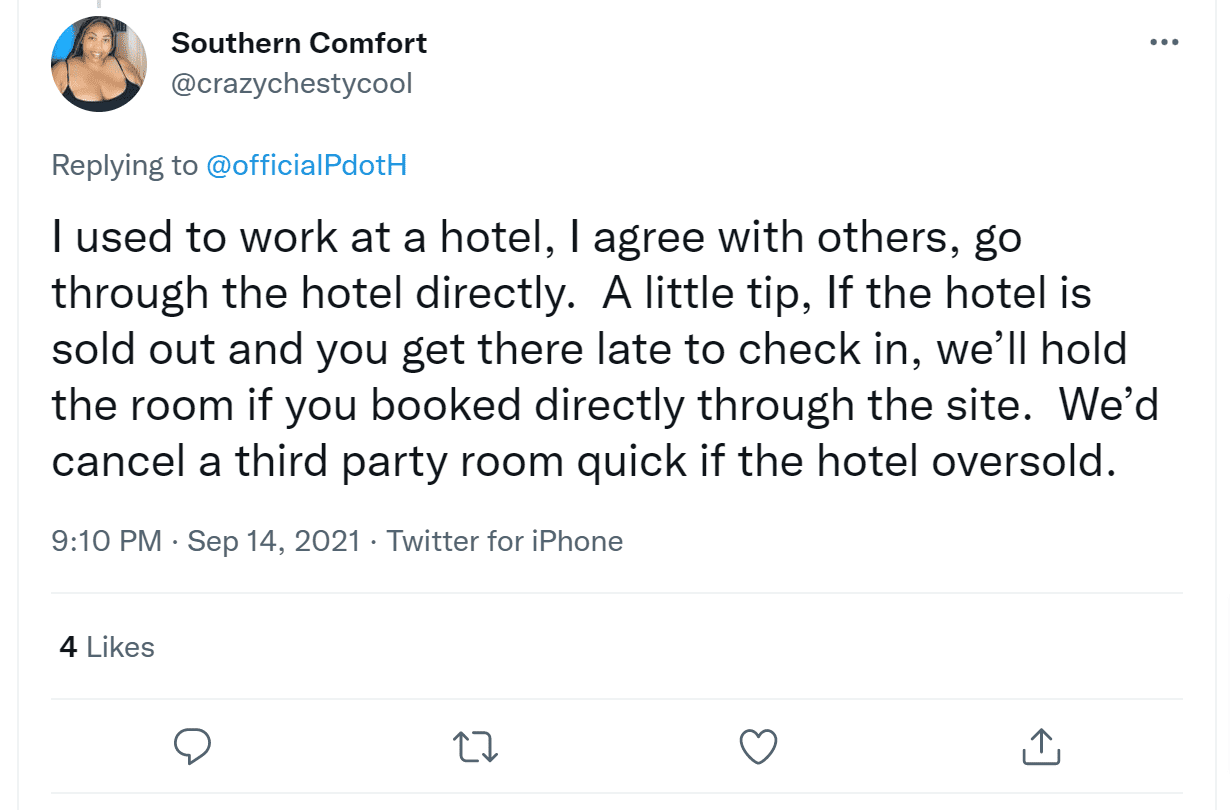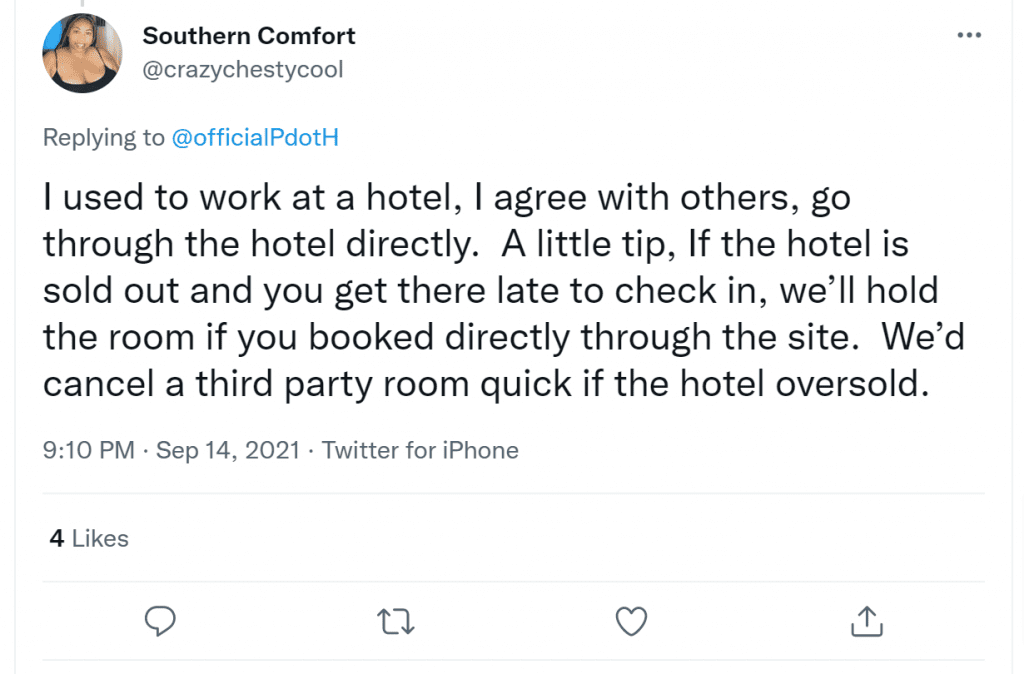 Sometimes guests just don't show up. If the hotel thinks your reservation is a no show and you haven't prepaid they'll sell the room should the opportunity arise.
For that reason, I'd also call the hotel and let them know my approximate time of arrival if I'm going to be getting there after 10 pm, especially if I booked through a 3rd party site.
Let your hotel know you're going to be late and they'll hold the room for you.
So the late check-in policy depends on what individual hotel you are staying at.
Yes, you can check in to a hotel late at night, but what is considered to be late will depend on the size of the hotel.
You don't need to notify large hotels just because you won't be there for a few hours after 3 pm.
You can even walk in to a large hotel after midnight and book and check into a hotel on the spot. They'll be happy for the business if they have rooms available.
Online booking systems might not always let you book a stay for the previous day if the clock has passed midnight. But the good old-fashioned telephone could help you out in that situation.
Remember though, if you check in late for a single night stay you'll still need to be up and awake for an early check out at 11 am the next morning.
Late Check In Policies Of Well Known Hotel Brands
The Premier Inn advises guests to make the hotel team aware if they are arriving after 11pm.

When Peter was arriving at the TraveLodge in the UK they said that the reception desk was manned 24-hours per day: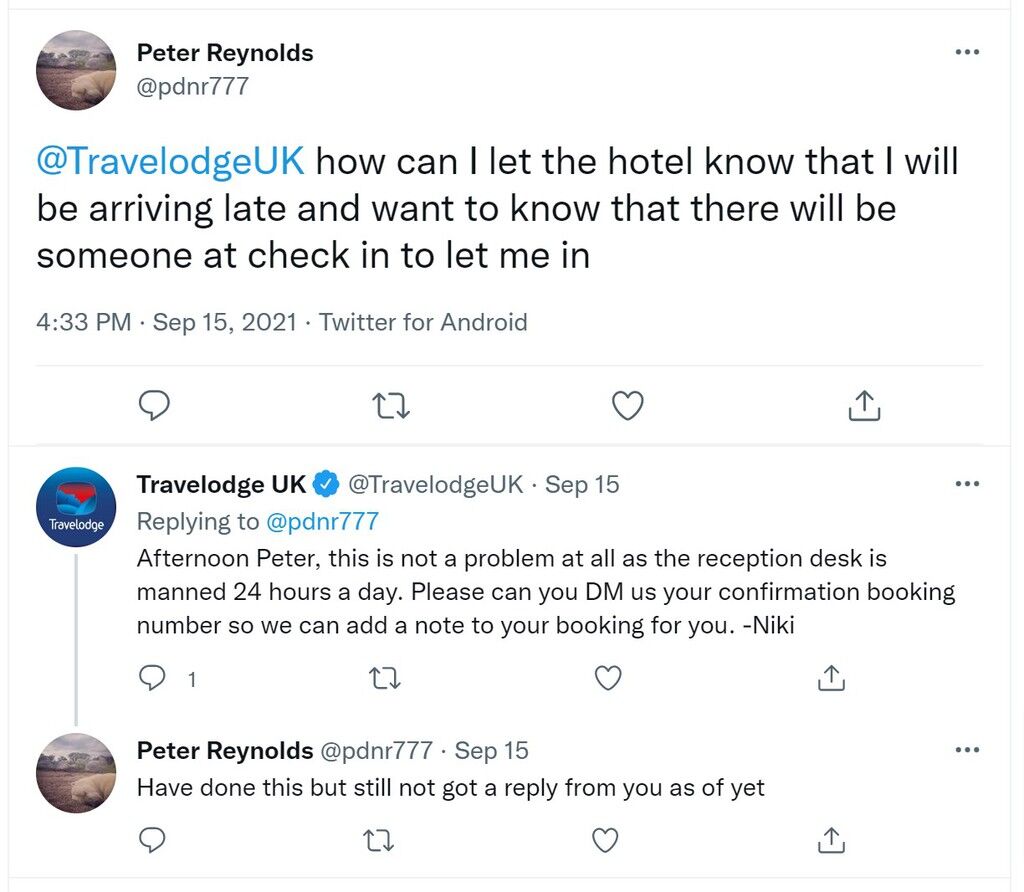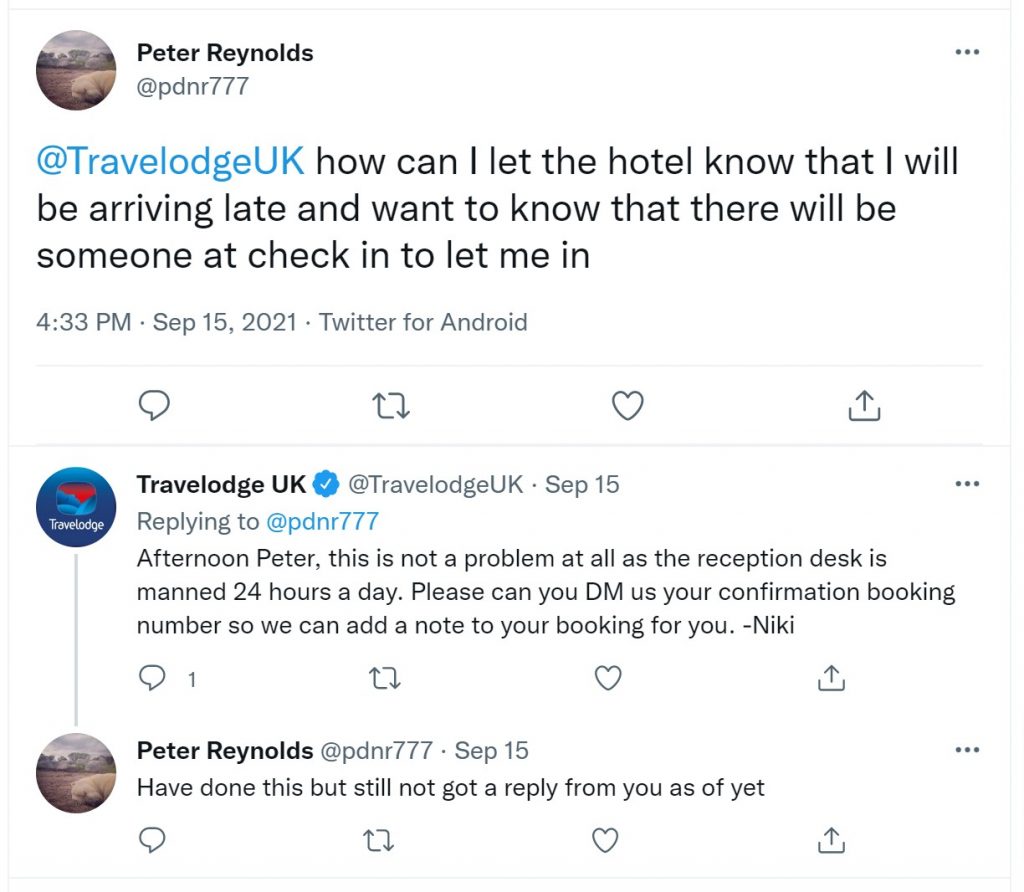 Single Night Stays
Take note. Checking in late doesn't automatically mean that you can check out late.
Suppose you have booked a single-night stay in a hotel room for July 4th.
But for whatever reason, you don't arrive until 3 am in the early hours of July 5th.
You'd still need to check out at 11 am on July 5th.
When you arrive after midnight, clearly the date has changed to the next day. But as far as hotels are concerned it's still a stay for the previous date.
You can't check in at 1 am on the 5th for a stay on the 5th. Because check in for the 5th doesn't start until 3 pm and because whoever booked the room on the 4th might be sleeping in the bed!
So a 1 am check-in on the 5th would be considered a late check-in for the 4th.
If you are arriving late for a single night stay, you could request a late checkout. This might get you a few extra hours sleep. However, this isn't guaranteed and you'll only be given a free late check out if the hotel can accommodate you.
Essentially, as a courtesy, they'd arrange for your room to be cleaned last to let you get a few extra hours. Between the hours of 11 am and 3 pm the housekeeping staff are cleaning the hotel rooms. If your room can be scheduled to be cleaned last you might be able to check out late.
Not every hotel will do this though, and sometimes they will charge a fee for it.
When Does Late Check In Become Early Check In?
There is no exact answer to this question, but we can say with certainty that it's not 1 minute past midnight.
It's not turning up at 3 am either.
The earliest I ever heard of someone being granted an early check-in was 7 am.
When the sun has come up, and the next day shift has begun, then you can begin talking about early check-in.
Steph landed at 10 am and presumably went straight to her hotel.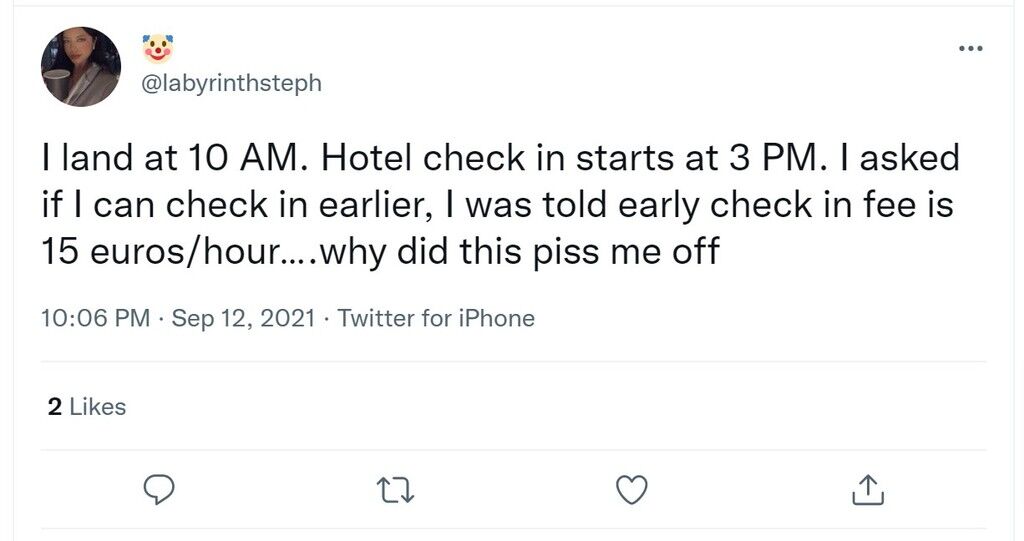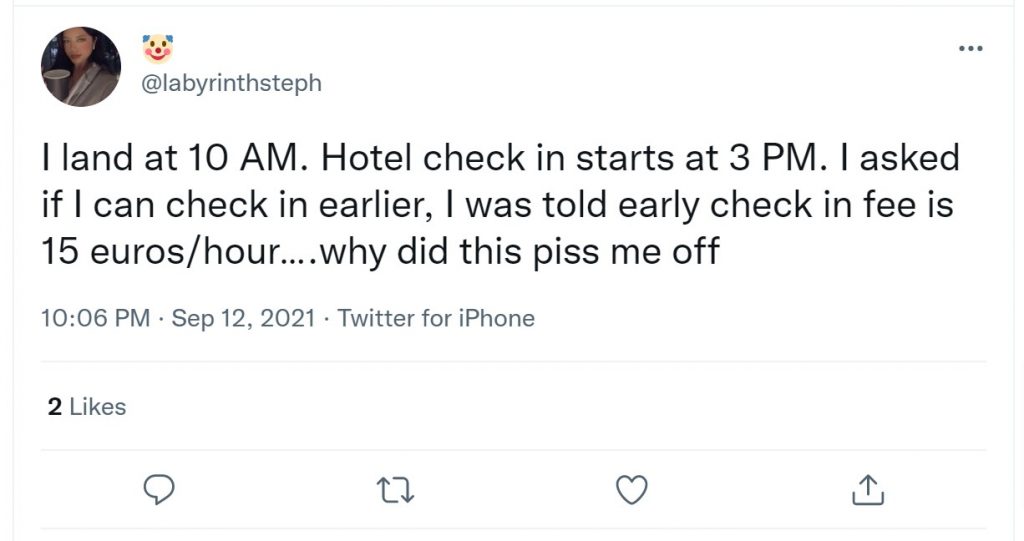 Think of it this way.
Hotels want to fill all the rooms to be profitable.
In theory, the very earliest you can check in to a room is after the previous guest has checked out and the room has been cleaned.
Since check-out time is 11 am that's the earliest that early check-in can start happening. Anything before that would be considered a late check-in for the previous date.
Sometimes a particular hotel might allow you to check-in early and use on-site facilities without giving you access to your room.
It doesn't hurt to ask.
You might be able to use the swimming pool or the fitness center while your room is being prepared.
In most cases, if you arrive during the day, you'll be able to hang out in the lobby until check-in time.
But that doesn't mean you can arrive at 3 am and sleep in the lobby until check-in at 3 pm the next day!
The Verdict
You can only check in to a hotel very late if someone is around to process your arrival.
To make sure you will be able to check in late you should communicate your expected arrival time.
The smaller the hotel the more clear and specific you should try to be about your arrival timing.
For large hotels someone is almost always around, but if you don't phone and let them know you will be arriving late they may mark you down as a no show and your room could be sold to another guest.
If you only booked to stay one night and you arrive very late you could be in for a shock. Arrive at 7 am for a single night stay and you'll be leaving in 4 hours!
Hopefully, that gives you a better idea about how late you can arrive at a hotel and still get access to your room. Have a good trip!
You Might Also Like