Last Updated on August 10, 2022
Since Spirit Airlines doesn't provide in-flight entertainment you might want to use your own laptop, tablet, or cell phone to keep yourself entertained during your journey.
Of course, you could download something from NetFlix before your flight, but if you have WiFi on the plane you'll have a lot more ways to keep yourself busy.
But ultra low fare carriers like Spirit don't have luxuries like WiFi do they?
They do! Here's the deal.
Does Spirit Offer Wi-Fi?
Yes in 2022 Spirit Airlines does have WiFi on the majority of their planes but some of the A319 planes and newer planes that they've just added to the fleet might not have been equipped with WiFi yet.
They are also currently unable to offer WiFi on their flights to Caribbean Islands and destinations in Central and South America. However this facility may be coming soon when the Spirit Airlines planes are upgraded
And, of course, Spirit does not offer a free wifi service. No surprises there then they are a budget airline afterall!
Spirit offers two Wi-Fi speeds, Browsing Speed starts at $2.99 and Streaming Speed starts at $5.99.
The Streaming plan from Spirit offers 7-10 Mbps, while the Browsing option provides slower speeds.
If you want to be able to watch video or your favourite shows then you'll need to buy the streaming plan. You can hope for video quality of up to 720p.
The browsing option is meant for checking emails, surfing the web, and messaging friends and family.
The price for Spirit in-flight Wi-Fi goes up as the flight duration increases.
A flight I checked from Los Angeles (LAX) to Fort Lauderdale (FLL) offered inflight WiFi for $11.99 at Browsing speed and $14.99 at Streaming speed.
How To Get WiFi On Spirit Airlines
You can pre-purchase WiFi when you are buying your Spirit fight when you see the WiFi symbol during booking.
Here's what it looks like: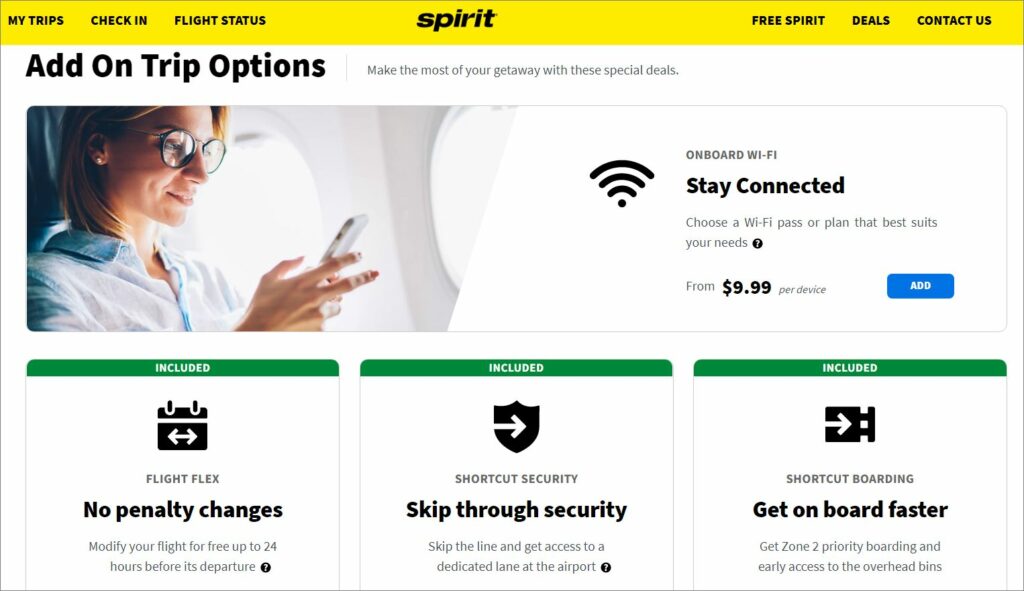 Once you are on the plane here's what you do to get connected to Spirit WiFi:
Enable WiFi on your desktop computer, laptop, phone, or smart device.
Search for available WiFi Access Points
Connect to the SpiritWiFi network
Visit SpiritWiFi.com if a browser does not automatically open. You can purchase either a Browsing or Streaming plan there or enter the voucher code you were given if you paid for Wi-Fi during booking.
So you can pay for Spirit Airlines WiFi while on the flight. You don't need to pre-purchase the service.
At the moment the price is for one device for the duration of the flight. However Spirit says they are working on plans to allow you to connect multiple devices.
Also if you think you might need the Streaming speed it's best to buy it from the start since upgrading from Browsing to Streaming is not currently possible on all Spirit aircraft.
Is Spirit WiFi Any Good?
It's always best with any in-flight WiFi service to be realistic with your expectations.
In-flight WiFi is never as stable as home WiFi, no matter which airline you are flying with.
On the one hand, Brett was very happy with the cheap Spirit WiFi and even did a speed test: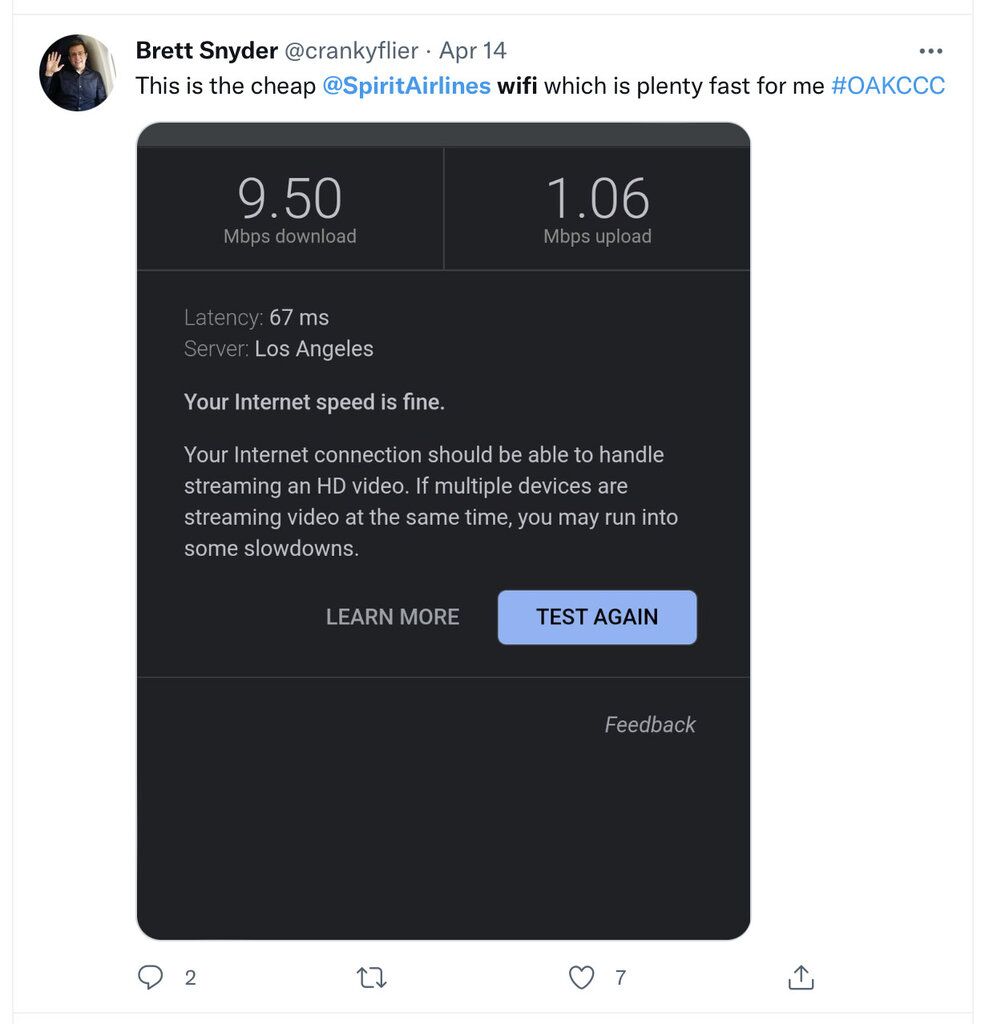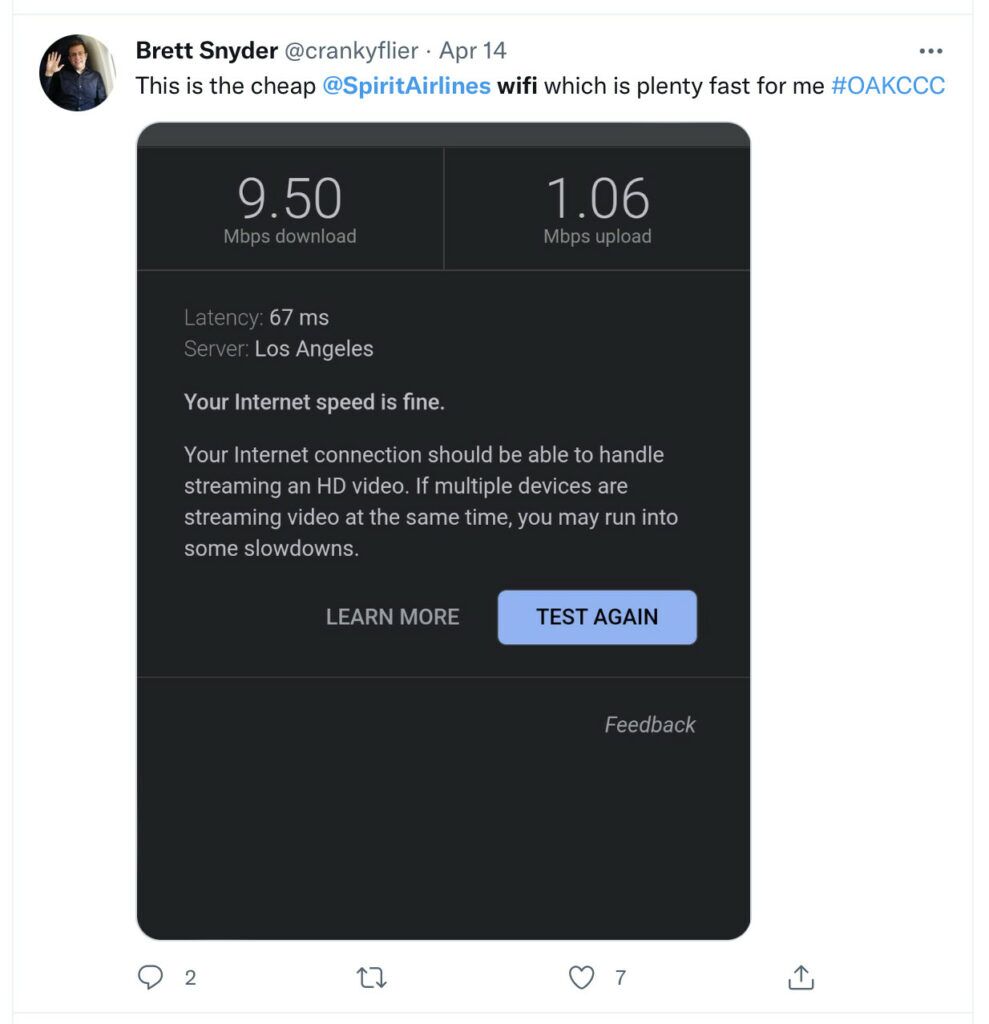 But it's not hard to find customers that tried Spirit WiFi and were disappointed.
Brad had a very patchy service and claims he only got 20 mins of wifi on his 2 hour flight.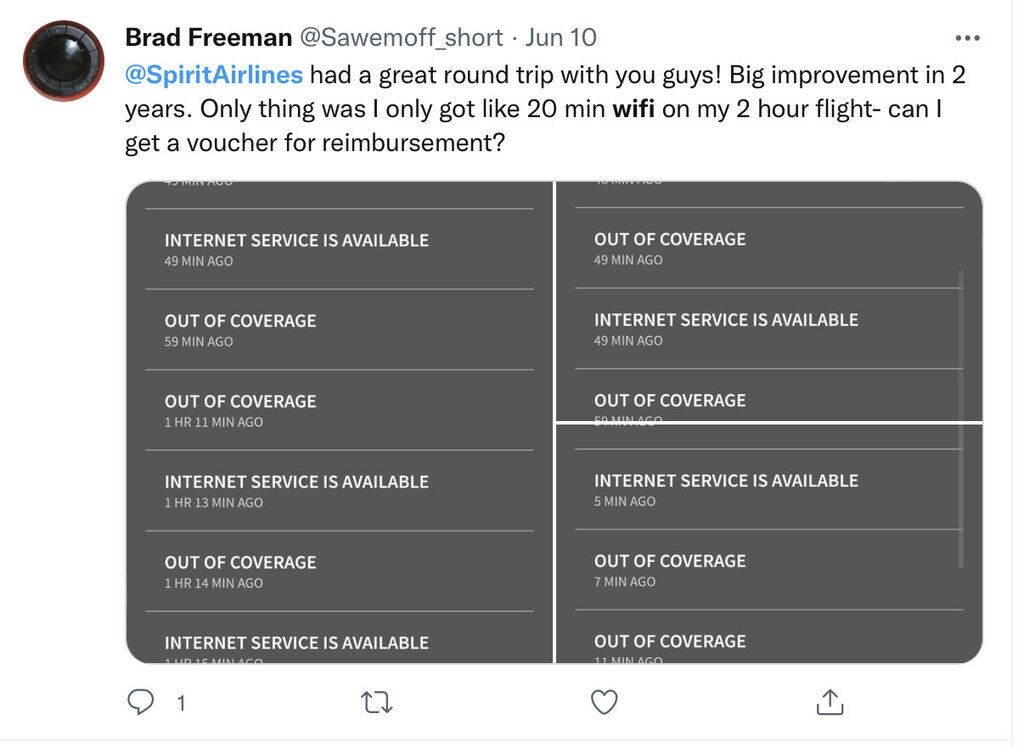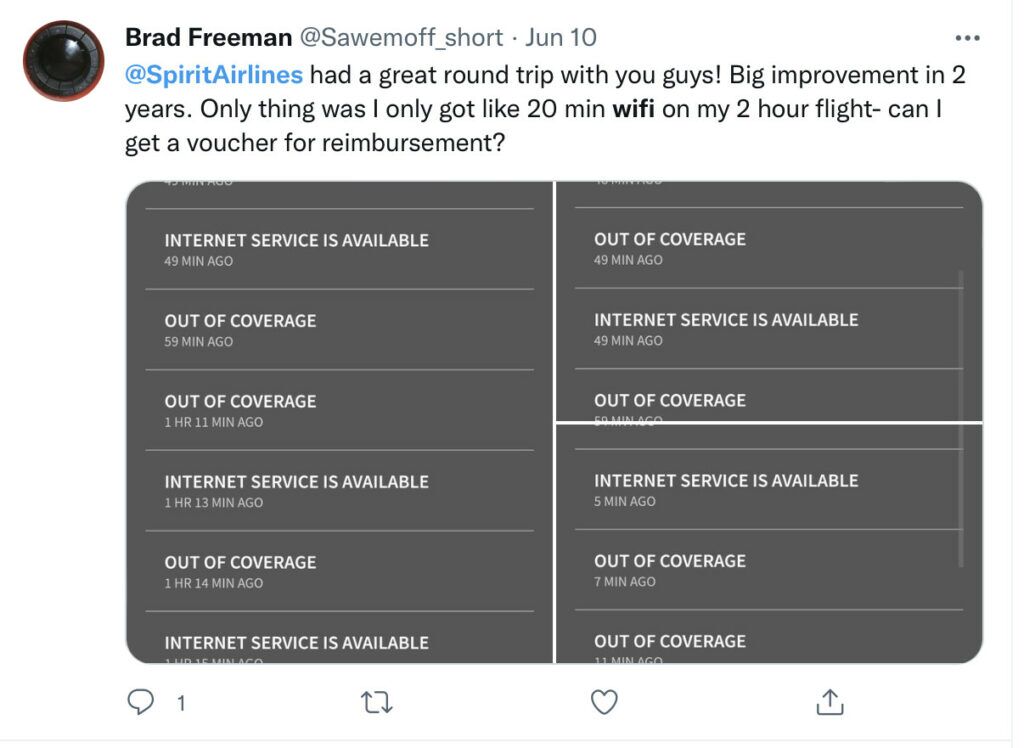 Of course, it's mainly the unhappy customers that vent on social media.You rarely hear from all the happy customers.
So I would not hesitate to recommend buying Spirit's WiFi if you want to try it. Fingers crossed everything will work well but if it doesn't work as advertised then contact Spirit for a refund!
The Bottom Line
Spirit does offer inflight WiFi but you'll need to pay for it. Most of Spirit's fleet is equipped with WiFi.
For the fastest Wi Fi service if you want to watch video then choose the Streaming option.
You can purchase Spirit Wi-Fi either during your flight or pre-purchase Wi-Fi before your flight when you book your ticket.