Last Updated on October 9, 2022
Key Takeaways
Both Main Cabin seats and Basic Economy seats are in the same area of the plane.
The main differences are:
Delta Basic Economy tickets are cheaper than Delta Main Cabin tickets
Seats are self-selected on Main Cabin fares but automatically assigned on Basic Economy fares
You might not be able to sit together if traveling as a group
Delta Basic Economy fares are non-changeable and non-refundable whereas Main Cabin fares can be has no change fees and can be refunded for eCredit
Basic Economy passengers board last meaning they might not be space in the overhead bin for their carry-on bag, Main Cabin passengers board earlier so have more chance of finding overhead bin space
Basic Economy passengers are not eligible for upgrades whereas Main Cabin passengers can get upgraded
Basic Economy fares do not earn Delta Skymiles whereas Main Cabin fares do earn Delta Skymiles
If your Delta flight gets cancelled and reschedules Basic Economy passengers will be last in line to be accommodated on replacement flights
If your Delta flight is overbooked Basic Economy passengers might be first in line to be bumped from the flight if there are no volunteers
Most of the major airlines in the United States have introduced basic economy fares to try to compete with budget airlines like Spirit and Frontier.
Flying Basic Economy means accepting reduced service levels in exchange for a cheaper ticket.
This post looks at all the differences between Delta Main Cabin vs Basic Economy.
Main cabin is located at the back of the aircraft. It's the main place on the plane where most passengers sit.
The difference between basic and main on Delta flights can be a little confusing since Basic Economy seats are also in the main cabin.
When you fly Main Cabin you could be sitting right next to a Basic Economy passenger and not even realize it.
The difference between Basic Economy and Main Cabin fares is subtle.
Both Delta Basic Economy and Delta Main Cabin fares are Economy fares. Main cabin is known as 'Economy Classic' whereas Delta Basic Economy is known as 'Economy Light'.
This table will help you easily understand Basic vs Main on Delta:
Delta Basic Economy vs Main Cabin
| Delta Basic Economy Fares | Delta Main Cabin Fares |
| --- | --- |
| Cheaper | More expensive |
| No changes permitted | Changes permitted without change fees |
| Partially refundable for eCredit | Fully refundable for eCredit |
| Automatic Seat Assignment | Seat Selection |
| Sitting together not guaranteed | Sit together |
| Last boarding group | Board before Basic |
| No eligible for upgrades | Eligible for upgrades |
| No miles earned | Miles earned |
| One carry-on bag plus one personal item | One carry-on bag plus one personal item |
| No free checked bag on international flights | Free checked bag on international flights |
| Increased risk of being bumped from overbooked flights | Reduced risk of being bumped from overbooked flights |
| Increased risk of not being accommodated on rescheduled flights | Reduced risk of not being accommodated on rescheduled flights |
Delta's Basic is Cheaper Compared To Delta Main Cabin
I checked some Delta flights to see the fare difference between Basic vs Main.
Flying Delta's Basic Economy would save $150 on a flight from NYC to LAX. That's $300 saved for a round trip.
Or flying from JFK to ATL would save $50 per flight or $100 for a round trip.
You'll save even more on long haul international flights.
So if you are willing to put up with the Basic Economy restrictions you can save money and for a round trip it can be a significant amount.
But there is a risk when purchasing a Basic Economy fare.
Because…
Your Delta Basic Economy Ticket Will Be Non-Refundable & Non-Changable
After the 24-hour Risk-Free Cancellation period that applies to all purchases you will not be able to get a refund on your Delta Basic Economy Ticket.
Flying Basic Economy is a gamble. You are taking a bet that you will definitely travel on your intended date.
Or to put it another way, paying extra for a Main Cabin fare is like buying insurance. If your plans change you'll be able to reschedule or receive full eCredit whereas if your plans need to change and you bought a Basic Economy ticket you'll likely end up losing at least some of money you put down.
In some cases Delta will issue partial eCredit on cancelled Basic Economy fares. There is a cancellation charge of $99 for domestic flights and $199 for international flights. If your flight price was less you won't receive any eCredit.
Even if you are confident taking that bet the Basic Economy Experience is not as comfortable as the Main Cabin experience.
Delta Basic vs Main Means Self Seat Selection vs Automatic Seat Assignment
So you've saved some money by not paying for the 'insurance' and taking the risk that you will fly on your intended date.
Delta doesn't want Basic Economy to be as luxurious as Main Cabin. They want you to suffer a little to encourage you to pay the higher price for Main Cabin.
So when you choose a Delta Basic Economy fare you don't get to choose where you will sit. Your seat will be assigned when you check-in within 24 hours of departure.
Some travelers really don't like this uncertainty and worry because the seat has not been assigned.
You will get a seat on the plane. You just don't get to choose where it is.
In comparison you do get to choose your seat on a Main Cabin fare.
This particularly impacts people traveling in groups. Seat assignments might not be together even if the tickets were purchased together.
There is a good chance that you'll be assigned a middle seat. So if you like aisle seats or window seats or to sit closer to the exit then choose Main Cabin.
When Birdie purchased a Basic Economy fare and Delta Air Lines didn't seat her next to her 3 year old daughter: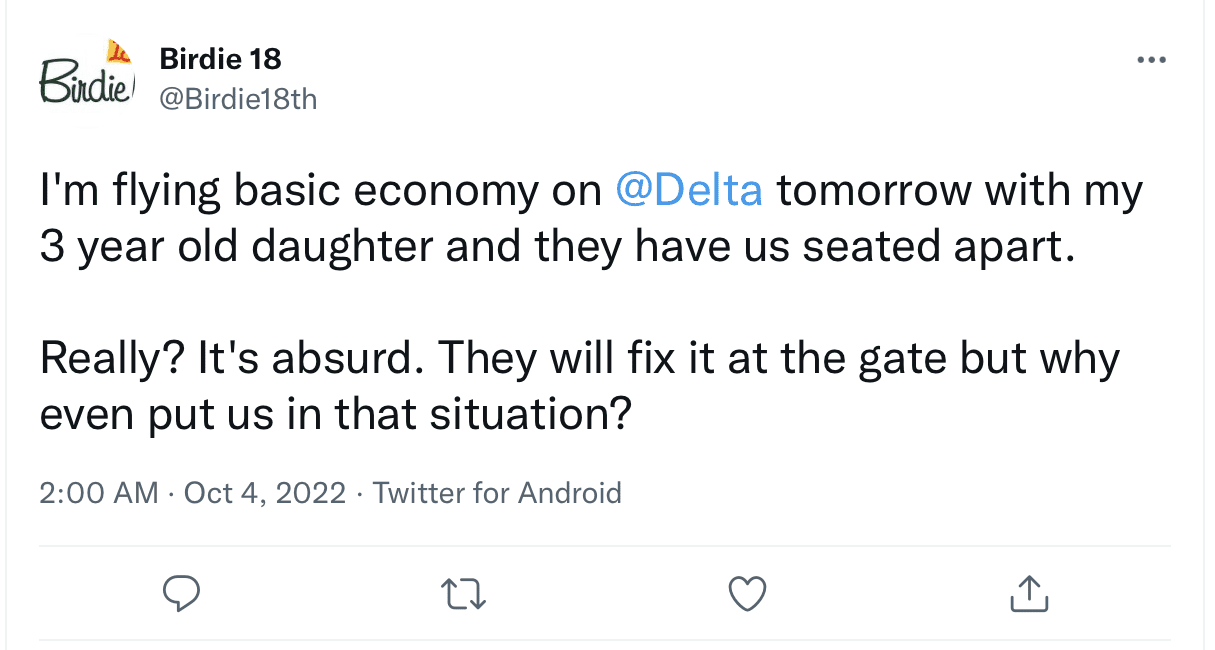 Delta might have been able to fix this when boarding but it's not guaranteed.
If you want to make sure you are sitting together then you need to pay extra for a Main Cabin fare.
Basic Boarding Group vs Main Cabin Boarding Group
The boarding group is important when you are flying with carry-on luggage.
Space in the overhead bins is limited and often Basic Economy passengers that board last are sometimes forced to gate-check their carry-on luggage.
When McNugget was flying Basic Economy on Delta they make him check his very small rolling bag even when there was space in the overhead bins.
Some travelers see this as a perk since it will be free.
But when checking luggage you'll need to wait after landing and go to baggage claim to get your bags back.
Passengers with Delta branded credit cards that include free priority boarding will be able to avoid being in the last boarding group. So that's one way to improve the Basic Economy experience.
But the only Delta credit card with free priority boarding have annual fees so you'll end up paying for it one way or another.
Complimentary Upgrades
Basic Economy travelers are not eligible for complimentary upgrades.
This means that there is no chance you'll be upgraded to a Delta Comfort+ seat with extra leg room or a Premium Economy seat.
Basic Economy SkyMiles vs Main Cabin SkyMiles
Basic Economy ticket holders don't earn miles or SkyMiles on Delta's loyalty program.
So if you've worked hard to earn elite status you'll risk losing it if you take too many Basic Economy flights.
Michal was considering moving to another airline because he wasn't able to collect miles because he had a Basic Economy ticket: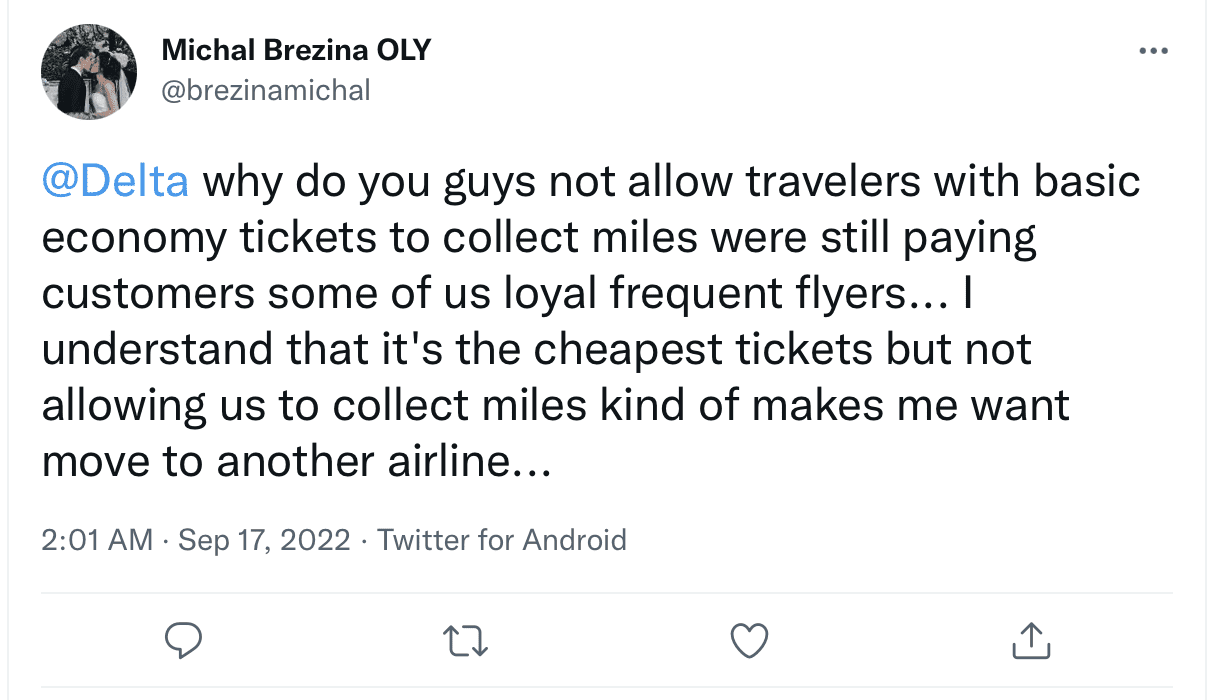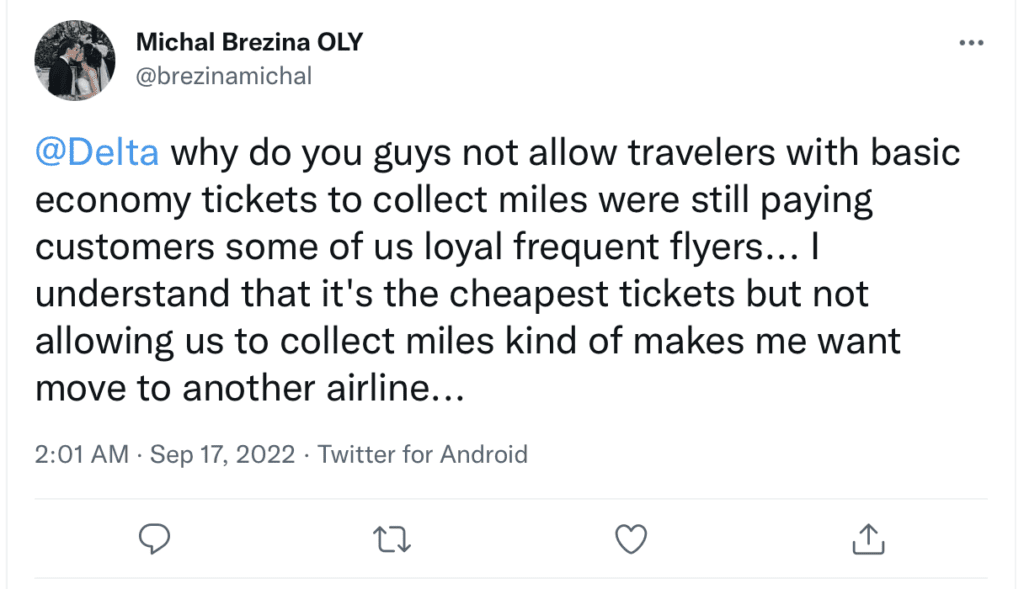 The lesson is…
Avoid Basic Economy and choose Main Cabin tickets if you want to keep earning those miles.
Delta Main Offers A Free Checked Bag On International Flights While Basic Doesn't
Basic Economy flights to international destinations do not include a free checked bag.
For example, while you might save $120 by choosing Delta Basic Economy fares to and international destination you'll immediately lose $60 if you need to bring a checked suitcase.
The devil is in the detail right!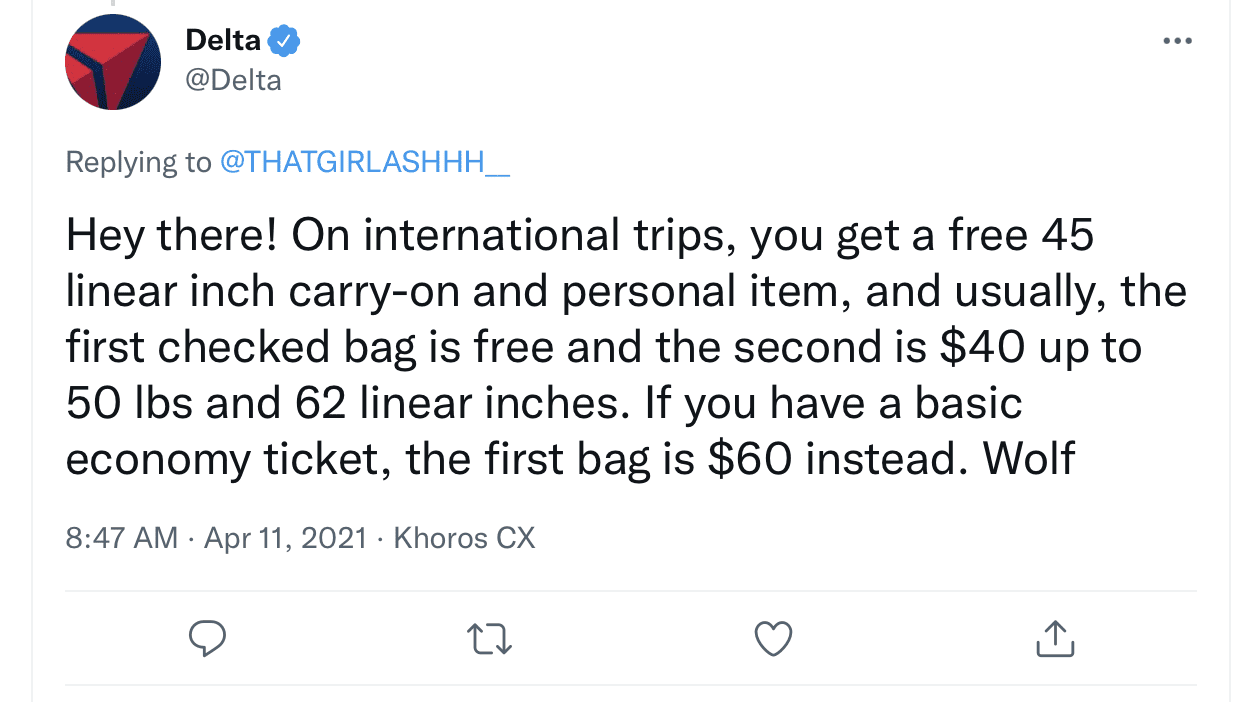 Delta gives with one hand and takes away with the other 🙂
Basic Economy Bumping
Sometimes airlines sell more tickets for the plane than they have seats.
That's usually fine because not everybody turns up on the day.
But occasionally everyone does turn up and some passengers can't fly.
The airline will try to find volunteers to take an alternative flight.
But if no volunteers can be found then Basic Economy passengers could be first in line to be bumped off the flight.
Here's Kristin quoting Delta on an overbooked flight: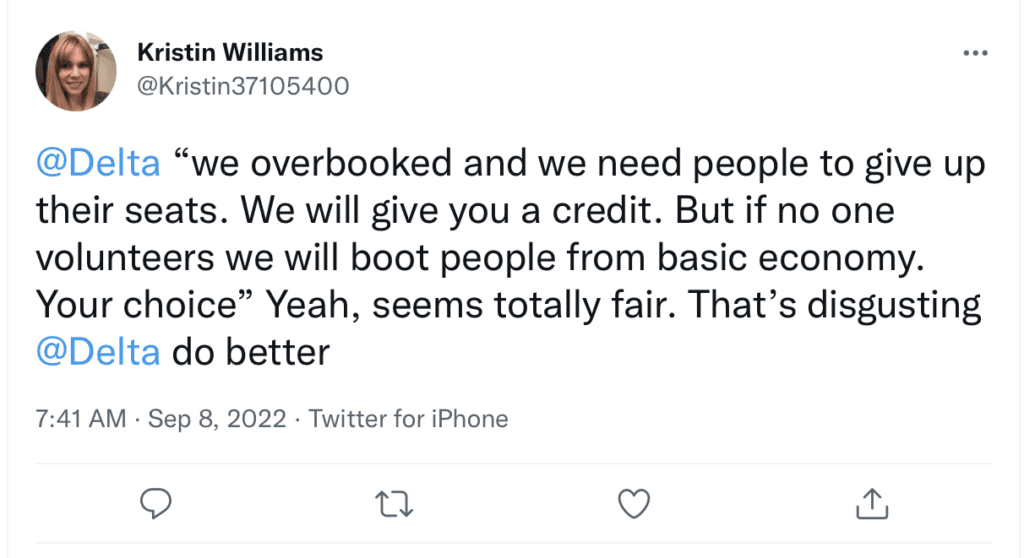 Kristin felt it was a disgusting way to treat passengers.
But if you pay less money you are a less valuable customer. That's the way capitalism works.
Basic Economy Passengers & Cancelled Flights
Suppose your Delta flight gets cancelled.
Delta will try to accommodate passengers on the next available flight with capacity.
But who do you think will be last in line to get a seat on the next flight.
That's right. Basic Economy passengers will be lower priority.
Sydney's flight was rescheduled by Delta due to bad weather but none of the alternatives offered by Delta were suitable.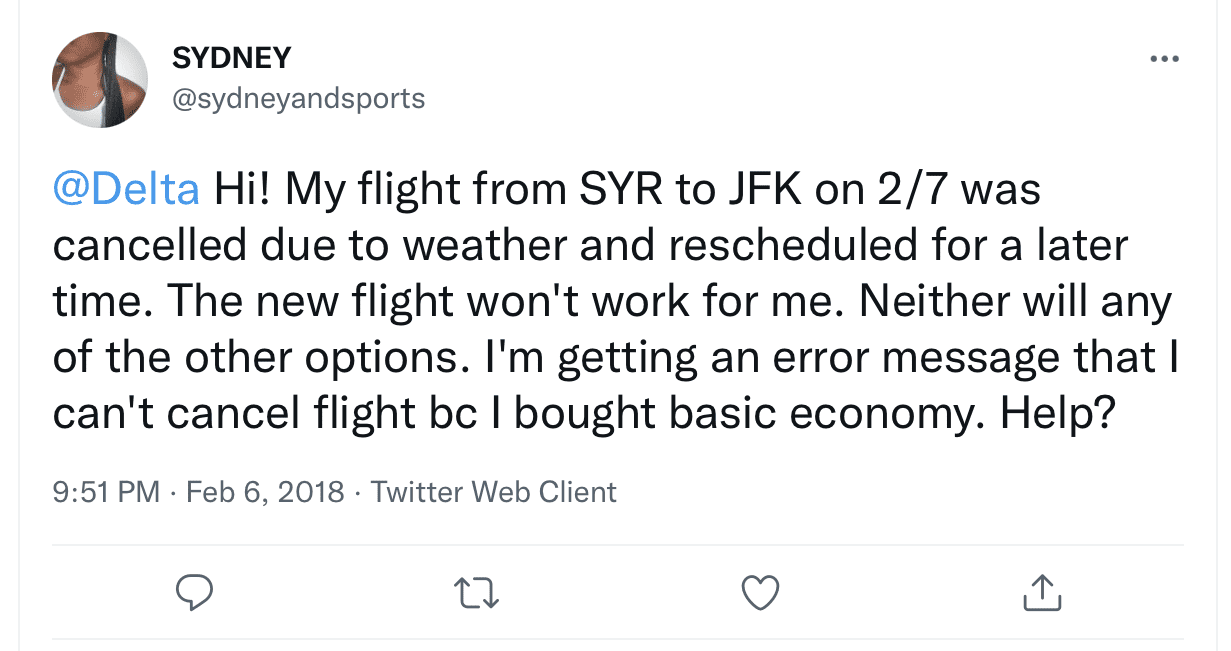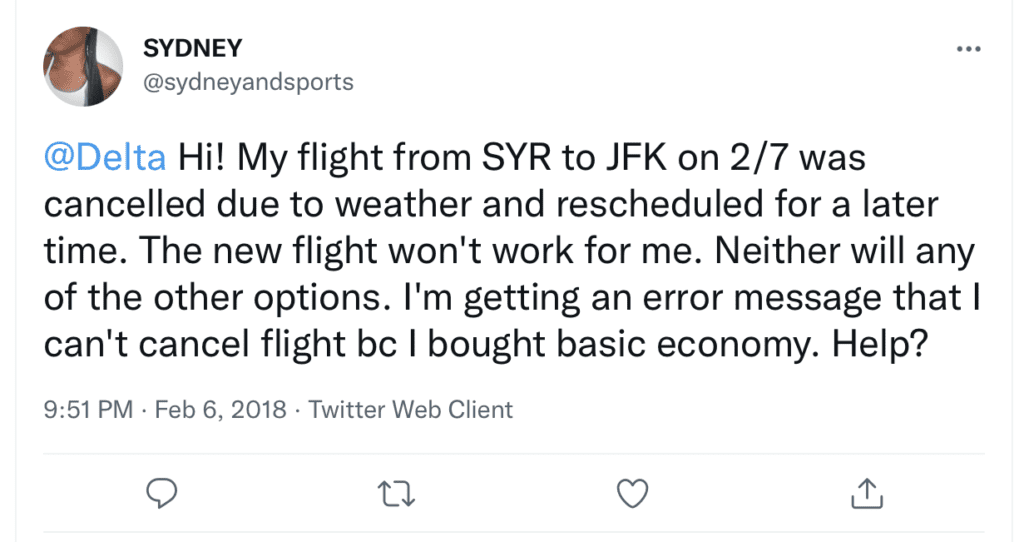 Because he had booked a Basic Economy fare he couldn't simply cancel the flight.
The Bottom Line
Basic Economy is good value for passengers that travel light, don't worry about overhead bin space, and don't care where they sit on the plane.
Main Cabin is the best choice for travelers whose travel plans are not set in stone, who want to collect SkyMiles, and want to choose exactly where they sit.
You Might Also Like