Last Updated on February 7, 2022
There are two issues when considering wearing shorts on a plane.
Firstly, can you wear shorts on a plane? Are shorts compliant with airline dress codes? Are they against the airline rules?
And secondly, should you wear shorts on a plane? Are they a socially acceptable form of dress to wear on a flight?
This post will cover both aspects of wearing shorts on a plane.
Let's get started.
Is It Ok With Airlines To Wear Shorts On A Plane?
That's a tricky question to give you a definitive answer because there are many different styles of shorts.
Generally, you can wear shorts on a plane. But there are some styles of shorts that airlines deem inappropriate dress.
Olivia Culpo was asked to cover up when she was flying with American Airlines when she was wearing a bralette and tight biker shorts.
What year will we be done policing women's bodies??? @AmericanAir @oliviaculpo pic.twitter.com/TLFEGnoje2

— Amy (@amyjeannn7) January 14, 2022
The American Airlines guidance for passengers simply says "dress appropriately; bare feet or offensive clothing aren't allowed". They don't mention shorts specifically.
If your shorts are deemed to be risqué by flight attendants or gate agents you might not be permitted to board the plane. Passengers shouldn't have a problem boarding with longer-length shorts that are not skin tight.
Linda felt that JetBlue was right to order Maggie McMuffin to change into something more appropriate:
Sam was asked by Frontier airlines to change out of her denim shorts into pajama pants. She didn't think it made sense since pajama pants are prohibited on the Frontier dress code.
Presumably, Sam's denim shorts were deemed to be too risqué and that's why she was asked to put on her pajama pants.
Long baggy denim shorts wouldn't attract attention, but short tight denim shorts might not be permitted.
Frontier lists beachwear as a type of clothing that isn't permitted. So swimming shorts might not be appropriate clothing for a Frontier flight.
Sometimes flight attendants wear shorts as part of their uniform.
Here's the latest Southwest flight attendant uniform: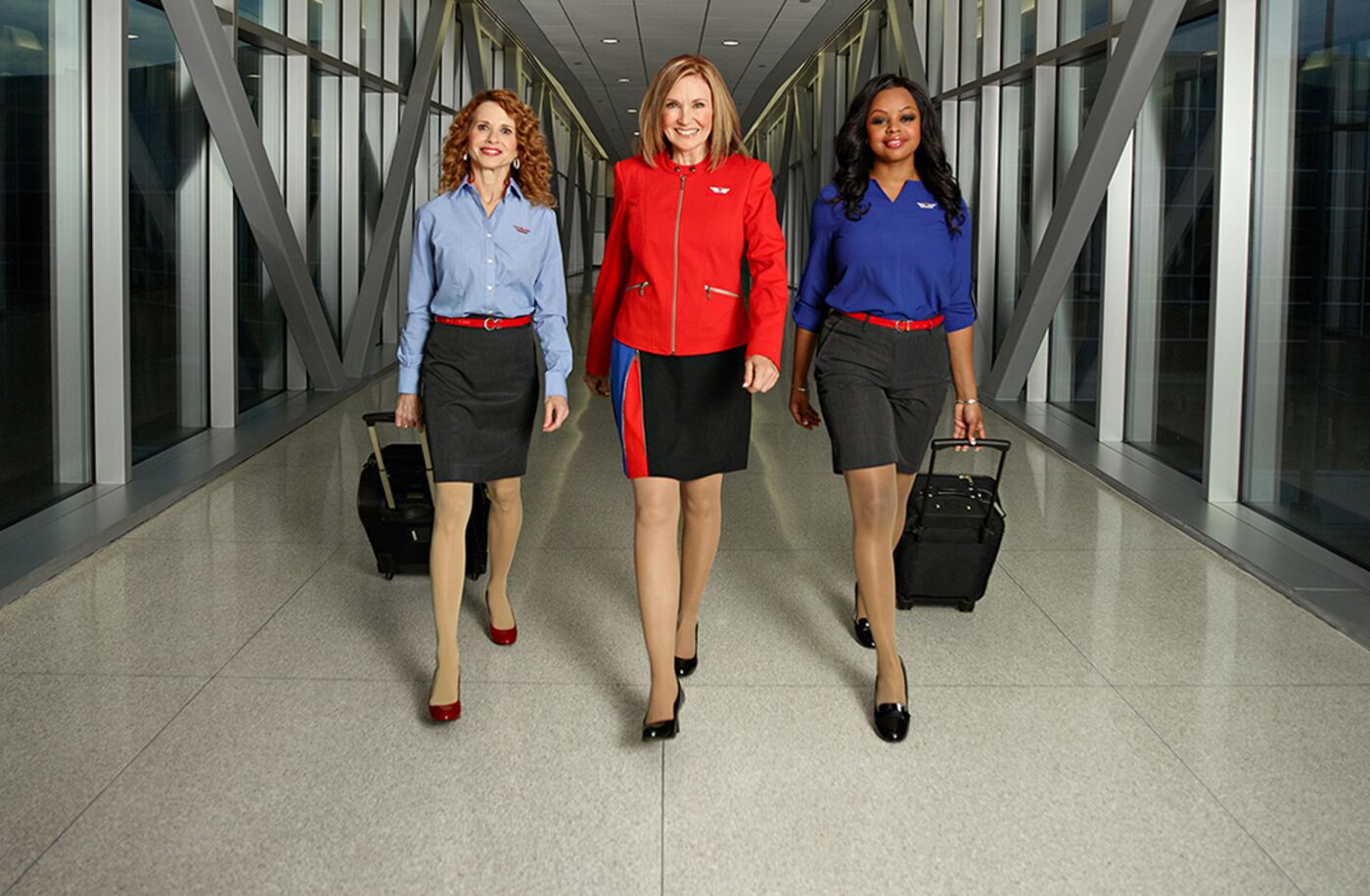 You can see that the lady on the right is wearing shorts. If she can wear them then Southwest is not going to have a problem with passengers wearing shorts in that style.
This passenger had an issue wearing shorts on a Spirit Airlines flight:
Spirit claimed that the shorts were too short and refused to let her board.
Jasmin had an issue when wearing spandex shorts.
In terms of airline dress codes, the length of your shorts and the material your shorts are made from matter. You can't always wear spandex shorts on the plane.
As a rule of thumb, shorts that are no higher than 3 inches above the knee and not clinging to your body should be ok. The 3 inches rule used to be the dress code rule on United but they seem to have removed it.
If you are flying first-class or business class then expect the dress code to be more snooty.
Should You Wear Shorts On A Plane?
You need to consider whether shorts are going to keep you warm once you reach your destination, and will they keep you warm during your flight? Sometimes the airplane cabin can get a little chilly.
Or indeed, if you don't reach your destination, and you crash land on a snowy mountain, shorts won't seem like such a good idea then.
Some people feel that since airline seats are not cleaned after every flight shorts are not a good idea.
There could be germs on the seats that will transfer to your legs if you are wearing shorts.
It's always a good idea to take disinfecting wipes with you on a plane and wipe down your seat, tray table, and armrest. I wouldn't let a fear of germs stop me from wearing shorts.
If you are sensitive to what other people think about you then note that some of your fellow passengers might not appreciate your shorts. For some people wearing shorts on a plane is just not the done thing.
This princess thinks if you wear shorts on a plane then you are a psycho:
And this lady laughs her ass off at people who can wear shorts on a plane:
Miki doesn't trust anyone that wears shorts on a plane:
And if you wear flip-flops and shorts on the plane that's even worse!
But you know what…
Haters are going to hate.
As long as your shorts are not too saucy to upset the airline crew then I say wear what you want.
The Bottom Line
You can wear shorts on the plane as long as your airline does not consider them to be indecent.
Short tight-fitting shorts could be a problem. You'll need to make your own judgment call on whether your shorts are appropriate since the airlines give little guidance.
Some passengers on your plane might not like you wearing shorts and showing too much skin. But that's their problem, so long as the airline is not upset about it then don't let that bother you.
You Might Also Like