Last Updated on April 3, 2021
The rules about flying with a cane can seem a little complicated.
Firstly walking sticks can be seen as a security threat because it hurts if someone whacks you in the face with one.
But on the other hand they are important mobility devices for anyone that is unsteady on their feet.
So can you bring cane on a plane? Let's take a look at the rules.
TSA Cane Regulations
The Transportation Security Administration has concerns about items that can be used as bludgeons. That is to say, anything that is heavy and you can use to knock someone over the head.
Walking sticks and canes definitely fall into this category.
And the TSA publishes mixed messages about canes. On their website they have this about flying with canes:

But they also have this about flying with walking sticks.

It seems like the TSA differentiates between a cane and a walking stick. On the face of it, a cane is permitted in the cabin but a walking stick is not.
But sometimes a cane isn't permitted into the cabin…
The TSA told this traveler that canes must be packed in checked luggage.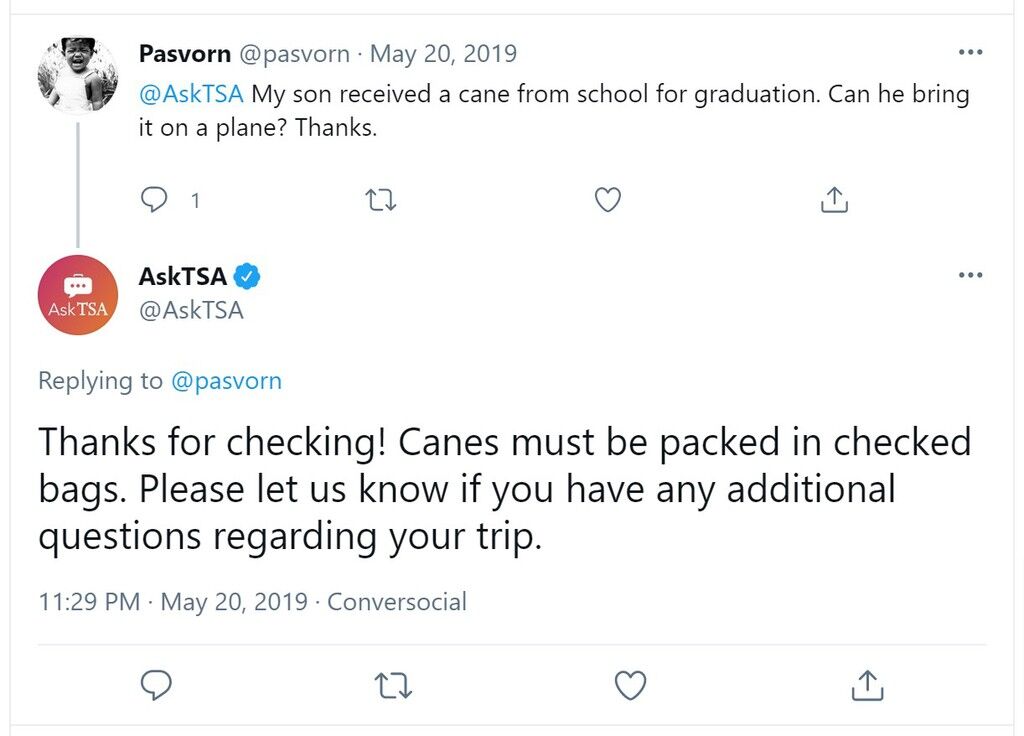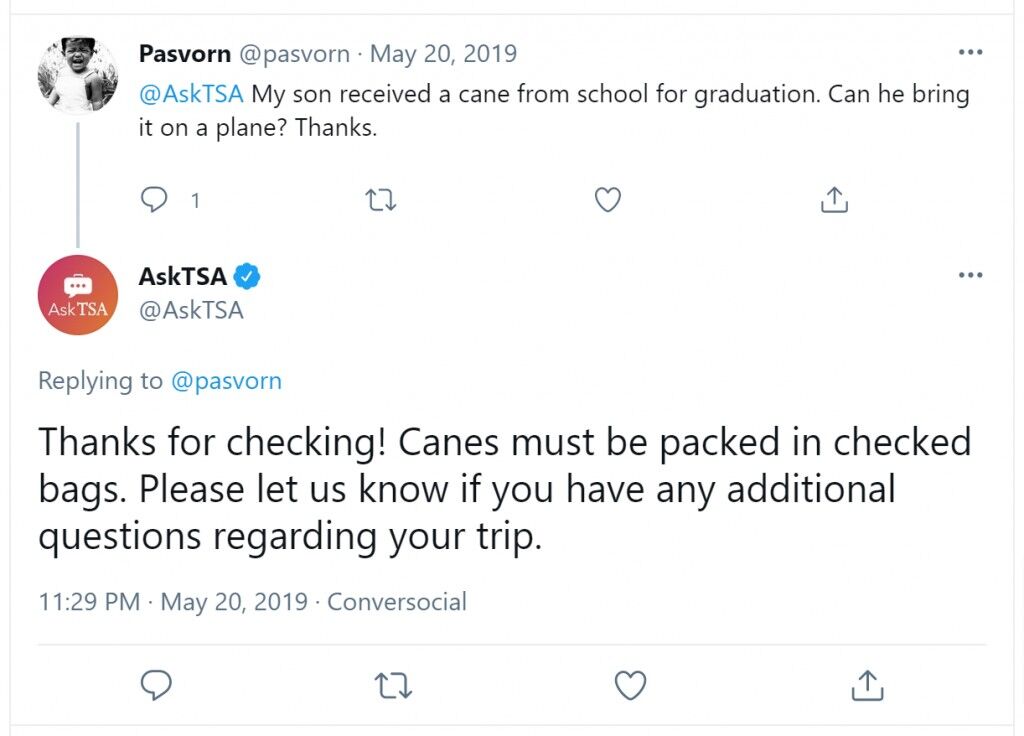 And they wouldn't allow Brandon's grandfather to board with a cane because the TSA officer deemed the cane to be a weapon.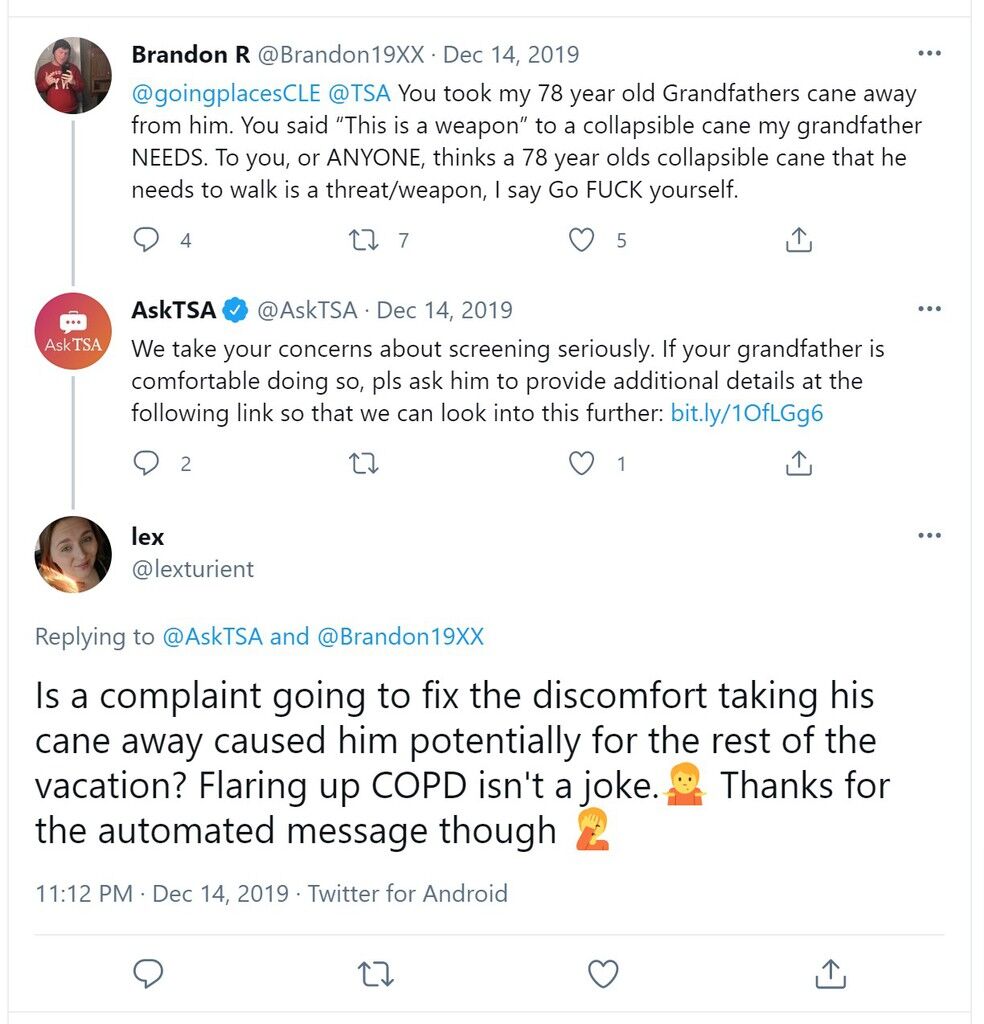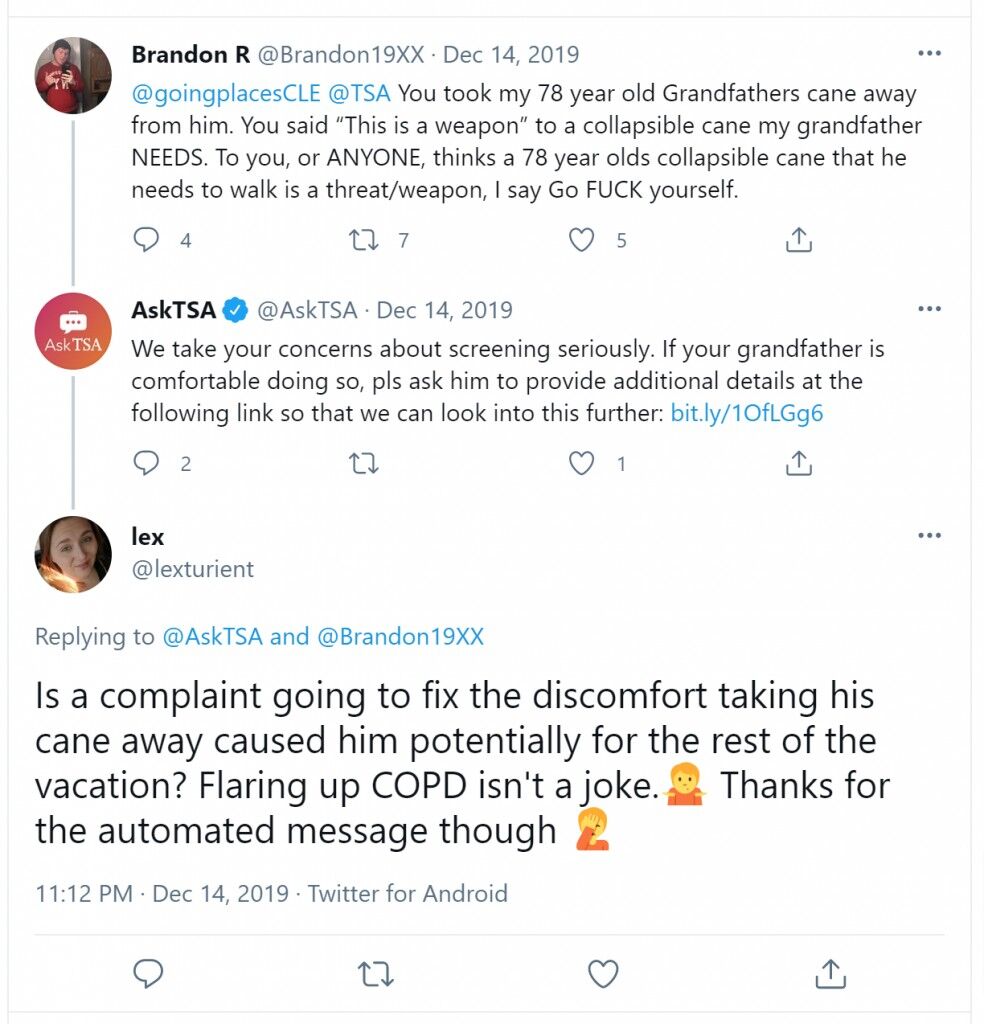 So what's going on…
Here's the deal…
It doesn't matter if you call it a cane or a walking stick or a trekking pole. The crucial point is that the stick must be used as a mobility device by the passenger.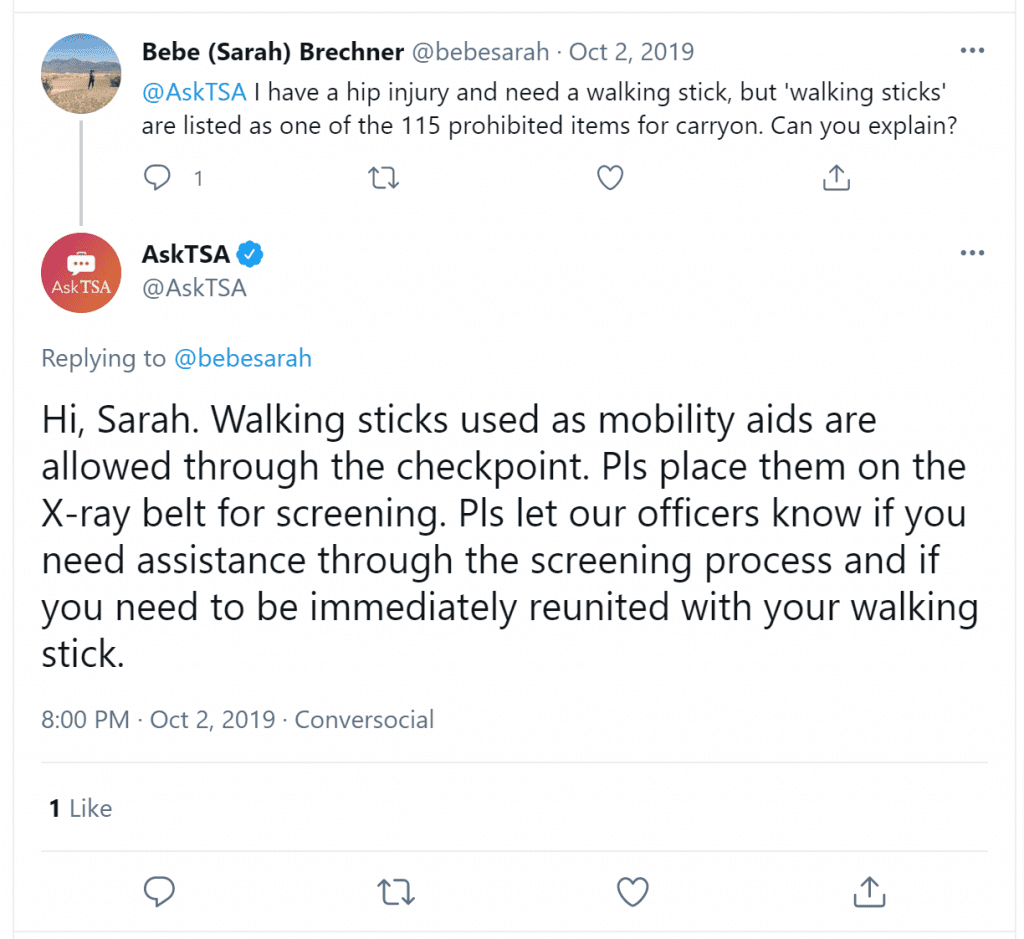 You can take a cane or a walking stick on a plane if it is carried by a passenger using it as a mobility aid and if it's a regular cane or walking stick and not a "tactical" cane that doubles as a weapon.
Your cane will need to undergo x-ray screening.
Walkers, crutches, canes or other mobility aids and devices must undergo X-ray screening. A TSA officer will inspect the item if it cannot fit through the X-ray. Notify the TSA officer if you need to be immediately reunited with the device after it is screened by X-ray.

TSA Special Procedure For Walking Canes
Let the TSA officer know that you are carrying a cane that you need as a mobility device. If you need any assistance standing upright while your cane is undergoing additional screening you should let the security team know. Sometimes airport security will have a spare cane you can use while your cane is going through the x-ray machine.
Don't pack a collapsible cane in your carry-on luggage. Hold it in your hand and use it.
If you are walking around the airport without using a cane it will appear to security that perhaps you don't really need it as a walking aid.
If you are bringing a cane or a walking stick that you don't use as a mobility aid then you must pack it in checked luggage.
For example, if your walking stick is an antique, part of a costume, or a gift for someone else then you are not permitted to bring it in to the airplane cabin.
That's why the graduation gift above was not permitted in hand luggage.
Tactical Weaponized Canes
Some types of canes have designs to improve their effectiveness as a combat weapon.
I would not advise bringing any walking cane that has any weapon-like features.
If you have an old cane make sure you give it a twist to check that there is not a concealed blade. These items will not be permitted on planes even if they are being used as mobility aids.
You can't bring a sword on a plane just because you use it to help with your balance!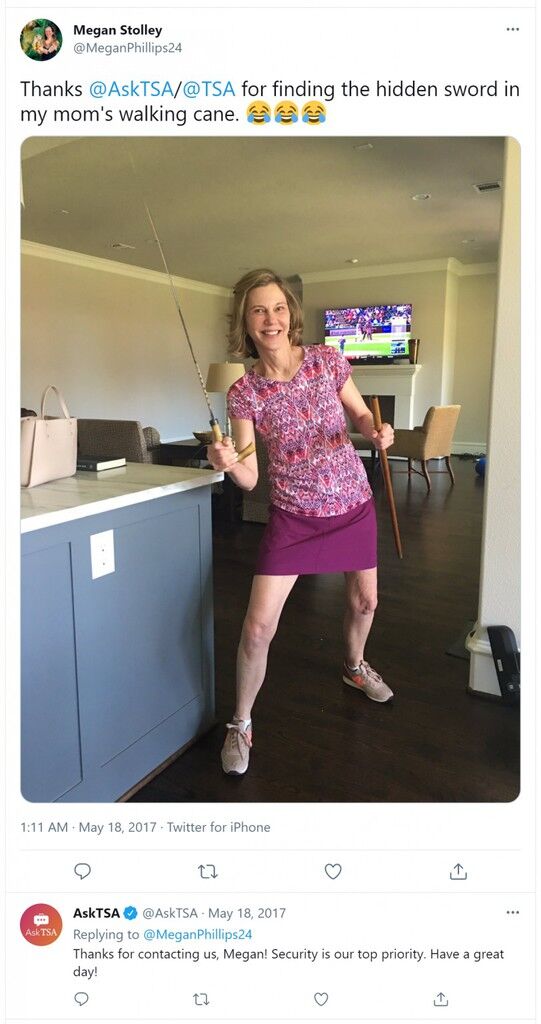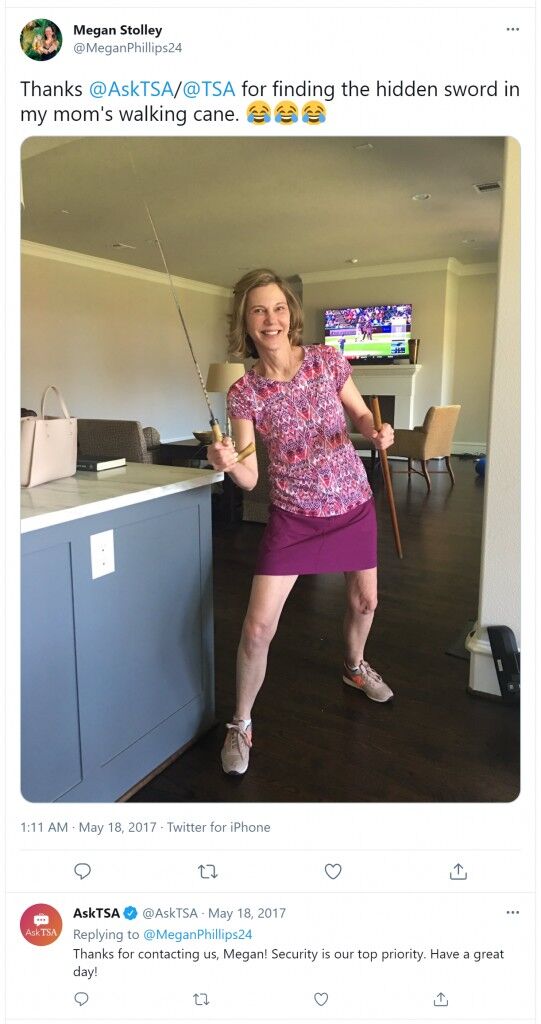 The TSA made this video showing you how to twist your cane to check there is no hidden weapon.
Airline Rules About Canes
As well as the TSA rules about security you also need to consider the airline rules about permitted baggage.
Walking sticks are often larger than the maximum carry-on bag size. This does not mean that you can't bring a cane but do give some thought to how your cane will be stored during the flight.
A folding walking stick can be good because it will fit easily in the overhead bin. If you are unsure ask the flight attendant where the best place to store your cane is during the flight. They especially don't like anything blocking the aisles.
Here's what the main airlines in the United States say about traveling with a cane.
American Airlines – "Mobility and medical devices don't count toward carry-on limits."
Delta – "Federal regulations require that a cane must be stowed for take-off and landings in an approved storage compartment. Flexible travel canes, such as those used by customers that are visually impaired, can be stored in the area under passenger seats, as long as the cane doesn't protrude into the aisle or otherwise disturb the crew or other passengers."
Frontier – "assistive devices, such as walkers, canes, crutches, etc. that can be stowed in compliance with the FAA safety regulations will be given priority onboard stowage, and will not be counted toward the carry-on baggage allowance"
JetBlue – "Please make sure that you bring a cane or walking stick that fits in the overhead bin. It will be placed on top of the bags in that compartment. If it's too large to fit, we'll gate-check it at no charge."
Southwest – "There is no limit to the number of assistive/mobility devices a Customer can bring onboard the aircraft."
Spirit Airlines – "Mobility devices, such as canes, will be accepted in the cabin if they can be safely stowed in the overhead compartment or completely underneath the seat in front of the Guest. To safely be stowed in the overhead compartment, the device must be approximately 39 x 26 x 11 inches (99 x 116 x 63 cm). Alternatively, we will check them in at no cost."
United Airlines – "In addition to your one carry-on bag and personal item, you can bring the following items on board… Assistive devices (such as a collapsible wheelchair, cane, crutches, medical device for prescription medications, or portable oxygen concentrator)"
Still Unsure? Ask The TSA
If you need more advice about flying with a walking stick then I suggest you use the @AskTSA service on Twitter.
You can send them a photo of your cane and they'll get back to you.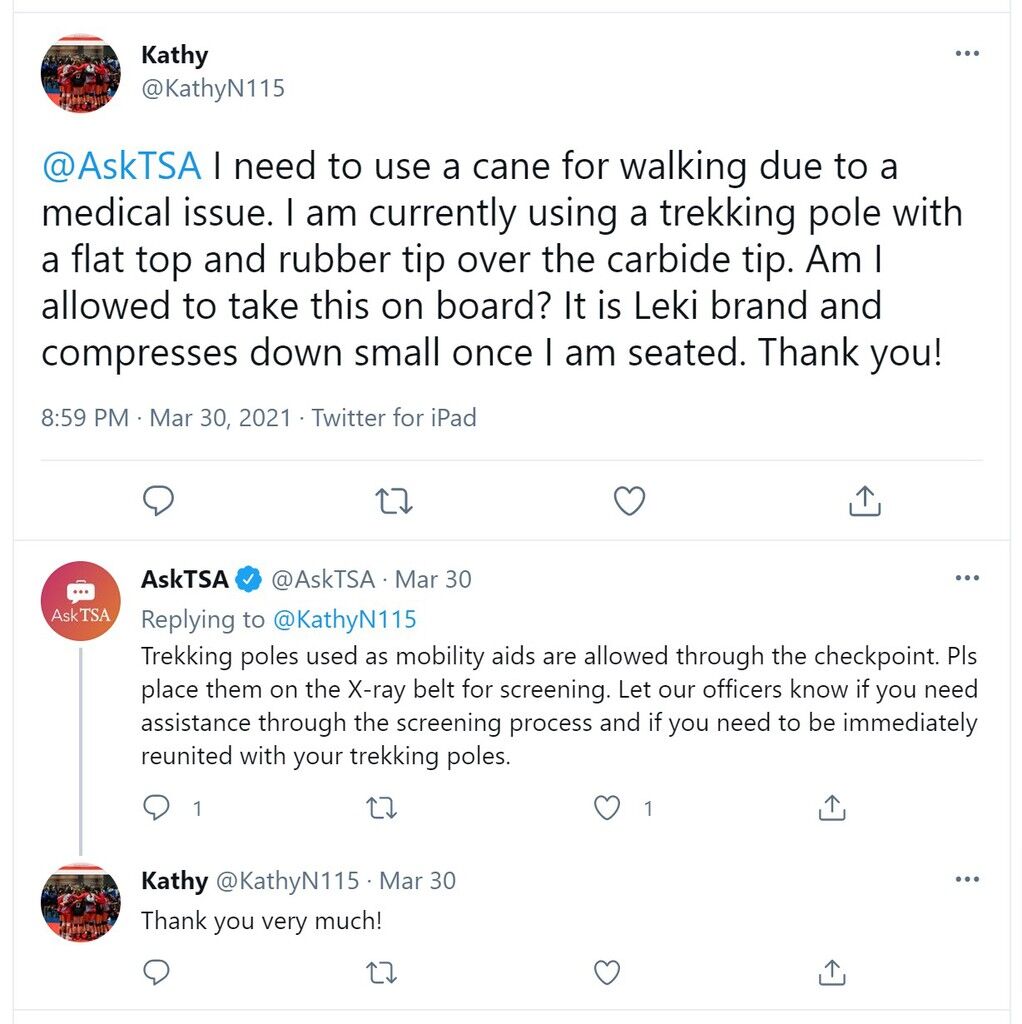 Kim wanted to bring a massage cane in hand luggage.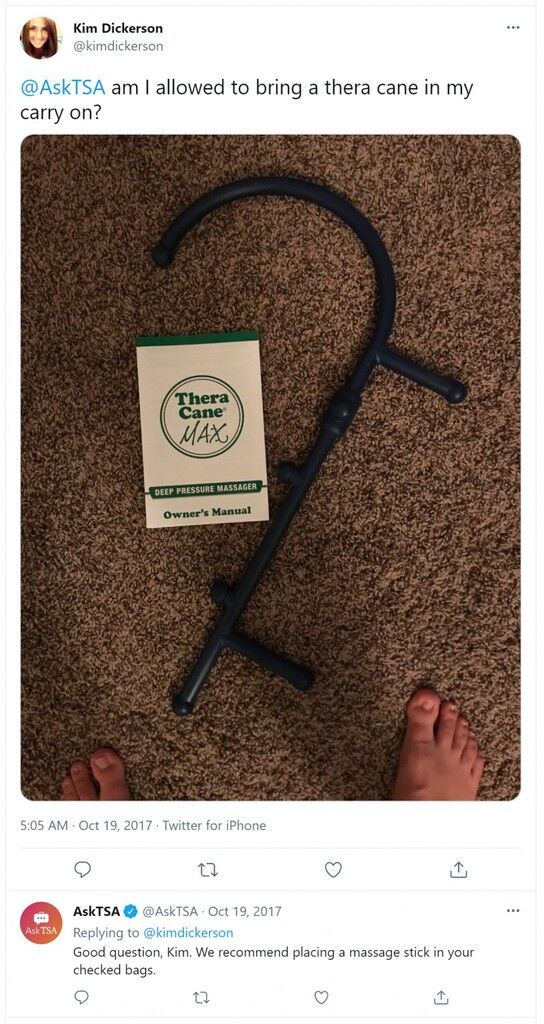 The TSA recommended to pack it in checked baggage.
This passenger was flying with an antique cane that wasn't for medical use.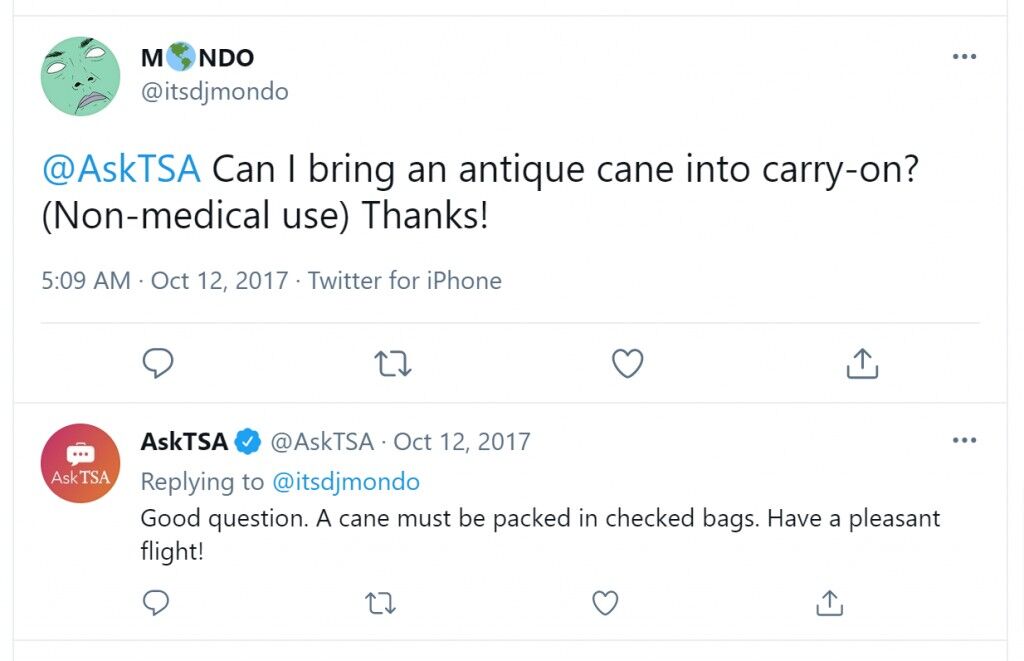 And the TSA said it must be packed in checked bags.
Meagan wanted to carry-on costume canes, but the TSA told her they should be packed in checked luggage.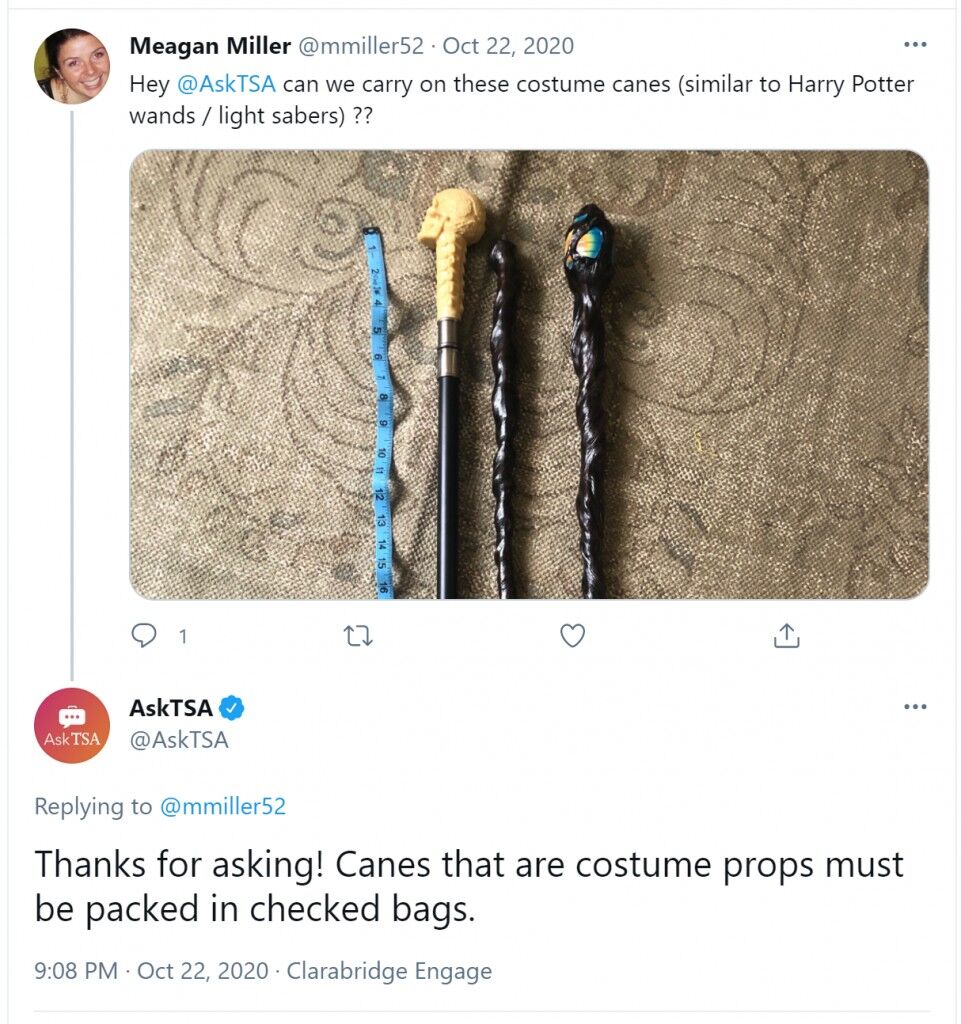 This is because a costume prop isn't a medically necessity.
This passenger asked if her husband would need a doctor's note to bring his walking cane.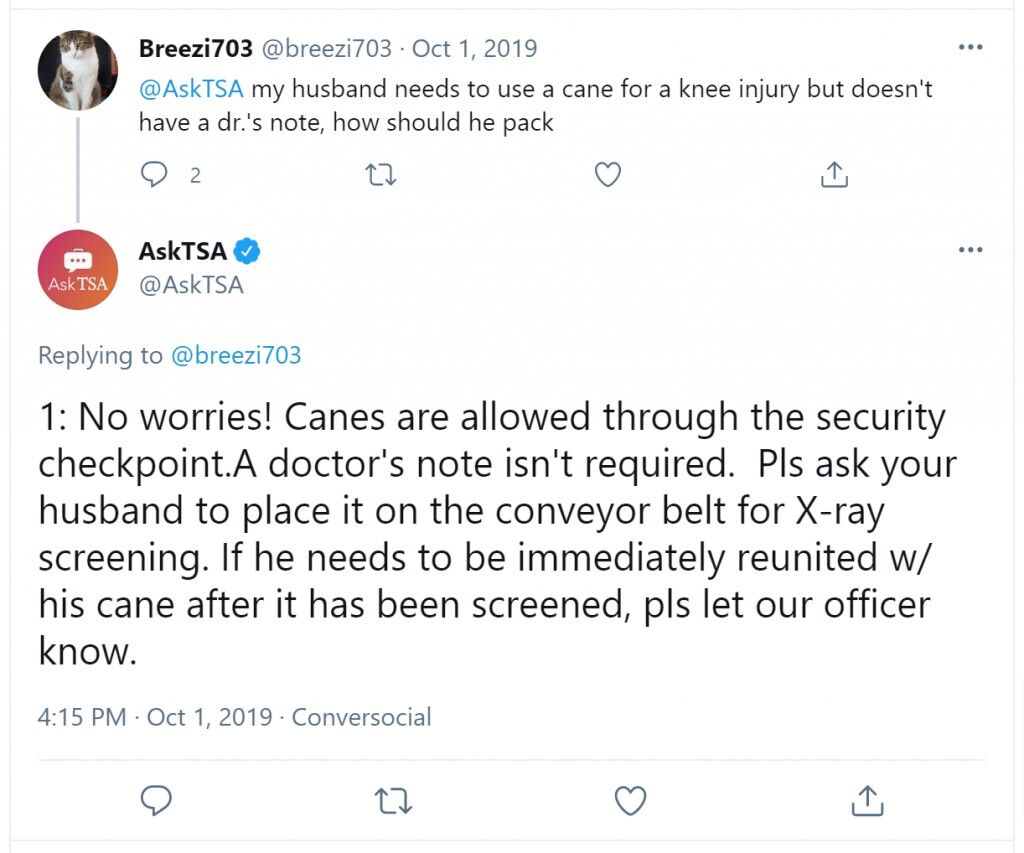 The TSA replied that "a doctor's note isn't required". However, if you do have any documentary evidence of a medical condition that requires the use of a cane then I recommend making a copy or taking a snap of the document with your cell phone. That way you'll have something to show any TSA officer that isn't accepting you need the walking stick.
Gunner asked the TSA about bringing this cane with an axe head on it.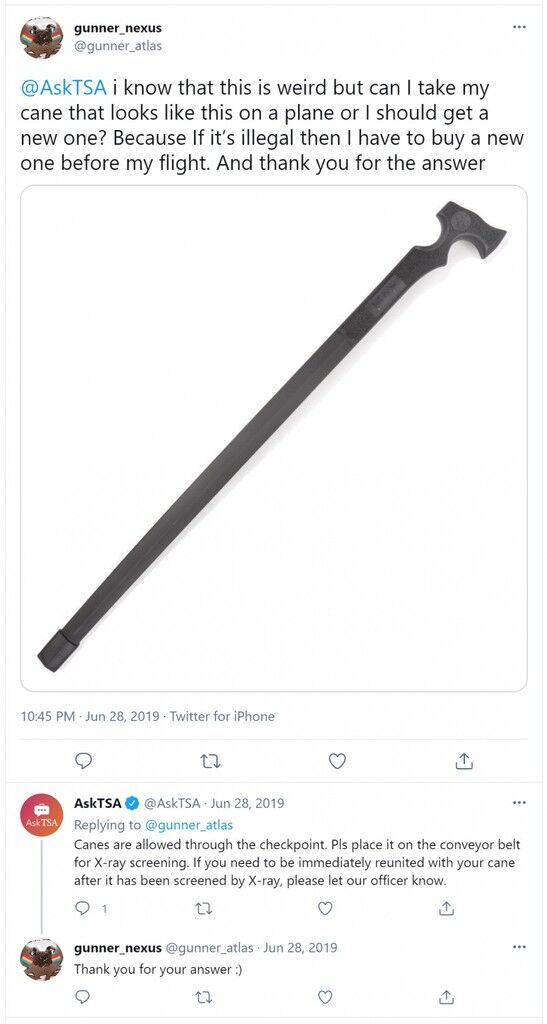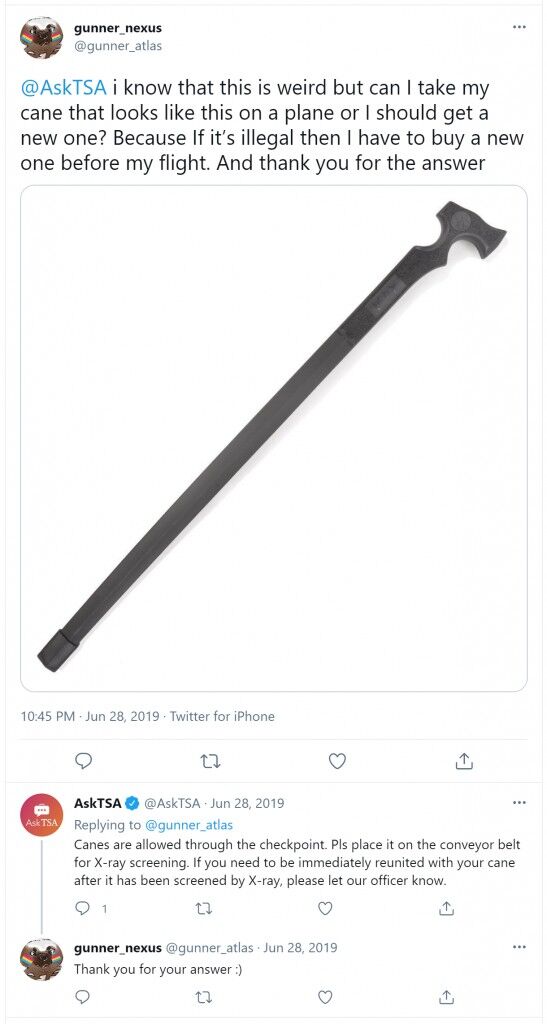 The TSA told him he could bring it but I think they dropped the ball on that one. He never pointed out that it was a tactical axe head cane. If he had done so I'm sure they would have told him that it should only be packed in checked luggage.
That was the advice they gave when another passenger asked about axe-head walking canes.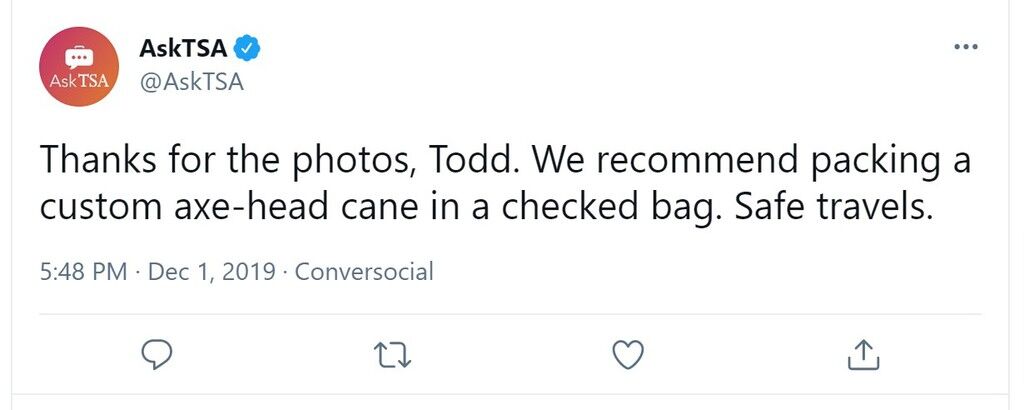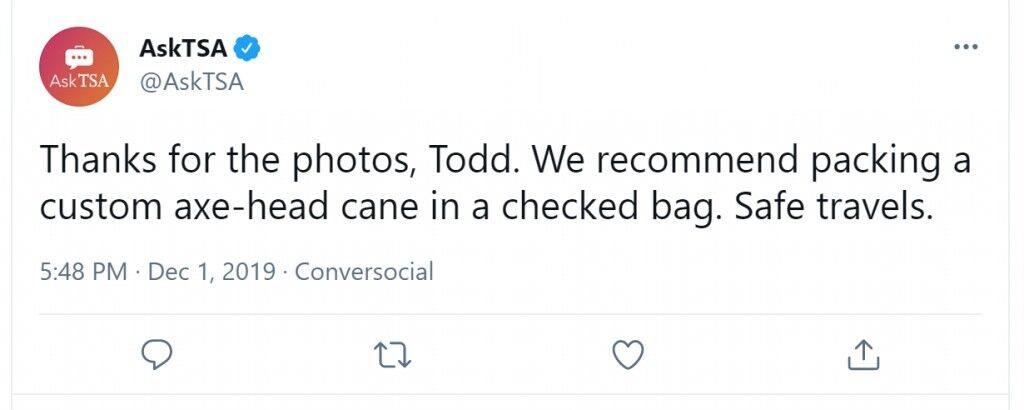 You can't bring a weapon on a plane just because you also use it as a walking stick.
Also if Gandalf were to turn up at the TSA checkpoint with his large walking staff I think they'd tell him "you shall not pass".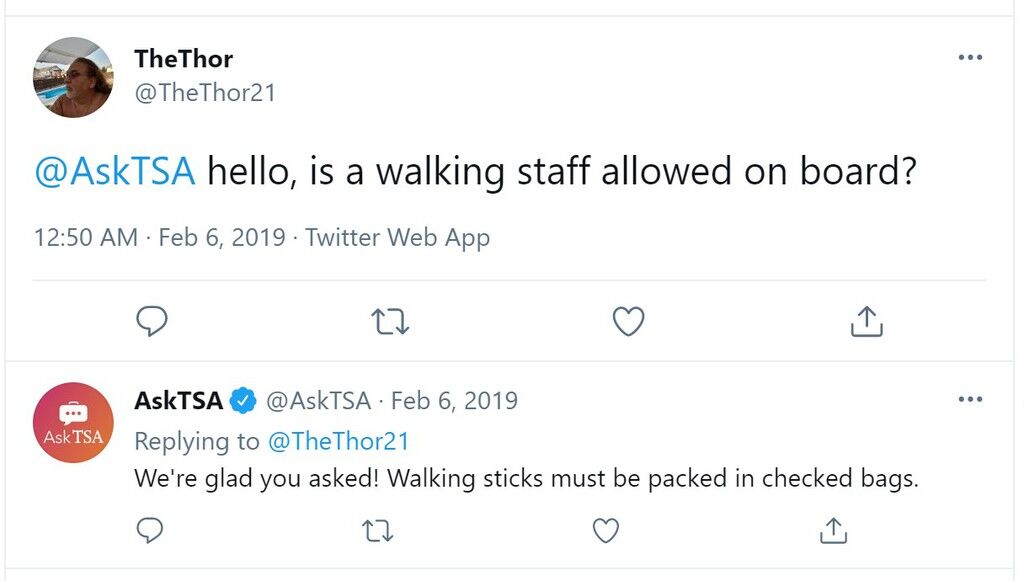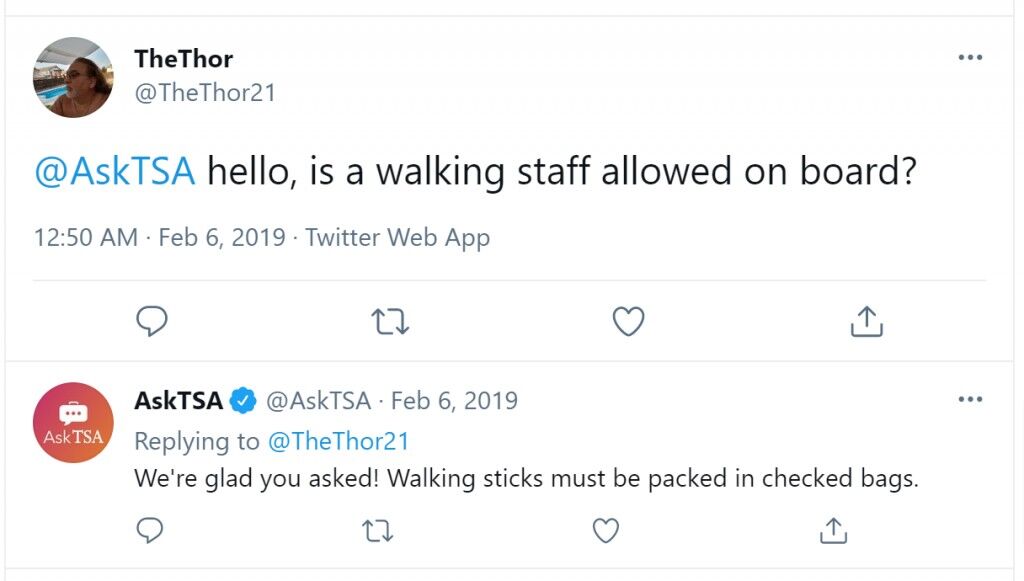 Sylvia wanted to take a 55″ wooden staff on the plane. If flying with an exceptionally large walking cane I'd suggest checked with the TSA before you go to the airport.
Jim asked if he could bring a metal cane.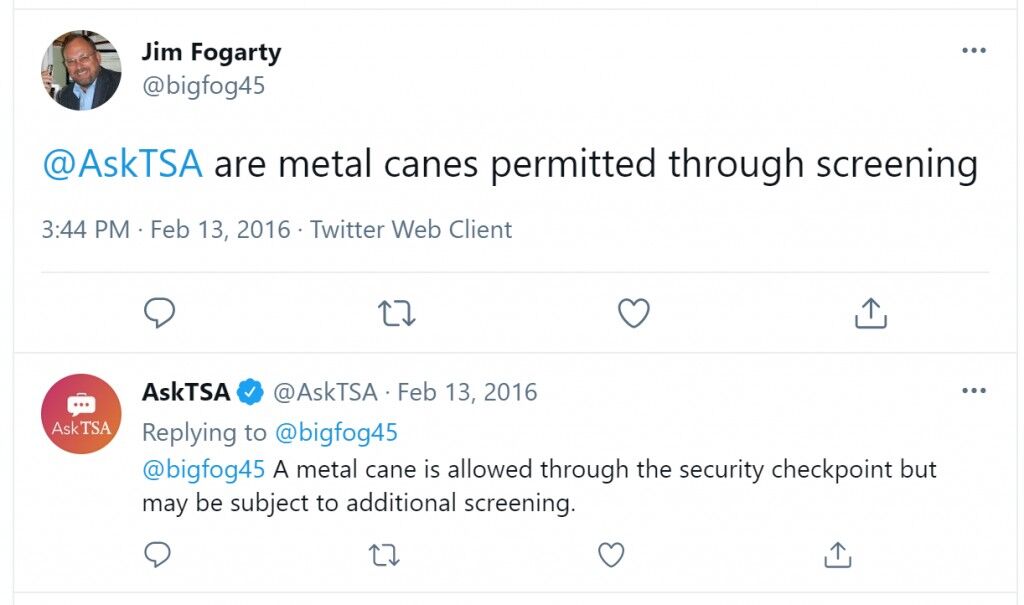 It doesn't matter what material your cane is made from. What's important is that the cane is required to aid walking. Passengers that don't need a cane to help them walk are not permitted to bring a cane.
The Verdict
The TSA are usually willing to help out passengers that are flying with a genuine medical condition.
For example, you can bring medically necessary liquids in containers larger than the usual limits. But only if it's a medical condition.
It's the same with canes and walking stick. If a passenger requires to use a cane as a mobility device then they will be permitted to bring it subject to additional screening.
But if someone is traveling with a cane and it's not medically necessary then it should be packed in checked luggage only.
People Also Ask