Last Updated on November 30, 2021
There are many reasons a guest may want to pay cash for a hotel room.
For a start, not everyone has a credit or debit card.
And privacy is important too, we don't always want a paper trail showing where we have been and where we spent our money.
But do hotels accept cash or do you need to pay with a credit or debit card?
This post is all about how to book and pay for a hotel room with cash without using a credit card.
Can You Pay For A Hotel In Cash?
Paying cash for a hotel is quite common and usually relatively simple. Most hotels accept cash payments and you just let the front desk know that you want to settle the bill with cash when checking out. You should call the hotel ahead to check if they will accept cash payments.
What is much more complicated is booking or reserving a hotel without using a credit or debit card.
In most cases you need a credit card for a hotel when booking or reserving your room remotely.
Here's why.
Hotels are worried about no shows. Not every guest that reserves a room actually turns up.
Hotels aim to sell out all their rooms to maximise profit. If the guest does not turn up or cancels at the last minute then the hotel is out of pocket because they were unable to sell that room to another guest.
The second reason that hotels prefer you to provide a debit card or credit card is as a form of security deposit.
If you cause damage to the hotel room, don't check out at the allocated check out time, run up a bill at the bar, use room service, or use items from the minibar, or other fees, the hotel wants to have a method to charge you for these incidentals.
Usually when you book or check in to a hotel they place a "hold" against your card.
A "hold" is a credit or debit card authorization.
When a "hold" is imposed, financial institutions block a certain amount of money from being withdrawn from a checking account or a credit line. It may show up on your account as a pending charge.
A "hold" will remain on your account until your card is charged for the purchase and "cleared", or when you naturally "fall off" your account.
If you end up paying your bill in cash when you check out the "hold" should in theory never materialise into a charge on your acount. But the only way to make sure that an charge never appears on your bank statement is to never give the hotel a card in the first place.
Making A Hotel Reservation Payments Without A Credit Card
This is the most complicated part of paying for a hotel using only paper money.
The great thing about payment services is that you can make payments, or setup "holds" without visiting the premises.
To reserve a future booking using cash you might need to visit the hotel and physically hand over the notes.
That's not easy to do if the hotel you want to stay in isn't nearby as is often the case.
You can call up the hotel and ask if they will do a 'courtesy hold'. This is where they accept your hotel reservation without a credit card.
This puts the hotel at risk in case you don't turn up so not every hotel will do it. It may depend which season you are trying to book. Hotels definately prefer credit card payments and if they think they will sell out anyway they will be unlikely to consider a courtesy hold.
If on the other hand it's low season and they don't expect to sell out then many hotels may be more open to accepting your booking without seeing card details in advance.
Your best bet is to call up the hotel manager and discuss payment options. Explain that you don't want to use a card as your payment method. Depending how much they want your business they may be flexible.
Alternatively, the hotel manager might even provide you with checking account information to allow you to visit a local bank and pay cash into the hotel's bank account to secure the reservation. If the hotel won't give you a courtesy hold then ask if paying cash into their bank account is a possibility.
It's all about communication, it will be much more of a hassle than simply using a credit card but there are ways and means to book a hotel if you have a chat with the hotel staff.
You might have better luck with a small hotel that isn't burdened by corporate procedures.
If you get past this first hurdle of actually reserving the hotel room you'll also need to provide a cash bond when you arrive at the hotel.
Pay A Cash Deposit
It's much easier to pay for a hotel with cash if you walk in off the street since you are not reserving for a future date.
Still there is the issue of the security against room charges and room damages. For all the hotel knows you might be a rock star that likes throwing TVs out the window.
Often you can get around this by providing a cash security deposit when you check in to the hotel.
This will be a refundable when you checkout. You may need to wait for housekeeping to check your room before you get your security deposit minus incidental charges returned to you.
Don't Expect It To Be Easy
Jae wanted to pay for her hotel in cash because her credit card was not working.
She called the hotel to ask about paying in cash and felt that the manager was incredibly rude:
Brook was told that she could pay cash at checkout but when it came to leaving the front desk told her that cash wasn't accepted.

John wanted to pay cash to a hotel to take a homeless veteran off the streets but they refused to take him unless he old gave credit card details to cover any additional costs.


And here is Ben showing why hotels prefer to get credit card details. He's problably joking but that's why you might need to put down a sizable cash deposit.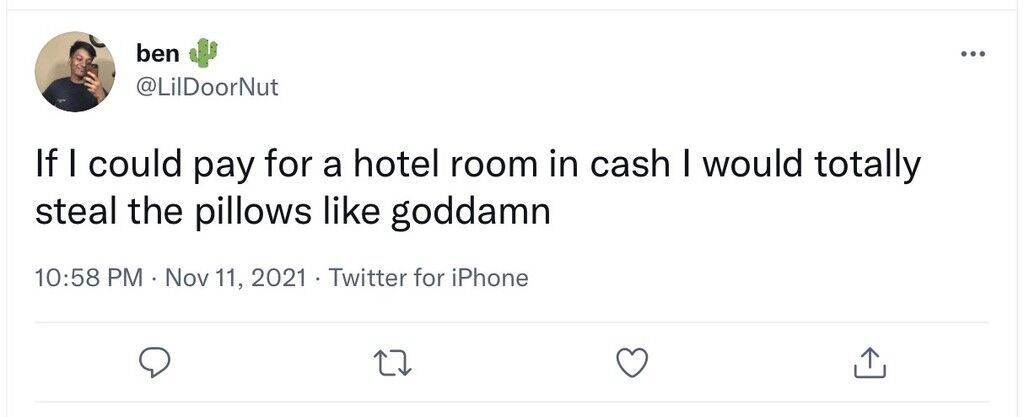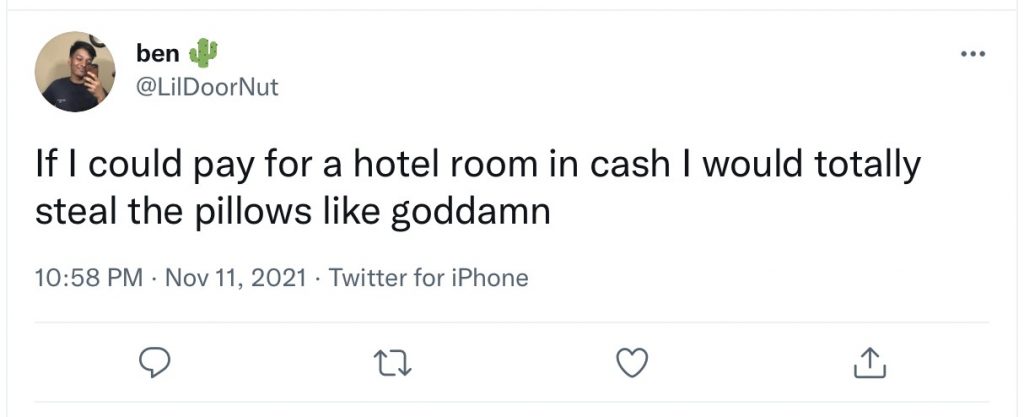 The Bottom Line
Paying with cash for your hotel room is possible, but it presents some challenges.
The main problems are in making reservations remotely. A prepaid debit card might be an option for you to consider if you are just worried about the charge showing up on a joint account.
You might need to put down a large sum of cash as a deposit too and it might take some negotiation with the hotel manager.
Each hotel will have different payment policies. They might even bend these policies depending on how much they want the business.
If you are staying for a month rather than a single night that's a much bigger carrot for the hotel manager.
Even if you manage to make a deal with the hotel about paying with cash and not providing a credit card they will still want you to provide a valid form of ID at check in.