Last Updated on October 25, 2021
The passport evolved as a form of ID for international travel to and from foreign countries.
However, it's also a great form of ID when you are not traveling to a foreign country.
You can use it to open a bank account, buy liquor, and identify yourself when flying domestically.
But what happens when your passport has passed it's expiration date? Can you fly with an expired passport within the United States?
Let's take a look.
TSA & Homeland Security Expired Passport Rules
Is an expired passport still valid?
Well it's not valid as a passport anymore so that means you can't use it to enter foreign countries.
International Travel
Typically you cannot fly internationally with an expired passport. In fact, even when your passport hasn't expired you may still not be able to use it. Many countries require your passport to be valid six months after your arrival date.
Recently the state department has permitted return travel to the US using an expired passport due to the coronavirus pandemic. But this is only due to exceptional circumstances and is only for coming home.
Domestic Travel
This passenger asked the TSA about traveling state to state with an expired passport.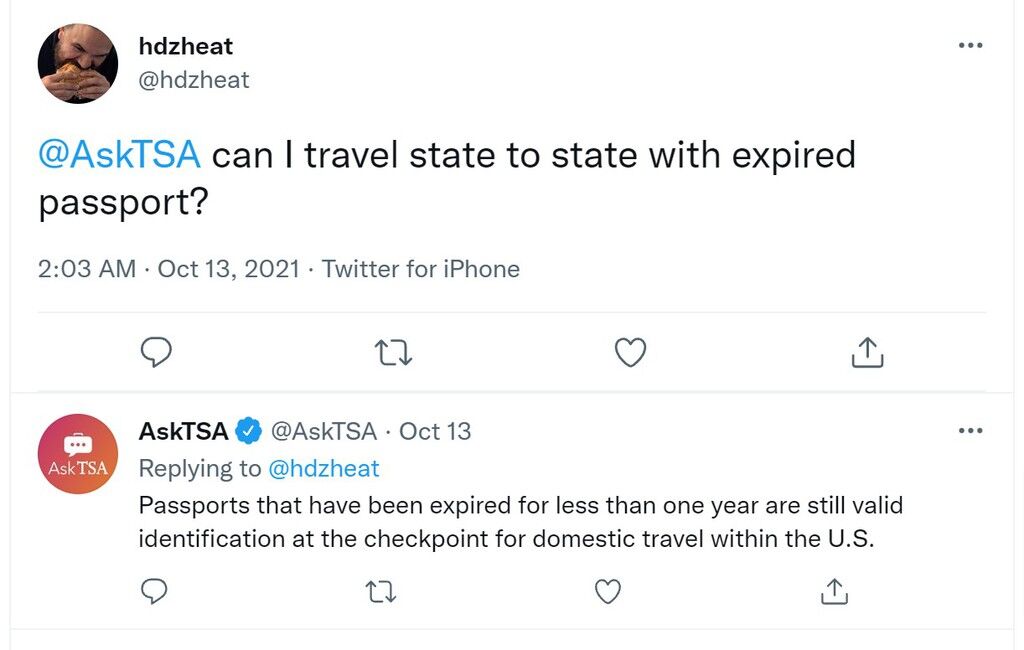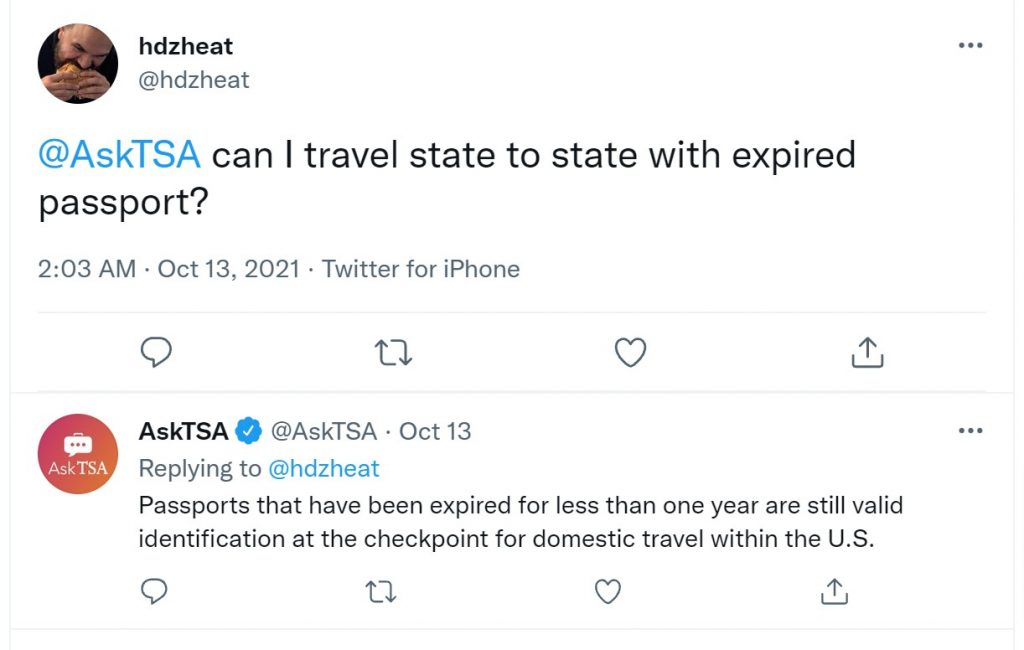 The TSA answered that "Passports that have been expired for less than one year as still valid identification at the checkpoint for domestic travel within the U.S.
Passports used at the checkpoint are not being used to show that you can travel.
They are not being used like keys to open doors, they are simply being used to indentify that you are the person whose name is on the boarding pass.
So it's not crucial whether the passport expiration date has passed or not. What's important is that your ID proves you are the person whose name is on the ticket.
Your passport expires after 10 years and then you only get 1 extra year to use it as ID for domestic flying. After 11 years you'll have changed a lot from that old passport photo. The TSA wants to encourage passport renewal so you'll have a valid passport with a recent photo to ID you.
Alternative Forms Of Identification
The TSA also accepts:
U.S. Passport Card (What's the difference?)
DHS trusted traveler cards (Global Entry, NEXUS, SENTRI, FAST)
U.S. Department of Defense ID, including IDs issued to dependents, Military ID
Permanent resident card
Border crossing card
State-issued Enhanced Driver's License
An acceptable photo ID issued by a federally recognized, Tribal Nation/Indian Tribe
HSPD-12 PIV card
Foreign government-issued passport
Canadian provincial driver's license or Indian and Northern Affairs Canada card
Transportation worker identification credential
U.S. Citizenship and Immigration Services Employment Authorization Card (I-766)
U.S. Merchant Mariner Credential
Veteran Health Identification Card (VHIC)
And these forms of ID are not accepted:
A Weapons Permit
A Temporary Driver's License
Flying without any ID may be possible
You may be able to fly even if you no longer have a valid passport and no other form of ID.
It is common for passengers to forget their ID at the airport.
In that case, TSA officers will ask passengers to verify their identities using other means.
You provide your name, current address, social security number, in order to verify your identity.
It helps to have some form of identification on you. A student ID, credit card, birth certificate, social security card, utility bill or insurance card, for example, can all help to try to identify you.
Passengers whose identity is verified will be allowed through the security checkpoint and travel onwards.
Turning up without a valid ID at the airport is obviously a bit risky. But if you have no other choice, you might want to try it.
Below is a video explaining how it works:
Be sure to allow plenty of time before your flight to confirm your ID if you plan on using this method.
Still Unsure? Ask The TSA
You can ask the TSA questions about what to do about expired ID documents on Twitter and they'll get back to you pretty quickly.
Vivian told the TSA 'my passport expired and i leave tomorrow' and asked if she could still fly using her expired passport: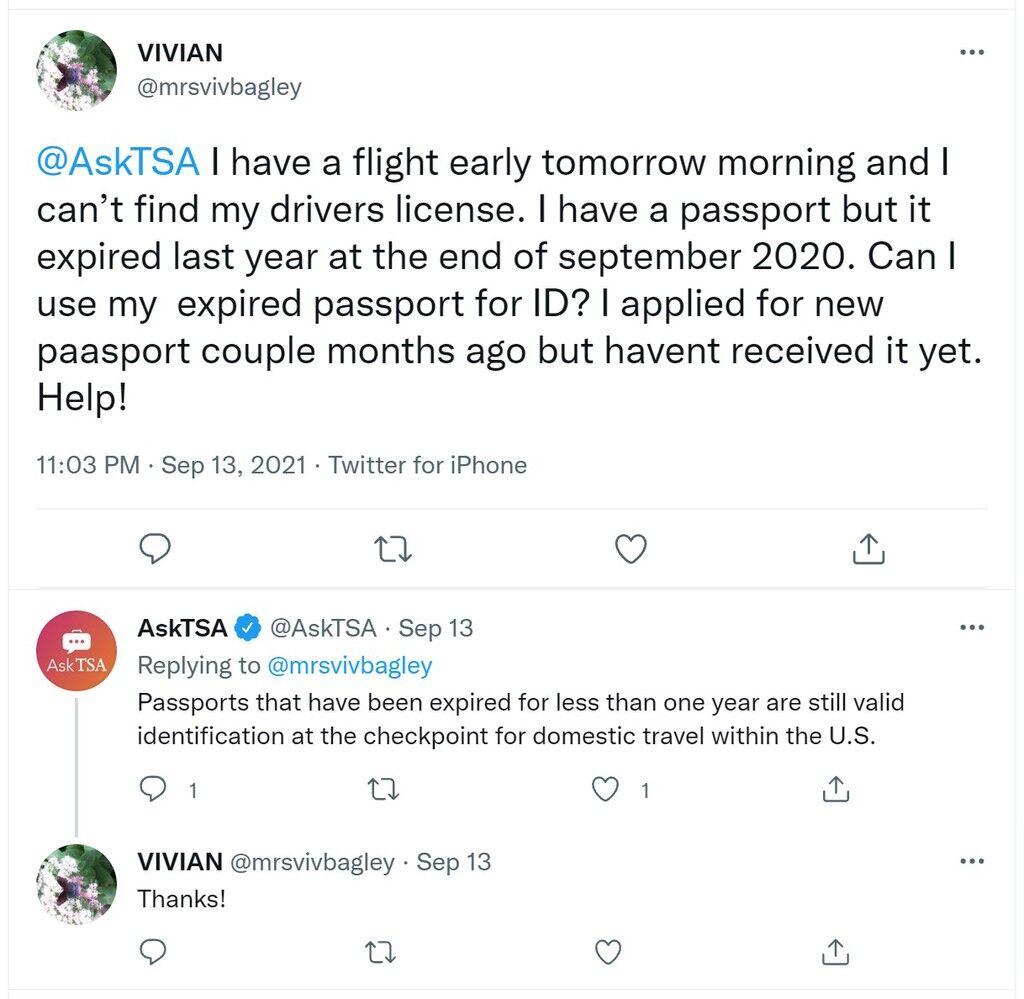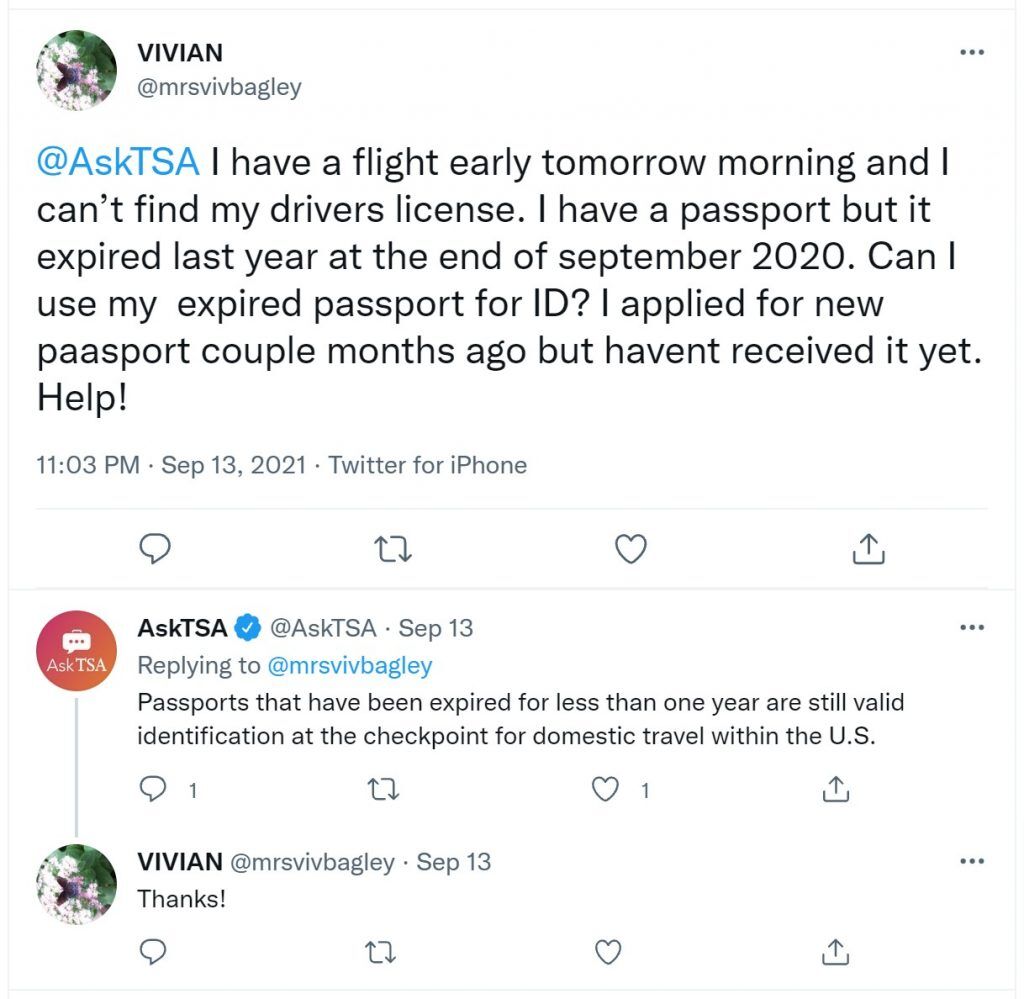 Her passport renewal hadn't come through in time, but since her passport was only 11 and a half months out of date she would be able to use it for ID. She just made the cut-off point. I just hope she was able to use it for her return flight!
Paula asked the TSA if a minor could fly using an expired passport.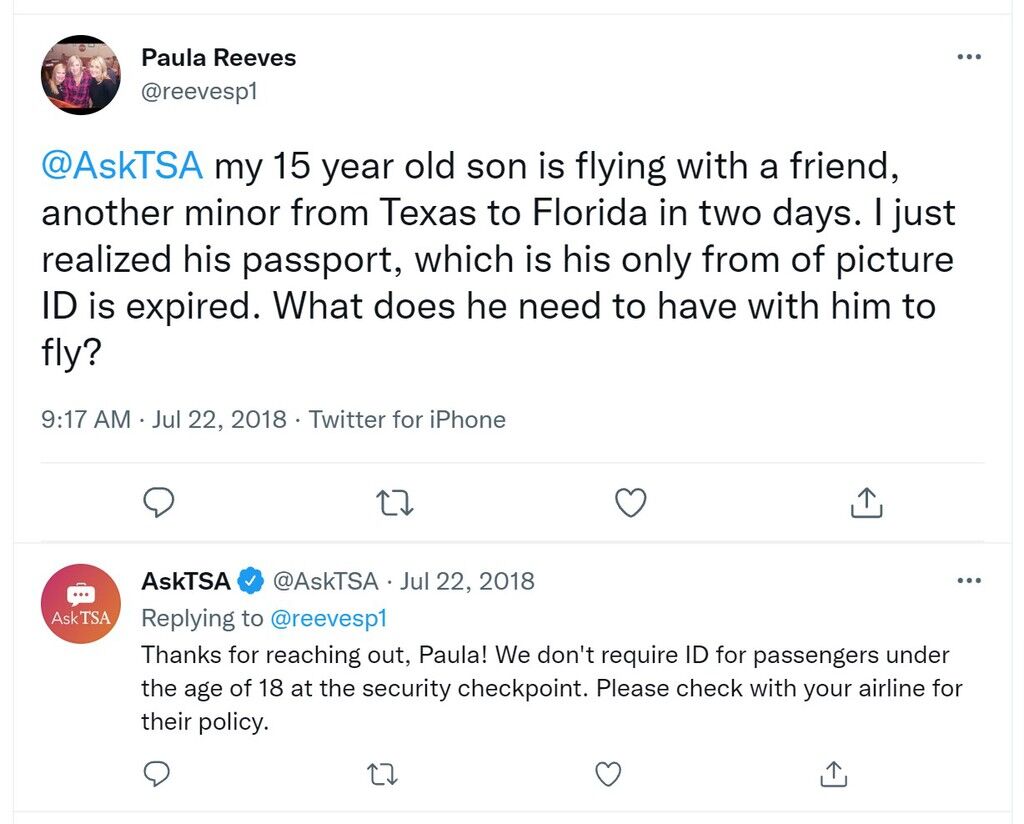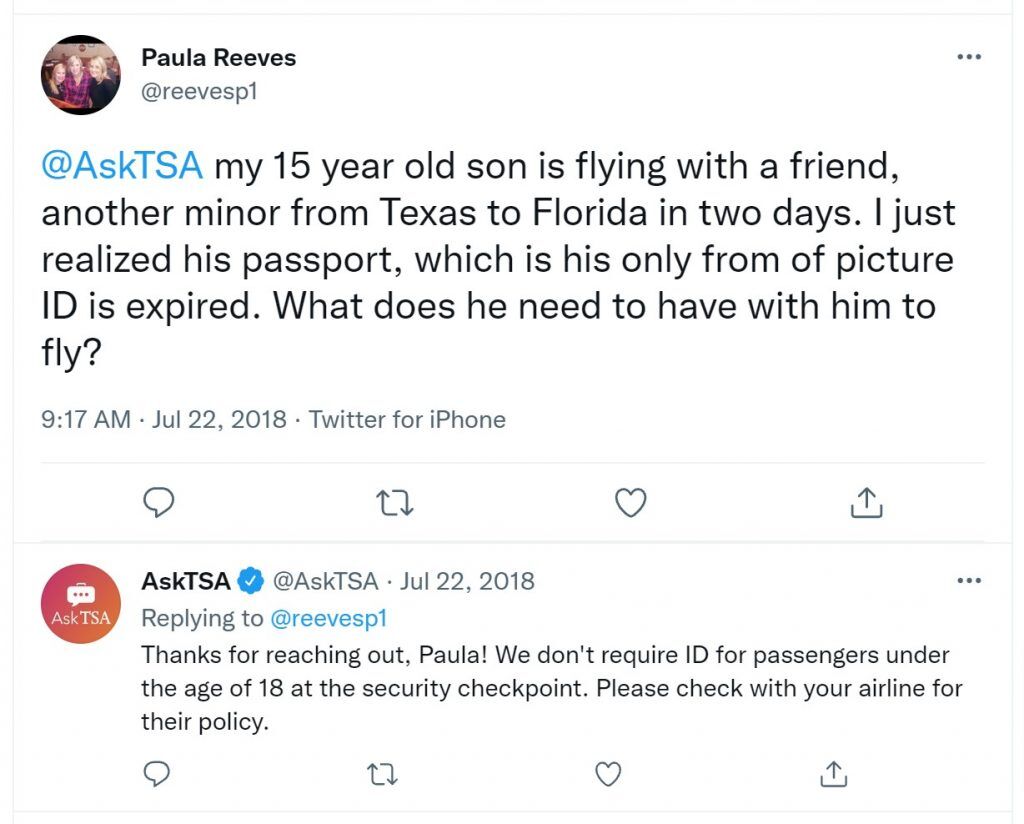 The TSA said, "We don't require ID for passengers under the age of 18 at the security checkpoint".
So the fact that Paula's son's passport had expired shouldn't affect his ability to fly on a domestic flight.
The Bottom Line
I think one of the lessons we can all learn here is don't check the expiry date of your passport the night before your flight!
You can fly domestically with an expired passport that has expired within the last year.
If you don't have any valid form of official ID you might still be able to travel domestically. Take everything you've got to airport and try to pass the ID test.
You cannot under normal circumstances travel internationally with an expired passport.
If you have an international flight and your passport has expired search for emergency passport services to see if you can get a new passport in time for your trip.
You may be able to get an expedited passport in time before your schedued departure.
You Might Also Like