Last Updated on October 22, 2021
To fly internationally and enter a foreign country you require a valid passport.
But for domestic travel within the U.S., you simply need a valid form of ID.
Often, passengers use their driver's license for the identity verification process.
But can you get on a plane with an expired license?
TSA Expired License Rules
Well, things are a bit up in the air at the moment due to the coronavirus emergency if you'll pardon the pun.
The TSA announced that if you are unable to renew your state driver's license it may still be used as acceptable identification at the checkpoint. Your license could be up to one year past the expiration date.
And they also said that the policy of accepting expired licenses would continue for 60 days after the end of the emergency.
So for now, you can travel with an expired license. The Transportation Security Administration will accept expired driver's licenses. Currently, an expired license is a valid ID if it has expired within the last year.
If your driver's license or state-issued ID expired on or after March 1, 2020, and you are unable to renew at your state driver's license agency, you may still use it as acceptable identification at the checkpoint. TSA will accept expired driver's licenses or state-issued ID a year after expiration.

TSA Rsponse to COVID-19
Here's a more recent exchange on Twitter. Jack asked the TSA if his daughter can fly with an expired license: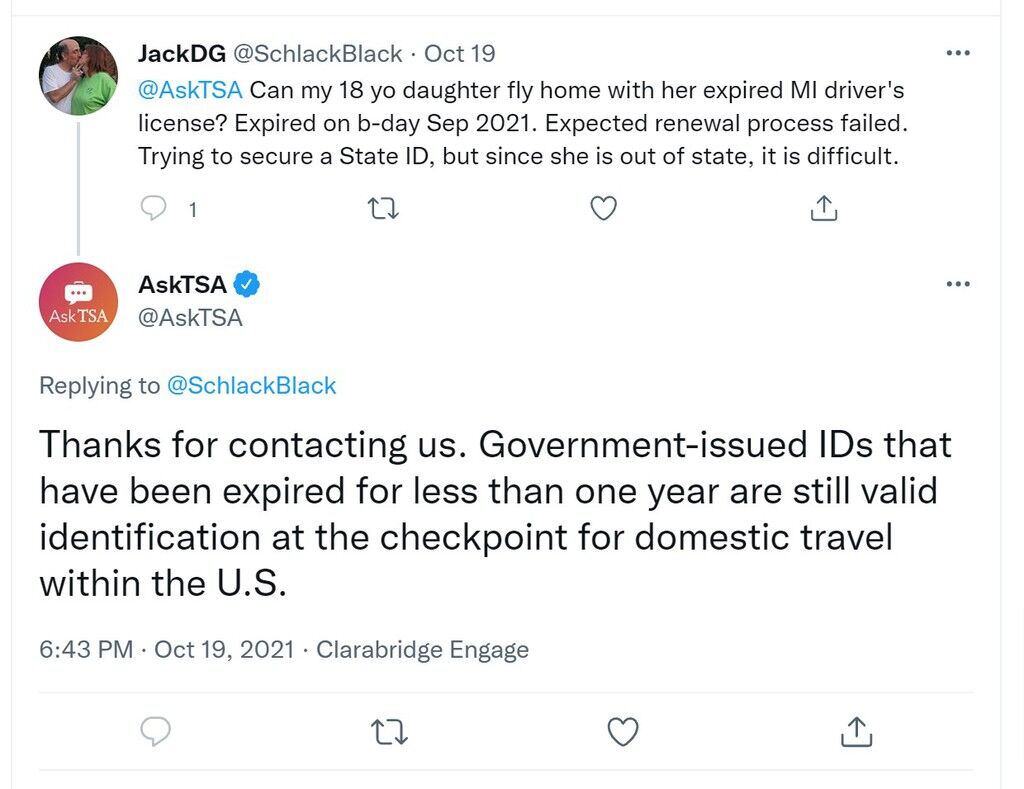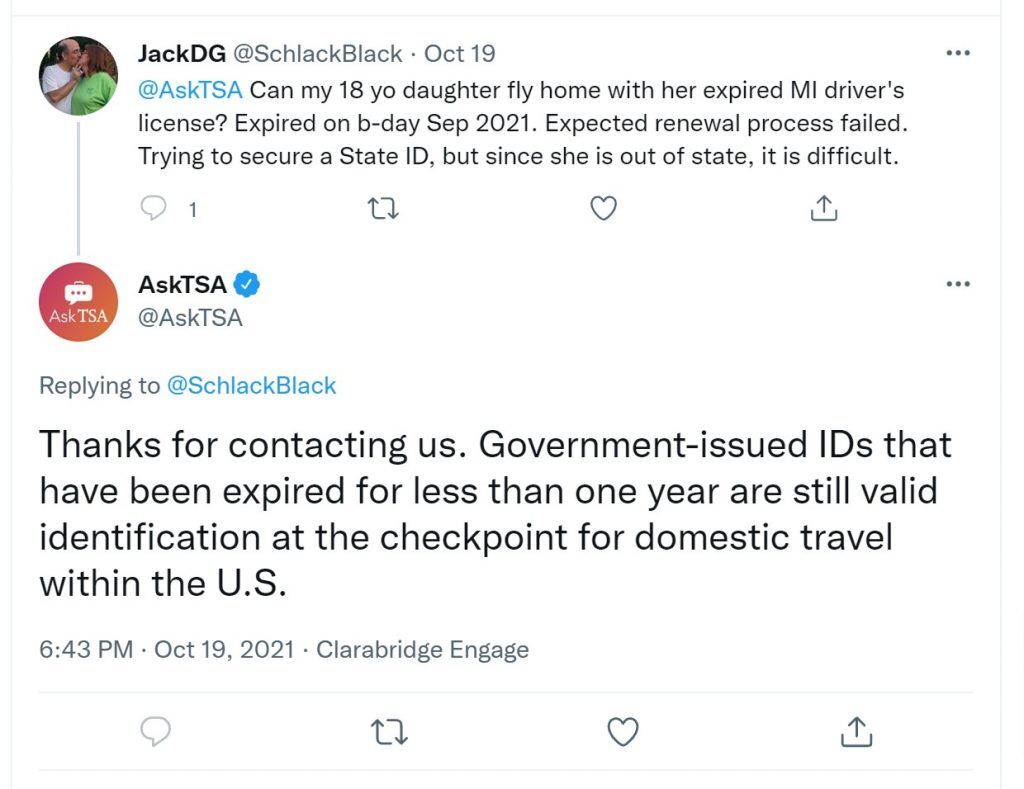 You can use an expired license as ID to fly domestically for up to one year after the expiry date.
Will the TSA accept expired driving licenses after the coronavirus comes to an end?
Well here's the thing…
You've always been able to use expired licenses. This isn't just something that was brought in due to the pandemic.
Even before the coronavirus pandemic Government-issued IDs that had been expired for less than one year were still valid identification at the checkpoint for domestic travel within the U.S.
Here's Steve asking the TSA before the event: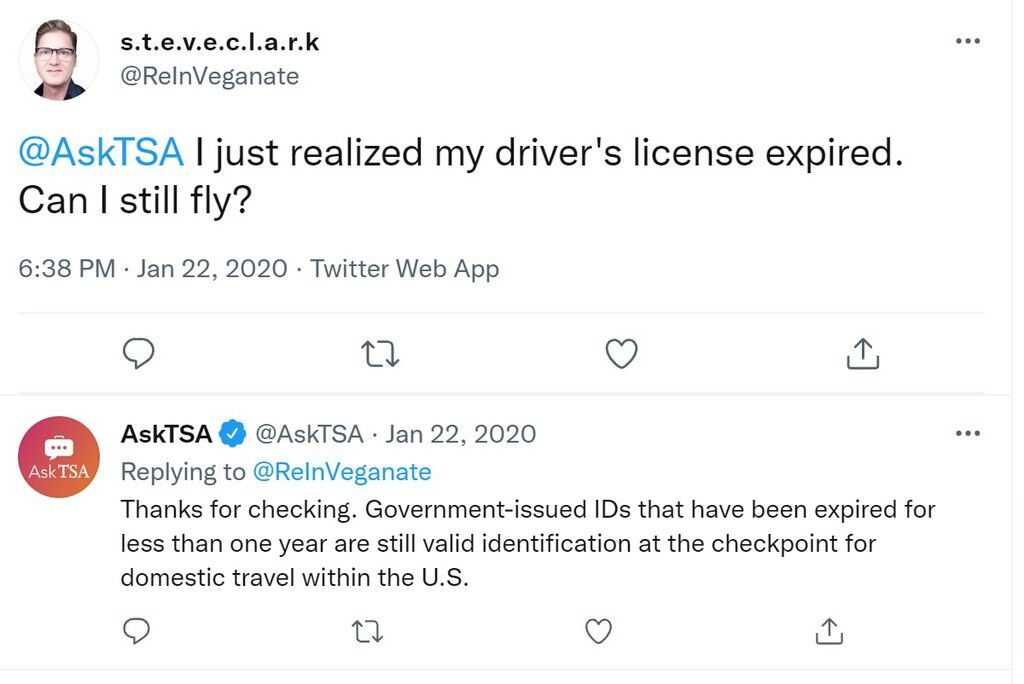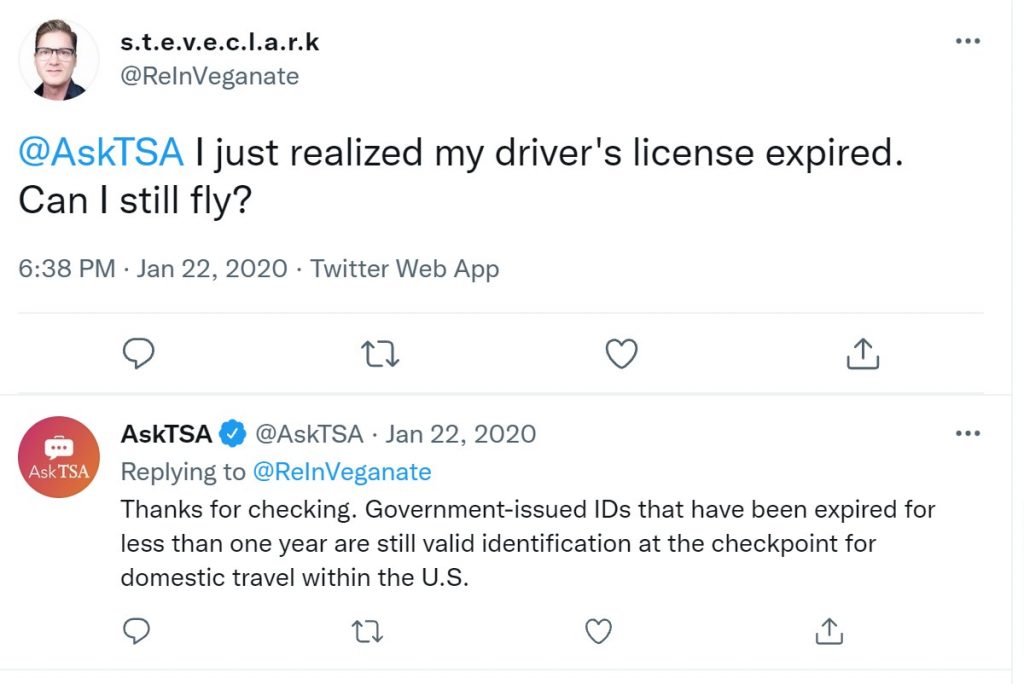 The answer Steve received from the TSA was the same back then. A recently expired driver's license has always been a form of ID that the TSA accepted.
Whether that will continue to be the policy in the future is anybody's guess.
Alternative Forms Of ID
There are other acceptable forms of ID other than a driver's license. After all, not everyone can drive.
The TSA also accepts:
U.S. Passport
U.S. Passport Card (What's the difference?)
DHS trusted traveler cards (Global Entry, NEXUS, SENTRI, FAST)
U.S. Department of Defense ID, including IDs issued to dependents, Military ID
Permanent resident card
Border crossing card
State-issued Enhanced Driver's License
An acceptable photo ID issued by a federally recognized, Tribal Nation/Indian Tribe
HSPD-12 PIV card
Foreign government-issued passport
Canadian provincial driver's license or Indian and Northern Affairs Canada card
Transportation worker identification credential
U.S. Citizenship and Immigration Services Employment Authorization Card (I-766)
U.S. Merchant Mariner Credential
Veteran Health Identification Card (VHIC)
And these forms of ID are not accepted:
A Weapons Permit

A Temporary Driver's License
Real ID Is Delayed But Still Coming
One thing that was definitely influenced by the pandemic was the implementation of the Real ID Act.
Soon have a valid date on your driver's license won't be the only thing you need to worry about.
Your driver's license will soon need to be Real ID compliant to be considered an acceptable form of identification.
The previous REAL ID enforcement deadline was October 1, 2021. That was pushed back to May 3, 2023.
That means if you want to use your driving license to fly sooner or later you will need to get a new one.
If you are not sure if your license is Real ID compliant you can check with your state department of motor vehicles.
You May Be Able To Fly Without Any ID At All
If your license expired over one year ago and you don't have any other form of ID you may still be able to fly.
Passengers often turn up at the airport having forgotten their ID.
When that happens a TSA officer will ask the passenger to complete an identity verification process.
The passengers supply their name, current address, social security number, to attempt to confirm their identity.
It helps if you can provide any ID at all. For example student IDs, credit cards, birth certificates, social security cards, utility bills, or insurance cards, can all help to identify you.
If their identity is confirmed the passenger will be allowed to enter the security checkpoint, go through security screening, and travel to your destination.
Obviously, it's a bit of a gamble to turn up at the airport without a valid ID. However, it might be worth trying if you have no other option.
Here's a video talking you through the process:
If you are going to attempt this route make sure you allow plenty extra time to confirm your ID before your flight.
The Verdict
For domestic travel, you can fly with an expired license if the expiration date was less than one year ago.
A temporary license is not considered to be a valid ID by the TSA.
You may still be able to fly without any valid ID if you provide personal information at the airport and the TSA can identify you.
Soon your driver's license will need to be Real ID compliant to be considered a valid ID.
You Might Also Like