Last Updated on February 23, 2021
Vaseline Healing Jelly is used all over the world to protect and heal dry skin, but can you fly with Vaseline and if so where do you pack it?
Let's take a look at the rules in the United States.
TSA Vaseline Rules
The Transportation Security Administration is the organization that determines what can and can't be brought on to airplanes.
TSA agents are hard at work screening more than a million bags every day at the security checkpoint and behind the scenes scanning hold luggage.
The TSA doesn't specifically mention Vaseline on their website and they don't mention the generic name petroleum jelly either.
So I took a look at the @AskTSA service on Twitter to get you a reliable answer.
Alex asked about bringing a 7.5 oz tub of Vaseline in his carry on luggage: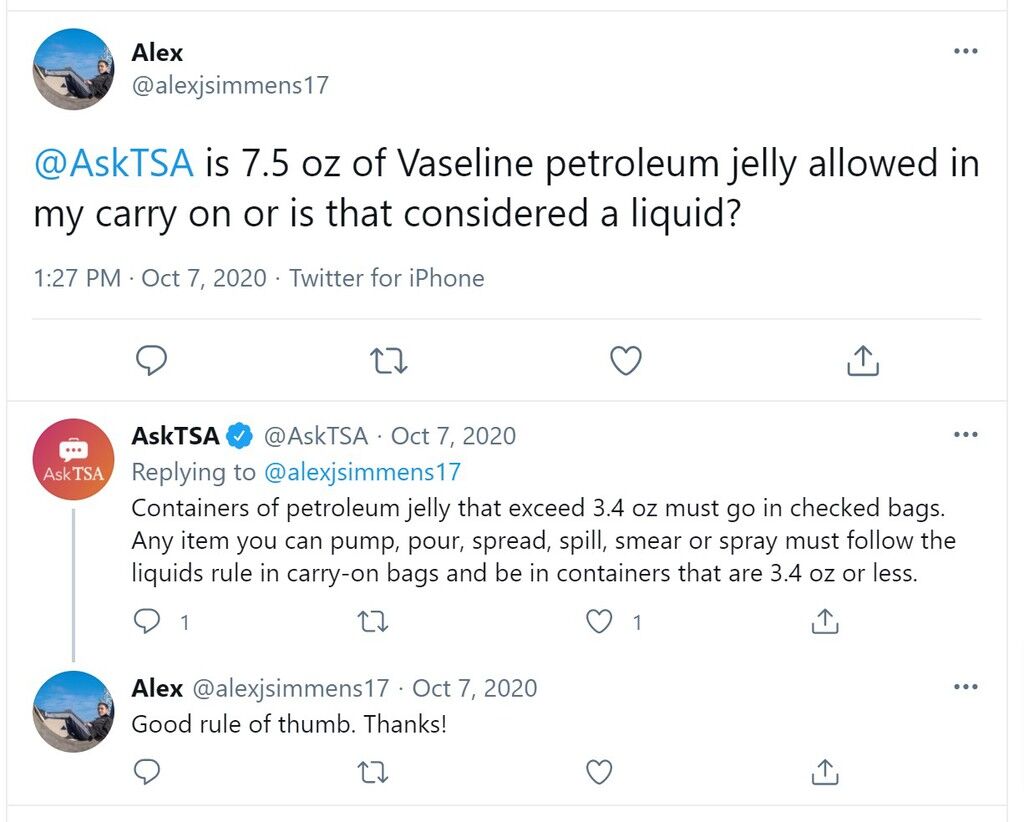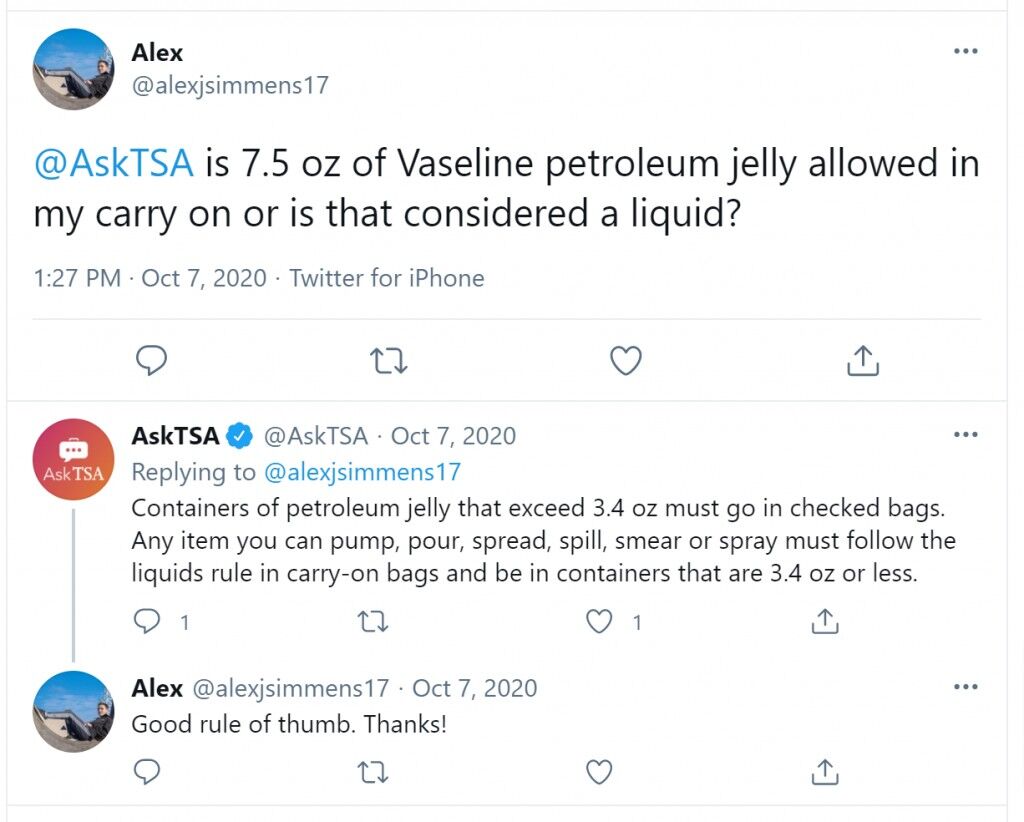 Containers of petroleum jelly that exceed 3.4 oz must go in checked bags. Any item that you can pump, pour, spread, spill, smear or spray must follow the liquids rule in carry-on bags and be in containers that are 3.4 oz or less.

@AskTSA on Twitter
Vaseline is considered to be a liquid gel by the TSA. That means that when you pack it in a carry-on bag it must be in travel-size containers smaller than 3.4 ounces (100 ml). It also means you must make sure you pack Vaseline in your plastic quart-size toiletries bag when going through the security checkpoint.
You can buy Vaseline in containers of various sizes.
They sell a little tub that is only 1.75 oz and squeezable tubes that are 2.5 oz and 2.89 oz. These are suitable to be brought on a plane in carry on luggage.
Remember if you have space in your toiletries bag you can pack more than one bottle of Vaseline.
The larger tubs that are 3.75 oz, 7.5 oz, and the big 13 oz tub must be packed in checked baggage.
And in case you are wondering. It doesn't matter if the container is half empty. It is the size of the container that is regulated not the amount of Vaseline remaining in the container.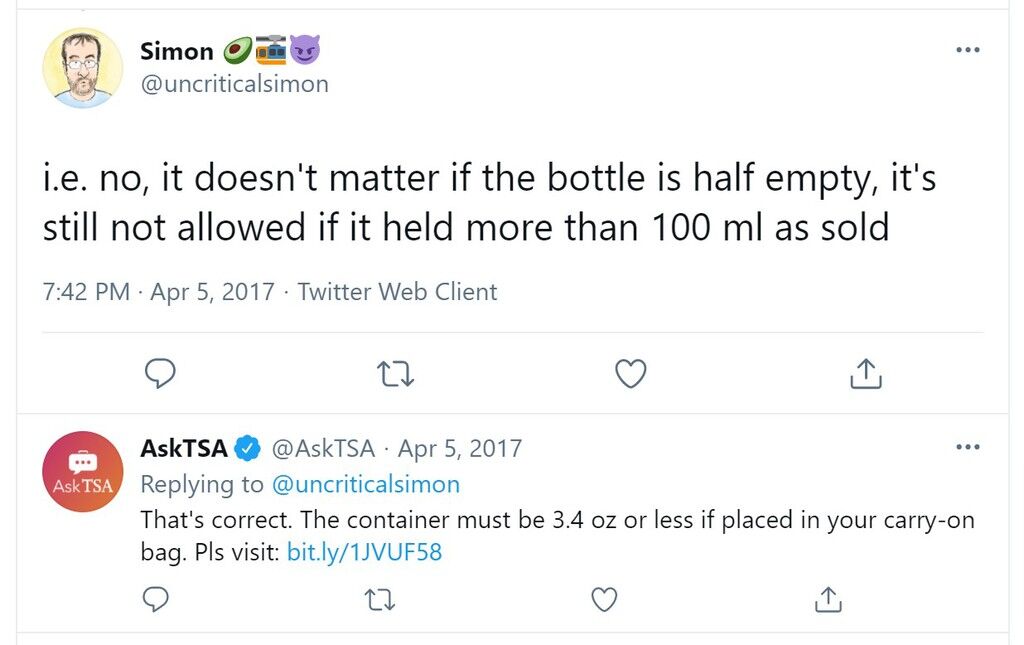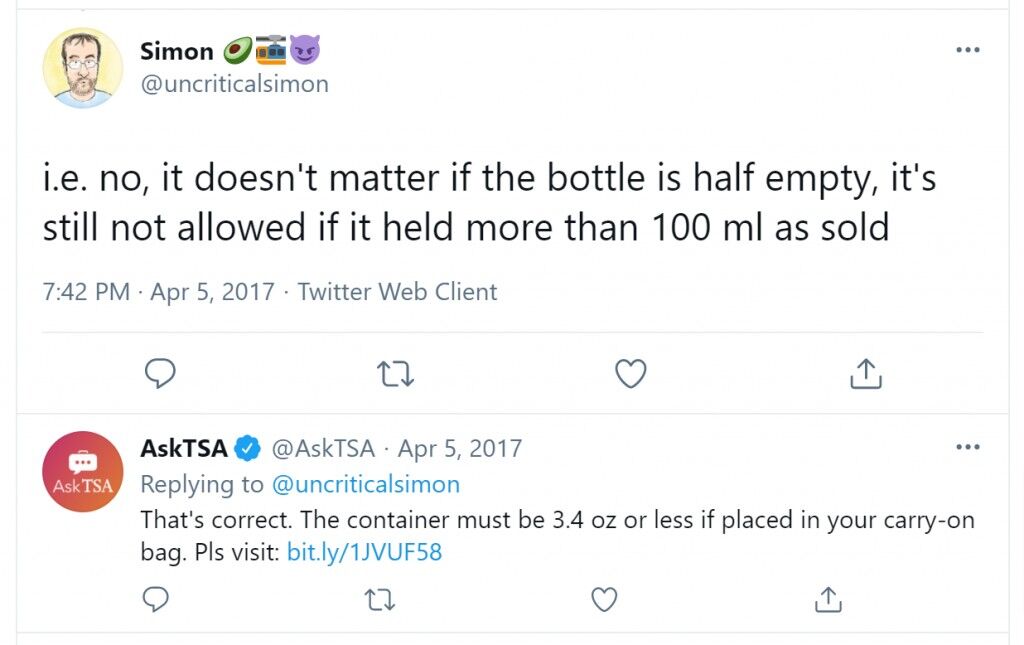 So if you want to bring Vaseline then you need to buy the smaller size containers or transfer some Vaseline from a large tub into a small travel-size container like these ones.
If you have a container with a quantity larger than 3.4 oz written on the label it may be confiscated by the TSA.
The only Vaseline product that seems to get a pass is their lip balm products.
Chapstick, is not considered a liquid and doesn't need to be placed in your liquids bag.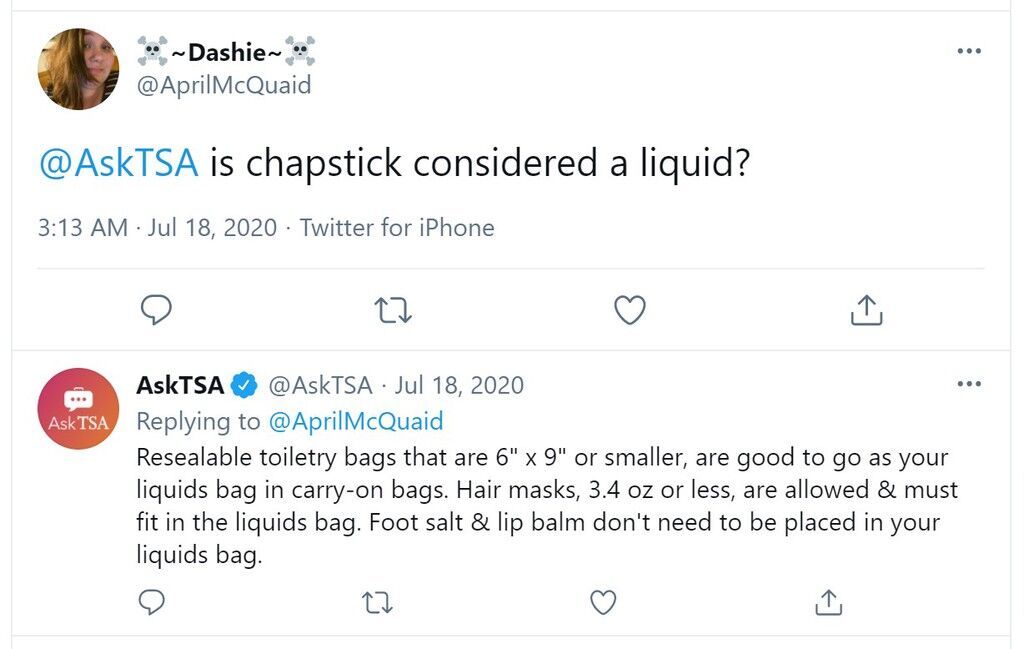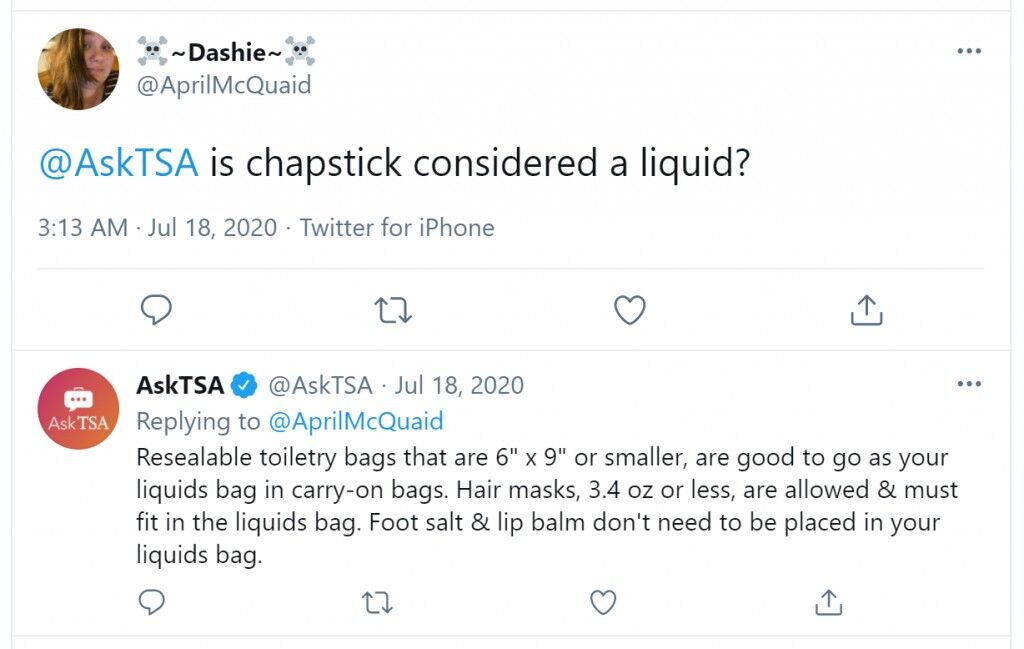 Vaseline & Medically Necessary Liquids
Vaseline is marketed as a "healing jelly". Although it has many other uses Vaseline market their petroleum jelly as a medical product.
The TSA state that medically necessary liquids are exempt from the carry-on luggage 3-1-1 rule.
So can Vaseline Healing Jelly be brought in carry-on bags as a medically necessary liquid in larger containers?
Rakeiba asked the TSA this exact question because her son uses Vaseline medically.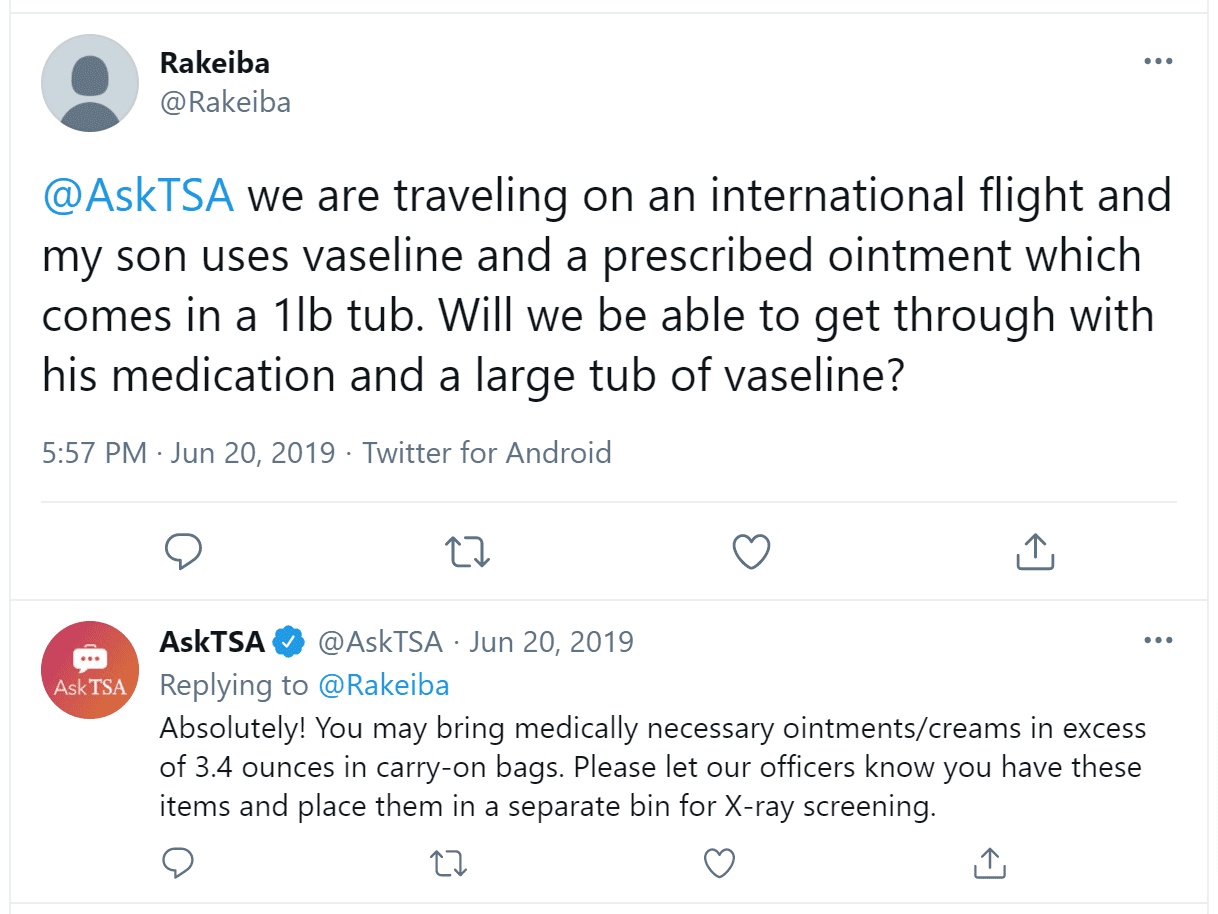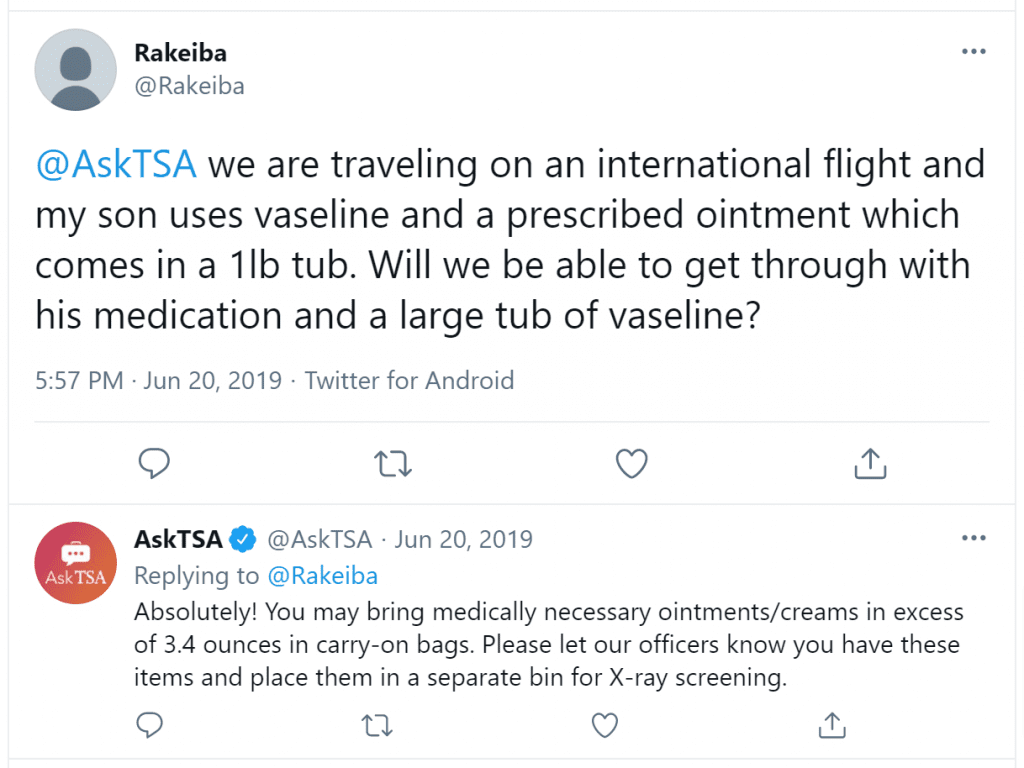 The TSA answered that she would be able to bring medically necessary ointments and creams in excess of 3.4 ounces.
To do this you need to notify TSA officers that you have these items when you reach airport security. They should inspect these items separately and let you pass.
You should not need to provide a doctor's note.
Posing as a passenger, I asked the TSA directly about flying with an oversize tub of Vaseline in hand luggage.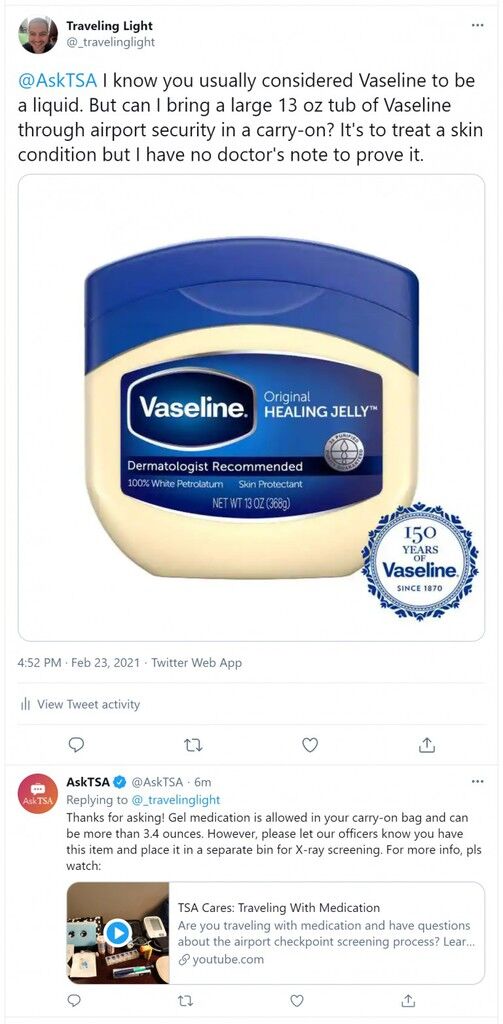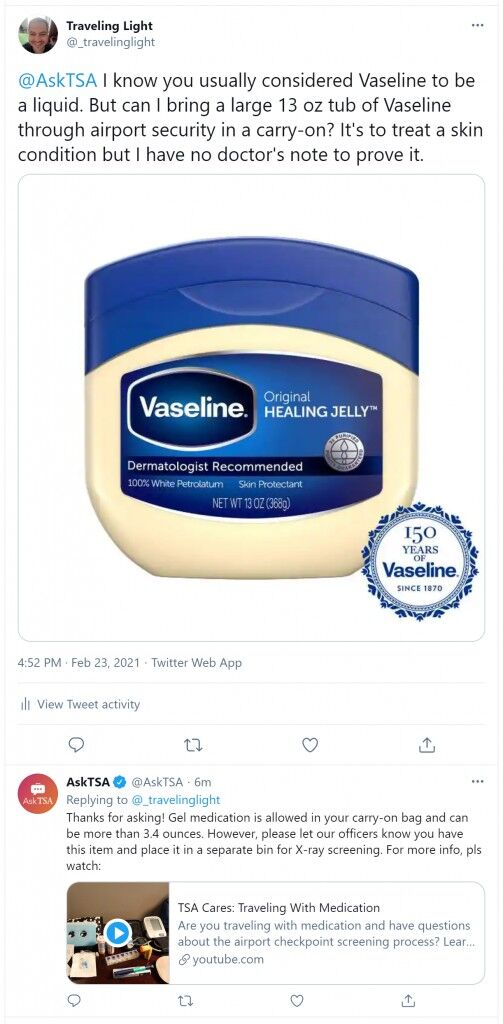 Check out this TSA video for more information about flying with medical liquids:
I still feel that despite what is being said on social media an individual TSA agent might refuse to allow medically necessary Vaseline.
So don't blame me if your big tub gets confiscated at the security gate! YMMV.
In Short
Travelers can bring Vaseline in carry-on bags in travel size bottles under 3.4 oz. Vaseline is treated as a liquid and must be packed in your liquids bag.
You can pack larger tubs of Vaseline in checked bags. There are no restrictions.
If you have a medical condition and are using Vaseline as a treatment you might be able to bring a larger tub.
While larger tubs of medically necessary petroleum jelly should be permitted after additional screening it will depend on the individual TSA officer that you end up dealing with.
People Also Ask