Last Updated on March 12, 2023
Key Takeaways
You can bring sunglasses on a plane in carry-on luggage
The best place to pack sunglasses is inside your personal item bag
If you like looking out the window on the plane then sunglasses can protect you from UV rays, glare and intense light
You can also pack sunglasses in your checked luggage however there is a risk they may be stolen, lost, or delayed
So you're taking a trip on a plane and want to bring your sunglasses with you. Where should you pack them and are there any airport rules about sunglasses that you need to be aware of?
Wearing Sunglasses Through Airport Security
First off, there are no rules preventing you packing sunglasses in either carry-on or checked luggage. Since they are neither a liquid or a weapon the TSA doesn't pay any special attention to sunglasses.
There is some advice from the Transportation Security Administration about what to do with your sunglasses when going through the airport security checkpoint:
Empty your pockets prior to arriving in the checkpoint. Place wallets, phones, keys, sunglasses and other loose items from your pockets inside your carry-on bag instead of placing them in a bin. This will ensure personal items are not left behind.

Transportation Security Administration
Sometimes TSA agents will sometimes allow passengers to wear sunglasses during security checks, especially prescription sunglasses, however officers have the discretion to ask passengers to remove them.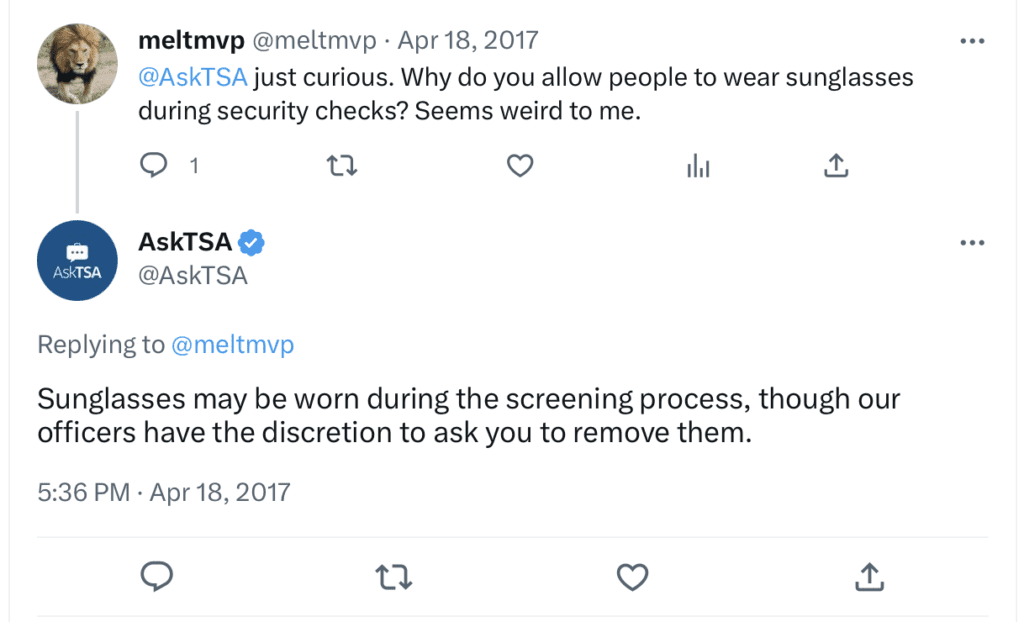 Metal sunglasses could potentially set off an alarm so you will probably need to remove your sunglasses when walking through metal detector at airport security. Usually you'll be asked to remove them.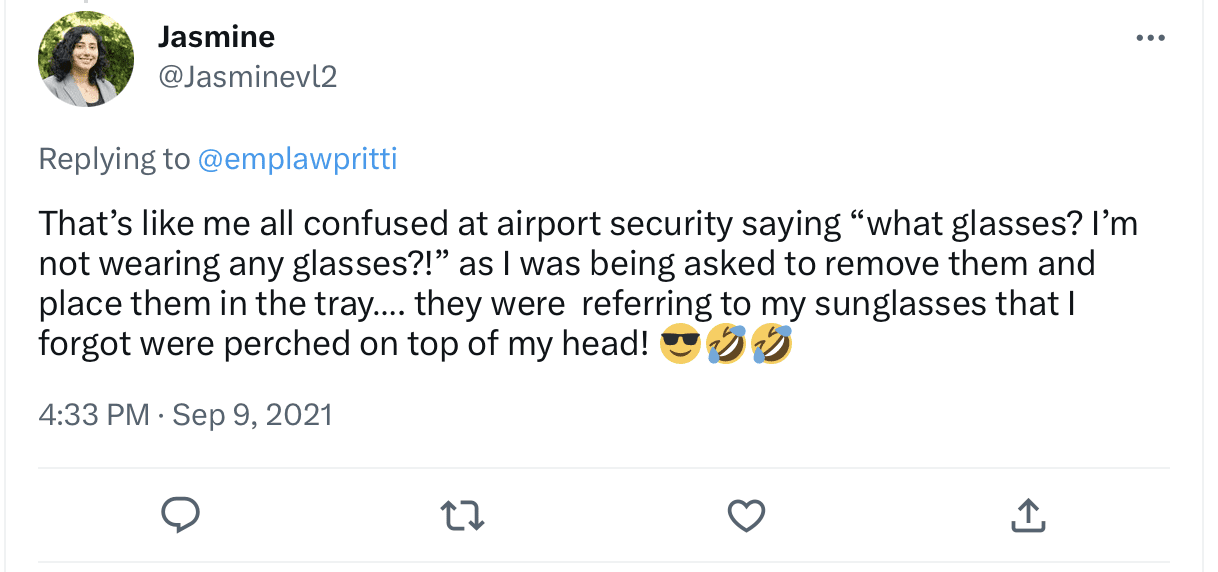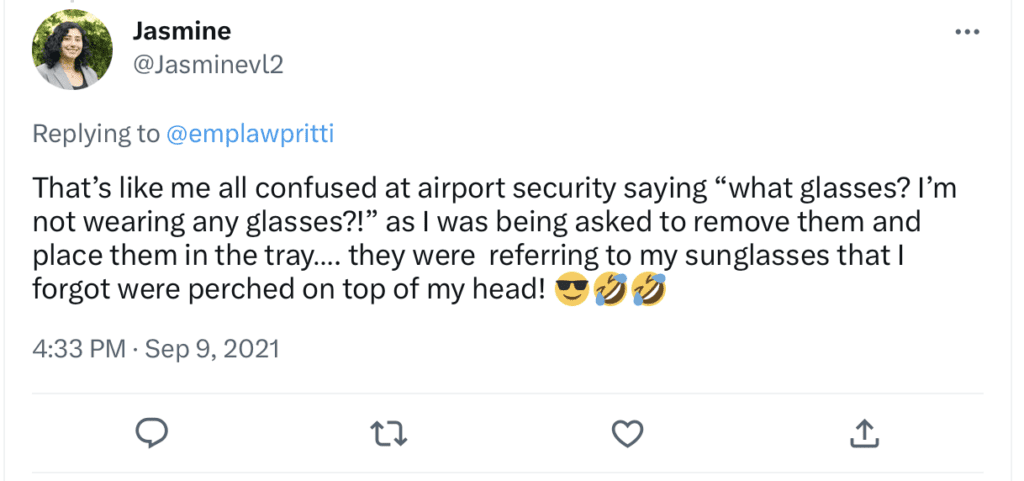 Rather than placing your sunglasses inside a screening tray it's a good idea to remove them before you reach airport security and pack them inside your personal item bag. That way there is less chance they will get lost or stolen when they go through the x-ray scanner. You wouldn't be the first person to place your sunglasses in a tray and then forget to pick them up at the other side of the scanner.
Jeanie put her sunglasses in a grey tray and when she got to the other side her sunglasses were gone: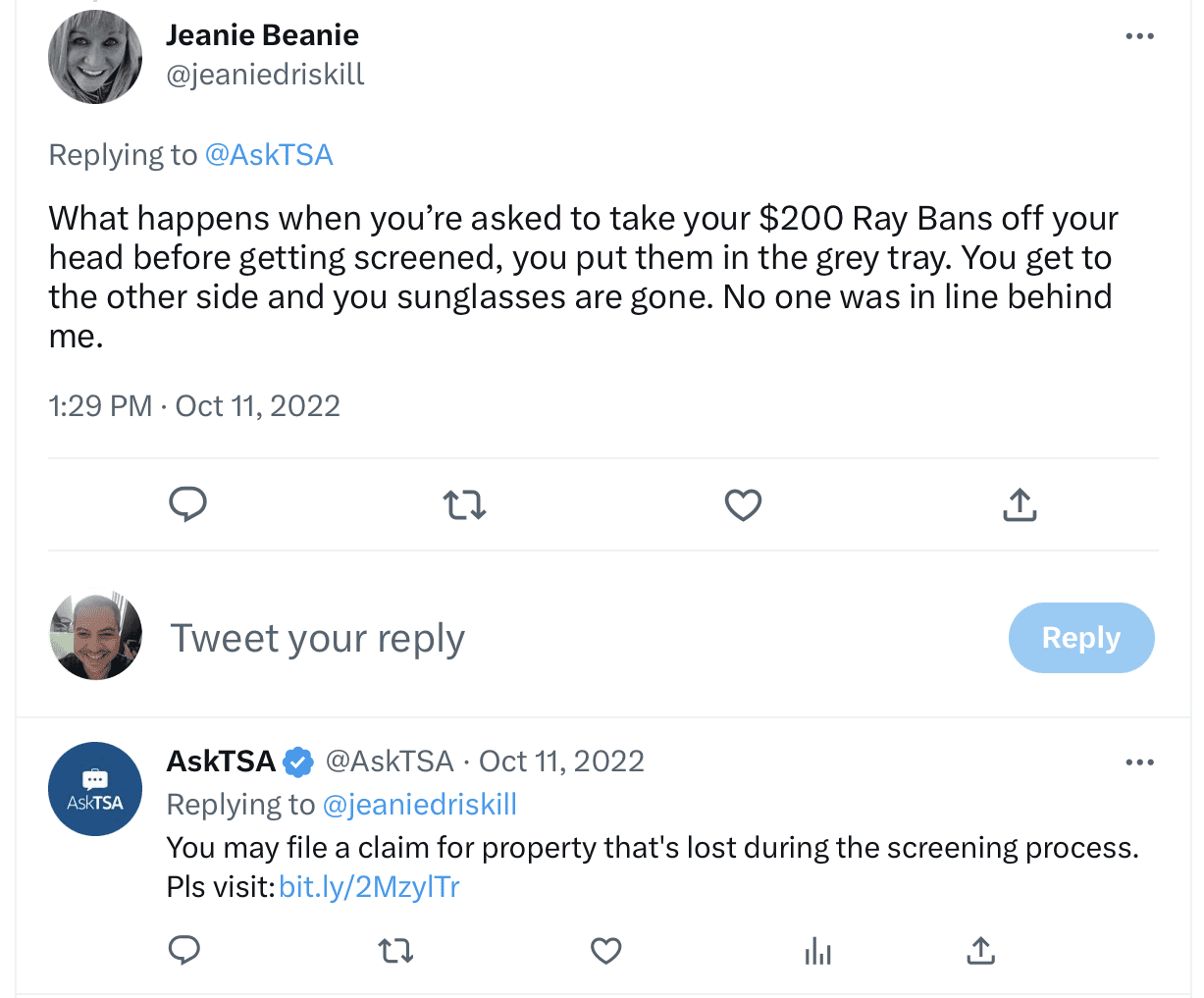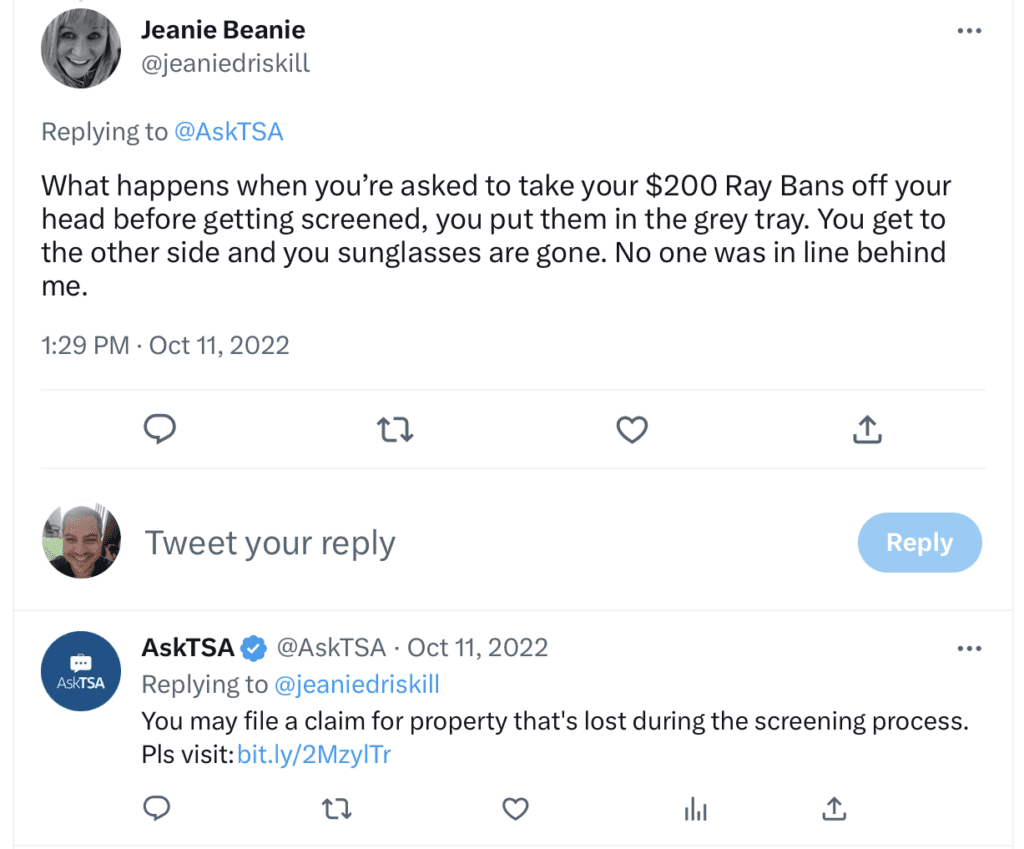 Her only option was to file a claim for lost property.
It's a smart move to avoid this situation by pre-packing your sunnies in your carry-in or personal item bag.
So it's always a good idea to pack a protective case for your sunglasses so that they don't get scratched inside a bag.
Likewise you won't be able to wear sunglasses when going through passport control so that the border guards can see your face.
Wearing Sunglasses On The Plane
But sunglasses can be handy to have on the plane and around the airport.
Aviator sunglasses were invented for a reason.
If you like sitting on a window seat sunglasses will provide UV protection. You might also walk on the tarmac to board the plane and your sunglasses could be useful at that moment.
That's all aside from that fact that they just look cool!
So take your sunglasses on a plane and even wear them if you want but make sure you have a carrying case to put them in your handbag, personal item bag, or carry-on luggage. A hard case will offer the best protection.
The same advice applies to regular eyeglasses, metallic sunglasses, polarized glasses or even goggles.
Packing Sunglasses In Checked Luggage
There are no rule that prevents you from packing sunglasses in your checked luggage.
However if you have own an expensive pair of designer sunglasses keep in mind that occasionally items can be stolen from checked bags or your checked baggage could be lost or delayed. It's rarely a good idea to pack anything valuable inside a checked suitcase.
Wendy believed that her $500 sunglasses were stolen from her suitcase and wasn't happy about it: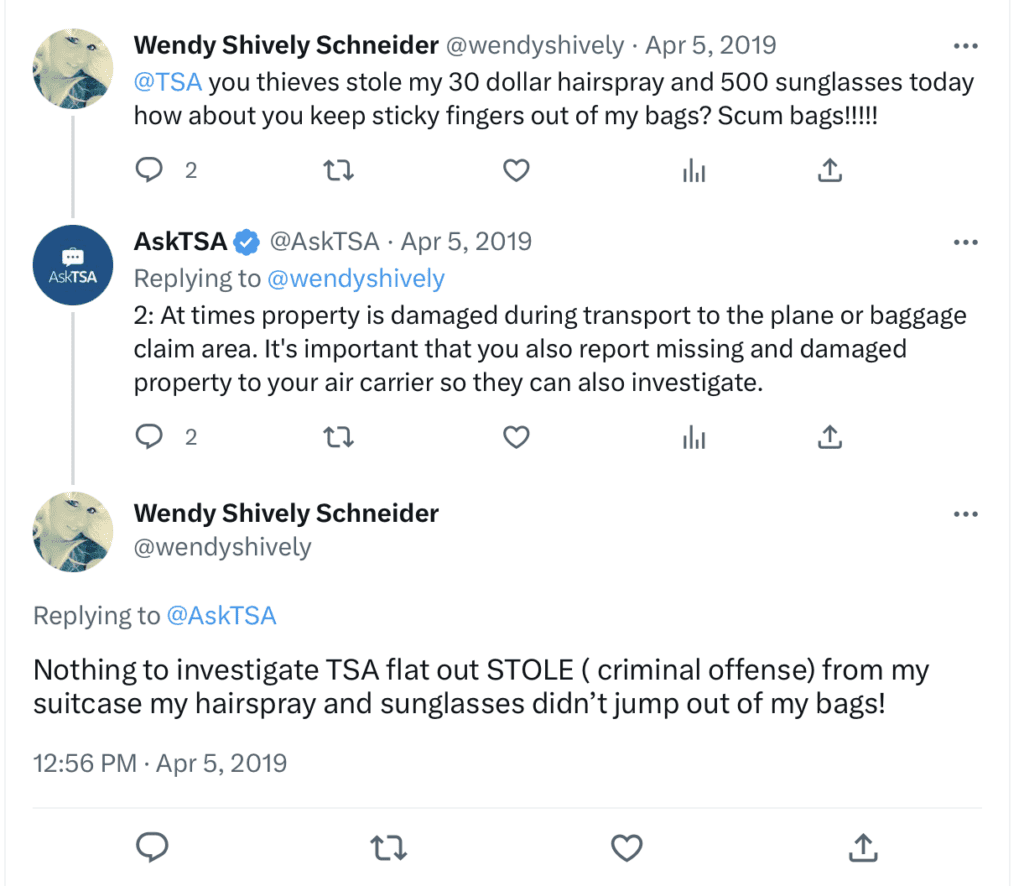 It's impossible to say what actually happened but if you don't want to take any risks keep your sunglasses under your control by packing them in carry-on luggage rather than checked luggage.
Losing your prescription sunglasses in particular could disrupt your vacation or trip since they won't be so easy to replace at short notice.