Last Updated on October 30, 2021
Plants are 80% to 90% water, and you probably know that liquids can be restricted on plants.
So can you bring a plant in your carry-on luggage or do plants need to be packed in checked bags?
Let's get right down to the root of the matter.
TSA Plants Rules
If you are flying on a domestic flight you can relax. The Transportation Security Administration doesn't have a problem with you bringing plants on a plane.
Here's what they say about carrying plants through the airport security checkpoint.


Most plants are not viewed as a security risk. You can bring plants in both carry-on bags and checked bags.
And in case you are wondering they are cool with you bringing the soil too. This passenger asked specifically about taking plants with soil through the security checkpoint.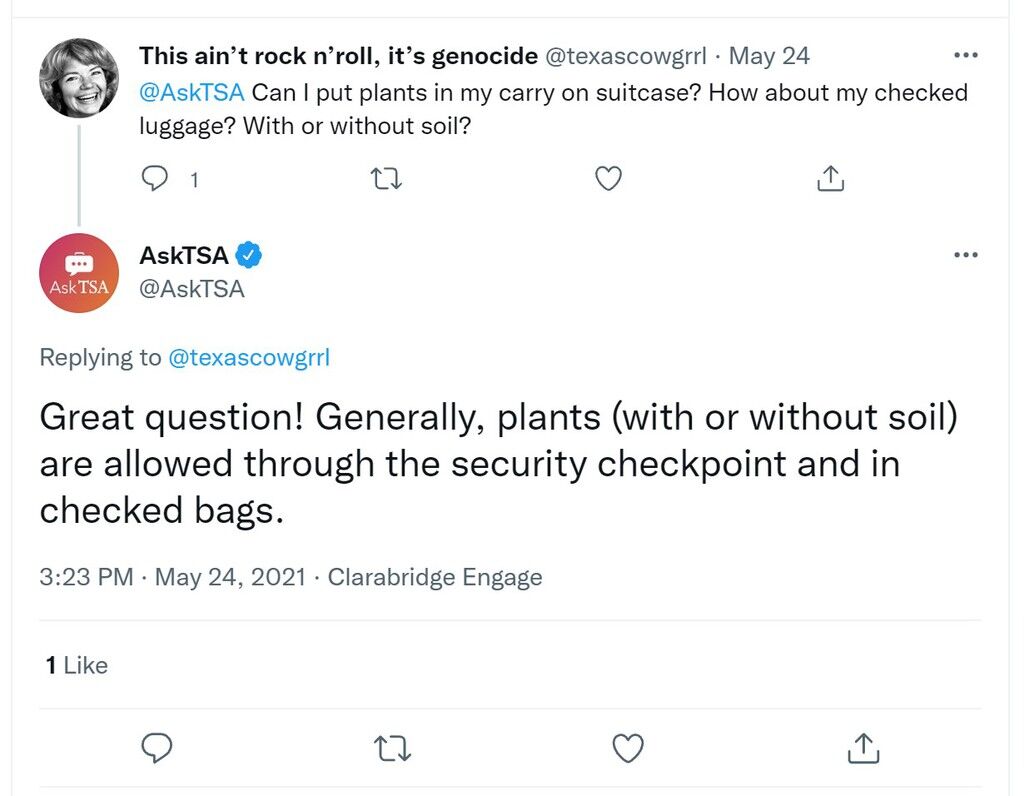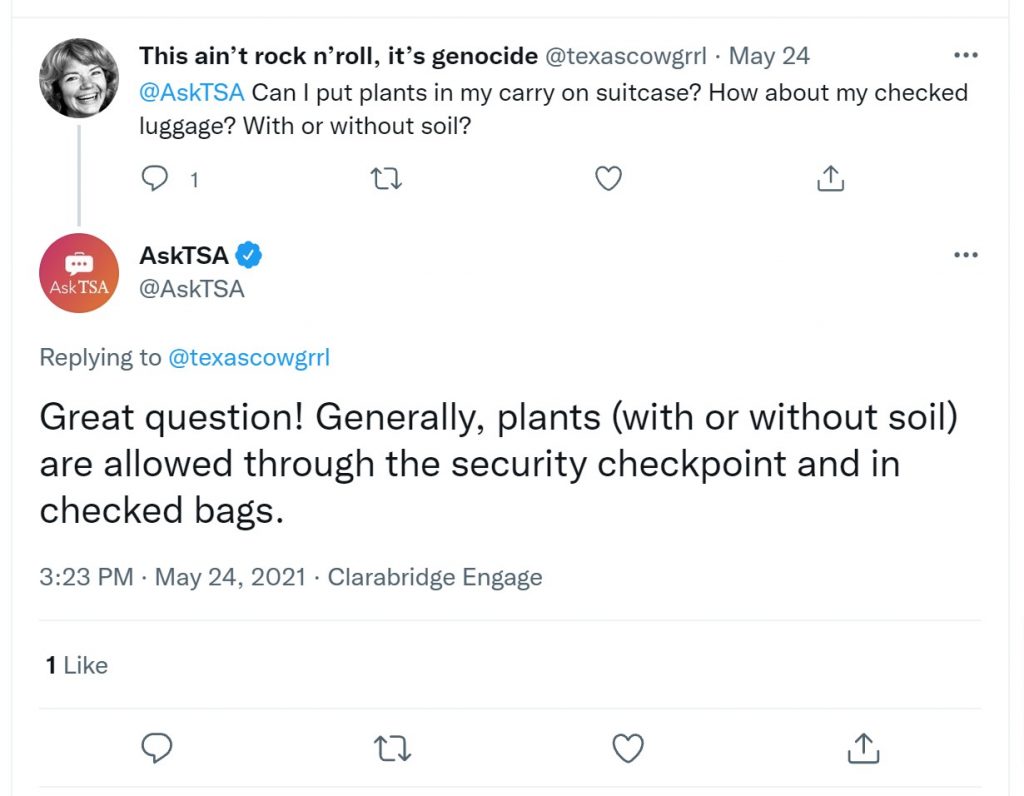 The TSA officer at the checkpoint always has the final say on what is permitted. The TSA has a thing about liquids, so if your soil was soaked that might be a problem, but damp soil will be fine.
But there are two potential problems with bringing plants on planes.
You need to work with the luggage allowance that your airline allows and you need to check the rules of your destination country if you are flying with plants internationally.
Check Your Airline Luggage Allowance
Full-service airlines usually allow you to bring two pieces of luggage, one personal item, and one carry-on bag.
The personal item is usually your purse, laptop bag, or briefcase. The personal item size limits vary by airline but generally, it's supposed to go under the seat in front of you.
Airlines won't allow you to bring a plant in addition to these two bags. You don't get to bring extra luggage just because it's a plant. You'll need to find a way to bring the plant on the plane using your existing allowance.
It's best not to put plants in the overhead compartment because they could be squashed.
For smaller plants, you can use your personal item allowance. To do this you might need to pack your purse or handbag inside your carry-on luggage.
You'll then be able to use your personal item allowance to bring a plant and put it under the seat.
To bring a larger plant that doesn't fit under the seat you'd need to pack it inside your carry-on bag.
To do that you might need to utilize your personal item allowance to pack your clothes. That would free up your carry-on allowance to use to bring a larger pot plant.
For low-cost airlines like Spirit or Frontier, you are only permitted to bring a personal item bag with the basic fare.
To bring a potted plant you might need to pay extra to purchase a carry-on allowance.
Your last option for very large plants is taking a gamble with checked luggage. This option is best avoided if possible since you are trusting baggage handlers to take care of your plant.
Check Your Destination Country Or Zone
If you are flying internationally you should check that you are permitted to bring plants into the country.
If you are returning to the United States you should contact the Department of Agriculture, Animal and Plant Health Inspection Service (APHIS). You may need a permit to bring some plant, soil, or plant parts back home.
Similar agencies exist in other countries.
There are also other regulations when flying to places like Hawaii, Puerto Rico, and the US Virgin Islands.
It's not that you can't transport plants across state lines, just certain overseas territories. The idea is to restrict the movement of foreign pests and diseases.
How To Prepare & Pack A Houseplant For Flying
This video has lots of great tips about how to pack plants to protect them.
You need to make sure the soil will stay in the pot and Harley has some great tips.
Stuff paper towels or tissues into the top of the plant pot. Then tape across the top to keep the soil and the plant matter contained in the pot.
The Bottom Line
You can bring plants on a plane in carry-on luggage or checked luggage.
When traveling domestically there are not many rules you need to worry about.
Your main concern is how to pack plants so they comply with your airline's luggage allowance, and so they are not damaged.
The easiest method is to use your personal item allowance and store your plants under the seat in front of you, but that only works for smaller plants.
For international flights be sure to check the rules about bringing plants into your destination country.
You Might Also Like