Last Updated on August 7, 2022
Taking tablets in your hand luggage is relatively simple and you can bring pills on a plane without any problems.
This post offers advice on how much you can bring, where to pack them, and how to label them.
TSA Pills Rules For Prescription Medication & Over-The-Counter Tablets
The Transportation Security Administration officers are the people who decide what can and can't be brought on planes in your hand luggage.
Here is what their website says about bringing pills:
So yes, you are permitted to bring pills in both your carry-on bags and your checked bags.
And the message is the same for vitamins and supplements:




Everything you put in your luggage is subject to screening. This means your bag will go through an x-ray machine at the security checkpoint.
The main purpose of security screening is to find liquids and weapons. The TSA doesn't check for solid pills.
The TSA's job is to make our flights safe. They are looking for potentially flammable liquids or anything you could use to bludgeon someone.
So, you can bring solid pills without any problems. If you are bringing liquid medication you have a couple of choices. If your liquid bottle is under 3.4 oz (100 ml) you can pack it along with your other liquids like shampoo and toothpaste in your plastic quart bag.
But you are not limited to bringing medically necessary liquids in bottles or containers under 3.4 oz.
If you wish to bring bottles larger than 3.4 oz you can remove prescription medications and prescription bottles from your carry on and tell the TSA officer that you have medical liquids that you'd like to bring.
These liquids will then be subject to additional screening, the TSA officer might ask you to open the bottles.
Also, it's worth noting that softgel capsules are treated the same as solid pills. So those fish oil capsules won't be treated as liquids.
How Do I Pack Medication For A Flight?
The TSA recommends packing pills or medication in your carry on bag and we do too.
Pills are permitted in checked luggage but it's not a good idea to pack them there.
This is because items can often go missing (read be stolen) from checked luggage. On top of that, there is the risk that your entire checked bag gets lost including your pills.
Finally, you might need access to your medication during the flight so it makes sense to pack pills in your hand luggage.
You don't need to pack pills in their original bottles or containers. Rather than taking your entire bottle of pills with you for a short trip you can simply plan and pack the required amount.
There are no rules about how you pack pills. You can put them in a daily pill box, in a plastic baggie, zip top bag, you can pack them however seems sensible or practical to you.
While you don't need to label your pills it makes sense to do so. Usually, pills will come with some form of instructions leaflet. We suggest packing the pills and that leaflet in a plastic baggie.
That way you won't risk getting confused about which pill is which and if a TSA officer asks you what they are you'll be able to point to the leaflet.
Can You Take A Pill Cutter On A Plane?
Yes you can bring a pill cutter on a plane. Liz asked the TSA on Twitter and was given the green light: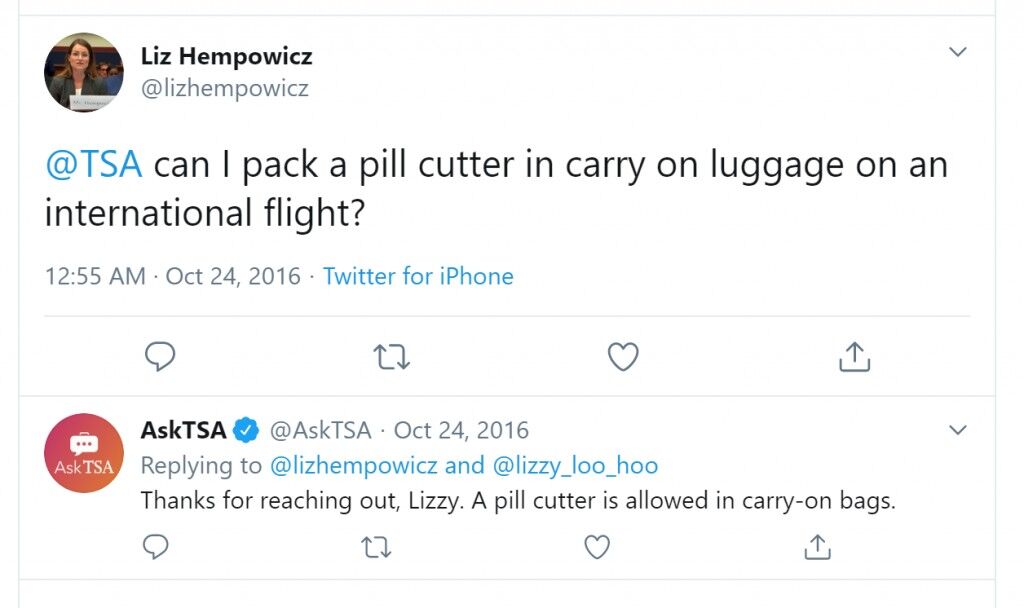 Can You Bring Pills On A Plane For International Flights?
Yes the TSA security procedures are the same whether you are flying domestically or internationally.
You need to make sure that the pills you are taking are legal to possess in your destination country.
You Can Bring All The Following Pills On A Plane
Passengers can bring reasonable quantities of all these pills without problems.
Unlimited amounts are permitted but be sensible.
These guidelines are about traveling with pills for personal use, not importing medicines or traveling with the intent to resell.
| Tablet or Pill | Permitted On Planes? |
| --- | --- |
| Allergy Pills | ✅ |
| Pain Relievers | ✅ |
| Pain Pills | ✅ |
| Aspirin | ✅ |
| Tylenol | ✅ |
| Birth Control Pills | ✅ |
| Prescription Pills | ✅ |
| Over-the-counter Pills | ✅ |
| Activated Charcoal Pills | ✅ |
| Hemp Oil Pills | ✅ |
| Thyroid Meds | ✅ |
| Antidepressants | ✅ |
| Lactose Intolerance Pills | ✅ |
| Contraceptive Pills | ✅ |
| Motion Sickness Pills | ✅ |
| Aleve | ✅ |
| Anxiety Pills | ✅ |
| Sudafed | ✅ |
| Mucinex Pills | ✅ |
| Laxative Pills | ✅ |
| Anti-Diarrheal Pills | ✅ |
| Imodium | ✅ |
| Gummy Vitamins | ✅ |
| Sleeping Pills | ✅ |
| Iron Pills | ✅ |
| Liquid Gel Pills | ✅ |
| Softgels | ✅ |
| Probiotic Pills | ✅ |
| Nitroglycerin Pills | ✅ |
| Headache Pills | ✅ |
| Caffeine Pills | ✅ |
| Fish Oil Capsules | ✅ |
| Benadryl Pills | ✅ |
| Ibuprofen | ✅ |
| Advil tablets | ✅ |
| Creatine Pills | ✅ |
| Vitamin pills | ✅ |
| THC Pills | ❌ |
| MDMA Pills | ❌ |
| | |
The Verdict
The TSA are not all that interested in pills, they are mainly interested in liquids and weapons.
Their job is not to control substances, their job is to protect travelers from security threats.
They are searching for flammable liquids and things you can use to whack people on the head.
Your solid pills don't fall into either category. The only reason they check liquid medications is in case it's not really a medicine that's in the bottle but instead something that could go boom!
Hopefully, this post has cleared things up and you now feel confident about traveling with pills and tablets.
People Also Ask