Last Updated on October 29, 2021
I know you know that you can buy nips on a plane, you won't forget those prices in a hurry!
But can you bring your own nips on a plane?
Nips are small bottles of alcohol, otherwise known as:
Shooters
Miniatures
Airplane Shots
Mini Liquor Bottles
Let's take a look at the relevant rules for you.
TSA Nips Alcohol Rules
The TSA doesn't mention nips of alcohol specifically on their site. But this is the relevant screengrab from the TSA website.

You can bring nips in your hand luggage if the bottles are smaller than 3.4 oz or 100 ml and if the alcohol is not stronger than 70% ABV.
Nips of alcohol are usually 50 ml and around 40% ABV strength. That means that you can pack nips in your carry-on bags but they do need to go inside your quart-sized liquids bag.
That's the bag that you put your shower gel and shampoo. You can make extra space for nips by throwing your toiletries out. You are only allowed to bring one quart-size bag per passenger.
How Many Mini Bottles Can I Bring On A Plane?
PavLee had the same question and asked @AskTSA on Twitter to get an answer: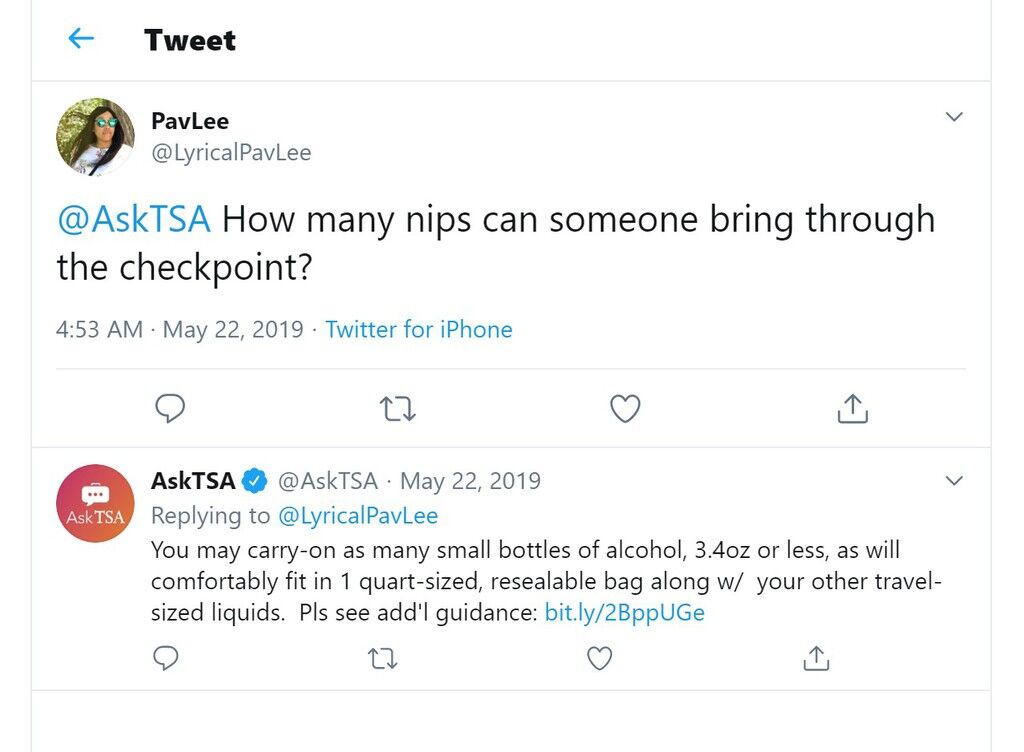 As you can see @AskTSA answered that you can take as many nips as you can comfortably fit inside your quart-sized liquids bag.
A quart is 946 ml and a nip is only 50 ml. If you don't take any shampoo or other liquids you can probably take enough nips in your liquids bag to get completely skunk drunk.
I think you could bring at least 15 nips on a plane inside your liquids bag. The bottles will take up some room and your bag must be able to comfortably close.
Of course, you'd need to not pack any shampoo or shower gel etc to do that.
And now for the bad news…
You Are Not Permitted To Serve Yourself Alcohol On Flights
While you can pack the nips in your hand luggage it's illegal to pour yourself a drink on the plane.
There are severe fines for doing it so you are taking a big chance if you try to sneakily serve yourself alcohol when the flight attendant is not looking.
This is because drunk passengers can cause serious disruption and cause flights to be redirected. The flight attendant is playing bar-keeper and deciding if you are sober enough to have another drink.
The only airline that permits you to drink your own alcohol is JetBlue. They stay within the law by serving you your own nips if you ask politely and you are sober.
You can ask FAs on other flights to serve you your own nips but you will probably be told it is company policy not to allow this.
Also, you will need to be over age 21 to legally possess alcohol. This doesn't change just because you are on a plane.
The Verdict
You can bring your own nips on a plane in your hand luggage so long as they are in your liquids bag and in containers no bigger than 100 ml or 3.4 oz.
But you can't drink your own nips on a plane unless you are flying with JetBlue.
I know that many people ignore this rule and sneakily pour themselves a nip when nobody is looking.
Only you can decide if that's worth the risk, but the FAA fines are not small!
People Also Ask