Last Updated on March 8, 2021
Many beauty products come in various different forms.
For example, you can buy solid lipstick, tinted lip balm, lip liquid, lip creams, and even lip powder all for adding pigment and color to your lips.
These different forms of cosmetics have their own pros and cons as beauty products. That won't be discussed here.
This post is about which types of makeup you can bring on a plane, and where should pack them to comply with the TSA rules.
Because of the 3-1-1 liquids rule, there will be some items in your makeup bag that you need to pack in your quart-size liquids bag when going through airport security.
And there will be some beauty products that you'll be able to pack anywhere in your carry-on bag.
Let's get started.
TSA Makeup & Cosmetics Rules
The Transportation Security Administration or TSA doesn't have specific guidelines about makeup on its website. It's too broad a category and as mentioned above makeup comes in solid, cream, liquid, powder, and aerosol spray forms.
You can pack makeup in checked luggage freely. The only restriction is that any flammable liquid like nail polish remover should be in a container less than 18 oz. So worst-case scenario, if you pay for checked luggage you can throw your makeup bag in your checked luggage and forget about it.
But nobody wants to pay baggage fees if they don't have to. Also, makeup products can be expensive and occasionally things are stolen from checked bags.
So packing makeup in your carry-on is preferable but it's a little more complicated to pack makeup for hand luggage to get it past the airport security checkpoint.
It all comes down to this…
If a type of makeup is considered to be a liquid you can only bring it in containers smaller than 3.4 oz (100 ml) and you must pack it in your plastic quart-size bag.
The question is when is a makeup product considered to be a liquid? To help you quickly answer that question I created this table.
| Makeup Type | Considered To Be A Liquid? |
| --- | --- |
| Aerosol Spray | Yes (3.4 oz containers or less) |
| Liquid | Yes (3.4 oz containers or less) |
| Cream | Yes (3.4 oz containers or less) |
| Gel | Yes (3.4 oz containers or less) |
| Paste | Yes (3.4 oz containers or less) |
| Powder | Not a liquid (If over 12 oz place in a separate tray at the x-ray machine) |
| Solid Stick | Not a liquid pack freely |
| Wipes | Not a liquid pack freely |
You can probably figure out what to do from that table but read on to learn about substitution tips. Room in the quart bag is scarce. You might not be able to bring all the liquid makeup that you want.
TSA & Powdered Makeup
So powder makeup like powdered eyeshadow is fine to pack in carry-on or checked bags.

And solid makeup like lipstick is also okay to be packed in carry-on or checked luggage.


And wet wipes like makeup remover wipes are not considered to be a liquid, so they could be an alternative to packing cleanser for some travelers.


So let's now take a more detailed look at each type makeup and see if the TSA thinks it needs to be packed in your liquids bag or not.
How To Pack Makeup In Carry On Luggage?
Packing makeup in your carry-on is a matter of deciding if the cosmetic product is treated like a liquid by the TSA.
Sometimes there might be powdered or cream versions of cosmetic product. The powdered version can be any size packed anywhere in your carry on bag, but the cream version would need to be 3.4 ounces or less and packed in your quart sized zip top bag.
Remember you only need to bring enough product to cover you for the duration of your trip. There is no sense in packing 3.4 oz when you'll only use a tiny amount.
You can make space in your quart-size liquids bag by transfering small amounts of beauty products into travel containers like these:
Let's look at the essential beauty products and see if there are TSA approved versions.
Highlighter
So liquid highlighter, or cream highlighter is limited to 3.4 oz but powdered highlighter isn't restricted.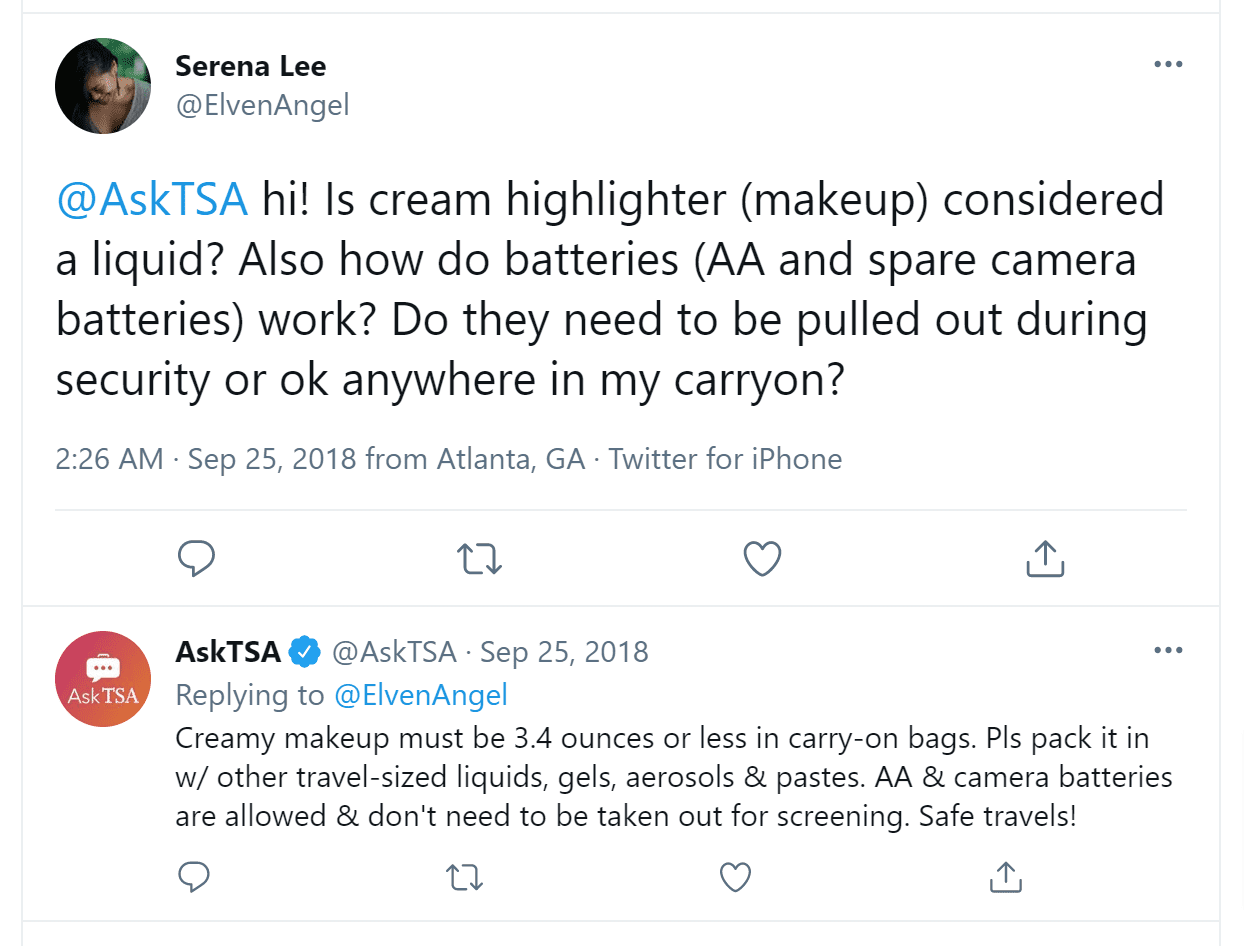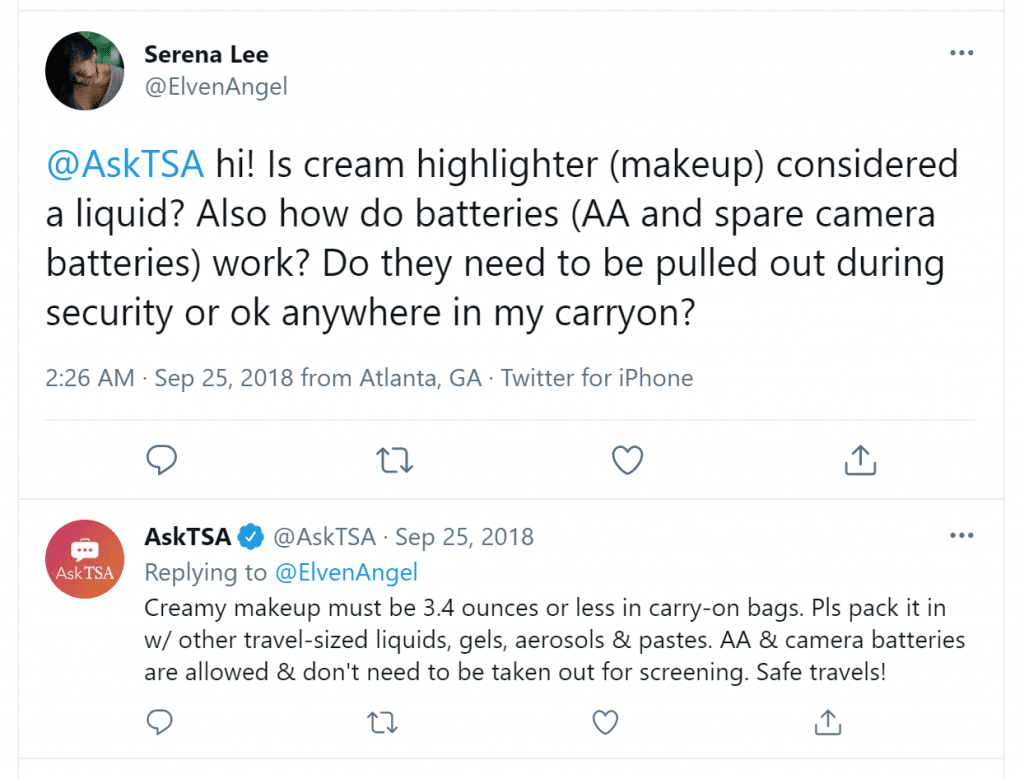 Face Primer
Primer is usually a liquid and so you can only bring a small travel-sized bottle.


Face Base
Laura asked the TSA about packing solid stick foundation.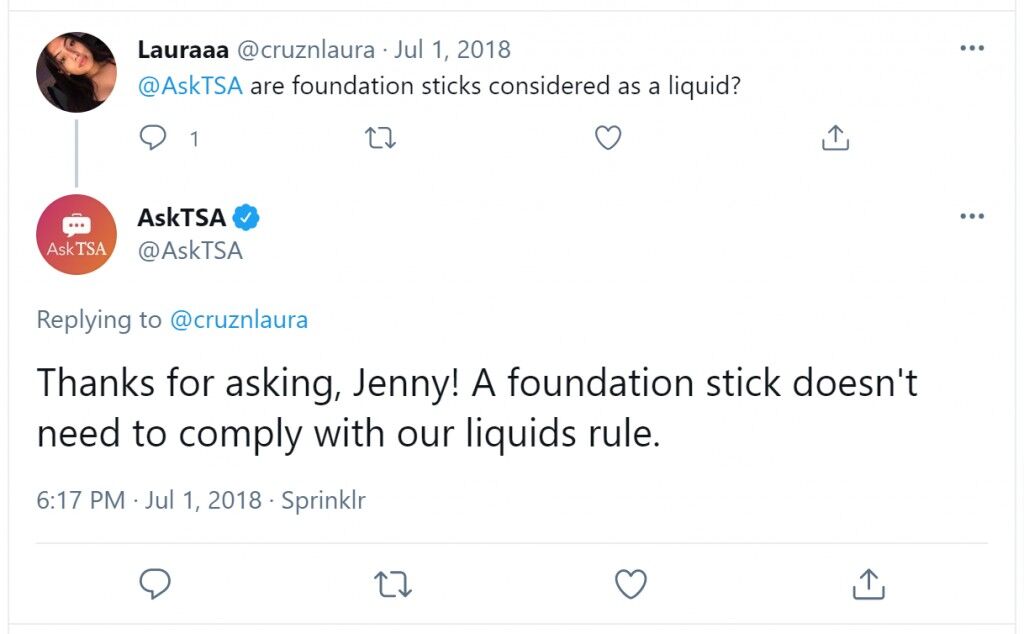 The TSA replied that solid stick foundation doesn't need to comply with the liquids rule.
Laurie asked about packing a small powder foundation.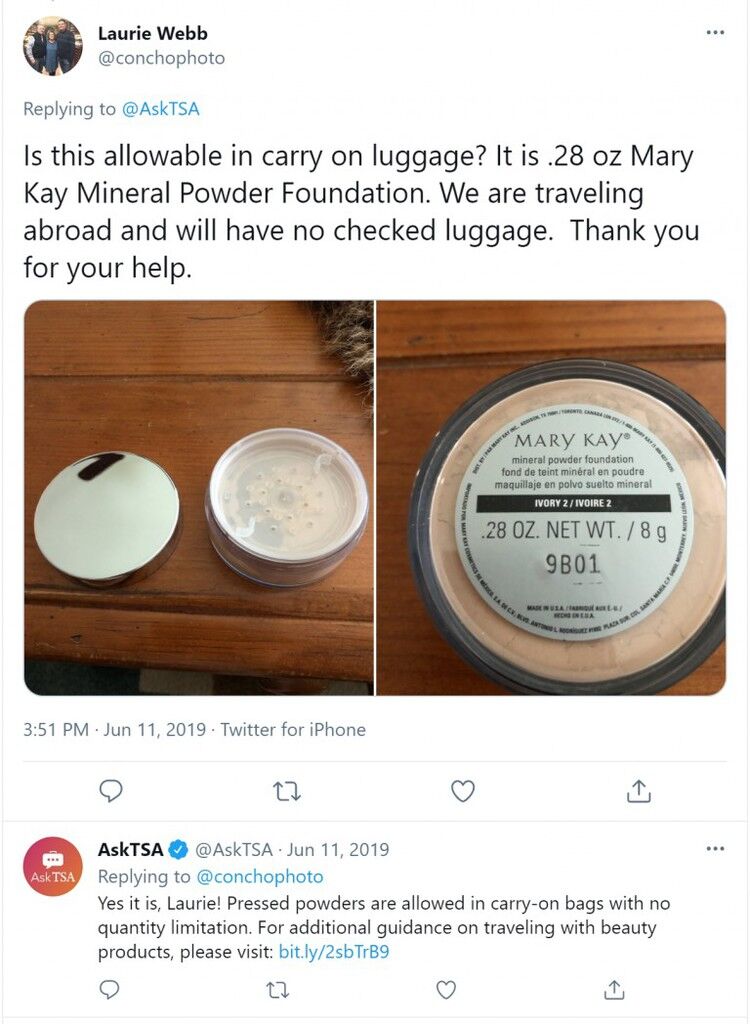 And the TSA replied that pressed powders are allowed in carry-on luggage with no quantity limitations.
Mandi asked about if makeup foundation is considered a liquid.
Foundation comes in many forms. Solid and powdered foundation is not considered to be a liquid by the TSA but cream foundation like BB cream or liquid foundation is considered to be a liquid.
Also, aerosol spray foundation like Sephora's perfection mist is considered to be a liquid.
Concealer
Morgan asked a good question about concealer. I like the way she phrased it "cosmetics that are applied with a wand".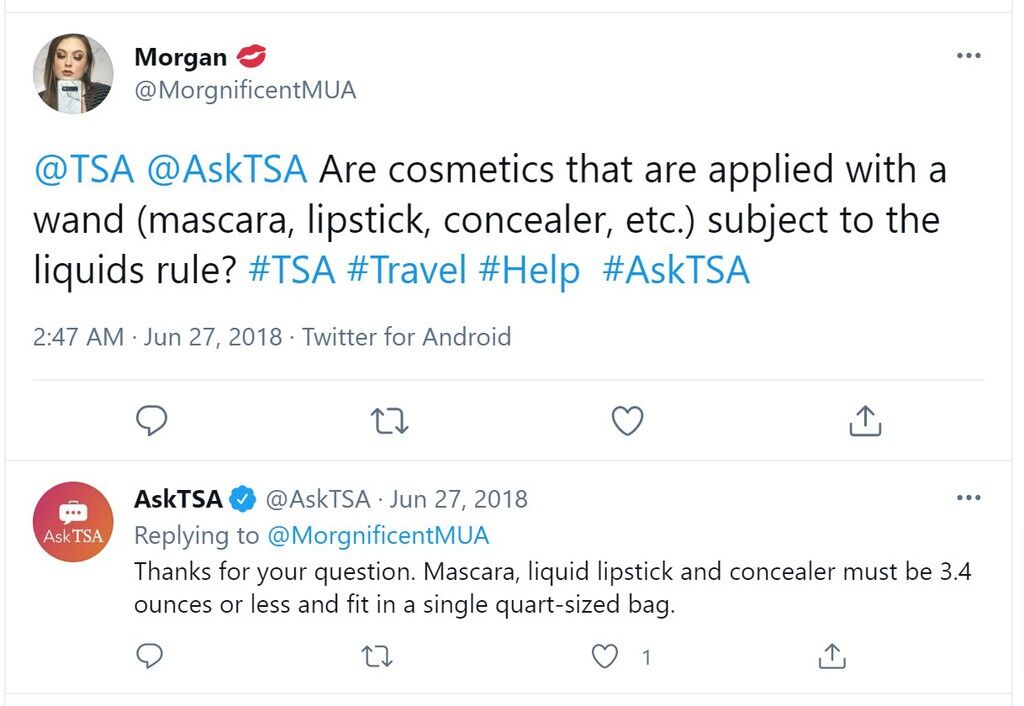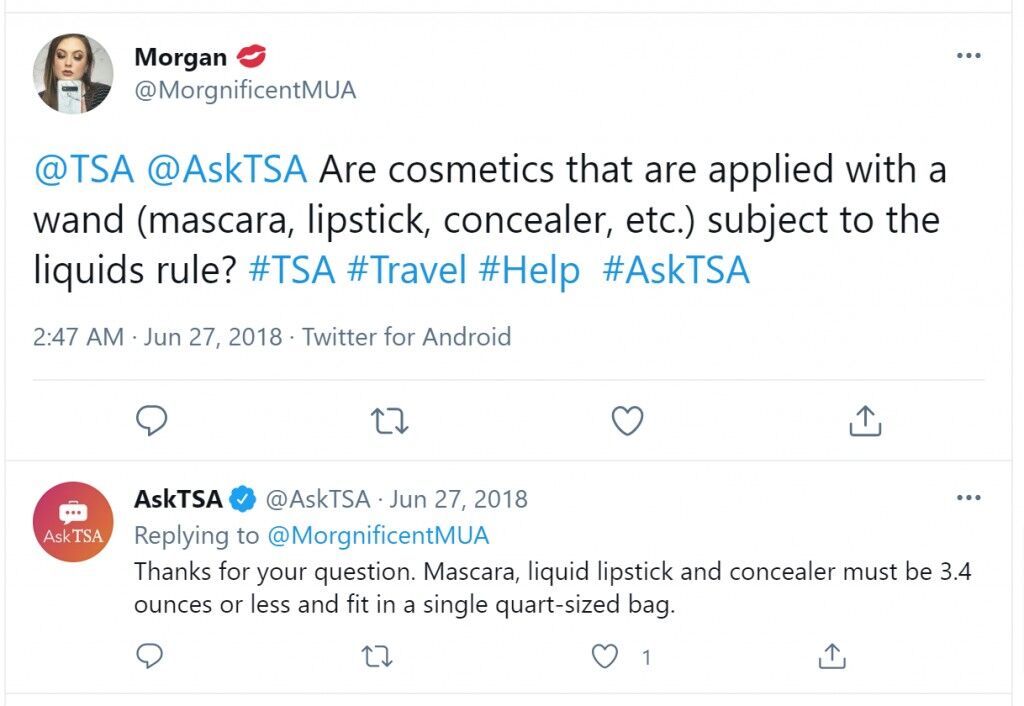 If you apply the makeup with a wand then it will be classed as a liquid. So an under-eye concealer applied with a brush will be a liquid but a spot concealer stick would be a solid.
Brow Gel And Pencils
Eyebrow pencils that are solid can be packed freely, but anything with a gel will be treated as a liquid.


Eye Liner Pencil
A liquid eyeliner pen will need to take up space in your quart bag. Whereas an eyeliner pencil doesn't need to go in your liquids bag.
Not only that you can bring the pencil sharpener too!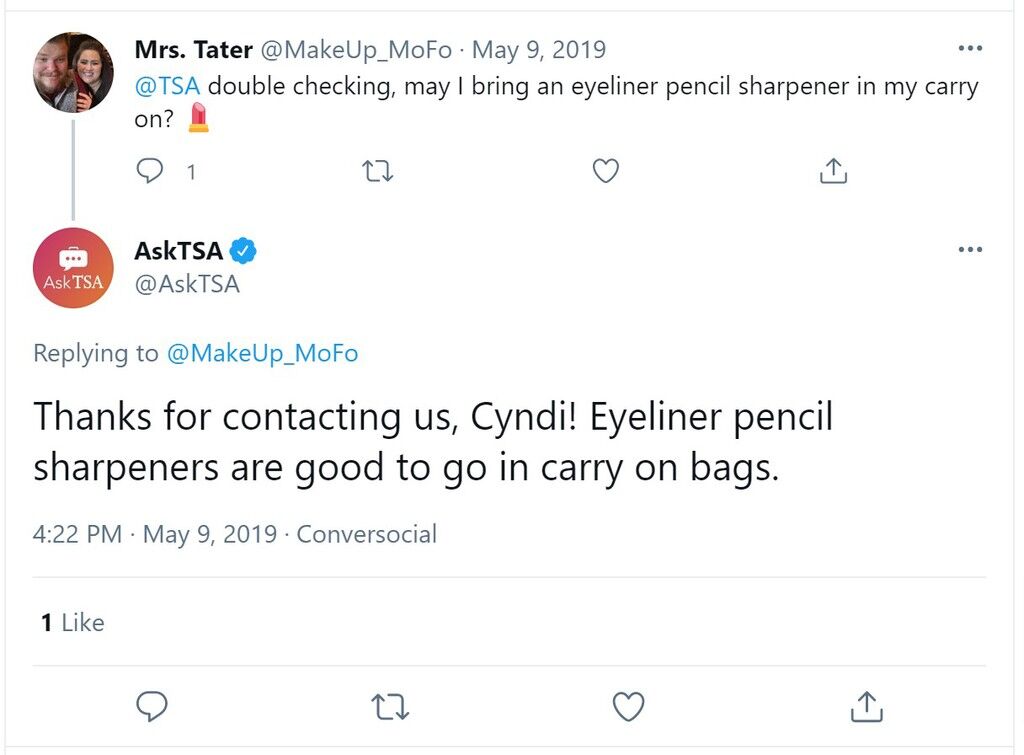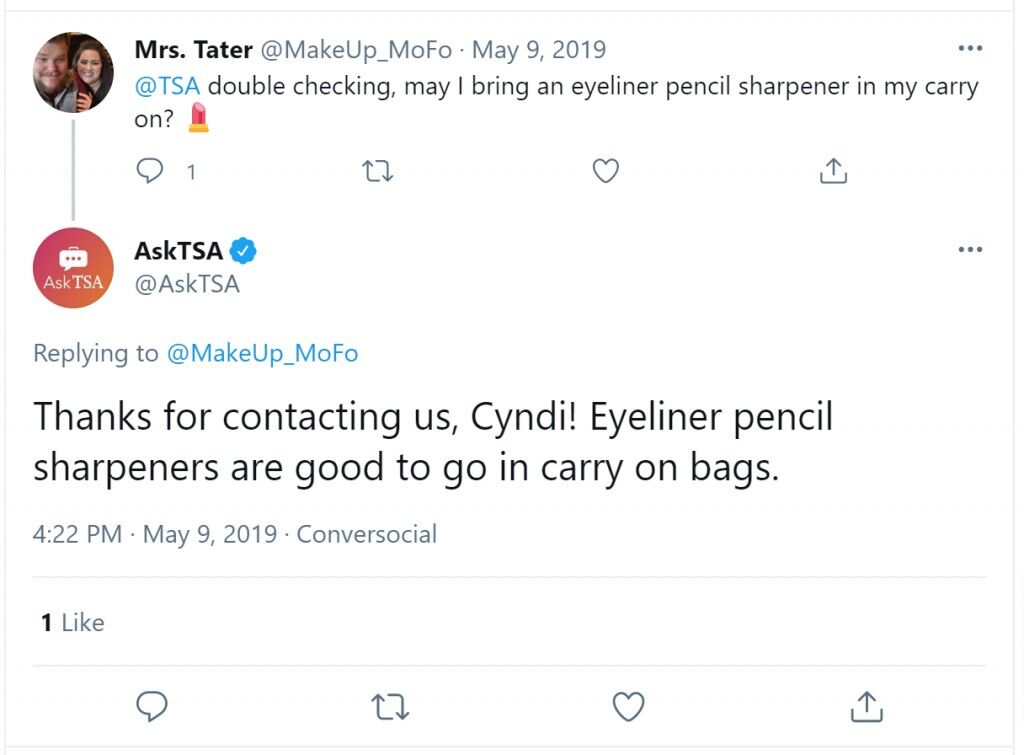 Eye Shadow
Powdered eye shadow palettes are fine to go in carry-on luggage, but if your eye shadow comes in a cream form then it needs to go in the plastic bag for liquids.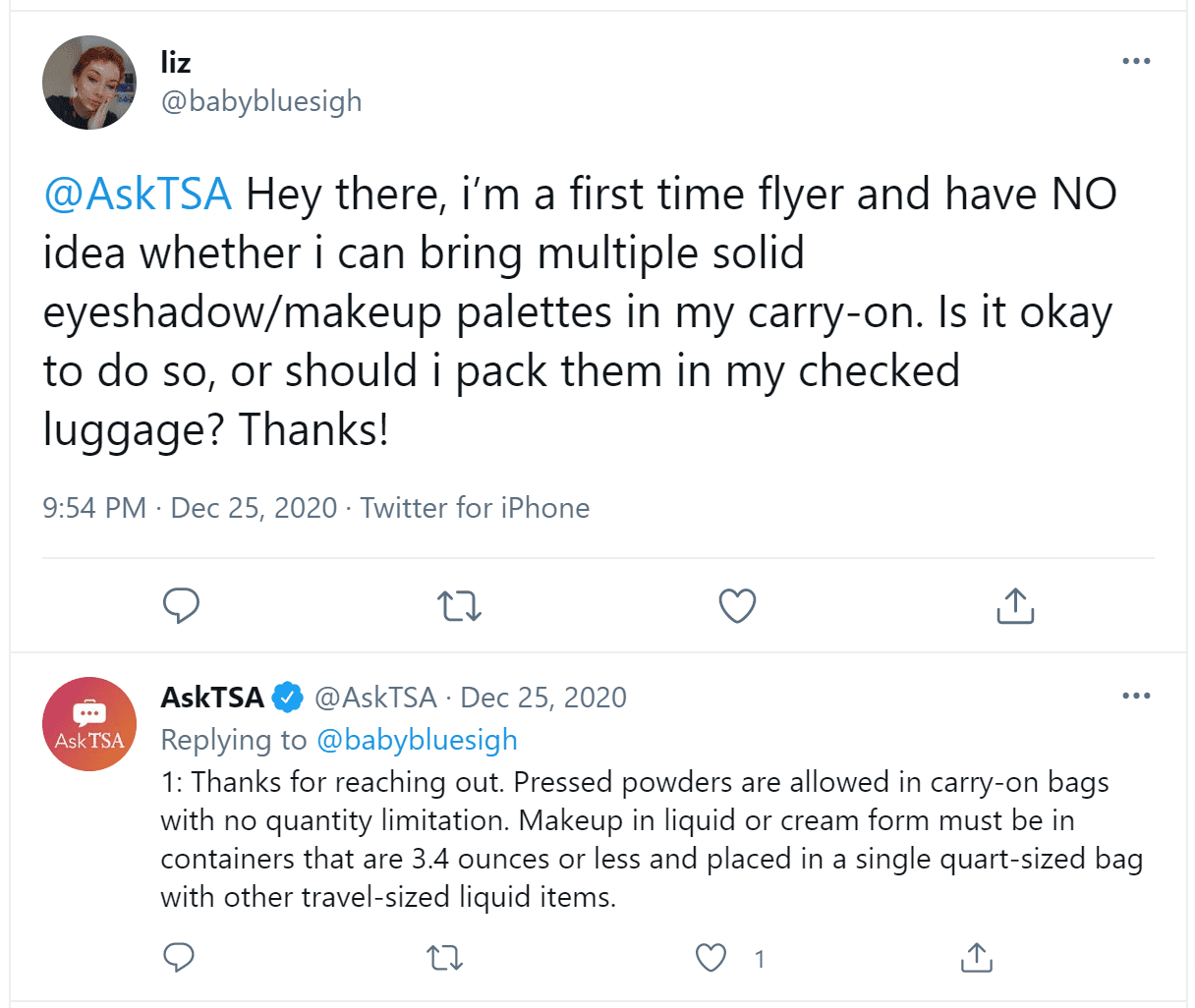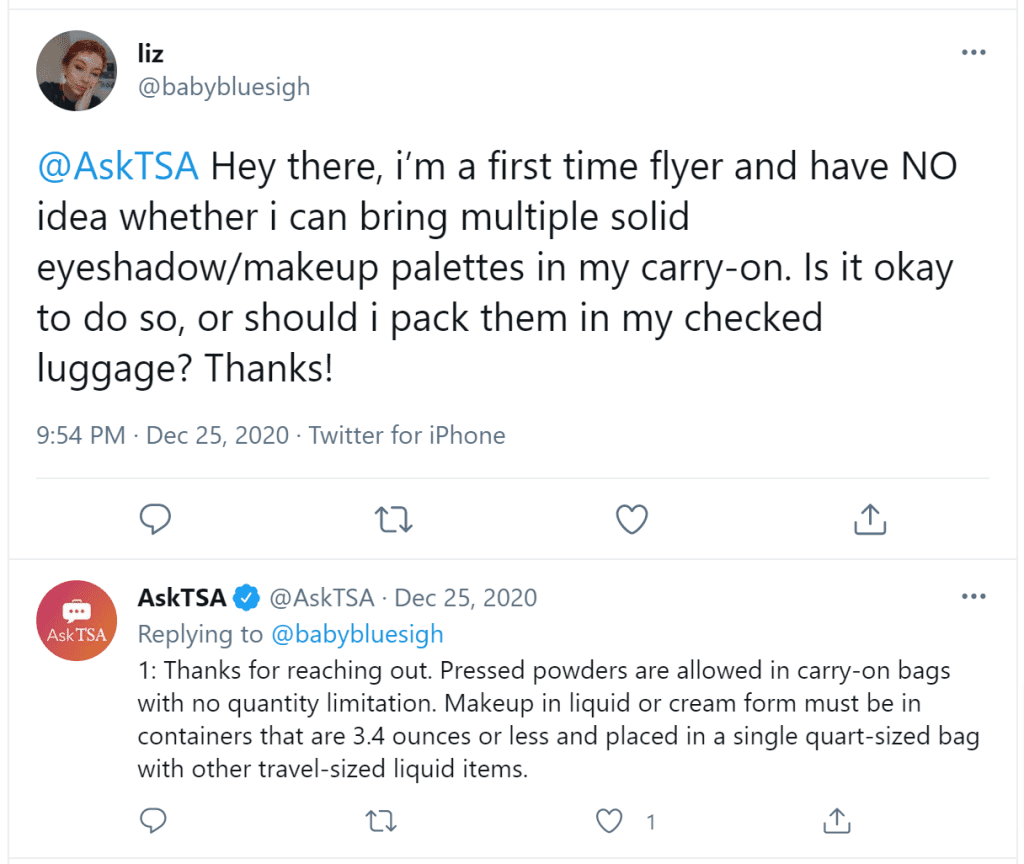 Mascara
Barbara asked the TSA about where to pack her mascara.
It's fine to bring mascara on a plane but pack it along with your toiletries.
Lip Balm & Lipstick
Rhonda asked about her lipstick and lip balm.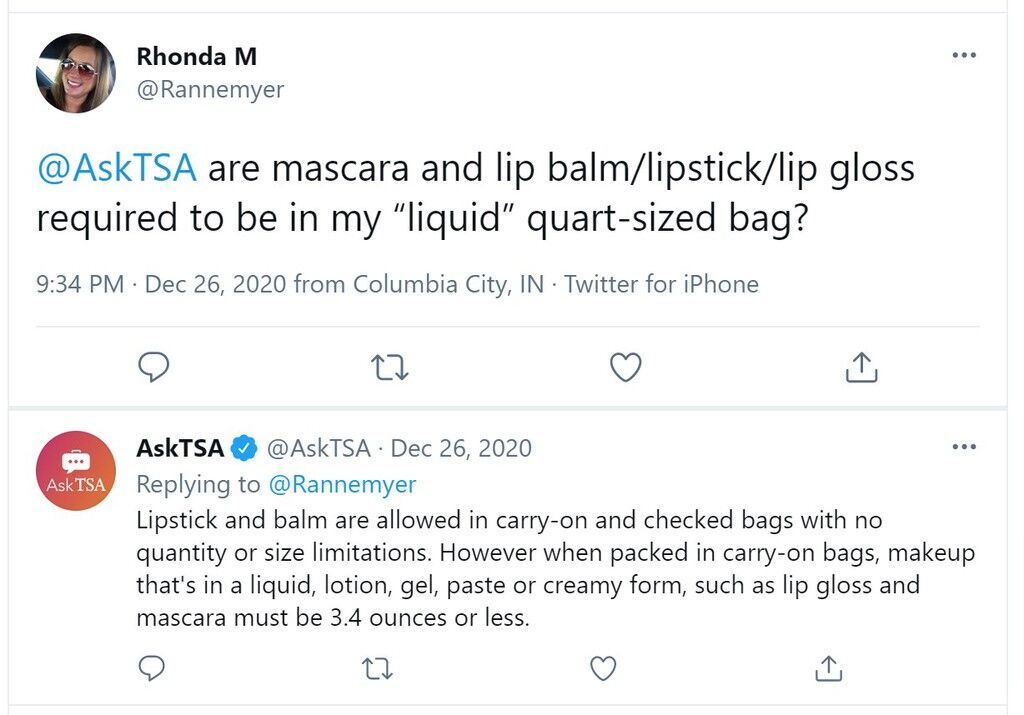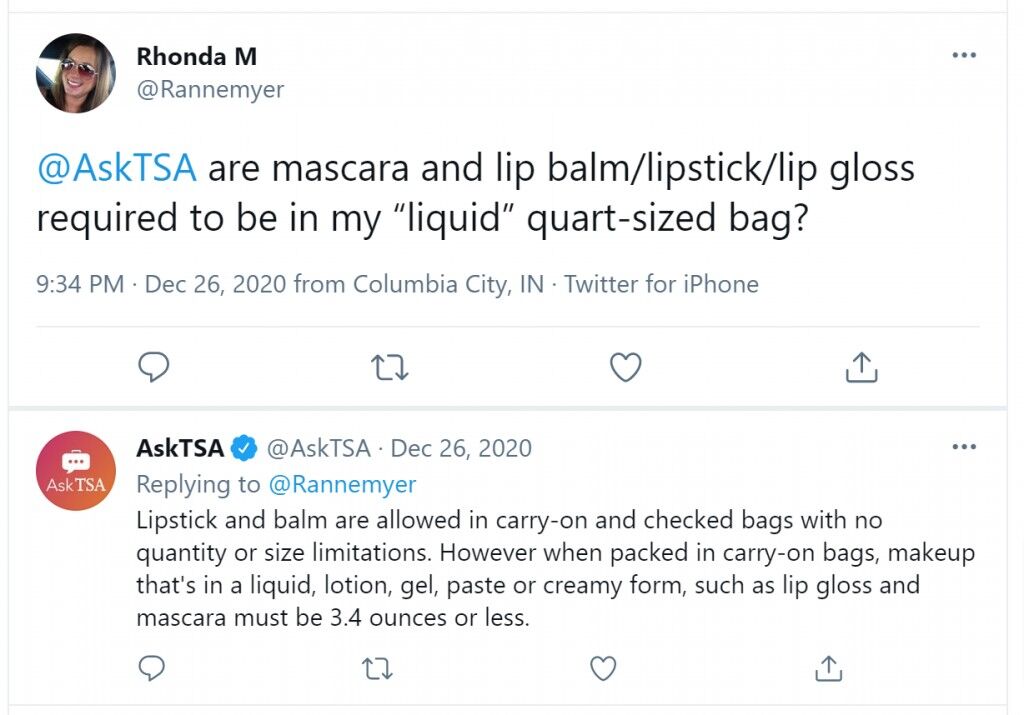 You're getting the hang of this by now 🙂
Makeup Remover, Cleansing Lotion
Makeup remover or cleansing lotion is a liquid and must be in 3.4 ounce containers and packed in the one quart bag.
But Em discovered a way to save space.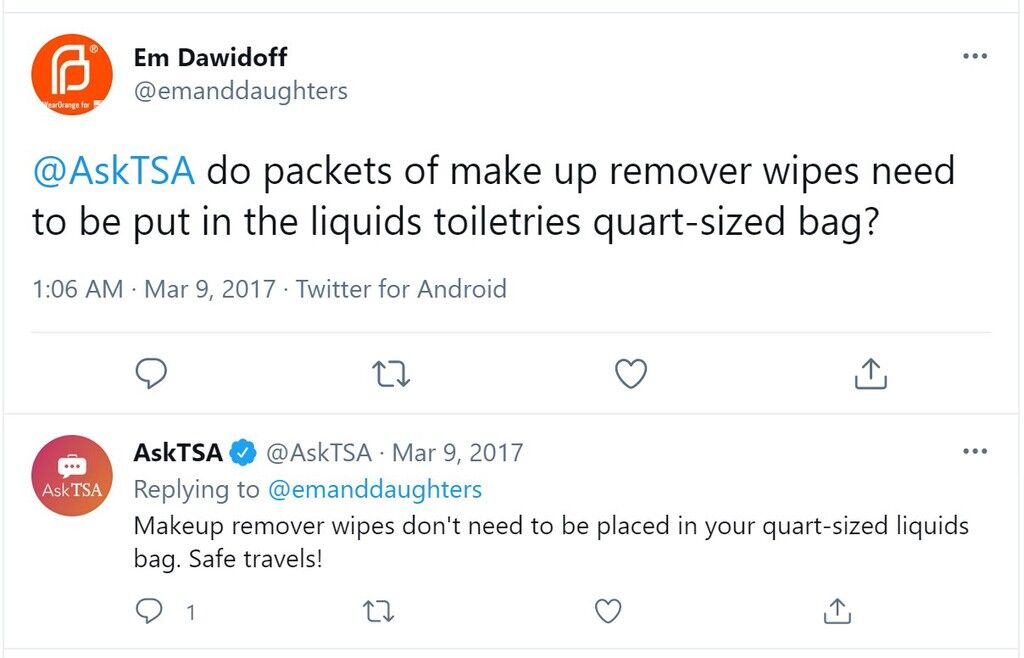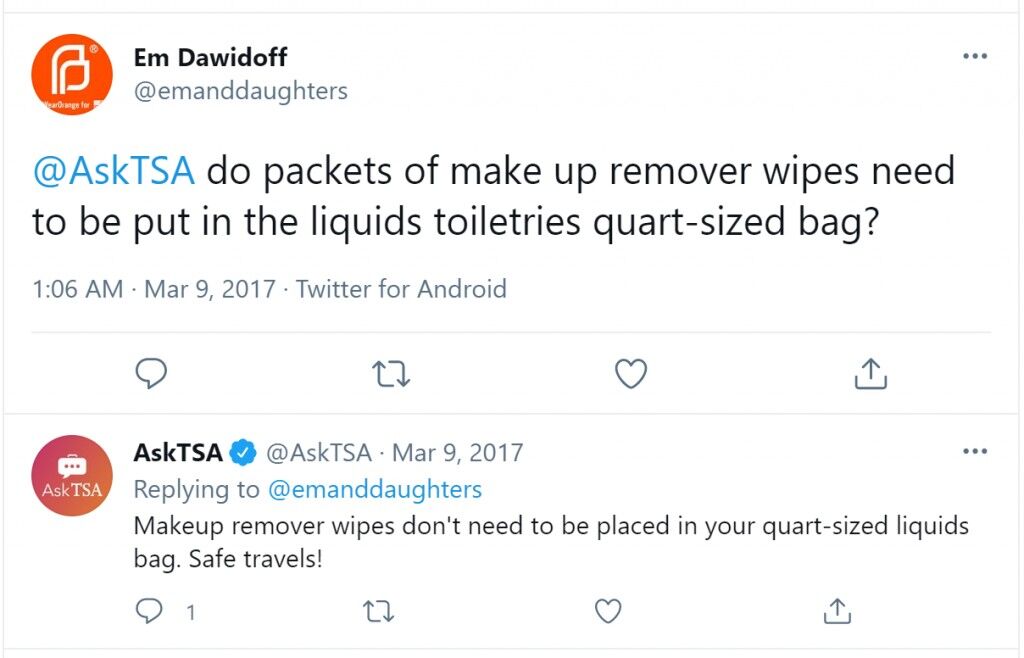 Makeup remover wipes don't need to be packed in the quart-sized liquids bag!
Setting spray, setting powder
Setting spray is going to take up room in your quart bag, but if you switch to setting powder you can pack it anywhere in your carry on baggage.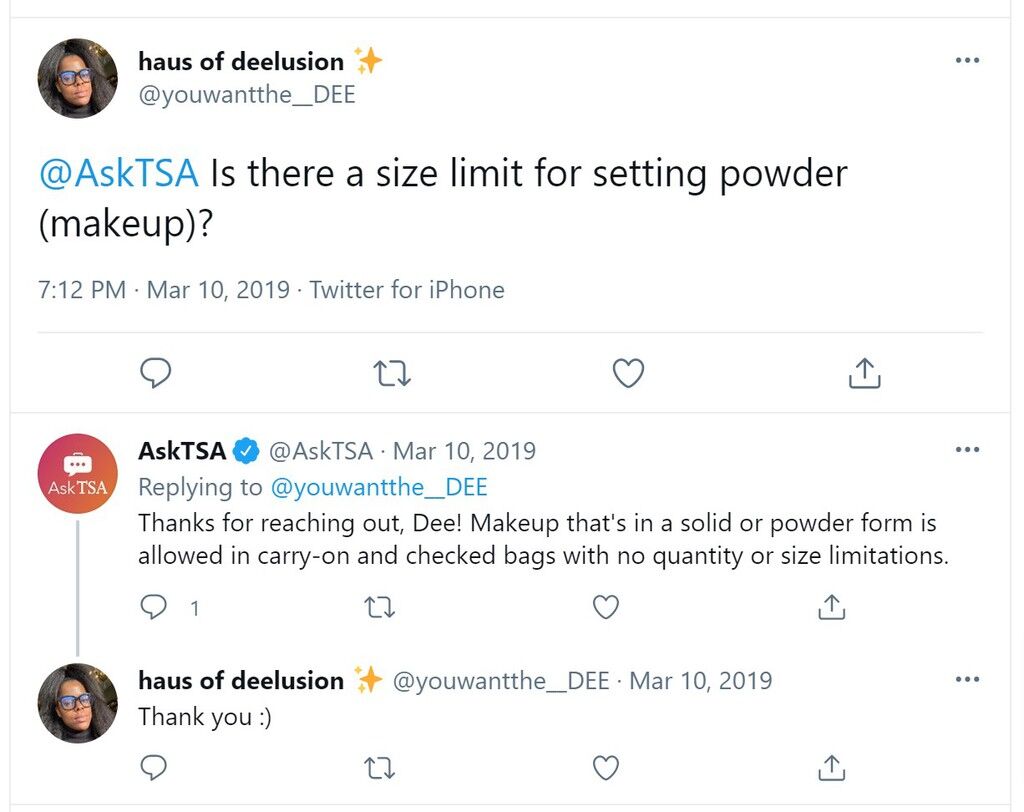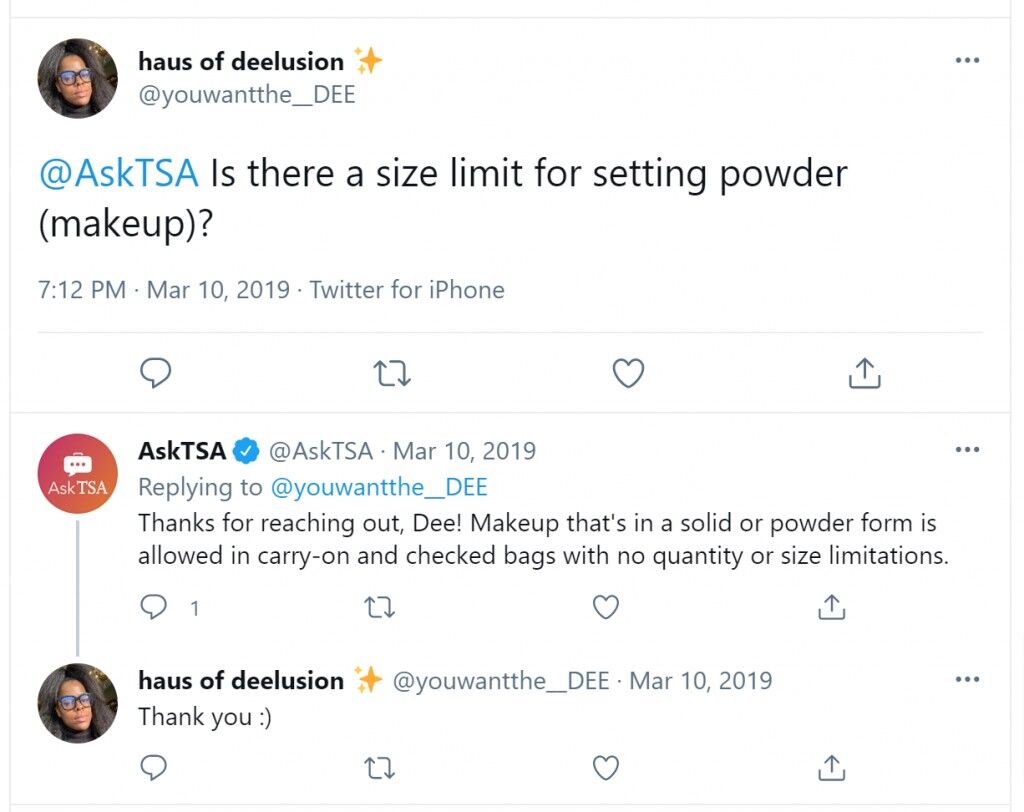 Nail Polish
Nail polish does count as a liquid and so does nail polish remover.
But nail polish remover wipes don't count as a liquid. So switch out your acetone for wipes!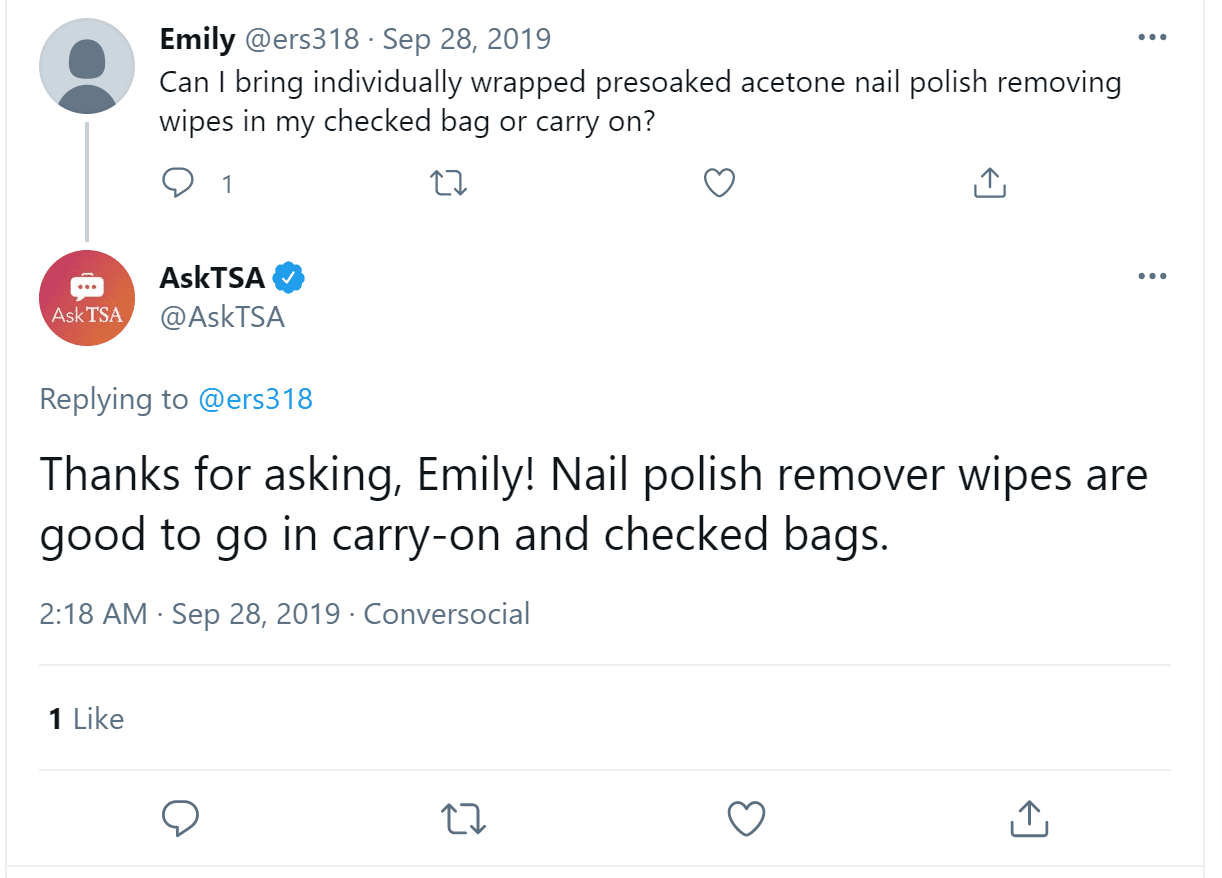 The Final Takeaway
You can bring solid and powdered makeup on a plane but if you can squeeze it, smear it, pump it, spread it, spray it, or spill it then it's considered a liquid.
There are so many liquid or cream cosmetics that it might be easier to pay the fee and bring a checked bag.
Space in the quart-size bag is limited. After you have packed your shampoo, deodorant, toothpaste, and all the other toiletries you want to bring it can be hard to fit the makeup you need.
If you prefer to fly with only carry-on bags then you can start assembling a TSA approved travel makeup kit. Substitute liquids, creams, and gels for solid or powdered versions.
With a little planning and substituting products you will be able to bring more cosmetics in your carry on.