Last Updated on November 25, 2021
You probably know by now that the TSA has rules about bringing liquids in hand luggage.
Eggs have a solid shell but they are liquid on the inside. Do you need to hard boil them to bring them on a plane?
Can you pack eggs in carry-on luggage or are they only allowed in checked luggage?
Let's egg-splore the rules, regulations, and how best to pack eggs when traveling.
TSA Eggs Rules
The Transportation Security Administration runs airport security and TSA officers screen luggage at the checkpoint to check for prohibited items.
Here is their policy on bringing fresh eggs with you when you travel:


You can bring fresh eggs in carry-on bags and checked bags. And don't worry eggs do not explode on planes due to air pressure changes.
Carry-on is the only sensible option if you don't want the baggage handlers to make an omelet in your suitcase! Also there is always the slim chance that your eggs could be stolen, a poacher could get their hands on your checked baggage.
When going through the airport security checkpoint It doesn't matter that the egg yolk and egg white (albumen) inside the egg are liquids.
The TSA considers a whole egg to be a solid so their liquid rules don't apply. Runny yolks are not a security threat.
So it doesn't matter if you are packing raw eggs, soft-boiled eggs, or hard-boiled eggs, if the eggshells are intact the TSA will consider them to be solid, and the liquids rule will not apply.
Things change when the eggshell is broken.
Liquid eggs would be treated as a liquid and restricted to 3.4 oz containers. I double checked with the TSA:

How To Pack Eggs When Flying
You might wish to remove your eggs from your carry-on bag and place them in a bin to be inspected. Often when the TSA sees eggs on the x-ray scanner they will want to carry out an inspection of your luggage.
You can save time by getting the eggs out and placing them in a bin so they can be manually inspected by the TSA agent.
In fact, the best place for carrying eggs is in your personal item bag rather than your carry-on suitcase.
If there is a lack of space in the overhead bin carry-on suitcases can end up being squeezed.
Also when overhead bins are full airline check in agents sometimes request you to gate check your carry on. This would be awkward if your eggs are packed inside your carry-on. Any fragile items or valuable items are better off stored in a personal item like a briefcase, purse, or handbag.
The safest place to store an egg carton on a plane is in your personal item bag under the seat in front of you.
You might want to use tissue paper to wrap each egg individually to add some extra protection. You could also use some bubble wrap to further protect your egg cartons.
Transporting Hatching Eggs
If you are bringing fertile hatching eggs you may wish to ask the TSA agents at the checkpoint to manually inspect your eggs without putting them through the x-ray machine.
Ask The TSA
You can ask the TSA on Twitter if you need any egg-stra information.
Egg salad is considered to be a liquid.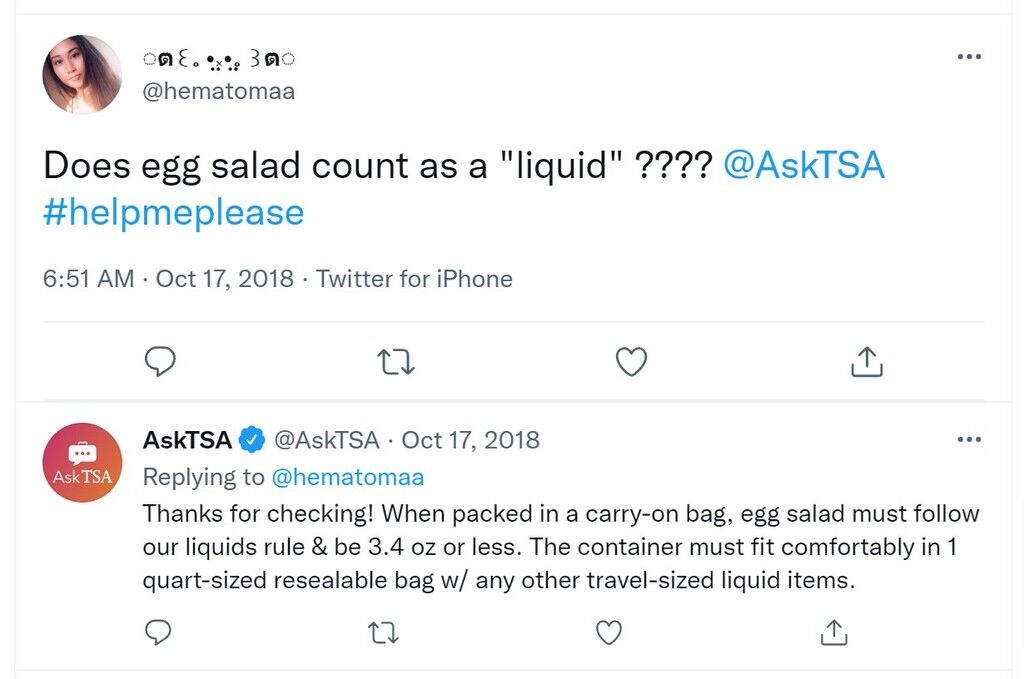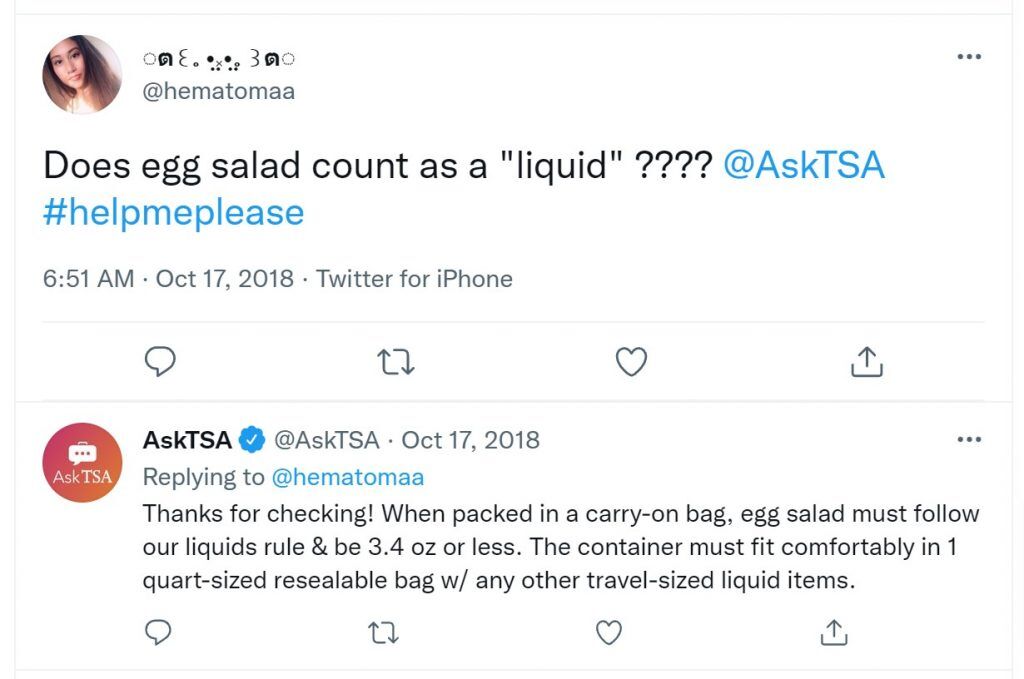 The problem with egg salad isn't the cooked egg. It's the mayonnaise.
If you bring hard-boiled eggs and pack a little sachet of mayonnaise in your toiletries bag you can mix them together after you pass airport security.
Or wierdly you can slap your egg salad between two slices of bread and it's then permitted, because you can bring sandwiches on the plane even if the fillings are spreads.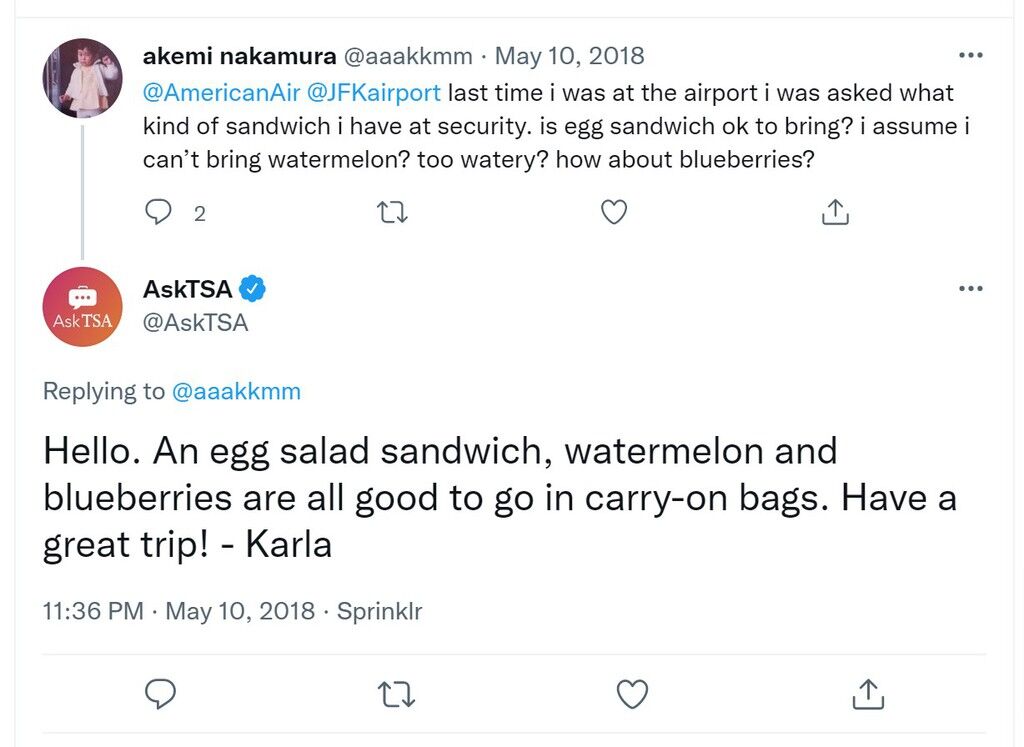 Egg salad sandwiches are treated as solid by the TSA.
And you can pack an egg cooker or an egg boiler in carry-on luggage.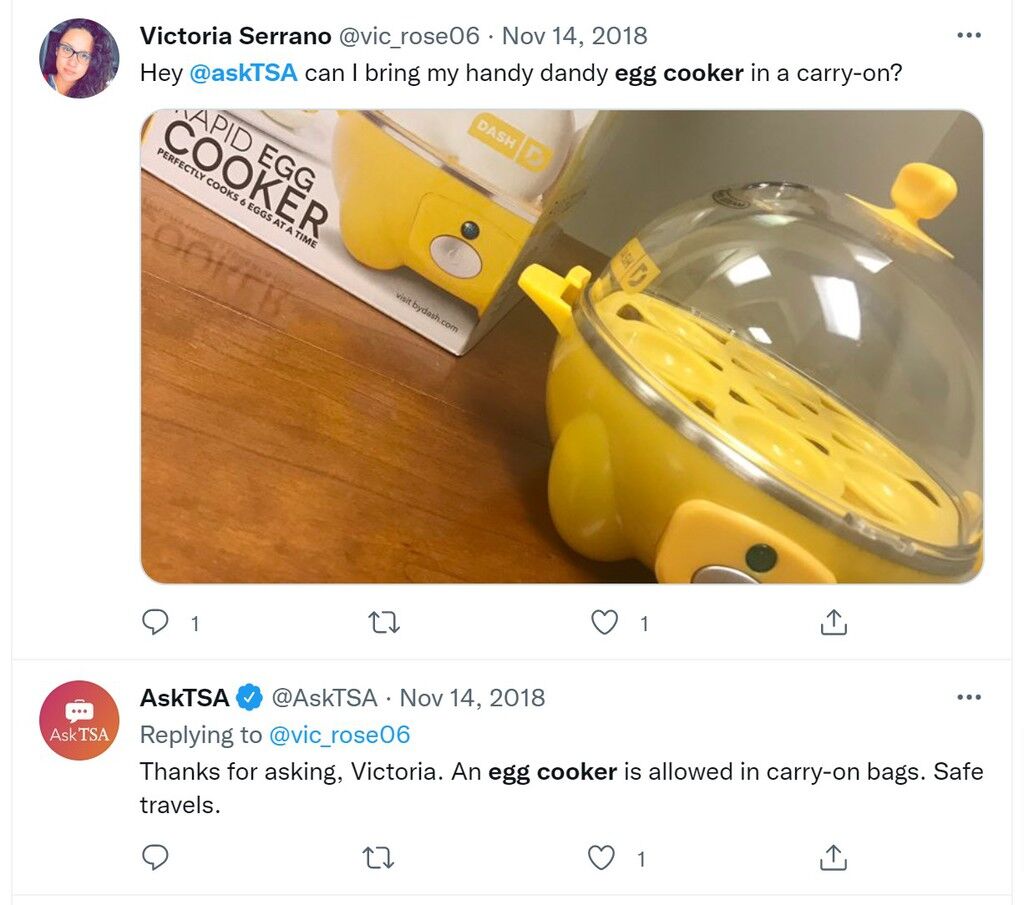 And the size of your eggs isn't important. Pat wanted to bring an ostrich egg on the plane: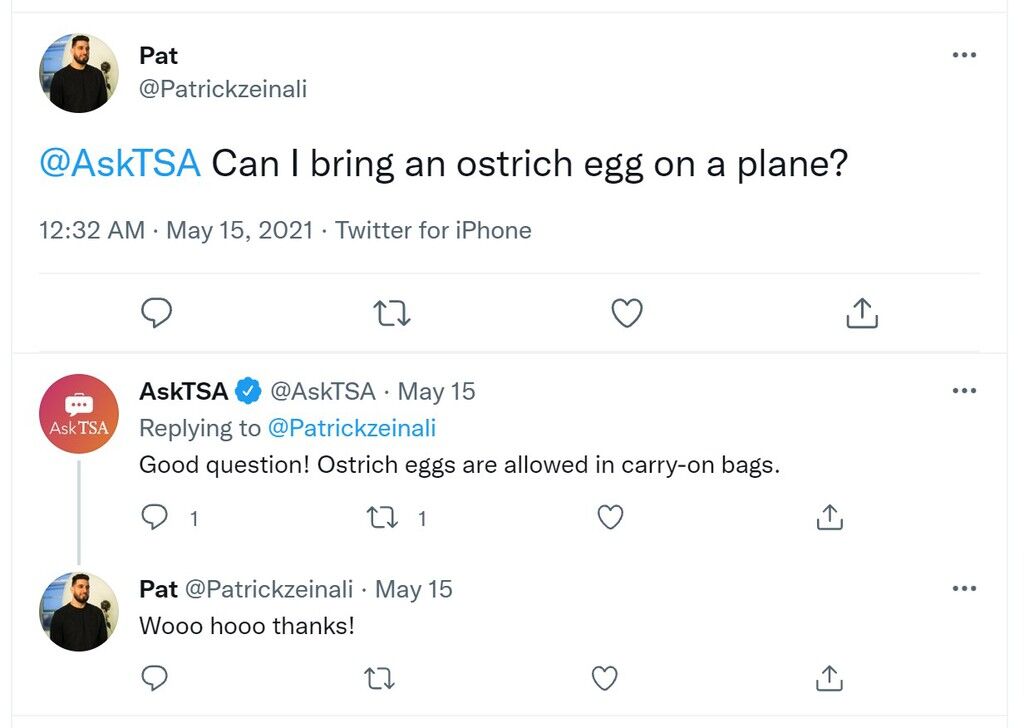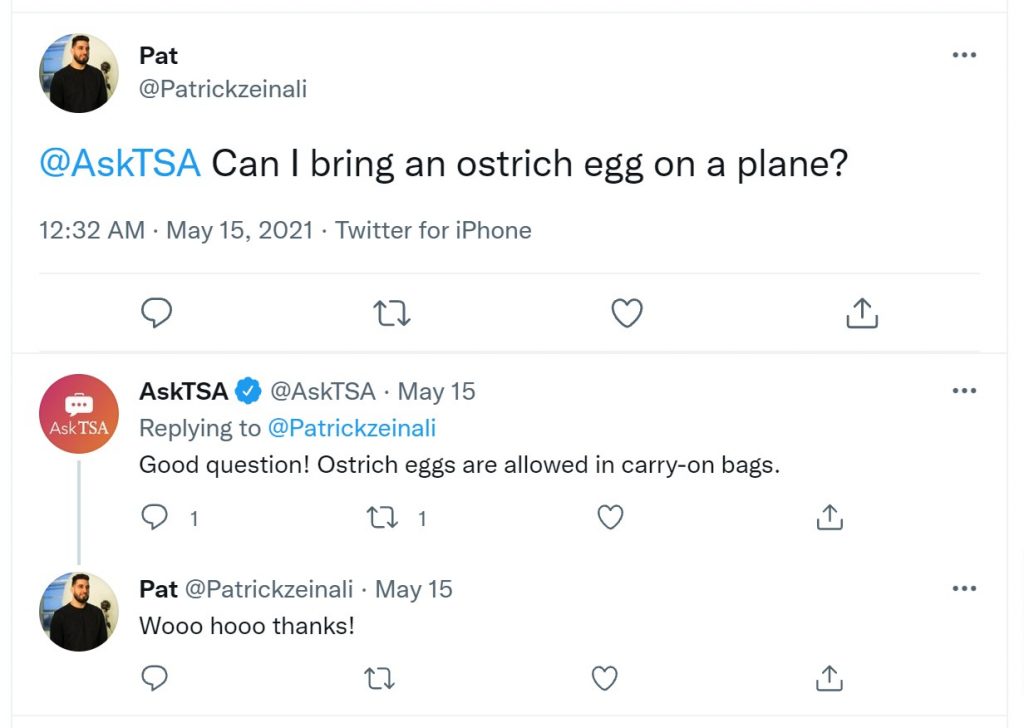 And the TSA said that they are allowed in carry-on bags.
The Bottom Line
You can bring eggs on a plane in carry-on bags if the shell is intact.
Uncooked liquid egg whites or egg yolks would be treated as liquids.
Checking eggs is permitted too, if a little unwise.
The best place to pack your eggs is in your personal item. Luggage in overhead bins can be squashed.
If you are traveling internationally then make sure you double check the customs rules of your destination country. Some food items are not permitted into other countries.
Remember to note the location of the emergency eggs-it!
People Also Ask