Last Updated on August 21, 2022
Taking a white powder through airport security might make you nervous.
But it really shouldn't because creatine is permitted on planes and you aren't doing anything wrong.
Read on to find out how to take creatine with you when you fly with less friction and fewer delays.
TSA Creatine Rules
The Transportation Security Administration doesn't specifically mention creatine on their website so I had to search around on Twitter to find a definitive answer.
Alfonso had already asked if he could take creatine in his carry on: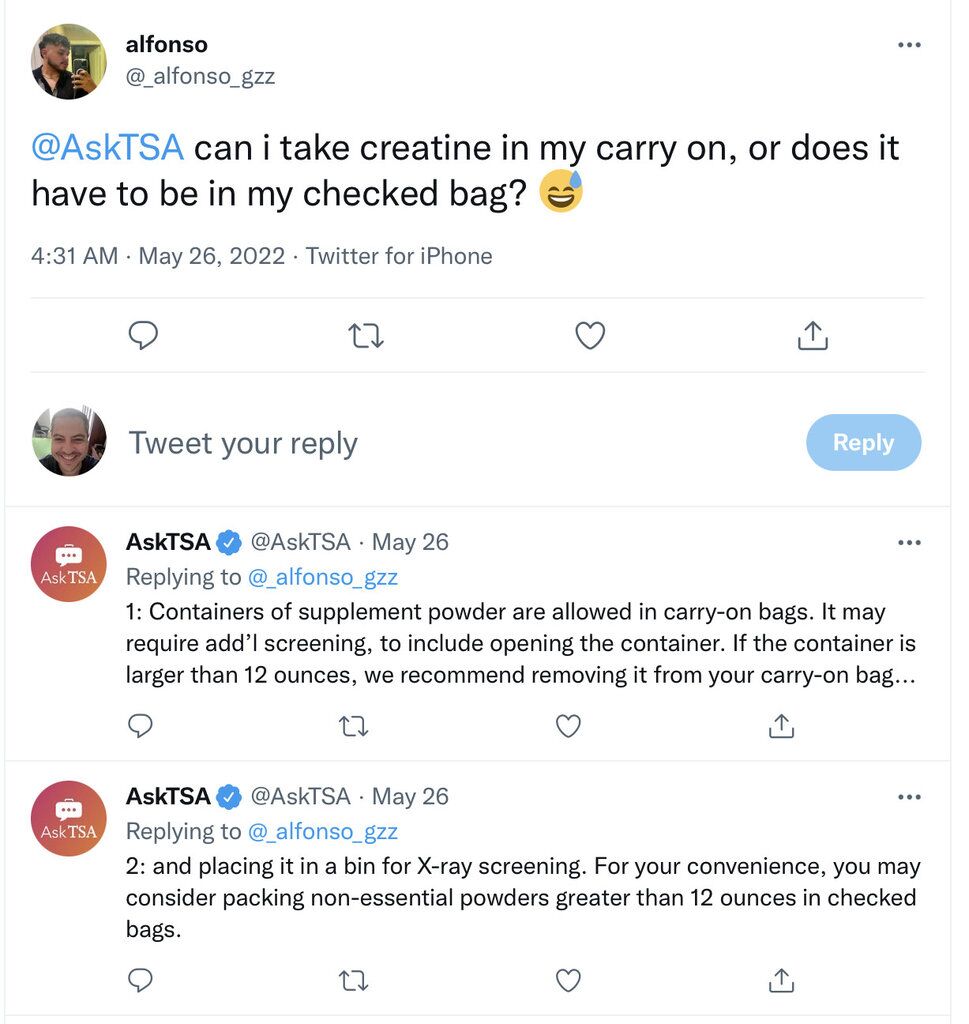 According to the TSA, "Containers of supplement powder are allowed in carry-on bags. It may require additional screening, to include opening the container. If the container is larger than 12 ounces, we recommend removing it from your carry-on bag and placing it in a bin for X-ray screening. For your convenience, you may consider packing non-essential powders greater than 12 ounces in checked bags."
And Jon had asked about taking creatine in his checked luggage: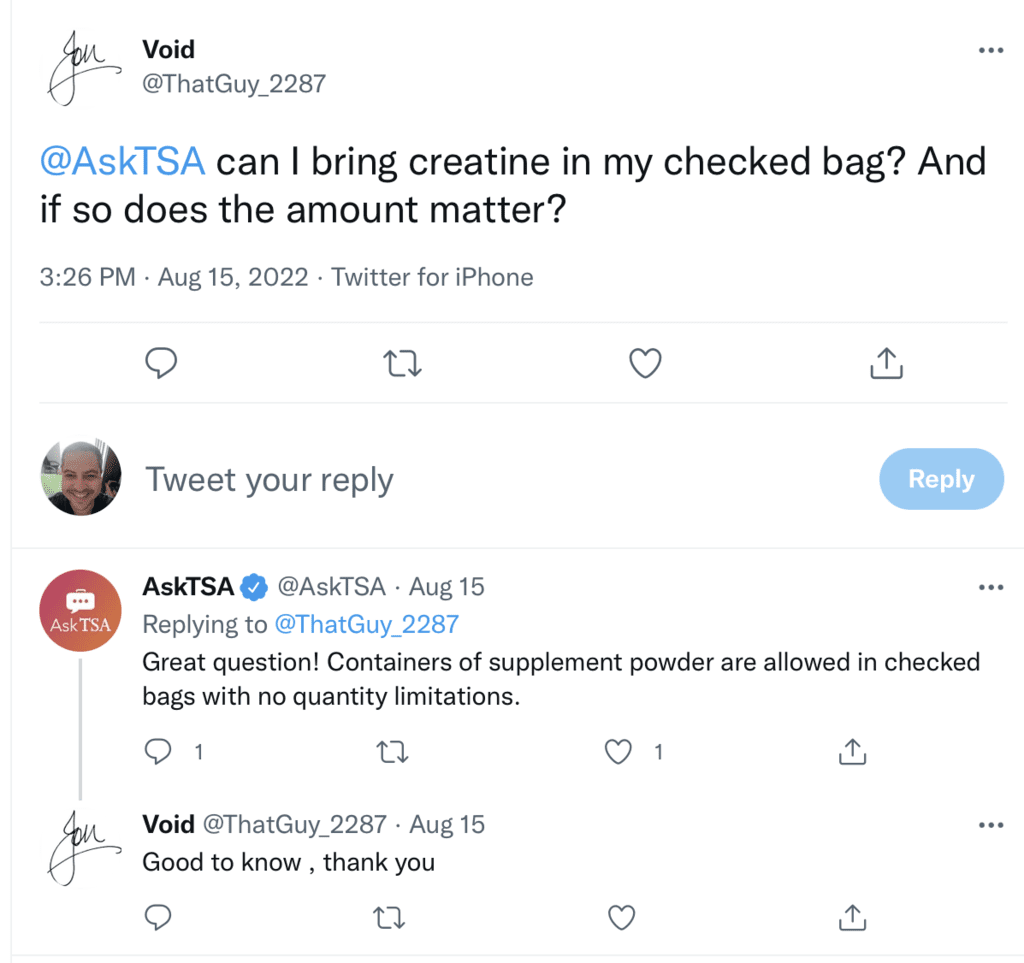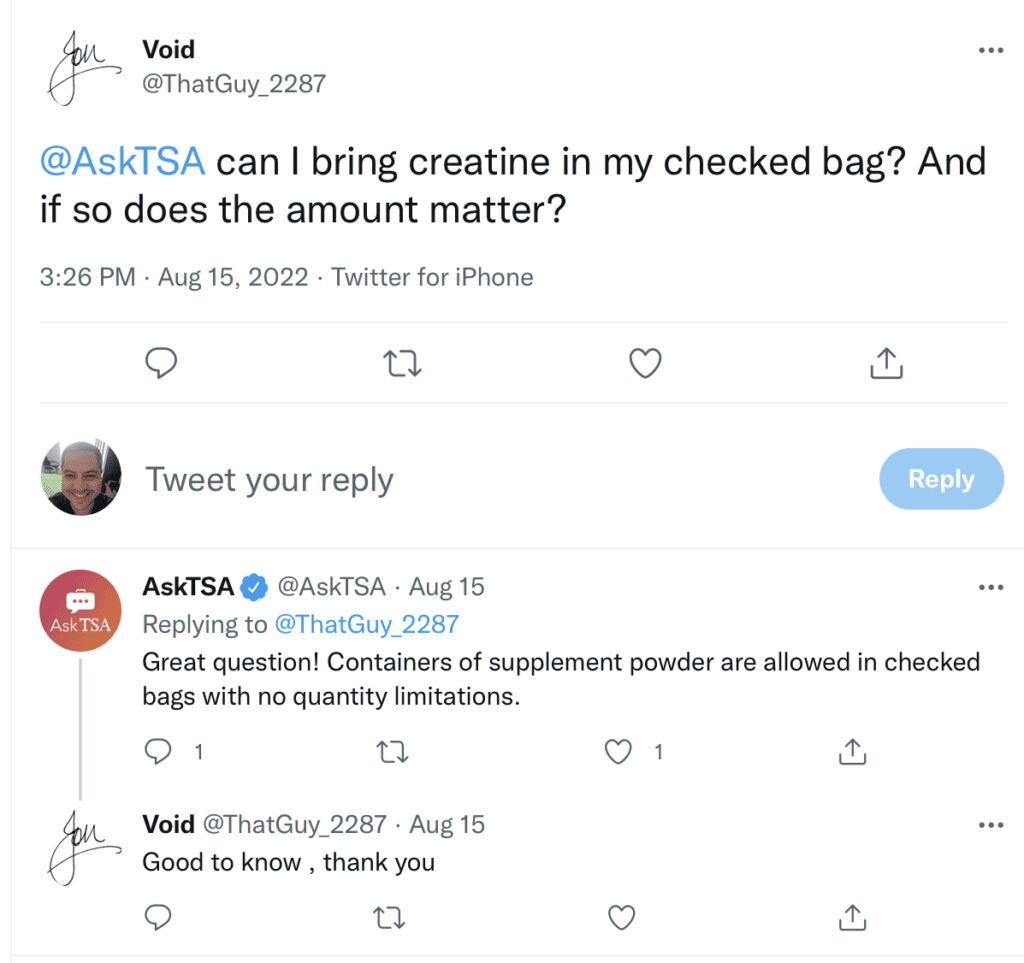 The TSA answered that creatine is allowed in checked luggage with no quantity limitations.
So you can bring creatine on a plane in carry-on luggage or checked luggage but the TSA might want to open the container to inspect it.
Because of the TSA powder rule you should remove any powder containers larger than 12 oz from your hand luggage when going through the airport security checkpoint.
Your creatine might be inspected and it might slow you down, so if you have a choice it might be better to pack creatine in your checked luggage.
However checked baggage usually involves fees, so if you want to avoid the extra cost then pack your creatine in your cabin bag and allow extra time to get through the screening process.
You can also pack creatine powder in a simple plastic bags. Powdered supplements are not prohibited but if they are not labeled it might slow you down if the TSA agent decides to inspect your luggage.
If you just need to bring a small amount of creatine for a short trip then creatine pills that are in a bottle with a label might be a more hassle free way to travel.
The Bottom Line
Creatine powder is not prohibited in either carry-on luggage or checked luggage.
It does fall under the powders rule so containers larger than 12 oz should be removed from your luggage and placed in a separate bin when going through security.
Unmarked powders might cause suspicion and hence delays.
Be especially wary if you are traveling internationally and check the local rules before your next trip.
You Might Also Like